Bento: The Next Top Brazilian Goalkeeper?
Goalkeeper is arguably the toughest and most important position in football. Granted, every position is just as important in its own right, there is the saying that a "Good goalkeeper is half the team" and that tells you all you really need to know.
Over the years we've seen numerous players in the aforementioned position be the result of a club overachieving and likewise underachieving based on their respective ability and whilst the player in question here hasn't exactly been monumental, he's still a key player for his side and has elevated them to the point where he's one of the reasons where a result could go his club's way solely down to his ability to not concede at any point in a game. Who is that you may ask?
Bento Matheus Krepski, or more commonly known as just Bento, is Athletico Paranaense's starting goalkeeper for a good two years now and his development over those two years has been quite the sight for any Brazilian football fan. Born on the 10th of June, 1999 in the city of Curitiba, Parana the youngster's rise has been pretty much the "simplistic" tale of a young keeper rising through the ranks and having a bit of luck swing his way to showcase his capabilities and make Athletico, who are already a side focused on investing in players with huge upside shun everybody else at his position and give him the number 1 spot.
Naturally, Paranaense as mentioned have been high on players who quickly give a taste of what is to come with a few appearances and history remembers names such as Vitor Roque but also a young Bruno Guimaraes who came from Osasco Audax amongst others. Athletico have also previously had a young goalkeeper pop up on the scene and make his way through the academy only to leave for Europe but not hit the heights he was initially predicted for.
That keeper should be very common to the general public as it is Norberto Murara or more commonly known as Neto, who, when you look at his CV you see teams such as Juventus and Barcelona but for the majority of those stints the player was a backup and his most known and impressive spells have been at Fiorentina and Valencia.
Naturally, Bento has garnered comparison to him because of the overall story and startup career pathway but also because the two are the same size, also have an Italian passport making it easy to acquire a Work Permit and other small details but this is just about where I'll have to step and dismiss or at least argue as to why things are different.
Getting back to Bento, as stated, the youngster has been with Furacao throughout his career. He enrolled into the academy aged 10, in 2009 and went on to play for every single youth setup of the team. Having gradually made his way through the ranks and being quite impressive he was "drafted" into the side in 2020 largely as a backup behind numerous other goalkeepers such as Santos and Jandrei who were number 1 and 2 respectively but also other names such as Anderson and Caio.
The thing with goalkeepers is that they don't usually follow the pathway of an outfield player. Especially in Brazil the really talented youth players often end up shining at a very young age and by the time they turn 18, they have already established themselves as starters or are showing potential and are on the precipice of becoming one.
With goalkeepers, it's different. Oftentimes, coaches ignore young goalkeepers due to their lack of experience often resulting in them not commanding those in front of them the way you'd want and naturally not "oozing" confidence to their teammates and mainly the defenders which could disrupt team chemistry on the field and subsequently lead to more goals or even just opportunities for the opponents.
The Brasileirão is back for another season, with the likes of Fluminense, Internacional and Corinthians seeking to end their title droughts, and Palmeiras looking to repeat their title.

This season, we've got you covered with a weekly Brasileirão round-up from @crawford7martin. pic.twitter.com/WuA19EOs2N

— Breaking The Lines (@BTLvid) April 18, 2023
As such, some goalkeepers in Brazil are late bloomers and all they need is a bit of luck to swing their way and for them to just build momentum in order to show what they can provide. We've seen it with Brazil's third-choice goalkeeper in Weverton who not so long ago was defending Serie B and C sides but is now one of the best keepers in the league and a two times Libertadores winner. Bento is no different from that.
At the time when he got into the first team he was still 21 and yet some would say that "better goalkeepers would have been starting at that age." However, Bento quickly managed to "establish" himself as the side's third-choice keeper and…his time came…well, not exactly but we'll get to that. In 2020, during the COVID pandemic, both Santos and Jandrei tested positive for COVID and had to isolate for a period of 10 days.
In that time the side had three games and Bento was swiftly thrust in and quickly impressed. He made his debut v River Plate of all teams in the Libertadores as the sides drew 1-1 and then went on to play v Palmeiras [3-0 loss] and the return leg v River where Athletico lost 1-0. He didn't feature anymore for the remainder of the season but the decision had been made. Jandrei was frozen out prior to his return to Genoa whilst Anderson became the third choice option and Bento became Santos' understudy.
During the new 2021 season, he was featuring in and out before being handed another short stint between the sticks when Santos got called up for the Brazil Olympic team. He once again was very impressive and analysts and journalists started praising the young goalkeeper and even questioned whether or not Paranaense shouldn't take advantage of the interest in Santos by bigger clubs and just invest in Bento for the long run.
Until the end of the season, he managed a solid 20 appearances for the side whilst being behind Santos and under his tutelage. And I guess some of those reports did get to the ears of Furacao's higher-ups because after the side's State Championship was over and the new Serie A season commenced, as well as the qualifiers for the Libertadores, Santos was sold to Flamengo for a fee of 3.5 mil. Euros and the keys were given to Bento and since then he hasn't looked back. 
Over the course of the next two years, he's already managed to take his total appearances to above 100 and has grown so much in every aspect that makes a very good goalkeeper. He's recently been linked with a move to Benfica who did make a bid for him but that was rejected by Paranaense who expressed their desire to keep him for the 2023 season or at least see their valuation be met and for now the general expectation is that he stays with Furacao for the remainder of the year. That being said, there is still a whole month of August for the European window to shut down and who knows what happens then?

But to quote arguably the greatest manager of all time in a now famous interview "What makes Bento so good?". And why is he garnering comparisons to Alisson before he joined Roma and exploded rather than Neto, when he was making his way through the academy, ranks at Paranaense? Let's dive in.
Player Breakdown
Standing at 190 cm, as stated, Bento is a goalkeeper [I think that has already been mentioned a couple of times] and he prefers to use his right foot. He's also exactly what you'd want from a keeper as he keeps developing his sweeping ability along with his ability to play with the ball at his feet which is something that football has elevated to over the course of recent years.
We'll get to those a tad later but I'd like to share his heatmap and although a GK's heatmap is usually standard given the area of the pitch that he occupies it does show that he does attempt to "sweep" and it also shows his preference for the right side when it comes to receiving the ball. It largely resembles that of Ederson and Alisson who naturally come a bit further forward but that's down to the higher line set compared to Paranaense.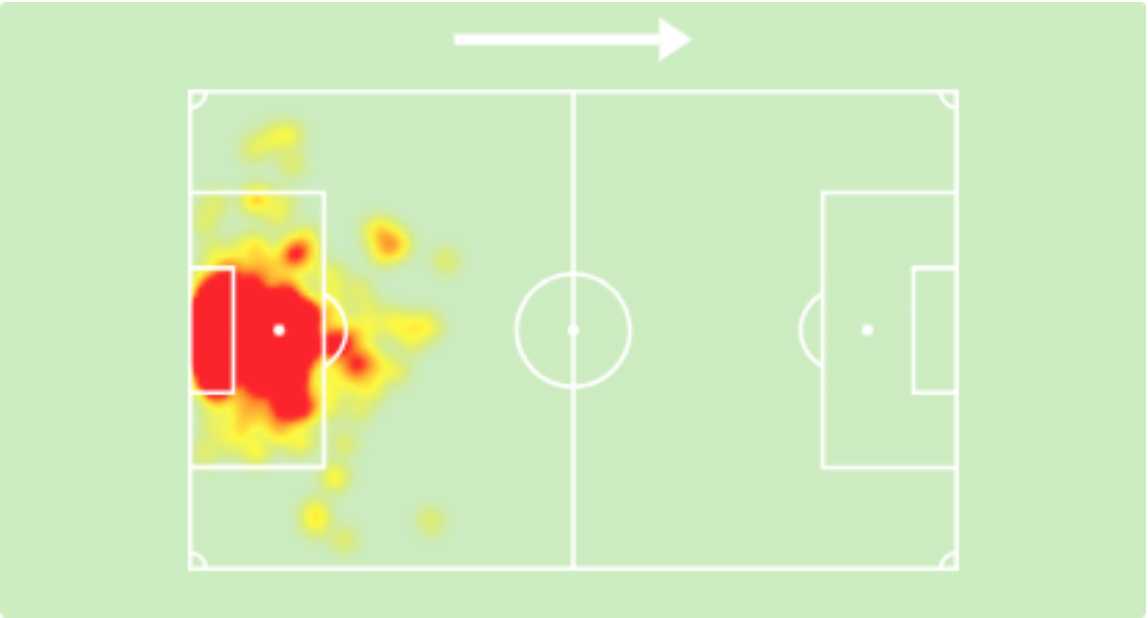 This is also his chart which is also mighty, mighty impressive given the level of decline that Furacao have experienced and that their defense has become a bit leakier while Bento himself has developed into arguably the best young keeper in the country.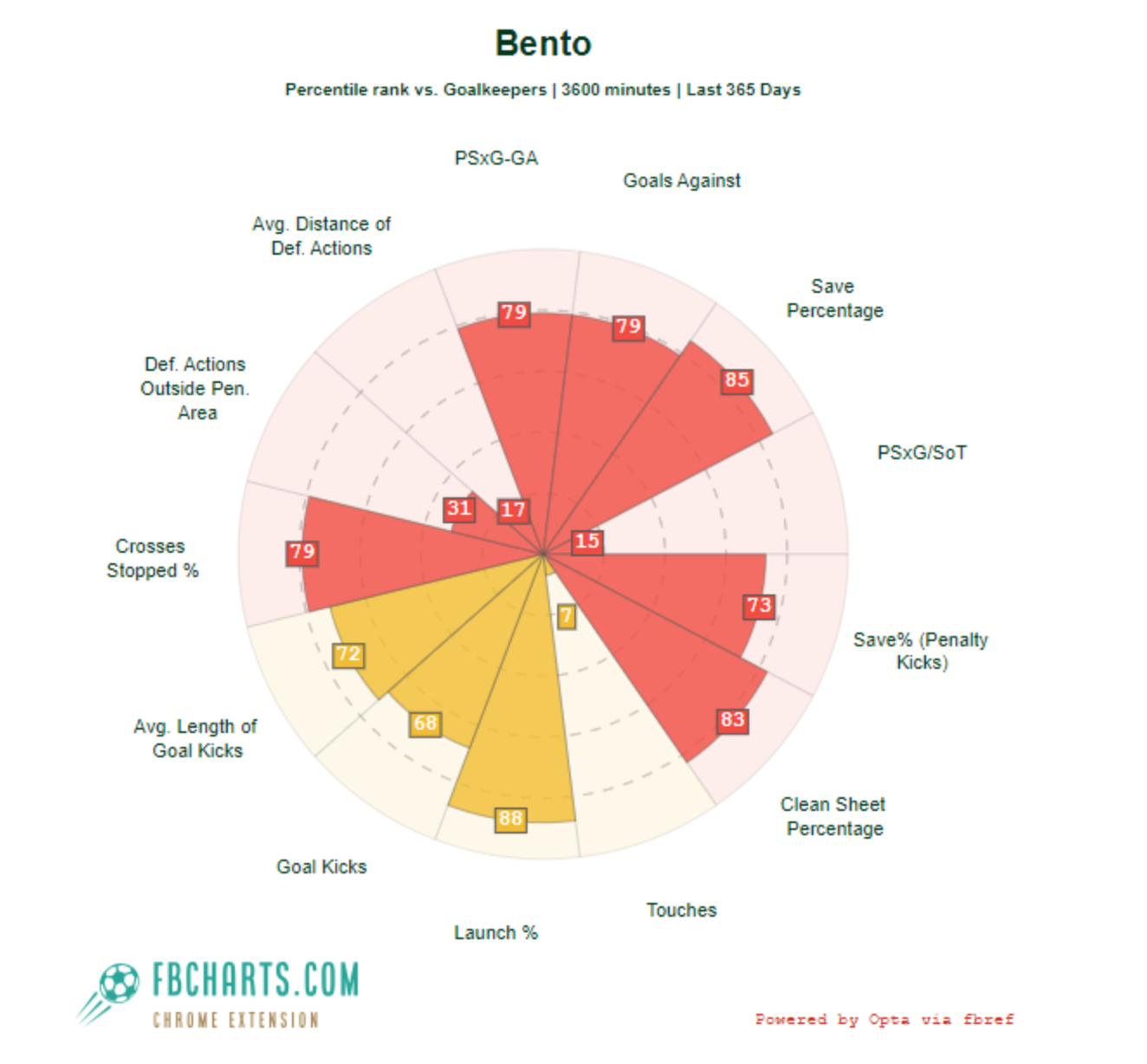 I feel as though this paints a clear picture of where his strengths lie and although he doesn't get on the ball as often as desired he's a phenomenal talent in the making albeit a bit of a late bloomer and will carry on becoming even better. 
Shot-stopping and Saves
Undoubtedly, a goalkeeper is judged mainly on the ability to keep the ball out of the net and I feel this is where we should start and it's arguably one of the two best traits that Bento possesses. He has pretty much every save in his locker needed. Granted, there aren't many [or at least a need for] ways in which a goalkeeper can parry the ball he still can save in a variety of different ways be it to his left or right.
He can palm the ball, "box it" away but what is most impressive is that a majority of the powerful shots he faces from a distance he just collects using his chest. On a rough average per game, he manages to make 3.4 Saves per game which amounts to 74 % of his total save percentage. He's also managed 55 total saves in 2023 with 28 of those being inside the box and 27 outside and whilst Paranaense have conceded 19 goals this year it's very rarely that that is Bento's fault as he is yet to concede a clear cut "error leading to goal" [for a goalkeeper].
When it comes to 1v1 saves he uses his huge stature to stretch and "make himself big" effectively closing down all possible angles and making the attackers' job as hard as possible. It's why despite the poor level of defending by Furacao, Bento's save percentage sits at a whopping 78.1 total [85 out of a possible 100] and his clean sheet percentage overall is 40% [83 out of a possible 100]. 
Reflexes
The second most important thing[for a keeper] and luckily Bento's second best trait is his reflexes. Unfortunately, there isn't an actual way to represent "reflexes" on a stat sheet. It's a trait that you have always but some keepers just naturally go for the ball quicker than others. It depends on size, physicality and hours of training to improve it but there isn't a way to dissect it the way you can dissect different aspects of his game.
That being said, Bento's reflexes are quite simply put – phenomenal. His ability to go to ground or up in the air in an instant is spectacular. His stretch and his movement across and even the way he makes a quick extra step to then only get down to the bottom corner is quite something and a trait that Alisson is praised for a lot. With that in mind, he's rather unpredictable because he leaves fewer options to go with for the attackers because he doesn't have a clear-cut weak area at which to aim. 
Crosses and Coming off His Line
Again, Bento has been working a lot in order to develop his ability to sweep and while that is a very dependable attribute due to the tactical plan that a side can adapt it's still there. He does rack up a 0.78 [31 out of a 100] which is fine for a goalkeeper and again these numbers ARE relatively low but they are largely skewed due to tactics. On the other hand, when it comes to crosses he very often aims to collect them or box them away to avoid the danger. It also shows up on the stat sheet with it roughly amounting to 8 % [79/100]. 
Penalties
When coming through the academy and a little afterwards Bento was often criticized [to a degree] that he wasn't exactly a good penalty saver despite his size. And yet, since then, he's managing 33.3 [or 1 out of 3] penalties saved which..is quite astonishing. He has the anticipation in him to guess the correct corner/angle and use his reflexes and stretch to attempt to reach the ball. To further add to that the anticipation part he doesn't rush into diving early and that is something that helps tremendously in putting off the opponent. 
Distribution
I briefly stated that he's maybe not ideal with his feet but this is by no means a knock on the player as I feel he does tend to get involved as much as possible. That being said he's cautious of attempting short passes in between pressing lines or something that would put the team under additional pressure. The truth is he's a very pleasing passer but he's just cautious. Of his total passes for the season 97.6 of the 1345 attempted [short ones] are accurate.
On the other hand, his long balls are 55% of 851 attempted but that still means he's accurate enough on long passes attempted. Although Bento gives off the vibe that he's not ideal with his feet, he's just not risky and there's a massive difference between the two. If tasked with it, coached into it and given a tactical plan where it would benefit him, he'd likely attempt passes but those are question marks that depend on the environment. 
Concentration, Decision-making, Command of Area
These are additional traits that just can't be placed simply on a stat sheet. Goalkeepers have these moments, be it lapses of concentration, be it overconfidence where they do tend to make mistakes that cost the team. They all get tied into one segment where the GK's decision-making combined with concentration leads to how well he commands his area. Sometimes they are separate, and sometimes they combine but overall it comes down to the circumstances. In reality, Bento avoids being flashy.
He commands his area well, being aware of when he needs to give instructions to those in front of him and when to take it upon himself to motivate them or sort out their positioning. He also knows when to go to ground, when to come out to collect a cross, and when to sweep. He doesn't do it in order to be flashy or fit a narrative. He does it because he's aware of his surroundings and what is needed of him in various situations thrown at him.
Player Comparison and General Conclusion
My personal conclusion is that I can't really find a weakness in Bento's game. He has room to improve in all aspects but he literally looks like the ready-made package for any team to take a punt on. In today's poor goalkeeper market, he stands out as a phenomenal prospect even at the age of 24.
He has all of the intangibles that a top keeper would have and needs that little bit of work by a top-level coach to become the next big thing. He's cheap or at least would be and when compared to the likes of other players and goalkeepers being linked to big-money moves largely due to European pedigree it's honestly laughable just how much upside he'd bring. 
Time will tell whether he turns out like Neto when making the jump to Europe and that still isn't a knock on the latter as he was and is a serviceable keeper in 3 of the best leagues in the world. With that being said I stand by my Alisson comparison before his move to Roma and I'm certain that if a Benfica [or any club of sorts] acquires him he's the next big money move in a year or two's time when any side desperately needs a towering presence between the sticks! It's time Europe gets introduced to Bento and I'm not talking about the famous Japanese meal!
By: Peter Pankovski / @23Pankovski
Featured Image: @GabFoligno / Heuler Andrey – Getty Images