Bruno Fernandes: Manchester United's Portuguese Magnifico
Since joining from Sporting in January 2020 for an initial fee of €55 million, Bruno Fernandes has arguably become Manchester United's most important signing since the capture of Robin van Persie in 2012, which delivered the Red Devils their last Premier League title to date. Playing in the traditional #10 position, Fernandes has taken the Theatre of Dreams by storm, racked up goals and assists and become a fan favorite in Manchester.
There are several attributes of his game that makes the Portuguese magnifico regarded as one of the top playmakers in Europe. Among his strengths are his ability to provide key passes, through balls, long balls, crosses, and overall, goalscoring chances, as well as taking long shots towards goal.
In his first full season with the Red Devils, Fernandes racked up an astonishing 28 goals and 17 assists, and today, he has provided 4 goals and 8 assists in 16 appearances. It should be noted that a great deal of these are penalties; Fernandes has scored 42 penalties in his career and missed just 4 with a 91.3% conversion rate, per Transfermarkt.
Before we venture any further, however, it's worth defining some key statistical terms that will be used in this analysis.
Key Passes – final pass leading to a shot at goal from a teammate without scoring.
Through Balls – an attempted or accurate pass between opposition players in their defence line to find  an onrushing teammate running towards goal.
Chance Creation – all touches that a player makes to create a goal-scoring opportunity for his  teammates, whether it results in a goal or not. If a goal is scored, the chance created is awarded as an  Assist.
Big Chance Creation – creating an opportunity for a teammate in which the player is expected to score i.e., usually a 1 v 1 situation with the opposition goalie.
Long Balls – an attempted or accurate pass of 25 yards or more.
The drawbacks to his game are his lack of dribbling ability, a skill that is notable with the most dynamic number 10 position players that have graced the Premier League over the years such as Gianfranco Zola, David Silva, and Mesut Özil. Fernandes's style of play is somewhat similar to that of Frank Lampard in the sense that they possess little flair, but they produce high numbers in terms of goals and assists alongside other attacking metrics.
Another drawback to his game is the high turnover rate of possession he generates and this is largely because of his excessive attempts of long balls, through balls, and attempted chance creation for his teammates.
This could be viewed as a positive as he is known to take risks and create goal-scoring situations, except if the possession turnover occurs close to the team's half, thus resulting in goal-scoring situations and or goals for the opposition team. 
In this season alone, Fernandes is currently topping some of the playmaking metrics in both the Premier League as well as the UEFA Champions League. Not only that, but he has also recorded some unreal stats and set various records along the way. 
He created the most chances in a single Premier League game this season with 10 against Aston Villa, in a game where Manchester United not only lost but also failed to score a goal despite the numerous goal-scoring chances that he created.
The Difference between Manchester United and Chelsea's Back 3 Structure
What's more, Fernandes created the most chances in a single Champions League game this season with 8 against Atalanta. After entering halftime with a two-goal deficit, United clawed their way back to a 3-2 win thanks in large part to Fernandes' playmaking ability, with the Portuguese playmaker registering two assists to lead United to a vital win against La Dea.
Manchester City's domestic dominance saw the Cityzens take a clean sweep in the season-end individual awards. Ruben Dias won the Premier League Player of the Season and the FWA Footballer of the Season, Kevin De Bruyne won the PFA Players' Player of the Year, whilst Mohamed Salah took home the PFA Fans' Player of the Year.
One player who could have certainly had an argument to be included amongst the award winners was Bruno Fernandes. The big drawbacks for him were his subdued performances in the big games (games against the "Big SIX") and the lack of collective success as Manchester United finished in the second position behind Manchester City and failed to win a single trophy.
Nevertheless, Fernandes has nevertheless established himself as one of the most effective playmakers in the continent for the Red Devils, becoming an indispensable, undroppable part of Ole Gunnar Solskjaer's attack. While United have struggled somewhat this season, Fernandes' stats in the Premier League (top) and the Champions League (bottom) prove he is still as crucial as ever.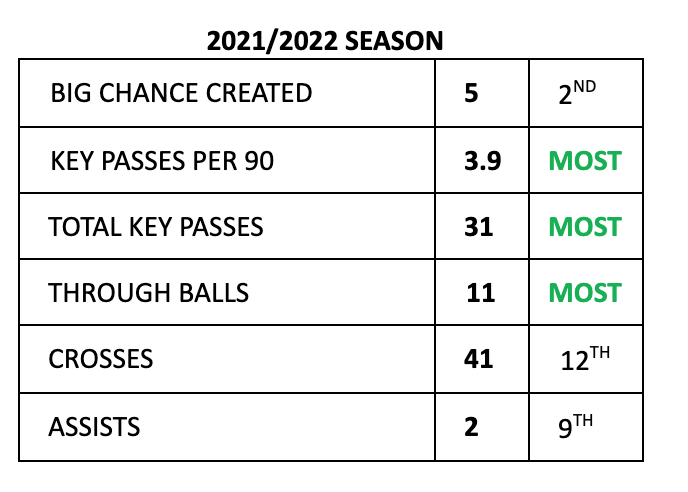 As the gap between Manchester City and Manchester United has grown over the past decade, the amount of genuine debates between individual players on both sides has, naturally, decreased. However, Kevin De Bruyne and Bruno Fernandes remains a heated debate between both sets of fans and neutrals, with the two players staking a claim as the best playmaker in Europe.
Last season, there was such heated argument across social media as to who was better between the two, but at the end of the season, De Bruyne was controversially awarded the PFA Players' Player of the Year award, an award that many felt should have been awarded to Ruben Dias as the Belgian missed certain crucial parts of the season where other players such as Ilkay Gundogan and Phil Foden stepped up for Manchester City en route to their third league title in four years.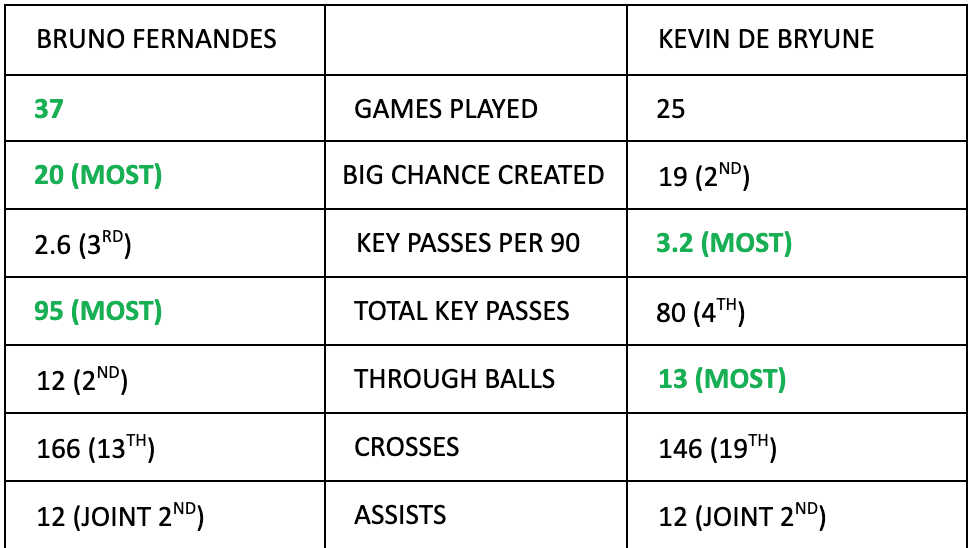 As we can see from the above statistics, Fernandes sits ahead of De Bruyne in various key metrics such as crosses and big chances created. It is undeniable that the Belgian has played a key role in City's domestic dominance under Pep Guardiola, and Fernandes will need to pick up a trophy in England if he wants to be viewed as a superior player to De Bruyne, but as far as the numbers go, there's very little separating the two.
By: Kayode Dave Ogunbameru / @kayogunbameru
Featured Image: @GabFoligno / Charlotte Tattersall – UEFA