Finding a Long-Term Sergio Agüero Replacement
Just six months ago the English tabloids were writing of an end of an era, foreseeing the departure of Pep Guardiola after a difficult season at Manchester City. The Cityzens had been steamrolled domestically by Liverpool and had been eliminated in the quarterfinals of the Champions League by an unfancied Olympique Lyon side. With his mother passing from Covid-19 in April, and the otherwise spirited manager looking uninterested as his side slumped to a string of defeats, it felt like only a matter of time before he would announce his latest sabbatical from the demands of management.
A matter of months on, and Guardiola and his side look as vibrant as ever, regaining first place in the Premier League for the first time since the 12th of May 2019 after beating West Bromwich Albion. 12 games unbeaten with an attack that has put 15 goals past their opponents in the previous 5 fixtures, this current Manchester City squad look capable of rivaling the very best sides Europe has to offer. Yet amidst all the glorious attacking football and a defensive unit that looks more convincing than in any previous season under the Spaniard's reign, one player has been missing for almost all of it. Sergio Agüero.
Agüero is synonymous with modern-day Manchester City, having spent 10 years headlining Sheikh Mansour's star-studded project and the top goalscorer in Manchester City's 127-year history. But like any footballing romance, at one point it must come to an end.
This season, Agüero has played just 141 Premier League minutes, enduring a year blighted by injury and a positive corona case that has seen him yet to deliver a goal in domestic competition. Whereas in previous iterations of City sides there has been a reliance on the Argentine for goals, in a new era of Guardiola football, it has been completely different.
Photo: Getty Images
In the 2020/21 campaign, City have lined up with 13 different attacking trios in the 19 Premier League games they have contested, not once choosing the same combination for three games in a row. Whereas City's main competitors Liverpool have opted for a front three of Mohamed Salah, Sadio Mané, and Roberto Firmino in 14 of their 19 matches thus far, Guardiola has been far more experimental, playing attacking midfielders through the center of attack or even lining up with three wingers.
32 years of age, and in the final 6 months of his contract, it looks like a century at the Etihad Stadium may be coming to an end for City's legendary goal-getter, unable to stave off lengthy injury spells nor provide the same interchangeability required in Guardiola's current setup.
In this piece, we take a look at 3 potential Agüero replacements, each with skill sets that slightly differ to the Argentine striker, however would be tailor-made for Guardiola's campaign for European glory and the new era of Manchester City title contenders.
Charles De Ketelaere
Team: Club Brugge
Age: 19
Position: CAM/CF/LW
At first glance, Charles De Ketelaere looks anything but a professional footballer, a staggering 1,92m, but as slender and boyish as a player half his height and age. Yet the Belgian forward has been a revelation since making his professional debut last season, providing immense talent on the ball and a constant defensive effort for Phillipe Clement's Club Brugge side. A full international for his country, and Belgium's young player of the year, whether at Manchester City or not, De Ketelaere is set for a future amongst the very elite of European football.
We pointed towards Guardiola's dependence on a fluid front three, and there is perhaps no better player to fit such expectations than De Ketelaere. Already this season the youngster has been deployed as a center forward, central midfielder, left winger, and even left wing-back. Though all but one of his goal contributions have come when playing through the center, the versatility of De Ketelaere's game means he could easily fit into Guardiola's setup and offer the mobile center forward which City desires in the post-Agüero era.
Defensively the 19-year old is also exceptional, contributing a staggering 7.97 defensive actions per 90, more than any other striker in the Belgian Pro League or Premier League who has played a minimum of 600 minutes this season. With more than twice the defensive contributions of either Gabriel Jesus or Agüero, De Ketelaere would offer a definitive upgrade in City's pressing out of possession, lessening the defensive workload on an aging midfield of İlkay Gündoğan (30 years old), and Kevin De Bruyne (29 years old).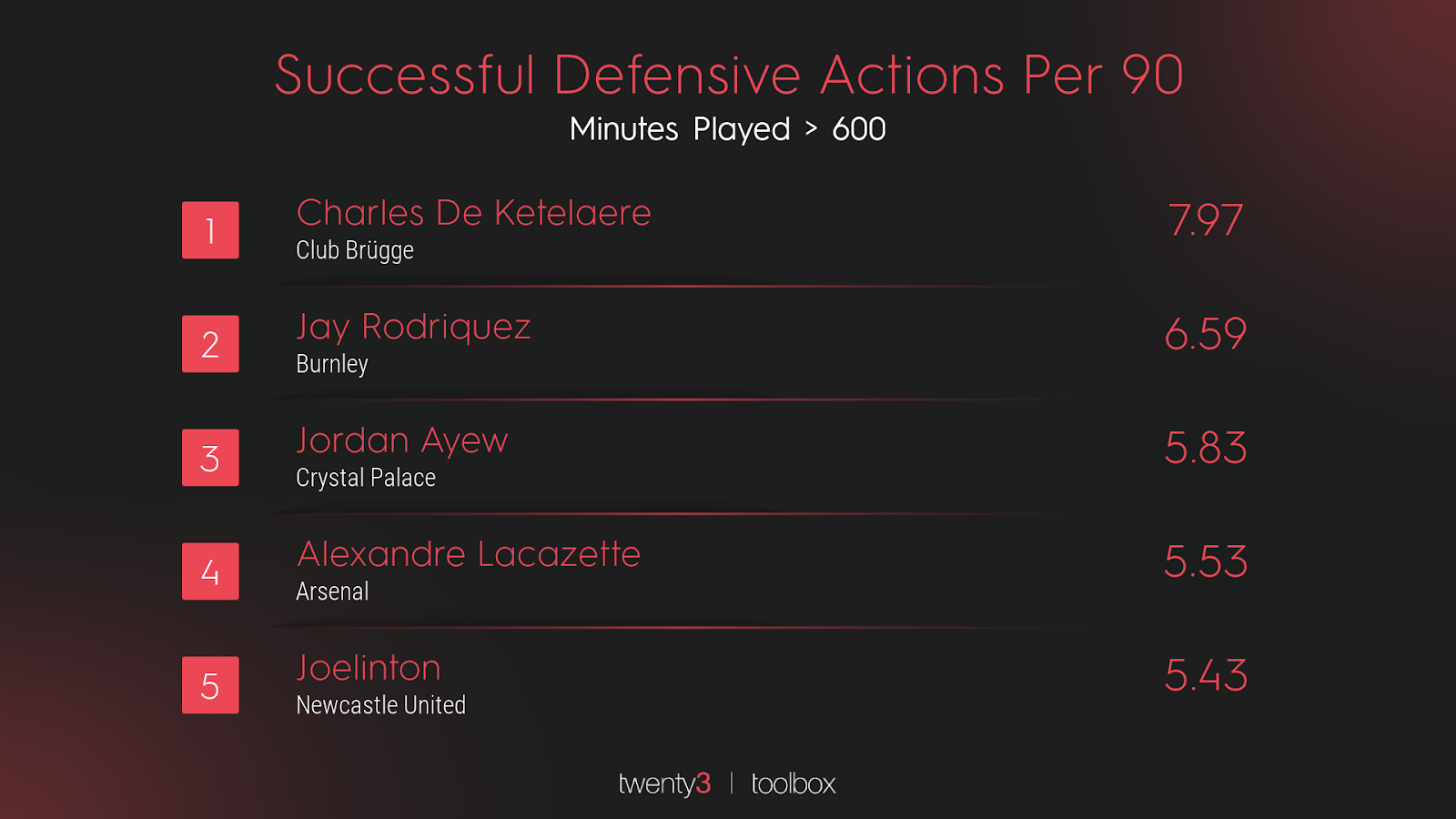 The Belgian provides an immense defensive output, highlighted by his 7.97 successful actions per 90 that would make him the leading defensive contributor of all the strikers in this season's Premier League. The next highest Manchester City attacker is Riyad Mahrez, with just 4.07 successful defensive actions per 90.
De Ketelaere would also be coming from a side with a similar ethos to Manchester City, playing for Phillipe Clement's high energy system that is dominating Belgian football again this year. A flexible manager who likes to set his team up to counteract the strengths of the opposition they are facing, Club Brugge utilized 4 different systems in their 6 Champions League group stage matches, beating Zenit St. Petersburg home and away, and twice drawing with Lazio.
Despite Guardiola being settled on a 4-3-3, the fact that De Ketelaere has excelled in a side demanding different characteristics on a game by game basis speaks of a player bearing the tactical IQ needed to excel under the Spaniard. Though a highly talented attacker with a particularly fine first touch and ability to beat a man, De Ketelaere is not the clinical finisher on par with Agüero.
With only 1.73 shots per 90, De Ketelaere is displaying the 53rd most attempts of any attacker with over 400 minutes played in the Belgian top-flight. More than 2 shots less than Agüero was averaging last season, De Ketelaere will not offer the quick fix in front of goal that many Cityzens fans may be hoping for. This is backed up in the youngster's output this season, scoring just 1 goal in 22 Pro League appearances.
His return in the Champions League has been slightly better, scoring crucial goals in both matches versus Zenit to secure third place in the group, however a squandered opportunity versus Lazio on the final matchday put on full display this key area where De Ketelaere needs to improve.
At 19 years old though, De Ketelaere offers the biggest upside of the candidates to appear on our shortlist. Already starting regularly for a Club Brügge side who are on course to win their 17th league title, the teenage talent has many attributes that will enable him to flourish in Guardiola's rebuild of Manchester City.
If De Ketelaere is able to become more effective in front of goal or see his goal-scoring output benefit from the increased talent around him, there wouldn't be much stopping him from becoming a fixture in City's attack over the next decade should Guardiola put his faith in the 19-year old this summer.
Yusuf Yazıcı
Team: LOSC Lille
Age: 23
Position: CAM/RW
French football is enjoying a mountain of difficulties right now, fighting the covid pandemic at the same time as their broadcaster, Mediapro, has abandoned the €780 million deal to televise domestic football. Though the breakdown regarding the television rights has put every club in Ligue 1 into a precarious situation, few have been hit harder than LOSC Lille.
Ligue 1 and the Landscape of Its Broadcasting Income in the Wake of COVID-19
With the club over €200 million in debt and requiring immediate intervention to stay afloat, key players will need to be sold in the upcoming windows. One such could be Yusuf Yazıcı, the Turkish attacker who has been a fundamental player for Christophe Galtier's side sitting in first place in Ligue 1.
Like De Ketelaere, Yazıcı is not your traditional number nine, playing large portions of his minutes this season at attacking midfielder or as a second striker, where he is able to utilize his ability to shoot from distance, already scoring 4 goals from outside the box with his wand of a left foot.
Though Manchester City are not prolific distance shooters, scoring just 5 of their 36 Premier League goals from outside the box, adding a left-footed long-range weapon to complement De Bruyne's excellent right foot could offer another layer to City's attacking possibilities.
Yazıcı is also a willing defensive presence, making 4.35 successful defensive actions per 90, more than either Agüero or Gabriel Jesus. Though these numbers are slightly skewed in his favor due to the large portion of matches he has played in attacking midfield, Yazıcı would at the minimum not be a liability out of possession, an aspect of Agüero's game that has caused Guardiola numerous headaches since his arrival in 2016.
Of the three attackers profiled as potential targets for City, Yazıcı is the most prolific in front of goal, scoring in Ligue 1 at a rate of 0.64 goals per 90, as well as netting two hat tricks in this season's Europa League versus Sparta Prague and AC Milan.
His talents from long range have contributed to 4 of his 11 goals in all competitions, but the Turkish international is also capable with his head or from the penalty spot, a notable factor with Manchester City's 7 missed spot-kicks the most of any Premier League side since the start of the 2019/20 season.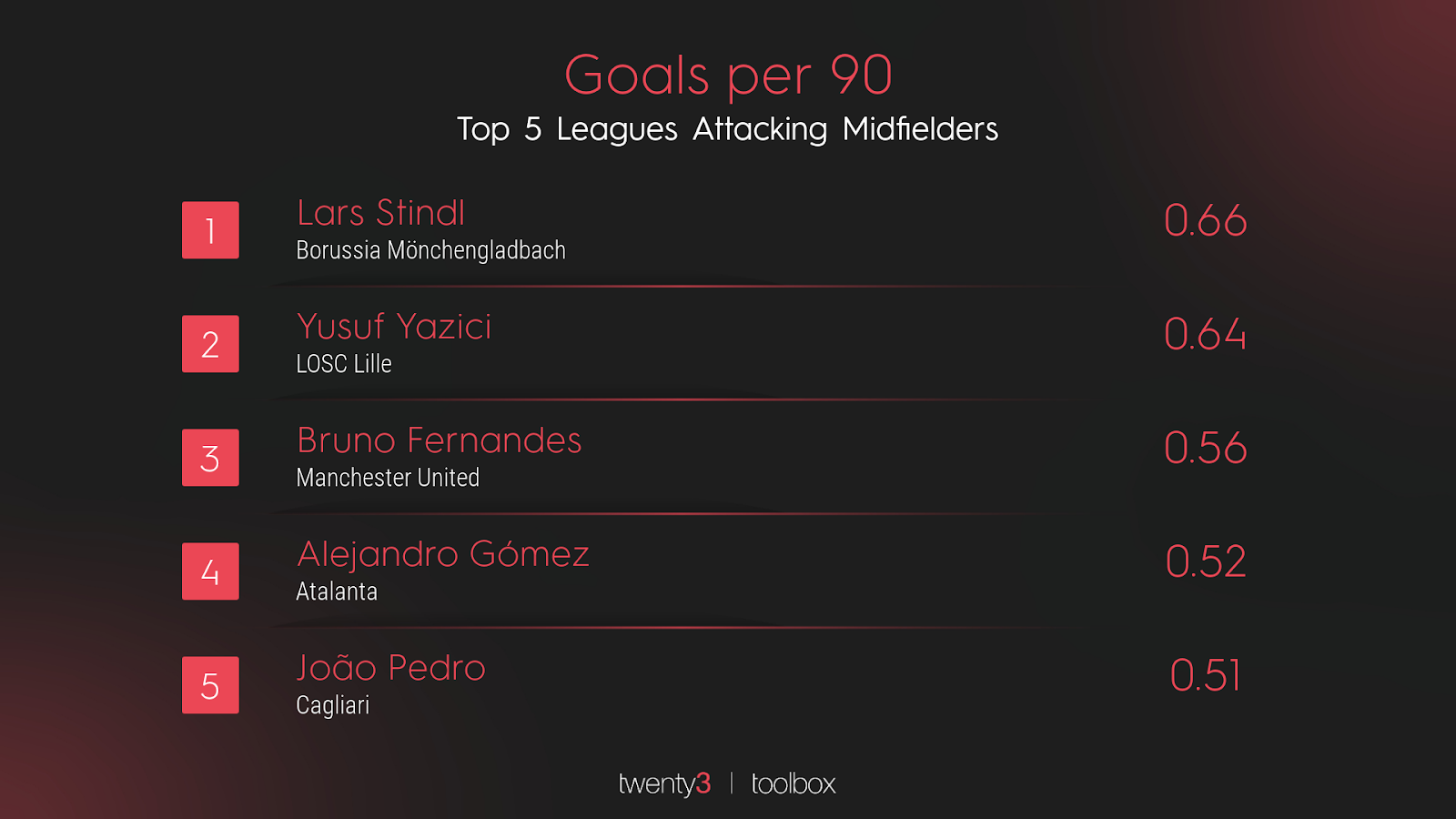 Though Yazıcı's numbers are slightly elevated due to 2 of his 11 goals coming when playing as a center forward, the output from Lille's Turkish international is amongst the best of any attacking midfielder in the world. Yazıcı would offer a good balance between a prolific goalscorer and a center forward capable of fulfilling Guardiola's expectations for the role should City sign him this summer.
Yazıcı has enjoyed an immense 2020/21 season, however going into the year few would have picked the Turkish international to be in contention for a club of City's stature, having endured a turbulent debut season in France. Signed from Trabzonspor for a fee of €17.50m, Yazıcı only scored 1 goal in 19 appearances, taking a long time to adjust to the more physical and competitive French top-flight.
Whereas a slow start for De Ketelaere could be forgiven due to his young age and lack of top-level experience, at 24 years of age, much more would be required of Yazıcı to immediately hit the ground running in England. He also has an injury history throwing up red flags, with this Turkish forward suffering a cruciate ligament tear last December that saw him miss 128 days of football for Lille.
Although it is remarkable to see Yazıcı come back even stronger from such a long injury layoff, in the heavy fixture list that Manchester City will once again be faced with next season, there is a chance that a similar injury could reoccur.
Breel Embolo
Team: Borussia Mönchengladbach
Age: 23
Position: CF/RW
When Breel Embolo broke onto the scene as a 17-year old at FC Basel, many foresaw the future of one of the greatest center forwards of this century, combining a fierce physical profile with a coolness in front of goal well beyond his years. Yet since then, Embolo has been forced to overcome many obstacles, losing almost 438 days to injury across his first two seasons at Schalke, before failing to make a breakthrough across an ever-changing rotation of managers. Now at Gladbach, Embolo is excelling, unhampered by any long-term injuries and finding success in his hybrid center forward role.
Embolo's position is the place to start, with the Swiss forward exceptional at dropping off an opposition center back and retaining possession. Whereas many strikers tasked with holding up possession are towering aerial threats patrolling the opposition's box, Embolo is only just about 6'0 ft tall but makes up for his height with a truly world-class ability to get his body into an opponent.
The Switzerland international can also pick up possession deep in midfield, expertly operating in tight spaces which is highlighted in his dribbling numbers. With 4.28 successful take-ons per 90, Embolo leads the Bundesliga's strikers when it comes to beating a man, often drawing two or three opponents onto himself before quickly shifting through them and unleashing a now wide-open teammate for a dangerous chance on goal.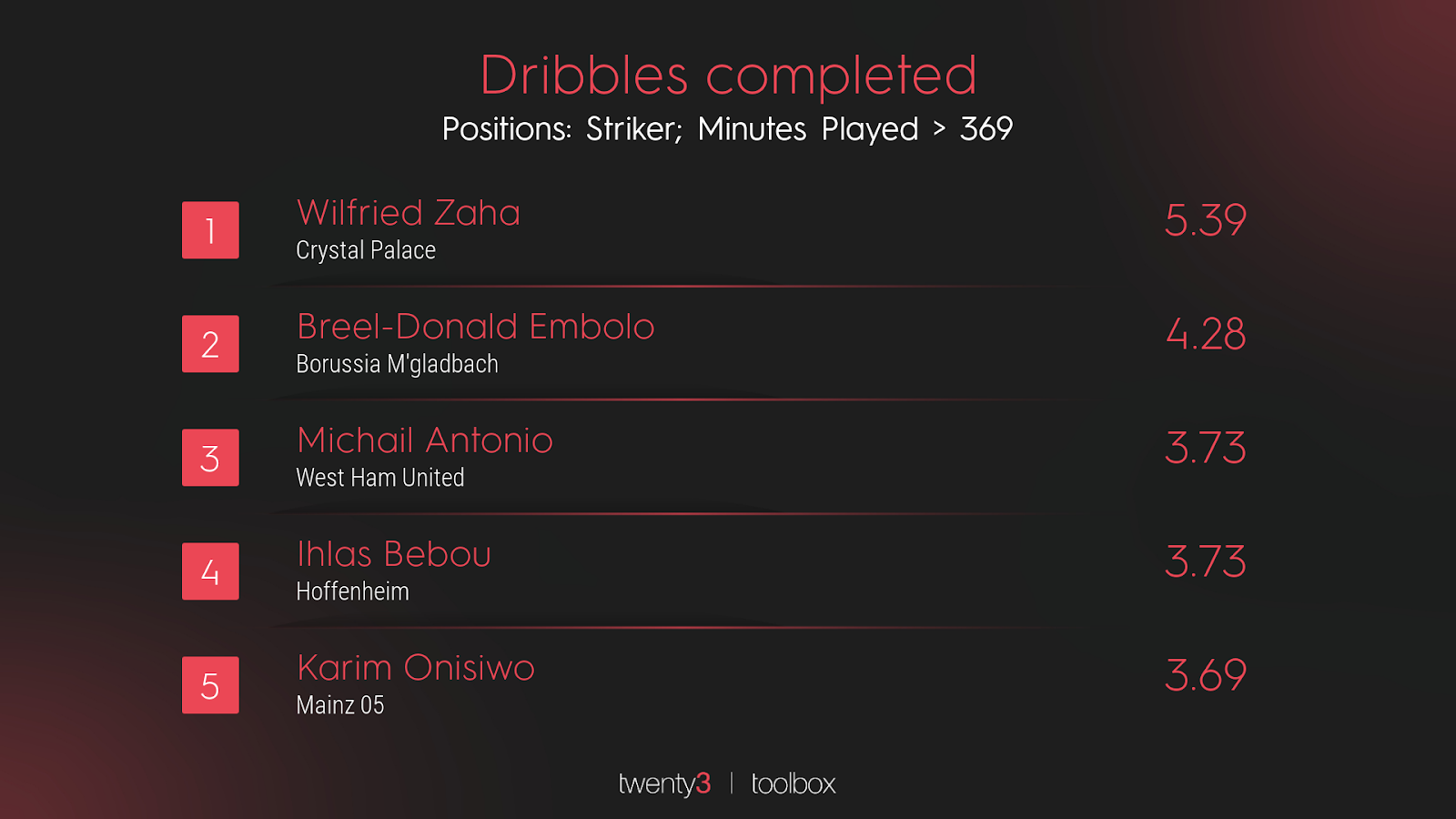 Of all the Premier League and Bundesliga forwards, only Wilfried Zaha completes more dribbles on a per 90 basis than Breel Embolo. Embolo's exceptional ability in 1v1 situations and talents at holding off an opponent with his back to goal make him one of the most dangerous forwards in the German topflight this season.
Marco Rose demands a lot of his forwards in defensive moments, with Gladbach attempting a large portion of their defensive actions in the opponent's third. Therefore, Embolo has been required to develop into an equally ferocious presence out of possession, an area in his game where he has made major strides since signing for Die Fohlen.
Embolo is often the catalyst for Gladbach's pressing, either winning the ball himself or forcing opponents into hurried clearances upfield. With 2.88 loose balls won per 90, Embolo leads all Bundesliga forwards and midfielders in this metric, and makes on average 1 loose ball recovery more per match than City's highest contributor: Rodri.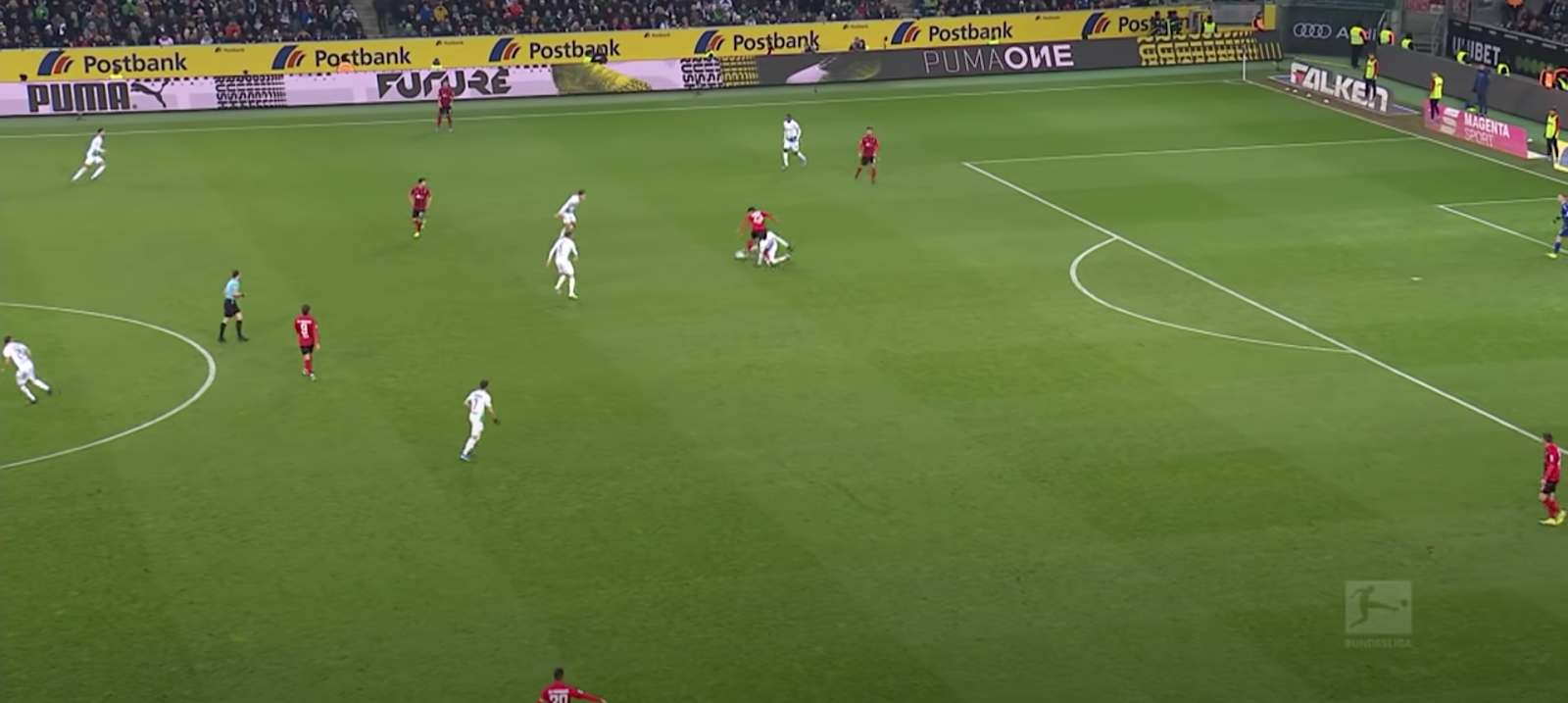 Embolo shows his defensive intelligence in this match against Freiburg, coming in from the blindside to dispossess Robin Koch before latching onto the ensuing through ball to put Gladbach 4-2 ahead.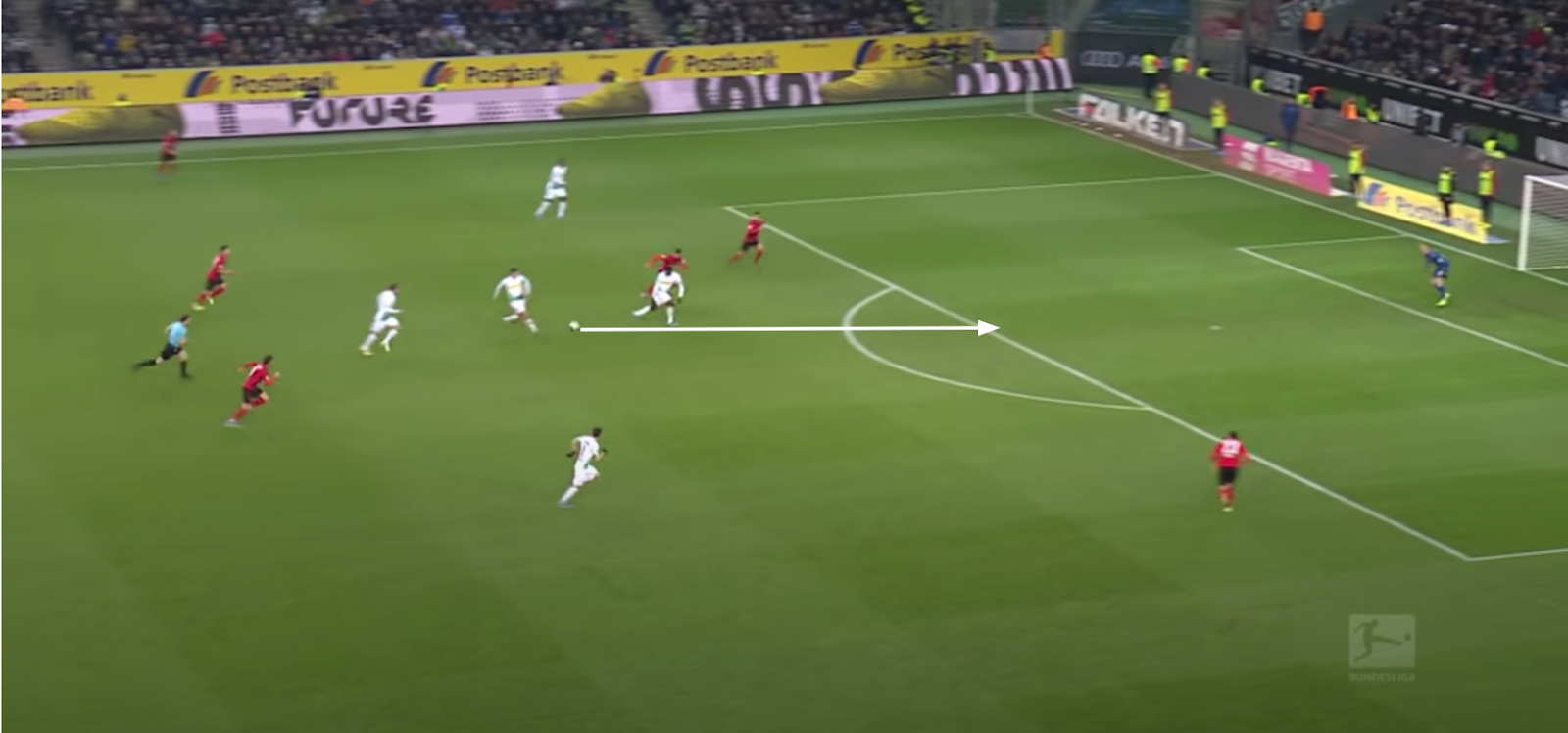 Injuries are undoubtedly the issue when it comes to Embolo, and will no doubt resurface as a precaution should Manchester City look into acquiring him. Particularly the type of injuries Embolo is suffering from is cause for concern, with 6 of the 10 injuries he has endured in his 5 ½ years in Germany being ankle or foot related. We have seen Benjamin Mendy, one of the most talented fullbacks in world football come to Manchester and find his career blighted by injury, and the Frenchman will no doubt be a warning sign for Guardiola before bringing in a player of a similar track record.
Besides an injury record that has significantly hampered Embolo's first-team involvements, on the field the only thing holding him back from becoming a true world-class number nine is his final product. Despite registering 30 shots this season, Embolo has scored just 3 goals, the worst conversion rate of the top 36 goal scorers in this season's Bundesliga.
Though his record in the Champions League is significantly better, scoring a goal every 6 shots he takes, his ability to put away the high volume of chances he creates needs to improve to make an impact in a talent-packed City squad. In the Premier League striker pool, no forward with more than 2 goals needs as many shots to convert a chance as Breel Embolo, a clear deficit in his game that needs to be addressed before he can lead the line for Guardiola.
With City set to face Gladbach in the Champions League Round of 16, Embolo has the opportunity to showcase his talents directly in front of Guardiola. If the Swiss international were to excel and possibly even put a thorn in City's hopes of European silverware, then it will be hard for Guardiola to ignore the 23-year old if a transfer opportunity presents itself this summer.
By: Adam Khan / @XxAdamKhanxX
Featured Image: @GabFoligno / Tom Flathers – Man City