Player Analysis: Charles De Ketelaere
Perhaps the biggest surprise package of the 2020/21 UEFA Champions League group stage was Club Brugge, who finished third in Group F with 8 points. The Belgian side came within one game of advancing to the Champions League knockout round, only to draw to Lazio at the Stadio Olimpico, and they will instead face off against Dynamo Kyiv in the Europa League Round of 32.
After winning the Jupiler Pro League last season, Club Brugge have picked up where they have left off, currently sitting first in the league table — seven points ahead of second-place Genk. The likes of Clinton Mata and Ruud Vormer have continued to play a leading role in the club's success, but one youngster who has emerged as a key performer this season is Charles De Ketelaere.
Born and raised in Brugge, De Ketelaere made his professional debut on September 25, 2019, playing the full 90 minutes in a Belgian Cup match against Francs Borains. He would make his second appearance a month later, starting in midfield in a 0-5 defeat to Paris Saint-Germain in the UEFA Champions League group stage. Bit by bit, he became a vital performer under manager Philippe Clement, starting each of the club's final eight matches prior to lockdown.
This season, the 19-year-old has cemented a starting spot and established himself as one of the brightest young prospects in Belgium. His breakthrough performance came on October 20 at Gazprom Arena; after setting up Emmanuel Bonaventure's opening goal, he scored a goal in the 93rd minute to snatch all three points away from Zenit Saint Petersburg in the club's opening group stage match.
His performances at club level caught the eye of Roberto Martínez, who gave him his maiden call-up to the Belgium national team on November 6. He made his debut in a friendly match against Switzerland, coming on as a substitute for Thorgan Hazard in a 2-1 victory in Leuven, before taking part in the final match of the 2021 U-21 Euros qualifiers. De Ketelaere provided the assist for Thibault De Smet's opening goal against Bosnia and Herzegovina, but it was to little avail as Belgium fell short of qualification to the summer tournament.
The cherry on the top to De Ketalaere's breakthrough year came on December 18 when he was awarded the Belgian Promising Talent of the Year; in doing so, he became only the fifth footballer since the award's inception in 1998 to win the prestigious trophy after Thomas Buffel, Romelu Lukaku, Divock Origi and Yari Verschaeren.
Photo: Belga
So far this season, he has only registered three goals and five assists in 28 appearances, although he has hit an impressive run of form as of late with one assist in three straight matches from December 26 to January 17. Despite being a tall striker at 1.92 m / 6'4," he is still relatively lightweight and struggles in aerial duels; in fact, he seems to fear them. On the other hand, he has the ability to stay on his feet even when riding fierce challenges, and while he isn't the quickest, he is capable of changing direction and accelerating in short spaces.
His unique profile has seen him shoehorned into a variety of positions such as center forward, left winger, central midfield, left wingback, attacking midfield, and even left back. Some, however, have argued that his versatility is a curse rather than a blessing.
"De Ketelaere should not be fooled," football expert Marc Degryse wrote in Het Laatste Nieuws recently. "I hear them say it is an advantage for Charles to play in so many positions. I think that's nonsense, De Ketelaere has to claim a position, or they'll keep moving him around.

What are Club Brugge going to do with De Ketelaere? Start a few matches at [Hans] Vanaken's place as long as he is suspended? And what if [Bas] Dost has started scoring in the meantime? Where are you going to put him? The best thing De Ketelaere can do now is score. Then [Philippe] Clement can't leave him out of the line-up."
Whilst some view the teenager's adaptability as a weakness, his managers are firmly on the other end of the fence. In a recent interview with Het Nieuwsblad, Martínez stated, "Good players can play anywhere. With his left foot, he is able to make the final ball, he can take the ball in any position and he has the physicality to defend and cover the entire field. It is pointless to put him in a cage from one position now. I enjoy Charles as a left back, as number ten, as number nine. Playing in different positions allows a player to grow physically. Young players need that. Philippe Clement is the perfect coach for Charles."
The signing of Bas Dost has provided plenty of competition in attack, with the Dutchman netting against Sint-Truidense V.V. and K Beerschot VA after arriving from Wolfsburg this month. Although De Ketelaere had recently been playing as a center forward, he has played on the left side of midfield in Clement's 4-3-3 in recent matches. However, with Vanaken returning from his suspension after being sent off in a 3-0 win vs. Eupen, De Ketelaere played on the left side of the attacking trident in a 3-2 win over Genk on January 24.
De Ketelaere himself has said, "I can still boost my stats. I know I'm involved in a lot of dangerous situations. But sometimes I may have to leave it to the guys on the flanks and position myself in the box. I have not yet spoken to the coach about where I will play now. I do hope that I will stay in the 1st team and that I remain important. In midfield or in the attack, I like to do both."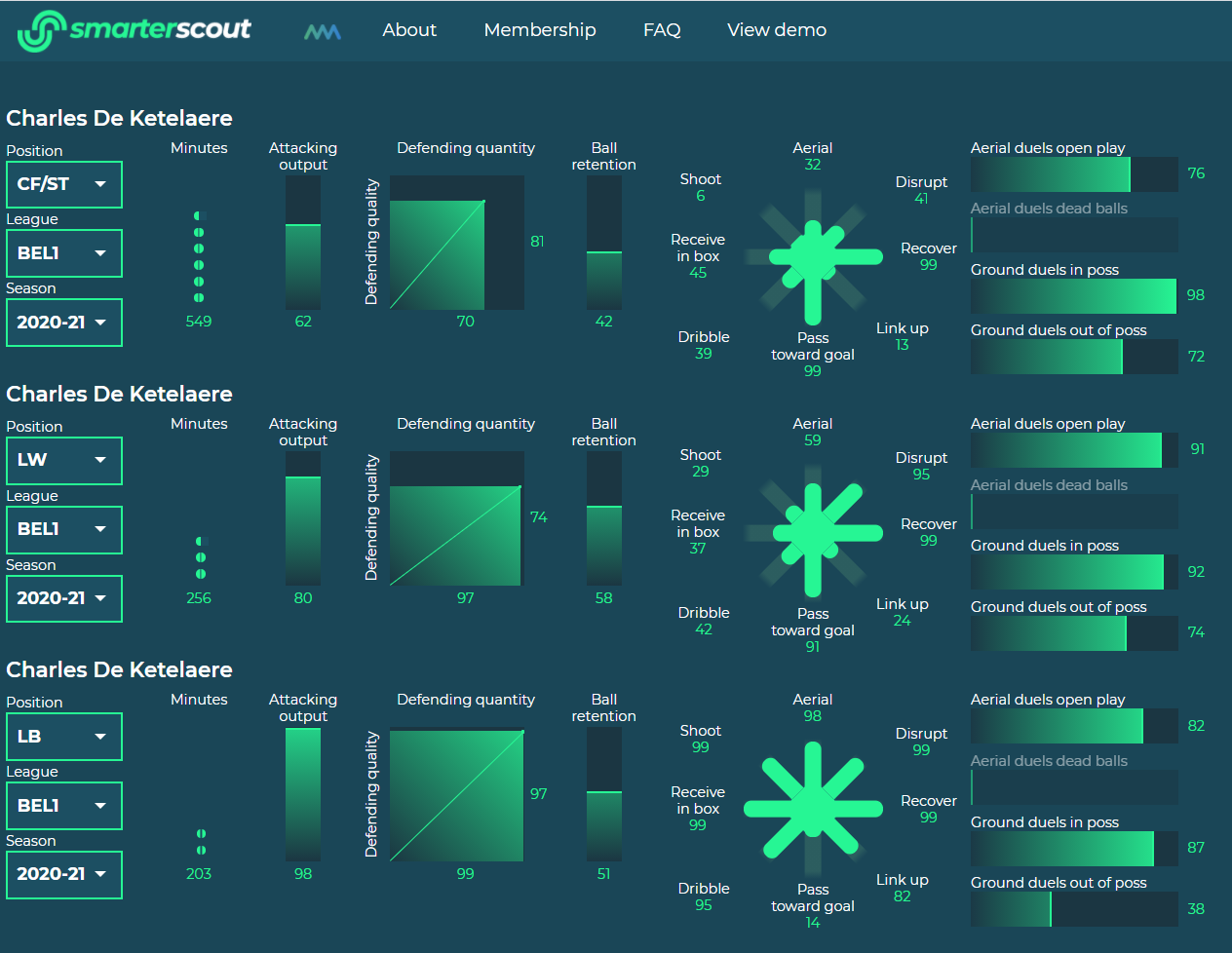 Photo: SmarterScout
Perhaps his best position, the position where his long-term future lies, is at second striker. De Ketelaere played in this role alongside Noa Lang and Emmanuel Bonaventure in attack against Zenit on December 2, and it worked like a trick. De Ketelaere scored the opening goal and won the penalty for the second, as Brugge defeated Zenit 3-0 in Belgium.
In this second striker position, De Ketelaere can drop deep or to the left flank to receive the ball and then make runs or passes into the box. He has also shined as a false 9, but whenever he drops deep or moves to the wing, there must be another forward such as Diatta or Lang who will occupy the vacated space and make runs into midfield. Overall, De Ketelaere clearly thrives when playing as a supporting player off the shoulder of the primary striker, whether that be as a second striker or an attacking midfielder.
Whilst he previously started as a centre forward prior to Dost's arrival, De Ketelaere is far from a typical target man like his Dutch teammate, despite standing just 6′4″ at 19 years of age. When playing as a 9, he typically moves to the left wing before playing a cutback or passing inside the box. The below viz demonstrates where he receives the ball when playing as a centre forward or as a left winger.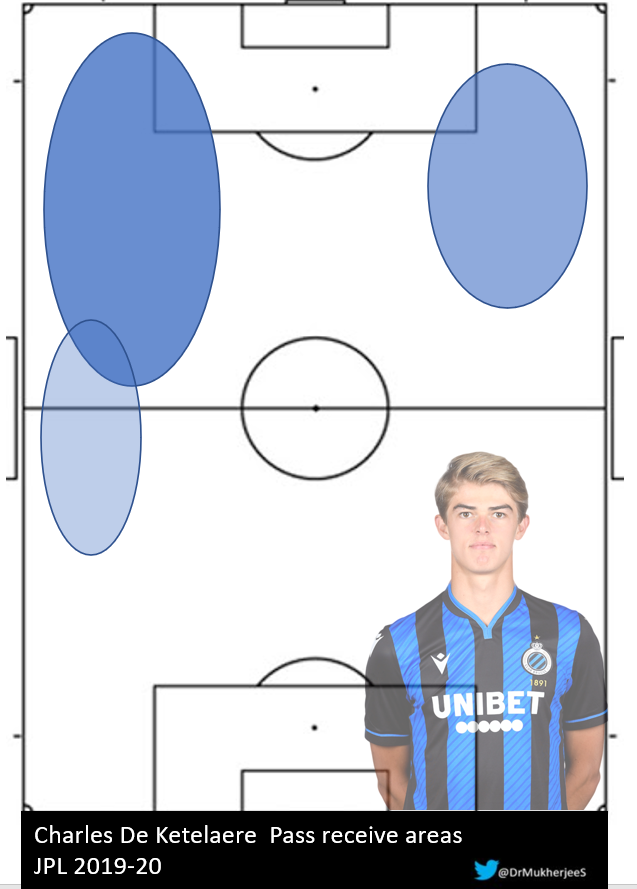 On the other hand, the below visual shows us his passes into the box. No matter where he plays, it is abundantly clear that he prefers to move into the left side of the final third before attempting a pass; almost 80% of his passes into the box come from this area — typically where a left winger would play.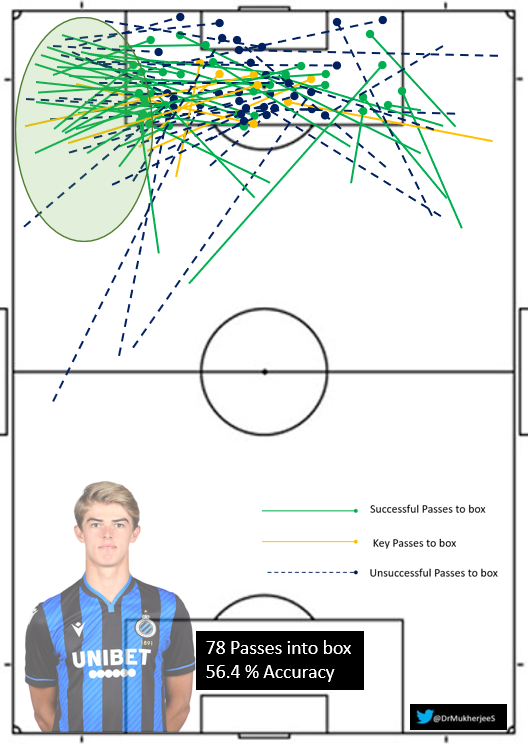 One of the reasons why De Ketelaere has proven to be such a versatile threat is his movement both on and off the ball. He has a solid understanding of space and often makes the right run off the ball in order to receive in advantageous situations and create space for his teammates, as seen in the below examples against Eupen and Sint-Truidense.


The below radar takes a look at De Ketelaere's profile going into Matchday 13. Whilst he lags behind in terms of cross accuracy and key passes, he ranks well in other metrics such as accurate smart passes per 90 and accurate progressive passes per 90.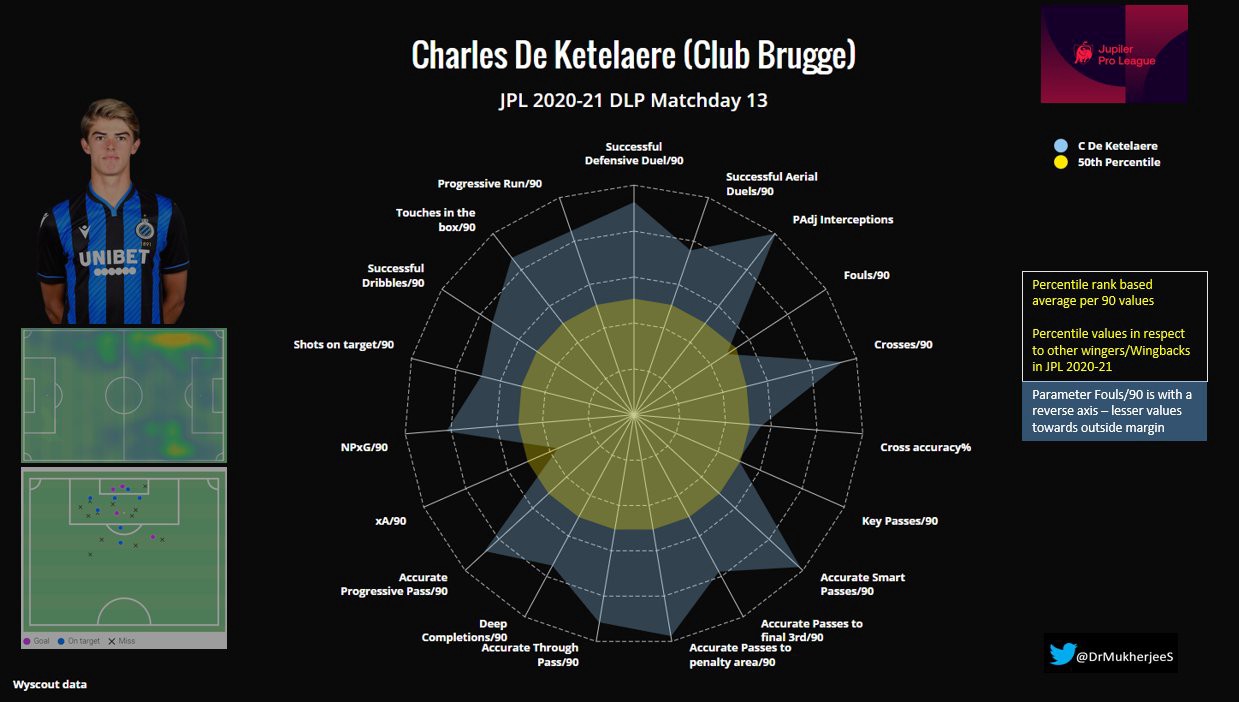 De Ketelaere tends to infiltrate between the lines, make deep, incisive runs, and combine with his other attacking teammates in order to create chances. We can take a look at how he compares to other players in the Jupiler Pro League in terms of both assists and 2nd assists.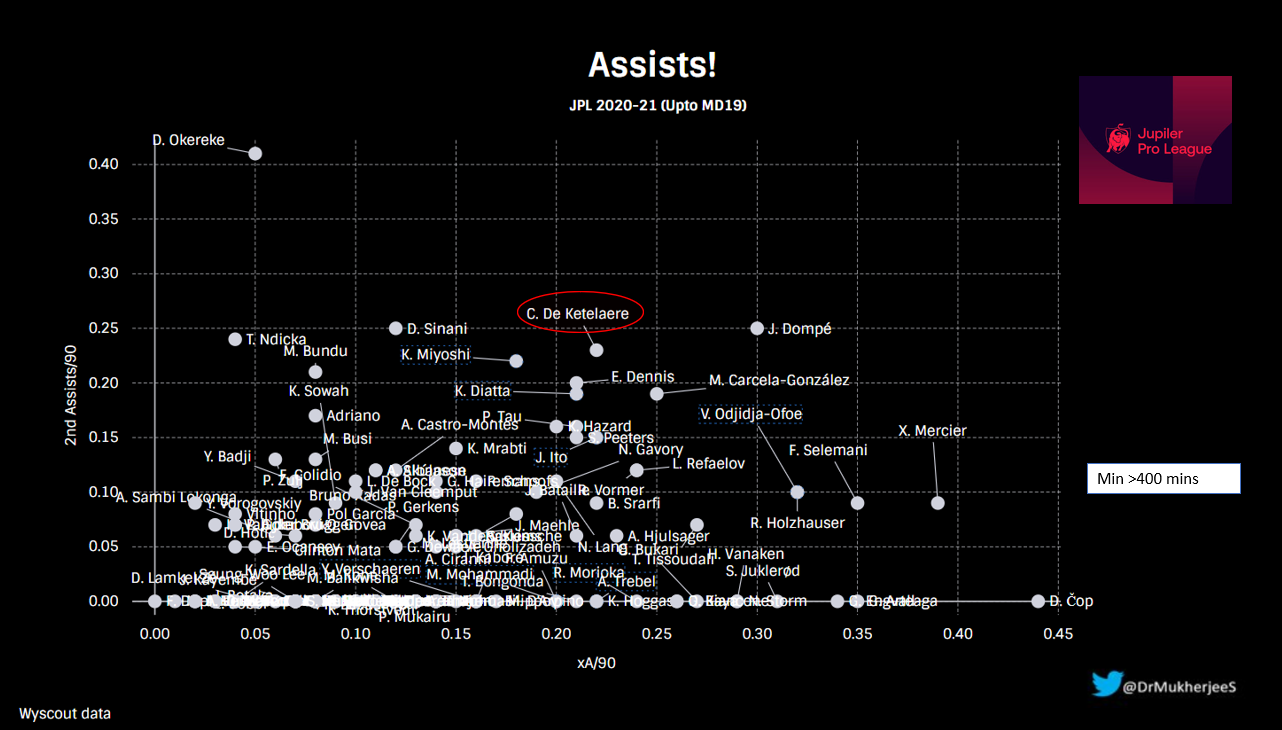 We can see a specific example of his playmaking ability in the 2-1 victory over Sint-Truidense on January 10. Club Brugge opened the scoring in the 13th minute when De Ketelaere moved in between the lines and received a pass from Mats Rits before allowing it to roll into his path. Before Steve De Ridder could get a foot in to block the pass, De Ketelaere had already scooped a perfect cross into the path of Dost, who volleyed the ball past Daniel Schmidt.
🔵⚫ | Charles De Ketelaere met de sublieme assist. Bas Dost werkt snoeihard af! 💥#STVCLU pic.twitter.com/sRzmL5IMZ8

— Eleven Sports (NL) (@ElevenSportsBEn) January 10, 2021
Not only does De Ketelaere have the ability to hold up possession against physically imposing center backs, but he is also adept at placing his body against opponents before sharply turning away and accelerating past him. His maturity belies his tender age — he recognizes situations quickly, and he has the game intelligence to make the right choices, both on the offensive and defensive level.
One area in which he does need to improve in is his shot selection. He will far too often take a high-risk shot from outside the box rather than driving into the area, creating space for himself, and attempting a low xG speculative shot. This is exemplified below by his shot map from this season.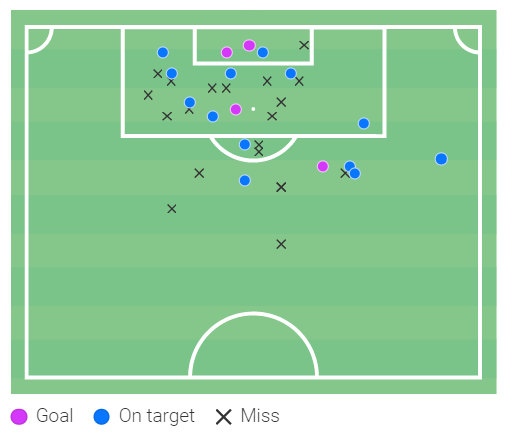 Photo: Wyscout
His finishing skills need plenty of improvement as well; far too often, he makes the wrong decision in front of goal in terms of where to place his shot, although it's worth noting that he is making well-timed runs into the box on a consistent basis. While he does not take many shots at the moment, an improved shot selection and placement will make him a far more valuable asset when he does arrive in goalscoring positions.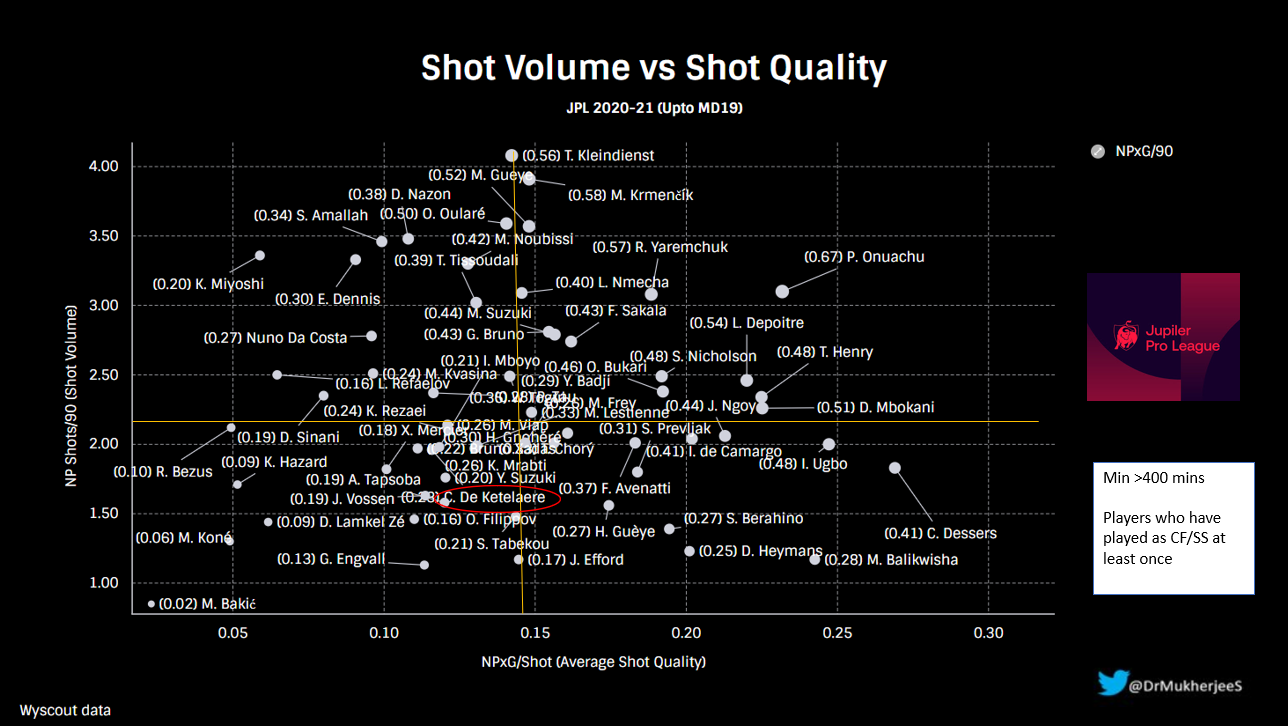 Another aspect of his game that needs some serious fine-tuning is his passing. He often attempts passes into the final third, but far too often, his precision and placement of the final ball will fail to meet the attempted target. Still, at 19 years old, he is already showing an impressive level of accuracy for his age, and if he can refine his passing precision in goalscoring areas, he will stake an even greater claim to being a regular for the Belgian national team.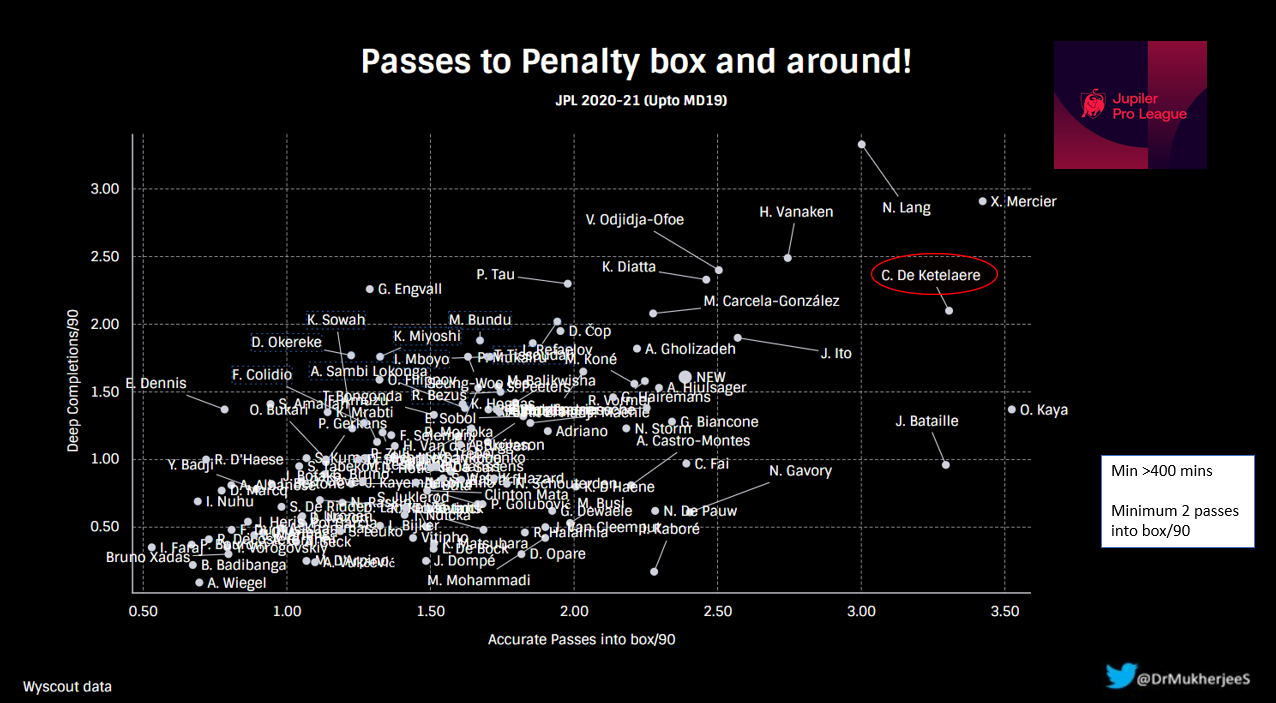 Even before his breakthrough 2020/21 campaign, De Ketelaere was already showing up well in terms of passing in and around the box and incisive through balls.
Part 4 of Striker analysis of @ProLeagueBE

Today – Passing via line breaking (Through pass/90), Pass in & around box (Deep completion/90) with xA/90 values

Creativity?

PS: Deep Completion: A non-cross Pass that is targeted to the zone within 20 meters of the opponent's goal. pic.twitter.com/zZaM0rHOyz

— SMukherjee (@DrMukherjeeS) June 6, 2020
One area where De Ketelaere does stand out is offensive duels. As opposed to a player such as Rennes' Jérémy Doku, who joined from Anderlecht in October for an initial fee of €26 million, De Ketelaere does not dribble with his head down, but instead places his body against the defender, shields the ball, and swiftly changes direction to leave the opponent in his dust.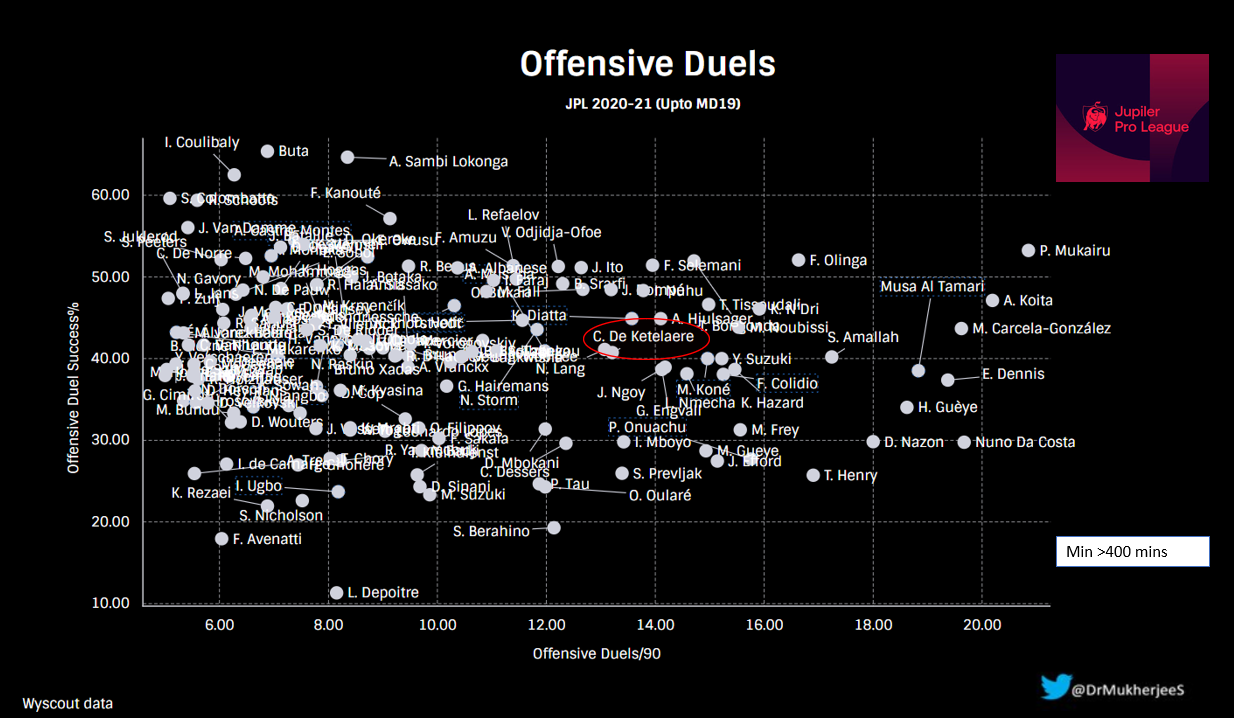 Perhaps the biggest reason why De Ketelaere has been one of the first names on Clement's team sheet is his defensive work-rate. Even when playing as a center forward or left winger, De Ketelaere is constantly involved in the defensive side of the game, and it's no surprise that he shows up as an outlier amongst strikers in the Jupiler Pro League 2020/21 season in the defensive actions metric, which measures successful defensive duels and interceptions.
De Ketelaere's defensive output bodes well for his potential to secure a stepping-stone transfer in the near future, and it could give him an advantage as he attempts to beat out the likes of Nacer Chadli and Leandro Trossard for a roster spot for the upcoming European Championship. Club Brugge has been a reliable exporter of talent in recent years, with the likes of Carlos Bacca, Arnaut Danjuma, and Krépin Diatta making the move to bigger clubs after impressing in West Flanders. At 19 years of age, it's only a matter of time before De Ketelaere follows in their footsteps and earns a move abroad.
By: The Mukherji / @DrMukherjeeS
Featured Image: @GabFoligno / BSR Agency – Getty Images