Four Potential Erling Haaland Replacements
It's almost impossible to conceive of a world where Erling Haaland remains at Dortmund next season.
In July, the Norwegian superstar will be entering the final 12-months of his contract, and with the second largest market value on the planet, Dortmund need to do anything in their power to make sure he doesn't leave on a free in 2023.
Hans-Joachim Watzke, Borussia Dortmund's CEO, has hinted at the fact they would like Haaland to determine his future in the next few weeks, so in the meantime, it's only reasonable to think that BVB have begun lining up some potential replacements. Here are 4 of my picks to come into the club over the summer.
Want to read more of Adam Khan's German football content? Then make sure to subscribe to his free weekly newsletter on all things Bundesliga & Bundesliga 2!
Karim Adeyemi
Amongst a whole host of talented German forwards, Adeyemi is probably the one who has seen his stock rise the most in the past 8 months.
The 20-year old Salzburg forward is leading the Austrian Bundesliga with 15-goals in 21 appearances, and amongst all under 21 forwards in the world, only the aforementioned Erling Haaland has scored more goals in the 2021/22 season.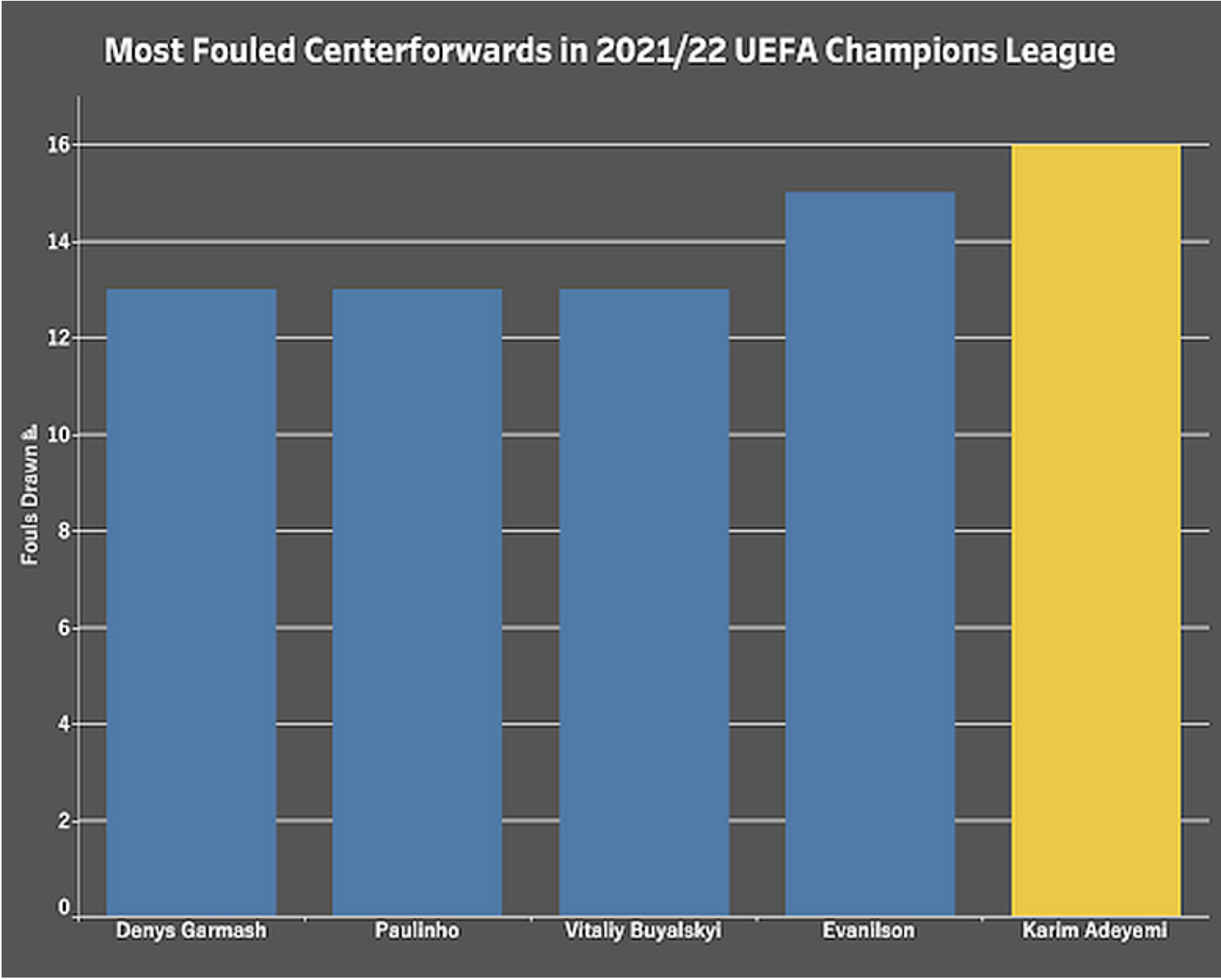 From an impressive on-target percentage, to mature final third movement, Adeyemi brings a bit of everything with him on the pitch, but, above all else his physical attributes are what have dozens of European clubs blowing up the phone of RB Salzburg's sporting director, Christoph Freund.
Adeyemi's raw pace and dynamism see him routinely leave defences in the dust, engaging the opponent in a direct manner to force his way through or draw a dangerous foul. In the 2021/22 UCL group stage, not a single forward was fouled as often as Adeyemi, and the German even set a record for the most penalty kicks won in a single match (3).
With such an engaging approach Adeyemi would provide a major boost for a squad still searching for a 1v1 specialist since Sancho's departure. Whereas last season BVB averaged 29.55 dribbles per 90, this year Die Schwarz-Gelben are putting up almost 3 fewer successful dribbles each gameweek.
One of the few players who has been a regular outlet in 1v1 situations has been Donyell Malen, and adding Adeyemi alongside the Dutch international would allow BVB to become even more flexible in their positional rotation in the final third.
Factors to Consider
The price tag and competition is obviously a factor that BVB will need to consider. Reports earlier this week even mentioned that both clubs are still far away from agreeing a price-tag, potentially allowing another suitor to climb into pole position.
However, given the massive payday from Erling Haaland's departure, not to mention Adeyemi's future resale value, the deal should be more than fundable if Dortmund are determined to get it over the line. Unlike any of the other options presented in this shortlist, Dortmund should feel comfortable dishing out an exorbitant fee in the knowledge that Adeyemi's value should only rise in the coming years.
Patrik Schick
The Euro 2020 top goalscorer who now has a goal every 78 minutes in the 2021/22 Bundesliga – Patrik Schick is most definitely playing at the peak of his powers, and there isn't a defence in Europe which seems to have the answers.
Amongst all the forwards profiled, Schick shares the most attributes with Erling Haaland. The pair are separated by just 3 centimetres, and the duo boast almost identical touches per 90, goals per shot, and distance per shot ratios.
As such, Dortmund wouldn't need to do much to accommodate the Czechian forward, and the shared characteristics between BVB and Bayer Leverkusen's play style will help the 26-year old quickly translate his spectacular form to the Westfalenstadion.
Factors to Consider:
The price tag could be the steepest of all the options we've presented, however, with the signing of Patrik Schick Dortmund would be sending a clear signal to FC Bayern that they are ready to compete for a title. Alongside Niklas Süle, the Leverkusen forward would be the next eye-catching arrival entering the prime of his career in black & yellow.
With Manuel Akanji (26) likely to leave in the summer, and the likes of Nico Schulz (28), Marius Wolf (26), and Thorgan Hazard (28) all confined to bit-part roles, adding another presence in the prime of their career will cost the club potential resale value, but it should help BVB in their quest to compete for the Bundesliga for the time in a decade.
Saša Kalajdžić
VfB Stuttgart earned an invaluable win in their bid for survival over the weekend, but with only 9 matches remaining, the prospects of seeing Die Schwaben in next season's Zweite Bundesliga are growing by the minute.
As such, many talented assets could leave the Mercedes-Benz Arena over the summer, chief amongst them the towering Austrian forward Saša Kalajdžić.
Standing at 2,00m, Kalajdžić is the tallest player in the Bundesliga, using every inch of his imposing stature to become one of just 3 forwards in last season's topflight to win over 100 aerial duels.
On the Road to Stardom with Croatia's Latest Rising Talent: Borna Sosa
Beyond just contesting these duels though, Kalajdžić is also an excellent threat for aerial crosses delivered into the box. With 8 headed goals Kalajdžić topped the 2020-21 Bundesliga aerial charts, regularly turning home the brilliant delivery of Borna Sosa to sustain Stuttgart's mid table finish.
Whether Dortmund's style suits the forward's strengths is unclear – BVB complete just the 14th most crosses in the 2021/22 Bundesliga – but Kalajdžić is far more than just an aerial target, and his malleable age (24) and versatile skill set make him a perfect alternative in a Dortmund attack routinely questioned for its one-dimensional nature.
With the most goals from a newly promoted striker since Timo Werner in 2016/17, Kalajdžić could truly be an astute pick up who would demand a reasonable fee, and simultaneously allow Dortmund to use the Haaland money to strengthen other areas of the squad.
Factors to Consider:
The biggest factor casting doubt over the deal is Kalajdžić's injury history. The Austrian forward has missed 17 Bundesliga matches this season with a shoulder injury, and since 2018 the 24-year old has been sidelined for 100 days or more on 4 separate occasions with a long-term injury.
Additionally, a potential relegation for VFB Stuttgart would only increase the demand for Sasa Kalajdžić. Particularly across the channel, English sides seem drawn to the forward's imposing physical presence. Since the Premier League began recording headed goals in 2006, no player has ever scored more than Sasa Kalajdžić's 8 last season.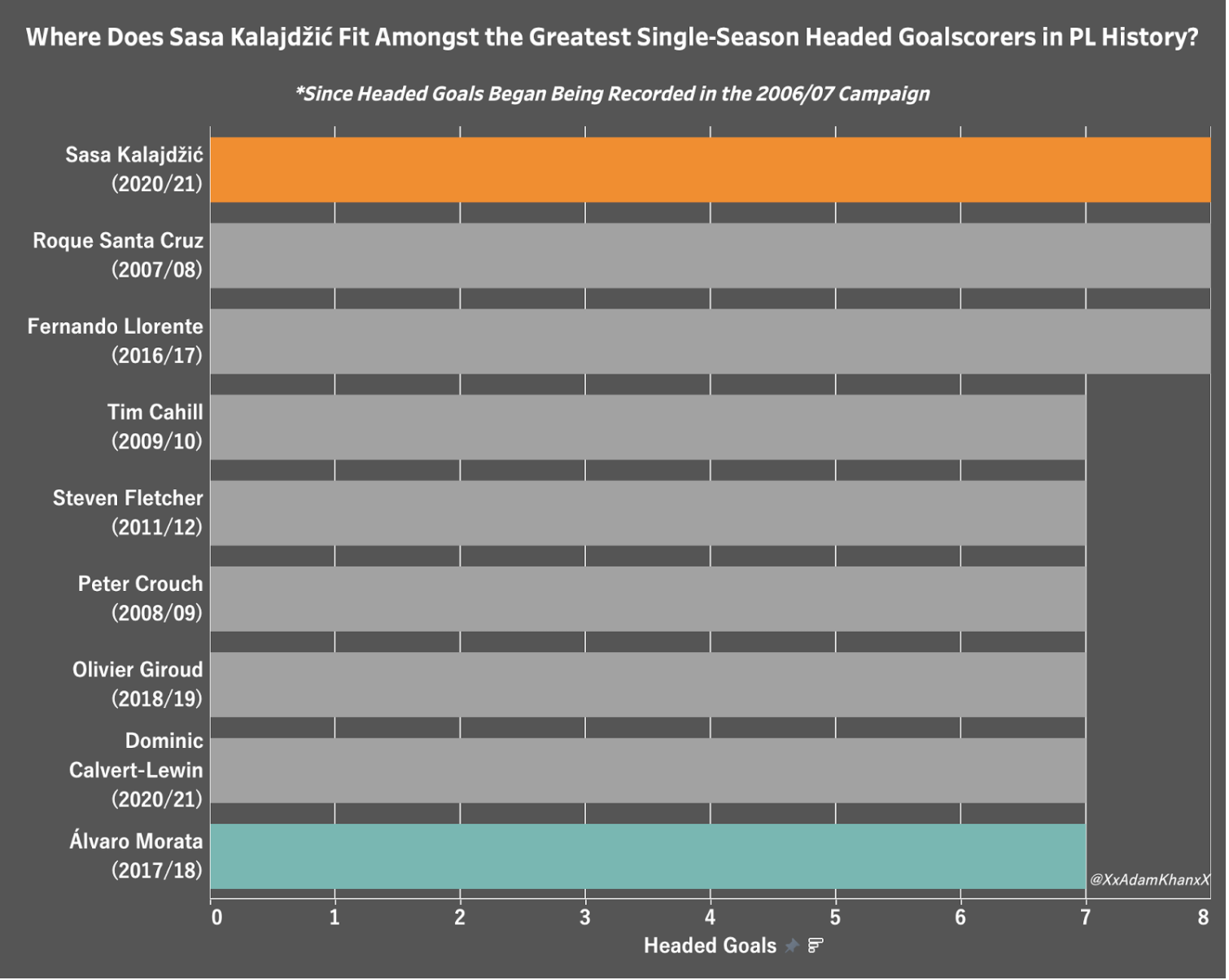 Ultimately, the Austrian may favour BVB for his familiarity with the Bundesliga, and the prospect of playing routine Champions League football, but even mid-table outfits in the Premier League could offer a lucrative wage packet which Borussia Dortmund simply can't compete with.
Timo Werner
More than 18-months into his tenure in North London, and it's fair to say that Timo Werner has failed to live up to expectations at Chelsea Football Club. The German international arrived for more than €50m in the summer of 2020, yet has scored just 7 league goals, and hasn't started a single Premier League fixture in 2022.
Whether it be the physicality of British football, Werner's own goal scoring misgivings, or the immense competition for places, it would do the 26-year old good to seek out a change of scenery in the crucial few weeks leading up to the World Cup in Qatar.
The Bundesliga, and Dortmund more specifically, could be the perfect destination for Werner to rediscover his form.
Since making his topflight debut as a 17-year old, Werner has scored 91 goals across 7 seasons at VFB Stuttgart and RB Leipzig. Looking at his Leipzig career in isolation is particularly impressive, with Werner contributing a goal or assist every 96 minutes in the Bundesliga, and every 89 in the Champions League.
Werner will also find a destination which can suit his strengths, a feature which simply hasn't been afforded to him whether in Thomas Tüchel or Frank Lampard's outfit. With darting runs from central to wide channels, Werner enjoys the freedom to pull centerbacks apart and flirt off the final shoulder of a defender.
Against deep Premier League defences Werner is rarely afforded space to reach his top speed, but the higher line with which many Bundesliga sides operate will play into his hands and allow him to regain his confidence in front of goal.
Factors to Consider:
It's difficult to gauge the price tag for this deal, with multiple factors potentially causing frustration. The change of ownership at Chelsea, the substantial transfer fee, and the fact that Werner is still only 26 could make it difficult to prize the forward away from North London.
However, given that Werner is reportedly the third-highest earner in the dressing room, yet has played only 25% of available league minutes, a new owner may think twice about keeping him on the wage bill until his deal expires in 2025.
Dortmund could then get him for a significantly cheaper price than his market value suggests, but it's unlikely they can match his current wage demands should he refuse to take a substantial pay cut from his reported €326,000 a week. 
Enjoyed this analysis? Then why not subscribe to Adam Khan's German Football Weekly to never miss an update on all things Bundesliga & Bundesliga 2!
By: Adam Khan / @XxAdamKhanxX
Featured Image: @GabFoligno / DeFodi Images