On the Road to Stardom with Croatia's Latest Rising Talent: Borna Sosa
On May 8, 2021, #Sosa was trending on Croatian twitter, with Borna Sosa's sudden decision to switch allegiances to Germany sparking outcry from The Vatreni's fanbase. Exactly 27 weeks and 1 day later #Sosa was trending again, but this time for different reasons. The 23-year-old fullback had just provided the game-winning assist to ensure Croatia's World Cup qualification, turning himself into a national icon in the process. 
Enjoy Adam Khan's Bundesliga content? Then make sure to subscribe to his German Football Newsletter for free content throughout the season!
Like most of the talent in Croatian football, Borna Sosa came through the Dinamo Zagreb academy. The Modri, as they are nicknamed, are not only the capital's most prized topflight outfit, but have also held an almost totalitarian monopoly on proceedings for the past decade.
Since 2007, Dinamo have won all but one of Croatia's league titles, whilst their 1967 Inter-Cities Cup triumph remains the country's only trophy on the international scene.
More than any domestic silverware though, it's Dynamo's unparalleled role in talent development that has afforded the club a global name and an esteemed reputation. Of the 23-man squad which took Croatia to the dizzying heights of a World Cup final, 10 of the players came through the Zagreb academy, with 5 of them featuring in the ultimate match vs France.
In Luka Modric, the club has a former Ballon D'or winner, in Dejan Lovren a Premier League champion, and in Mateo Kovacic a Champions League winner. But, it is Borna Sosa who has materialised into an almost forgotten son in the capital club's recent history.
Whereas the trio of Lovren, Kovacic, and Modric played upwards of 60 matches for the Modri, after a breakout season in 2017/18 Sosa was immediately prized away from his hometown – moving for a substantial €6.00 fee to VFB Stuttgart.
Though just 20-years old at the time, Sosa joined Die Schwaben with lofty expectations – becoming one of 7 under 23 players signed in the biggest transfer window in Stuttgart's history. Yet, neither Stuttgart nor Sosa could look back on the first year with any optimism.
Despite spending roughly €50.00m that summer, VFB Stuttgart succumbed to relegation, losing a two-legged playoff by away goals to Union Berlin. For Sosa, it was the story of niggling injuries and a lack of sharpness that curtailed his involvements, not even featuring in the matchday squad for more than half of the fixtures that season.
In the odd match he did appear in, Sosa provided a spark of attacking creativity, however, his defensive immaturity meant he was never a solidified option in a side battling the drop from the offset.
In fact, in the first 30-matchdays Stuttgart failed to maintain a clean sheet in any of the fixtures Sosa appeared in, whilst his 40% tackle success was the worst of any defender in the squad with at least 450 minutes to their name.
Though the following season would see Stuttgart bounce back into the topflight, for Sosa it was a near-identical outlook to that of his maiden campaign. After starting the season strong with 2 assists, Sosa showed a darker side to his game in an away trip to Erzgebirge Aue.
With 66 minutes played in torrid rain and one-sided dominance, Sosa took the absurd decision to make a leap in the box (pictured below), diving in blatant view of the ref who brandished the Croatian his second yellow of the evening.
Though the match ended 0:0, Sosa found himself out in the cold after returning two games later, with the experienced Emilinao Insúa playing himself into favour in Sosa's absence. Even as the Croatian regained his place on matchday 9, a stirring clash of heads saw him go down with a concussion and remain sidelined until September.
It was this terrible concoction of youthful foolishness and injury misfortune that continued to hamper Sosa's progress in his first two seasons at Stuttgart, the latter even rearing its ugly head again when Sosa missed the final 9 matchdays with an edema in his knee.
All in all, across Sosa's first two seasons in Germany the so highly-touted Croatian strung 4 consecutive appearances together on just one occasion. The odd glimpse of his attacking drive was on show now and then, however, the 1391 minutes he had accumulated across all competitions was far from what was expected from a teenager who had cemented a starting spot in a title-winning Zagreb side.
With just a year remaining on his contract and Serie A's Cagliari Calcio almost forcing through a deadline deal, the upcoming season would be the most defining months in the Croat's career. Would his injury plight continue and force his Stuttgart career to fizzle out? Or would he kick on into second-gear and turn sporadic moments into consistent output? Well, it wouldn't be long before we would find our answer!
"Borna Sosa has blossomed. We knew he had enormous potential. He plays very consistently over 90 minutes. We're really glad."
Those were the words of head coach Pellegrino Matarazzo after Stuttgart's 2:1 victory at the Weser-Stadion, praising his high-flying Croatian in his second consecutive start and 6th of the season.
After watching the full 90 minutes of Die Schawaben's opening day defeat from the bench, Sosa was given his chance on matchday 2 as he helped inspire Matarazzo's side to a demonstrative 4:1 win.
Though it was far more of a steady progression rather than a sudden click, it did seem like fundamental changes had occurred in the off-season to allow Sosa to rise from the role of squad depth, to irreplaceable starter.
For a start, Sosa took the decision to move out of his one-bedroom flat and into a larger, more spacious, home. A year earlier Sosa's parents had made the decision to move to Stuttgart, and with the onslaught of COVID-19 restrictions halting life in its tracks, the support of family close by must have played a role in freeing the Croatian's mind from the struggles of niggling injuries and plummeting self-confidence.
From a footballing sense, Sosa profited from Matarazzo's systemic changes. Whereas the previous two seasons had seen Stuttgart predominantly set up in a 4-2-3-1, under Matarazzo Die Schwaben lined up in a lopsided 3-4-2-1, a radical shift in playing style which played into the cards of Borna Sosa.
Though it was Silas Katompa Mvumpa (formerly known as Silas Wamangituka) who was afforded the most attacking freedom, the protection provided by a dogged-midfield partnership and a trio of central defenders, meant Sosa was given licence to attack in the knowledge that his forays forward would be protected in transition.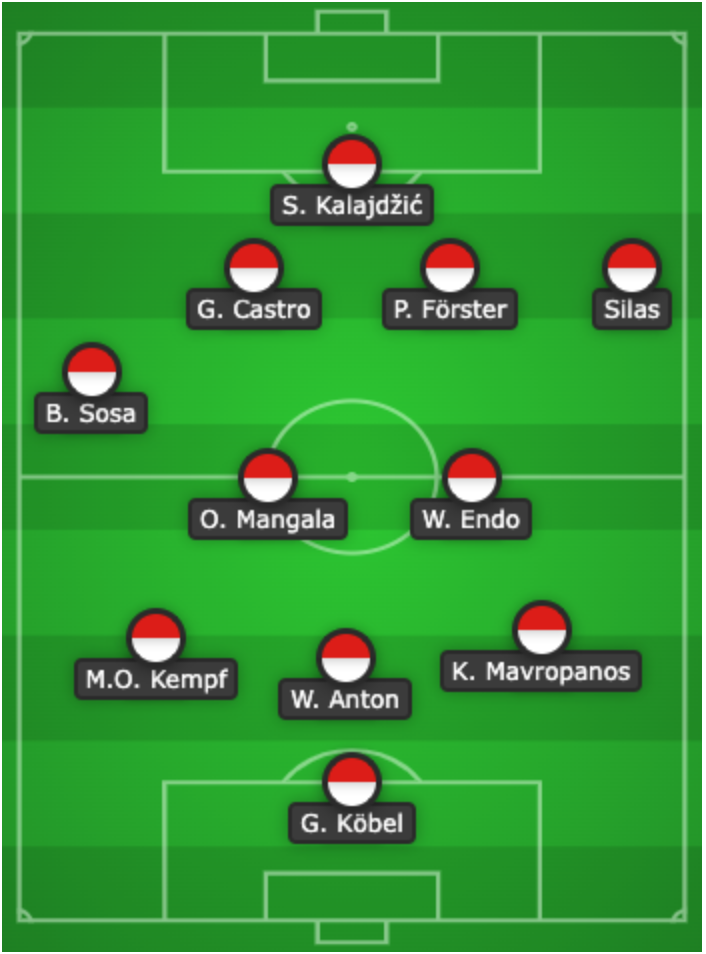 VFB Stuttgart's most used XI last season
With Silas' ability to drag defenders in with his dribbling technique, and raw pace and dynamism, space on the opposite flank was routinely afforded to Sosa if Stuttgart could quickly switch the point of attack. On such occasions, the Croatian showcased his greatest asset – his world-class ability to pick out a cross.
In 2021, Borna Sosa has registered 12 assists in the Bundesliga, 11 of which have come from aerial crosses out of open play or set-piece situations. With star-striker Saša Kalajdžić clocking in as the tallest player in the past two Bundesliga seasons, Sosa has the ideal recipient for all of his creative production (pictured below).
It's been more difficult for Sosa to garner recognition this season though, with VfB Stuttgart enduring a relatively uninspiring campaign up until now. After staying in the Europa League chase up until the final weeks in their top-flight return, Stuttgart will now be spending Christmas on a relegation spot, taking just 17 points from the opening 17 matchdays.
Key injuries across the pitch, and a summer of massive financial turnover have led to a failing consistency across the board, with Stuttgart looking just as likely to stomp Borussia Dortmund as they are to lose in pitiful fashion to Greuther Fürth. Sosa too has suffered from this turbulent form, starting the season like a house on fire with a hattrick of assists, but failing to add to his tally in any of his subsequent 13 starts.
Though the Croatian will undoubtedly be looking in the mirror first to assess where it has gone wrong, the absence of the aerial dominance and goalscoring instincts of Kalajdžić and Nicolás González have played a role.
Saša Kalajdžić has played just 17 minutes in the league due to injury, and his former strike-partner, is now on the goal-hunt in Florence, leaving Die Schwaben in the summer for a record €23.50 fee. On their own, the pair accounted for 70% of the goals which resulted from one of the Croatian's aerial deliveries last season.
With the exceptionally talented, but far less traditional number nine, Omar Marmoush, Sosa simply hasn't had the right centre-forward to capitalise on his unique skill set. Instead, most of his standout moments have come when going directly towards goal himself (attached below), or even when he has been sparingly used from the right – cutting into the halfspaces and combining as an auxiliary midfielder.
Borna Sosa has only scored one goal in his 52 Bundesliga appearances, but the 5-time Croatian international opened his account with an absolute peach of a strike. 
It'll be interesting to see what the future holds for one of the Bundesliga's most exhilarating attacking weapons. Deadline day moves to relegation-threatened Serie A outfits are a thing of the past, with Sosa surely determined to take the next step to a side regularly competing internationally.
Teams like Eintracht Frankfurt, Borussia Mönchengladbach, Wolverhampton Wanderers, and Inter Milan possess a similar structure which could suit both Sosa's ambitions and skillset, but it's always impossible to rule out the mighty FC Bayern when talking about potential moves for emerging talent in the lower realms of the Bundesliga.
Whilst it's hard to imagine Alphonso Davies being displaced, Sosa could become a truly dangerous prospect if afforded similar attacking freedoms. With Leroy Sané flirting into a central role, space and time would be of a premium for Sosa to supply Robert Lewandowski in his quest to break the 41-goal mark.
For now though it's all just hearsay and wild fantasy. Borna Sosa is contracted until 2025, and Stuttgart are counting on their left-sided focal point to drag them out of a relegation battle. As Saša Kalajdžić returns in the new year, Die Schwaben will finally have the batman to Sosa's robin.
One can count on Stuttgart steadily climbing back up the standings under their influence, and reaching the club's minimum target of mid-table anonymity.  
By: Adam Khan / @XxAdamKhanxX
Featured Image: @GabFoligno / picture alliance