Mason Mount's Meteoric Rise for Club and Country
From well before the commencement of the 2020/21 Premier League campaign, Chelsea Football Club had made their intentions clear in an attempt to aggressively rebuild and earn their place as contenders for the title. After a successful 2019/20 campaign riddled with adversity, Frank Lampard remained at the helm of the team to begin their push towards the top of the table.
However, although early on signs were positive in Chelsea's progression as a team and the money they had spent that summer was seemingly paying off, the season was full of unpredictability and highs and lows. From title contenders in December, to sitting in 9th and seemingly off the mark to even qualify for Champions League football, the season for Chelsea seemed to embrace uncertainty. Come January, Frank Lampard was sacked, and in came Thomas Tuchel, and once again Chelsea's delta spiked.
From a literal dream start in his first 13 games, to losing the FA Cup final and earning a top 4 spot as an effect of results around the league, Chelsea's season was truly capped off in volatile fashion when they were crowned Champions of Europe as Thomas Tuchel claimed his 3rd win in a row over Pep Guardiola in the final. For a season that was consistently inconsistent, and a tale of multiple parts, the one piece which remained resiliently impactful throughout its tenure, was Mason Mount.
Beginning his career with Chelsea joining their academy at just 6 years old, Mount had always dreamed of playing for the first team. However, following a similar path to many great talents at the renowned club's academy it seemed a chance to breakthrough was slim to none as top players from the academy consistently failed to make it at the club. Despite this, with his first loan move to Vitesse in his debut season with them, he was an influential player in the side.
With 9 goals and 8 assists for the Dutch side, Mount would go on to feature in the Eredivisie team of the season and win player of the year. The following year he went on to join Derby County who had just appointed Frank Lampard as manager. Although not matching the same levels of productivity as his time at Vitesse, Mount managed 8 goals and 4 assists in his 35 appearances in the Championship.
Working directly under Frank Lampard seemed to benefit Mount as the Chelsea legend played in a similar role to where Mount had been developing as a number 8. Fast forward to the 2019/20 season and Chelsea find themselves with a transfer ban, the loss of Eden Hazard, and Maurizio Sarri leaving for Juventus. Frank Lampard was a positive appointment at this time, and during his tenure heavily utilized the academy talents such as Mount with consistent minutes in the first team. 
Although Mount's development seemed to mimic the trajectory of a role similar to that of Lampard, his time at Chelsea showed the wide array of roles in which he was capable of filling. This resulted in consistent inclusions in the starting lineups which originally seemed unique to Lampard, but perpetuated under Thomas Tuchel throughout the season after Lampard's sacking. Mount seemed to defy the concept of bias under Lampard and show his talent was multifaceted and adaptable after Tuchel came in.
Being such an integral part of the archaic and conclusively successful season for Chelsea we'll look to analyze why Mount is such a key player in what he offers to this Chelsea side.The analysis will overview Mount's position and role in the team, display in-game video examples of this along with his strengths and tactical role, all supplemented by stats and data to provide further context.
Team Setups and Positions
When discussing Mason Mount, undeniably one of the first notable points is his ability to fit in a variety of positions/roles within the team. As a result it's important to briefly analyze the tactical set-ups of both Frank Lampard and Thomas Tuchel. In this we'll look to discuss how Mount was utilized in their respective systems, and dive into the areas of tactical instruction which are relevant to Mount.
Under Frank Lampard, he often utilized a variety of formations over the course of the 2019/20 season. However, during the 2020/21 season with many of the new signings reinforcing the squad in certain areas, he primarily opted for a 4-2-3-1 and 4-3-3. In the previous season when using the 4-2-3-1, Mount would be used in the attacking midfield role behind the striker with occasional features out wide at times.
With players like Kai Havertz in the team and Pulisic unfit during the start of the season, Mount was used often as one of the wingers, primarily on the right side, as Timo Werner was preferred on the left. While Mount's performances were often criticized in this role and Lampard was under scrutiny for not using a natural winger, the tactical reasoning for this stemmed from an attempt to create further balance within the squad and leverage Mount's off-ball work rate and effectiveness in pressing.
In the 4-3-3, Mount would be used on the left side of the midfield trio, with N'Golo Kanté most commonly sitting behind in the defensive mid role. Depending on who Chelsea's opposition was, the right-sided mid would usually be one of Kai Havertz if facing a low block where Chelsea could afford to play more aggressively and expect the majority of possession, or Mateo Kovačić against teams which pressed more intensely to utilize his strong press evasion.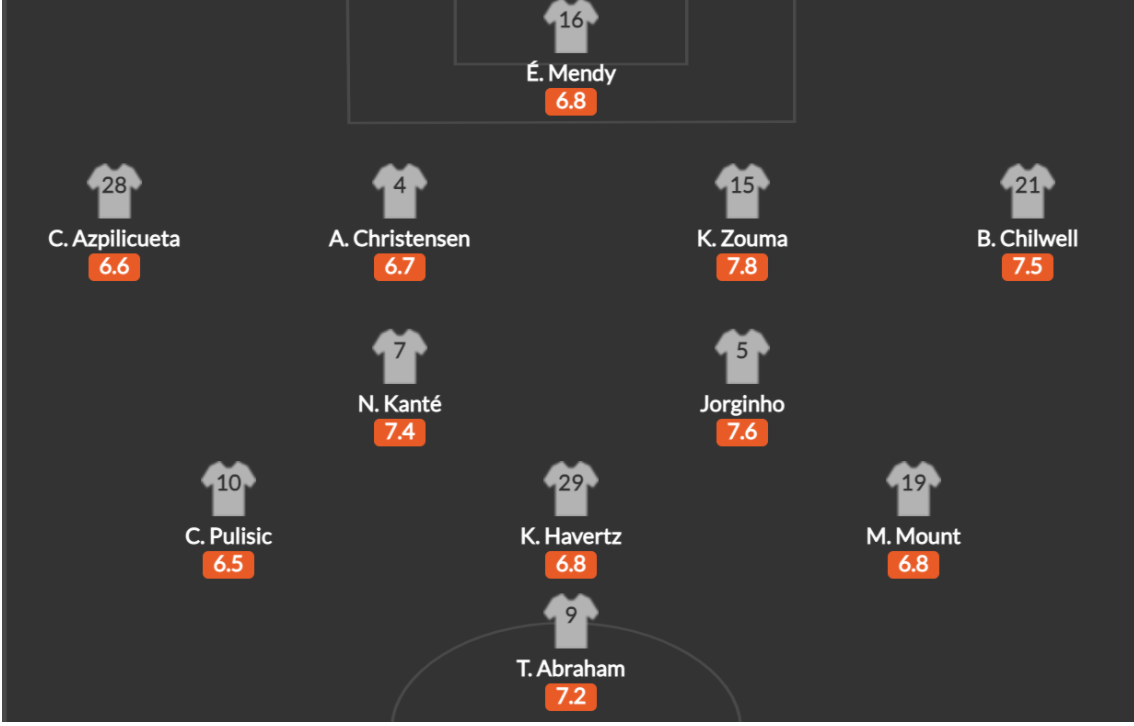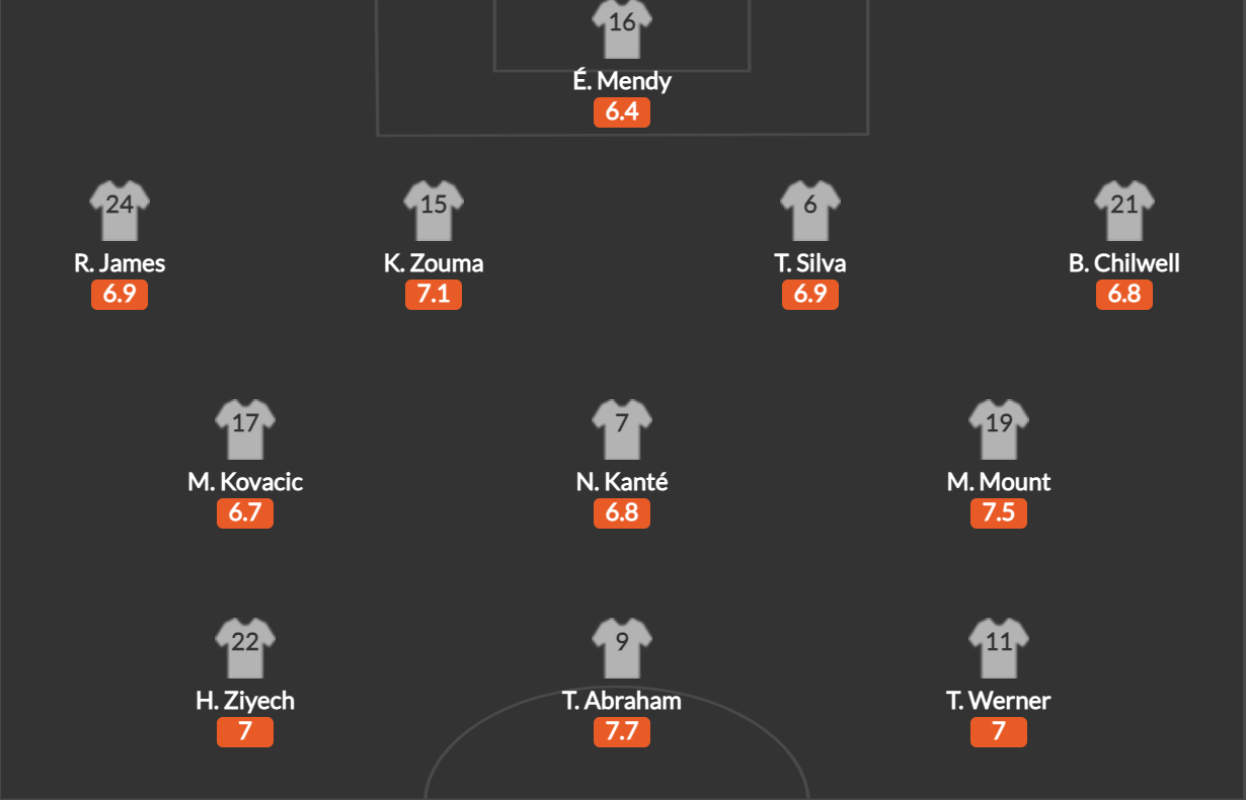 The way in which Lampard played in possession would start with building out of the back with both formations. In the 4-2-3-1 the midfield tended to be limited in its progressive ability and would often utilize fullbacks.
However, in the 4-3-3, Lampard would utilize Mount to progress the ball often by having him drop into deeper position to assist in moving the ball forward. In attack, Chelsea would often look to create with the fullbacks, and in spells of settled possession, Mount would be involved in facilitating the attacking play, and sometimes even getting involved through shots from distance or combo passes with teammates around the box to penetrate a defense.
Finally, in defense Mount would be crucial to the team in his work rate off the ball. He would provide balance and cut-out transitions with his defensive recoveries, as well as force opposition turnovers and win possession in dangerous areas with his ability to lead the press. 
Moving onto Tuchel's instructions and tactical use of Mount, we'll notice that although his utilization of Mount was less diverse in the roles and system he played him in, he was selected just as regularly as under Lampard. Tuchel almost exclusively played a 3-4-2-1/3-4-3 which sometimes became a 3-4-1-2 variation depending on team selection, and Mount was most often used as one of the dual 10 players in the system.
Under Lampard, he registered 2 goals and 3 assists in the league. However under Tuchel, while only adding 2 more assists to his record, he scored 4 more goals showing the more advanced role in the team allowed him to be more of a threat in the box. Mount often switches between being placed on the left and right side of the dual 10s.
If Timo is in the team, but not playing through the middle, then Mount will start on the right side. If Timo or another forward plays centrally, Mount can also play on the left side. These tactical decisions often vary depending on the opposition, the game plan, and as well as other personnel selection of complementing the wide forwards with the wingbacks.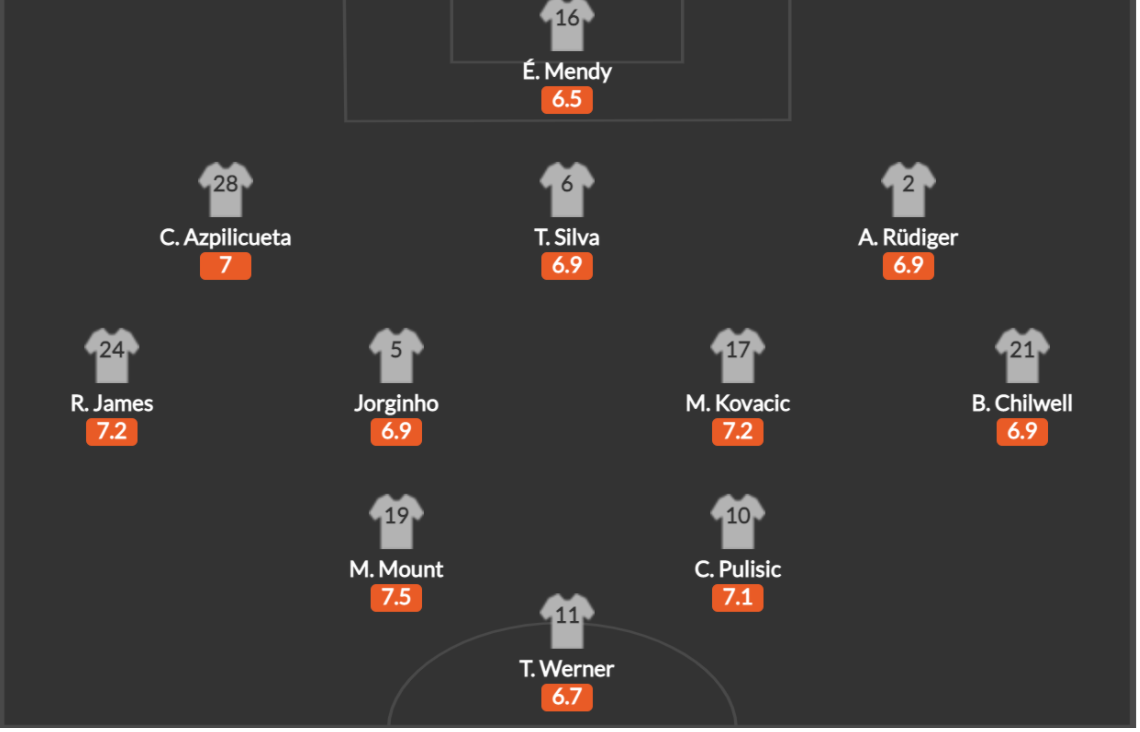 In both of these formations, the overall philosophy of play remained constant while different personnel and slight tweaks of the roles varied. During the build-up, Tuchel, similar to Lampard, would try to play out the back patiently and often with switches of play with the 4th most per 90 at 16.4, only 0.3 behind Manchester City in 2nd.
The midfield pivot and wingbacks played a crucial role in this as the center backs would often look to distribute out wide or centrally depending on the opposition pressing structure. This meant that there was an emphasis on positional play in order to evade opposition press with lanes in both central and wide positions needing to be consistently available.
In cases of overloads or high pressing, attackers and mids would often drop to even the numbers and assist in possession. In the build-up, Mount would be most often used as one of the attackers dropping to becoming an outlet of press evasion and attacking progression. In attack, he would often drift into various spaces around the final third depending on which side he's placed on and facilitate the attacking play.
Mount's ability to progress and influence the attack is multi-faceted, therefore we'll analyze this further in his diverse profile and tendencies while still looking to highlight nuances between his game under Lampard and Tuchel.
Profile, Strengths, and Tendencies
Today, modern-day midfielders generally can be broken into the 3 subcategories of defensive mid, central mid (box-to-box), and attacking mid. Although, sometimes players can even fit in more than 1 of these subcategories, and the modern-day midfield has an endless list of specialized roles within these midfield positions which has become ever more relevant to a team's squad composition.
For example, in the central mid, or number 8 role, there are various archetypes within this position, such as players that operate as deeper 8s, or more attacking 8s. With only naming a few responsibilities, midfielders are looked at to help progress the play, facilitate and/or create chances for others, and be defensively responsible in recovering the ball or holding a tactical shape. 
As a result, versatility in players becomes a huge asset in this regard allowing managers the flexibility to pivot a single player into different positions on the field adjusting their tactical role. This concept is hugely relevant to Mason Mount not only as a testament to his significance for Chelsea, but also has implications on his wide array of skills as a player.
We'll begin with evaluating Mount's profile through his foundational skills and tendencies to better understand how these build to make him effective in different roles. Starting with a clearer picture of the difference in his role under Lampard vs Tuchel, the heat map below depicts his diverse roles, which covers all his actions throughout the entirety of last season.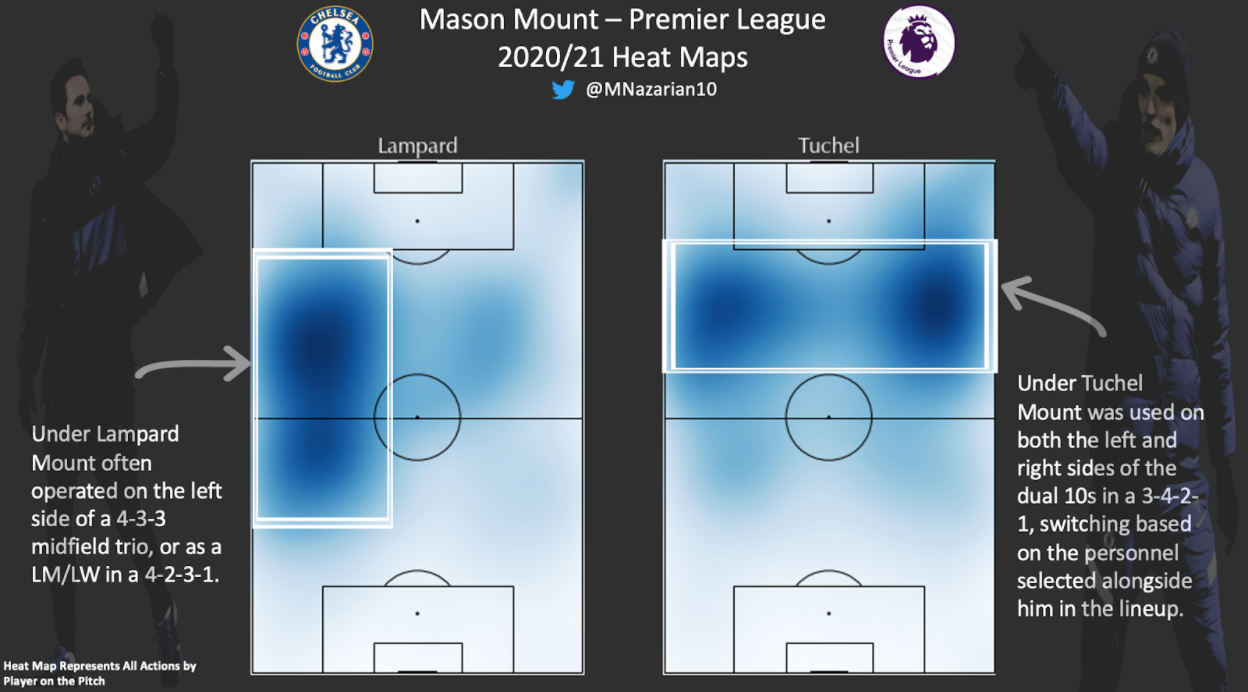 Here we see the difference in the two systems and which areas of the field Mount was most active. Under Lampard, it's evident his average actions were in deeper positions of the pitch with involvement in the build-up and play progression. However, under Tuchel we see the majority of his actions on either side of the box which was dictated by his starting position of either the left or right of the dual 10s.
What's important to note here is the majority of his actions around the opposition box, even under Lampard, came in the half-space positions on the pitch. Mount's positioning is almost a foreshadowing key element to his game. His ability to find pockets of space is critical to his effectiveness as a player, and generally important for all midfielders, however, the way he is able to manipulate this space is remarkable and unique.
This is a theme we will revisit with in-game examples, as Mount was often operating in these with a significant amount of on-ball actions. We'll start by analyzing the foundational skills Mount has mastered to then understand how he leverages these tools to optimize his effectiveness as midfielder with attacking output and support, and as a result why he is so cherished by his managers thus far. 
One of Mount's most overlooked on-ball actions is his ability with the ball itself. Although the role of modern-day midfielders and the demands necessary of the position have evolved, quality on the ball has remained as a backbone of the position's requisites. Mount in this regard is exceptionally capable, but his ability on the ball is quite unique in that he works with the ball almost both as a midfielder and winger.
It's an interesting nuance that is tough to quantify, and really can only be personified by examples of his play. The examples below will highlight this phenomenon further and we'll then dive into how this plays out in-game with some data-driven visuals.
In the examples below we see Mount beating players in wide and central areas to carry the ball forward and push the attack like a skilled winger. However, in addition to this, we also get an understanding of his ability to receive in deep positions, turn seamlessly with the ball, and resist the press of multiple players at once and retain possession. Much of this stems from his balance, ball control, and agility.
Almost like a ballerina the way he floats and turns with the ball and is then able to shift nimbly to navigate tight spaces. On top of this, his low center of gravity not only allows him to move in this manner, but also enables him to hold off challenges from larger opponents with deceiving strength on the ball. Here we revisit the theme aforementioned in Mount's positioning as it once again becomes relevant.
Mount takes up and offers himself to receive the ball in such tight pockets of spaces as a result of his skill on the ball. His technical quality allows him to execute high-precision actions at a higher pace of play than a majority of his opponents which in turn makes the radius of space he needs to operate effectively as a player significantly less, enabling the team with greater dynamism and tactical improvisation.
This is evidently unique to possess at the level of effectiveness Mount executes at, so what's the result of all this? Below, we can see all of Mount's successful carries which progress the ball into the final 3rd and opposition penalty box, as well as his carries which result in key passes and assists.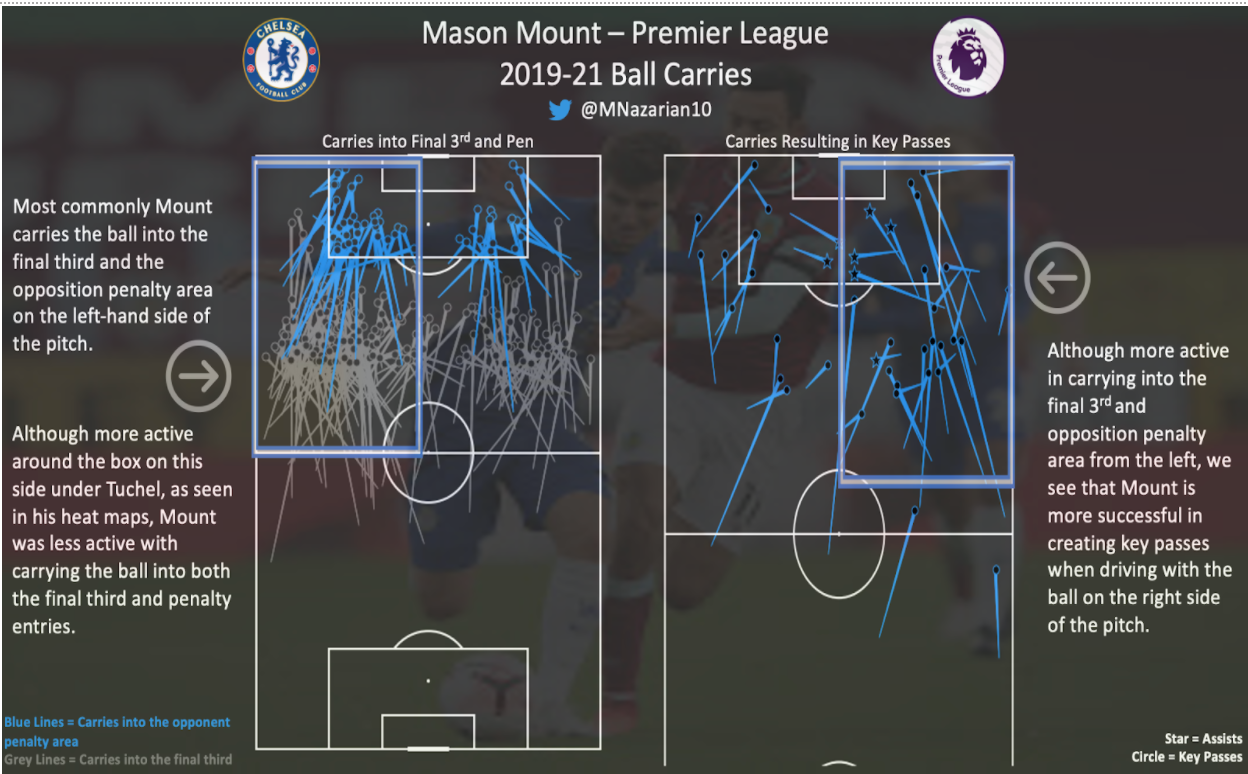 Here we're able to better recognize which areas Mount favors when progressing the play with the ball, and also which positions he's more successful in creating opportunities from teammates when carrying the ball forward.
Furthermore, we see Mount is capable of progressing the build-up phase of Chelsea's possession, yet also skilled enough to initiate attacks for the team around the box. It's important to keep these ideas of his capability in such roles in mind, as this will remain important throughout the piece and be a recurring theme we will touch on.
However, what use is skill on the ball if one is unable to amply provide a quality end-product to score or create opportunities? Additionally, if not directly scoring or creating said opportunities directly, how can one add value? These are questions we'll aim to break down and then apply to Mount to dissect another fundamentally critical role of midfielders; the ability to effectively move the ball through passing.
Outside of his tactical aptitude in relation to passing and only focusing on his technical proficiency, Mount's passing particularly stands out in his through ball passes (Passes leading a runner into space) and delivery of final balls/crosses into dangerous areas of the box.
We'll first look at his ability to play through ball passes which come in a couple different forms. In a more traditional and direct sense, he's capable of playing the final pass into space between opposition defenders ahead of a runner to assist a goal-scoring opportunity, or to progress the play from build-up. Conversely, he's also capable of playing passes from wider areas to force an attack forward around the box and set up a teammate to play a final ball into the box, both examples of which we see below.
Additionally, Mount is very capable of delivering crosses or servicing teammates in the box to assist shots or assist those who will assist shots with their next pass (I.E. Pre-Assists). His execution of this occurs in a variety of scenarios and fashions which the clips below will highlight examples of and further emphasize this concept.
As we see in the examples above, we're able to get a better idea of what kind of passes Mount plays in different situations. His capacity to accurately thread and weight of high difficulty passes as well as deliver passes into the box, both originates from an elite ball-striking technique.
Something which is executed at a high level of consistency which we will see further examples of in his shooting. One of the most interesting features of this is in particular the range at which he can pass. In progressing passes vertically or switching play, Mount remains capable of completing such passes and proves to not only be an asset in directly contributing to creating opportunities, but also allows him to set up others to create chances.
Below we'll see what this looks like over the course of a season, taking a look at Mount's passing ability by analyzing all of his passes into the opposition penalty area as well as his clustered vertical passes from the middle and final third.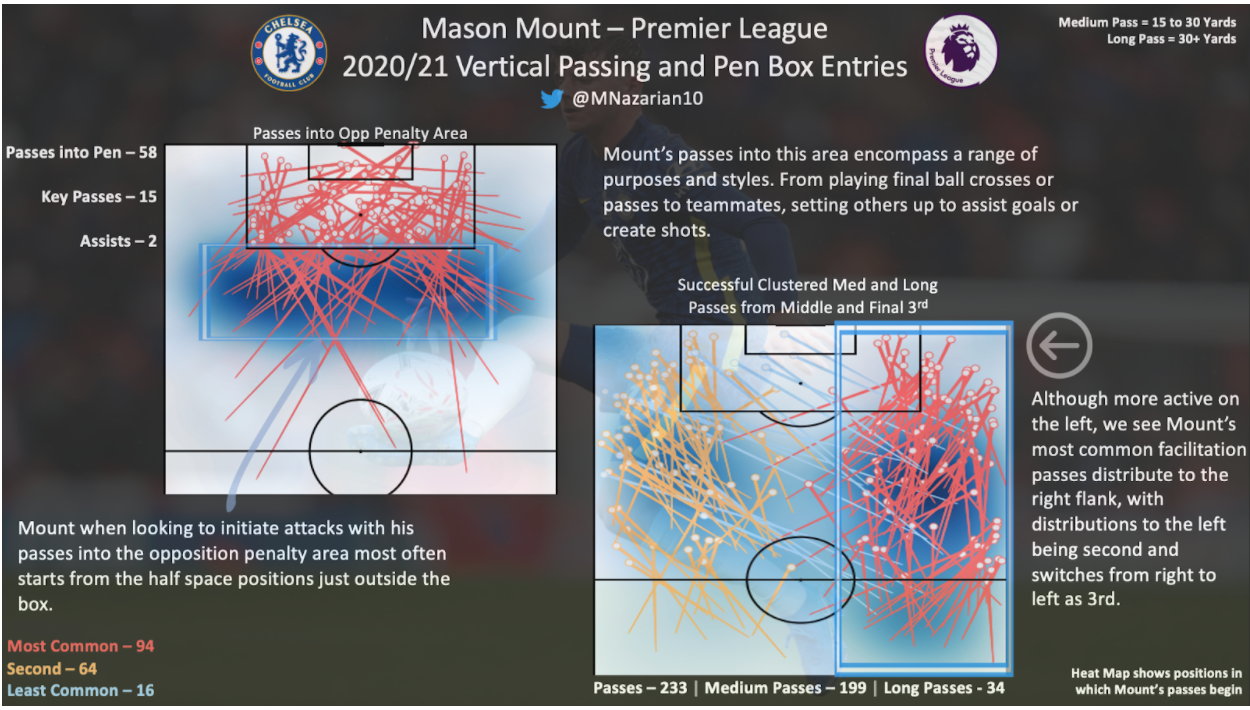 Here, we see that in regard to his passes into the box, the angle and length of passes that he attempts clearly vary heavily making him dynamic and difficult to defend against. Additionally, we see he's most likely to attempt such a pass in the half-spaces, however once again we see he's almost equally active in both, likely due to his versatility of playing either side of the dual 10s under Tuchel last season.
This allows Tuchel to change Mount's role relative to the opposition giving the side more tactical flexibility in the offensive patterns Chelsea looks to employ to create threat and exploit opposition weaknesses. As a result of this, Mount can either be positioned to play behind two forwards depending on who he is paired with in the attack and link the attack together from the midfield as we see penetrative passes into the box from deeper positions.
Conversely, he can also move into more advanced positions attacking from the flank/byline or half spaces to construct a threatening final ball across the box. In his pass clusters on the right, we see when playing vertical passes over distances Mount distributes to the wide areas, most commonly to the right. The data shows us a high tendency of playing the ball where the endpoints are just on the right flank of the opposition box.
We see a significantly higher tendency relative to the other two clusters, however the distribution out wide is characteristic of Chelsea's build-up progression patterns under both Tuchel and Lamaprd in using the fullbacks or wing-backs in the attack to hold width and create chances from wide into the box. These sequences of passing are particularly important, as it breaks opposition lines, and allows Chelsea to take the shape they like to attack within settled possession around the opposition box.
As they look to create and hold as much width as possible through the wingbacks, these passes allow Chelsea to move out of the build-up phase and take shape in attack. Both Mount's passes into the box and progression forward from the final and middle third represent his impotence in creating threat to the given opponent by creating high percentage shooting opportunities.  Although Mount is able to create shooting opportunities for those around him, he is also capable of taking opportunities himself, which we'll look to analyze next.
Shooting is a skill that comes in a few different forms. However, for the purposes of the analysis, we'll briefly discuss the concepts of shooting from distance, and finishing chances in the box. When qualifying as a distance shooter, the foundation of this is dependent on ball-striking technique capable of beating the keeper from range with enough power and ideally into unreachable angles of the goal.
Additionally, those who possess this skill tend to position themselves in central or half-spaces around the opposition box. However, players skilled in finishing often are lauded for the minimal touches and positioning in the box, as well their ability to place the ball precisely in the corners of the goal which give the keeper the least chance of saving it without necessarily an emphasis on the velocity of the shot. 
With these concepts in mind, we turn to only a few examples of Mount's shooting, where we'll get a better understanding of how much he fits into these categories, and afterwards, we'll take a look at what the data says in terms of both his tendencies and performance with respect to these themes.
In the examples above we get an idea of Mount's shooting ability. Clearly, a capable ball striker and a talented distance shooter, paired with the tendency to find space in the box when it's available and place it into the corners.
Additionally, we see that although predominantly right-footed, he is capable of finishing on his left which further complicates the angles defenders must look to close down in defending against him. The significance of these examples is they highlight some of the key attributes which are core to Mount's game.
Firstly in the Liverpool examples we see his almost winger-like ability on the ball when cutting in and beating his man to create space for a shot, and against West Brom, we see his trademark half-turn reception which allowed him to move at speed for the space to take a well-struck shot which is also present in both examples. 
With these examples in mind, it'll be interesting to note the outlook of this over the course of the season. Where does Mount most often take his shots, and generally are they high percentage chances? Additionally, has this changed with his role under Tuchel from Frank Lampard?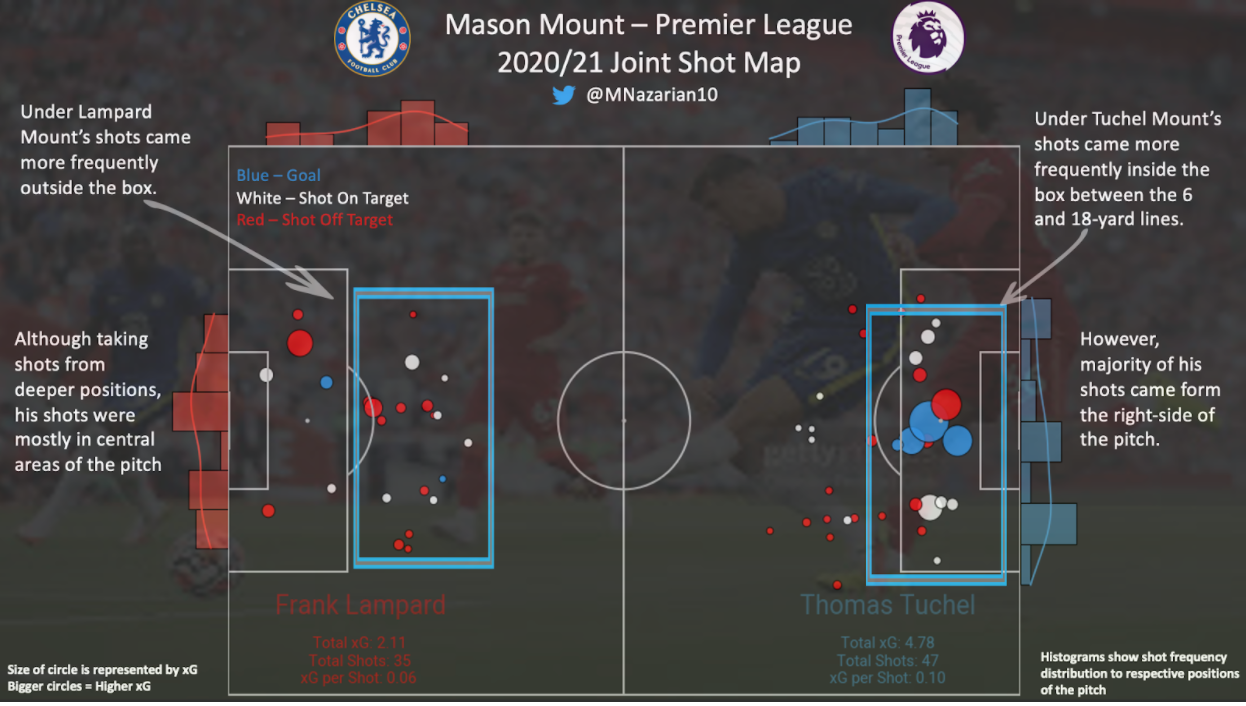 Here we see a distinct difference in Mount's shots under Frank Lampard relative to his role then under Tuchel. It's clear to see that under Lampard in deeper positions Mount's box presence would be more limited, allowing him more opportunities from distance, which we can see both in his cumulative xG and xG per shot. Whereas under Tuchel, Mason increased his production of goals (4 goals under Tuchel vs 2 under Lampard), but also can be exhibited in where his shots were taken and their respective xG and xG per shot. 
However, unlike ball-carrying/dribbling and passing, the themes of both distance shooting and finishing are most of the time (depending on system) luxury traits for a team's midfielders. Particularly with Chelsea last season, no other midfield player in the team could execute such actions which not only could limit the tactical flexibility the manager possesses, but also could stagnate the attack with a lack of threat from deep runs into the box, or shots from distance which a defense has to check.
This is exactly what Mount adds, and in part makes him an asset, as the ability to shoot from distance forces defenders to step to him and shift their lines, and additionally they must be aware to mark him for when he presents himself into the box as he is a goal threat.
This not only has a direct impact on Mount to score goals, but also to disguise his intentions to then play passes to others or beat a man in turn makes Chelsea's attack more dynamic. With the qualities of ball carrying, passing, and shooting, we see in which areas Mount adds value to his side in possession, however his off-ball actions are arguably just as substantial if not more crucial to his worth as a player.
 In the modern game, defense has transitioned to becoming much more team-oriented than ever before. As a result, it's critical the midfield and engine of the team are capable of contributing to this phase of play, whether it be winning the ball in crucial areas to cut out opposition progression of play, or even lead the press and force mistakes to create chances for their team.
In Mount's case he's notorious for his pressing energy and intensity as well as his consistency in recovering on defense. Although, to reduce his defensive contribution to a high-level work rate without noting his technical qualities in pressing and winning the ball is overlooking what really makes him an asset off the ball. The examples below will further highlight this, and although data for action off the ball are difficult to quantify well, we'll take a look strictly at where he performs ball-winning actions and his relative success.
These examples show not only Mount's energy and intensity in defense, but highlight particularly his anticipation and timing, and his strength and skill in tackling to recover the ball. We see in the first example he reads the opposition's body shape to press his blind side and attack the angle which his opponent has decided to turn into in order to win the ball and then proceeds to push it forward.
In the next example, he leverages a numerical advantage in the wide areas to isolate the player on the ball, forcing him one way. Once again, he waits for the opponent to commit in a certain direction so Mount can then attempt his tackle, and win the ball to push forward for transition once the opponent tries to turn in the forced direction.
Finally, in the last example we Mount utilizing his body in his tackles, using his strength and balance and inserting himself between the opponent and the ball to not only dispossess, but actually recover possession so that he can turn and utilize the possession for an advantage in transition. With this in mind, which areas does Mount most often contribute defensively, and where does he most successfully recover the ball?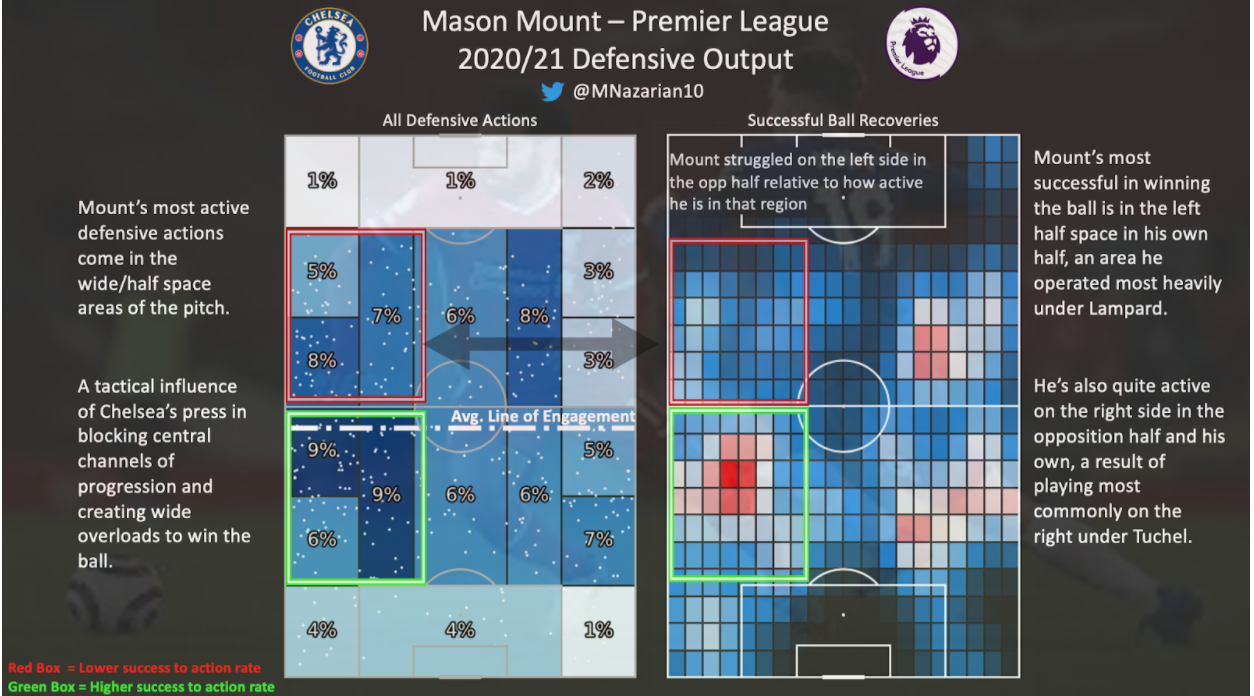 Above we can see the wide areas are where Mount is most active, and in the context of Chelsea, this makes sense. The team often looks to congest the central channels of progression and force the opposition wide as we also saw in some of the examples above.
Once the opposition is forced wide, the forward, mid, and wingback of that side usually step in to constrict the space and create a numerical advantage to ideally force turnover, or push them back. We see in his total defensive actions he's particularly active on the left-hand side, likely due to playing on this side for the majority under Lampard and even a bit under Tuchel as we've seen in the heat maps.
Most notably we see the red and green marked boxes showing contrast for his overall actions and then successful actions, showing that although active in opposition half on the left, his general success is lower even when compared to the right side of the opposition. 
Overall we see Mount is quite active in defense, and his average engagement occurs just around midfield which can be reasonably expected for a midfielder. This aspect of Mount's game is obviously an integral piece of his play and a core competency of his which brings further balance to a squad. As a result, this alongside his other traits makes him a favorable selection quite often as we've seen even across multiple managers, so we'll briefly discuss a few of his notable metrics from the 2020/21 season.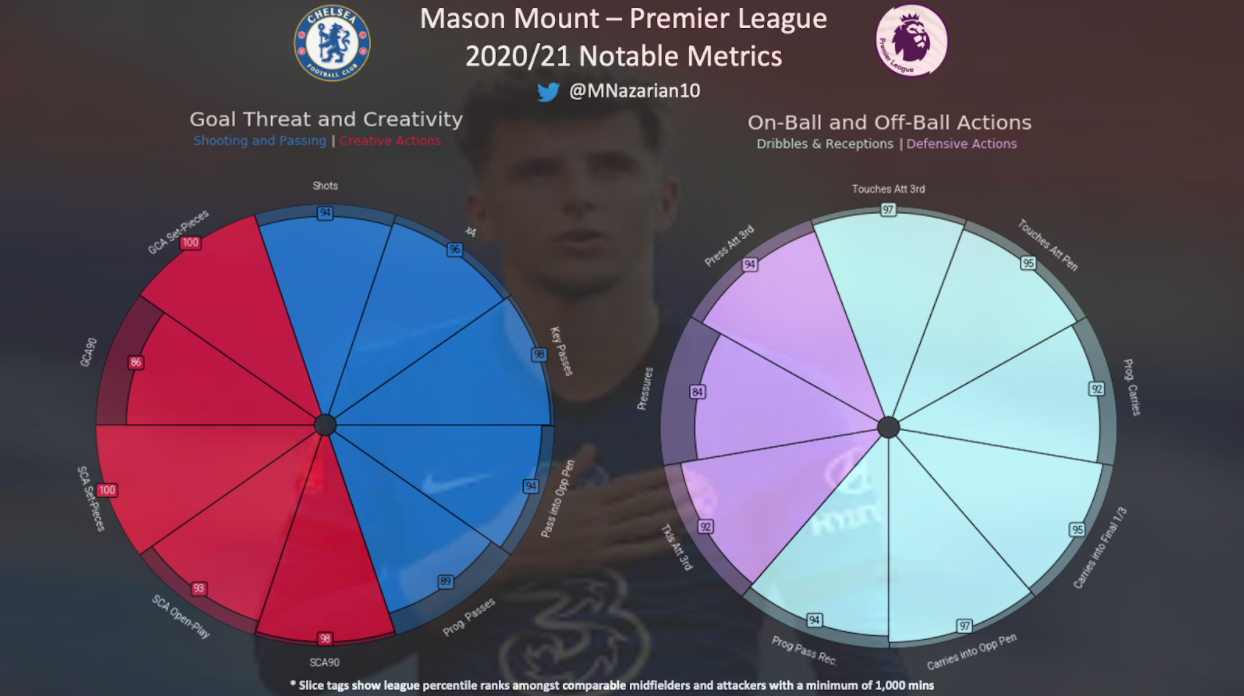 Here we see Mount's attributes broken up into sections of his threat of scoring and creating, as well as his abilities with the ball and his actions off it. What is quite clear is that Mount stands out in quite a few metrics from the previous season, but we'll highlight the ones most relevant to his style and strengths as a player.
Firstly, in his creative actions it's well known Mount is a capable creator from set-pieces, however, this has often been the underpinning behind criticism of his creative figures being inflated from set-piece scenarios. Although it's true Mount ranks top in set-piece creation, we can see that actually in open play shot-creating actions, Mount still performs exceptionally well in a per 90 basis, creating 2.77 shots from live passing situations.
Additionally for his goal threat, we see he is a relatively high volume shooter in the compared players with 0.22 per 90 for which we saw where these opportunities were taken under both managers earlier in the section. In his off-ball actions we see he actually places only 84th percentile for presses overall with 21.4 per 90, but both for pressing and tackling in the attacking 3rd he scores very high with 6.82 and 0.53 per 90 respectively, showing he not only leads the press, but is aggressive in trying to win the ball back.
Finally, in his on-ball ability, we see the team we touched on before his involvement of carrying the ball effectively, placing very high for both touches in the attacking 3rd (34.7 per 90) and carries into the opposition pen (1.18 per 90). 
With all these examples of videos and data taken into account, it's important we get an understanding of what this means in the context of the Chelsea team to a deeper level. Therefore, in this final section, we'll look to tie his application together even further with discussing some roles he played in the last season under both Frank Lampard, and Thomas Tuchel.
Tactical Role Key Utility
So what is truly unique about Mount's ability to the build-up and on top of initiating the attack, why should we care about this tandem of abilities? These questions are not only fascinatingly relevant to the key as to why Mount is admired and appreciated by every manager he's worked under. On top of this, these individual capabilities and roles are conveniently representative of the duality of his season in 2020/21 under Frank Lampard and later Thomas Tuchel.
This is truly where Mount's value as a player lies, as he is a talented player with a cognitive dimension to his style of play which enables him to be tactically very flexible as a player and as a result versatile. Playing with almost a deeper understanding of the team as a greater system and an understanding of different areas and methods in which he can support this system.
As a result, the clips will be of similar nature as previous sections, being in-game examples of Mount's actions, but through the lens of tactical perspective. We'll aim to look at how he is individually utilized to add value to the greater system as a whole. To summarize, the section will be really analyzing the context of actions within the team, with the intent of answering what we see happen, how/why does this occur, and what the significance of these actions and the results of them are.
As previously mentioned, Mount's role under Frank Lampard was quite different to what we've seen under Tuchel. Starting in deeper positions, Mount was much more involved in build-up play and progression, influencing the attack from more indirect actions than being a regular feature of goals and assists, particularly when playing a 4-3-3.
Having discussed the tools Mount possesses as a player, the examples below will reinforce some of Mount's play and how he utilizes these capacities, as well as review the data-based examples of this role to understand this context over the course of the season.
Here we see all the technical qualities of Mount as a player, directly being leveraged in order to accomplish and execute his role in the team under Lampard's system. His goal, is to be a progressor and catalyst for the build-up play in order to create the greatest threat possible in possession for Chelsea.
Specifically, we see Mount take deeper positions to receive the ball, utilize his technical qualities to receive and move with the ball, but most importantly, intelligently decipher passing combinations and space to move into at a high pace of play, in order to to break down opposition structure, create disarray, and in turn optimize attacking threat for Chelsea. So what do these combination plays which push the ball into the final 3rd and progress the general build-up play look like over the course of a season?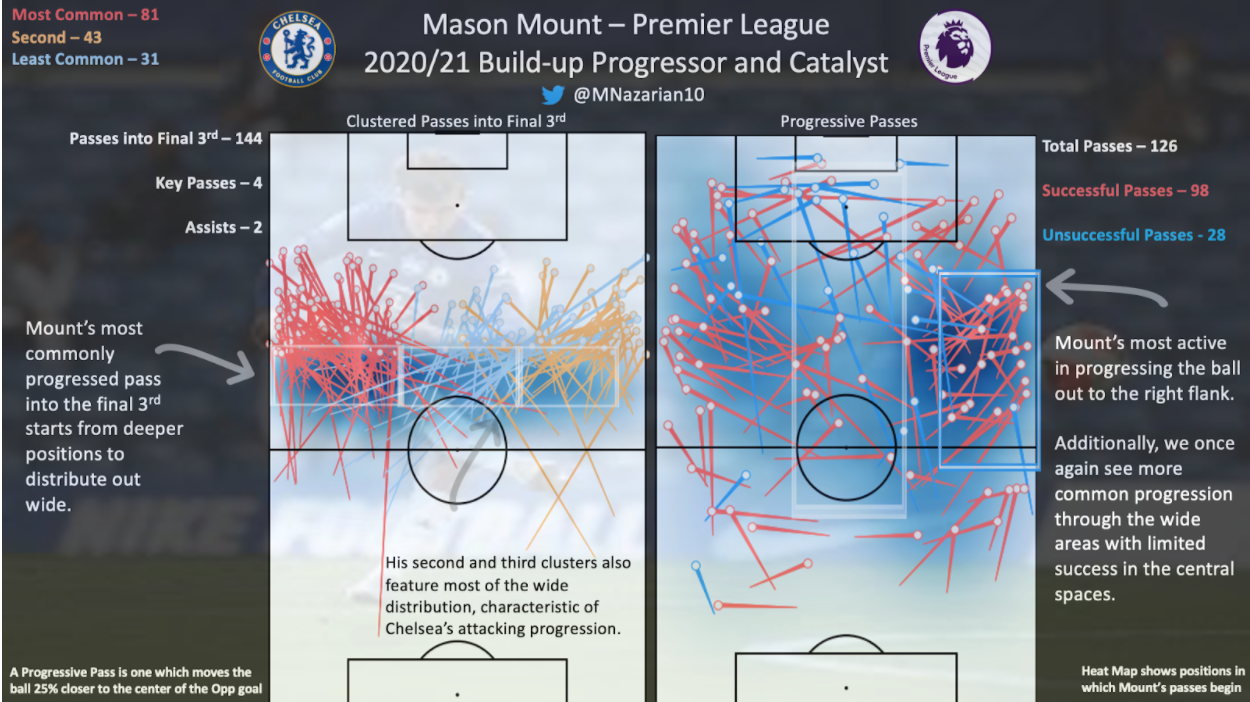 Above we see the result of Mount's ability to act as a build-up progressor and catalyst where we look into his passes which end the opposition 3rd as well as those defined as progressive passes. After reviewing the video examples above What this displays to us in turn is additionally a high level of activity in both flanks as well.
We see in his clustered passes, Mount most often progresses the ball into the final 3rd on the left side, while his progressive passes are most active on the right side. This reflects further in his usage throughout the course of the season, being capable of playing in a variety of positions and areas of the pitch to further support the Chelsea system. However, this context sheds little light in other areas in which he supports the Chelsea system in possession, particularly more directly involved in the attacking play.
Under Thomas Tuchel and the transition to the 3-4-3 system, preliminary questions of Mount's best position came into question. With operating most successfully as a lone central 10 when playing as one, or being used most often in a 3 man midfield as an 8, there was uncertainty of where exactly Mount might fit into the new system.
After missing out in the squad selection for Tuchel's first Chelsea game against Wolves, Mount from that point on became a staple in the side on one of the dual 10 positions. As we previously discussed, his role varied based on his partners up top and directly involved as an initiator of attacks as well as facilitating attacking play around the box.
In this role, his passing and involvement is more direct in nature to the attacks started in or around the box, which some of the previous clips of both his passing and shooting may have touched on, but the clips below will build further on this concept.
In the examples above, we once again see the technical qualities of Mount's game now being applied to the tactical role he fits into under Tuchel and expand and be more direct in nature. Some of these themes we've seen before when highlighting his strengths, however, in these clips we see a greater intent and emphasis on the attacking nature of his game.
Whether it be driving forward and beating players with the ball to play a man through, or receiving higher up and playing passes into the box, Mount under Tuchel has displayed a seamless adaptation in repurposing his skill set, to add value to the system predominantly in the attacking phases. This has come in through the forms of facilitation and initiation which we can see further data-driven examples of below.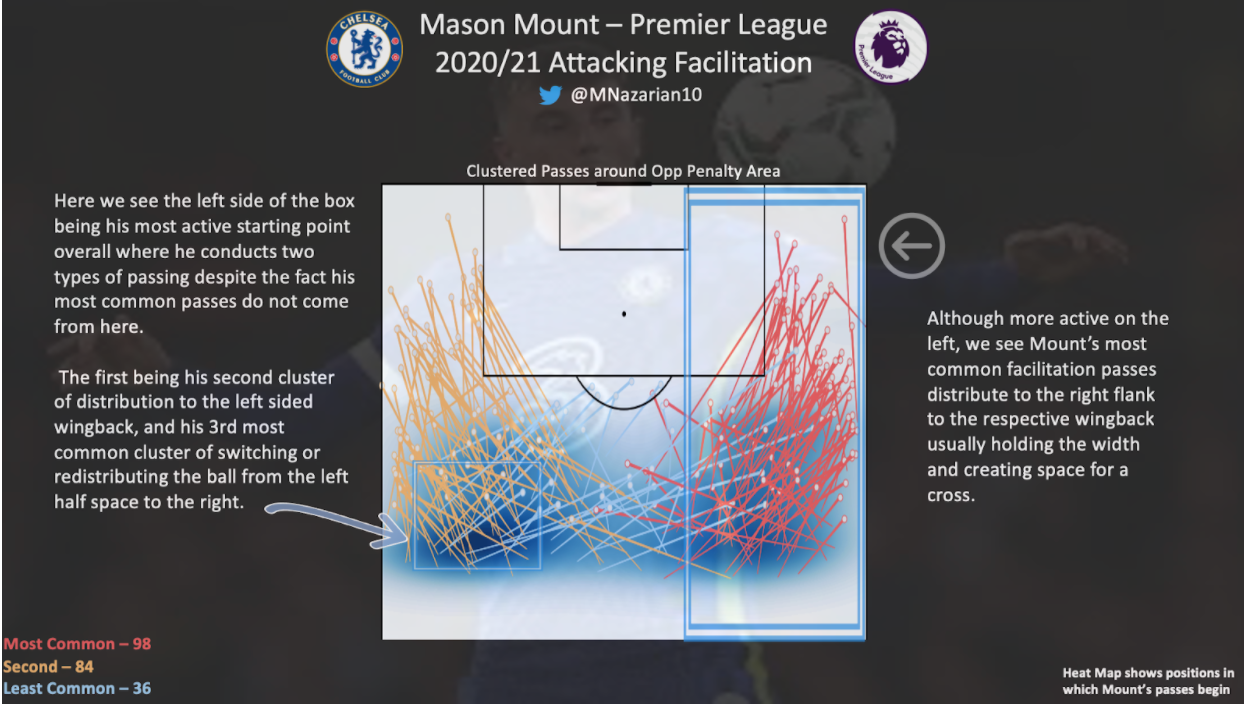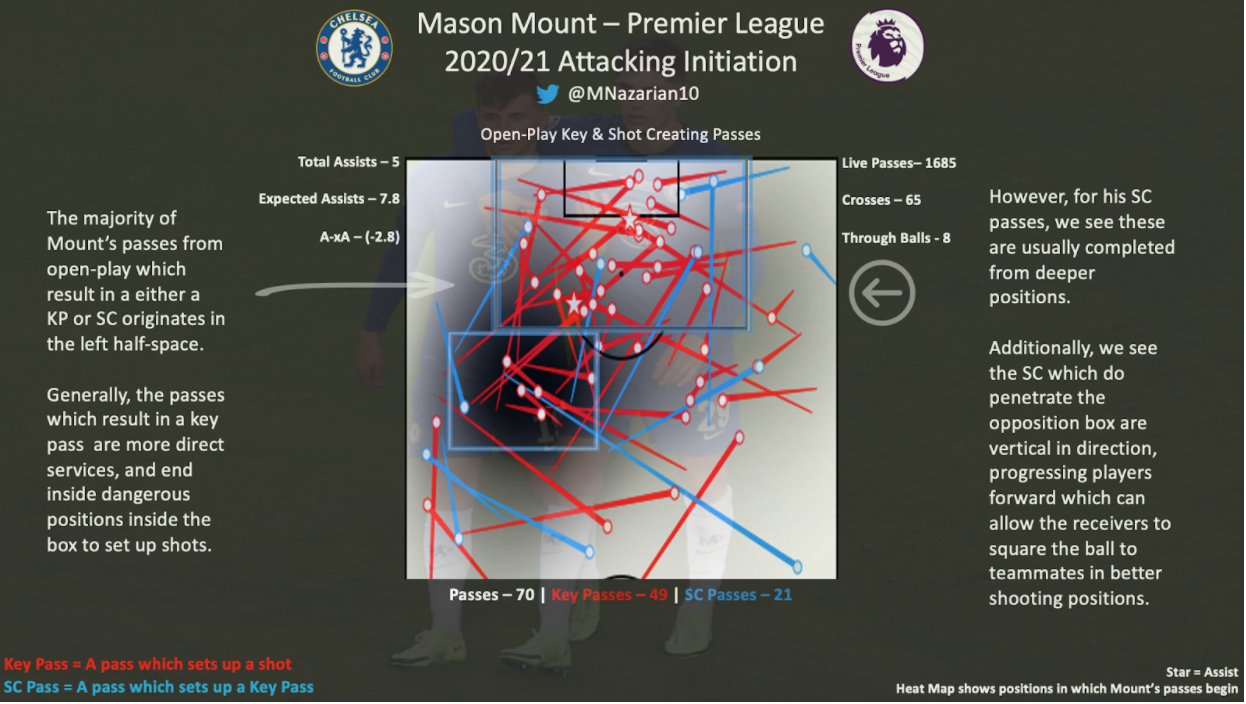 Firstly it's important to note the frequency of Mount's actions around the box, these also being the highest action areas for him particularly under Tuchel as we saw in his positioning map in the previous sections. We see in both images, his origin points for both facilitation and initiation tends to favor the left half-space although his facilitation tends to most commonly distribute wide right to the respect wing-back on that side when attacking the box.
Additionally, in his initiation, we see Mount severely underperformed his xA. This means that on top of the chances that he created which he earned an assist for, based on the quality of chances he created for others using xG, Mount's created opportunities equated to almost another potential 3 assists. As a result of the inconsistency in Chelsea's finishing, Mount scored as the 3rd greatest underperformer of xA in the entire league last season. 
However, what was consistent under both Frank Lampard and Thomas Tuchel, was Mount's ability to create from set-piece opportunities which helped contribute to both his assists and xA in the league. Having looked at an example of this in the clips above of Mount's delivery the last part will visually represent his threat using data from corner kick situations which he was a regular feature in the side for.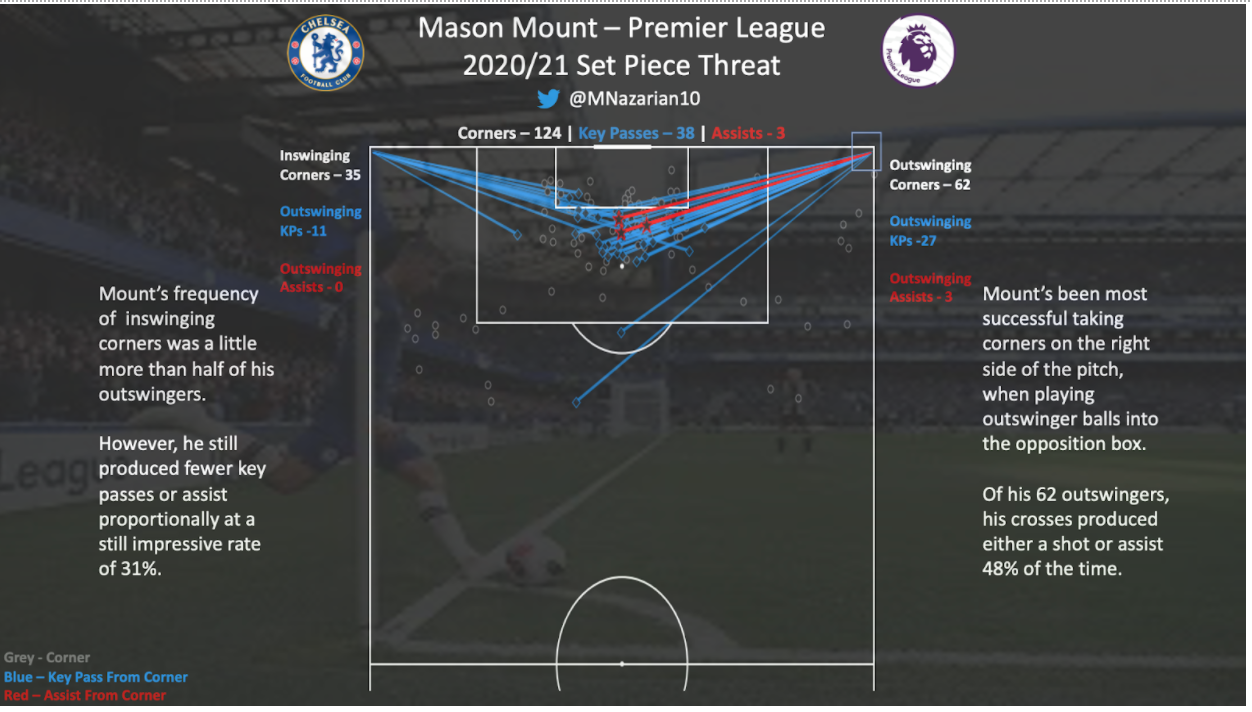 Here we see the volume that Mount featured for Chelsea in corner kick situations and the results of these attempts. Although Mount was effective in creating shots from his crosses on both sides of the pitch, it's clear the right side and outswinging balls he played in seemed to be an area of strength for him outside of the greater volume of corners taken relative to inswingers, from the rate of success he exhibited.
Once again, the ball-striking technique of Mount is the real point of emphasis for his ability to consistently create attacking threats from such opportunities. Taking into account all other facets of his game, it's no surprise he remained as the key member for this Chelsea side under both managers with additional qualities of being a threat from set-pieces.
Conclusion
Mason Mount, since featuring in this Chelsea side under Frank Lampard, has remained a divisive figure in the fan base. Questions and criticism have constantly been raised as to whether or not he can meet the standard and ambitions of the club in order to be a regular feature in the squad.
Having discussed and evaluated much of his skill set and role, his capability to do so in the current moment seems quite clear, and although his technical quality and consistency particularly last season is one to marvel at, it's likely not why he's admired and heavily utilized by every manager he's worked under.
The key to why Mount is so popular in this regard seems to be two-fold, the first of which is a less tangible feature which is often emphasized by managers and a difficult concept to understand from the perspective of fans, his mentality and ambition as a player. Frank Lampard, Gareth Southgate, and Thomas Tuchel have all heralded Mount as one of the hardest working and mature players they've seen who gives everything he has in every game which is likely best summarized by his off-ball efforts.
Secondly, from a tactical perspective, Mount is not only skilled to play in a variety of roles, but it well and truly is the intelligible nature at which he executes these roles in a disciplined manner. This gives managers much more flexibility in team selection and squad composition to firstly create balance in the squad they choose to field, and additionally, create the best lineup to exploit the weaknesses of the opposition while attempting to optimize their squad's strengths.
These seem to be repetitive themes with Mount as a player, and with consideration of his capabilities should help us get a better understanding of his importance to this Chelsea squad. Being a member of the Chelsea organization since he was just 6, Mason Mount's love for the club runs deep as he consistently shows willingness to put everything on the line for the benefit of his club. 
By: Michael Nazarian / @MNazarian10
Featured Image: @GabFoligno / Shaun Botterill / Getty Images