Finding Mason Mount's Best Position
"Show me who your holding midfielder is and I'll tell you what kind of team you've got." Those words of Juanma Lillo, who mentored Pep Guardiola during his time at Dorados de Sinaloa and who currently works as the Catalan's assistant at Manchester City, still ring true today. The midfielder — be it a holding midfielder, box-to-box midfielder, or attacking midfielder — is the heart and brain of a team, and in many cases, he personifies the manager's philosophy and tactical approach to the game.
During his legendary spell in charge of Barcelona, Sergio Busquets became renowned as the metronome of Guardiola's tiki-taka-infused, possession-based style of football. Like Guardiola in his playing days, Busquets was a smooth operator who could evade the opponent with one carefully plotted roulette, and he helped set the tone for Barcelona's dominance from 2008 to 2012.
It comes as no surprise that Antonio Conte's second signing at Chelsea was N'Golo Kanté, who, like Conte during his time at Juventus, is a tenacious, energetic willingness to win the ball and launch the counter-attack. It certainly isn't a coincidence that Conte spent the entirety of last summer's transfer window trying to purchase Kanté for his side; Inter are desperately lacking the kind of dynamism and aggression that the Frenchman provides.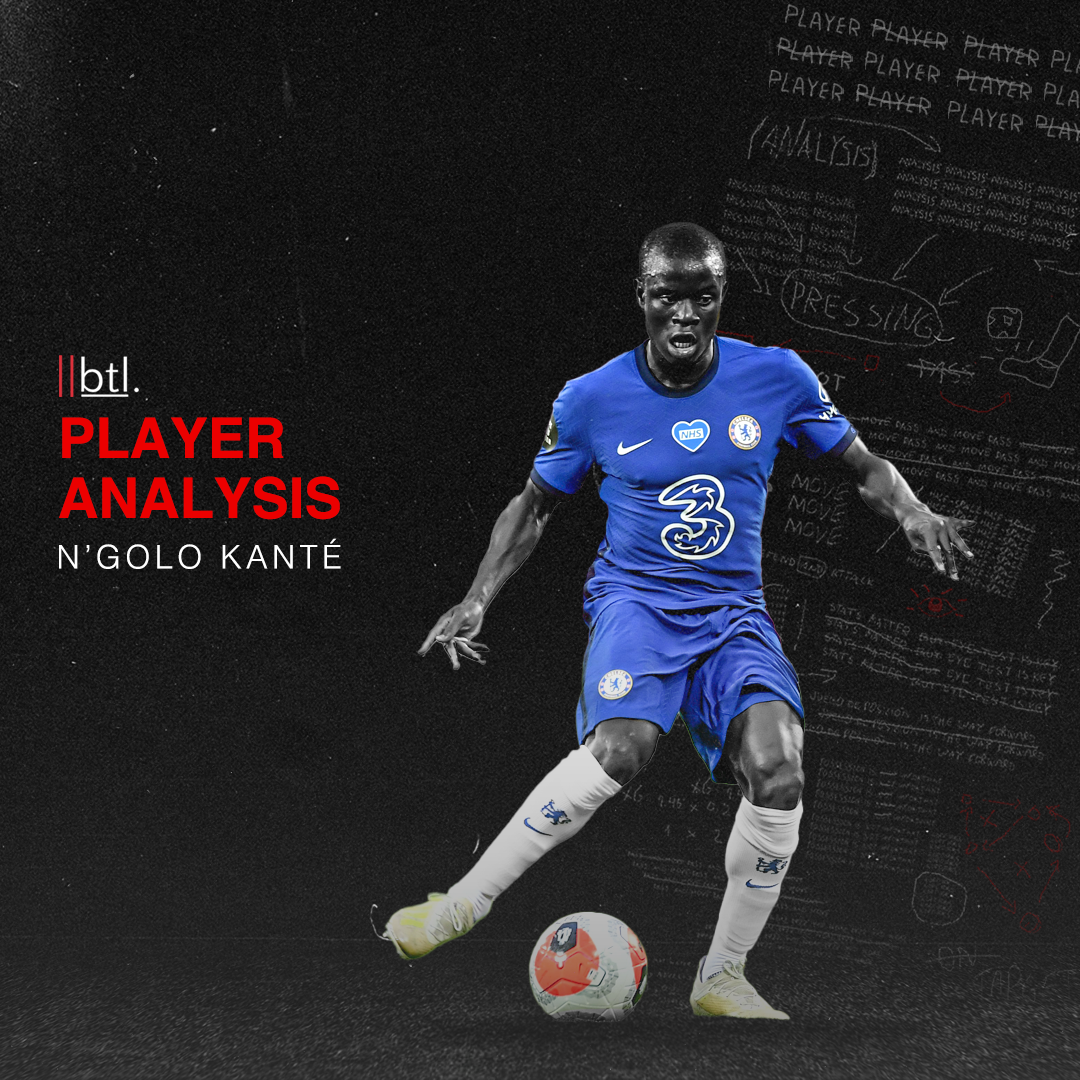 Photo: @GabFoligno / Michael Regan / Getty Images
With such an overriding importance on midfielders in today's game, it may seem puzzling that Chelsea did not purchase a single central midfielder during last summer's blockbuster transfer spree. Backed by major investment from owner Roman Abramovich, Chelsea reinforced their attack with the purchases of Kai Havertz, Timo Werner and Hakim Ziyech, whilst they also shored up the defense with the arrivals of Édouard Mendy, Thiago Silva and Ben Chilwell. Curiously, though, they did not buy any central midfielders.
Given Chelsea's jam-packed fixture list and the loan departures of Ruben Loftus-Cheek to Fulham and Ross Barkley to Aston Villa, their lack of a central midfield signing may seem like a major oversight. However, with the emergence of Mason Mount, Frank Lampard has a midfielder who is not only built in his image as a former player, but who also has the skillset and potential to execute Lampard's tactical strategy to the fullest.
Much has been made of England manager Gareth Southgate's adulation for Mount, with Southgate often being lambasted on social media for picking the Chelsea midfielder over Jack Grealish in his England team. However, his fondness for Mount is dwarfed by Lampard's attachment to the 21-year-old midfielder. After impressing on loan for Lampard's Derby County in the 2018/19 season, Mount has become a key component of Lampard's new-look Chelsea.
It's easy to see why both Southgate and Lampard value Mount so highly, with the midfield starlet capable of excelling in multiple positions, be it as a second striker, attacking midfielder, or a left winger. Whilst Lampard has chopped and changed formations on numerous occasions during his time at Chelsea, he has gone with a 4-3-3 since a 4-0 victory over Krasnodar on October 28. Mount has thrived in this system as the left-sided central midfielder, providing tactical awareness, energy, and creativity in heaping doses.
It raises the question — where exactly is Mount's best position, and how can Southgate and Lampard get the most out of their star prospect?
Mount as an Attacking Midfielder
Mount thrived as an attacking midfielder during his loan spells at Vitesse and Derby, and it's no surprise that 30 of his 53 starts during the 2019/20 season came as an attacking midfielder — in those 30 starts, Mount registered seven goal contributions.
In order to excel as the attacking midfielder (#10) in a 4-2-3-1, the player must have the technical ability, speed of mind, and dynamism to link together the team's midfield and attack whilst also serving as the fulcrum of their offensive plans. Mount isn't yet at the same level of his predecessors at the King's Road; he doesn't have the deft touch of Juan Mata or the mercurial dribbling of Eden Hazard or the goalscoring instinct of Lampard. What Mount brings to the table is far more reminiscent of the 'modern attacking midfielder.'
There's an argument to be made that Mount provides as much off the ball as he does on the ball. He is brilliant at interpreting space, executing pass-and-move combinations, striking the ball, leading the press, and receiving on the half-turn before driving infield. What Mount does not possess, however, is a consistent final ball. As seen in Chelsea's 0-2 defeat to Manchester United in February, his decision-making in attacking transitions and the precision in his final ball can often be described as erratic.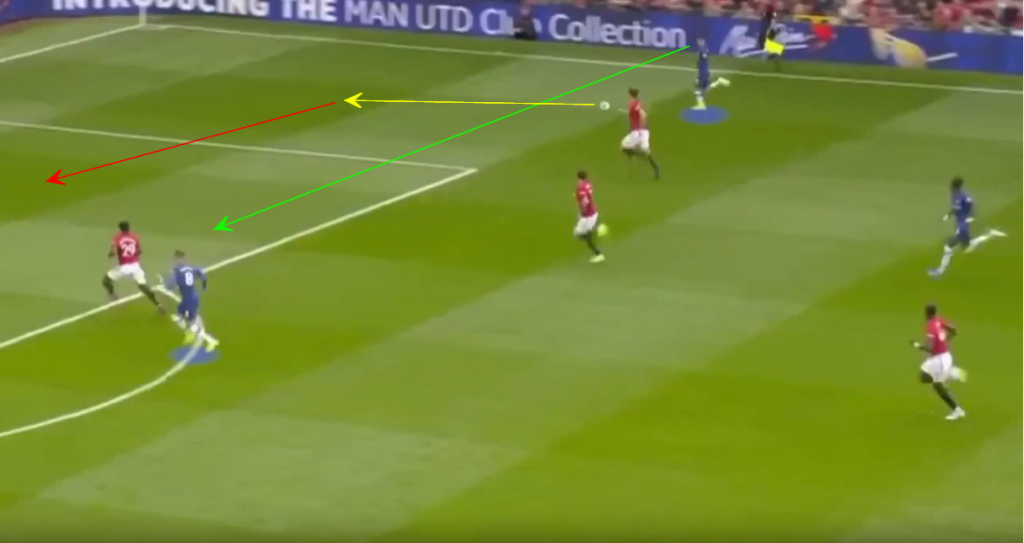 Photo: @FTalentScout
His erratic final ball was a cause of concern for many in the Chelsea fanbase last season, but with the arrivals of Havertz and Ziyech, Chelsea have two playmakers who can compensate for Mount's struggles in the final third. Still, at 21 years of age, there's still plenty of time for Mount to improve in this facet.
Mount's sole appearance as the #10 in a 4-2-3-1 this season came in an EFL Cup fixture against Tottenham Hotspur; he missed the final penalty kick as José Mourinho's side prevailed following a 1-1 draw.
Mount as a Wide Midfielder
After making just 7 appearances as a wide midfielder in 2019/20, Mount has largely played on both flanks of a 4-2-3-1, having registered 6 of his 10 starts already this season as a wide midfielder. He first impressed in this unnatural position on December 22, 2019, featuring as the right-sided forward in Chelsea's 3-4-3. Mount gave Jan Vertonghen nightmares with his swift movement, powerful running, and incisive passing.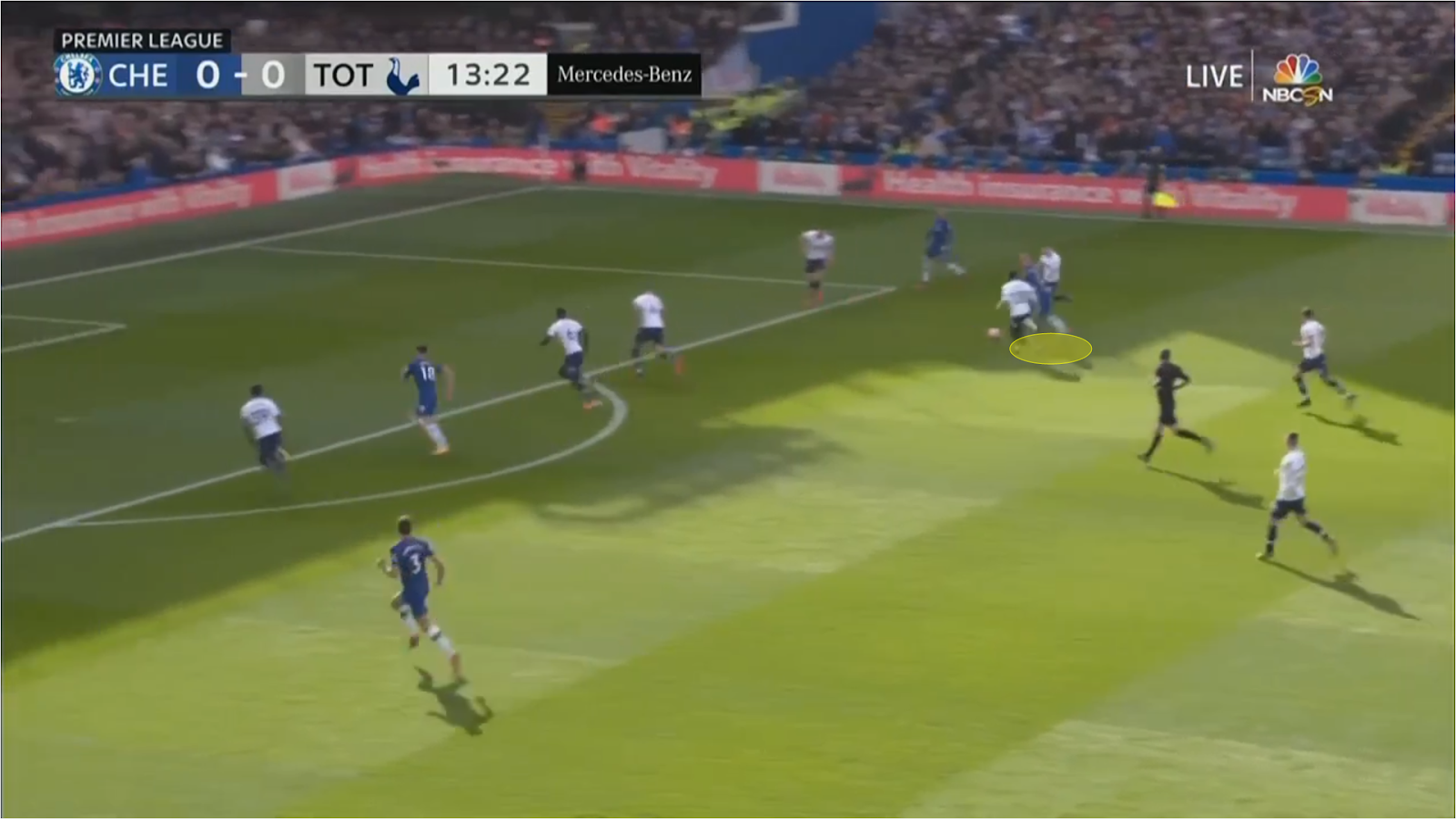 Photo: NBCSN
However, he struggled to convince in a wide position against eventual European champions Bayern Munich and left plenty to be desired in the FA Cup Final, in which he looked indecisive on the ball, uncomfortable with his surroundings, and unable to connect with his center forward, be it Tammy Abraham or Olivier Giroud. Arsenal would go on to win 2-1 courtesy of a brace from Pierre-Emerick Aubameyang; Mount was subbed off in the 78th minute for Barkley after an ineffective performance at Wembley.
Lampard's insistence on using Mount in a wide position has more to do with who is playing in the double pivot behind him than his actual output on the flanks. Moreover, Mount has regularly played on the flanks this season for England, starting on the right wing of Southgate's 3-4-3 in UEFA Nations League matches against Belgium (home and away) and Denmark.
Mount is a coach's dream not just in terms of versatility, but in terms of his work-rate and tactical intelligence. He can block off the opponent's routes of central progression, he can run his socks off and press the opposing fullback, and he can harry the opponent up until the final whistle.
Mount as a Central Midfielder
During his first season in management, Lampard typically set up with a 4-3-3 at Derby with Mount playing as the left-sided midfielder, although he'd often interchange positions with his left winger. Whilst Mount only clocked 11 starts as a central midfielder last season, he has already registered three appearances so far as the left-sided central midfielder of Lampard's 4-3-3.
For a deeper look at Mount's impact as a central midfielder, let's rewind back to the final match before the pandemic-enforced break. With Jorginho, N'Golo Kanté and Mateo Kovačić all unavailable, Lampard was forced to gamble with a 4-3-3 against Carlo Ancelotti's Everton; 18-year-old Billy Gilmour playing in the holding midfield position, Ross Barkley playing on the right sector of midfield, whilst Mount operated on the left.
Chelsea opened the scoring in the 14th minute; Mount received in ample space on the half-turn before dishing it off Pedro Rodríguez on the left flank. He continued his run towards the edge of the box, shifting his body position as he received the pass before slotting the ball past Jordan Pickford and into the bottom left corner. Chelsea would go on to win 4-0 via further goals from Willian, Pedro and Olivier Giroud.
Whilst Lampard has occasionally opted for the 4-3-3 with Mount as the left-sided central midfielder — such as the 2-1 victory against Manchester City that sealed the Premier League title for Liverpool — he only made the switch to the 4-3-3 this season following last month's stalemate against Manchester United. After coming off the bench in a 4-0 win over Krasnodar, Mount was given the start in the left side of midfield against Burnley.
Facing off against Sean Dyche's Clarets, Mount delivered a world-class performance at the Turf Moor. He ended the game with the most passes into the final third, second most tackles, second most pressures, second most passes into the final third and third most progressive passes. This was Mount at his busy best; he was everywhere, grabbing second balls, throwing himself into challenges and everything in between.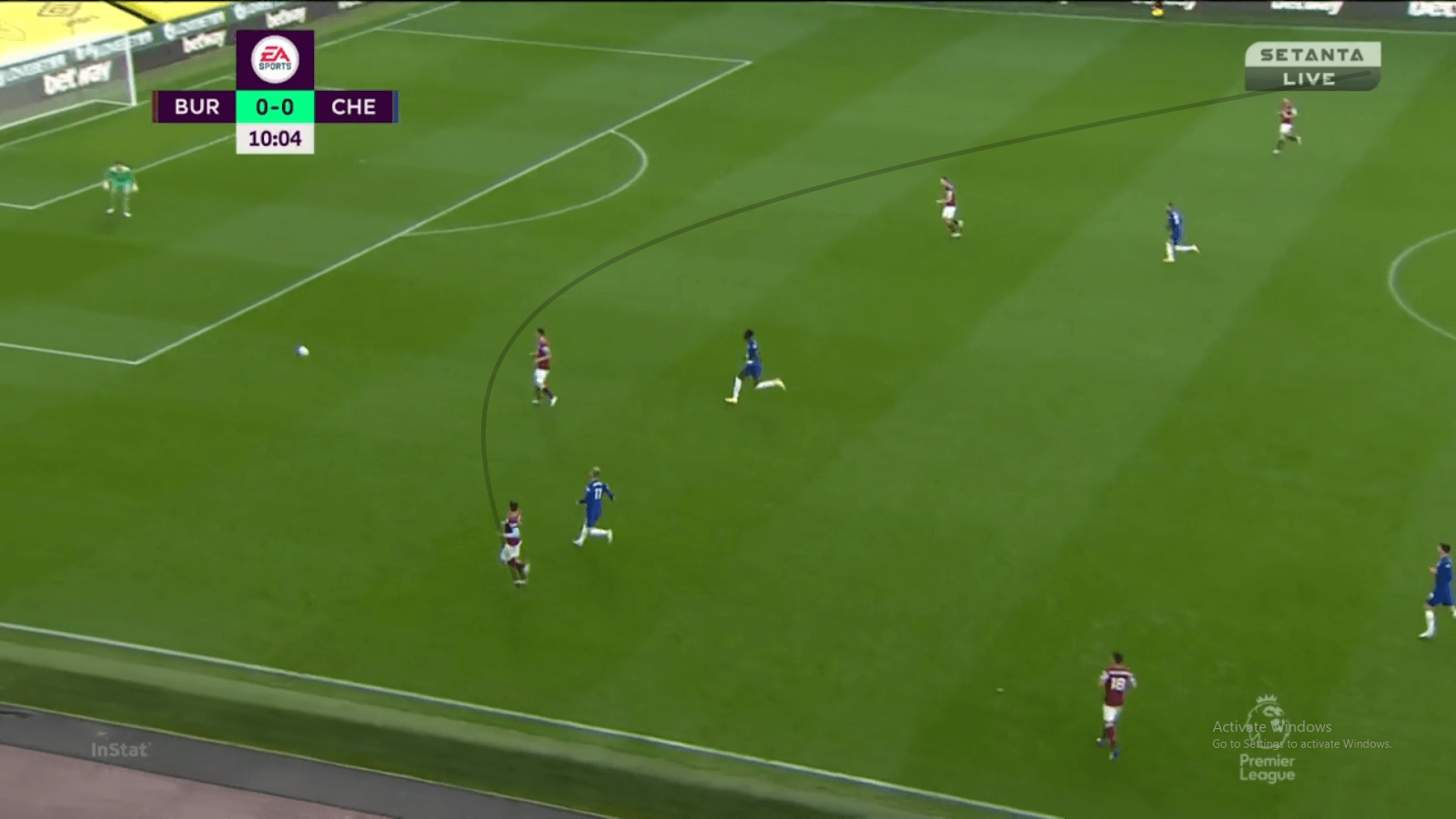 Photo: Instat
In the above picture, Mount (bottom right corner) is patiently waiting to pounce on Nick Pope's clearance and funnel the ball towards Werner, Tammy Abraham or Ziyech. It is in this second phase of play where Mount truly becomes the heartbeat of Chelsea's midfield. His ability to hit the valve of the ball on 40-yard switches and receive on the half-turn allows him to cause plenty of danger on the counter and bypass midfield pressure.
After blossoming in the #8 role for Chelsea prior to the international break, Mount will be looking to keep progressing in Lampard's 4-3-3 following the return of club football. There is a tangible difference in Mount's swagger in this role; he was assured of his movements in and out of possession and dictated the game like a seasoned veteran. If he is to realize his lofty potential as a second phase controller, then this position may be his best bet.
Mount has impressed in a wide variety of positions for club and country — even excelling in the double pivot alongside Harry Winks in a 3-0 victory over the Republic of Ireland. However, he can't be a jack of all trades forever, and it's vital that he finds a position he can specialize in as he approaches his prime. Still, at 21 years old, there is plenty of time for him to refine his skillset and find the position that best suits him.
By: @MedianoEra
Featured Image: @GabFoligno / NurPhoto