Mohamed Journi: The Libyan Midfield Maverick
Mohamed Journi was born in the Libyan capital of Tripoli on 7 May 2000. He began his career at Al Ahli Tripoli, appearing for their Under 23 team before transferring to Tunisian club CS Sfaxien in the summer of 2020. 
CS Sfaxien loaned Journi to fellow Tunisian club US Tataouine for a season. During the 2020/2021 season he played in 22 Tunisian Ligue Professionelle 1 matches, starting 12 games and making 10 substitute appearances. 
After returning to CS Sfaxien, Journi was subsequently loaned back to his former club Al Ahli Tripoli for the 2021/2022 season.  Journi has played for Libya at the youth level, having appeared on a few occasions for the Libyan Under 20 side. He has not yet made his debut for the senior Libyan national team. 
Player Summary
Journi is a right-footed, central or attacking midfielder. A table setting out his strengths and areas for improvement can be viewed below.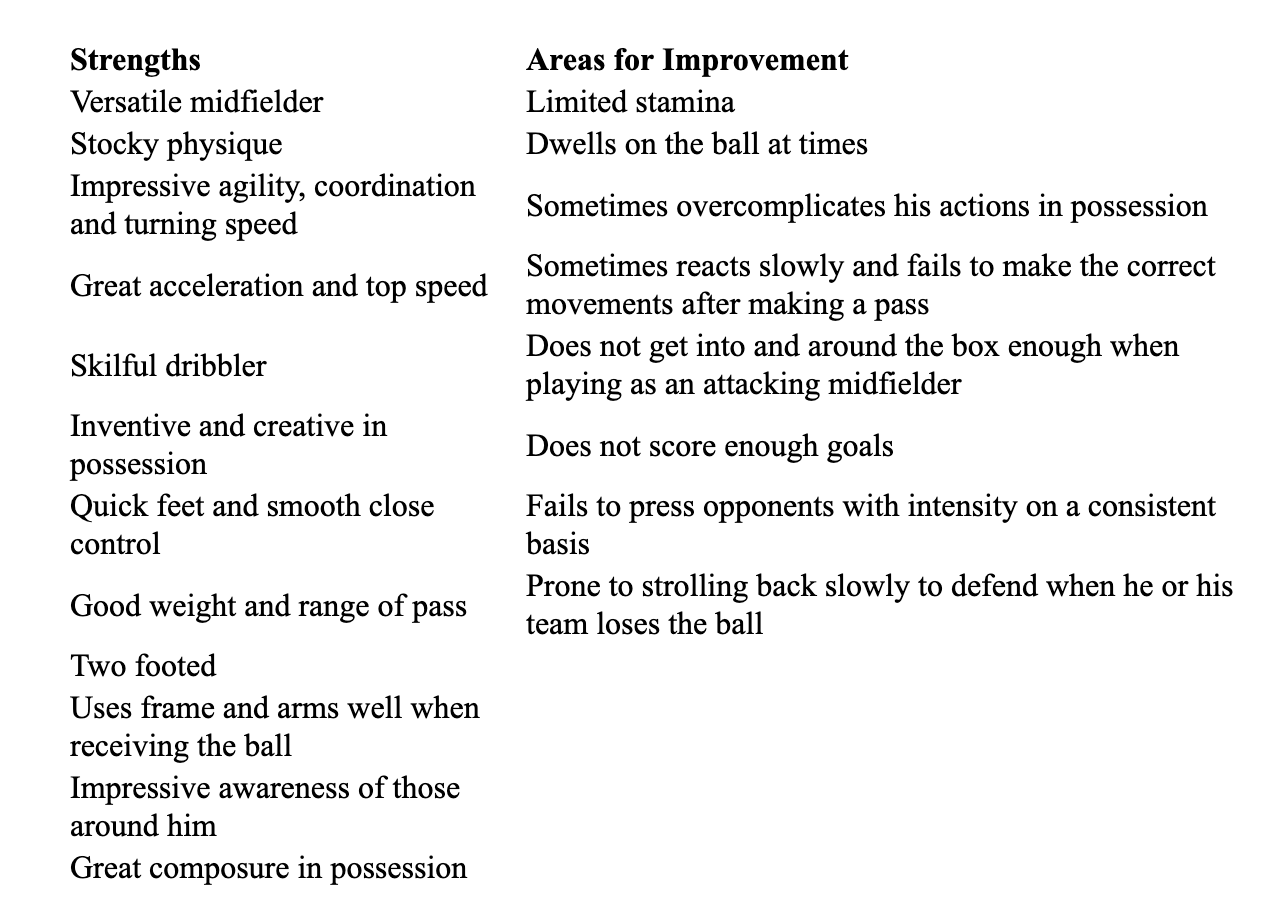 A detailed analysis of Journi's qualities, potential and two clubs he could join next is set out below.
Positions
Journi usually plays as a central midfield player or as an attacking midfielder. In his loan spell at US Tataouine, he was used interchangeably as a central midfielder in a 4-2-3-1 or 4-3-3 formation or as an attacking midfielder in a 4-2-3-1 formation. 
When deployed as a central midfielder for US Tataouine in a double pivot in a 4-2-3-1 or as a left or right sided central midfielder in a 4-3-3 his function in the team, in possession was the same. His teammates would consistently try to find him with passes in the defensive and midfield thirds with the expectation that he could shift the team further upfield quickly and help initiate rapid attacks.
This required him to continuously position himself in deeper areas facing the play and with his back to play to receive the ball and beat pressing opponents with a dribble or pass to shift possession upfield quickly.
When the ball moved upfield it appeared he was expected to support attacks by combining with his teammates in wider areas in the final third to create overloads and manipulate the space to enable crosses into the box, as well use his ingenuity to create opportunities.
In terms of his defensive responsibilities, it looked as if he was expected to stay behind the ball so that if an attack broke down, he would be positioned to press or retreat to help defend. When his team dropped deeper into their defensive shape as the opposition were building up play, he appeared to be instructed to push out from his position and try to engage the opposition when they entered his team's half of the pitch.
🚨 Official!

Al Ahli Tripoli signs with the attacking midfielder Mohamed Journi 🇱🇾 from CS Sfaxien 🇹🇳.

The 21-year-old was sent on loan to US Tataouine last season, Journi is the player with the most successful dribbles in the Tunisian league last season (via: InStat). pic.twitter.com/BoT9ATlvLQ

— LibyanFootball (@LibyanFootball3) August 13, 2021
In the attacking midfield role that Journi was utilised in for US Tataouine his tactical responsibilities offensively and defensively were different. In possession as the team's primary final third creator, he was given licence to roam across the midfield and attacking thirds to impact the game.
He was expected to find space in between the lines in central and wider areas to receive the ball, then use his technical and physical qualities to evade tackles, take shots at goal, put crosses into the box and deliver through-balls and other incisive passes to open the opposition's defence.
From a defensive standpoint, it seems he was obligated to drop in behind his striker teammate and shuttle across the field as the opposition built up play, bide his time and wait for a chance to intercept a pass or press an opponent. It did not seem that he was told to specifically press rather that he should only do so when a clear opportunity to do so arose.
As the ball moved upfield, he dropped deeper and essentially became an extra central midfield. This helped condense the middle of the pitch, block passing lanes through central zones and force the opposition to pass into wider areas.
Attributes and Style of Play
Physical Attributes
Journi is not the tallest of players standing at a height of around 1.76m. Despite this, he competes well in aerial duels when high balls are kicked into his vicinity. In terms of his build, he is quite stocky, looks to have a strong core and is well set. This helps him maintain his balance and hold off opponents when they seek to use their strength to offset his movements. 
The combination of Journi's height and physique make him quite an agile player. These traits give him a low centre of gravity and good stability when turning. This enables him to change direction quickly and use his hips and body to through rapid feints, jerks, swerves and twists when receiving the ball, turning and facing opponents to attack.
These movements destabilise and bamboozle opponents seeking to anticipate his intentions and allow him to manipulate the ball to create space between himself and his nearest opponent to make a pass or slalom past them, in turn helping him to escape pressure or draw fouls. 
An added physical quality that Journi has is that he accelerates quickly. When he beats an opponent's press he can burst away and create separation between himself and opponents chasing him. His excellent acceleration means he reaches his top speed quickly. His top speed is impressive which means once he has burst past an opponent it is difficult for them to catch him. 
At times Journi displays his acceleration, top speed, agility and strength in an action, especially in counter-attacking situations. When these attributes work in tandem with his close control and dribbling skills, he can quickly turn a slow build-up or defensive situation into a dangerous attack. 
An area of concern in Journi's physical profile is his stamina. This is no surprise considering his stockyness and explosive style of play. In the games reviewed he seemed to be most effective for around 30 minutes whether that be from the start of the match or coming on as a substitute.
His inability to sustain his level of performance over longer periods of play is reflective of his limited stamina. It also explains why he only played the full 90 minutes on four occasions in matches he started.
Due to his body type and style of play, it will always be difficult for him to maintain his level of performance across a full match. However, with a tailored endurance programme, he would be able to sustain his performance over a longer period before tiring.
Technical Attributes 
Close Control, Trickery, Dribbling and Two-footedness
Journi is a technical, skilful player and although he is right footed has two-footed capabilities. He has fantastic close control, skill and smoothness on the ball. 
In tight areas, Journi excels at manipulating the ball quickly and finding tiny gaps to feed the ball past an opponent's outstretched leg and manoeuvre past them. An example of this is when he uses a rapid drag back in a compact area to lure a tackle and then pushes the ball past the opponents attempted tackle and into space. 
Journi uses a variety of skills to outwit defenders and beat pressure. In particular, he utilises drag backs, Cruyff turns and faking to strike the ball and then dragging the ball with the underside of his foot to move past unbalanced and unsighted opponents. The inventiveness and improvisation he displays to produce these pieces of skill when needed is impressive.
A unique facet of Journi 's technical quality is his two-footedness. He can dribble with one foot and knock the ball to his other foot and continue the dribble while retaining close control of the ball and maintaining his balance. The ease with which he switches the point of his dribbling from one foot to another allows him to effortlessly glide past opponents in central or wider areas. 
Not only can Journi dribble with both feet, but he can also control the ball, pass and shoot nicely with both feet. This ambipedal ability means he is comfortable receiving and striking the ball from different angles anywhere on the pitch.
This is useful during the build-up phase as he can receive the ball at different angles in midfield and can use either foot to control and move the ball depending on where he is positioned, the positions of opponents and teammates and which foot the ball is played towards.
His two-footedness has added benefits in the final third as he can surprise defenders by passing, dribbling, crossing and shooting from unexpected positions and angles. 
Passing Ability in Build-up and Final Third
Journi displays an impressive weight and range of passes. He is adept at producing through balls along the ground from a central area out to a teammate on the wing. He plays the pass with just the right weight to evade any attempted interception from an opponent and arrives at the correct weight and angle for his teammate to run on to it. 
Journi's passing ranges from pushing sharp line-breaking passes into attacking teammates from midfield to rasping 50-yard driven passes across the pitch to delivering delicate final third passes. Some of these passes are played in an unexpected manner and/or at an unexpected time which surprises opponents and creates goalscoring opportunities or allows his team to maintain possession. 
Mental Attributes
Journi demonstrates intelligence when receiving the ball with his back to play. He widens his stance, sticks out his bum and spreads his arms quite wide. This prepares him for contact, gives him extra stability and stops a pressing opponent from getting close to the ball without fouling him. It also enables him to push off the opponent's physical pressure and move away from them.
Journi also shows great awareness when receiving the ball. The way he can quickly move the ball away from a pressing opponent and retain possession it is almost as if he has wing mirrors on. To know where his opponents are pressing from and react quickly on receiving the ball before they can get close makes him press-resistant at times. 
A key mental trait that Journi possesses is composure. He is extremely composed on the ball which means he is unfazed about receiving the ball anywhere on the pitch. He can receive the ball in the tightest areas, remain calm and utilise his technical and physical abilities to bypass opponents, retain possession, draw a foul or win a throw-in.
The composure he has in possession sometimes turns into overconfidence. This leads to him dwelling on the ball in dangerous areas, producing unnecessary tricks and trying to evade tackles when a simple and effective pass is clearly available.
Occasionally, he loses the ball as a result of his overindulgence. He needs to eradicate this from his game as it will hold him back from reaching his full potential. It should not be difficult for him to do so, especially as he is still a young, inexperienced player who is yet to fully mature. 
Defensive Work
Journi can be somewhat of a defensive liability. He lacks defensive intensity in his recovery runs. He usually jogs back slowly into position after the ball is lost rather than sprinting back using his rapid speed to hassle his nearest opponent in possession.
When the opposition have the ball, he does not press opponents purposefully and make their life uncomfortable. Instead, he tends to dawdle towards opponents, which makes it easier for them to evade him. 
Further, if Journi does engage in a physical duel to try and win the ball from an opponent he usually lacks the determination to stick at the task. Unfortunately, he gives up too easily in these situations.
When an opponent can hold him off and carry the ball forward, he does not continue to follow them closely and attempt to win the ball. Rather he will simply let them continue travelling with the ball without pressure from him. 
The flaws highlighted in Journi's defensive work need to be rectified if he is to succeed at a higher level. Most of it is due to a lack of willingness to defend and press. This should be relatively easy to correct. He will mature which should help him realise that he needs to contribute more defensively.
Alongside this, if he receives coaching from a defensively demanding manager, he will have to improve his defensive work-rate or he will not play. The possibility of being a regular bench player should spur him to improve these areas of his game. 
Off-the-ball Actions in Possession
When playing as an attacking midfielder Journi does not pose much of a goal threat despite his clean ball striking off both feet. This is because he fails to make enough off-the-ball runs into and around the box. To improve his goal threat, he needs to make more off-the-ball runs into and around the box to get on the end of crosses.
He has the technical quality and composure to finish quickly, cleanly and accurately under pressure in and around the box. If he can produce more off-the-ball runs into and around the box, he will improve his goalscoring record and become more valuable for his team.
Journi admires his passes after playing them and will follow the play with a slow jog or even stand still. He rarely makes a pass then sprints into a good position to receive the ball back or sprints to pose a threat in behind the midfield or defence. To help support his team's attacking play he needs to be more proactive after making a forward pass. He can do this by:
sprinting into a position behind his teammate to offer a return option for a pass; or

sprinting into a position in between the opposition's midfield and defence's lines to receive a return pass; or

sprinting into an area (wider or in behind the defence) to drag a defender out of position to cover his run, in turn creating space for a teammate to exploit; or

sprinting into a position to preoccupy defenders with his presence to make it easier for his attacking teammates to receive the ball free from pressure
If Journi can make these types of sprints during matches this will take his game to a higher level.
Long-term Potential
Journi's physical and technical qualities indicate that he has the potential to play for a good club in Europe's top 7 leagues. He also has some impressive mental attributes. However, the weaknesses in his profile need to be improved if he is to cope when he plays at a higher level.
His profile also suggests that he could be an effective inverted left winger with playmaking responsibilities. This is a role that his current club and future clubs should consider using him in. 
Potential Future Clubs
Journi should receive plenty of game time for Al Ahli Tripoli over the course of the Libyan Premier League season. 
Looking forward, Journi has the skillset to move to a better league and perform well. If he can start consistently for Al Ahli Tripoli and show his undoubted quality during the 2021/2022 Libyan Premier League season, he will be ready to take the next step and bypass proving himself back at his parent club CS Sfaxien. 
In terms of Journi's style of play, he would best fit in lower tempo, possession orientated European leagues where he will have more time on the ball and be able to display his high technical level. Ideally his next move would be to a team in Spain's La Liga or La Liga 2, Portugal's Primeira Liga or the Netherland's Eredivisie. 
So, let's take a look at two clubs that would suit Journi:
1. Elche
Elche are currently near the bottom of La Liga this season. They have struggled to create chances and score goals. Therefore, in the upcoming January transfer window an area they need to enhance is their midfield creativity if they want to stay in La Liga.
Looking at Elche's squad the only player they have in midfield who can provide any semblance of creativity in the final third is the ageing, past peak Argentinian Javier Pastore. Besides him they have no one else who can provide ingenuity in the final third.
Considering this, a smart signing even if just on loan for 6 or 18 months with an option to buy for around £300,000 would be Journi. It may be thought that he needs to go to play at an intermediate level between La Liga and the Tunisian Ligue Professionelle 1 such as La Liga 2, Eredivise or Primeira Liga but this step is not necessarily needed for someone of his ability.
He has that natural flair, creativity and inventiveness in his style alongside good physicality that means he can provide something different to most players and makes him hard for opponents to deal with when on form. A team like Elche who are scrapping for their lives in La Liga need a talent like him to bring off the bench to produce moments of magic out of nothing in attacking areas. 
Elche have been quite flexible tactically this season ranging from 4-4-2 formation with two defensive midfielders to 3-4-1-2 formation. Journi would fit in tactically with his versatility. He could be used as a deep-lying playmaker if needed but it would be better placed using him as an attacking midfielder or as an inverted left winger. As such, he would provide Elche's manager with the option to field him in several positions. 
Moving from Libya to Spain would be a massive change for Journi both professionally and personally. La Liga is significantly better than the level he has performed at and so that presents potential issues in terms of adapting to the level.
However, his characteristics are very suited to La Liga and especially a team like Elche who need a creative player like him to help them improve their chances of staying in La Liga. From a personal standpoint this is where the greatest challenges lie.
It would not be easy to adjust to living in Spain straight away due to the differing culture, language and cuisine etc but he has already moved abroad, admittedly to neighbouring Tunisia, and this shows he can move overseas, adapt quickly and perform. As such, he has the personality to do so again. 
2. Gil Vicente
Gil Vicente have had a decent season so far in Portugal's Primeira Liga and find themselves in mid-table. If they continue their current trajectory, it is likely they will finish comfortably outside the relegation zone. Even though the season is not even halfway through they should already be thinking about how they can improve their squad for next season.
In analysing Gil Vicente's usual starting XI and squad, there is certainly room for improvement in their midfield options. Kanya Fujimoto has performed well since joining on loan from Tokyo Verdy and if he retains his current form, it will be difficult for them to keep him beyond this season.
Their other regular starters in midfield are Portuguese attacking midfielder Pedrinho and Brazilian defensive midfielder Vitor Carvalho. Both have been solid performers alongside Fujimoto. Behind those three there is a dearth of quality options and even if Fujimoto is signed after his loan spell it would be unsurprising if he was immediately sold on to a higher profile Portuguese club. 
Irrespective of whether Fujimoto stays or not, a stronger back up and medium-term replacement for Pedrinho is needed. Gil Vicente should look to add another more attack-minded midfielder to their squad next summer to occupy this role. In turn, improving the standard of their midfield choices.
In 2018, Gil Vicente were relegated to Portugal's third division for the first time since 1971 after finishing 19th.

The next season, they were promoted to the Primeira due to the 'Caso Mateus.'

Since then, they've finished 10th, 11th and currently sit 9th under Ricardo Soares.

— Zach Lowy (@ZachLowy) October 9, 2021
An astute signing to fill this position would be Journi. He would provide additional final third creativity and unpredictability, the ability to beat the press in deeper areas with his skilful, powerful dribbling and slick passing as well the versatility to be used in multiple different roles depending on the manager's game plan and tactical strategy.
They could sign him on a similar deal to Fujimoto i.e. a loan with an option to buy, with a buy-out fee set at around £300,000. This would probably be enough for CS Sfaxien to agree for him to be loaned out again, providing they extended his contract which expires in 2023. 
Journi would be making a big step up if he was to move to Gil Vicente next summer. The Primeira Liga is a good league and far above what he has experienced before. However, his current skillset and potential would mesh well with the style of Portuguese football. 
With Pedrinho being an experienced and reliable attacking midfielder in the squad, Journi could join as an exciting understudy. This would provide him with the time he needs to improve specific aspects of his profile such as his stamina and defensive work, adapt to Portuguese football and life in Portugal.
During the first six months of next season, he could be used mainly as an impact substitute whether they are winning, losing or drawing. His trickery and inventiveness in possession combined with his strength, speed and agility against tiring opponents would be useful in creating chances late in matches if they are trailing.
Additionally, his composure and quality on the ball would be ideal to help control the tempo of matches late on if they are drawing in a match they are struggling to control or winning by a small margin.
Providing he performs as expected off the bench, he could then be unleashed as a regular starter in the last 10-15 games of next season. In the following two seasons, he certainly has the capabilities of developing into a standout player for Gil Vicente and generating plenty of profit for them on a future sale. 
By: Daniel Ajuh / @Daniel_Ajuh
Featured Image: @GabFoligno / Ettachkila