Pedri: The Creative Genius from the Canary Islands
From David Silva to Juan Carlos Valeron, we've seen various players emerge from the Canary Islands who have the creative ability and quality to pick a pass alongside a magical touch on the ball. Alongside Yeremy Pino at Villarreal, Pedri is the latest talent to leave the Canaries and impress at the top level of European football.
Born in Tenerife, Pedri joined Las Palmas' academy from Juventud Laguna in 2018 but would only have to wait a year before being promoted to the first team by then manager Pepe Mel. He made his professional debut at 16 years of age on August 18, 2019, starting in a home defeat to Huesca.
Two weeks later, Barcelona completed a deal to sign Pedri on a two-year contract, paying an initial fee of €5 million as well as other performance-based objectives to snap up the teenage talent before his stock rose even higher.
Before he had even played a match for Barcelona, Bayern Munich were already willing to give Barcelona a hefty profit on the youngster following their 8-2 humiliation of them in the Champions League, but the Blaugranas refused their attempts and held onto the prized teenage talent.
It ended up paying off: Pedri quickly established himself as a key figure in midfield under Barcelona manager Ronald Koeman before dazzling for Spain in their run to the Euros semifinal and playing for La Rojita in the following month in the Tokyo Olympics.
At 18 years of age, the Spaniard was overloaded by Koeman and Luis Enrique and it was little surprise when he missed the first few months of the season with injuries, eventually returning on January 23 after five months on the sidelines.
He has gone up another level under Xavi and it is little surprise that Barcelona's best form of the season has coincided with his return to fitness.
Since Pedri's return from injury on January 23, Barcelona have drawn once and won seven matches in the league and breezed past Napoli and Galatasaray in the Europa League to seal a date with Eintracht Frankfurt in the quarterfinals.
The Blaugranas are third in the league table, three points behind Sevilla, level on points with Atlético Madrid and four points ahead of Real Betis, whilst enjoying a game in hand on each of those teams. They have 10 games left and could very well cruise to Champions League qualification in the home stretch of the campaign.
One of the biggest reasons behind Barcelona's turnaround in form is Pedri, who has bounced back from an injury-plagued start to the season and quickly gotten back to his best form. Whilst he dazzled under Koeman last season, he is taking his game up a notch with Xavi's new-look Barça side.
In Las Palmas, under the guidance of Pepe Mel, Pedri played as a wide playmaker with the freedom to move horizontally and vertically, creating spaces and making vertical passes to the striker in a 4-1-4-1 or a 4-2-3-1.
He was given the position to roam freely into half-spaces between the defensive line and the midfield of the opposing team using his technical abilities to dictate the tempo alongside a vision to choose where to pass the ball considering his technical abilities.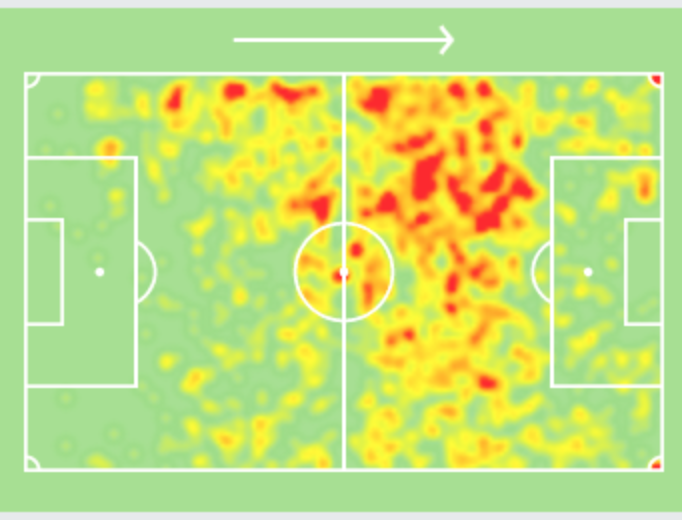 Photo: SofaScore
At Barcelona, he plays as an attacking midfielder in Xavi's  4-3-3 or 4-2-3-1 with a desire to dominate possession and create chances. Pedri is seen as the creative fulcrum similar to David Silva's role at Manchester City in previous years, opening up the defensive line along with a Gavi who can press and operate within the spaces.
Unlike at Las Palmas, Ousmane Dembele, Adama Traore and Ansu Fati can play in the wide areas; Pedri is the midfield creator working with Sergio Busquets and Frenkie de Jong to help dictate the tempo, create the chances and allow the build-up play to run smoothly. 
He can play on the right side or left side of midfield with his deft touch and sublime skill, but can also operate as an auxiliary winger linking up with the forwards with his passes and ability to pick a space in the midfield.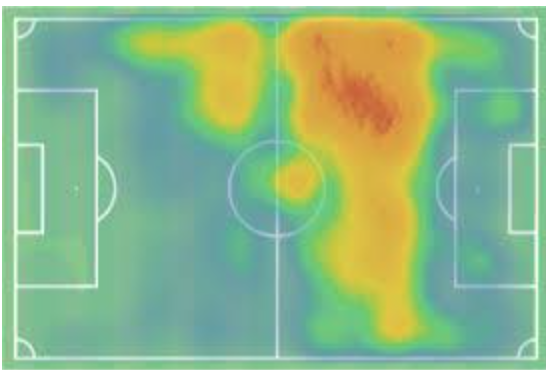 Photo: SofaScore
Pedri is a unique talent who can play in the centre of midfield or as an wide playmaker like Andrés Iniesta and Santi Cazorla and David Silva. He has a distinctive approach to the game, and his decisiveness in the final third remind us of Andrés Iniesta, Mesut Özil, or Guti.
He has impeccable ball control with sublime technique to move the ball into spaces that few others recognize, and his calmness under pressure and his game intelligence set him apart from other players. He can go into the wide area, locate a player and pick a pass that leads to a dangerous goalscoring scenario.
The 19-year-old ranks in the 98th percentile amongst midfielders in Europe for pressures with 27.99 per 90, a testament to his restless work off the ball. On the ball, he is even better with an astonishing 3.44 shot-creating actions per 90 and 7.18 progressive carries per 90, landing him in the 95th percentile for each.
Pedri has emerged as a vital performer in midfield for Luis Enrique's La Roja and even with competition from the likes of Gavi, Frenkie de Jong, and the soon-to-be Barcelona signing Franck Kessié, he remains as important as ever for Barcelona's short-term and long-term fortunes.
As the Spanish magicians of yesteryear such as Cesc Fabregas, Santi Cazorla, David Silva and Andrés Iniesta wind down their careers, Pedri has taken the baton and solidified himself as Spain's next top midfield creator.
After an impressive haul of individual trophies last year including the Golden Boy Award, Pedri will be looking to pick up his second trophy as a Barcelona player and win the Europa League whilst also securing top four. It has been a tumultuous season at Camp Nou, but with Pedri, they have their new midfield talisman for the next decade.
By: Ogunniyi Abayomi / @sandrobayo
Featured Image: @GabFoligno / Eric Alonso / Getty Images