How Xavi is Revitalizing FC Barcelona
When Lionel Messi left Barcelona for Paris Saint-Germain, ending a 21-year spell in Catalunya for the Argentine who arrived as a fresh-faced teenager from Rosario and left a legend, the sky seemed to be falling for Les Culés. It couldn't happen, it shouldn't happen — it happened.
Uncertainty lingered around the club and blame was directed towards La Liga president Javier Tebas, but the circumstances that led to this painful eventuality were a result of years of financial mismanagement at the club.
Spending exorbitant fees on largely disappointing signings and shelling out unsustainable wages on veteran players put Barcelona in a hole from which there appeared unable to be no escape.
The greatest footballer of all time had left the only home he'd known in his professional career during perhaps the most volatile time in the club's recent history.
But disappointment presented opportunity. Messi's wages were unprecedented in the world of sport, let alone football. In Barcelona's position, it could be seen as a blessing in disguise to get that amount of money off their books.
Some even theorise that allowing the Argentinian legend to leave was an intentional move by the club, but that's a conversation for another day. Finally, Barcelona could look towards the future with a bit more breathing room.
Soon, they were able to offload Antoine Griezmann back to Atlético de Madrid on a loan deal which will likely become permanent under very reachable appearance-based triggers.
They did still decide to sign Luuk De Jong so evidently the bad decisions weren't completely eradicated, but Barça were on the right path — but then the season started. 
Ronald Koeman wasn't the most popular coach to begin with, but the team's performances early in the 2021/22 season truly sealed his fate. The results were bad enough, but the performances were truly terrible.
Culés expect their club to play football in a certain way, and that definitely wasn't the Koeman way. Barcelona were already falling out of the La Liga title race and were teetering on the edge of elimination from the group stages of the Champions League; simply unthinkable for this football club.
It was evident that change was needed and, fortunately, change was on the way.
Atlético Madrid 20/21 Analysis: How Diego Simeone Beat Real Madrid and Barcelona to La Liga
On 6 November 2021, Xavi was appointed manager of FC Barcelona. This move always felt destined to happen eventually, but many felt as though it was happening too soon.
The former Ballon d'Or finalist had enjoyed a very successful spell managing Al Sadd in Qatar, but Barcelona are an entirely different animal. Xavi was obviously revered in Catalunya as one of football's all-time great midfield conductors, but now he was being tasked with rescuing his beloved Barcelona as manager.
Only the likes of Manchester United and Real Madrid regularly have managers who face as much pressure and scrutiny as Barça's bosses, and if the end of Ole Gunnar Solskjær's stint was anything to go by, even the most beloved players can lose favour with the fans when the results on the pitch aren't adequate.
But Xavi never seemed jaded or intimidated by this new responsibility, and he was going to need to keep that attitude to be successful in the blaugrana. 
It was somewhat of a baptism of fire for Xavi upon his arrival at Barcelona. He was given the daunting task of guiding the club through the final two group stage games of their Champions League campaign; needless to say, it did not go well.
Following a 0-0 draw with Benfica and a 3-0 defeat courtesy of a ruthless Bayern Munich, Barcelona finished 3rd in the group and were relegated to playing Europa League football for the first time in 17 years.
This massive setback, together with inconsistent league form, a semi-final Super Cup loss to Real Madrid and a disappointing round of 16 loss at the hands of Athletic Club in the Copa del Rey, the Xavi experiment appeared to be falling apart far sooner than expected. But suddenly, something clicked in Catalunya.
Barcelona began an impressive (and ongoing) undefeated run in all competitions. Since the Copa Del Rey embarrassment, Barça have played 12 games, winning 9 and drawing 3 more.
Not only did the results improve, but the performances did too. The progressive, possession-based style of football that Xavi had promised to integrate into the club was finally beginning to take shape.
Setting up in a 4-3-3 that tends to morph into a 2-3-5 or 3-2-5 in possession, the Barcelona boss has begun to show his tactical versatility and his commitment to the Cruyffism upon which he was raised as a player and now a coach.
As is normally the case with a 4-3-3, Xavi's system emphasises quantitative advantages in the middle of the pitch, on top of the qualitative advantages that are gained with fielding players like Sergio Busquets, Frenkie De Jong and Pedri in the midfield.
Many of Pep Guardiola's traits and tendencies are visible in how Xavi sets up tactically, as he has seemingly inherited the concept of juego de posición that has made Guardiola so successful for so many years.
Rodrigo De Paul: Diego Simeone's Argentine Box-to-box Midfielder
In the aforementioned last 12 games Barcelona have played, they've recorded impressive victories over tough opponents in Napoli and Galatasaray to advance in the Europa League, but their victories over their Madrid-based La Liga rivals have really turned heads.
The 4-2 victory over Atlético de Madrid showed Xavi's ability to be pragmatic when needed, which was one of the main concerns many had when he was hired.
Would he be stubborn with his philosophy? Would he adjust to particular opponents and situations? This game was a prime example of his willingness and ability to adapt when required.
Barcelona even had the challenge of managing the game after falling to 10 men following a Dani Alves red card. They had already built a comfortable lead by then, but we still had the opportunity to see Xavi's adjustments given the circumstances.
However, more fascinating was how Barcelona set-up when it was still 11 v 11 and how Xavi was able to beat Atléti's press, dominate central areas and allow Adama Traoré to have an outstanding game.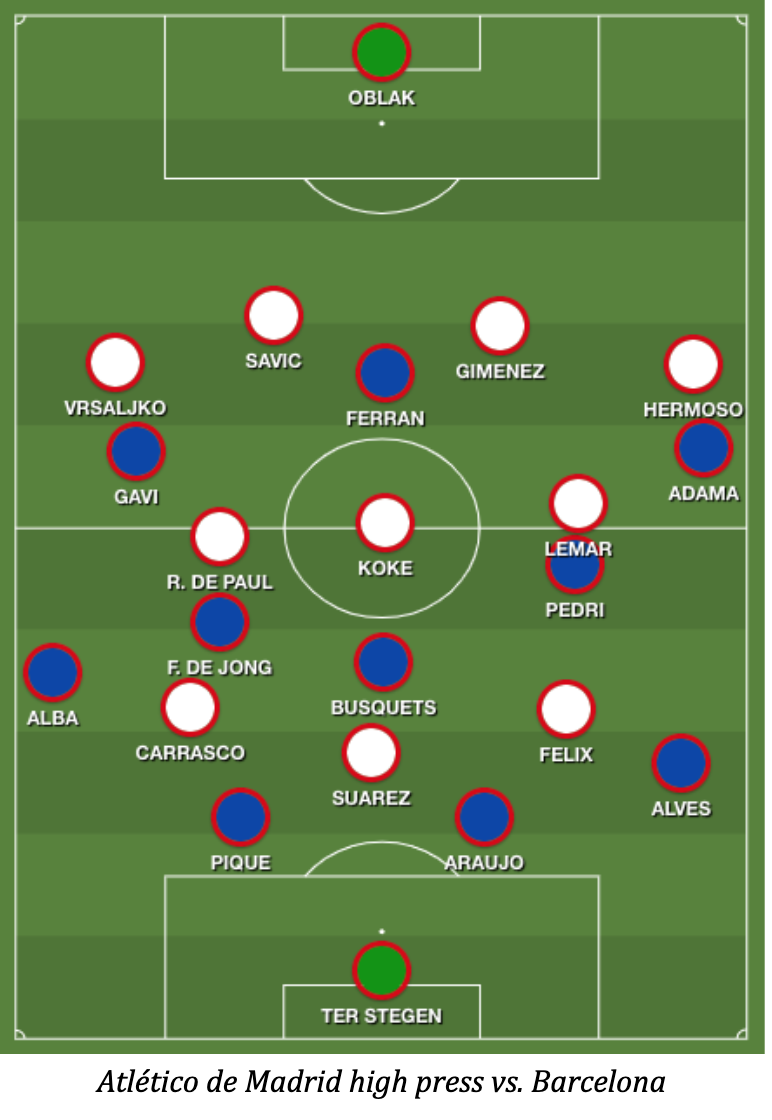 Diego Simeone had an expectedly cautious approach in how aggressively he pressed Barcelona's defenders in their first phase of buildup. Atlético rarely pressed high but, in the moments when they did, Barcelona had a solution for it.
Atléti most commonly pressed in a 4-3-3 shape and, therefore, Barça often used their entire back 4 in buildup in order to maintain their numerical advantage. Marc-André ter Stegen also offered an extra option in possession due to his ability to comfortably play the ball out with his feet.
More often than not, however, Barcelona were granted the first phase of build-up with minimal pressure as Atléti retreated into their traditional mid-block.
This would turn their 4-3-3 into a 4-5-1 as they attempted to negate Barcelona's central overloads. This may well have worked if Xavi hadn't already thought two steps ahead, as his tactical solution came in the form of Dani Alves.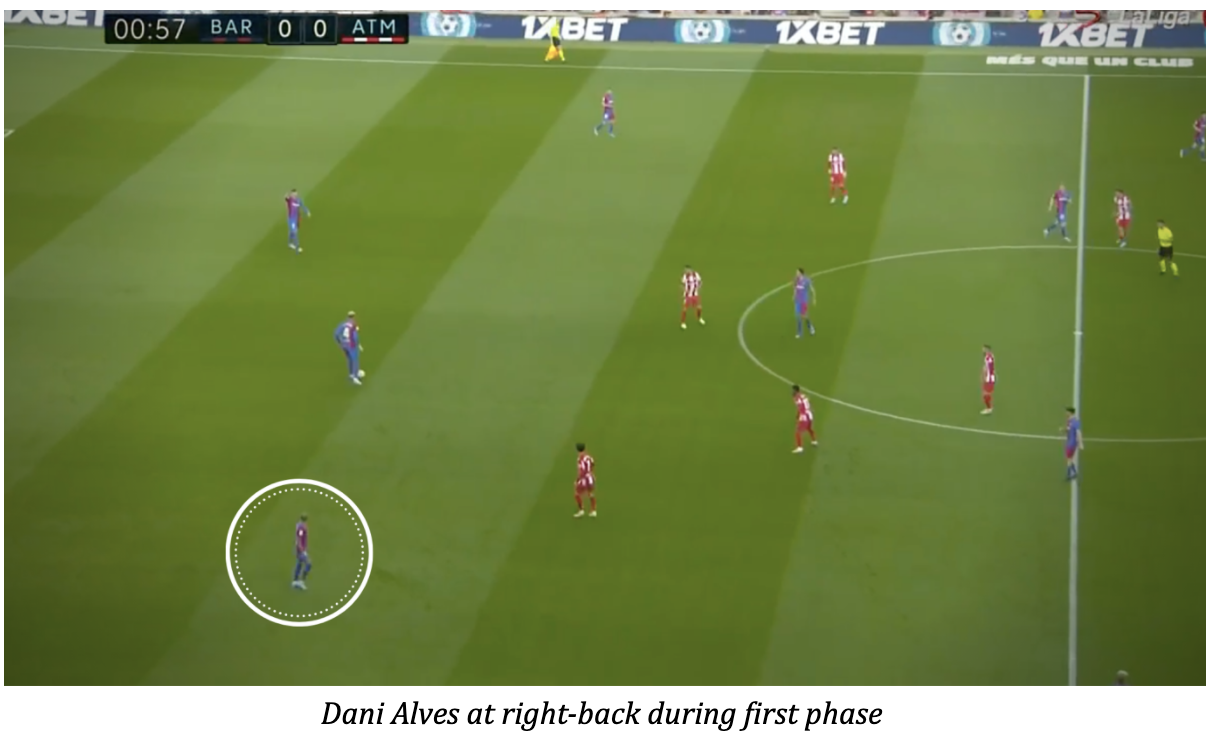 Alves' role was vital to how Barcelona played through Atléti's high press and mid-block. During the first phase of buildup, the Brazilian stalwart would play as a more traditional right-back, as seen above. This would give Barcelona their aforementioned numerical advantage in possession in deeper areas.
As the ball advanced into the midfield, Dani Alves would often move into a defensive midfield role next to Sergio Busquets, subsequently disrupting Atlético's shape and forcing them narrower than they would've preferred.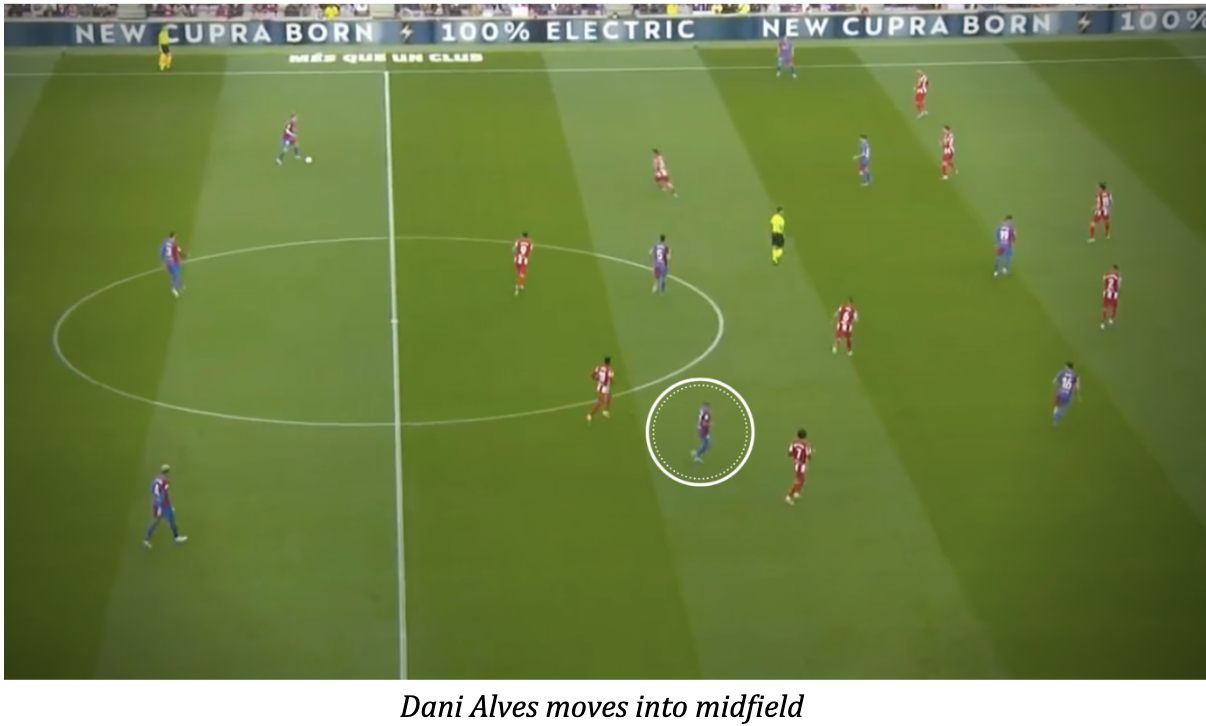 This would create extra passing lanes in central zones for Barcelona's defenders and midfielders. Alves' positional intelligence and technical abilities meant he had no issues playing such a role, as he understood where he needed to be and what to do with the ball should he receive it.
The Catalans were then able to create central overloads and had the technically gifted players to maintain control in these situations.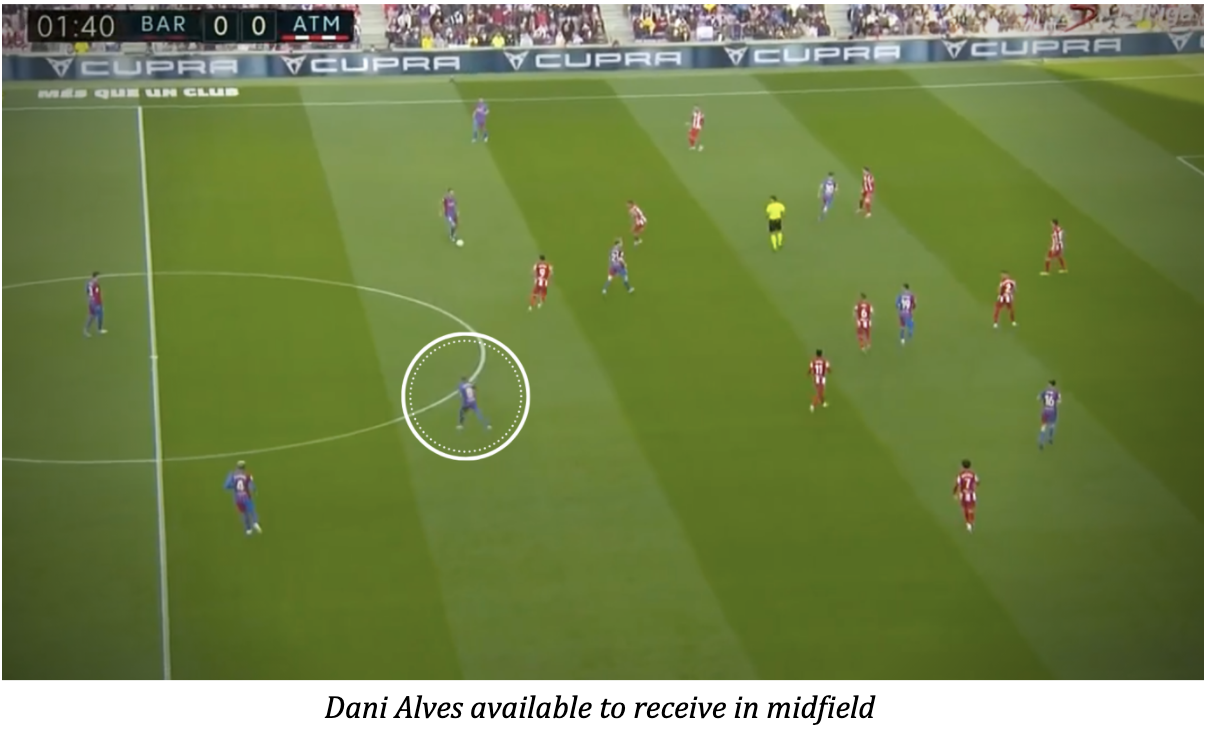 The biggest beneficiaries of these overloads were Barça's wide players. Jordi Alba had the freedom to maraud up-and-down the left flank, or move into an inverted position and allow Gavi to stretch the pitch. However, the player who really thrived off the creation of these overloads was Adama Traoré.
The former La Masia prospect had multiple 1 v 1 opportunities against Atlético de Madrid's Mario Hermoso and he absolutely dominated the Spaniard.
Hermoso's situation wasn't helped by the fact that he's primarily a centre-back who was moved to left-back to (supposedly) give Los Colchoneros more defensive solidity; evidently this did not work.
Adama had the beating of the former Espanyol defender multiple times, one of which led to the goal that gave Barcelona a 2-1 lead.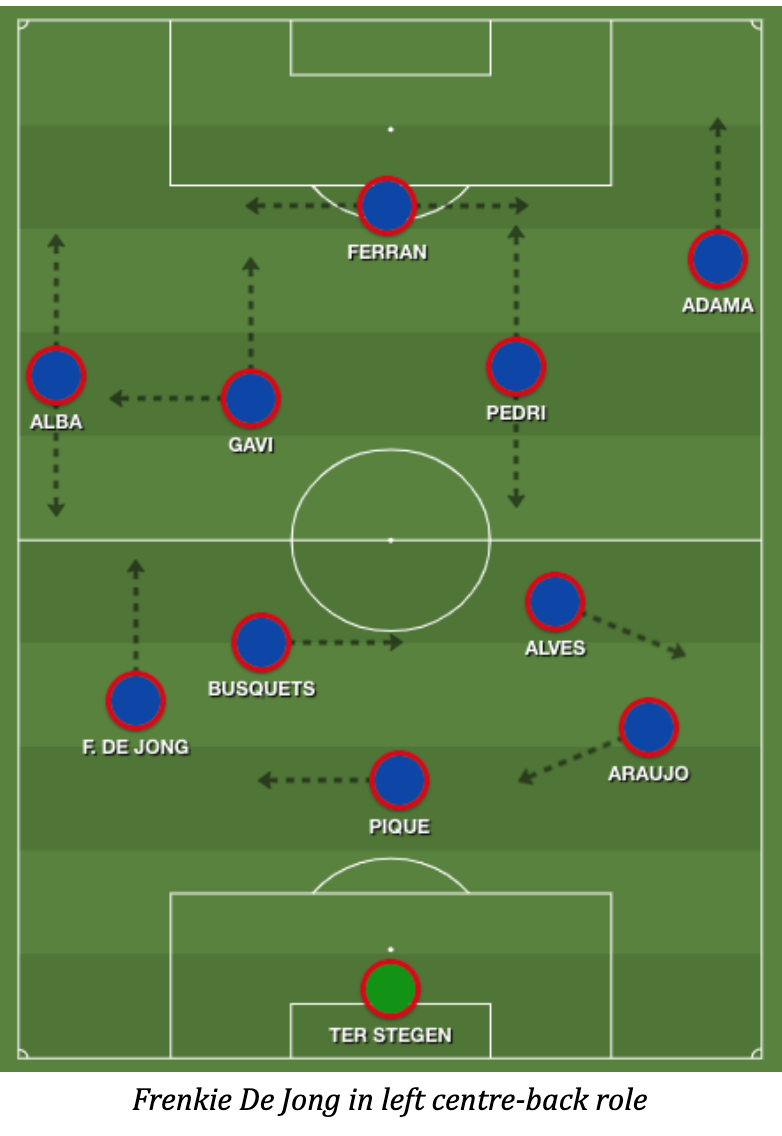 Whilst the victory over Simeone's men was impressive, it was the performance against Atléti's crosstown rivals that will likely be seen as the watershed moment of Xavi's long-term legacy as Barcelona manager.
The Blaugrana walked into the Santiago Bernabéu Stadium and absolutely annihilated the current league leaders. Prior to 20 March 2022, Barcelona had last won a game against Real Madrid on 9 March 2019 — over 3 years ago.
And ironically enough, this season has largely felt like the biggest gap in quality Madrid have had over their Clásico rivals in arguably 20+ years. But for just over 90 minutes on a Sunday night in March, Los Blancos were having flashbacks to some of the embarrassing defeats they suffered at the hands of Barcelona over the past ~15 years. 
So, what exactly happened? How did Xavi design such a devastating plan and how did his players execute it so well? Where did it all go wrong for Real Madrid?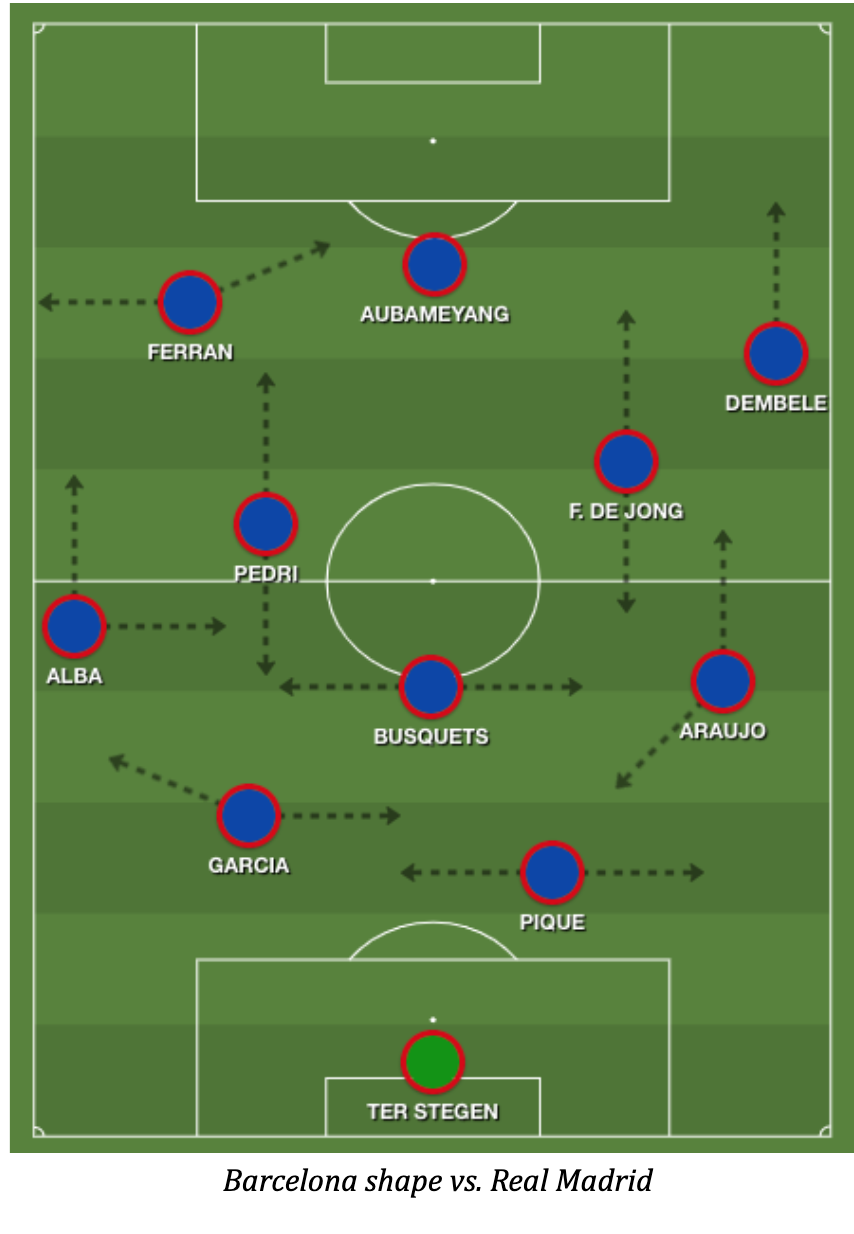 Xavi didn't actually change many of his usual strategies all that much, but, as I mentioned earlier, it's the nuances that truly set the Spaniard apart. Jordi Alba and Ferran Torres' oft-changing roles throughout the game were a nightmare for Real Madrid.
Alba would occasionally stay deeper with the rest of the back 4 and play as an inverted left-back, similarly to Araújo on the right, with Ferran maintaining the width on the left and Madrid would subsequently set-up in order to counteract this system.
Suddenly, however, Alba would then aggressively overlap down the left flank and Ferran would play within the left half-space or even position himself directly next to Pierre-Emerick Aubameyang and play as a second striker.
This completely distorted Real Madrid's shape and made it extremely difficult for the players to know how to position themselves defensively to prevent Barcelona from exploiting their evident confusion (spoiler: the confusion was, in fact, exploited).
Ferran Torres was a nightmare for the hosts' defenders as he just would not stop moving. Either Carlo Ancelotti didn't game plan for this movement or the players failed to follow his instructions because it appeared that nobody knew who should pick him up.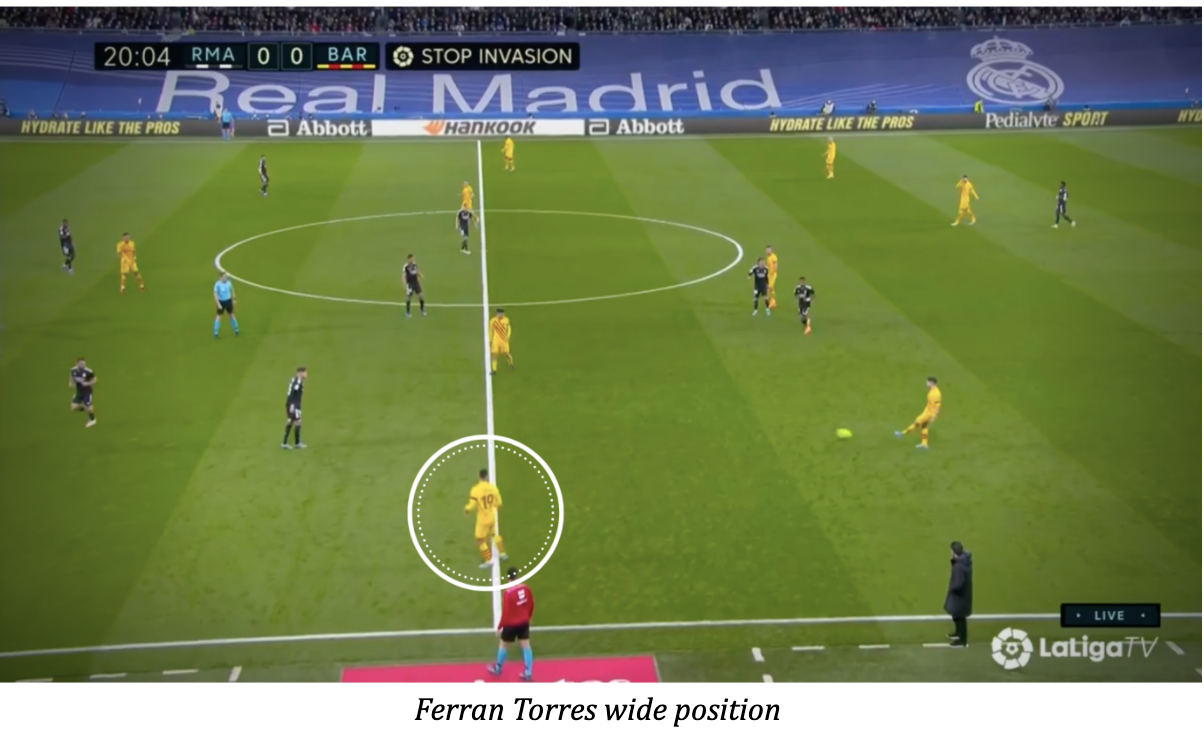 The regularity with which the former Manchester City forward would make these positional movements was a tactical nightmare for Carlo Ancelotti's men, and it had a knock-on effect on the rest of the pitch. Sergio Busquets, Frenkie De Jong and Pedri completely dominated the midfield battle.
Their job was admittedly made easier by the fact Luka Modrić was playing as somewhat of a false 9 instead of a central midfielder due to Karim Benzema's absence through injury, but the tactical superiority was so overwhelming that it wouldn't have made much of a difference.
Barça's midfield trio essentially went for a stroll in the park in the Bernabéu and faced minimal resistance. Once more, Barcelona were able to create overloads in the middle of the pitch as well as on the left flank, and this is how Ousmane Dembélé took over.
With Nacho at left-back, Ousmane Dembélé had a party on the right wing. Ironically, both Madrid clubs were largely undone by fielding natural centre-backs at left-back. Dembélé was able to regularly isolate Nacho and beat him in 1 v 1 situations, most notably for Barcelona's opening goal.
Dembélé stays wide and stretches the pitch and, at this point, Nacho is already on the back foot against an extremely quick, skillful, two-footed winger and that's a recipe for disaster. The Frenchman glides past Nacho with considerable ease before finding Aubameyang with a brilliant cross, who heads home to give the away side the lead.
This situation was very similar to the goal Gavi scored against Atlético de Madrid following Adama Traoré beating his defender in a 1 v 1 situation. Once more, the Pep Guardiola influences are plain to see, but it's fair to say that Xavi is also paving his own way as a strategist and tinkerer.
The second half was a real (haha?) calamity for Madrid. Ancelotti switched to a back 3, supposedly in an attempt to get his team back into the game.
However, this 3-at-the-back system didn't utilise conventional wing-backs, with the width instead largely coming from the wingers in Rodrygo and Vinícius Júnior. This was extremely ambitious and adventurous by Ancelotti, but unfortuantely it was also extremely unsuccessful.
Real Madrid's defenders were constantly left to defend in 3 v 3 situations and Barcelona's forwards had their way. Both Ferran and Aubameyang scored but both also missed gilt-edged chances that they really should've put away.
The scoreline actually flattered the hosts in the end as the final ~30 minutes largely became a case of managing the clean sheet for Barcelona and damage control for Real Madrid.
It felt as though, if they really wanted to, Barça could've continued to exploit the many, many deficiencies in Ancelotti's system and score more goals, but the job was done early in the second half and the players had no need to over-exert themselves and court fatigue or injury.
It's the best example we've seen yet of how Xavi would like his team to play and what it looks like when everything clicks on the pitch.
The pass map below shows a number of the strong connections Barcelona were able to create all over the pitch, especially in finding the wide players, and the importance of Jordi Alba's versatile role in the success of the game plan.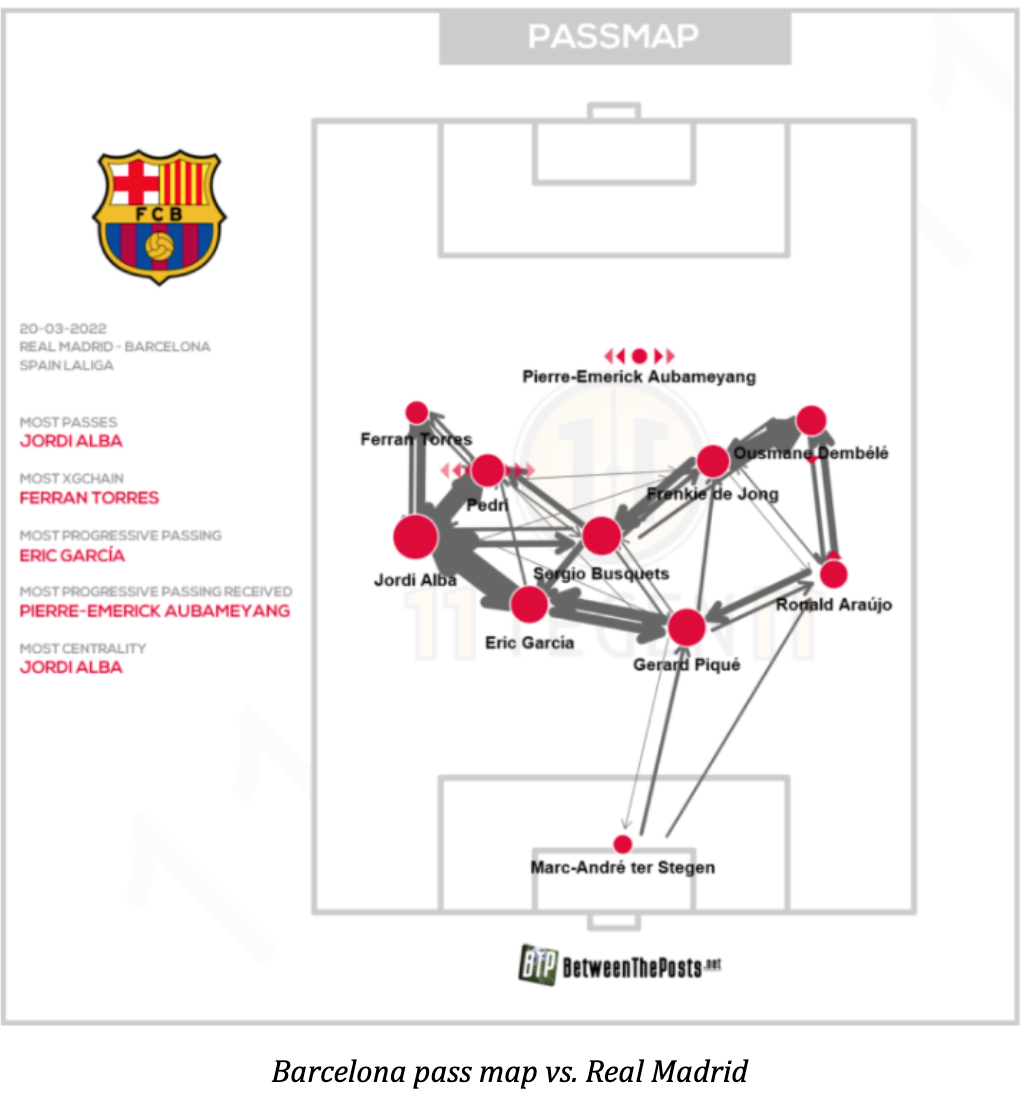 Xavi's vision is still certainly a work in progress. Barcelona have shown significant vulnerabilities defending counter-attacks and still struggle when faced with athletically superior opponents who can also match-up well them technically.
On the positive side, it appears that Xavi has acknowledged the need for players with pace and power through the acquisitions of the likes of Adama and Aubameyang, as well as reports that a deal has been agreed for the signing of Franck Kessié on a free transfer at the end of the season.
Barcelona have always prioritized technique over athleticism and this isn't an approach they necessarily need to move away from, but you must adjust to how the football environment is changing around you.
Pep Guardiola never gave up on making Cruyffism successful in the Premier League, but he understood the need for players who could handle the speed and physicality of the league without losing the technical superiority he desires. I imagine Xavi will need to do the same to optimise his team's chances of success.
The Xavi revolution is upon us and the early signs are encouraging for Barcelona fans. The sample size is fairly small but, under Xavi, Barça have averaged 2.31 points and goals per game in La Liga compared to Koeman's 1.96 points per game and 2.08 goals per game during his stint as Barcelona boss.
Following their 4-0 victory in El Clásico, Gerard Piqué tweeted "We are back". Whilst that may be too soon to say definitively as there is still work to be done before Barcelona can challenge Europe's elite consistently again, they are certainly headed in the right direction in the hands of Xavi Hernández.
By: Lebohang Mwamuka
Featured Image: @GabFoligno / Pressinphoto / Icon Sport