Player Analysis: Anfernee Dijksteel
To quote Dominic Shaw, Middlesbrough Editor for Teesside Live, in November 2020: 'Anfernee Dijksteel is getting better by the week. His game is maturing by the week. He's growing in confidence by the week. Imagine what he'll be at the end of this season, never mind in a couple of years.'
Fifteen months of consistent improvement on, the Dutchman has continued to live up to the eager anticipation of the Boro faithful. However, since Chris Wilder's arrival at the club in November 2021, Dijksteel, along with many of his team mates, has completely eclipsed all expectations placed upon him.
Perched atop the peak Middlesbrough currently find themselves on are the likes of Marcus Tavernier, Matt Crooks and Isaiah Jones who have excelled in Wilder's 3-5-2 system, but the former Sheffield United boss has instilled an infectious belief throughout his squad, and Dijksteel has been one of, if not the biggest beneficiary of Neil Warnock's successor.
Having cemented his place on the right side of the back three, the former Charlton Athletic man, who played in centre midfield for the Addicks before switching to right-back when he moved to North Yorkshire, has thrived in a position that entwines his key strengths to a tee.
"Matt Crooks will probably get the bulk of the praise in regards to helping Jones's form" admits co-host of the Boro Breakdown Podcast, Dana Malt, "but Dijksteel is just as important to Boro's right hand side.
As Dijksteel is encouraged to relinquish some defensive responsibility by making constant, meaningful runs down the right flank, his ever-growing presence in the opposition half has seen him forge an imperious relationship and frequent yet extremely effective patterns of play with Crooks and Jones.
Whilst Crooks occupies the right half-space when Jones typically receives the ball on the touchline, the absence of Dijksteel would require a pinpoint passing interchange to carve open an opposition defence, and the centre-back is especially good at timing his runs to draw defenders away from more technically gifted team mates, allowing them to work their magic.
As shown below, Dijksteel (2) opts to make an overlapping run when Jones (35) receives the ball, which affords the wing-back an extra yard and an angle to make a pass to Crooks in between the lines.
This would've been much more difficult without the Dutchman's movement to affect play indirectly and his presence of mind as to where and when to make the move, which has become a prevalent facet of his game under Wilder.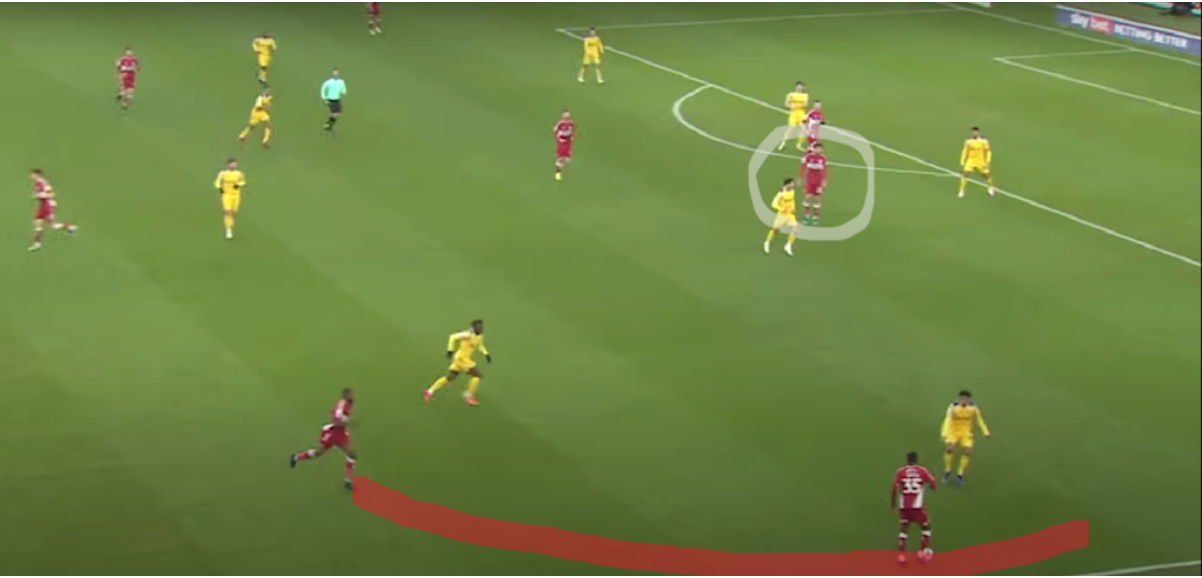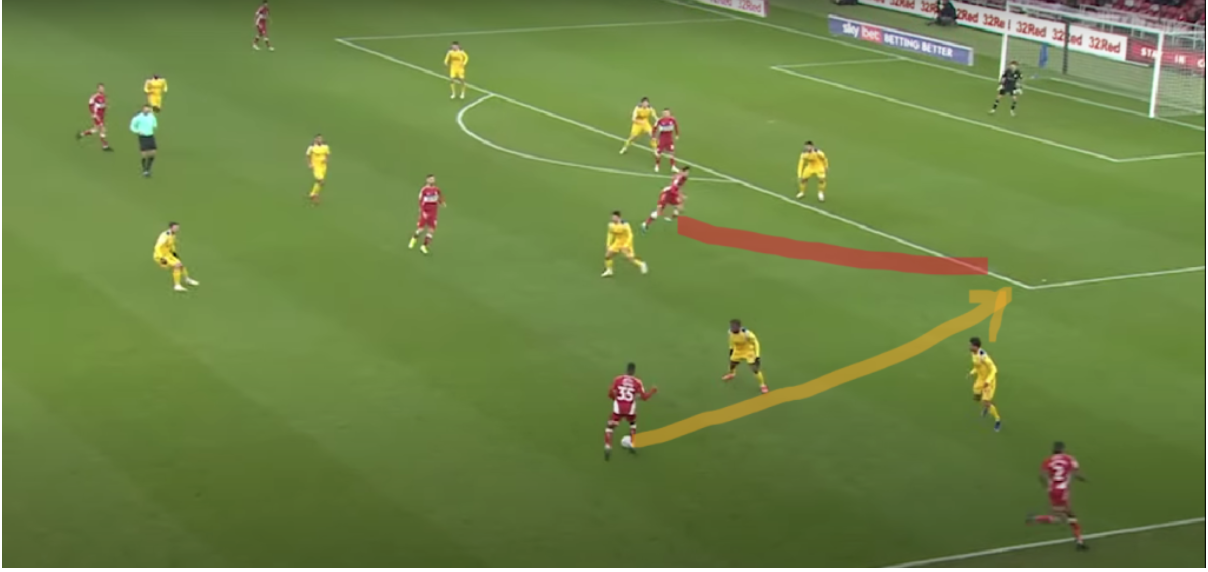 "His underlapping and overlapping runs are what causes the overloads to give Boro more options to not only find an incisive pass but to recycle possession if needed should chances to progress the ball be limited." Malt says. "The three options on the right link in really well and it cannot be underestimated how important Dijksteel's work, off the ball in particular, is to it."
Carrying the ball proves to be no obstacle to Dijksteel's endeavour either. He just picks his moment, picks his lane and through sheer belief in himself and his teammates, often succeeds on his attacking adventures.
To reiterate on his nomadic career to date in terms of positioning, the 25-year-old's willingness to charge up and down the right side and his enthusiasm to contribute in every department comprehensively translates to a box-to-box midfielder or a wing-back.
After all, this renowned role in Wilder's setup is tailor-made for a natural midfielder with defensive discipline, a la Chris Basham at Sheffield United and current teammate, Paddy McNair.
The difference? Dijksteel doesn't quite have the awareness and vision in crowded central areas to dominate a midfield battle, or the creative prowess to be a wing-back, but with everything in front of him when he receives the ball and a clear space to cover defensively when going backwards, he is hungry to win his one-on-one battle and retain possession not just to relay it to teammates, but to utilise his astute passing and powerful dribbling ability as well.
Malt goes on to say: "He has a solid blend of physicality, composure and good reading of attacking situations. He doesn't have blistering pace (though he's not slow either) but he uses his body cleverly to either block off wingers when they try to knock it around him, or to slow them down so he can recover possession."
Having such a commanding figure who can also hold his own when it comes to speed frequently results in a torrid 90 minutes for wide forwards and even wing-backs who dare to challenge Dijksteel.
This is a man who relishes a physical encounter as much as he does a foot race, a deadly combination for a defender, particularly when he finds added confidence to play with aggression in knowing the support of central centre-back Dael Fry or the lightning-quick Jones is there whenever he needs it.
"He very rarely gets caught out defensively and on the rare occasions he does, he has the pace and composure to recover." Malt continues.
"His reading of certain situations, especially when tasked with a tricky winger or powerful forward, is very good. Take the game against West Brom for example – he was aware of Karlan Grant's knack of cutting inside to shoot, but he blocked off the possibility of him doing so."
This is a club that are universally on the ascent since Chris Wilder took charge. In the stands, the noise has amplified tenfold. In the league table, they have climbed eight places into the play-offs.
In the FA Cup, they have overcome Manchester United and Tottenham Hotspur on their way to the last eight. Promotion to the Premier League, be it this season or not, feels like the inevitable outcome. The question is: will Dijksteel be able to cope at the top level?
From an individual perspective, Dijksteel would benefit enormously from another term in the second tier under the tutelage of Wilder in order to refine the skill set he has honed as a right centre-back in recent times.
As this visual created by Liam Henshaw highlights, the Dutchman is outstanding when it comes to winning duels and making progressive runs, but there is room for improvement in his ability to play the ball forward from deep.
Working on this would be crucial as another outlet in matches where Middlesbrough would be expected to be penned back for large parts, therefore nullifying the space for him to carry possession.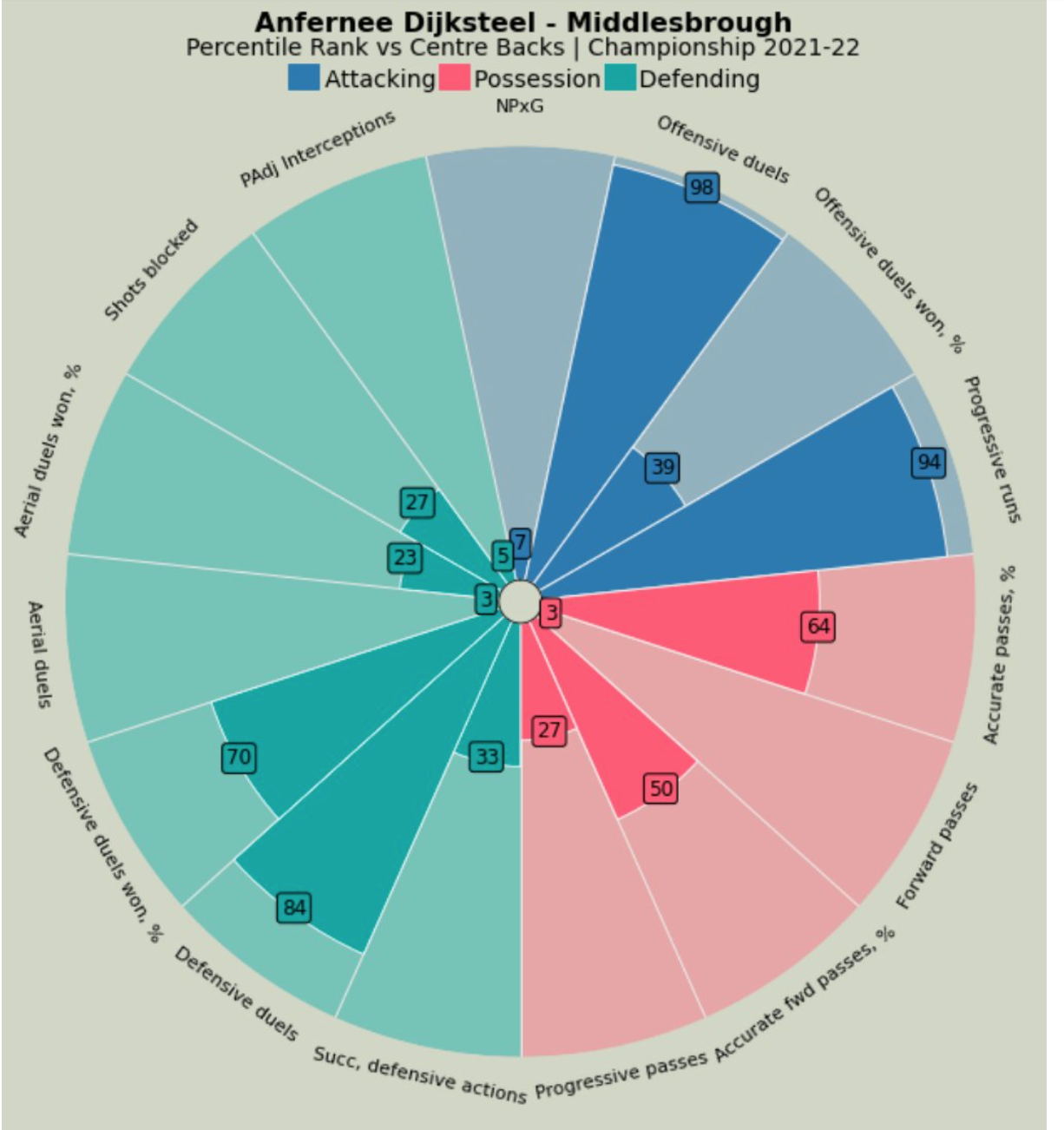 In spite of some slight imperfections to his game, it is the clockwork synergy between Dijksteel and co. on the right flank that elevates each individual to the level above.
There are shades of the Basham-Lundstram-Baldock trio that worked so well for Wilder at Sheffield United during the 2019/20 Premier League campaign. However, this time around, the options at Wilder's disposal are even better with a significantly higher ceiling, especially in the case of Dijksteel and Jones.
For Boro fans who had the ambition beaten out of them throughout Neil Warnock's tenure, the prospect of the Premier League will still be met with some reservations due to such a short-term transformation.
But it's there for the taking for them, and if the step up in divisions and switching of positions is anything to go by, they have a centre-back in Anfernee Dijksteel who will grasp any new challenge with both hands, and probably succeed. 
By: Brad Jones / @BradJonesSport
Featured Image: @GabFoligno / Andrew Kearns – CameraSport