Player Analysis: Jamal Musiala
Since joining from Barcelona at the age of 22, Thiago Alcântara proved to be an oasis of serenity and precision in the heart of Bayern Munich's midfield, playing an integral role in the Bavarian side's domestic hegemony and leading them to a historic treble last season. However, after seven years in Germany, he departed for Jürgen Klopp's Liverpool on September 18, joining the reigning Premier League champions on a four-year contract for an initial fee of £20 million.
Thiago's departure has left a gaping hole in Bayern's midfield, with veterans Corentin Tolisso and Javi Martínez both assuming greater responsibility in the center of the pitch next to Leon Goretzka. After arriving from Espanyol in the summer, Marc Roca has been used sparingly by manager Hans-Dieter Flick, whilst Tiago Dantas could be in line for his Bayern debut after joining on loan from Benfica.
With Joshua Kimmich missing the past few weeks due to a meniscus tear, Tolisso and Goretzka have been the most commonly used double pivot in Flick's 4-2-3-1, although Kimmich will certainly return to the starting line-up alongside his compatriot once he has reached full fitness. Roca and Martínez have combined for 869 minutes so far; 17-year-old Jamal Musiala has 516.
Born in Stuttgart to a Nigerian father and German mother, Musiala left Germany at seven years of age and headed for England, where he would join Chelsea's academy. He rose up the youth ranks at Cobham before heading back to Germany at the age of 16, joining Bayern Munich's academy in the summer of 2019.
Musiala spent his first season in Bavaria playing for the reserve sides, although he made his Bundesliga debut on June 20, coming on as a late substitute against Freiburg. In doing so, he became the youngest player to play for Bayern in a Bundesliga match at 17 years and 205 days.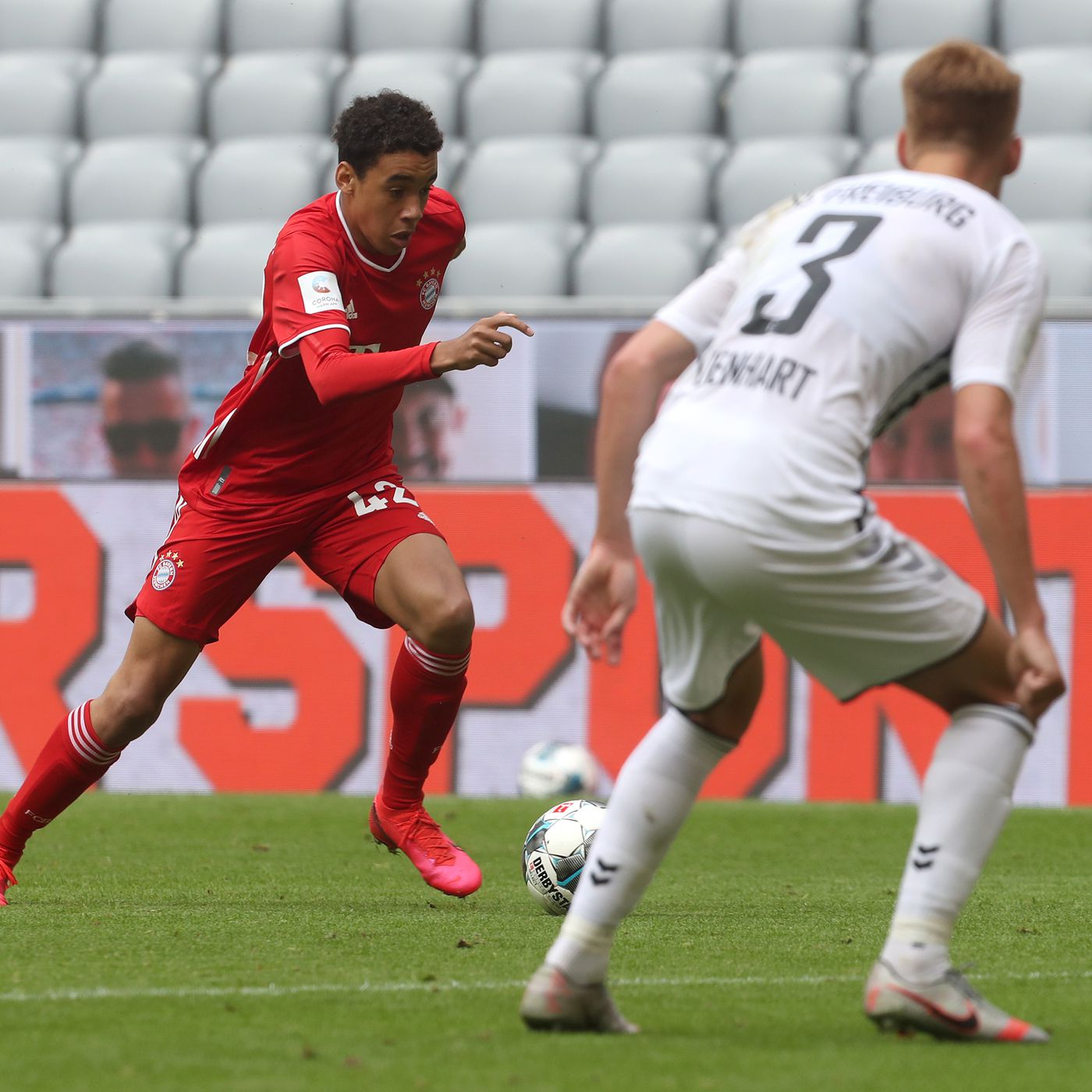 Photo: A. Beier/Getty Images for FC Bayern
Three months later, Musiala came off the bench for Serge Gnabry in Bayern's season opener against Schalke and quickly made an impact. He picked up the ball on the left, drove past Timo Becker, cut in on his stronger right foot and launched it past Ralf Fährmann into the near-post to score the final goal in the 8-0 rout, becoming Bayern's youngest ever scorer in the Bundesliga.
Musiala's second goal came in a 5-0 rout of Eintracht Frankfurt, taking advantage of a goalmouth scramble to calmly tap in the final goal at the back post. Whilst his first few appearances for Bayern came at the left wing, he has been used more in midfield in recent weeks, starting on the right side of the double pivot in a 1-1 draw against Atlético Madrid. No matter where he plays, he has shown a calmness in front of goal that belies his 17 years.
On December 5, Bayern faced off against RB Leipzig in a top-of-the-table clash at the Allianz Arena. Julian Nagelsmann's side dominated the initial proceedings, breaking the deadlock with an early goal from Christopher Nkunku and putting the hosts on the backburner. Things looked dire for the Bavarians when Martínez was forced off with an injury in the 25th minute, but it proved to be a blessing in disguise.
Musiala entered and quickly turned the tide in Bayern's favor. Kingsley Coman collected the ball on the wing and after attracting several opponents, he played the ball to Musiala who was on the edge of the box. After taking a touch to settle himself, Musiala lashed the ball into the bottom corner. Confident, assured and precise. What caught my eye in particular, however, was how high his defensive IQ is for someone so young and whose best position is further up the field.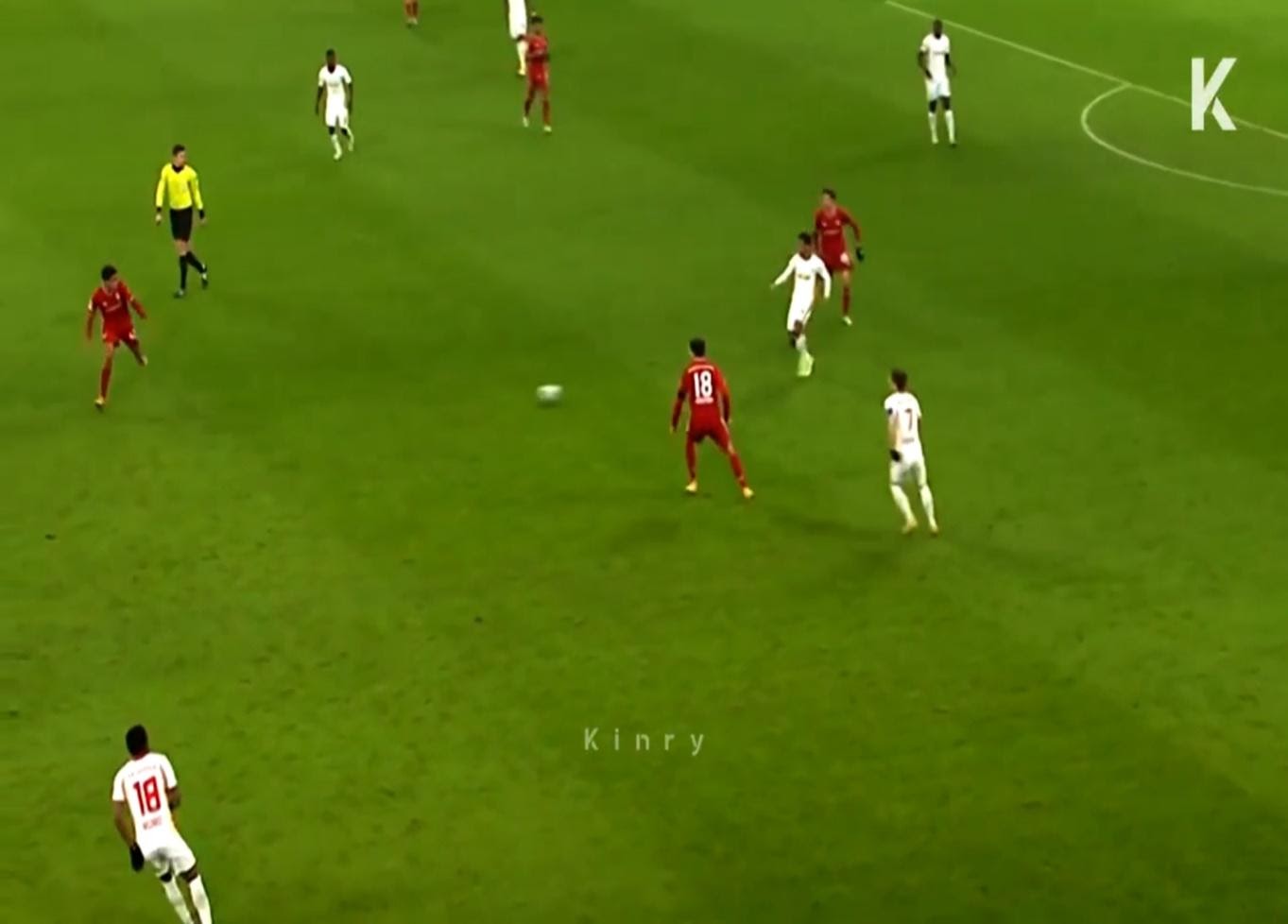 In this frame, before the pass is even played by Leipzig midfielder Tyler Adams, Musiala is on the move. By looking at Adams's body shape, he has already ascertained where he is going to play the ball.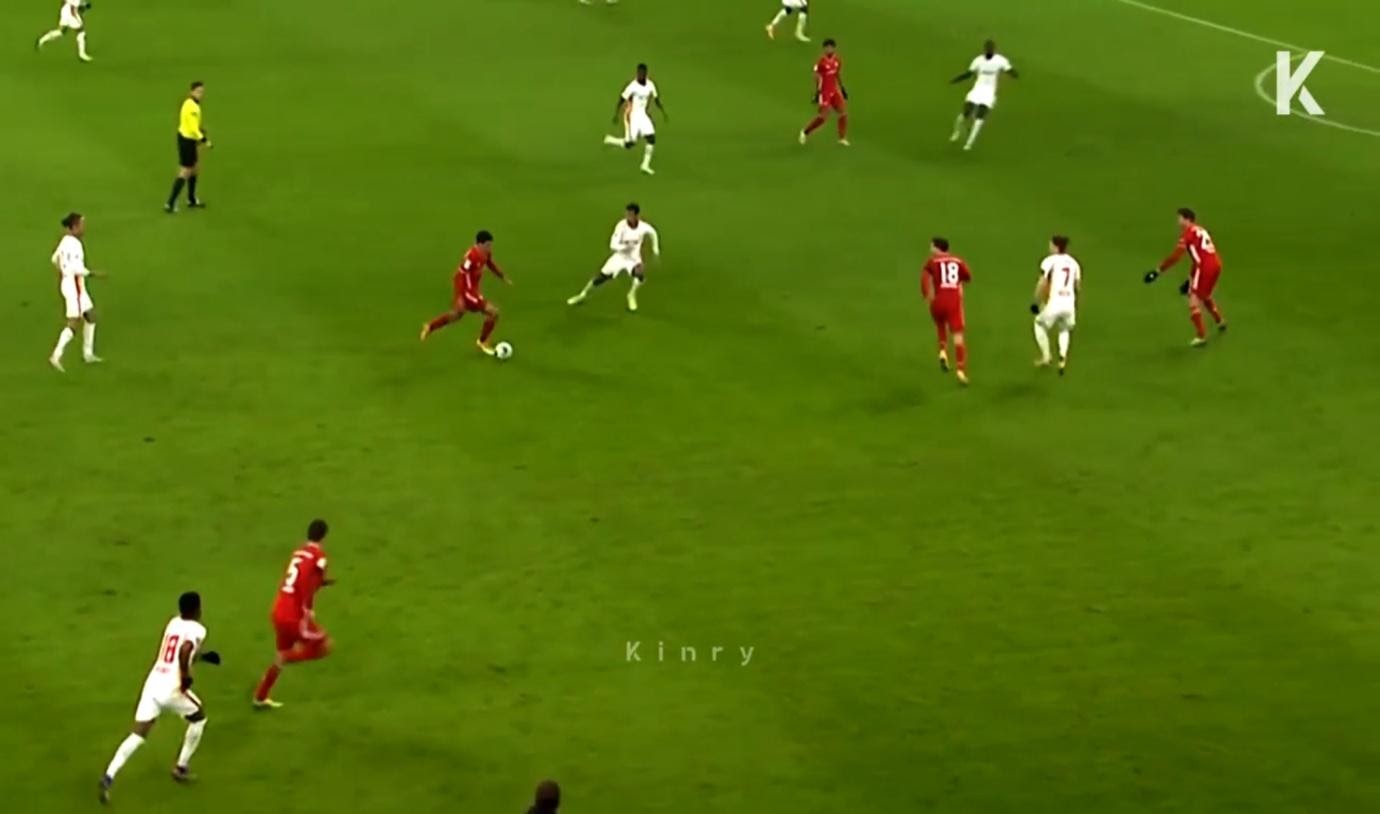 Usually after winning the ball high up the pitch, you'd expect a 17-year-old to play it forward as quickly as possible. Not Musiala. He assesses his options and calmly recycled the ball out wide to Coman.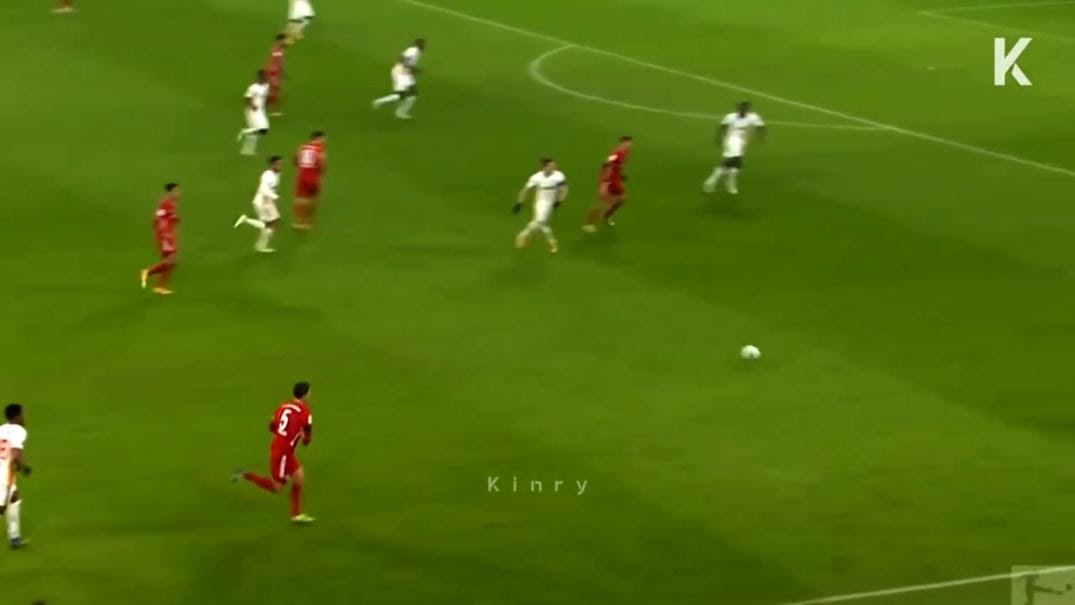 This calmness and ability to read the game from a defensive standpoint is a very rare trait for someone so young. Even though he didn't directly contribute to the other two Bayern goals, he still played a key role in them.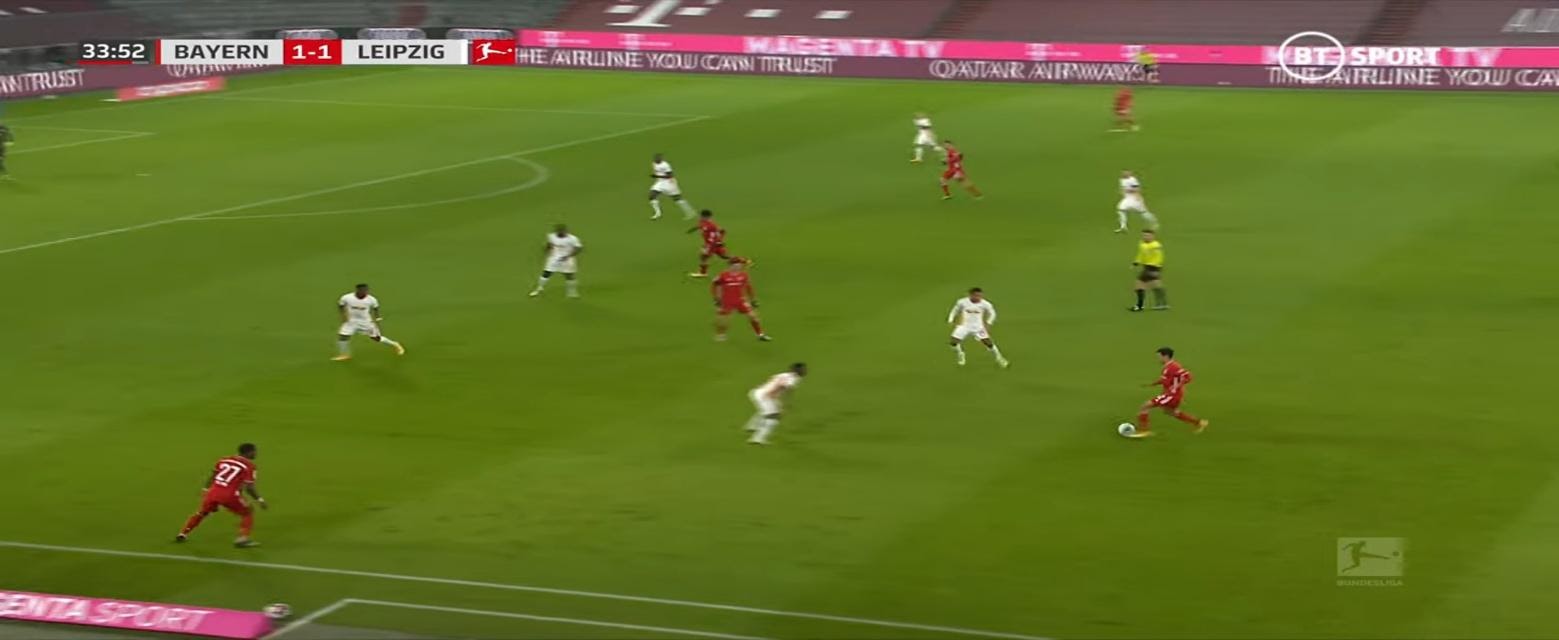 In Bayern's second goal, Musiala is carrying the ball from midfield and is shaping to pass it to Douglas Costa on the wing. This is not a bad play to make, as Costa would be one on one with the right-back, and with his explosive dribbling ability, will have a good chance of beating his men. However, Leipzig midfielder Amadou Haidara in front of him has cut down the angle of the pass, and will likely get some part of the ball if he attempts the pass. 

Instead of cutting back and playing the ball backward, Musiala takes a risk. He opens up his body shape and in between two Leipzig players, he plays the ball between the lines to Robert Lewandowski who has dropped deep. This incisive play leads to Bayern's second as two passes later, Thomas Müller is slotting the ball past Péter Gulácsi. After a wild back and forth game, the final score was 3-3, with Musiala's contributions vital to Bayern collecting a point against a title rival.
Musiala's stats for the game read as 62 touches, one goal, 4/5 ground duels won and 2/2 aerial duels won. This shows that alongside his silky dribbling skills and electric pace, he has an acute understanding of the defensive side of the game. Even though he broke the lines for a pass to Lewandowski which led to Bayern's squad, his passing is one of the glaring weaknesses of his game.
As he prefers to recycle possession rather than play a risky pass. Yet, this pass to Lewandowski may be the one to break the mould and help him take more chances in possession. It wasn't only against Leipzig he played well in a midfield role; away at Atlético Madrid, he excelled in central midfield again, playing in the double pivot in the 3-4-2-1 formation.
Like everything he has faced so far in his young career, the England youth international faced the challenge head-on and came out after the game with his reputation even higher than before. Against Diego Simeone's Rojiblancos, Musiala showed a mixture of combativeness and skill in an assured performance.
He recorded a 92% pass accuracy with one interception, three tackles, and three dribbles as well. One of his dribbles almost led to a goal as he picked the ball up in midfield, glided past two Atlético players, with the second one left behind with an Iniesta like croqueta, and his shot just went wide.
The fact that he is able to play in a box to box role, carry out his defensive duties, and still show off his silky skills, at just 17 years old, away at one of Europe's toughest grounds is testimony to not only his technical abilities and football IQ, but also his mental fortitude. It speaks of his character that he is not afraid of the big moments and big games and just lets his game do all the talking. Now the question is, long term, where is his best position?
His whole youth career so far, he has played out wide or in a playmaking role. Yet, his performance against Atlético and Leipzig suggest he has spent all of his career in midfield, and that may be where his future lies. His close control, dribbling skills, and mobility mean he can play in a box-to-box role as he has done so far, or as ane 8, as a creative spark from midfield, or even as a number 10.
Musiala featured on the right side of attack for Aidy Boothroyd's England U-21 side in a 5-0 victory over Albania on November 17, whilst he was also subbed on for Curtis Jones in midfield during a 3-1 victory vs. Andorra. Whilst he is eligible to play for Nigeria and Germany, having made two appearances for Die Mannschaft's U-16 side in 2018, it seems likely that he will continue to represent the Three Lions at the senior level.
In this Bayern team, midfield seems to be the place where he will gain the most minutes. With Kingsley Coman being in the form of his life, Serge Gnabry and Leroy Sané in the same squad, it will be difficult for the 17-year-old to gain playing time on the wing. However, with Joshua Kimmich and Leon Goretzka both injured for the time being, there is an opportunity for Musiala to stake a place within Bayern's midfield. 
Excellent close control, combativeness, fast, 1 v 1 dribbling ability and an eye for goal, Musiala already possesses a vast amount of qualities. If he carries on taking his opportunity, it is only a matter of time before he becomes a permanent fixture in Bayern's first team. Hans-Dieter Flick has a gem of a prospect at his hands and with a bit of polishing, there is no telling what Jamal Musiala can achieve. 
By: Abu Yasin
Featured Image: @GabFoligno / Alexander Hassenstein – Getty Images