Player Analysis: Keinan Davis
Of all the traditional outfield positions on a football pitch, a centre forward is comfortably the easiest to define in a few words: score goals and you will succeed.
Although those lines have been blurred quite significantly in recent years, when talisman Lewis Grabban was injured shortly after hitting double figures in the league for the third time in four seasons back in February, Nottingham Forest were in need of exactly that. In Keinan Davis, many were unconvinced they had their man.
"In all honesty, I thought it was a gamble and I was underwhelmed. Mainly due to his lack of game time at [Aston] Villa and his lack of finishing ability." recruitment analyst and Nottingham Forest fan, Liam Henshaw tells Breaking the Lines.
These thoughts were echoed beyond the Forest fanbase and rightly so, with Davis netting just three goals in 73 league appearances for Villa, two in 39 at the Championship level.
Nathan Jones' Luton Town: From Betrayal to the Brink of the Premier League
Fast forward four months and the 24-year-old has not only helped to maintain one of the division's most electrifying attacks, but he has enhanced it considerably, adding an entirely different dimension to Steve Cooper's frontline.
In the club's 18 games under Cooper before Davis came in, they scored an impressive 27 goals (1.50 per game) which was bettered only by Bournemouth, Blackburn and Fulham during that period, and yet Forest's attack has been elevated to a whole new level since.
In the 15 games that Davis has featured, they have scored 29 times (2.08 per game) with the striker contributing five goals and two assists to that tally.
"Don't I look foolish now!" admits Henshaw, before going on to say: "For me, it is vital Forest go all out for Davis. Regardless of if they get promoted or not. I believe he has a unique skill set, a lot of people have compared his style of play to [Michail] Antonio and I do see that. I'd have him as a more important signing than Djed Spence."
One Player From Each Championship Club Who Will Play in the Premier League – Part Two
High praise for someone that has spent little time at the City Ground, but Davis has done more than enough to earn such acclaim. This rich vein of form feels in no way like a purple patch, merely a player that is living up to his potential in a system that finally suits him. After two stagnant seasons in the Premier League, it has taken a step backwards for Davis to unveil his top-flight talent.
Forwards that can take control of a game both physically and technically, from deeper areas and in the penalty box are extremely hard to come by, but Davis switches between those roles with ease.
Defenders will be dominated physically one second and danced past the next, with the Stevenage-born striker completely unfazed in any situation, whilst also keeping a level head to execute the timing and weight of his releases.
This was epitomised in Davis' crowning performance of the season, a 4-0 win over Reading at the City Ground. A ruthless display of attacking versatility that can be condensed into three key examples.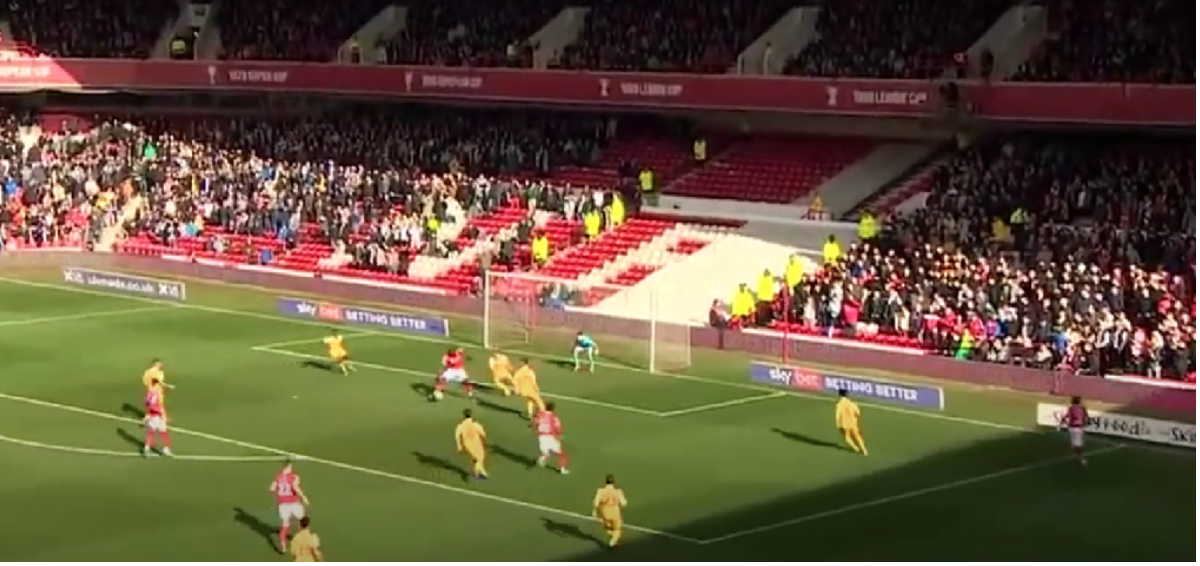 Firstly, Davis' opening goal two minutes into the game. A low Djed Spence cross from wide is played slightly behind him, but he improvises quickly to swivel as he takes the ball under control.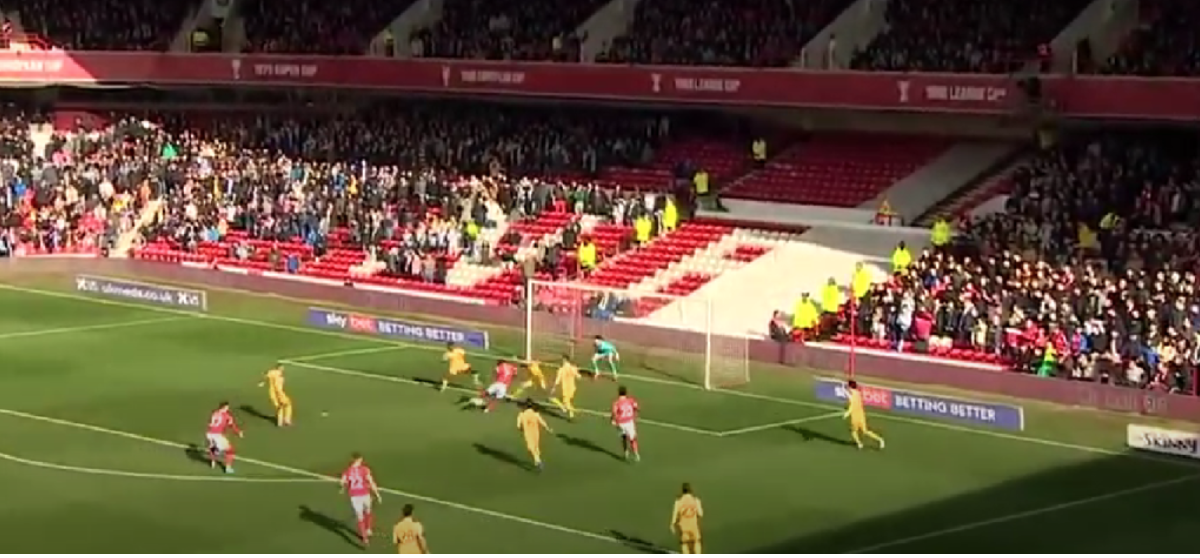 This split-second ability to pivot opens up the necessary half-yard of space to pull the trigger before the three surrounding defenders can close him down. A goal with all the hallmarks of a natural finisher at the elite level.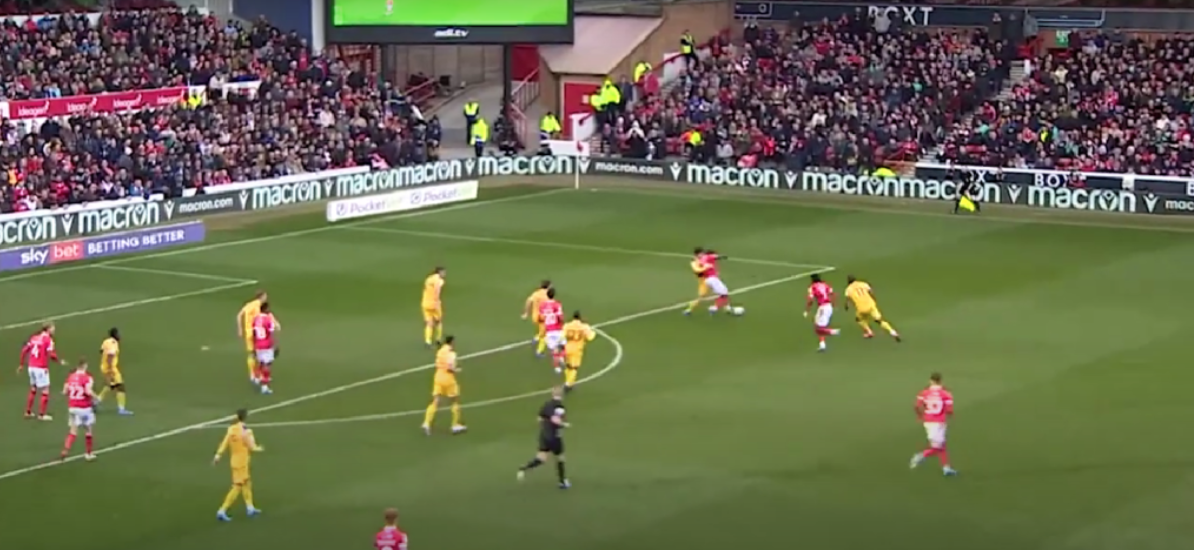 Example two is an exhibit of Davis' strength and composure under pressure. A touch-tight defensive stance from Tom McIntyre forces Davis backwards and off balance.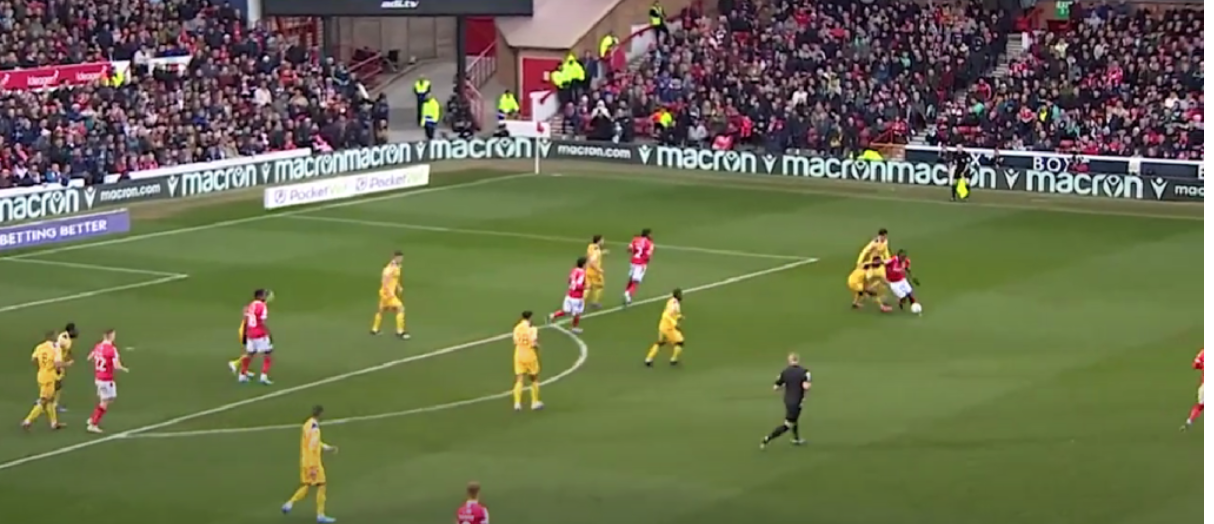 The forward is not only able to shrug off McIntyre, but he then breezes past Yakou Meite to open up the space for a switch of play or a potential shot from range.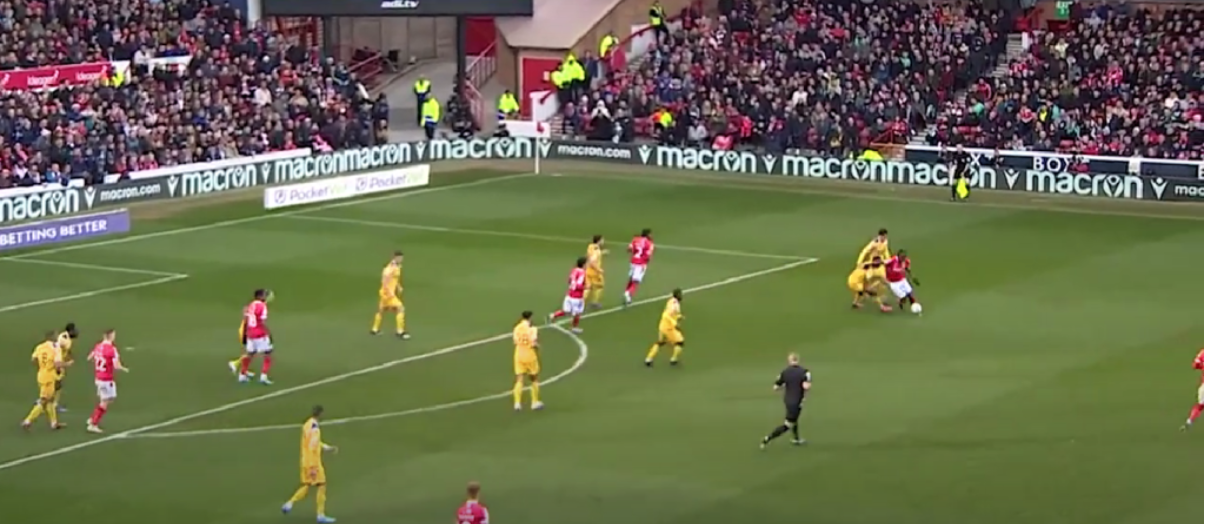 Davis notices the number of defenders to get through, but also the volume of teammates in and around the penalty area. From there, he spots the space over on the left in an instant, dribbling past another opponent to transition the ball to the opposite flank as quickly as possible, as the likes of Ryan Yates and Brennan Johnson have already ventured ahead of him, anticipating an opportunity.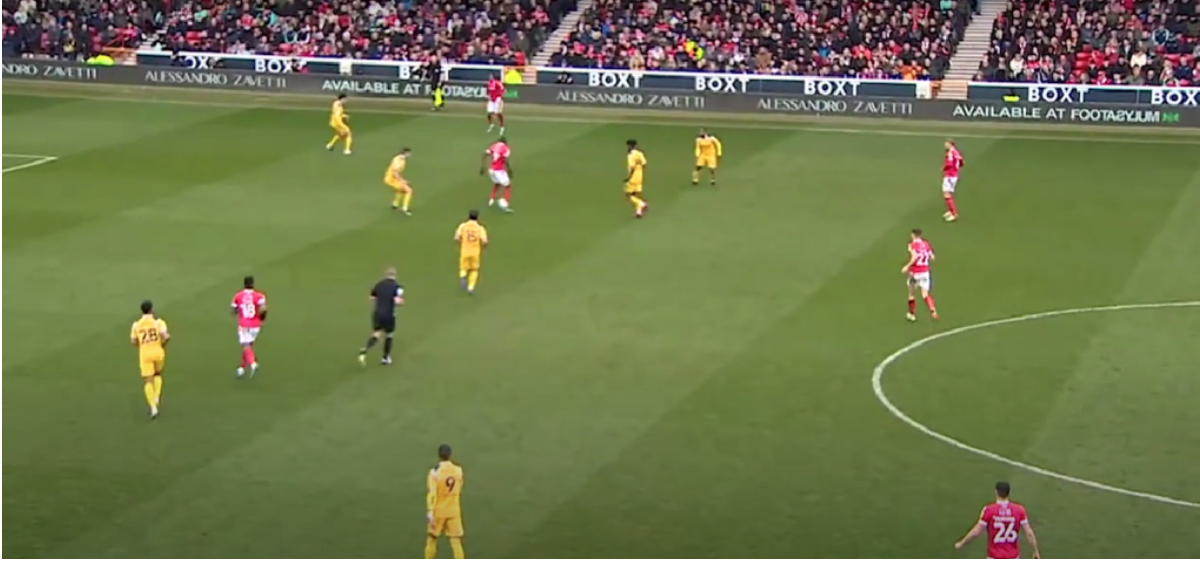 The third example is where we really see Davis come alive. Slide one shows him collecting a forward pass from Joe Worrall with three defenders closing in on him and no options other than Spence hugging the touchline.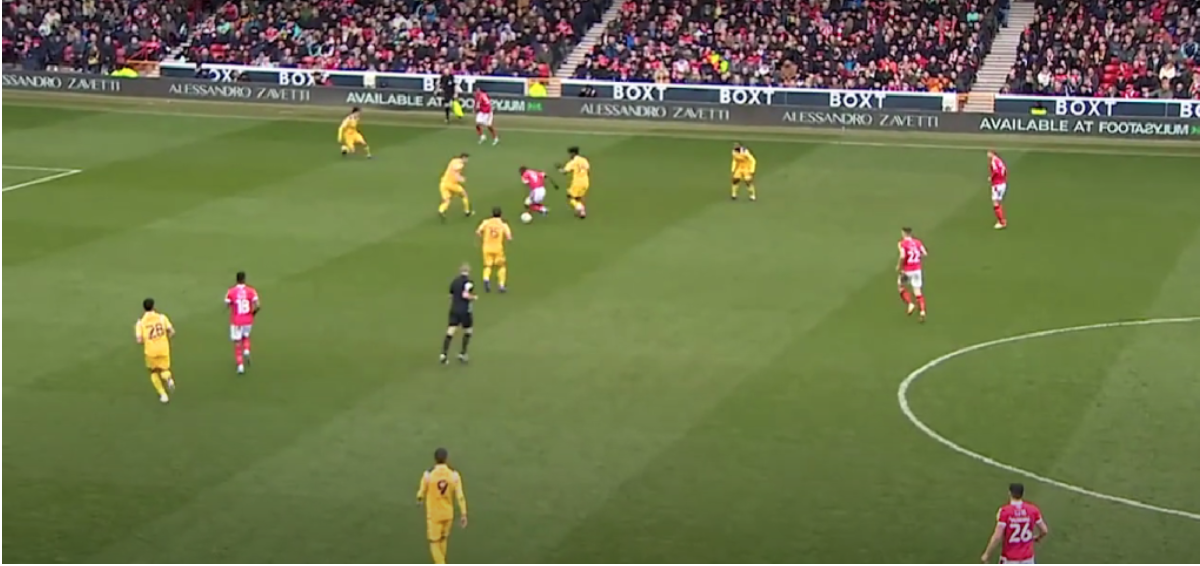 Having not felt the pressure from behind that McIntyre previously applied, Davis takes immediate control of the situation, spinning on a sixpence with the agility we saw in his first goal and putting his opponents on the back foot.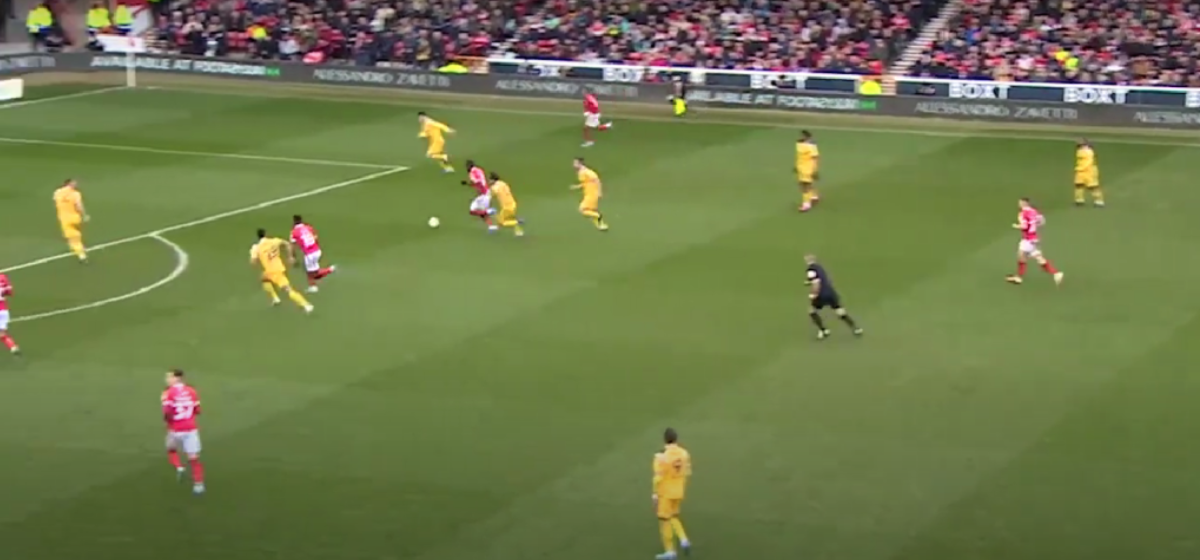 By then, however, it is too late for the Reading players to keep up as Davis coasts into the space behind them, showing speed and devastating close control to drive towards the area.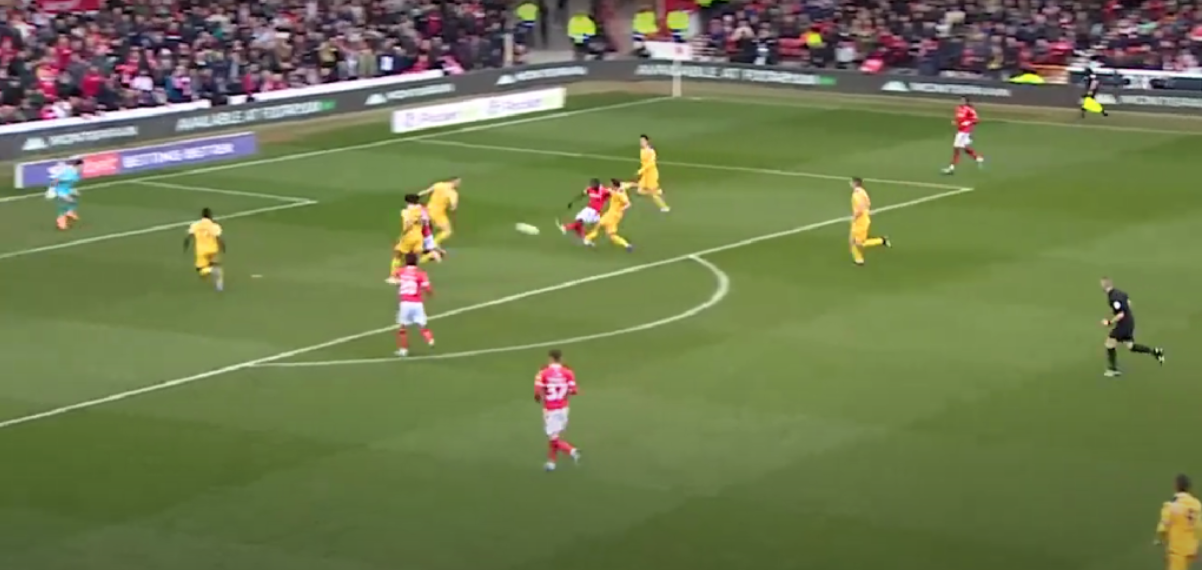 Once Davis reaches full speed, there is no chance of stopping him. The touches are concise and calculated, his head is up and all that is needed from there is a slight change of direction and speed to open up the angle and curl the ball beautifully into the far corner. A goal that had so much to love caps off a performance that had everything.
Such dynamism has unsurprisingly brought the best out of Johnson and James Garner in particular, who trust Davis so often with possession in the final third. That trust not only applies to their eagerness to utilise Davis as a backboard for passing exchanges in order to progress ahead of him.
When they aren't directly involved, the ball at the forward's feet is a signal for them to make their move further forward, knowing full well that through strength, speed, quick feet and great composure, Davis will find a way.
"I think people are drawn to his size and his ability to hold the ball up well, which is a big strength." Henshaw continues. "But he's very good with the ball at his feet, his dribbling ability and his offensive duel success rates are impressive."
"He seems to ride a couple of challenges and still progress with the ball. He's not a 'proper number nine', but he's vital to the team to create chances. He has the best shot assists and expected assists numbers in the league."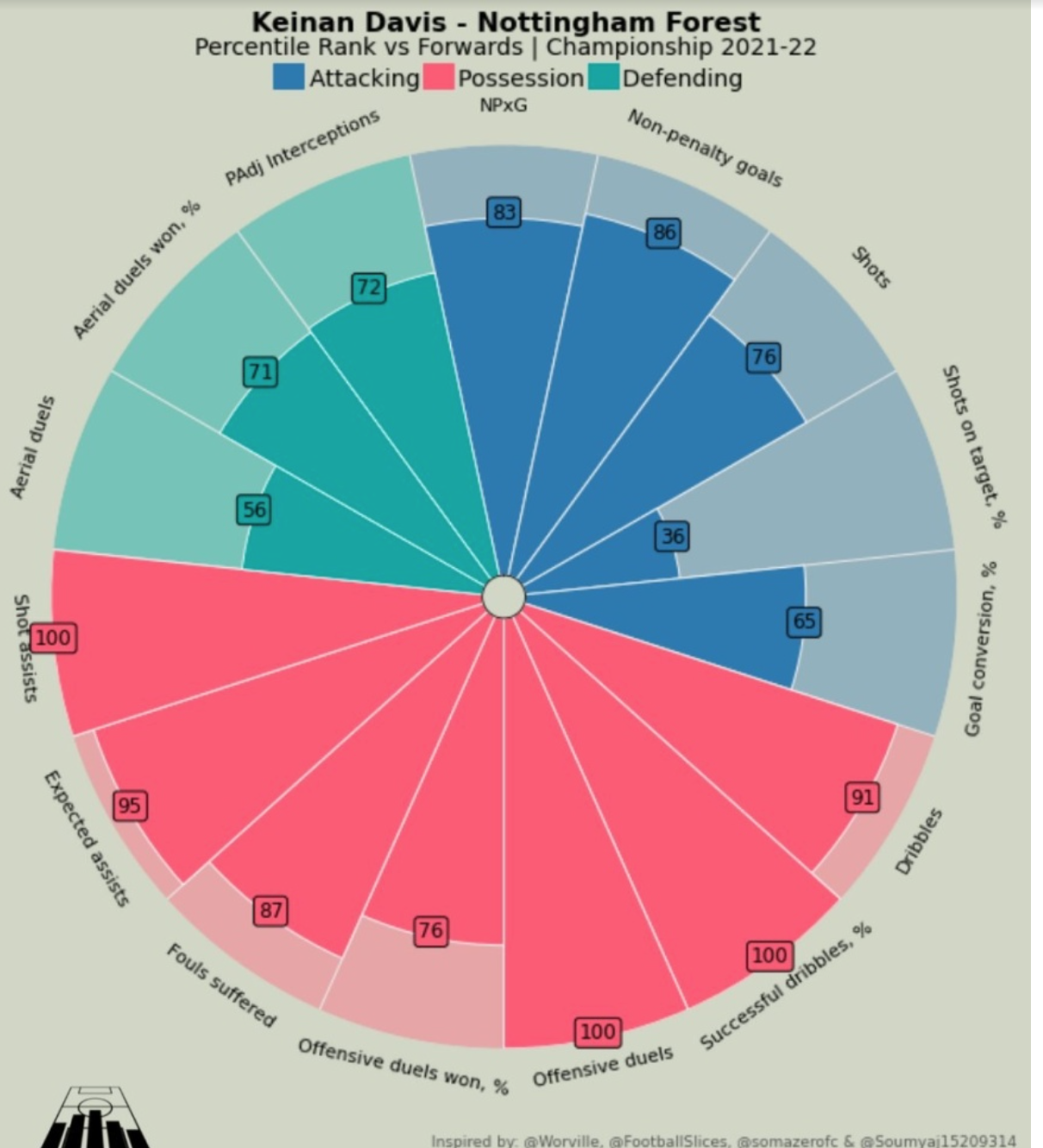 Source: Twitter (@HenshawAnalysis)
On top of the impressive shot assist and offensive duel statistics shown in the graph above, it is evident that Davis offers everything a team wants from a lone centre forward. This season has been one of phenomenal progression in the physical and technical aspects of Davis' game, but the improvements psychologically have been equally noticeable.
With the large bulk of his 2020/21 minutes at Aston Villa coming alongside Ollie Watkins, Davis was seen as the foil for the England international, encouraged to stay central and on the last man to support his strike partner, who took centre stage more often than not.
At Forest, Davis has been given the freedom to showcase his strengths, shunning the target man status that plagued his formative years by becoming a creative deep-lying forward who can also chip in with goals.
Recent months have proved he is much more likely to craft an opportunity when dropping off and taking matters into his own hands than being planted at the spearhead of a direct attacking play style, expected to produce moments of magic in crowded penalty areas or by winning aerial duels. As Steve Cooper soon discovered, that isn't Davis' ballpark.
This freedom has bred confidence and a far stronger mentality to succeed not only for the benefit of the team, but for personal growth as well. Once a functional forward in an unfitting system, now Keinan Davis is a crucial cog of an attacking force centred around a player of his ilk.
Cooper's man-management of Davis has been exceptional as ever, but the question is: can Nottingham Forest retain the Aston Villa man beyond this season?
"I think it all depends on Villa and what they do with their summer investment. Given they have Ings and Watkins, it's hard to see Davis getting any real game time with Villa." Henshaw says.
"It sounds like he's buying into the vision and enjoying his time with us. But with his form, you have to wonder if Villa want to keep, or will they want to cash in whilst his value is high and sell to another club."
Interestingly enough, Davis' future will likely rest on his own shoulders, or his hamstring in this instance. As Forest head into a two-legged play-off semi final against Sheffield United this week, the forward's fitness hangs in the balance having missed the last six games of the season.
A return could make the marginal difference for the Reds, and promotion may well be the only possibility of a permanent move to the City Ground for Davis.
That's not to say that Forest are solely reliant on their number nine, as Sam Surridge's recent run of five goals in six would suggest, but failed to advance to the final at Wembley would leave fans wishing for the involvement of one man and one man only.
Keinan Davis has been instrumental in Forest's ascent into the top three, proving his Premier League pedigree to a point where it seems unfeasible that he will play at any other level from now on. Staying at Aston Villa could see repeated problems crop up, but there are many clubs where Davis would overcome those obstacles with ease.
West Ham is the obvious option as rotation with Antonio. Similar scenarios in Serie A in Duvan Zapata at Atalanta or Gianluca Scamacca at Sassuolo could be equally fruitful, both as a rotation or a replacement.
Either way, top-flight teams should be fighting for Davis' signature this summer and play-off success would put Forest at the front of that queue. With this newfound confidence and consistency, a second chance might be all he needs to prosper at the elite level. 
By: Brad Jones / @bradjonessport
Featured Image: @GabFoligno / NurPhoto