Player Analysis: Lamine Diack
The Turkish second division has emerged as a breeding ground of young talent, developing far more players than the Süper Lig, the Turkish topflight.
Talents from every corner of Europe join the division, but also from the African continent, with these players taking advantage of the opportunity to head to Europe and the teams taking advantage of the chance to sign low-cost youngsters and export them for hefty profits.
The operation seems simple: when such outstanding footballers arrive, the work becomes more enjoyable for the clubs, who utilize these unheralded talents to the fullest of their abilities.
At the same time, these teams inculcate these players with basic concepts of European football, helping them evolve in a certain position or even making them versatile performers.
One of the most recent examples who is making a name for himself is Lamine Diack. Born in Dakar, Senegal, the 21-year-old midfielder began his career at Oslo FA Dakar, an academy that has become accustomed to developing young Senegalese players and exporting them to Europe.
These players include: Krépin Diatta, who, after an impressive spell at Belgian giants Club Brugge, joined Ligue 1 side Monaco last year for €15 million, Ismaila Coulibaly, who is owned by Championship team Sheffield United but playing on loan at Belgian side K. Beerschot V.A., and Dion Lopy, who has played 862 minutes for Ligue 1 side Reims this season.
Unlike Diatta or Coulibaly, Lamine did not immediately head to Norwegian club Sarpsborg 08 FF after developing in Senegal; instead, he headed to KF Shkupi in 2019, a 10-year-old club located in Čair, North Macedonia, that has emerged as one of the most successful clubs in Macedonia's top-flight in recent years.
Diack made his debut on July 11, 2019, playing in a UEFA Europa League qualifier against Pyunik Yerevan. In total, he played 1,803 minutes in his debut European campaign, registering one goal, four assists, and six bookings in his 24 appearances as the campaign was suspended in March due to the COVID-19 pandemic.
The following season saw Diack quadruple his goal tally in 31 appearances, establishing himself as one of the first names on the team sheet as Shkupi finished second in the league table to seal their place in the 2021/22 Europa Conference League first qualifying round.
His performances attracted the attention of Tuzlaspor, who, after spending the first 66 years of their existence in Turkey's lower tiers, earned promotion to the second division in 2020. Tuzlaspor have made a habit of shopping in Eastern Europe and Macedonia especially, with Diack joining the club on a two-year contract on August 3.
At just 21 years of age, Diack has already made 74 appearances between the Macedonian top-flight, the Turkish second division, the Turkish Cup and UEFA Europa League qualifiers. He stands out due to his height (1.86m), despite not having the most developed physique for a player that aims to play in a top-tier league.
His height allows him to be very secure in the air and consolidate himself as that third man who, as a midfield pivot, can help out in the defensive zone. This season, he is winning 1.9 aerial duels per game, standing out as one of the best in the league in that aspect.
His physique also allows him to be a footballer with a very wide stride, a player who, whilst capable of playing as a defensive pivot, could very well develop into a box-to-box midfielder thanks to his continuous movements in offensive and defensive transitions.
In his heat map below, we can see how much of the pitch he covers. Whilst he regularly features in plays at the edge of the rival box, registering 0.7 shots per match, he doesn't shy away from tracking back, following players up and down the pitch, and protecting his defense.
Staying on the topic of his physique, and making it clear that by building more muscle mass, he could grow to a great level in the elite, we also recognize that he brings a lot to the table on ground recoveries.
He always goes to the max, imposing himself and repeatedly seeking to have the ball in his grasp, and has an effectiveness of 58% in the 4.9 total duels that he wins per match.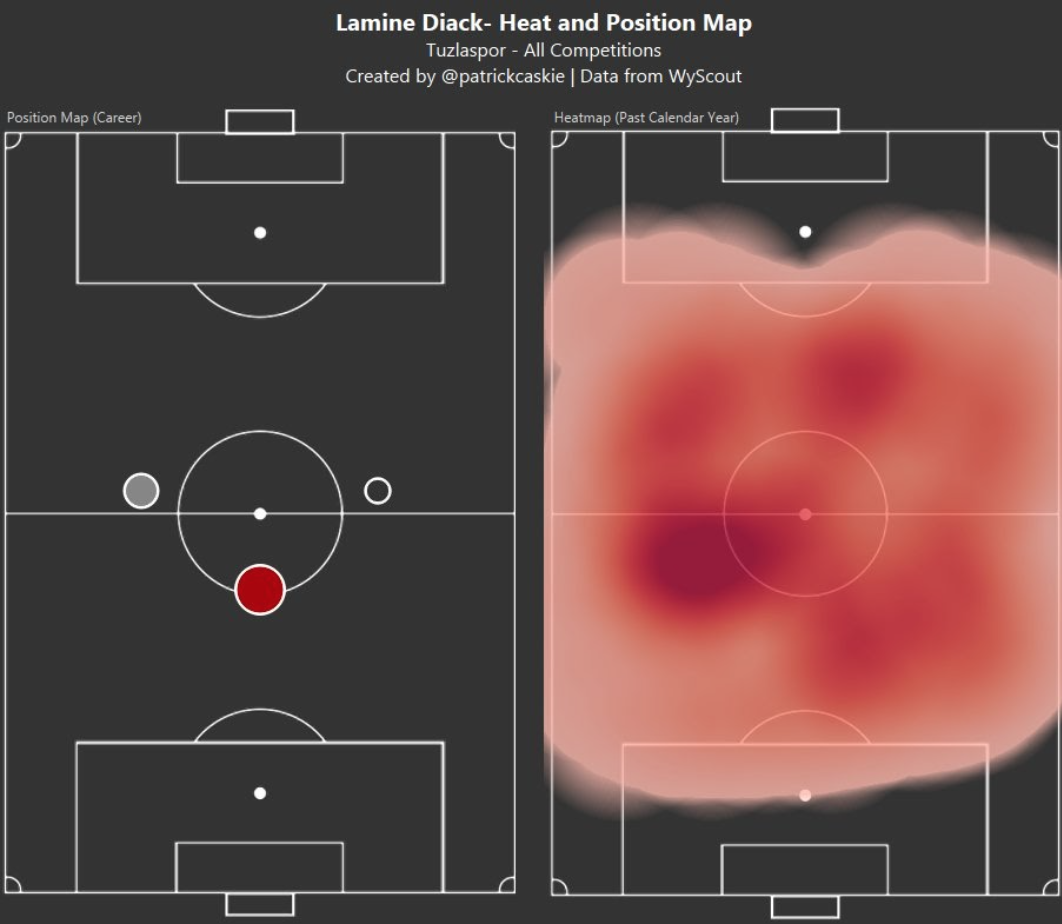 By: @PatrickCaskie
At 21 years of age, Diack still has plenty of room to improve. He is a fresh, young talent with a lofty ceiling, a player who is developing as a pivot with a lot of mobility and contribution to the general game of his team.
He cannot be pigeonholed into a single position; he knows how to control the ball and not only thinks about contributing defensively, but also about building out from the back, offering a constant passing option and is always well-positioned to recover the ball or enter the box.
The Senegalese could become, over time, a footballer who is the midfield orchestrator and who helps keep possession ticking. His quick movements, his smart decision-making, and his tendency to always look for the perfect pass could see him adapt well to a top European league.
Lamine also has his flaws, of course.  He always looks for the perfect pass, and in doing so, he often risks losing possession in a dangerous position when a simpler pass could have kept possession ticking. As he looks to continue impressing in Tuzla, Istanbul, he will need to stray away from always attempting the Hollywood pass and look to retain possession more efficiently.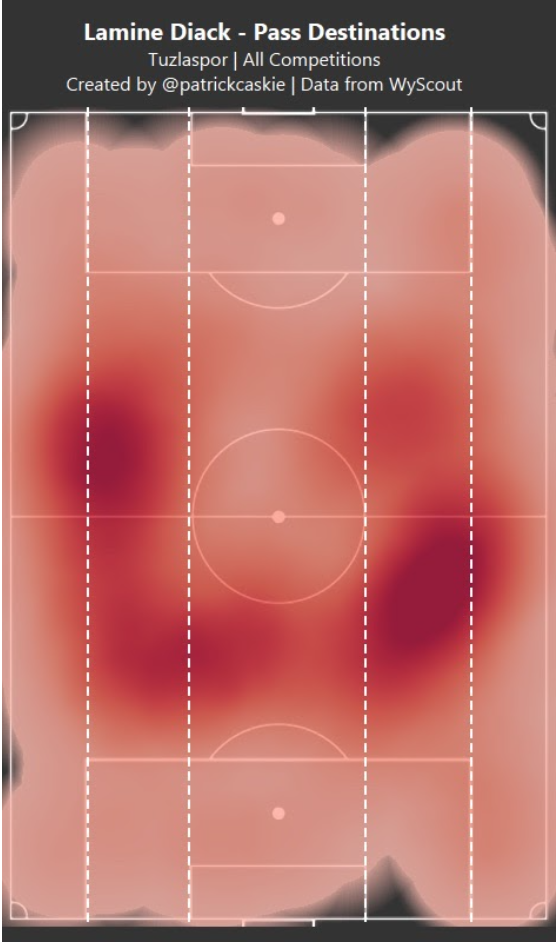 By: @PatrickCaskie
In summary, his standout qualities are: he doesn't have a developed physique, but his body nevertheless allows him to gain advantages to grow as a complete pivot. He also has the height to hold his own in aerial duels, with the ability to be a threat in the opposing box or a savior in his own box.
He has a well-worked strike, able to play long balls into depth for his teammates and exploit high lines. He does best by building the play from his own area and having the field in front of him. This gives him ample room to think and make better decisions, thus avoiding unnecessary losses of possession.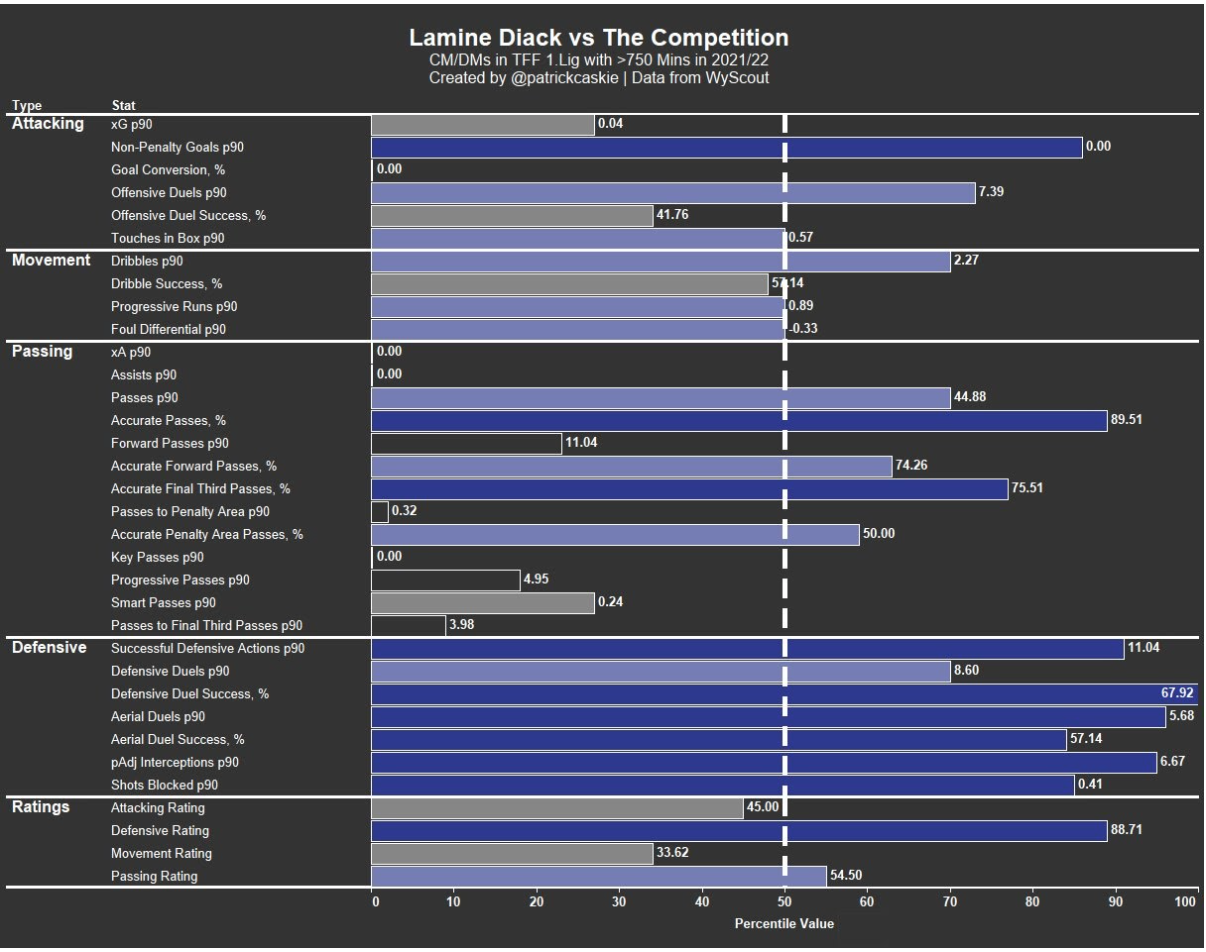 At 21 years of age, Lamine is still in an early stage of development as a professional footballer. Despite his impact in the Turkish second division, it should be mentioned that he is not an undisputed starter; of the 19 games he has played, 10 have come a starter, with Diack registering one assist in 1,068 minutes thus far.
Bit by bit, he is making his mark in Turkey, having played the full 90 minutes in 7 of their last 9 matches. Under new manager Hakan Kutlu, Tuzlaspor sit 10th in the league table with 23 points — three points away from a spot in the promotion playoffs, and four points away from the relegation zone.
Any Süper Lig club that yearns to find cheap, young talent in the second division, such as Alanyaspor, Gaziantep, Konyaspor or Çaykur Rizespor, should look to be signing him this summer before a club from abroad snatches him away from Turkey.
With patience and consistent development, Lamine could become a truly exciting prospect for both Turkish clubs and the Senegal senior team. A 21-year-old player who is already surprising anyone who has seen Tuzlaspor in the second division, Diack's potential could take him far in Europe.
By: Alejandro Parra / @AleParra_
Featured Image: @GabFoligno / Tuzlaspor