Player Analysis: Marash Kumbulla
The biggest surprise of the 2019/20 Serie A campaign was undoubtedly Ivan Jurić's Hellas Verona. After going down 2-0 in the first leg of the promotion playoffs to Cittadella, Hellas Verona launched a remarkable comeback in the second leg to seal promotion after a sole season in Serie B. Jurić replaced caretaker manager Alfredo Aglietti at the season's end, and took a team that seemed destined for relegation and led them to a 9th-place finish.
It's understandable why the Mastini were tipped for the drop; in their first match of the league season, Jurić's line-up was filled with inexperienced and unknown players such as Liam Henderson and Gennaro Tutino. Nevertheless, despite Paweł Dawidowicz's early red card and Nicola Sansone's opening goal, Hellas leveled the score via a stunning free kick from Miguel Veloso, and held on for the rest of the match to grind out a draw.
A disciple of Atalanta manager Gian Piero Gasperini, Jurić played under Gasperini from 2006 to 2010 at Genoa, before working as a youth team coach at Genoa following his retirement. He served as Gasperini's assistant at Inter and Palermo, spent a sole season at Serie C side Mantova, and took a job at Crotone, where he would achieve promotion to Serie A.
Following Crotone's promotion, Jurić accepted a position at Genoa to replace the outgoing Gasperini, who took the Atalanta job. Jurić failed to impress in three separate spells at Genoa, and when he took the job at Hellas Verona, there were far more skeptics than believers. Nevertheless, Jurić has silenced the doubters at the Stadio Marcantonio Bentegodi, adopting several characteristics of Gasperini's Atalanta and taking points off Juventus, Atalanta and Lazio.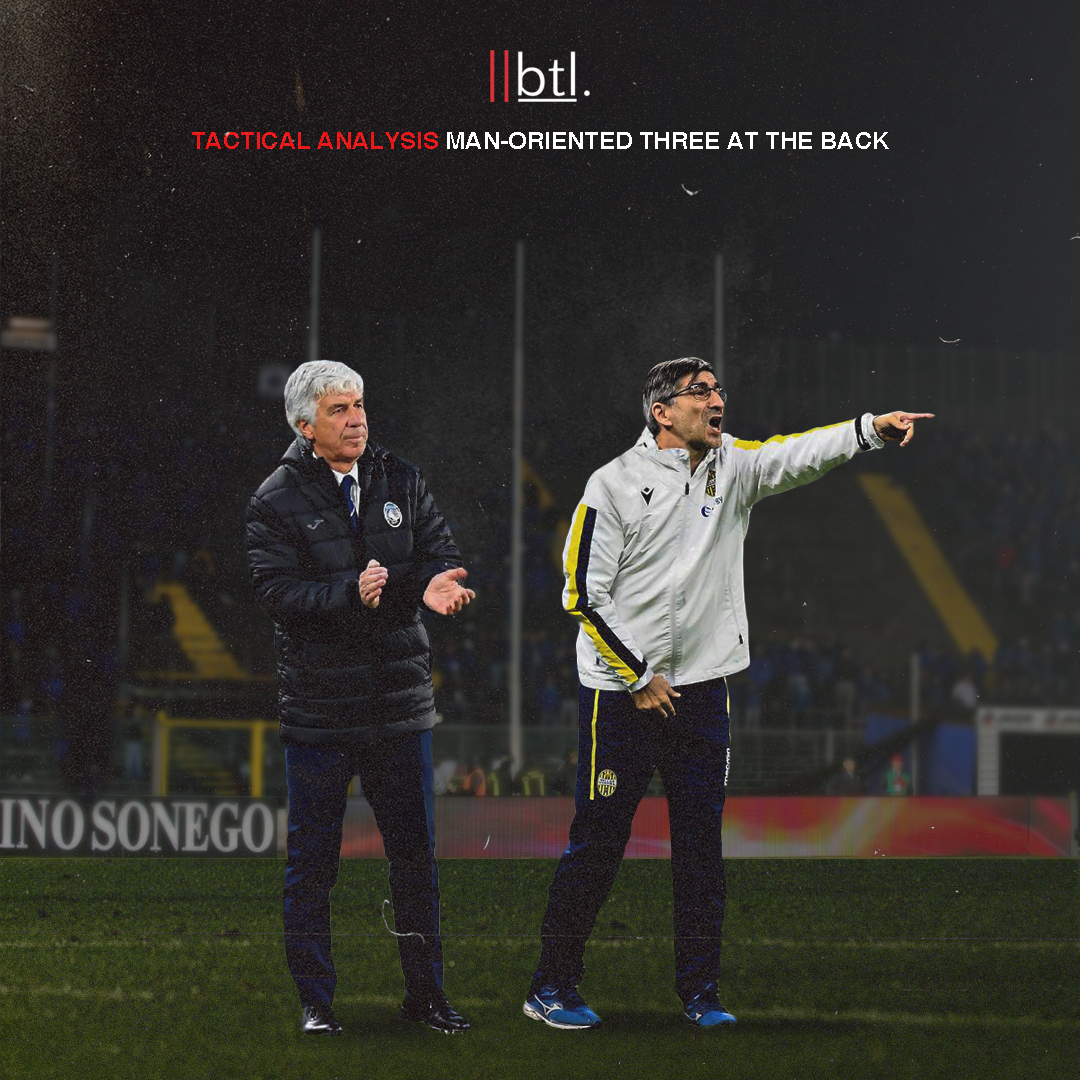 It's no surprise that some of Italy's big fish have begun to poach valuable members of Hellas Verona's squad; Sofyan Amrabat was sold to Fiorentina for €20 million in January, whilst Amir Rrahmani was sold to Napoli for €20 million during the same window. Last week, Roma signed Marash Kumbulla in a deal that has been valued around €30 million.
The Giallorossi will exercise their purchase option on Kumbulla following the season-long loan, while also sending 23-year-old Mert Çetin, 18-year-old Matteo Cancellieri, and 16-year-old Aboudramane Diaby to Hellas Verona on loan deals that will be made permanent.
Kumbulla, a product of the Hellas Verona academy, delivered a breakthrough season at the left side of Jurić's back three. The Italy-born Albania international played 25 matches for Hellas Verona, scoring one goal and earning interest from the likes of Inter and Lazio, before joining Paulo Fonseca's Roma.
The 20-year-old is a physical defender who loves to defend high up the pitch, trying to stop the action at the source rather than react after the opponent receives. Kumbulla attempted 266 duels overall (11.85 per game), winning 71.8% of his duels, the 7th-best tally in Serie A. His style is the ethos of what Jurić asks of his center backs: keeping the team compact and winning the ball high up the pitch to catch the opponent off guard.
In the below image, he steps up and engages Riccardo Sottil in his own half; if he fails to win back the ball, Sottil can then play a short pass to Erick Pulgar who can then slide in a through ball to Pol Lirola in space on the right flank. However, if he does regain possession, Kumbulla can then instigate a counterattack against an undermanned Fiorentina side, as Lirola is already sprinting towards his own half.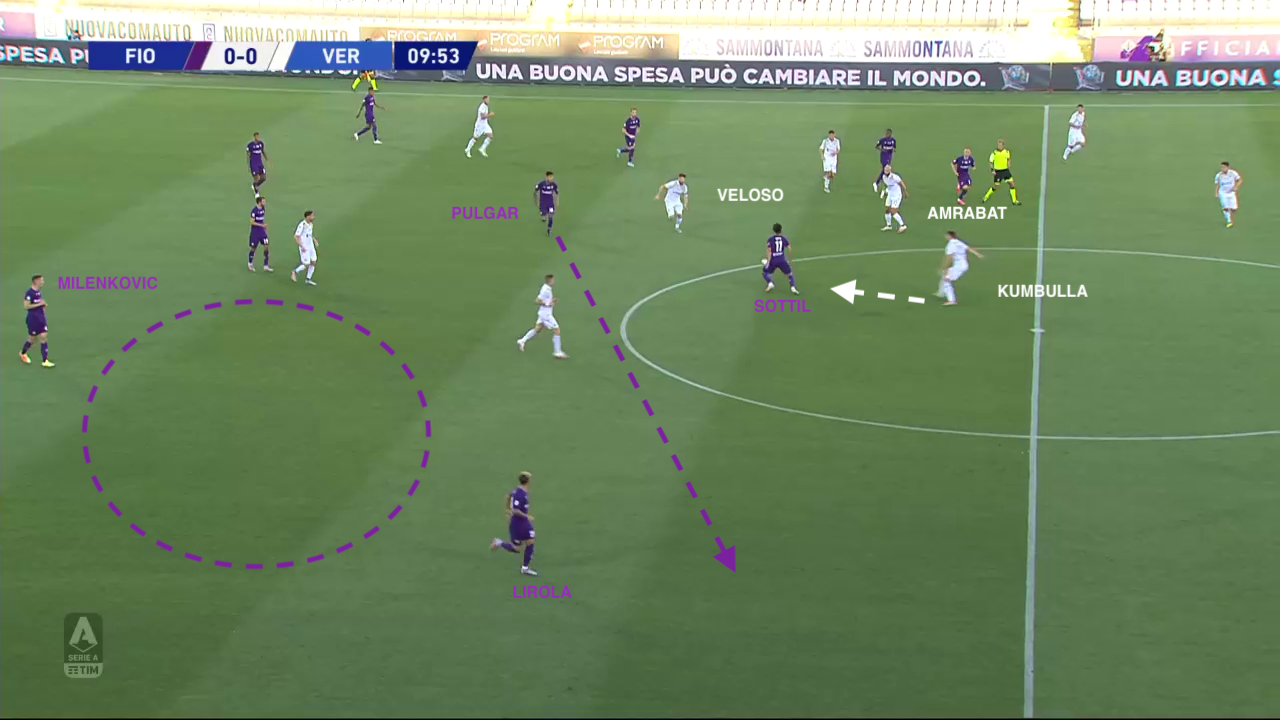 Kumbulla won 51.7% of the aerial duels he attempted in his own penalty box, far less than his defensive teammates Amir Rrahmani (68.7%) and Koray Günter (61.9%), but at 20 years old, there's potential for him to not only grow from his current 6'1″ height, but also improve in the fundamentals of heading.
Having started off with a 4-2-3-1, Fonseca changed up his formation to a 3-4-2-1 midway through the season. This switch in formation brought an end to a 3-game losing streak, as the Giallorossi closed the season with seven wins in eight matches. Kumbulla has experience playing both as the central defender in a back three as well as on the left side, and despite his young age, he looks set to be a guaranteed starter at the Stadio Olimpico.
Roma have struggled to agree a permanent transfer for Chris Smalling, who impressed last season after joining on loan from Manchester United. In addition, Juan Jesus and Federico Fazio both look set for permanent moves to Genoa and Cagliari, respectively.
As a result, Roma currently have three defenders to fill in three positions in Fonseca's back three: Kumbulla, Roger Ibañez and Gianluca Mancini — with Kumbulla unavailable, central midfielder Bryan Cristante played as the central defender in the back three during Roma's opening match of the 2020/21 season — a stalemate against Hellas Verona.
One thing that Fonseca will need to work on with regards to Kumbulla is his passing game; he isn't the best passer, and while he closed the season with 86.4% passing accuracy, the majority of his passes were towards the nearest teammate.
However, he has shown signs of having the vision and passing precision required to be a ball-playing center back. In the image below against Roma, he has the potential to attempt an easy pass to Amrabat or a back pass to Günter, but after noticing that Jordan Veretout has changed the direction of his run and is advancing towards Amrabat, he instead plays a laser-guided pass that frees up Matteo Pessina behind Roma's first line of pressing.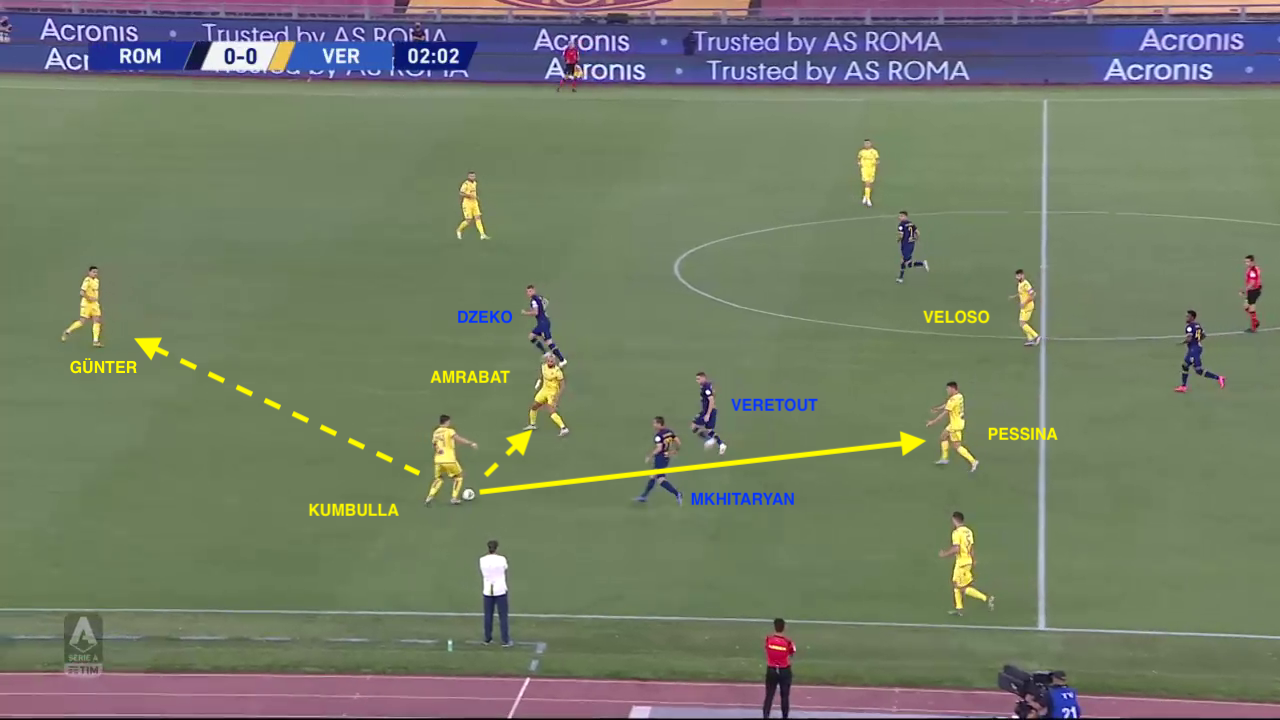 He also struggles with long passes (52.1% accuracy), although he won't be the primary passer from deep positions, as Veretout, Ibañez and Amadou Diawara tend to carry the bulk of the playmaking responsibility on their shoulders.
Kumbulla has only played in a back four in Hellas Verona's youth sides, and it remains to be seen how he will adapt if Fonseca switches back to a 4-2-3-1. Nevertheless, if Roma do succeed in signing Smalling on a permanent deal, that would certainly suggest they will stick with the three-man defense.
Indeed, before the draw against Hellas Verona, Fonseca stated, ""I am in regular contact with Chris Smalling, I spoke to him yesterday. He wants to come back to Roma and we want to have him back. I think that there could be an update over the next few days." After the match, the Portuguese manager confirmed, "I need Chris Smalling. It's so important for me to bring him back, we've only three centre backs so I want Smalling here."
While many reports suggested that Roma bought Kumbulla instead of Smalling, Roma still need to buy a veteran, conservative defender who can cover Kumbulla as the Albania international tries to press opponents high up the pitch. Both Smalling and Torino's Armando Izzo have been linked, and in order to cope with the exit of Aleksandr Kolarov to Inter Milan as well as the impending departures of Juan Jesus and Federico Fazio, Roma will need to bring in another center back to guide Kumbulla and make up the numbers in defense.
By: Andrea Agostinelli
Featured Image: @GabFoligno / NurPhoto