Player Analysis: M'Bala Nzola
It has been a remarkable debut Serie A season so far for Spezia in 2020/21 and the club from the Liguria region in northern Italy looks likely to secure its spot in the Italian top flight for the following campaign. With a squad consisting of youngsters, football journeymen, and unknowns, Aquilotti coach Vincenzo Italiano has created a team that is competitive as well as aesthetically pleasing.
One of the stalwarts of his squad is 24-year-old Angolan international M'Bala Nzola, a striker that he knew from his time coaching Sicilian club Trapani. Nzola is a player that has not had it easy during his career and he has incredibly worked his way to the top of the football pyramid.
Born in Buco-Zau in Angola, he emigrated to France at a young age and he started his youth career at French club Troyes. Kebba Cissé, a scout from Sport Management Conseil, noticed Nzola at the age of 15. He then sent the striker on trials and also held discussions with English clubs Crystal Palace as well as other French clubs but nothing eventuated. Despite reportedly performing well at a tournament with Italian club Cremonese, not even the Grigiorossi signed him, but the Angolan's time in Italy would still come.
Nzola then went to Portugal, where he joined the youth team of Académica from Coimbra in 2014, and he managed to earn a place in the senior squad, featuring in two games throughout the 2014/15 Taça da Liga. His senior debut was in a 4-1 defeat against Porto but he did score his team's only goal soon after coming off the bench. For the 2015/16 campaign, he moved to third-division club Sertanense, where he scored seven goals in 25 league matches.
Unfortunately, the financial situation at Sertanense meant that the Angolan could not be retained and he was on the move again. The striker returned to Italy in July 2016, and he had an unsuccessful 10-day trial with Perugia, who had told him that he was not ready for Serie B.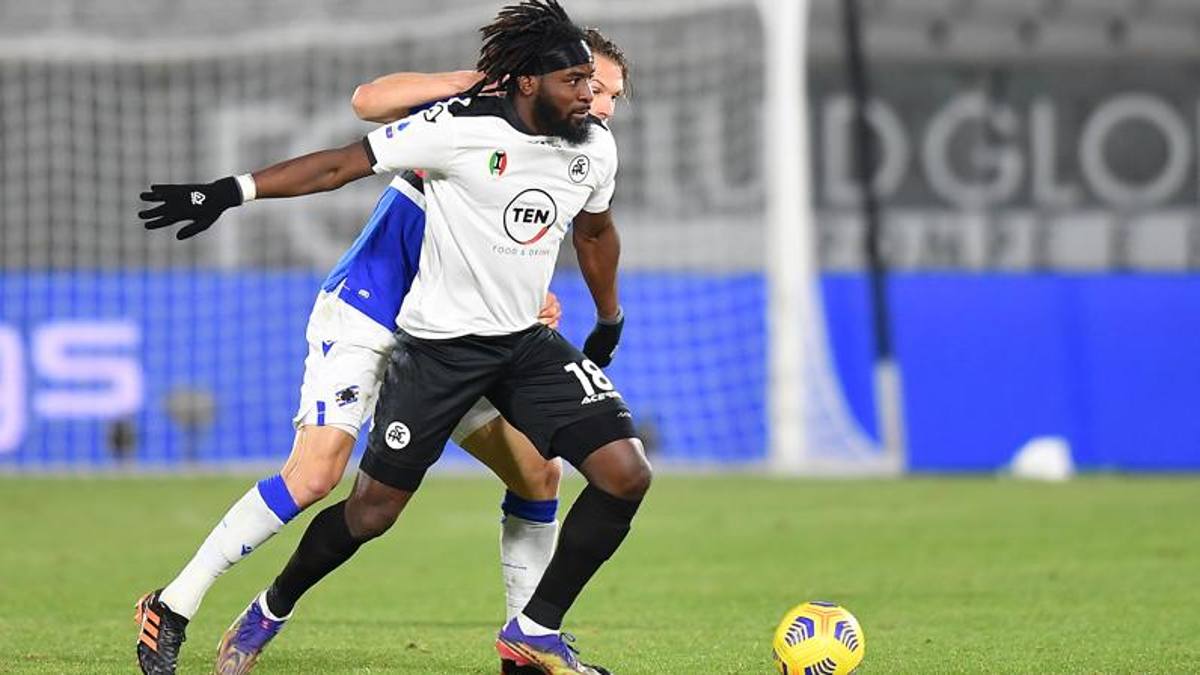 Photo: LaPresse
In an interview with Sky Sport Italia journalist Gianluca Di Marzio in November 2020, Nzola's agent Didier Pingisi told the story of the failed tryout with the Grifone. The young striker looked dejected and asked if he should consider returning to France. Pingisi told him, "M'Bala, you are not going anywhere. You stay here. You are for Italian football; we will find a team."
There was interest from Casertana but there were issues at the board level and that prevented Sporting Director Luca Pensi from commencing negotiations. Then Pingisi got a call from Stefano Trinchera, who was the sporting director of Virtus Francavilla. The club from Francavilla Fontana in the Apulia region in southern Italy had earned promotion to Serie C and it gave Nzola a four-day trial. After the second day of trial and after a friendly against another Apulian club Monopoli, Francavilla president Antonio Magrì decided to sign him.
It was at Virtus Francavilla where the Angolan met one of the most important coaches of his career so far. Antonio Calabro had earned two consecutive promotions with the Apulian club and he would make the young striker an important part of his team in Serie C. When he noticed that Nzola was predominantly left-footed, Calabro told him a valuable piece of advice that proved to be fundamental. 
According to Pingisi in his interview with Di Marzio, Calabro told Nzola, "When you learn to use the right, you will become a very strong striker. For Serie A, not for Serie C." Even then, there was the belief that he could become a forward capable of performing in Italy's top flight.
The Angolan striker would go on to score 11 goals and provide five assists in 33 Serie C Girone C matches in 2016/17 as Virtus Francavilla would go on to finish fifth in its group. He would feature in two Serie C play-off matches but his actions in the Round of 16 first leg against Livorno were costly.
Nzola obtained two yellow cards in the scoreless draw, he stepped on the foot of the referee, and then there was an exchange of unchoice words. For these incidents, he earned an eight-match suspension and interest from Serie A clubs Genoa and Torino – then-Granata sporting director Gianluca Petrachi was eager to sign him – had dissipated.  
This did not deter Calabro, who was hired to coach Serie B club Carpi in 2017/18 and he brought Nzola with him. The Emilia-Romagna club eventually finished 11th in the league table but it was a season to forget for the striker. Although he provided three assists in the Cadetti, the Angolan failed to score in 14 games. Calabro left at the end of the season and the forward dropped down to Serie C for a loan spell with Trapani.
It was there where he first crossed paths with Italiano. The new coach had shown that he was capable of taking a club to the play-offs as he did with Serie D club Arzignano Valchiampo and he did the same with the Sicilians.
On the first day in the locker room, Italiano had written, "No limits, only horizons." Thanks to its new coach and his attacking philosophy, Nzola among others improved in quality. Trapani eventually finished second in the 2018/19 Serie C Girone C season and earned its place in Serie B after triumphing in the play-offs. 
Nzola scored seven goals in 29 Serie C Girone C matches for Trapani in 2018/19 and then he appeared in all four play-off games. His only goal of the play-offs was arguably the most decisive as he scored the first goal in the second leg against Piacenza, which the Sicilians went on to win 2-0. For the first half of the 2019/20 campaign, the Angolan remained at Trapani and had another chance to prove himself in Serie B. Unfortunately, Italiano had joined Spezia and the Granata were in financial strife.
He scored just one goal in 12 Serie B matches for the Sicilian side and that strike was in a 4-2 victory against Italiano's Spezia. Surprisingly he also played some matches as a right-winger, which would have allowed him to cut-in from the wing and utilize his speed. Then-Spezia general director Guido Angelozzi telephoned Pingisi soon after and told him, "Didier, you were right. Nzola is very strong, we need him." 
It was not the first time Angelozzi had his eyes on Nzola as he had witnessed him in action while Italiano was in charge of Trapani. "He was in Trapani on the day of the promotion," Pingisi said in November 2020. "He told me he came to see a player. After Francavilla, I had already proposed it to him. Seeing him better, he was convinced. If Nzola is in Spezia today, great credit goes to Angelozzi."
For the second half of the season, the Angolan was reunited with Italiano at Spezia and he found the back of the net six times in 17 games. The Aquilotti finished third in Serie B and then earned a historic promotion to Serie A, overcoming Chievo Verona and Frosinone on the way.
Nzola featured in all four matches and scored the vital third goal in the second leg against Chievo in the semi-finals. Spezia won 3-1 after losing the first leg 2-0 and they progressed on the virtue of finishing higher than the Flying Donkeys in the league. Like he did while he was at Trapani, he also played on the right side of the trident attack in those play-offs. While his best position is at center-forward, he demonstrated an ability to adapt. 
While he had his struggles adjusting to Serie B, he has adapted well to Serie A and the Angolan has scored nine goals and provided one assist in 18 Serie A matches so far in 2020/21. Nzola was signed permanently by the Aquilotti in October 2020. Although he failed to score in his first three Serie A matches, he then got a brace in a 3-0 victory away to Benevento.
It was evident that he took Calabro's advice on board from their time at Francavilla as he went on to score his first goal in Italy's top flight with his non-preferred right foot. His second goal against the Stregoni involved him barging past a defender and heading the ball powerfully into the net.
After that, he scored another double in a 2-2 draw against Bologna and also found the back of the net against the likes of Lazio and Napoli. The goal against the Partenopei came in a shock 2-1 win in Naples and he scored the equalizer from the penalty spot.
His form with Spezia has finally earned him a call-up to the Angola national team and he was selected for the African Cup of Nations qualifiers in late March. After some struggles, Nzola is thriving in one of Europe's major leagues and he has become an international player. His agent Pingisi gave huge praise to his coaches in Italy for making him the forward that he is.
"Italiano has 60 percent of the credit for M'Bala's career," Pingisi said in November 2020. "He worked hard on his head, tapping the right keys. And if I give 30 percent to Calabro, I think it is right to give the rest to Francesco Baldini, who arrived in Trapani the following summer. He was sacked after a few rounds, but was decisive in convincing M'Bala to play as a winger."
Nzola is contracted to Spezia until June 2023 but it remains to be seen if he is still there by then. If the Aquilotti seal their Serie A safety thanks to his goals, bigger clubs will surely want to make the Angolan a focal point of their attack.
By: Vito Doria
Featured Image: @GabFoligno / Valerio Pennicino / Getty Images