Player Analysis: Tariq Lamptey
From Trent Alexander-Arnold to Aaron Wan-Bissaka to Kyle Walker, English football is blessed with an unrivaled crop of top quality right backs. The latest addition to the bunch is Tariq Lamptey, who at 20 years of age, is blossoming into one of the finest right backs in Europe.
Born in Hillingdon, Greater London to Ghanaian parents, Lamptey joined Chelsea's academy at the age of 8, where he would ascend the ranks at Cobham Training Ground before making his professional debut on December 29, 2019, coming on as a substitute for Fikayo Tomori in the 59th minute. Losing 1-0 to Arsenal, Lamptey brought some explosive energy to the team, offering blistering pace and agility, and bringing much needed urgency to Chelsea's attack. Chelsea would go on to win 2-1 via goals from Jorginho and Tammy Abraham.
Lamptey made two more appearances for Chelsea, coming off the bench in FA Cup fixtures against Hull City and Nottingham Forest. Whilst manager Frank Lampard did everything in his power to keep Lamptey at the club apart from start him over César Azpilicueta and Reece James, he decided he needed consistent first team minutes. With just five months remaining on his contract, Lamptey joined Brighton & Hove Albion for a fee of £3 million, arriving in Sussex on a contract through 2023.
Whilst Lamptey did not play for Brighton prior to the Coronavirus-enforced break, he made his debut for the club on June 23, starting at right back in a 0-0 draw against Leicester City. He quickly displaced Martín Montoya and Ezequiel Schelotto from the team, cementing a starting spot under Graham Potter and leading Brighton to release both Montoya and Schelotto, the former joining Real Betis on a free transfer.
Salis Abdul Samed: The Ghanaian Midfielder Making Strides at Lens
Lamptey has picked up where he left off this season, impressing as a right wing-back for Brighton, making his debut for England's U-21 team, and even earning interest from Bayern Munich. Let's take a closer look at what makes the 20-year-old such a special talent.
Style of Play
As an attacking right back who thrives in Potter's 3-4-3 system, Lamptey's main strengths come in the form of pushing the ball forward and starting attacks with his stellar pace and dribbling in order to provide width. He differs from Montoya in this way, as his speed and progressive abilities allow him to get further up the pitch and support the attack while still being able to recover to prevent counterattacks.
Montoya, who lacked the brutal pace Lamptey has, would tend to play crosses from deeper positions in order to remain positionally uncompromised. However, this resulted in greater numbers of players in the half-spaces and the flanks in order to provide width on the attack, meaning that fewer players were in the box to get on the end of crosses. 
Due to Lamptey's sheer pace, he can provide the team more width on the attack on his own. Combined with his superb ability to beat his man and whip in crosses, Lamptey is a do-it-all creative outlet who can whip in crosses from the edge of the box. He only averages 6.1 defensive actions per 90, and although he has the pace to recover and stop counters, his diminutive size of 5'5 and 128 lbs hinders his tackling and aerial abilities, which could be a bigger problem if he is forced to play in a back four.
Let's take a look at his positioning when Brighton suffered a 4-2 loss to Everton on October 3. As seen in the heat map provided by WhoScored, Lamptey provides plenty of width in attack and covers each of the thirds.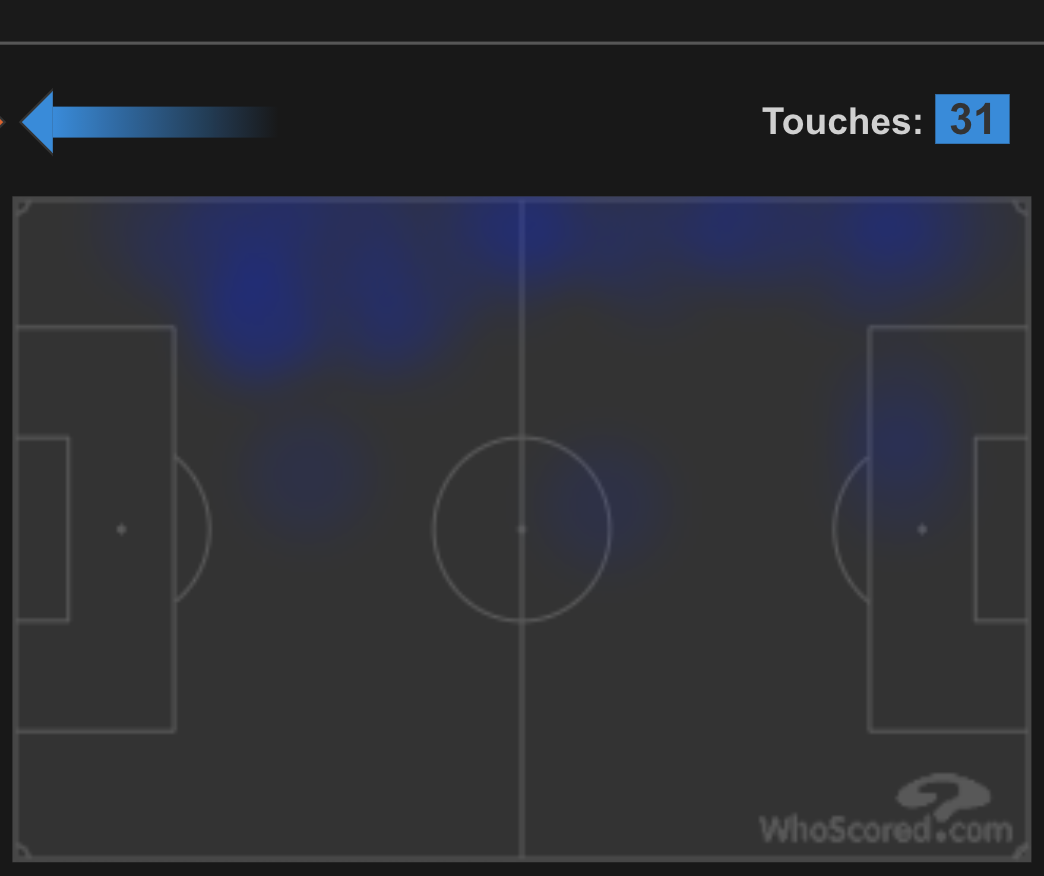 Playing as the right-sided wingback, Lamptey is tasked with containing his man on the flank (Richarlison on this occasion) and preventing balls from being played into the box. Going forward, Lamptey remains in the wide positions and pushes forward to support the right winger (Leandro Trossard in this game).
In addition to his brutal pace, Lamptey is adept at beating his defender and bursting into the box to fashion a crossing or passing opportunity for himself. Looking at this example from Chelsea's 3-1 victory over Brighton on September 14, we can see Mason Mount and Marcos Alonso attempting to contain Lamptey and prevent him from advancing into the box.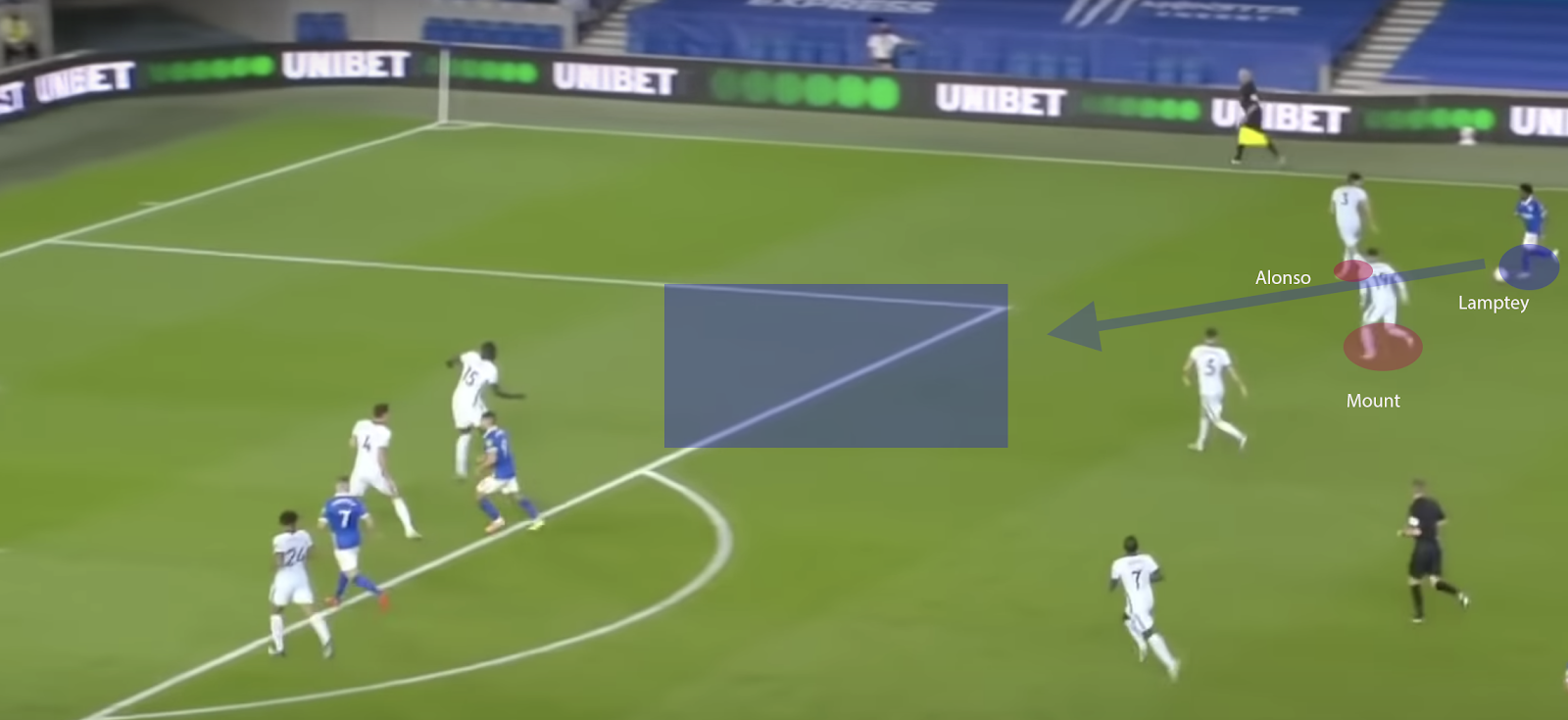 Lamptey shows full confidence in his own technical ability, deciding to charge past both Chelsea players and into the corner of the box. With a quick burst of pace, he is able to split both Mount and Alonso in this scenario, opening up opportunities for himself.
With Aaron Connolly and Neal Maupay in the box, he has now fashioned a shooting opportunity for himself and can now play a ball into either attacker if he is able to, or take a shot himself on goal and test Kepa Arrizabalaga in goal.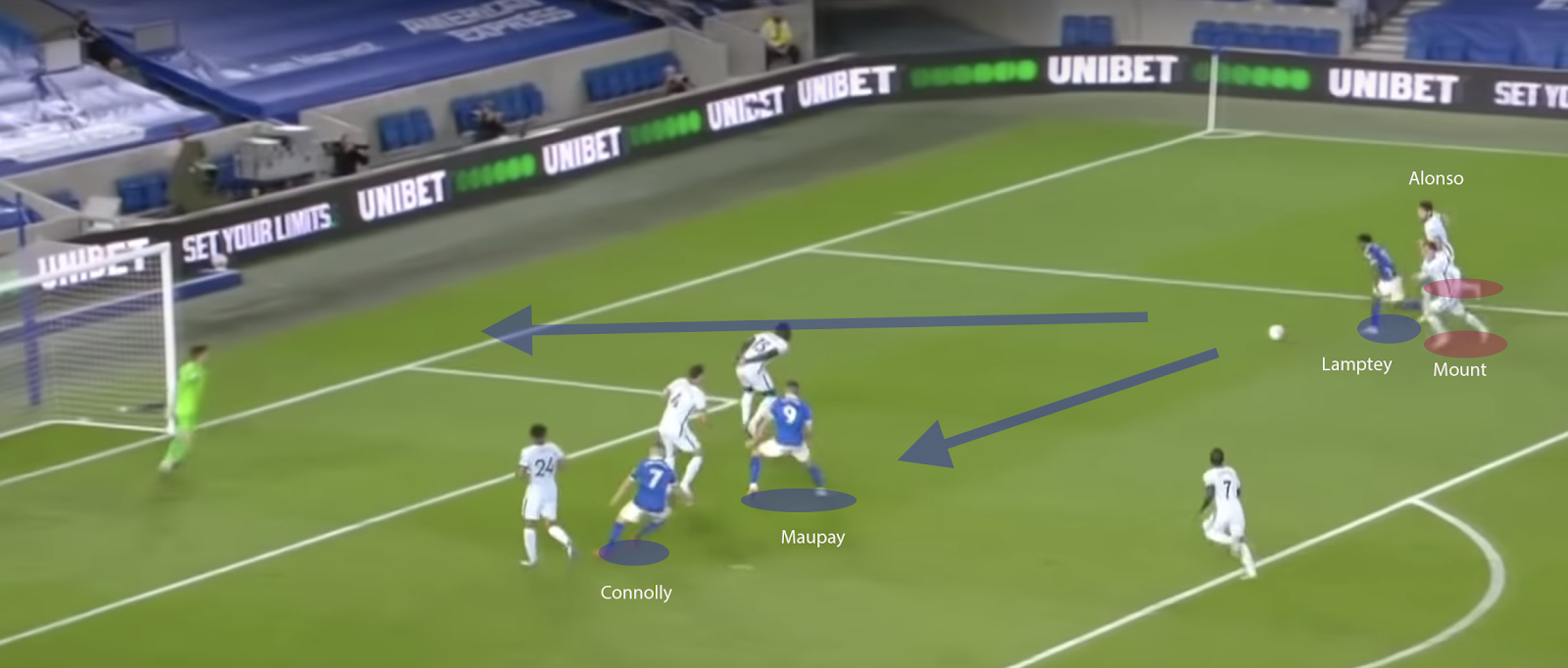 Lamptey's crossing ability has also been on display this season thus far. After getting into these dangerous positions, he is able to further capitalize for his team by playing whipped balls into the box for attackers to get on the end of, as seen in this example against Liverpool.

After beating Neco Williams and creating space between himself and his defender, Lamptey is in the process of playing a ball for Connolly to run onto. Williams tried to recover and close the space, but it was already too late; Lamptey had delivered the cross.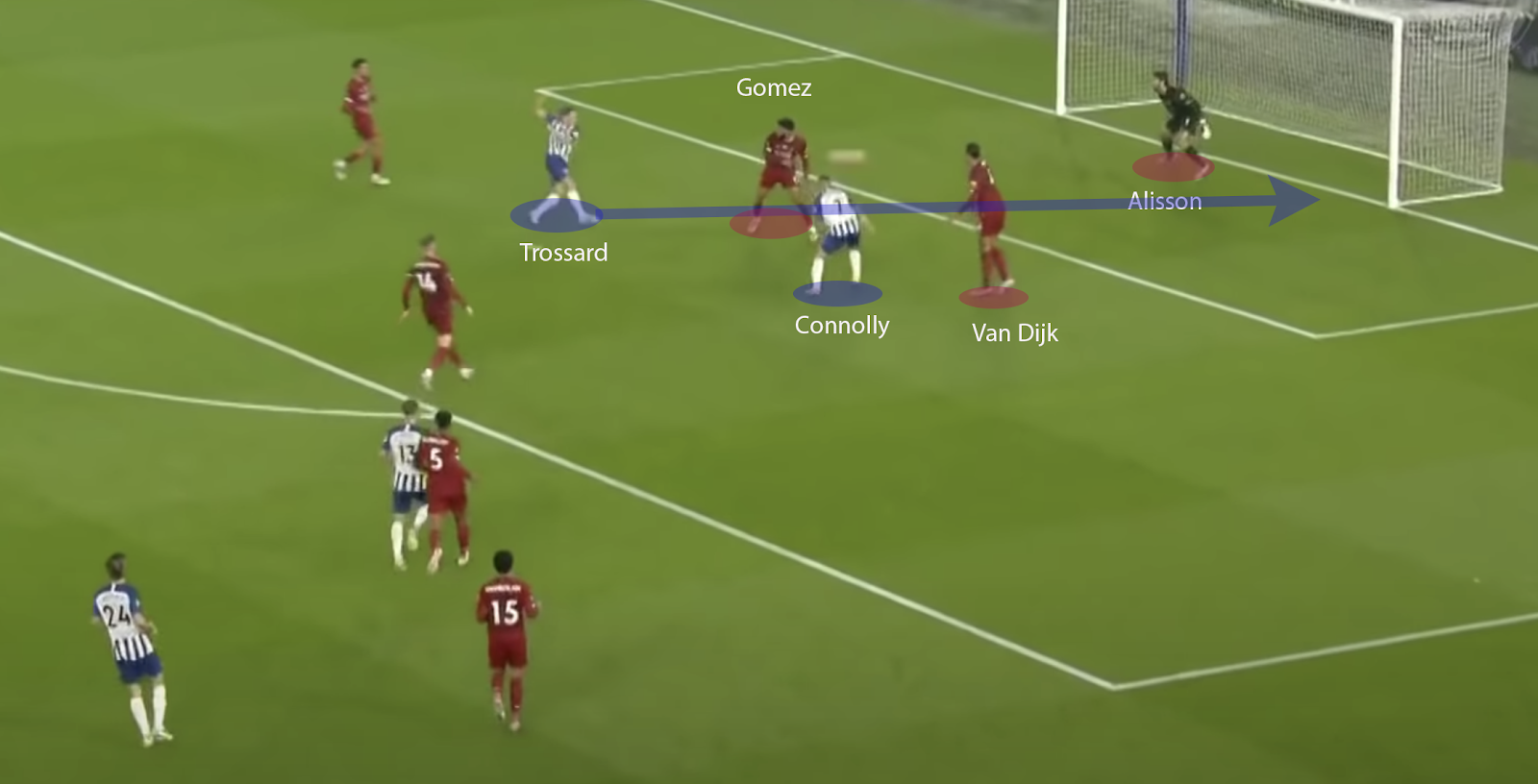 Lamptey plays a ball over the top of the defense and into the path of Trossard, who volleys it perfectly into the bottom right corner, beating the onlooking Joe Gomez and Alisson from mid range. 
One of the things that makes Lamptey such a dynamic right back is his ability to provide width in attack; his physical ability and technical prowess combine for a fullback who can carve out plenty of danger by himself on the right.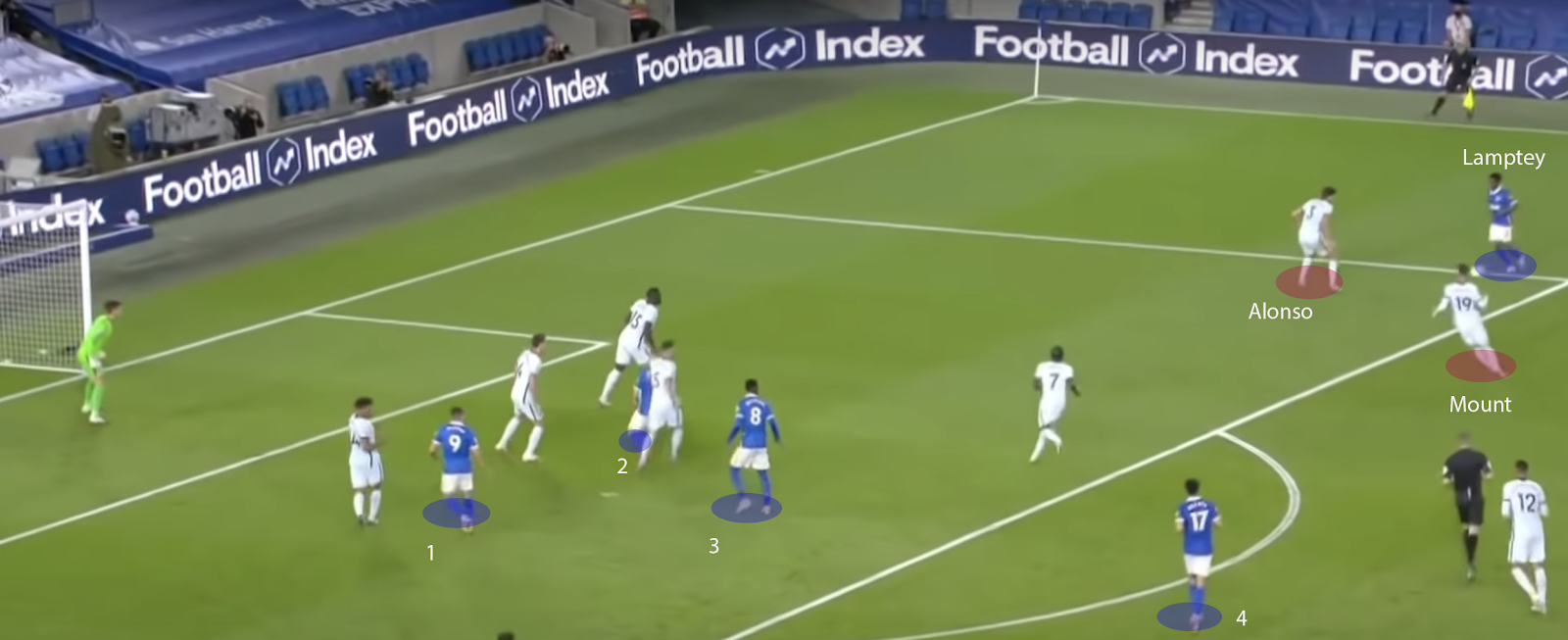 As seen in the previous example against Chelsea, Lamptey occupies the attention of both Mount and Alonso, who are focused on nullifying his threat; in turn, this creates space for his teammates to get into prime scoring areas, with Yves Bissouma, Steven Alzate, Maupay and Trossard all ready to pounce on a cross.
Statistical Analysis
In order to get a better understanding of what kind of player Lamptey is, we need to analyze the statistical metrics that he excels in and struggles in. The radars below (courtesy of FootballSlices) will highlight his stats from the 2019/20 season, although his 2020/21 stats will also be mentioned in the analysis in certain areas. 
It's important to note that Lamptey has a relatively small sample size of data compared to the likes of Alexander-Arnold, having only played 588 minutes last season and 372 minutes this season. Consequently, these percentile stats could be skewed somewhat as he still hasn't played a full season of senior football.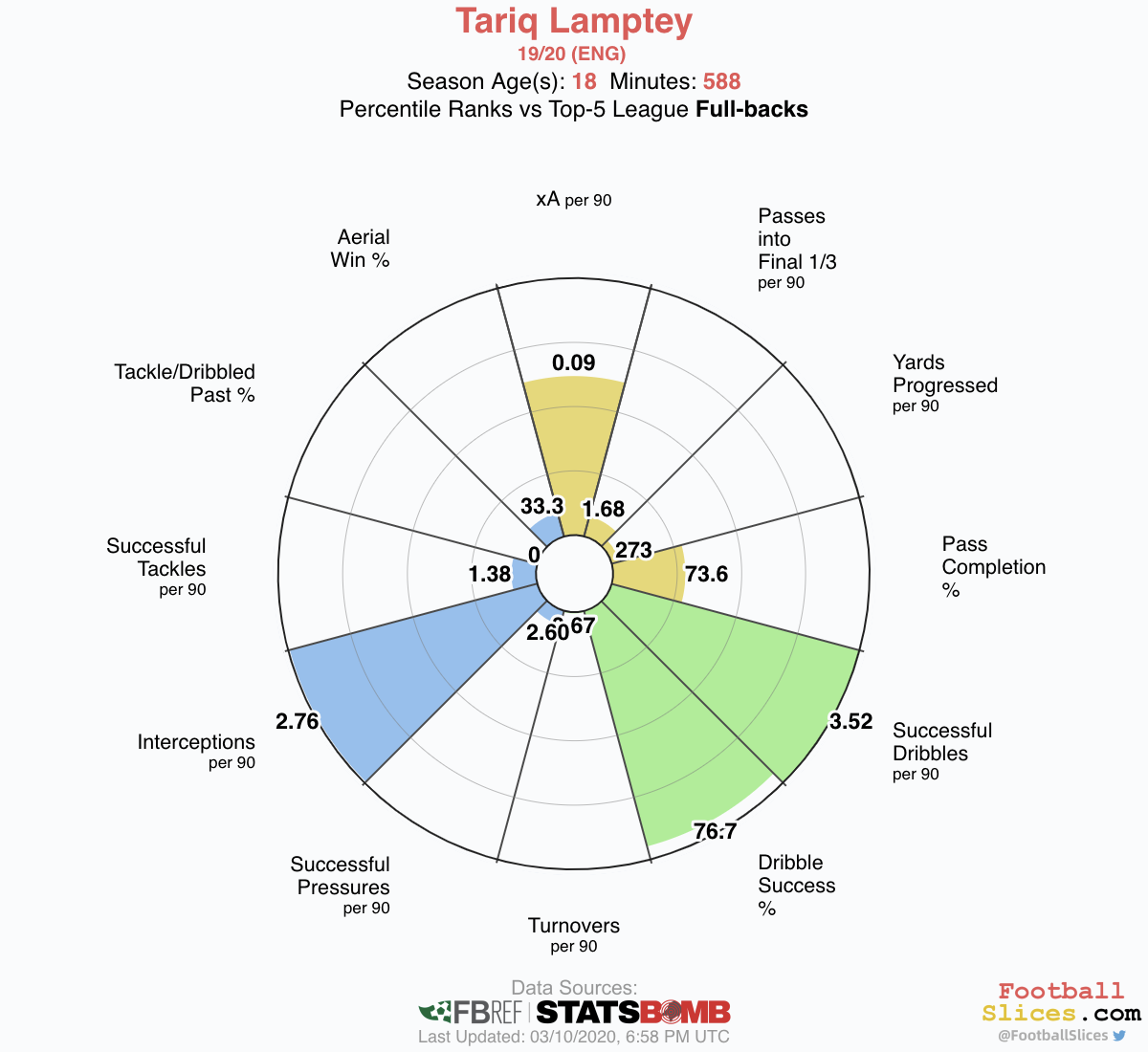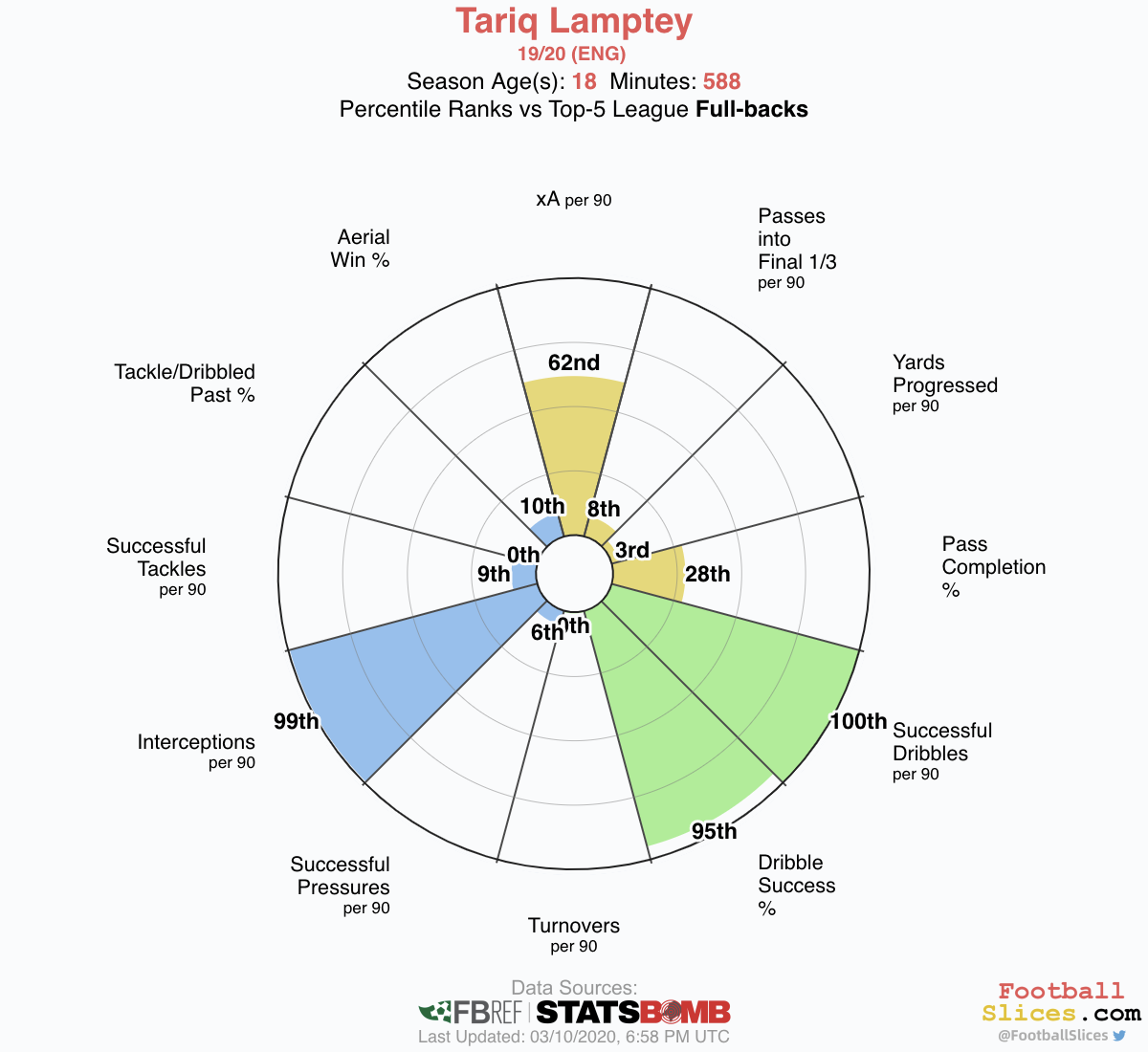 Beginning with his raw values, Lamptey is shown to produce well in a few key areas in relation to other full backs across Europe's top 5 league. Lamptey is strong in both the number of successful dribbles he has per 90 minutes as well as his success rate, which should come as no surprise to any sporadic viewer of Brighton. 
Although he isn't renowned for his defensive aptitude, Lamptey is averaging 1.22 tackles won this season (FBRef) and has a 35.8% successful press rate, as well as a combined tackle and interception score of 3.17 per 90. Despite this, his only real strength on defense comes in cutting out passes to intercept the ball, and it's clear he must improve defensively if he is to fulfill his potential.
Finally, the last outstanding metric to mention is his expected assists per 90. With his ability to influence the attack and cause danger from wide areas, Lamptey creates many opportunities for his side down the right side of the field. Whether it's crossing the ball or beating his man to play in a pass, Lamptey does well in actions which result in xA per 90 minutes.
Comparative Analysis
It's important to note that these style metrics do not take into account the physical aspects of the players, but rather focus on the actions that the player performs on the pitch from which data can be gathered on. An example of this is Lamptey's pace, which would not be represented in the radars to be presented.
Beginning with the most similar match from the model, Genoa's Luca Pellegrini (on loan from Juventus) is top of the list for similar actions. As noted in the chart below, the primary overlaps in style come in the categories of ball carrier, dangerous passer, and frequent crosser.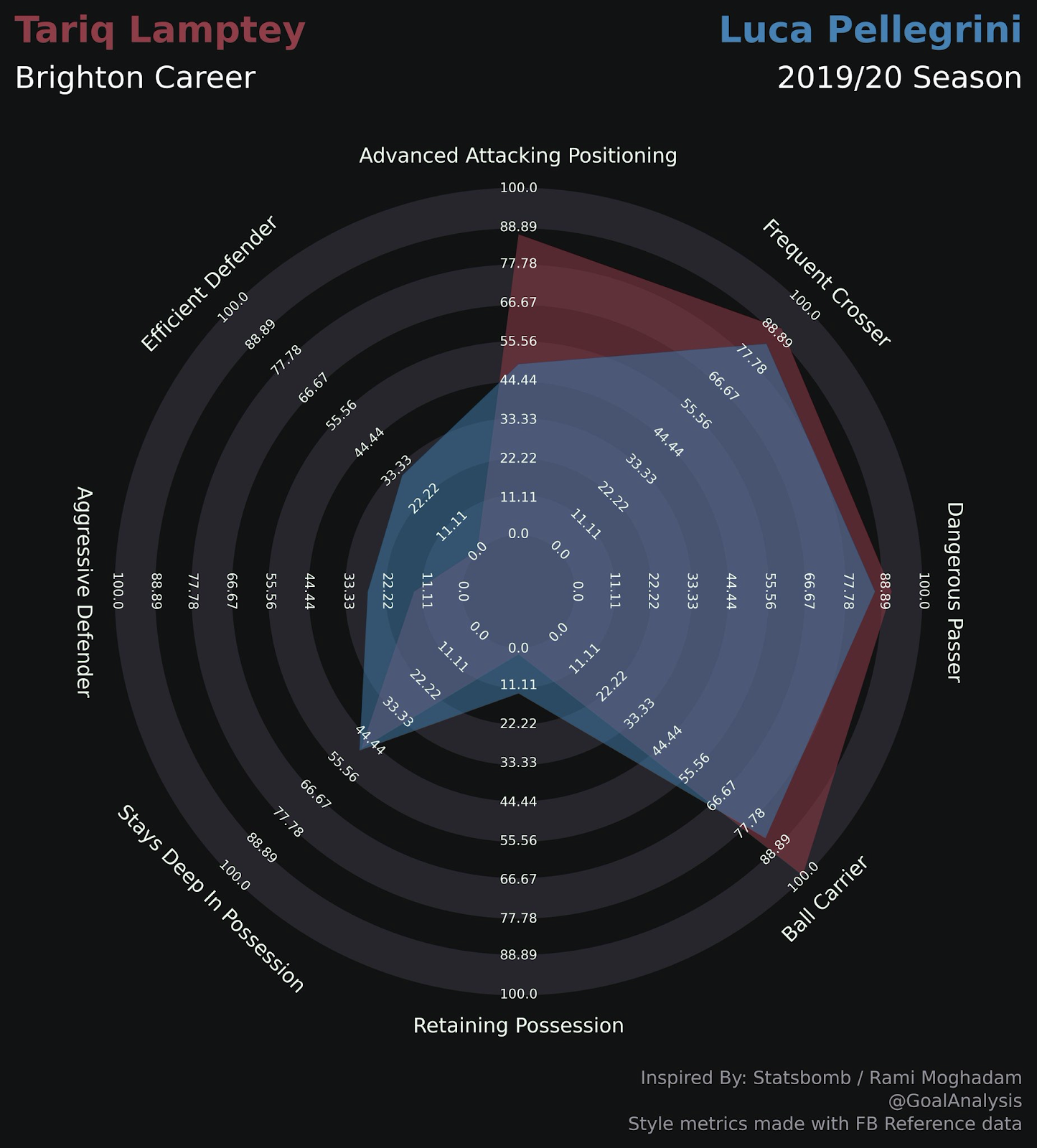 Beginning with ball carrying, according to Sam Gustafson (@GoalAnalysis), the creator of the model, this takes into account "The % of a player's total carry distance that is progressive, the progressive distance covered per a player's carry, and a player's successful dribbles per touch."
This falls heavily in line with what has been analyzed about Lamptey thus far at Brighton. Although not as strong in this category, Pellegrini seems to be a solid match in this regard, meaning both are skilled carriers of the ball progressively and quality dribblers. Moving onto dangerous passer, Gustafson calculates this by using metrics which account for passes and crosses into the penalty. Specifically, "(passes+crosses into penalty area) to their total number of completions, and a player's expected assists per completion."
In this regard, it's important to know the quality of these attempts is not what is emphasized in the model, but the frequency in which players stylistically attempt crosses and passes into the box. As a result, both Lamptey and Pellegrini score high in these categories, indicators of the frequency in which they deliver risky passes in the box.
Finally, in relation to Lamptey, Pellegrini also exhibits similarities in the frequent crosser metrics, this being "A player's rate of crosses into the penalty area vs. passes into the penalty area (so more crosses=higher score), and a player's rate of crosses into the penalty area per attacking third touch."
Antoine Semenyo – Bristol City's Ex Ghanaian Star Ready For Relegation Battle at Bournemouth
This provides further insight on what a player decides to do when reaching the penalty area. In this comparison, both Pellegrini and Lamptey being deployed to support the attack often look to whip balls into the penalty area. As a result, they create chances this way and add threat to their teams attack by whipping balls on the edge of the box allowing more players to attack the crosses.
Although attributes are well matched in the case of Lamptey and Pellegrini, it seems that based on the model's scores, Lamptey lacks in the efficient defender and possession retention scores, while Pellegrini lacks in the advanced attacking position score. In practice, this means that Lamptey does not perform as well in his tackle rate vs dribblers and his pressure success rates in comparison to Pellegrini for efficient defending.
Additionally, in terms of retaining possession, Lamptey is less calculated in his risk in regard to possessing the ball, although neither rank particularly well. Finally, Pellegrini in advanced attacking positioning lacks the proportion of touches in the final third and penalty area in comparison to Lamptey.
Moving on to the next profile comparison, Roma's Bruno Peres also fits the comparison quite well in a few stats even Pellegrini lacked in, but still does not compare as well as Pellegrini.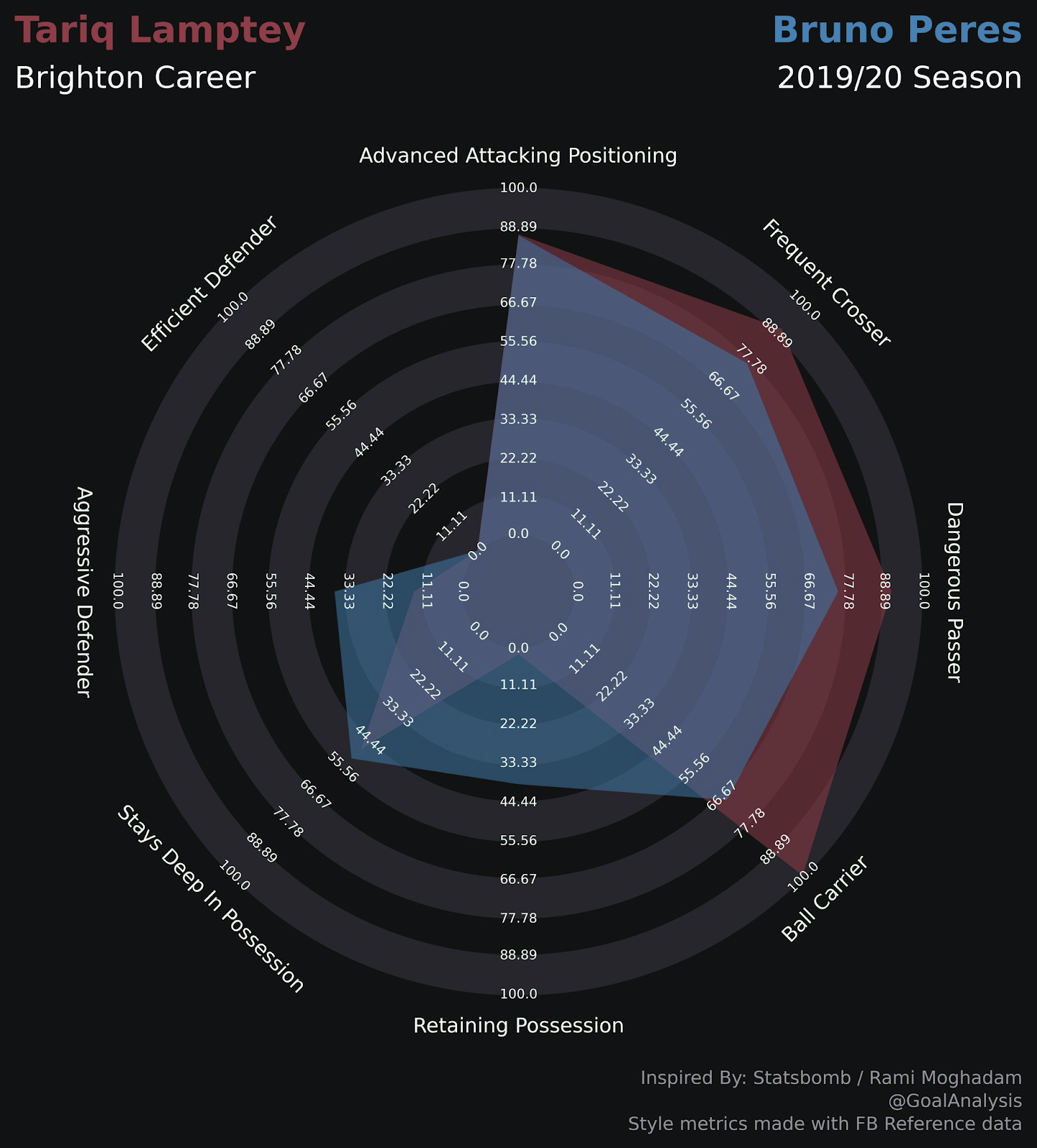 In this comparison, Lamptey and Peres both score well in frequent crossing and dangerous passing, and while Peres's ball carrying is not as highly rated, although his attacking positioning is much more similar to Lamptey than that of Pellegrini. 
Based on the calculations, we can tell Peres likes to cross the ball around the box rather than pass or carry it in regards to frequent crossing, and he has the same tendencies to play risky balls into dangerous positions as noted in the dangerous passing. However, in attacking positioning, Peres and Lamptey are almost completely identical, as their proportion of touches in the final third and the respective proportion of those in the penalty area are extremely similar.
Using metrics of players' percentage of touches in the defensive third, defensive third touches in the defensive penalty area, and the rate of middle third touches to attacking third touches, this metric "looks for players who tend to stay deep in buildup." This means that in possession of the ball Peres, Lamptey, and Pellegrini all assist their teams in the build-up phase. It's likely Peres and Lamptey then proceed to get into more advanced positions to support the attack in their respective systems, while Pellegrini tends to do this less so. 
Finally, while none of the three players are particularly strong in this, Peres does seem to outperform both Pellegrini and Lamptey in calculated risk when it comes to possession. Using metrics of over/underperformance of xTurnover, pass completion percentage, and progressive passes of a player, Peres clearly scores much higher in this regard when compared to Lamptey, meaning he likely exhibits a higher passing completion percentage and/or underperforms his xTurnover calculations.
Although there are similar profiles to that of Lamptey, the combination of advanced attack positioning, frequent crossing, dangerous passing, and ball carrying is unique to Lamptey at the quality in which he scores in these four metrics. While he still needs to improve in certain areas, namely the defensive facet, he is a unique attacking threat who will continue to peak interest from Europe's top clubs in years to come.
Conclusion
After Declan Rice and Jérémie Boga, Tariq Lamptey is the latest Chelsea academy product to thrive since leaving Cobham, and his unique ability to carry the ball forward and provide width in the final third makes him an ideal choice for any top club that needs a right back with the technical prowess to break down deep blocks. With his sheer pace, explosive energy, and ability to play pinpoint crosses into the box, it's only a matter of time before he makes the move to a Champions League club.
With all these positives however, he is still fairly undersized at 5'5″ and 128 lbs, although at 20 years of age, he still has room left to develop physically. Furthermore, his defensive contributions are lacking in relation to most other full backs, specifically his tackling ability, and he will need to improve in this areas if he is to make the jump from playing as a right-sided wingback to playing as a right back in a back four.
By: Michael Nazarian
Featured Image: @GabFoligno / Mike Hewitt / AFP