Randal Kolo Muani: Forged in Villepinte, Hardened in Boulogne, Nurtured in Nantes and Unlocked by Antoine Kombouaré
What Ligue 1 Loses and Germany's Bundesliga Gains…For Free
France is French and Germany is German, but borders can be fluid things. Back in 800 A.D., Charlemagne's empire knew no Franco-German border, and the succeeding Holy Roman Empire included substantial French, Italian and Slavic territory. In today's world, the football transfer system respects no border or emotional attachments, especially when it comes to hotshot strikers.
Randal Kolo Muani was the fulcrum of the Nantes' attack this season notching 14 goals and providing four assists to his brother-in-arms. What makes his accomplishments at the Beaujoire even more significant, is the fact this was a season that was always climaxing towards an emotional farewell since last January.
At just 23 years old and said to be on the radar of Deschamps and Les Bleus, a player boasting such a profile and potential would demand a healthy transfer fee to secure and that is probably the most agonising element of this transfer saga for controversial Nantes' president Waldemar Kita, the pivot of his Nantes' attack departed to Germany for free.
Strasbourg Are Back Amongst the Best in the Pantheon of Ligue 1 and So Is Julien Stéphan
Speaking to RMC back in April 2022 about Muani's impending transfer to Eintracht Frankfurt at the end of his contract this summer, Kita said:
"He's going to leave, and I very much regret it. There are two points on which I want to come back on. First of all, we've done everything, Antoine [Kombouaré, the coach] and me, so that the player stays. 

A year ago, I tried to make contact with his father and offer him a big salary. He could've received more money than he'll ever get in Frankfurt… I have complaints to make given that they've been in contact with Frankfurt for two years now, it has been two years since they signed a contract with them. 

He's a very good boy, I sincerely regret that his father didn't want to take my call when I made such a good proposal. I regret that we have a kid who we took in at 15, that we fed, housed, educated and gave a professional contract too, and he doesn't say thank you. Him leaving doesn't matter, but that…"
In March, the prolific goal-getter's new Bundesliga club-in-waiting broadcasted that Muani would depart to pastures new at the end of season, his destination is the city of Frankfurt which takes its name from the people called the Franks the same as France. 
In theory the transfer of Muani across the border to the Bundesrepublik has been common knowledge since last January, Jurgen Klopp's Liverpool were said to be admirers and would-be suitors, but the emerging talent instead chose Eintracht Frankfurt as the next step in his career. 
He can play anywhere across the frontline, this season he has operated predominantly from the right side, but he is gifted with both feet and can finish as well to boot meaning being a centre forward is also a natural habitat for this attacking predator.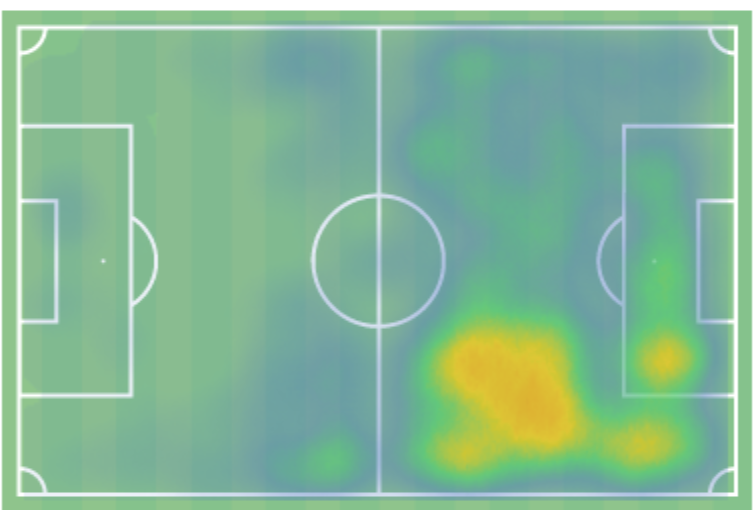 Kolo Muani's heat map from the 2021/22 season
He has an uncanny knack of ghosting into the six-yard box undetected at just the right moment but what is most intriguing about him, is his quick feet and ball carrying abilities that often unhinges even the most battle-ready defensive sentry.  
His departure is most unwelcome and disappointing news for Nantes, logic dictates it could have potentially derailed the Canaries' season, their academy product's head well and truly turned towards his future destiny in the Bundesliga, many would fear he could produce one lacklustre performance after another in a bid to avoid injury as his contract ran down.
However, credit where credit is due, Muani a boy who became a man infused with a sense of calmness after a loan spell in Boulogne greatly accelerated his development, kept his head down and continued to deliver for the club he loves right up until the end of their love affair.
The reputation of being someone too nonchalant in a negative sense has followed the young star for years; his career progression has been anything but linear. When many doubted him, his father backed him, even attending every home game when he was on loan at Boulogne in the French lower divisions in 2019/2020. Two red cards in relatively quick succession threatened to unhinge his loan move before it truly began.
The spell in the harsh unforgiving environment in the lower tiers of French football, represents a significant sliding doors moment for the footballer who grew up in the footballing hotbed of Seine-Saint-Denis located in the Paris basin. Situated to the northeast of Paris, it is the poorest part of mainland France, according to Insee, the country's office of national statistics.
The banlieue, the working-class areas that encircle Paris and other French cities, are used to being demonised, in the aftermath of the 2015 Charlie Hebdo attacks, Fox News infamously labelled them "no-go-zones". Yet these same banlieues, home to many who hail from France's former colonies, are also celebrated for the footballers who helped France secure a recent World Cup victory. 
Saint-Étienne's Season Could Be A Microcosm of Their History – A Tale of Decline & Revival But Will It Conclude With Ligue1 Survival?
Instead of going through the motions for the second half of the season as his contract dwindled down, Muani continued his evolution and won a domestic cup with his Nantes brothers, a club that has been part of his life since he was 15.
He was born in the same Bondy hospital as a certain Kylian Mbappé and grew up in Villepinte where his parents still live today, the spectre of the Stade de France is located just ten minutes away from the family home. Ironically it took the Coupe de France victory over OGC Nice last month for the striker to finally grace the sporting coliseum on his doorstep. 
Winning the Coupe de France and helping propel his beloved Nantes back to European competition after a 20-year-hiatus from the continental scene must have had the youngster pinching himself but tinged with a sense of foreboding as his goodbye was drawing ever closer.  
The ecstatic striker speaking to journalists in the aftermath of the historic victory said: "It's a childhood dream come true. We shouted, danced in the locker room, it is full of emotions at the same time."
Kolo Muani represented the Canaries this season as if there was no end to this love story, the virtuoso featured in 12 games after the announcement of his impending summer transfer contributing three goals and two assists which is almost on par with his goal and assist numbers for the 12 games before the announcement where he helped himself to four goals and one assist.
The romantic in us and in Nantes would yearn for Muani to stay in La Maison Jaune (The Yellow House) with his mates and continue to evolve under a manager of immense potential in Antoine Komboauré.
Antoine Kombouaré speaking to Ouest France in May 2022 regarding Kolo Muani's departure: "I want to enjoy these last moments. Let the fans also enjoy it because he is very attached to Nantes, he owes a lot to this club, he says it, repeats it and he does what it takes on the pitch to make history, to mark his passage. He's a good boy.

The image I keep is that of a football athlete. He has it all: speed, the ability to repeat efforts, he goes high and, technically, he's very, very good. He can progress in his game with his back to goal, but also by being more killer in the penalty area. Its great quality is its versatility. He can occupy all the positions in front, he adapts.

He is generous, collective in spirit. And I will even go further: in a complicated situation, when he was in his last year of contract, when he signed early for another club, he could have lifted his foot because there was a risk of injury. He was exemplary. That is why I admire both the player and the guy. He has great human qualities."
Kombouaré was rightfully fulsome in his praise of the youngster, there is more to this starlet than meets the eye, while many of his peers flock to exotic playgrounds like Dubai or Ibiza as fast as they can, Randal Kolo Muani like a homing pigeon returns to his beloved humble Villepinte at season's end.
He alerts the children of the neighbourhood via SMS that he has placed down a bag full of footballing equipment and merchandise he has gathered during his footballing travels, and it is first come, first served. The youngest also immerses himself in charity work, the player who is youngest of five siblings seems to be endowed with wisdom and a level of generosity beyond his years.
When Antoine Kombouaré took charge of Nantes on February 11, 2021 to become the club's fourth manager of the season, La Maison Jaune were 18th in the table and had not won a single league match in 3 months.

He's just ended a 21-year trophy drought by winning the Coupe de France. pic.twitter.com/65kJ00LAlN

— Breaking The Lines (@BTLvid) May 10, 2022
A shy and reserved kid according to many of his childhood friends, Randal like many of the games' greats didn't like to lose and honed his skills via the school of street football.  Behind his mischievous gaze there is something different about this player, it is hard to predict where his ceiling will be or whether he will live to regret his decision to depart to Germany.
Scouts had overlooked him as a teenager until finally his potential was appreciated by talent spotters from Stade Rennais and Nantes in June 2015, it was the Les jaunes et verts (The Green and Yellows) who snared the French striker. Capable of dazzling on the field, Randal Kolo Muani exudes a quiet strength on the outside and a playful spirit off it. 
Six years after his arrival at La Jonelière his Nantes adventure has ended (for now) with a trophy as he departs to a side that will play in UFEA Super Cup and Champions League, for once the boy from Villepinte football progression seems linear and potentially meteoric. 
For Ligue 1 audiences this potential superstar only graced the stage for two seasons, his untimely departure will be a shame not just for Nantes but for wider football audiences. 
His goal scoring numbers don't tell the full RDK-story, he is a skilful unselfish striker that is focused always on the collective and his numbers would be far greater if he held the mantel of penalty taker for Nantes instead of the talented Ludovic Blas at Nantes.
Frankfurt having already recruited Aurelio Buta, Faride Alidou, Jerome Onguéné and Hrvoje Smolcic are building momentum and going places regardless of what happens with their Serban superstar Filip Kostic during the transfer window.
Kolo Muani, a by-product of his upbringing and apprenticeship under Antoine Kombouaré, will be a success at Deutsche Park Bank. His age and profile as one of the biggest up and coming strikers in Europe, fits right in with Eintracht Frankfurt's and sporting director Markus Krösche's philosophy of signing young-hungry-embryonic footballing talents cheap and selling them for profit.
The parting of the virtuoso and Nantes almost feels like it has been preordained by some higher power, the fairy-tale goodbye culminating in the Coupe de France victory, choosing a future club in Frankfurt that despite their mediocre 11th place finish in the Bundesliga will play in the Champions League next term after their surprise Europa League success and most eerily the closing of the loop.
The striker made a timid debut in Ligue 1 back in November 2018 at Saint-Étienne's Cauldron and on the 21st of May 2022 as the sun set on another French football season Muani played his last game for the Canaries again against Les Verts.    
It's as if the moons are aligning for this innate talent just as his footballing abilities are undergoing a preternatural development. His unfulfilled love affair with Nantes retains its bittersweet purity and if the footballing gods have any sense of romanticism, they will be reunited someday. 
The player certainly won't be the last footballing power to be spawned at the Canaries, their recent U19 French Championship success overseen by Pierre Aristouy is testament to that. Ligue 1's loss, is the Bundesliga's gain; Randal Kolo Muani has all the talent and mettle required to succeed in the game.
By: Liam Scahill / @LiamScahill
Featured Image: @GabFoligno / Icon Sport