Strasbourg Are Back Amongst the Best in the Pantheon of Ligue 1 and So Is Julien Stéphan
Enthralled, bemused and often amused, supporters of Le Racing are rarely bored; their club has been one of ups and downs in recent times.
From the outside looking in, Strasbourg's fortunes over the years seem engagingly exotic but also alarmingly chaotic. But just maybe they have found their antidote for some much-needed stability in the form of a former Rennes-ephemeral-messiah.
Julien Stéphan has proved to be a shrewd appointment for the club that bestowed Arsène Wenger into our collective footballing orbits. 
The 41-year-old is a relative unknown outside of French football connoisseurs but inside Ligue1 circles, Stéphan is widely regarded as one of the brightest managerial talents in France and for many, his projected destiny is to take the reins of Les Bleus someday. 
His path to becoming a manger of innate talent is a familiar one, like many a good coach before him, Stéphan's playing career was not one of much noteworthiness.
He and his brother played for a spell with the PSG reserves before he bounced around the lower leagues of French football, the lower echelon of French football is a harsh environment.
Bereft of the support and resources enjoyed by the lower leagues in England, the lower tiers of French football is populated by semi-pro and amateur provincial clubs who struggle to draw crowds in the hundreds.
In 2008, Julien had enough of the demanding lower leagues, and he embarked on his coaching education full-time in 2012 when he was handed control of Rennes' under-19s. 
In typical Stéphan fashion he led the reserves to promotion in 2016, he was the natural choice to succeed Sabri Lamouchi in the Roazhon Park dugout in December 2018, initially on an interim basis.
Saint-Étienne's Season Could Be A Microcosm of Their History – A Tale of Decline & Revival But Will It Conclude With Ligue1 Survival?
The interim label was quickly shed by Stéphan and within 18 months, the club's former reserve and youth team boss had led the senior side into their first-ever European knockout round, won their first trophy in 48 years after stunning Thomas Tuchel's PSG, then oversaw their highest Ligue 1 finish (3rd) and a historic qualification into the Champions League.
It seemed nothing could resist or stop Stéphan's meteoric rise, his Rennes side produced many-a -swashbuckling display as they emphatically gatecrashed the top table of Ligue1.
Alas, as is often the case in the footballing world, form is temporary and in the 2020/21 season Stéphan struggled to replicate Rennes's fine form again, after four straight defeats and seven games without a win, Stéphan resigned which sent a shockwave vibrating through the fabric of French football last March. 
Speaking at the time, the man widely recognised and much-lauded as France's most promising up & coming coach, Stéphan said:
"I leave Rennes with a heavy heart but with the feeling to have always given the best of myself for the good of the club," he explained. "This decision, difficult to take, was deeply thought through. I feel that I have done everything that I could."
After nine years at the club, moving up the organisational ladder, from academy director to head coach, Stéphan's disappointment was shared by those above him, who had implored him to stay.
The exiting young manager was not on the beach for long, in fact he barely had time to get to the coast because by the end of May 2021, just two months after departing his beloved Rennes he was announced at the new manager of Strasbourg.
Le Racing Club de Strasbourg Alsace et Julien Stéphan se sont mis d'accord pour un contrat de trois ans.
➡️ https://t.co/I4bpSn08ks pic.twitter.com/FjTivl6Nxx

— Racing Club de Strasbourg Alsace (@RCSA) May 28, 2021
It was not all doom and gloom for Rennes as we peer through the footballing telescope of hindsight, they pounced on the flamboyant managerial talents of Bruno Génésio, who has just been awarded the title of Ligue1 Manager of the Year by his peers.
🗣️ Auteur d'une très belle saison avec le @staderennais, Bruno Genesio remporte le Trophée UNFP d'entraîneur de @ligue1ubereats ! 🏆 #TrophéesUNFP pic.twitter.com/9X4uyat0Ui

— Ligue 1 Uber Eats (@Ligue1UberEats) May 15, 2022
'Génésio ball' is much-admired, it is easy on the eye and at times displays jarringly delicate moments of sheer beauty but what sets his style apart, is his footballing ethos produces thrillingly sustained energy and skill which in turn terrorises opposition backlines and produces goals aplenty.
Many would not question nor begrudge Génésio the title of Ligue1 Manager of the Year but there is certainly an argument for his Rennes predecessor to have been awarded the accolade instead.
The stabilising Stéphan has done much more than just steady the ship in eastern France, his side reflect him, they embody the pure exhilaration of Stéphan's high-craft-power-chord football.  
When the two faced off in Ligue1 this year and the Rennes-prodigal-son Stéphan made his emotional return to Roazhon Park to face his beloved former side, it was Génésio's men who came out on top by the slimmest of margins.  
The former Rennes manager naturally played down his return to Brittany, but the Rennes faithful chanted his name in acclaim the moment he re-entered his former theatre. After that bittersweet defeat back in October, his Racing Club de Strasbourg side was still very much a work in progress.
They departed Brittany in 12th position whilst big spenders Rennes were stalking the big boys near the summit of Ligue1 but as the story and plot twists of the season matured, the trajectories of Stéphan & France's manager of the year Génésio turned out to be eerily similar.
One could argue Stéphan was hard done by, to be overlooked for the honour of being crowned Ligue1 Manager of the Season especially when you evaluate the magnitude of the job he has done at Strasbourg.
Prior to Stéphan's arrival, Strasbourg supporters had been to hell and back, in 2011 the club succumbed to bankruptcy and was banished to the fifth tier of the French football pyramid.
The blue and whites fought their way back and had hung on in Ligue 1 for four seasons while gravitating towards the plughole of Ligue2, last season Strasbourg finished in 15th place, which seems about on par considering their resources relative to the rest of the league.
When a coach is endowed with the mercurial talents that Stéphan possesses, resources and players can be hotwired to become more than the sum of their parts, the young manager has had a remarkable impact.
Strasbourg have just accomplished their best finish in Ligue1 since 1980 (the year after they were crowned champions of Ligue 1), their 6th place finish is the club's best league ranking in over 40 years.
Remarkably, this success was not built upon a flurry of transfer activity, astonishingly the business Stéphan indulged in last summer yielded a profit!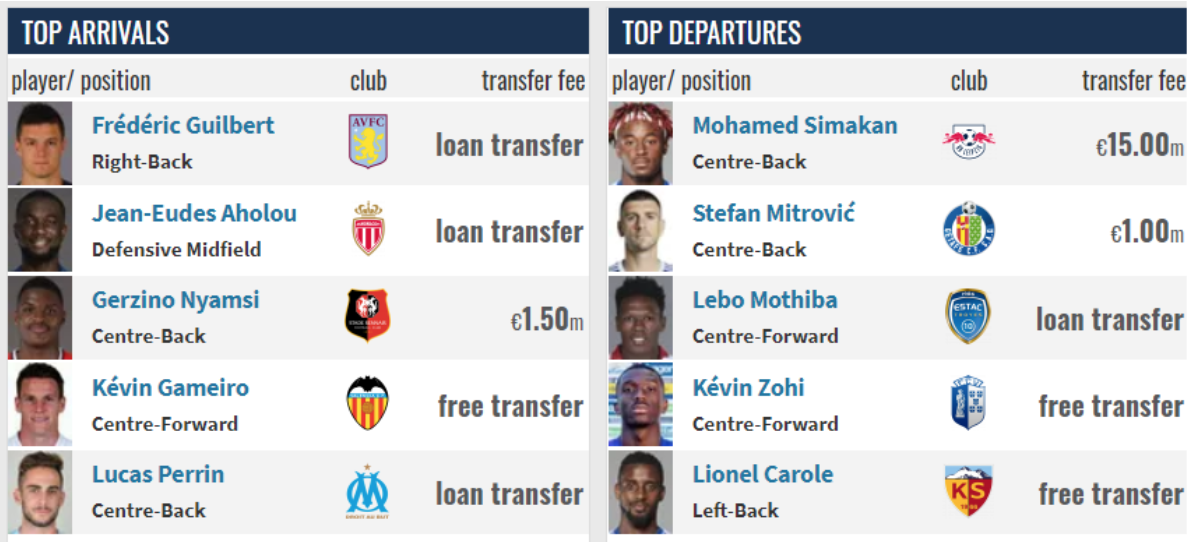 Strasbourg transfer dealings -taken from www.transfermarkt.com
It was not all plain sailing for Stéphan when his merry men set sail at the start of the season, in fact after their initial wobble and winless run, Strasbourg got on the straight and narrow and it took them until December to lose a further three games.
Stéphan had largely preferred a 4-4-2 system at Rennes, and it is one he initially tried to implement at Strasbourg, but after three defeats in the opening five games he changed to a 3-5-2 formation equipped with marauding wingbacks, his side have launched more crosses into the box than any other side in the division.
His attackers have feasted upon the generous supply conjured by his predatory-wingbacks, with three of his strikers hitting double-figures in Ligue1.  Man-mountain Ludovic Ajorque may grab most of the headlines but his partners in crime Habib Diallo and Kevin Gameiro have also grabbed plenty of goals. 
This level of Strasbourg performance is unprecedented in modern times, their defensive structure under Stephen also benefits their strikers, they tempt their opposition into going out-wide and once they do, the blue and white press activates often winning possession-back high up the pitch.
When his former conqueror Génésio came with his Rennes side to the electric Stade de la Meinau for the Ligue1 return fixture in April, his Strasbourg troops were a vastly different animal to the one that succumbed to defeat last October.
Casser Les Lignes:@Jeremy_Magan and @LiamScahill discuss the penultimate week in the Ligue 1 campaign:

Apple: https://t.co/9U3UuS3d3u

Spotify: https://t.co/3ZTk9x6CMN pic.twitter.com/aWbLblpijA

— Breaking The Lines (@BTLvid) May 19, 2022
Strasbourg played like a side propelled by momentum, not one that was facing a rival in the chase for a European place which ensured the game was very much a fabled footballing-6pointer, the Bluewave repeatedly pressurised the Rennes backline, unleashing a blitzkrieg of attacks eventually coming out on top 2-1.
The night air seemed to crackle and electrify with expectancy as it was charged by the buoyant Strasbourg atmosphere that their fanatic supporters are renowned for generating. In fact, it is UEFA's loss that Racing did not secure European qualification, the atmosphere and carnival their fervent fans evoke is deserving of a wider audience. 
On the final day of the season, Stéphan's developing side yielded to defeat at a raucous Vélodrom with Olympique de Marseille steamrolling their way to the holy grail of the Champions League money trail with a 4-0 victory, as the Strasbourg train simply ran out of steam after a merciless season among the big boys.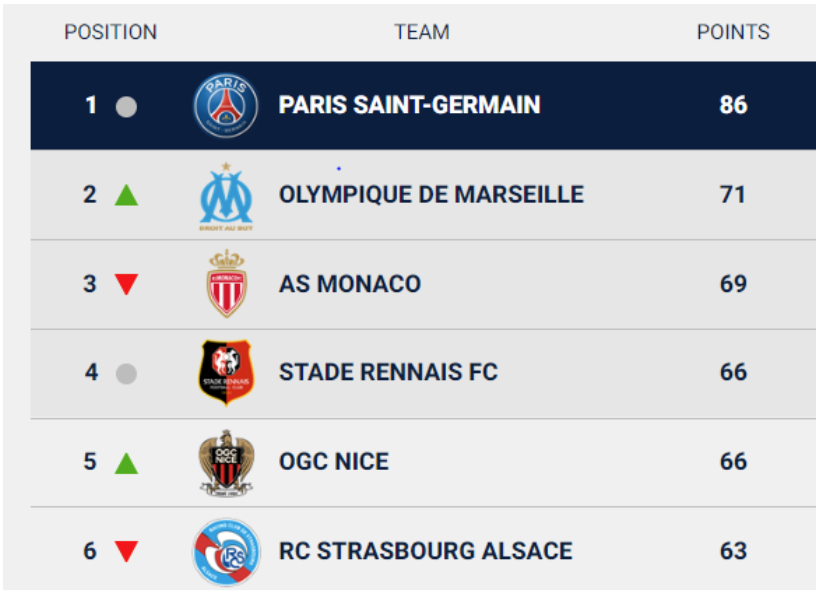 Ligue1 Final Table Courtesy of – Tables – Ligue 1 Uber Eats – LFP
Julien Stéphan's blue and white army surged on a run of form fused with blood-headed-bluster in early February which strengthened their European qualification credentials, their march would have been even more formidable if some draws were turned into wins.  
Points were dropped against Troyes and Lorient, but the Alsatians inspired by a red-hot firing front line entered the final day of battle at the Orange Vélodrome clinging onto the last European qualifying spot.
The Ligue1 footballing gods were in a benevolent mood on the last weekend of the season with the race for the European places coming down to the wire, as big-spending Rennes and Nice managed to get their European passports granted for next season.
For all its accelerated tactical evolution, there are times when the old maxim about football being a simple game are undeniably and last weekend as the light faded on another Ligue1 season was another occasion, as Strasbourg played to their strengths, mettle, and talent in an effort to secure an unlikely European qualification place. 
It was just one contest too many for the Alsace but with the magical Stéphan at the helm and the blue and whites inspired by the virtue of a champion-homeboy-sentry in Kevin Gameiro, there could be many more moments of gorgeous-footballing-voodoo to come. 
In simple terms, a Euro campaign with a threadbare squad may have hindered this burgeoning Strasbourg project more than it would ignite it.
Coco Channel once famously said:  "Simplicity is the keynote of all true elegance." And what is simply beautiful about Stéphan and this Strasbourg side, is their footballing elegance and endeavour is more than most bargain for. 
Next season could be even better for this sleeping giant, one that is befitting of the ambience at the Stade de la Meinau because with the unofficial best manager in France in your corner, anything is possible.
By: Liam Scahill / @LiamScahill
Featured Image: @GabFoligno / Hugo Pfeiffer / Icon Sport