The Complete U-21 Euros Group Stage Review
In just 7 days, the U-21 European Championships group stage has come to a close, a tournament whose peculiar scheduling and lack of preparation haven't taken any of the spectacles away. In the 24 group stage matches, we witnessed captivating individual performances, fluent midfield dominations, and more than enough goalkeeping errors.
Though many of the sides were without their most valuable players due to the tournament coinciding with the first World Cup qualifiers, the talent on hand could still turn the group stage into a gripping affair from start to finish, with new stars rising where others would have ordinarily taken their place.
In this piece, we look at each nation's performance in the group stages, looking at what went wrong for the countries whose dreams have been cut short, and how the remaining 8 nations stack up when the knockout stages begin in 2 months' time.
Group A

Netherlands
The Netherlands went to the tournament as one of the favorites, and although it took a while for Erwin van de Looi's group to perform up to their lofty expectations, by the final matchday everyone could see why the Jong Oranje had garnered such impressive praise. Whilst their first two performances (both 1-1 draws against Romania and Germany) lacked a cutting edge in the final third, their third fixture versus Hungary finally saw everything click into place, drubbing the host nation of Hungary 6-1.
The attacking formula of Cody Gakpo and Myron Boadu in particular was exceptional to watch in that encounter, superbly linking off of each other in the Netherlands' 1st and 3rd goal. Whereas in the previous two matches van de Looi had opted for a 4-3-3 that left space for only one of the Eredivisie talents in the starting lineup, the 4-1-3-2 which the Dutch lined up for against Hungary allowed both to begin.
This helped mitigate the isolation which both strikers had felt in the opening games, and meant the Dutch could now capitalize on the superb line-breaking passes from their central defenders by having a supporting body around the receiving forward to link play.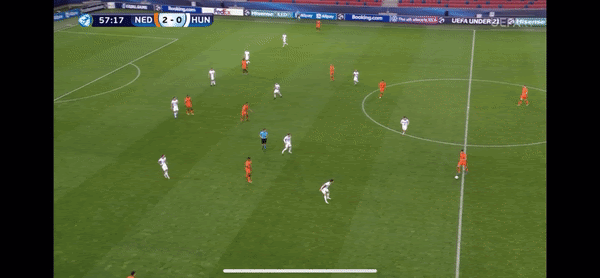 The tactical change to a 4-1-3-2 worked wonders for the Dutch game going forward, with Boadu and Gakpo linking up brilliantly (as pictured above in Netherlands 3rd goal in their 6-1 route of Hungary).
With a stalwart defense and an attack that has begun to click as the tournaments progressed, all the signs are there that the Netherlands can live up to their expectations as title candidates. Having topped Group A, Netherlands will face France in the quarter-finals, a gigantic opponent, however one they must overcome if they are to succeed in winning their first U-21 Championship since 2007.
Germany
The finalists from two years ago, Germany entered this year's tournament as outsiders for the title, boasting a solid 23-man squad, but without the significant names of previous generations. The first step has been conquered, however, with Germany mastering progression to the knockout stages with a stalwart defense and a bit of luck as they held on for a 0-0 draw in their final match versus Romania.
Germany have also suffered from a lack of production in the final third, missing a true number 10 capable of playing the final pass to unleash Germany's dynamic front line of Mërgim Berisha and Lukas Nmecha. Though Stefan Kuntz's side looked slightly more dangerous when a more dynamic midfielder like Mateo Klimowicz entered the fray, Germany's 1 goal from open play against Romania and Netherlands plainly displays the issue Kuntz will need to smooth out ahead of a quarter-final versus Denmark.
However, in build-up phases Germany looked exceptional, quickly changing the point of attack and maintaining impressive composure under intense opposition pressure. Controlling the pace of the game with his complete oversight, and initiating the sides impressive gegenpressing with his sharpness out of possession, KAA Gent midfielder Niklas Dörsch was one of the best defensive midfielders in the entire competition.
There are many positives to take from the group stages, with a young German side playing football throughout 2/3rds of the pitch, and remaining secure at the back were it not for a shocking goalkeeping error versus the Netherlands from the otherwise stellar Finn Dahmen. If Kuntz can find a way to integrate a more creative midfielder, whilst retaining the defensive efficiency which Germany had throughout the opening three matches, this U-21 side could have a good shot of at least reaching the final again this year.
Romania
Romania were the darlings of the 2019 tournament, venturing all the way to the semi-finals before narrowly losing 4-2 to finalists Germany. Though the young Tricolorii bowed out significantly earlier this year, it is another step in the right direction for Romania. In 2019, it was the front line around Florinel Coman, Ianis Hagi, and Dennis Man which stole headlines. This time around, another generation of scintillating attacking talent graced the Championships, combining speed and a drive to goal which was lacking in even some of the biggest competitors in the tournament.
Alexandru Mățan (whose recent move to the Columbus Crew in the MLS raised more than a few eyebrows) was one of the attackers who flourished, scoring a sensational goal versus Hungary, and posing a constant threat with his technical dribbling and change of pace versus Germany. Matan's former club teammate Ciobanu was also exceptional, opening the sides account with a sensational freekick versus Holland, and driving possession forward from a central position.
Were it not for a slight injury that forced the 23-year old to remain on the bench for most of the final encounter versus Germany, we could easily be speaking of Romania as the side progressing through Group B at Germany's expense. Instead, Adrian Mutu's side failed to find a way past Germany at the Bozsik Aréna and would go on to crash out of the group stage on goal difference (+1 vs. Germany's +3).
Hungary
As the co-hosts of the 2021 Under-21 European Championships, Hungary earned a free pass to the finals, a great opportunity for everyone involved. However, just days before the tournament was set to begin, disaster struck, with 4 players from the final roster testing positive for COVID, including their captain, goalkeeper Patrik Demjén.
The Best Performers From the 2021 Under-21 European Championship Group Stage
This last-minute setback played out in the sides results on the pitch, looking disorganized, and unconvincing as they succumbed to 3 defeats. Particularly in the matches versus Germany and Netherlands, Zoltán Gera's side put up more than a dismal showing, playing far too passive as they allowed their opposition to completely impose their will on them. In their second fixture vs. Romania, there were good signs, narrowly losing 2-1 despite playing the entirety of the second half with 10 men, however, all in all, the quality of their opponents was simply too strong for the Hungarians.
Whilst there weren't any particularly strong performers in a side who spent most of their 3 matches chasing the opponent, the assist from fullback László Deutsch versus Romania was phenomenal, finding his teammate András Csonka with an excellently timed driven cross. With no left-back in the full international side locked down in the position, perhaps Deutsch could creep into the equation for this summer's European Championships if he can establish himself in the first XI at his club side Puskás AFC.
Group B

Spain
Much was expected of the reigning champions heading into the tournament, and although they have progressed in first place from Group B, the performances along the way have been far from convincing of a successive title. The Spaniards' lack of a lethal number nine was apparent throughout, with Abel Ruíz starting all 3 of the matches, and failing to find the net on any occasion. Though the former Barcelona forward was heavily involved in build-up phases, it was only until the introduction of a more traditional striker in the final 30 minutes versus the Czech Republic when Spain were able to seal their qualification.
In just over 40 minutes of tournament action, Levante striker Dani Gómez found the net twice, once making a well-timed run for a simple tap in, and the other a smashing finish on the volley.  Whilst Spain have often favored a forward whose qualities in possession outweigh any production in front of the net, a side's fortunes in the knockout stages will turn on defining moments in front of goal, and having a striker capable of dispatching chances will be imperative in Spain's title hopes.
Defensively, the Spaniards have been untested, yet to concede a goal in 270 minutes of action. If anything, the odd chance came from their own individual errors. Hugo Guillamón and Martín Zubimendi both made poor mistakes in build-up phases, whilst goalkeeper Álvaro Fernandez's hesitance, when confronted with aerial deliveries, could have proven costly. On a brighter note, Roma midfielder Gonzalo Villar consistently shone throughout with excellent performances in the center of the pitch.
Overall a solid display in the group stage, coming through the first round relatively unscathed, although a tougher draw could have tested the inefficiencies apparent in Luis de la Fuente's side. It must also be noted that a big portion of nailed on starters were missing after being called up to the full national team for World Cup qualifiers, a star-studded list that includes Eric García, Ferran Torres, Pedri, and Pedro Porro, not to mention Ansu Fati who remains sidelined through injury.
Italy
After failing to progress from the group stages in the 2019 edition on home soil, a deeper run in the competition was required this time around. And so far so good for Paolo Nicolato's side, although it hasn't exactly come without any bumps in the road. The five red cards in the group stage are a glaring negative on Gli Azzurrini's record, with the number of rash tackles and poor decision-making more than just a product of youthful exuberance.
Particularly Sandro Tonali's sending off left a bad taste, needlessly stamping on his opponent's leg late into the opening fixture. For a player who has already represented the full national team seven times, and is a regular for Italian giants AC Milan, such despicable decision-making throws a wrench into what could have been a massive platform for him to build his case for a spot in Roberto Mancini's A team this summer.
However, what was a missed opportunity for Sandro Tonali was a chance taken for another ex Rossonero. Arguably the best player of Group B, Patrick Cutrone has excelled as a second striker in Nicolato's 3-5-2 formation. Whilst his long-range strike against Slovenia attracted the most headlines, his most impressive work was in the creative department, either dragging an opponent center back out of position with his movement or playing an exceptionally weighted through ball to his strike partner Gianluca Scamacca.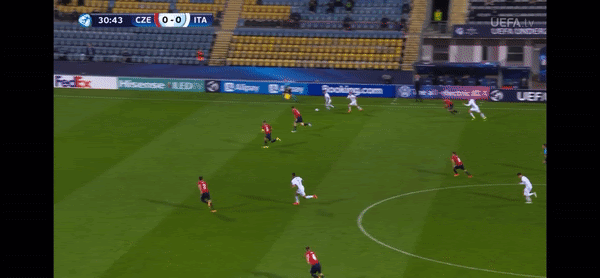 Whilst he has slightly stalled since signing for Wolves in 2019, the U-21 European Championship showcased why Cutrone is still capable of fulfilling the early promise he showed at AC Milan. His impressive assists vs. the Czech Republic was just one of many significant moments he had in Italy's 3 group stage matches.
Some other impressive performances have come from less established names, with the Serie B duo of Marco Carnesecchi and Davide Frattesi showcasing their credentials for topflight minutes next season. Frattesi worked his magic in midfield, constantly providing a nuisance with his bursting runs and well-placed through passes.
A mix between an attacking midfielder and a box to box general, Frattesi's performances offered a shining light in a midfield overshadowed by Tonali's absence. With Italian media already comparing the youngster to Inter Milan ace Nico Barella, Frattesi could play a key role at his parent club Sassuolo once his loan at Monza expires this summer.
Italy are presented with the unenviable task of Portugal in the quarter-finals, an opponent which they will not be fancied to progress past. However, Nicolato's side will be significantly boosted with the return of Scamacca and Tonali for that knockout stage showdown.
Czech Republic
The Czech Republic were one of the surprise contenders in this year's Championships, topping a qualification group where they took 4 points from Croatia in the two matches they played. However, the tournament has proven a step too far, with the Czech Republic's attacking talent offering little in way of danger for the opposition.
The few chances that the Czechs did create often came from set-pieces, where 17-year-old Adam Karabec's stellar delivery created two own goals. Yet these would be the only two goals the Czech Republic would register across the 3 matchdays, failing to create enough dangerous opportunities to have turned draws versus Italy and Slovenia into victories.
Defensively, coach Karel Krejčí's side was well organized, reducing the chances of individual errors with a direct style that didn't allow for misplaced passes in build-up phases. Though his side never truly threatened to go deep into the tournament, it is noteworthy that even the dominant Spaniard's needed until late in their matchday 3 encounters to turn a 0-0 in their favor. Overall a solid, albeit uninspiring performance from the Czech Republic youngsters.
Slovenia
Like their co-host Hungary, Slovenia also bow out in the group stages. Yet the same passiveness that could describe Hungary's performance against Germany can't be used to describe Slovenia, who after 27 minutes had already registered 3 yellow cards in their opening fixture versus Spain. Playing in a low defensive block, Slovenia operated impressively for large portions of the tournament, keeping Spain at bay until the second half, and only failing to register all 3 points against the Czech Republic after an own goal from Nik Prelec equalized in the 85th minute.
Ultimately, Slovenia ran into many of the same issues as the Czech Republic, failing to create enough dangerous opportunities, or enter sustained spells of possession. In the final match, this became all too evident, where an unchanged lineup from the match 3 days earlier fell apart against Italy. Having spent so much time defending and chasing after the ball, Slovenia simply weren't able to maintain the performances beyond two matches in such a short space of time.
Group C

Denmark
Denmark have been the positive surprise of the U-21 European Championships so far, topping Group C and taking the maximum points total from their opening 3 matches. Whilst other nations have failed to create goal-scoring opportunities, the Danes' creative hub was impeccable, with the midfield and wingers servicing each other for some of the most beautiful goals in the tournament's group stage matches.
From the midfield this predominantly came from 21-year-old Jesper Lindström, excelling in front of a more workmanlike double pivot. His stellar line-breaking passing and elegant dribbling were key in the Dane's 3-0 victory over Russia, providing two assists to secure Denmark's spot atop Group C. If he continues this form at club level, he could be the next Brøndby player to earn a big move after Christian Nørgaard and Riza Durmisi.
On the wings, the duo of Jacob Bruun Larsen and Gustav Isaksen was imperious, either beating a man in a 1v1, or drawing defenders into a tackle before releasing a free teammate. Though Isaksen is still a raw talent at 19 years of age, Bruun Larsen showed why he has almost 50 Bundesliga games and a half dozen Champions League matches to his name, providing what is undoubtedly the assist of the tournament versus France, and opening the scoring versus Russia.
Though the talent in the starting 11 has shown more than enough ability to compete for the title this year, coach Albert Capellas has even more attacking options at his disposal on the bench. Mohamed Daramy, an even younger winger than Gustav Isaksen was a menace, using his pace and power to ease off tiring opponents. In the latter stages of matches, adding a dynamic threat like Daramy could provide pivotal in overturning a deficit.
As too could the introduction of midfielder Morten Hjulmand, who may not be blessed with the same quickness of the various players we have mentioned, but is more than capable of dictating the pace of a game with his quick passing and oversight. Although Capellas's decision to go with a defensive double pivot has been vindicated in Denmark's group stage results, the possibility of seeing Hjulmand and Lindström together is increasingly exciting.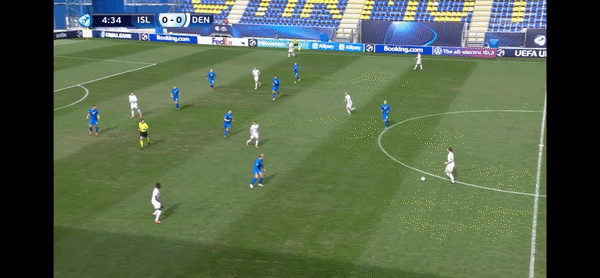 Morten Hjulmand may not be a starter for the Danes, but his impressive performance versus Iceland should not be overlooked. A beautiful assist after some quick one-touch play from the midfielder helped Denmark open the scoring versus their Scandanavian opponents.
There are few glaring weaknesses in the Danish side, compact defensively and exhilarating in attack. Goalkeeper Oliver Christensen is perhaps the only weak link, shaky with his feet and not particularly blessed with a dominant height at just 1.9m. This has played out with his indecision at crosses, often flapping at aerial deliveries, and even giving away a penalty after a scramble versus Iceland.
France
France have one of the most celebrated squads at the Championships, with few if any of the 23 players not regularly starting for a club in a top European league. Yet it hasn't clicked yet for Les Bleuets, scraping through Group C without the real superiority which their roster should suggest. The biggest issues have actually arisen from the quality of personnel at Sylvain Ripoll's disposal, with the 49-year old manager finding it difficult to strike a balance between getting the most talented personnel on the pitch, whilst also retaining a highly functioning side.
This was most apparent in the sides opening defeat to Denmark where center-back Wesley Fofana was used out of position at fullback. Though Fofana was not disastrous, it became clear that he was not comfortable on the right side, and rather than look to get another stellar French center-back on the pitch, Ripoll would have been better off trusting a lesser player in right-back Colin Dagba to fulfill a role he is accustomed to.
These same themes were apparent in the midfield as well, where 7 different players started across the 3 matches. Competition for places is never a bad thing, however, when players aren't able to develop relationships in a settled side, it is difficult even for a highly talented crop of players to compete at a level equal to the sum of their parts. Every side was hindered by the lack of preparation, going into the tournament with just one or two light sessions between the player's latest club fixture, and their first match in the European Championships.
However, the knockout stages are scheduled to allow teams at least a week on the training pitch before it begins this summer, a feature which no side will profit from more so than the French. On the 31st of May, the Bozsik-Arena in Budapest will entertain one of the tightest and most exciting fixtures of this summer's Championships, with France set to face off against Group A winners Netherlands.
Russia
Returning to the finals for the first time since 2013, Russia had an interesting experience, beginning with an eye-catching 4-1 victory over Iceland, before petering out with two successive defeats with an aggregate scoreline of 0-5. The opening fixture versus Iceland was as dominant as the scoreline would suggest, with Russia playing free-flowing football that was amongst the most impressive witnessed in the opening round of fixtures.
Particularly 17-year-old Arsen Zakharyan dazzled, picking up possession in pockets behind the Icelandic midfield and slaloming through opposition tackles en route to goal. His goal and assist were an understatement to his dominance in that opening fixture. Yet the same enthralling football which the Russian's displayed vs Iceland didn't materialize again, playing out a cagey affair versus France which was ultimately settled on two penalties. Even the match against Denmark was far from the dominance on show in their opener, too hastily taking long-range shots when a more patient approach would have warranted better results.
There is an undeniable level of talent coming through in Russia, with Zakharyan just one of many who put an impressive image forward against Iceland. Whilst the blame could be heaped upon coach Mikhail Galaktionov for failing to retain such a dominant style when faced with stiffer opposition, many of the mistakes which led to Russia's demise were individual errors that were mercilessly exposed by both the French and Danish attacks.
Iceland
As we have already alluded to, Iceland did not have an impressive return to the European Championships, finishing with 0 points and a -7 goal difference. It was often the lack of their attacking incentives however which led to the side's defensive demise, failing to release the sizable pressure on their backline through sustained spells of possession or quick counter-attacks. In their 3 matches, Iceland registered 39%, 25%, and 26% possession.
Although possession isn't necessarily a great predictor of a sides' ability to succeed, with so many games packed into just a week, the amount of time Iceland spent chasing the ball would have undoubtedly taken a toll and been one of the reasons why they put up such a slumped performance against France on the final matchday. Despite their poor showing, Iceland still has a lot of talent which should not be immediately written off.
For a start, the fact they even qualified is a testament to the excellent work going on in a country with a male population of just over 182,000. Having finished second in a qualifying group that included Italy, Sweden, and Ireland, Iceland are far ahead of dozens of more populous European countries when it comes to youth development.
Group D

Portugal
Heading into the tournament, Portugal were amongst the favorites, boasting a squad rich with individual talent across all the key positions. Now 3 games later, the Esperanças have all but cemented their status as the front runners for the title, playing breathtaking football with a fluidity that has been unmatched by any of their competitors. Though each component of the side could be singled out for praise, the midfield has been the hub of Portugal's dominance. Manager Rui Jorge has found an impeccable mix of creativity and defensive solidity in his youthful side, using the full extent of his midfield talent to great success.
Whilst Porto midfielder Fábio Vieira was undoubtedly the player of the tournament so far with his genius passing and goal threat, the more defensive Florentino Luís was key in withstanding English pressure and starting attacks in the first half of their matchday 2 encounter. Equally, Vitinha and Daniel Bragança mandate praise, with the former's dribbling carrying Portugal up the pitch, and the laters calmness in tight spaces helping secure a rousing 3:0 victory versus Switzerland.
Out of possession, Portugal held none of the characteristics of a side focused on flamboyance and creativity, pressing their opponent with an insatiable desire to win back the ball. This would often force turnovers high up the pitch, highlighted in their opening goal versus England and their 3rd versus the Swiss. Despite being deprived of Nuno Mendes, Pedro Neto and João Félix by the senior team, and despite missing Rafael Leão and Jota due to injury, Portugal dominated as expected.
Five Players Who Could Replace Pepe for the Portugal National Team
Whilst this predominantly functioned as a tool to quickly win possession in dangerous goal-scoring positions, it also alleviated much of the pressure which could have been festered onto the Esperanças' backline. Far too often, sides would be forced into long hopeful balls, which the center-back duo of Diogo Leite and Diogo Queirós easily dealt with. It is hard to point to a fault in the side, with the attack functioning superbly, the defense being generally untested, and even various substitutes coming up with crucial attacking incentives in the first three fixtures.
Croatia
In a tight run for second place that went down to the final seconds of group play, Croatia emerged victors. Though their 3 points and negative goal differential doesn't reek of a side capable of competing for the title, there have been more than enough signs to show that Croatia's performances deserve more than their meager points tally would suggest.
For a start, Croatia's left flank has been a joy to watch, with the combination of Domagoj Bradarić and Luka Ivanušec causing a constant threat in the 3 group stage matches; with Bradaric even scoring the decisive winner to send them into the knockout stages. Ivanuseč was the more impressive throughout the tournament, often cutting inside to create space for Bradarić to push into, or go for goal himself.
This movement helped create numerous opportunities for Bradarić on the wings, as well as win a penalty which captain Nikola Moro calmly dispatched. Perhaps Moro is the next figure to touch on, with his century of appearances for boyhood club Dinamo Zagreb clear to see across the group stage matches. Operating in a double pivot, Moro was a generally assured conductor, using his passing range and physical prowess to knit Croatia's more dynamic parts together. His stellar assist for Dario Vizinger's goal versus Switzerland showcased yet another feather in his cap.
With just one victory in their three group stage matches, Croatia clearly have some things to work on if they are to stand a chance against Spain in the quarter-finals. Whilst their left flank earned well-deserved praise, the right side of Croatia was far more functional and lacked any real attacking incentives. At right-back was Šverko, whose traditional positioning in the center of defense was clear to see with his hesitancy to join the attack, or even whip in a good delivery.
Though his defensive cover was probably necessary to complement the marauding Bradarić at right-back, it meant that Croatia was very one-sided in their attacks and could be easily nullified once the opposition addressed their right flank. Croatia also lacked a spark from the bench, relying on a key group of individuals whose absence could see the side crumble. Most notable was the late collapse versus Switzerland, where a 3-0 lead was almost handed away after Igor Bišćan looked to rest a couple of key players for the final fifteen minutes.
In the England match, these same issues once again came to the fore, when a battered Lovro Majer was forced to enter the fray to bring some more creativity to a subpar Croatian midfield. It was his introduction in the 76th minute that ultimately tipped the game on its head and enabled Croatia to book their ticket to the knockout stages.
Switzerland
Switzerland's tournament started with a bang and ended with a pitter, bowing out after two successive defeats. Though there were some impressive performances throughout the group stage, individual errors and a lack of quality in reserve cost Mauro Lustrinelli's side. The matchday 2 defeat to Croatia illuminated both of these features, with the decision to rotate in key positions ultimately canceling out the impressive victory over England 3 days earlier.
One of the most impressive performers in their opening victory over England was Alexandre Jankewitz, a defensive midfielder for Southampton who absolutely dictated the game against his Premier League counterparts. Sensing when he could bridge lines with his pace and power, and when it was better to keep things ticking over with quick passing and simple decision-making, Jankewitz was a joy to watch.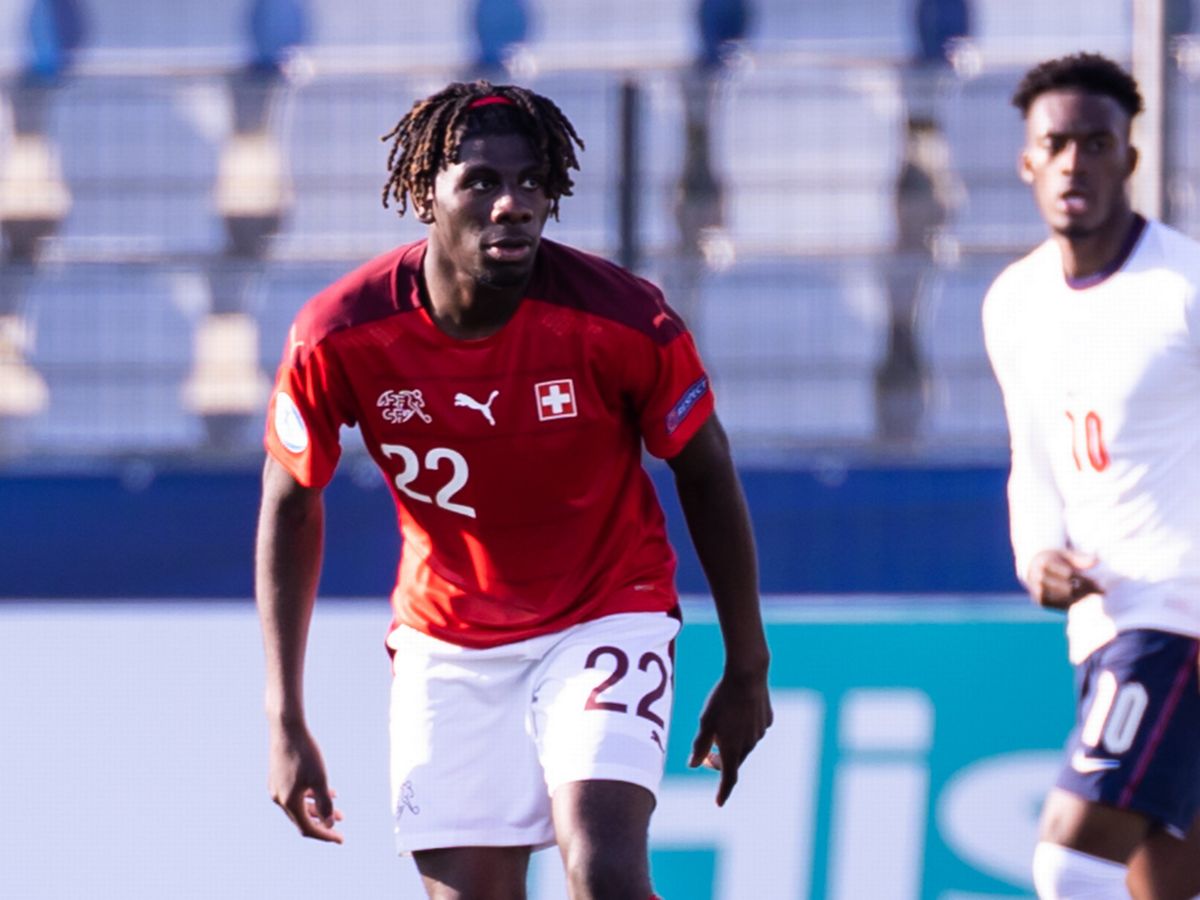 Photo: 2021 Eurasia Sport Images
His omission from the side against Croatia left gaping holes defensively and a lack of creativity in build-up phases. It wasn't until his introduction in the 65th minute when Switzerland began to wrestle a foothold back in the match and claw back two goals to come inches away from equalizing. Lustrinelli corrected his mistake by starting him against Portugal, but he neglected to put arguably their finest performer, Bastien Toma, in the starting line-up.
Switzerland also could feel disappointed in the performances of their two strikers, Jeremy Guillemenot and Andi Zeqiri who failed to score across a combined 280 minutes of football. Whilst neither could be faulted for their work rate and hold-up play, their lack of end product meant a lot of the attacking production fell on the OGC Nice duo of winger Dan Ndoye and fullback Jordan Lotomba.
In the final third, Switzerland lacked an end product, but those issues were multiplied in their own defensive third where individual errors gifted goals to their opponents. Anthony Racioppi became the latest to add his name to a growing list of error-prone goalkeepers when his wayward kick landed at the feet of Luka Ivanušec to put Croatia in front.
England
There has not been a bigger disappointment in this year's championships then The Young Lions and their manager Aidy Boothroyd. Playing dismal football in stark contrast to the level of personnel available, England deservedly finished bottom of Group D. After failing to qualify to the knockout round for a second straight U-21 Euros, it is clear that Boothroyd can no longer be given an opportunity to mishandle England's promising crop of youngsters.
The issues must begin with the manager, getting his lineup and tactics wrong in England's opening two defeats in the competition. Against Switzerland, England lined up with a back five and two defensive midfielders, nonchalantly retaining possession in their own half whilst never threatening any incision or line-breaking passes. With errors abounding, and the various components of the sides seemingly uninterested in playing collective attacking football, Switzerland came out deserved 1-0 victors.
Whilst the second fixture versus Portugal at least allowed us to see England in a more progressive 4-3-3, many of the same issues still abounded. The midfield duo of Oliver Skipp and Tom Davies looked lost against Portugal's dynamic midfield, turning over possession in dangerous areas, and looking far too disjointed to halt their opponents' brilliant attacking play.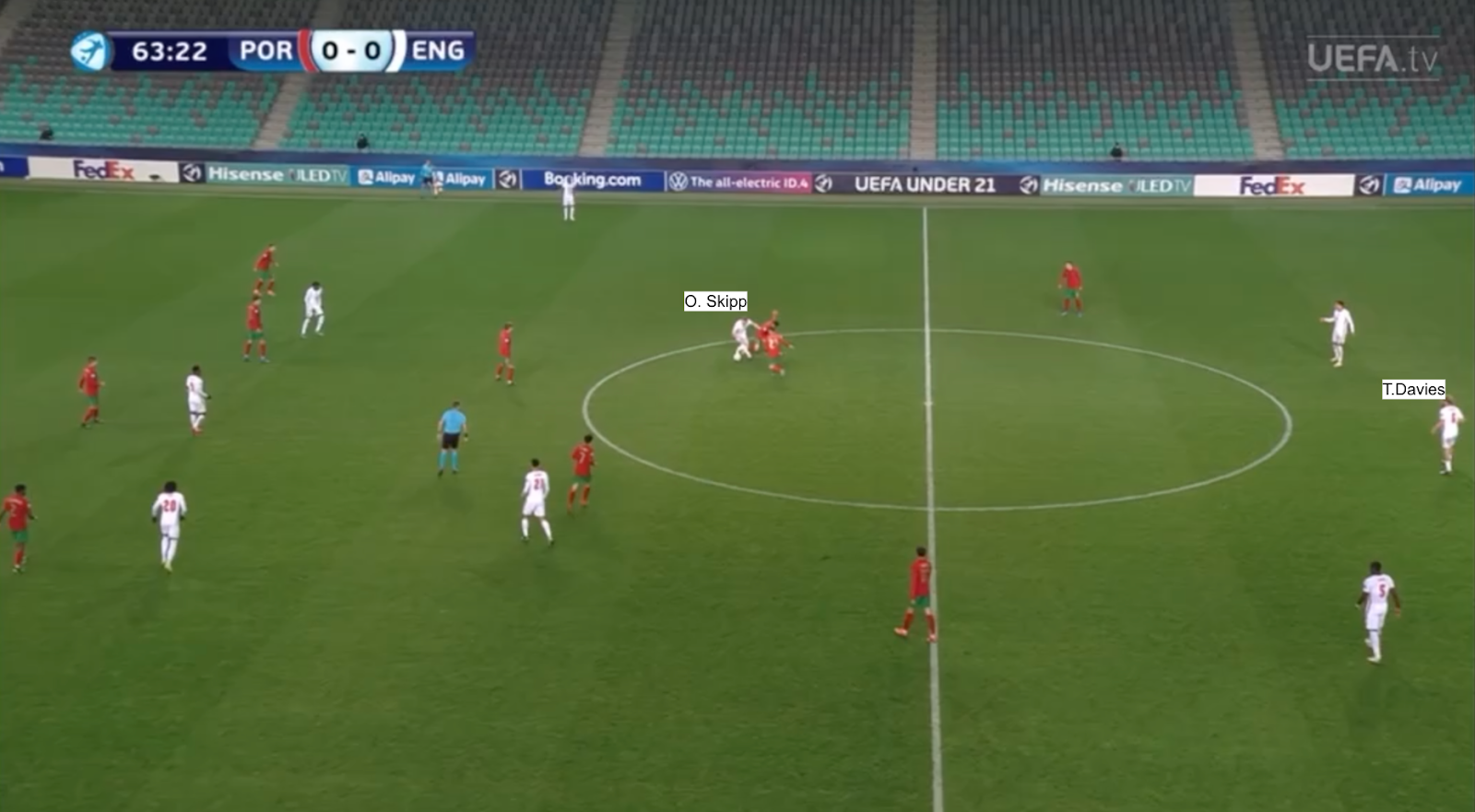 Oliver Skipp loses possession poorly in the midfield, whilst Tom Davies is too far apart to help intervene and slow down a Portuguese counter.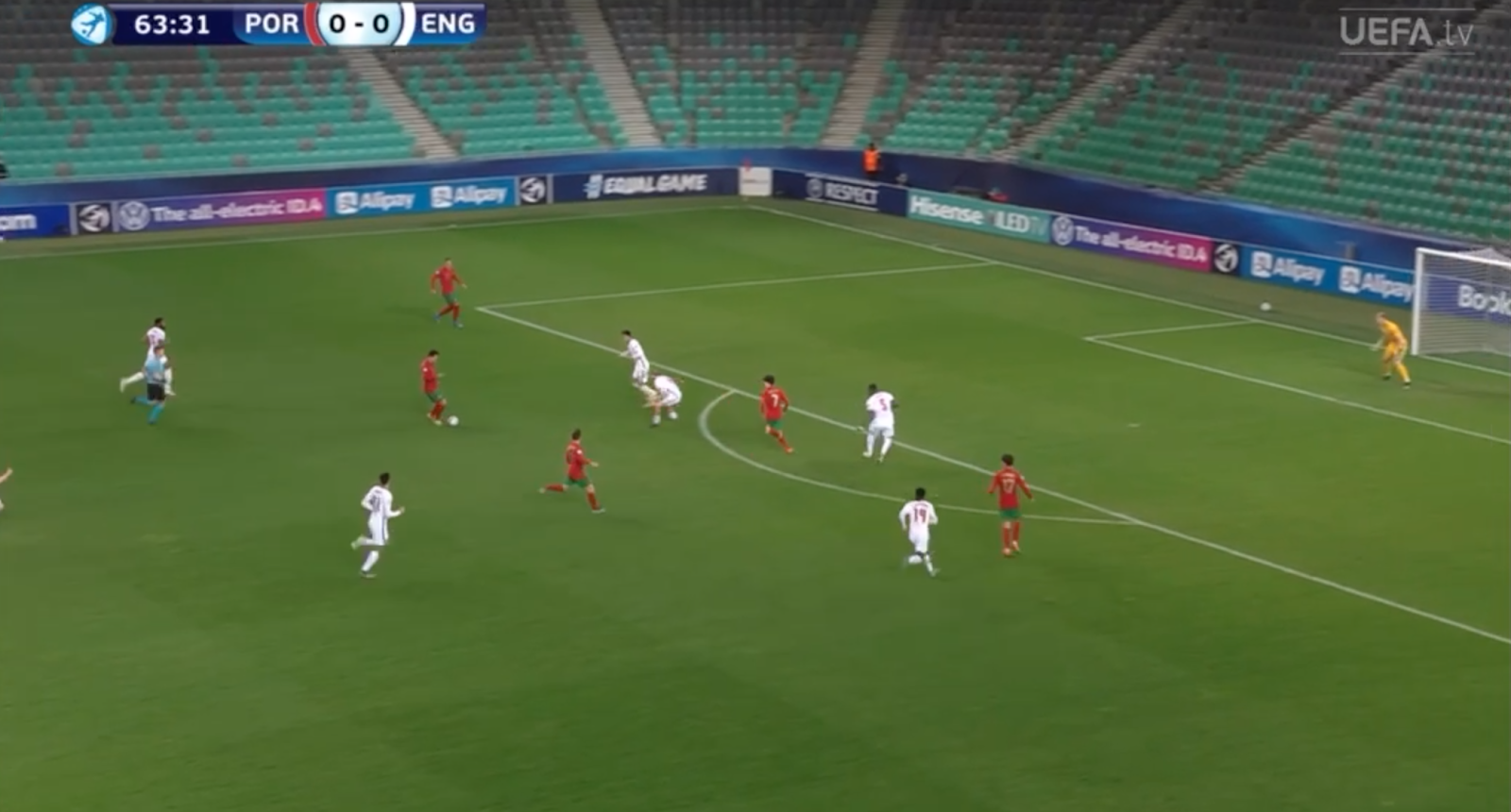 5 Portuguese players could then storm into the English box completely unopposed, ultimately leading to the opening goal in their favor. This massive separation between the two English midfielders was one of the key reasons for the Young Lions' disappointing campaign. 
Of course, there was the odd impressive moment, with Skipp occasionally finding ways to dictate the tempo of the midfield, Eberechi Eze adding a different dimension to the attack when his tempo dribbling was added to the midfield, and Curtis Jones reminding us all of his phenomenal talents with his impressive finish versus Croatia. However, all in all, Boothroyd failed in impressive fashion with the Young Lions, and his continued position as manager of the U-21's is justly under immense scrutiny. 
Two months after the completion of the group stage, the 2021 UEFA European Under-21 Championship will recommence on May 31, with Spain facing off against Croatia and Portugal competing against Italy in Slovenia, whilst Denmark will go up against Germany and Netherlands will take on France in Hungary. Spain and Italy will be eyeing a record sixth championship, while Denmark, Croatia and Portugal will be looking to win the competition for the first time in their history.
By: Adam Khan
Featured Image: @GabFoligno / Marcio Machado / Getty Images – MB Media / Getty Images / Eurasia Sport Images / Getty Images Sport