The Bundesliga 2020/21 Season Review
Another Bundesliga season has come and gone, where perhaps the only thing that has remained the same throughout this most peculiar of campaigns is that FC Bayern is once again Deutscher Meister. In the past season we have witnessed it all, with 892 goals flying into the net, 1,112 cards being brandished by disgruntled referees, and way too many points to count leaving the VELTINS-Arena on successful away trips. 
In BTL'S Bundesliga Season Review, Adam Khan, Karan Tejwani, Tom Weber, & Eskender Tamrat take you through the highs & lows of the past 246 days of Bundesliga action, looking at everything from Our Best XI, to the biggest underperformers. We hope you enjoy this exclusive recount of the 58th Bundesliga season!
The Player of the Season Was…
Adam:
There's only one name who can earn these plaudits, and it's Bayern striker Robert Lewandowski. With 41 goals, Lewandowski has enjoyed a breathtaking season, dethroning the legendary Gerd Müller's record of 40 goals in one Bundesliga campaign. With 11 more goals than Europe's second-best goalscorer in 2020/21 (Lionel Messi: 30), surely Poland's talisman must win his first Ballon d'Or this year!
Karan:
It's impossible to look beyond Robert Lewandowski. Breaking a 48-year-old record is enough reason. What's more impressive is that had he not been injured at such a crucial part of the season, he may have amassed about 45 league goals and perhaps helped Bayern Munich further their Champions League run. It's still a shame that he never won the Ballon d'Or he so richly deserved.
Tom:
It's Robert Lewandowski and it's not even a debate. When you break Gerd Müller's record of 40 goals in a single campaign, you automatically become the Player of the Season, those are the rules. You truly run out of superlatives for the Pole because he is simply a freak of nature. His physique, his movement, his utterly relentless consistency; he is just such a joy to watch.
Eskender:
I really wanted to pick someone else here, but what Robert Lewandowski achieved and the lack of a real competitor for the POTS left me to stick with the second coming of Der Bomber. Amazingly, Lewa finally managed to surpass the record when he played fewer than 30 games for the very first time in the Bundesliga. Amazing to see this 32-year-old legend still going strong in the game, and I think we are all with former Germany international Mario Gomez when he said, "I hope we'll have three or four more years of Lewa's excellence in the Bundesliga." 
The Biggest Flop of the Season Was…
Adam:
In the space of 8 months, Milot Rashica has gone from one of the hottest items in the Bundesliga to a spare thought at relegated Werder Bremen; an unmatched fall from grace. The likes of RB Leipzig, Liverpool, West Ham, and Bayer Leverkusen were queuing up for Rashica's signature last summer, willing to pay upwards of €25 million to secure the 24-year old's services. Yet, Bremen were somehow able to retain their fleet-footed winger for another year, a decision which they must no doubt rue as his value has plummeted in a matter of months.
This season, Rashica has scored just 3 goals, and has made almost half of his appearances off the bench as a late substitute. Whilst the Kosovan international has the undoubted quality to play for a side in the top half of the Bundesliga, it is unlikely anybody will be willing to pay more than €8 million for Rashica this summer.
Karan:
I've gone for Thomas Meunier. He wasn't impressive at Paris Saint-Germain, and when Borussia Dortmund opted for him to replace the departing Achraf Hakimi there wasn't great enthusiasm. Meunier's had plenty of below-par performances, has proven to be ineffective going forward, and far too inconsistent at the back.
It'll be interesting to see how much he's involved under Marco Rose, with Meunier's end to the season showing that Dortmund could live without him. He was barely involved in the knockout stages of the Champions League and their DFB Pokal success, while his league minutes were limited throughout the campaign. Even though it was a free transfer, Meunier's been an inadequate replacement for a player that had offered so much in his two years on loan from Real Madrid.
Tom:
Leroy Sané arrived at Bayern with massive expectations. He was supposed to take them to an even higher level than they were already playing at; he was, in many ways, supposed to be the heir to Robben's throne. However, that just has not materialized. Of course, he had his odd moments of brilliance, but he's just been too inconsistent, timid in the attack, and, unfortunately, injured, to have had the desired impact in his first season in Munich.
Eskender:
Yes, Douglas Costa deserved this accolade, but I'll ignore it as if it never happened since I knew it wouldn't work from the moment he signed last October. A winger whom I expected much more from however was Dodi Lukebakio. He was the man for the big moments at Fortuna Düsseldorf, but he usually cost the team with Friedhelm Funkel's system demanding constant defensive responsibilities from him.
Hertha freed him from all this, and he was one of their brightest players last term after signing for €20.00m. This season's stats are not actually that far off, but he was rather disappointing in the crucial moments, and a symbol for all that went wrong at Die Alte Dame this year.
The only positives were his two important penalty kicks against Augsburg and Union Berlin, which gave Hertha 4 essential points in their successful campaign for topflight survival. I hope he'll find his form back at Hertha next season, because his talent is undeniable. 
My Team of the Season (Using Only 2 Players Max From One Club) Was…
Adam: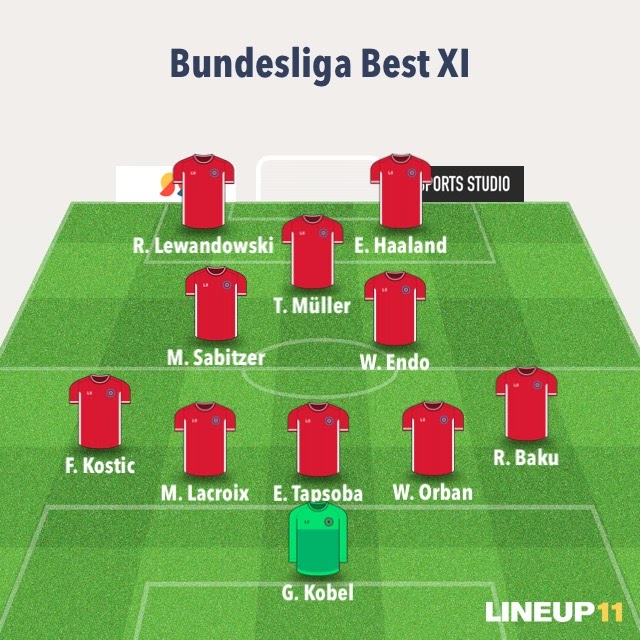 A tough task this was indeed, and besides the Bayern duo, I think every player in the squad could easily have been replaced by another pick. I choose the 5 at the back formation primarily to use Filip Kostić and Ridle Baku, two players who have been excellent this season in their attacking interpretations of the wing back role. Further up the pitch, I would have loved to introduce Lars Stindl, however there was no way past Thomas Müller and Erling Haaland.
André Silva could equally have been in with a strong shout, along with Dayot Upamecano, Raphaël Guerreiro, and Marvin Friedrich in the backline. As for a manager, it has to be Urs Fischer, not just keeping Union Berlin in the topflight for a second season, but qualifying for the European football with a shoe-string budget.
Karan: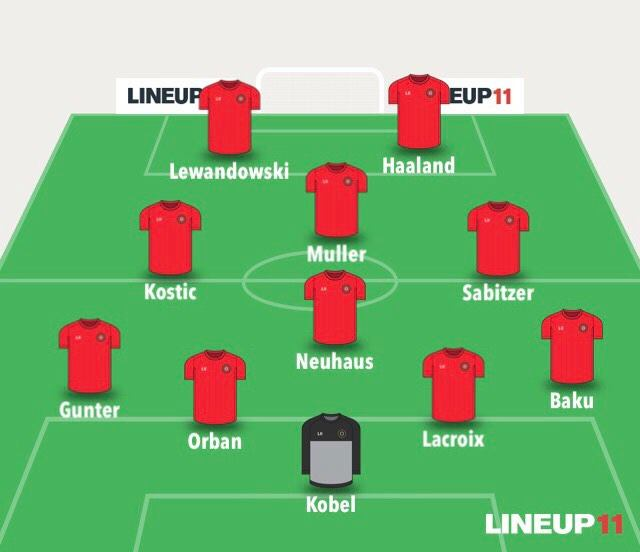 Difficult to pick because there are a few good ones that had to miss out like André Silva, Marvin Friedrich and Lars Stindl. In my opinion, Willi Orbán and Maxence Lacroix were the best centre-halves this season. Orban rarely gets credit due to the presence of Dayot Upamecano and Ibrahima Konaté. In midfield, Florian Neuhaus was brilliant and it's great to see that he's off to the Euros with Germany. Marcel Sabitzer, once again, very consistent, and Filip Kostić was a joy to watch post-Christmas.
Up front, Thomas Müller, Erling Haaland and Robert Lewandowski carried on as usual. Not much more I can say about them – their performances speak for themselves. Ridle Baku was a surprise – I didn't think he'd be this good since joining Wolfsburg, and I was sad to see him miss out on a spot for the Euros considering Germany's lack of quality at fullback. I'll go for Bo Svensson as manager – when he joined, Mainz were in Schalke-esque form, but to end up comfortably avoiding the drop in 12th place is impressive.
Tom: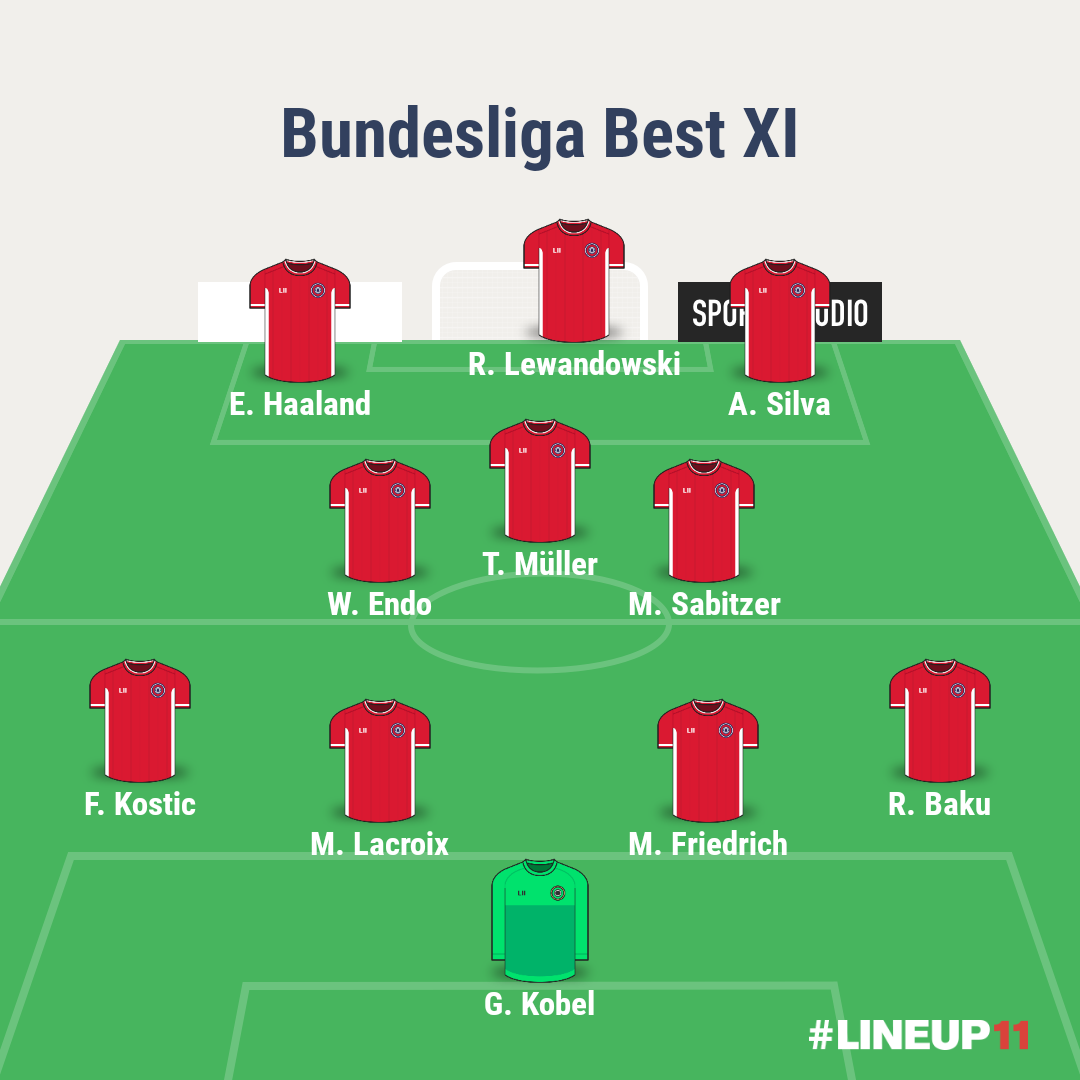 Playing with three out-and-out strikers may not be the most practical formation, but Haaland and Silva were both simply too good to omit. This means players like Florian Neuhaus and Christian Günter are the final pieces that will miss out. Picking a center-back partnership was actually quite tough because we're not necessarily spoiled for choice. There are plenty of solid options, but did anyone besides Lacroix really stand out this season?
I'm not so sure, and that's why I've gone with Friedrich, one of the more reliable defenders in the league. Oliver Glasner is my coach of the season, because if you had told me last year that Wolfsburg would qualify for the Champions League ahead of the likes of Leverkusen and Gladbach, I wouldn't have believed you.
Eskender: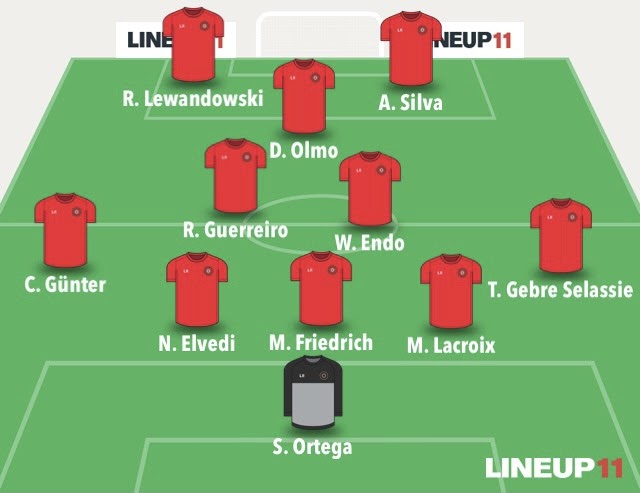 I decided to make this extra challenging and pick just one player for each team, meaning compromises had to be made along the way. I could've gone for Haaland-Silva-Lewa dreamland, but I instead tucked Guerriero in the middle to have the new Nationalmannschaft member Günter at his natural position. I guess Theodor Gebre Selassie would prefer to save Bremen than find himself in my dream team, but so be it.
As for the remaining 7 teams which were not represented, I would have gone with Rafał Gikiewicz (Augsburg), Jeremiah St. Juste (Mainz 05), Christoph Baumgartner (TSG Hoffenheim), Ellyes Skhiri (1. FC Köln), Matheus Cunha (Hertha BSC), Leon Bailey (Bayer 04 Leverkusen), and Matthew Hoppe (Schalke 04) to fill out those final positions on the bench.
Adi Hutter would've been my pick for manager if it wasn't for the total collapse after it became public that he would be leaving Champions League-bound Eintracht Frankfurt for struggling Borussia Monchengladbach next season. Meanwhile, Urs Fischer had a successful campaign with a completely new style from Union's first-ever Bundesliga season, and as such, he gets my vote. At the start, the credit goes to the marvelous Max Kruse, but Union managed to keep it up even after the journeyman suffered a long-term injury.
The Biggest Underperformance From a Club Was….
Adam:
Though they have managed to escape relegation, Hertha BSC have been thoroughly humbled this season, proving once again that money itself can't buy performances on the pitch. Since the summer of 2019, Hertha BSC have a net spend in the transfer market of – €104.05m, a number which only Bayern has bettered in the Bundesliga.
Despite this heavy investment though, the capital club has never been able to sustain a push for European football, and this season they were once again in a relegation battle up until the final matchday against clubs with a fraction of their budget. Owner Lars Windhorst will need to pursue a more astute recruitment policy next season if he finally wants his massive investment to pay off!
Karan:
I've gone for Borussia Mönchengladbach. They had a fine Champions League campaign and their first half of the season, even though it was quite inconsistent at times, showed some encouraging signs, but the second half of the season was a disaster.
Many pinpoint Marco Rose's departure announcement midway through the season, but the fall-off started much before that. Though the highlight of the season came in January when they beat Bayern Munich, it was perhaps the only bright spot in a desolate 2021 where they also lost 6-0 to the Bavarian champions in the reverse fixture in May. Next season, they'll make a fresh start under Adi Hütter, but will do so without any European competition to look forward to.
Tom:
When Sebastian Hoeneß arrived at Hoffenheim, he did so having just led Bayern's reserves to an unlikely 3. Liga title. Naturally, people expected 1899 to at least come close to emulating last season's success – finishing sixth – if not possibly even surpassing it under this veritable "miracle worker".
Instead of doing that though, Hoeneß and his entourage have become one of the Bundesliga's laughing stocks, meandering around the bottom half for most of the campaign and losing 4-0 (!) to one of the worst teams the league has ever seen in Schalke. The fact that Hoeneß is even still with the club is extremely surprising, to say the least.
Eskender:
For me, there is only one answer — Hertha, a team I expected to do better than Leverkusen, let alone Union. But Adam covered their abysmal story perfectly, so I'll divert to Augsburg. This is their 10th consecutive season in the Bundesliga, and it even began well with an impressive summer transfer window which included the triple "free" signings of Rafał Gikiewicz, Tobias Strobl and Daniel Caliguiri.
In my eyes, this is the best Augsburg team in the club's decade-long stay in the topflight, yet Heiko Herrlich still opted for an extra-defensive approach which stunted their ability to really utilize their individual quality. I'm not saying back to Europa, but I expect Markus Weinzierl to work his magic with this balanced group of players.
The Biggest Overperformance From a Club Was…
Adam:
VfL Wolfsburg have achieved Champions League football for the first time since 2015, a huge achievement for a club whose season looked doomed after it began with an embarrassing exit in the preliminary rounds of the Europa League. Whilst many rivals have faltered at various spells of the season, Die Wolfen have stayed consistent throughout, only losing 2 games in a row on one occasion.
Whilst Wout Weghorst is no doubt the key man in attack with his 20 goals and 8 assists, Wolfsburg have supplemented their number 9 with a much better supporting cast this season compared to last. Wolfsburg have scored 11 more goals than in the previous season, turning many of the disappointing draws from 2019/20 into 3 points this time around.
Karan:
There were a few good shouts for this. Wolfsburg returned to the Champions League, Stuttgart did well upon their return to the Bundesliga but Union Berlin, in only their second season in which they were expected to struggle, deserved this. They were tipped for another mid-table campaign, but spent most of 2020/21 in the European places, challenging the big boys with some fantastic results: a win over Borussia Dortmund and draws against Bayern Munich and Wolfsburg. The final day qualification for Europe was the cherry on top. Urs Fischer has done a fine job, and they'll be fun to watch in the Conference League.
Tom:
After finishing eleventh last season, I anticipated much of the same from Union Berlin this term, but they completely exceeded any and all expectations. They made smart moves and actually played some really impressive football in 20/21. Their Europa Conference League qualification was a merited reward and the perfect way to cap off a brilliant season.
Eskender:
Yes, they're not new to Bundesliga, and we can always expect bigger things from a project led by Sven Mislintat, but, then again, this is a newly-promoted team. VfB Stuttgart performed extremely well in their first season back in the Bundesliga.
They played exciting football with a plethora of new talent which announced itself on the German scene (I could've considered Kubel, Kempf, Wamangituka, Sosa and Kalajdzic in my XI if it wasn't one player from a club). What's more? They still managed to regain form for a strong end of the season despite missing the majority of their attacking prowess due to injuries. 
The Best Transfer Was…
Adam:
VfL Wolfsburg have become a much more impressive attacking outfit this season, but one of the players who has sustained their defensive dominance was their new signing Maxence Lacroix. Despite joining Die Wolfen as a 20-year-old with no top-flight experience, Lacroix has taken to the Bundesliga with ease, commanding the Wolfsburg back line alongside veteran Jonathan Brooks.
His recovery speed and aggressive style has complimented his American teammates' more anticipatory approach, and he is one of the key reasons why goalkeeper Koen Casteels has the second most clean sheets in the league this season (14). Champions League finalists Chelsea are already heavily linked with the Frenchman's signature, and the Premier League outfit will no doubt need to pay far more than the €5.00m which Wolfsburg handed over to FC Sochaux if they are to prize him away.
Karan:
Although he technically signed last season, I'm picking André Silva because his move was made permanent at the start of this season. He's been incredible, with his 27 league goals, breaking Bernd Hölzenbein's single-season record for an Eintracht Frankfurt player which has stood since 1977.
Additionally, he finished second in the Bundesliga charts, more than Erling Haaland and only behind Robert Lewandowski. Adi Hütter has a knack of improving his forwards – the likes of Jonathan Soriano, Guillaume Hoarau, Luka Jović and Sébastien Haller have all excelled under him, and Silva is now the next to join this star ensemble. There are rumours of a move to Manchester City, but I think all the Bundesliga fans are crossing our fingers in the hope that he will stay in Germany.
Tom:
For me, it has to be Jude Bellingham. There was plenty of justified hype surrounding his signing, but not only has he lived up to the billing, he has outperformed all expectations – conceivably even those of the scouts and higher-ups that brought him to Dortmund.
Initially, he was supposed to be slowly and gradually acquainted with the senior team, yet from the moment he arrived he proved himself to be one of BVB's most reliable and proficient midfielders. To be this influential at such a young age (he's still only 17!) is truly remarkable.
Eskender:
Again Adam already mentioned my favorite transfer of the season. Maxence Lacroix is simply my favorite CB at this right moment. But let's give credit to another excellent Wolfsburg transfer. I wasn't so sure about it at first since they already have enough wide players, but Ridle Baku proved me wrong with his consistent excellence this campaign. I just hope he'll play regularly in the fullback position rather than as a winger in the future.
It's ironic, Oliver Glasner had a dispute with sporting director Jorg Schmadtke over a "lack of transfers", yet two of the summer signings have featured in our list, whilst another in Maximilian Phillip scored some sensational goals to help propel Wolfsburg to the Champions League.
My Moment of the Season Was….
Adam:
As a Gladbach fan, the Bundesliga campaign has been a disappointing affair, culminating in an 8th placed finish without European football to look forward to. Whilst most of the excitement came in the Champions League for Gladbach, one of the few moments of domestic joy came on January 8th, when Borussia Mönchengladbach came back from a 2 goal deficit to defeat champions Bayern 3:2.
Whilst the excitement ended up being short-lived when just 8 days later Die Fohlen let another 3 points go to a controversial 96th minute penalty against Stuttgart, that giant-slaying against Bayern that Friday night was truly euphoric.
Karan:
When Bo Svensson joined Mainz, they were backed for relegation, having gained just seven points from 17 games – level with Schalke up until that point. Unlike the Zweite Bundesliga's latest recruits, however, Mainz's form improved, with many thanks going to Svensson's work.
The Danish manager ensured that Mainz picked up some unlikely results, including wins vs RB Leipzig and Gladbach, but it was a 2-1 success over Bayern Munich that tops the lot. Jonathan Burkardt and Robert Quaison were the scorers, whilst Robert Lewandowski's 94th-minute goal proved to be just a consolation prize for Bayern. That result pushed them closer to survival in the Bundesliga when many had considered them home and hosed at the halfway point.
Tom:
Obviously, it didn't take place in the Bundesliga, but it is impossible not to pick Łukasz Piszczek's perfect send-off for Borussia Dortmund in the DFB-Pokal as the Moment of the Season. The veteran dedicated over a decade of his life to the Black and Yellow and for him to get the chance to lift one last trophy was truly a heartwarming sight.
Eskender:
There were many great moments in the season, but, for me, the sensational moment was when Schalke avoided sharing Tasmania Berlin's record of successive Bundesliga defeats after overcoming Hoffenheim with a remarkable scoreline of 4 goals to nil.
They were so close to doing so. Exactly on the day of their next game at Frankfurt, it'd have been a whole year since they last won a Bundesliga game. But, Schalke and Christian Gross worked magic for once, with amazing performances from Ralf Fahrmann, Amine Harit and Matthew Hoppe on the night culminating in a breathtaking victory. Normal service returned for Schalke after this game however, with Die Königsblauen forced to wait another 12 games before they could celebrate their next three points.
Featured Image: @GabFoligno /