Where is Galatasaray Going?
In a season of few highs and sustained lows for Turkey's big three, it is without a doubt that Galatasaray has suffered most, domestically at least, sitting in the bottom half of the league and 32 points off the top. 
While intense rivals Fenerbahçe are also failing and last seasons' champions Besiktas are languishing in 8th, their embarrassments look like minor stumbles when compared to Galatasaray's domestic capitulation this season. 
Importantly, the degree of issues for Turkey's big three are perhaps too big to detail in one article, but trying to unpick the myriad of problems that have affected Galatasaray just this season feels somewhat manageable. 
In addition, it is also important to understand where Galatasaray are trying to get to. They have made sensible additions to the squad in the last year, they have an extremely intelligent and respected coach.
But do they have a plan? Is there a structure in place? Is there any way to predict any significant success in the near future?
While these are important questions, they do seem to invoke foreboding doubt in many Galatasaray fans. And the question most pertinent to these supporters would be – where is Galatasaray going? 
Terim to Torrent 
In the beginning, there was optimism, Galatasaray had just last season competed for a league title and narrowly missed out on the final day, they bled in young players like Kerem Aktürkoglu.
They then supplemented this already strong squad with further signings like Baris Alper Yilmaz (21), Sacha Boey (20), Olimpiu Morutan (22), Alexandre Cicaldau (24) and didn't interestingly didn't pay any transfer fees for any player under 25. 
While Gala missed out on the Champions League, they made Europa League and where drawn into a tough group with Marseille, Lazio and Lokomotiv Moscow.
Konyaspor: Who Are the Turkish Süper Lig's European Hopefuls?
They combatted this in their first group games, winning at home to Lazio and Lokomotiv and earning a valuable point away to Marseille. 
On the other hand, league form was tragically falling by the wayside. The first ten games were very inconsistent but between October 31st to February 21st, Galatasaray won just 2 games in 14. It was in this run that Fatih Terim's fourth stint in charge of Gala came to an end. 
Subsequently, he was replaced by Domenec Torrent, who was most notably the assistant to Pep Guardiola at Barcelona, Bayern Munich and Manchester City.
While his own foray into management hasn't been a raging success – he was fired after just four months of his last job at Flamengo in Brazil – he did bring an air of intelligence, forward-thinking and perhaps a pro-active coaching approach that has been missing at Galatasaray for so long. 
To no surprise, it wasn't a quick fix. Torrent had a torrid first 5 games, losing 3 and drawing 2 and conceding 11 goals in the process.
His arrival saw the departure of the 4-1-4-1 system that Terim was mostly wedded to in his last two seasons and the arrival of a more expansive, high-pressing 4-2-3-1 system. 
A Match Made in Heaven: Marek Hamsik's Impact at Trabzonspor
Crucially, results have started to pick up more recently and wins against Göztepe, Çaykur Rizespor and Besiktas have propelled them up to 11th in the league and they are looking to their game against Barcelona in the Europa League to provide salvation for their otherwise miserable campaign. 
Are They Playing Differently?
While results haven't spiked dramatically, Domenec Torrent has managed to imprint a completely different style of football fairly quickly and has managed to get good performances out of some players.
Gala have gone from a more passive off-the-ball approach to a much more active one, they have gone from being a team that looks unsure on the ball to a team with a clear idea of how they build attacks. 
Firstly, they are exhibiting some excellent passing moves in the final third, creating overloads in wide areas and even players like Mostafa Mohamed and Kerem Aktürkoglu have been linking up in attack very well. Torrent does seem to have generated some impressive attacking football in individual games so far. 
Secondly, the fullbacks have been largely impressive since Torrent's appointment. Patrick Van Aanhodlt has thrived, kept his place consistently, and is an essential part of build-up play for Gala.
In addition to this, Omar Elabdellaoui's return after over two years out has galvanised the defence and it looks like he'll be a big part of Torrent's plans. However, Torrent has isolated certain players and seemingly looks to have cast aside these characters.
In an interview with Turkish media, Torrent expressed his dissatisfaction with scouting at the club and even named Olimpiu Morutan, Sacha Boey, Alpaslan Öztürk and Gustavo Assunçao as acquisitions the club made that he "can't understand." 
Additionally, he looked to distance himself from these squad members by stating, "I didn't build this team, I came here to save the club from the position they were in."
Since leaving Atlético Madrid for Famalicão, Gustavo Assunção has established himself as one of the most promising midfielders in Portugal.

In a five-part series, @zachlowy interviews Gustavo about his childhood, his ambitions, and his progression at Famalicão.

Part One: pic.twitter.com/Uc7HIVQ8F0

— Breaking The Lines (@BTLvid) June 18, 2021
This does point to Torrent's desire to express his disaffection to the players that Burak Elmas and Fatih Terim entrusted with moving the club forward.
The Numbers Behind the Project
As this chart (made by @caskieandrew) displays, Burak Elmas is catching up to former chairman Mustafa Cengiz after just two transfer windows. Cengiz held his position as chairman for three seasons. In addition to this there are clearly many interesting trends in the ways Gala are trading in the transfer market. 
Firstly, they are loaning out far more players as they are looking for their young players to get more game time.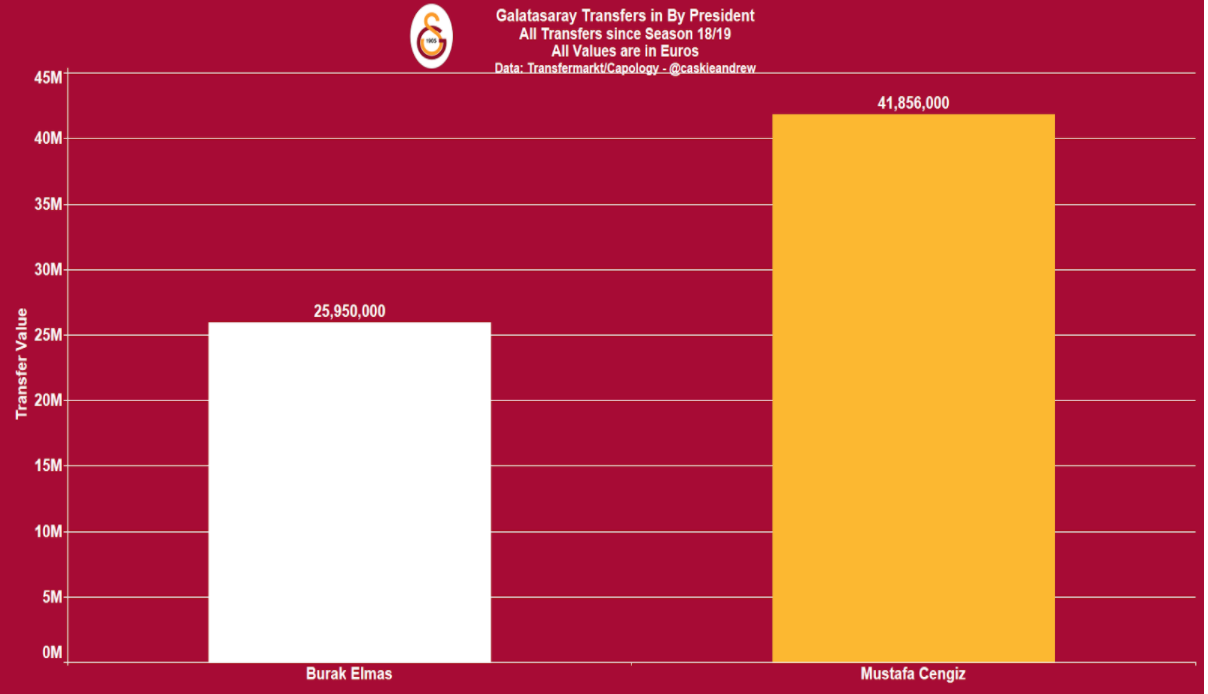 They now actually have loaned 16 players this season, 11 of which are 25 and younger. This is a huge increase over the Mustafa Cengiz years where they were loaning in more players and picking up older players usually on free transfers. 
Among these loaned-out players, there are players like Yunes Akgün, the 21-year-old winger who has been an integral part of a vibrant Adana Demirspor side and chipped in with 7 goals in 5 assists in 26 starts.
Of course, it is moves like this that underline the desire to give younger players minutes at 'weaker' sides in order to get them ready for the jump into the first team.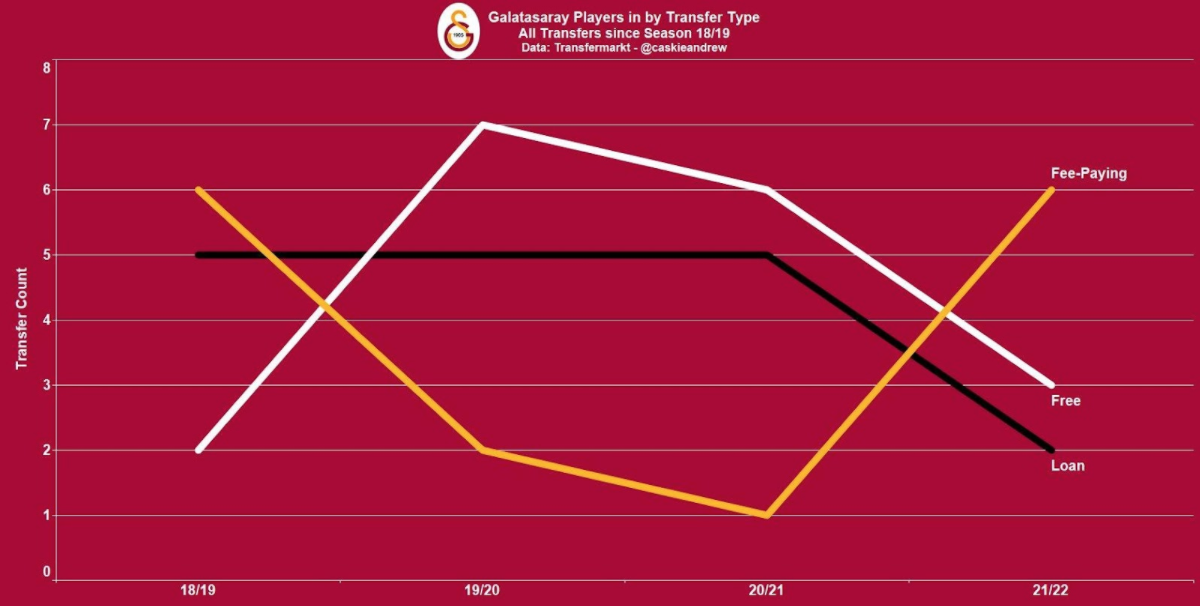 Conclusion
One of the most interesting and promising sub-plots in Turkish football this season has been Galatasaray's run in Europe. After finishing top of their group, they were drawn against Barcelona, whom Torrent assistant managed for four years along with Guardiola. 
After drawing against Barcelona at the Nou Camp in the first leg, they are in with a chance in the second to shock Xavi's rejuvenated team at the Türk Telkom Stadium and despite winning just one in nine against the Catalan giants, Gala will be full of hope and keeping a clean sheet in the first leg. 
As for the story of the rest of the season, it remains unfinished. If Gala complete the season displaying more frequently what they have only shown in spurts under Domenec Torrent then it won't be a season to forget, it will be a season from which they can grow. 
While Torrent's malaise at signings is clear to see, if adjustments are made and he is given an opportunity for his vision to be realised then possibly this appointment could be, upon reflection, one of the most important changes in recent years for the red and yellow side of Istanbul. 
By: Louis Young / @FrontPostPod
Featured Image: @GabFoligno / Anadolu Agency