1.FC St. Pauli: Taking the 2nd Bundesliga by Storm
Bayern Munich's 5-1 battering of Leverkusen, RB Leipzig's stuttering start to the season, and Dortmund's unruly Erling Haaland reliance have all combined to make the 59th Bundesliga season one of the driest title races in recent memory. With the Bavarian giants set to retain their 10th consecutive Meisterschale, it is time to visit the Zweite Bundesliga for hopes of a title challenge.
There, Germany's second division is living up to its billing as The Greatest Zweite Bundesliga of All Time. The numerous fallen giants aren't just providing a spectacle of unrivaled terrace culture, but the football on the pitch is as competitive as ever, with just 4 points separating 1st and 4th. 
Yet, even in a year where seemingly every side is capable of taking points off another, there is one team which continues to grab headlines through their exhilarating attacking football and unique approach both on and off the pitch. Under the tutelage of Timo Schultz, FC St.Pauli have materialized into prime promotion candidates with a division-high 27 goals and a 3-point cushion at the top of the table. 
In today's Zweite Bundesliga analysis, we go deep into the man behind St. Pauli's success, his unprecedented tactics, and a couple of key performers who are paving the way to Bundesliga promotion.
This article is an expansion upon ISSUE #9 of Adam Khan's German Football Newsletter. If you enjoy this article make sure to subscribe to Adam Khan's German Football Newsletter to receive similar Bundesliga & Zweite Bundesliga content every Friday!
Timo Schultz: The Embodiment of Pauli DNA
It doesn't get more St. Pauli then Timo Schultz, with the 44-year old Wittmund native part of the establishment at the Millerntor-Stadion since 2005. For 6 seasons Schultz eked out a reputation in the Pauli midfield, but it is his work in the dugout where he truly has the potential to leave a legacy at the club. Gradually climbing his way up from the under 17s to the first team, by 2020 'Schulle' earned the coveted head coach position in an era where St. Pauli were continuing to trend towards relegation. 
Some experience arrived in the summer in the form of Schalke outcast Guido Burgstaller, but it was a squad heavily reliant on academy graduates and the loan market which Schulle had to turn back into a competitive Zweite Bundesliga outfit – something which wasn't going to come easy. With just 1 win in his first 13 matches, and a first round Pokal defeat to fourth-tier Elversberg, there was a sense that only a Christmas miracle could keep Timo Schultz in his job over the holiday break.
Director of football Andreas Bornemann continued to hold faith in the work Schultz was doing, but the table provided frightening reading for even the most optimistic St. Pauli supporters. As December faded into the new year, Schultz laid down a new marker for the longest winless streak in club history (12), and even entered double digits for weeks spent in the relegation zone.
When St. Pauli traveled to the HDI Arena in mid-January there truly loomed a feeling of now or never for the 44-year old in the dugout. 90 minutes against an inform Hannover would decide if Schultz could turn his managerial fate around, or if he would earn the label as yet another youth coach unfit for the big time.
The final whistle sounded, and courtesy of a stoppage time goal St. Pauli was able to breathe again. A 3:2 victory wouldn't be enough to climb out of the relegation zone just yet, but it was precisely what Timo Schultz needed to kick on for the remainder of the campaign.
13 more wins saw St. Pauli shoot up the table, casting away the thoughts of relegation with inspiring performances and the results to match. With the creative emergence of Zalazar and Marmoush it would have been easy to pin Pauli's resurgence on the exploits of individual players, however above all else it was Timo Schultz's tactical evolution which saw St. Pauli go from a side battling the drop to outside promotion candidates in late Spring.
So what did Schultz tweak to turn a side destined for the third division into one of the most inform sides in all of German football?
Pressure Makes Diamonds
The 4-3-1-2 is not a universally loved formation in modern football, with Porto's 2004 Champions League triumph, and Massimiliano Allegri's first spell at Juventus (2014-19) the exception not the norm. In Timo Schultz though, German football is getting a taste of the diamond midfield's resurgence. Following the disastrous Hinrunde where St. Pauli flip-flopped between a 3-4-1-2 and 4-2-3-1, Schultz opted for the diamond on MD15 – a match that almost coincided with the club's soaring uptick in form.
Parra and Viñas argue "Another Football is Possible" in new book on FC St. Pauli
With a compact midfield and space for overlapping fullbacks, the formational tweak has allowed St. Pauli to go from a side exuding doubt and uncertainty to one which looks liberated and refined. As just two center forwards make up the frontline, the attacking onus is spread evenly across the side. Late runs from central midfield and attacking overloads from the fullbacks are crucial components of St. Pauli's game this season – highlighted in how the goals have been spread across the side.
Whilst fellow promotion aspirants Schalke 04 have been heavily reliant on the goalscoring exploits of Simon Terodde – 11 goals, with only two other S04 players scoring more than 1 – the table-toppers from Hamburg have spread the goals fairly evenly across the side.
Guido Burgstaller has been the most prolific element with 10 in 11 games, but 4 other players have registered 2 or more goals. It's a testament to the fluid attacking system and Schultz's determination to commit numbers into the final third with quick, penetrating attacks. No other side has played as many deep completions in this season's Zweite Bundesliga, whilst only Hamburger SV and FC Bayern have made more key passes in Germany's top two divisions.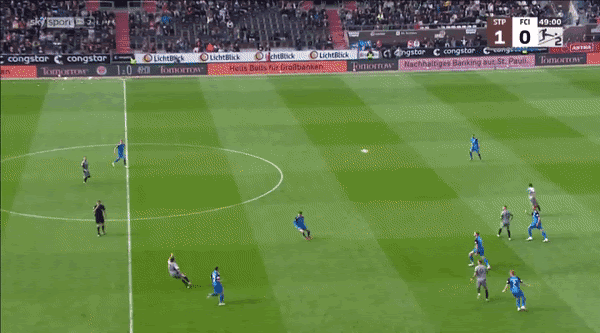 St. Pauli football in all its glory (above). Maximilian Dittgen receives possession in midfield and brings the overlapping left back Leart Paqarada into the game. Paqarada, unmarked due to his deep starting position, is able to pick his head up and find none other than Dittgen advancing into the area. Quick transitions, overlapping fullbacks, and a willingness to make up the hard meters to get into goal-scoring positions – it's transition football at its very finest.
St. Pauli's emphatic offensive approach doesn't just start when they have the ball though, instead finding its roots in the Kiezkicker's willingness out of possession. Though Schultz's side aren't necessarily as gung-ho in their pressing as the likes of HSV and Werder Bremen, the intelligence with which they go into defensive duels has been crucial in creating a structure that has conceded the second-fewest goals (10), and given up the fewest shots (33) across the first 11 fixtures.
For example, St. Pauli have just the 15th most defensive duels of any Zweite Bundesliga side, however their win rate of 65.7% is the best in the division. Equally important are their interception numbers, a marker of intelligent reading of the game and collective pressure to force the opposition into an errant pass. With roughly 45 per 90 Timo Schultz's side are second amongst all top half sides in Germany's top 3 divisions.
What this all shows is a team which isn't necessarily looking to challenge the opponent everywhere on the pitch, but picking and choosing the right moments where they go as an entire unit to convincingly win back possession. This synchronized defensive strategy was highlighted in their opening goal vs Dynamo Dresden last weekend (below).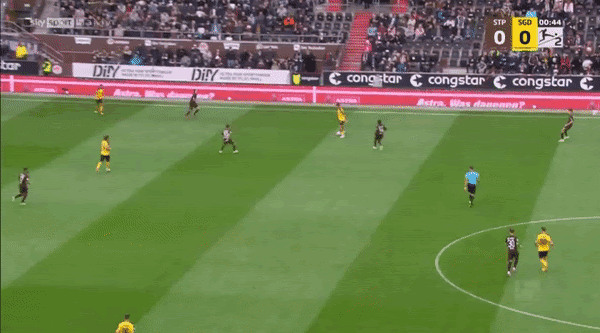 Afeez Aremu sees a cue to leave his holding position and convincingly wins a tackle to reestablish St. Pauli possession. Some neat interplay on the top of the box and the Millerntor-Stadion is sent into raptures.
The Shining Lights
We've looked at the manager and tactics behind St. Pauli's exponential rise, but it would be remiss to not at least briefly mention some of the star performers behind the Kiezkicker's record-breaking start.
Daniel Kofi-Kyereh
Since signing from relegated Wehen Wiesbaden in the summer of 2020, Kofi-Kyereh has established himself as a linchpin in Timo Schultz's side. Though his prolific pace and silky trickery initially gives the image of a traditional wide midfielder, it is his deployment through the center which has enabled him to make waves across the country.
Whilst the Accra native was without a scorer point when deployed as a winger last season, Kyereh was practically unstoppable when used through the center, leading St. Pauli with 19 goal contributions (9 goals, and 10 assists) in 29 starts.
Not one to change a winning formula, Timo Schultz has allowed Kyereh to pick up exactly where he left off last campaign, playing the Wolfsburg academy graduate slightly off the shoulder of his two traditional center forwards in the revolutionary 4-3-1-2.
🇬🇭 Daniel Kofi-Kyereh's last five games for St.Pauli:

⚽ 2 Goals
🅰️ 3 Assists

On form⭐ pic.twitter.com/PC93uYxhzZ

— Owuraku Ampofo (@_owurakuampofo) October 28, 2021
With 3 goals and a league-high 8 assists, Daniel Kofi-Kyereh is proving this season why he is far too good for Germany's second division. Having earned his first international cap for Ghana in September and swarmed with Bundesliga interest, St. Pauli will need to hope for topflight promotion if they want to have any chance of keeping their talismanic creator beyond this summer.
Afeez Aremu
With 15 different nationalities, St. Pauli have the most diverse side in the Zweite Bundesliga, and just like Daniel Kofi-Kyereh, St. Pauli have another African midfielder in 22-year old Afeez Aremu. After a debut 2020/21 season in which Aremu was largely reduced to short cameos off the bench, the Nigerian youth international has truly kicked on this season, capitalizing on an injury to Eric Smith to establish himself at the base of Schultz's diamond.
There, Aremu has been the shield in front of St. Pauli's backline, leading by example with his ceaseless engine and pest-like tenacity. With 8.14 interceptions per 90 Aremu is leading the entire second division in this defensive metric, and is even out performing the likes of N'Golo Kanté and Idrissa Gueye.
In possession, Aremu could still notably improve his long-range passing and ball retention, however his defensive attributes have been more than enough to earn massive plaudits from around the country. This is highlighted in the fact that he is the only defensive midfielder to have already been selected twice for the Zweite Bundesliga's team of the week.
Finn Ole-Becker
And our final admission to this ones to watch section is 21-year old academy graduate Finn Ole Becker. It's a player I rate so highly that I even went as far as to pronounce him "my favorite talent in the entire league" in an under 23 twitter thread I compiled a few weeks back.
Whereas Kyereh and Aremu jump off the page with the former's creativity and the latter's defensive numbers, understanding the full depths of Ole-Becker's influence requires more than just a look at the underlying stats and/or goalscoring numbers.
🟤⚫️ St.Pauli: Finn Ole Becker (20)

My favorite talent in the entire league! Can do a bit of everything and has become a cult figure at the Millerntor-Stadion.

Will be sad to see him go next summer to Eintracht Frankfurt, but equally exciting to see him in the topflight. pic.twitter.com/yTXaIKRZrX

— Adam Khan (@XxAdamKhanxX) September 16, 2021
For a start, we shouldn't underestimate how smoothly Ole Becker has found the transition from the under 19 setup to the first team. Even before Timo Schultz (Becker's former under 19 manager) was promoted to the first team job, the German youth international was playing a massive role for St. Pauli. Becker went the full 90 minutes in three consecutive matches as a 17-year old, and then in the following campaign playing a crucial role in saving Die Kiezkicker from relegation.
This season he has once again taken it up a notch, adding a consistent goal threat to his baseline package of youthful energy and vertical passing. Whereas Becker had registered just 2 goals and 3 assists in 63 Zweite Liga games before the 2021/22 campaign, this season the 20-year old has already provided 1 goal and 3 assists – 2 of which came in the derby victory over Hamburger SV.
Unfortunately for fans of St. Pauli, Becker's days are numbered at the Millerntor-Stadion. Following an impressive second-half of the 20/21 campaign and his prominent role in Germany's U20 setup, numerous clubs were competing for Becker's signature over the summer.
With a contract set to expire in June of 2023, the likes of Marcelo Bielsa's Leeds and Bo Svensson's Mainz were both keen on a deal, but St. Pauli and Becker ultimately opted for an approach from Eintracht Frankfurt which would allow the youngster to run out his contract before joining the Eagles on a free next summer. Whether he will meet up with his current teammates in the Bundesliga next season remains to be seen.
10 matches into the season is when the table begins to take shape, and with St. Pauli at the top of the pile, it's impossible to not consider them in the running for Bundesliga promotion. Since the start of the calendar year Timo Schultz has convinced with his innovative diamond approach which the Zweite Bundesliga is still yet to find an answer for.
Relying on a bristling crop of young talent, a free-scoring attack, and a well-defined defensive approach, St. Pauli is on their way to achieving the unthinkable prospect of being Hamburg's sole representative in the 2022/23 Bundesliga. 
Did you enjoy this article? If so, then make sure to subscribe to Adam Khan's German Football Newsletter to receive similar Bundesliga & Zweite Bundesliga content every Friday!
By: Adam Khan / @XxAdamKhanxX
Featured Image: @GabFoligno / Stuart Franklin – Getty Images / Oliver Hardt – Getty Images