Nigeria 0, Guinea-Bissau 1: What Went Wrong for Jose Peseiro and the Super Eagles
How do I start?
Should we start with the fact that Nigeria entered their March match with Guinea-Bissau fresh off a ten-goal win against the tiny nation of Sao Tome and Principe, their biggest win to date? Or the fact that Guinea-Bissau called up just one player from the top-5 leagues; breakout star Mama Baldé, who has scored ten goals in 25 Ligue 1 matches.
Maybe we should talk about how Nigeria was so confident that it would get the full six points in their two matches against Guinea-Bissau that ESPN columnist Colin Udoh wrote that Nigeria would have to be absolutely putrid to lose just once to Guinea-Bissau.
"It would take a meltdown of catastrophic proportions for the Super Eagles — who currently top the group by two points ahead of their opponents this weekend — to not secure the four points they require to book their ticket to Cote d'Ivoire in January." ESPN's Colin Udoh in Nigeria are a hot mess, again, as they go into AFCON qualifiers
Reigniting the Blue Torch Paper: The Super Eagle's Failure to Qualify for the 2022 World and What Next for Nigerian Football
Despite that, warning signs were still there. Jose Peseiro said a whole lot of nothing during the pre-game press conference, as is typical in games like this, but he still seemed cautious of Guinea-Bissau in his pre-game press conference in Abuja.
"Guinea is a team with good quality. They would come here to defend and try to hit us on the counter. We want to put in our force, our motivation, and our commitment because it is not an easy match. There is no easy match with me. We will play with maximum force and organization. We can't beat Guinea if we don't out our maximum on the field."
But despite the quality of the Nigerians and their recent form (Nigeria beat Guinea-Bissau 2-0 in last year's AFCON), the laughable mediocrity of the Nigerians was realized again. Chateauroux center-back Opa Sangante sent a deep long ball to Baldé, and the center-back pairing of Calvin Bassey (Ajax) and Kevin Akpoguma (Hoffenheim) was unprepared. Baldé got on to the ball, fired the shot past Francis Uzoho (Omonia) and the rest is history. But…how?
Offense
Nigeria's starting lineup consisted of Uzoho in goal and the center-back pairing of Bassey and Akpoguma. Fenerbahce's Bright Osayi-Samuel started as a right-back, while Porto's Zaidu Sanusi slotted in on the left. Leicester's Wilfred Ndidi and Everton's Alex Iwobi started as central midfielders while Atalanta's Ademola Lookman and Villarreal's Samuel Chukwueze played wide, with Lookman on the left and Chukwueze on the right. Leicester's Kelechi Iheanacho slotted next to Napoli's Victor Osimhen to complete the 4-4-2.
The 4-4-2 looked drastically different on the pitch. Bassey and Akpoguma stayed tightly together but Osayi-Samuel and Sanusi sat touchline-wide and somewhat deep, even joining the midfield at times. Ndidi and Iwobi worked as a double pivot, playing out the back with the two center-backs and sticking to the defensive side of the game.
The wide midfielders in Lookman and Chukwueze turned into wingers, and Iheanacho fluttered in between the two, attacking each flank as a #10 or even a secondary winger. And, of course, Ballon d'Or candidate and Napoli's star man Victor Osimhen, stayed in the box as the team's poacher. At times, it resembled a 4-2-3-1 over a 4-4-2, or even a 4-3-3 if Iwobi and Iheanacho played in line.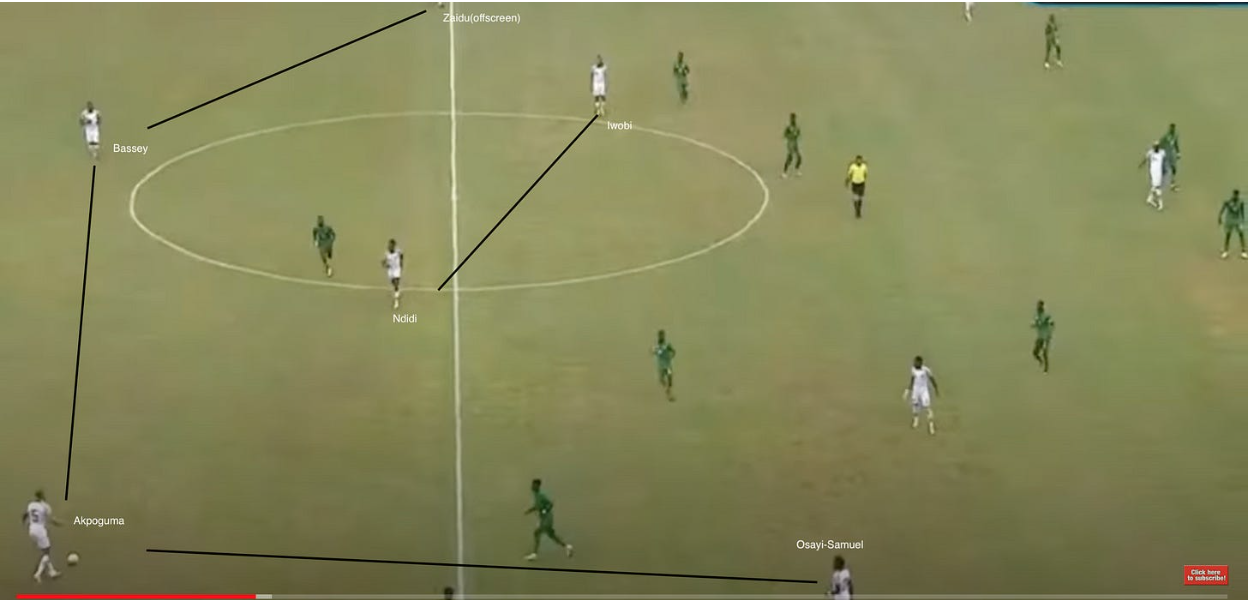 Zaidu (off-screen) and Osayi-Samuel are touch-line wide and about to make deep runs to complement the front three. Iwobi and Ndidi help Bassey and Akpoguma in possession.
The point of the offensive setup was to dominate possession. With so many involved in possession, the Guinea-Bissau press was ineffective at best and sometimes hurt them at worst. The plan to control the possession worked, as the Super Eagles had 68% possession and completed just over 250 more passes than their opposition.
When Nigeria broke through Guinea-Bissau, it was through the wings. Nigeria has a dearth of talent on the wings (Chukwueze, Lookman, Iwobi, who can play as a winger, Moses Simon), and Guinea-Bissau does not have the talent to match the Nigerians on the wing, so it seemed fit Nigeria would bombard the flanks.
For the most part, that plan worked as well. Nigeria had heavy influence on the flanks, especially with Iheanacho helping out every so often and the marauding runs Zaidu and Osayi-Samuel would make.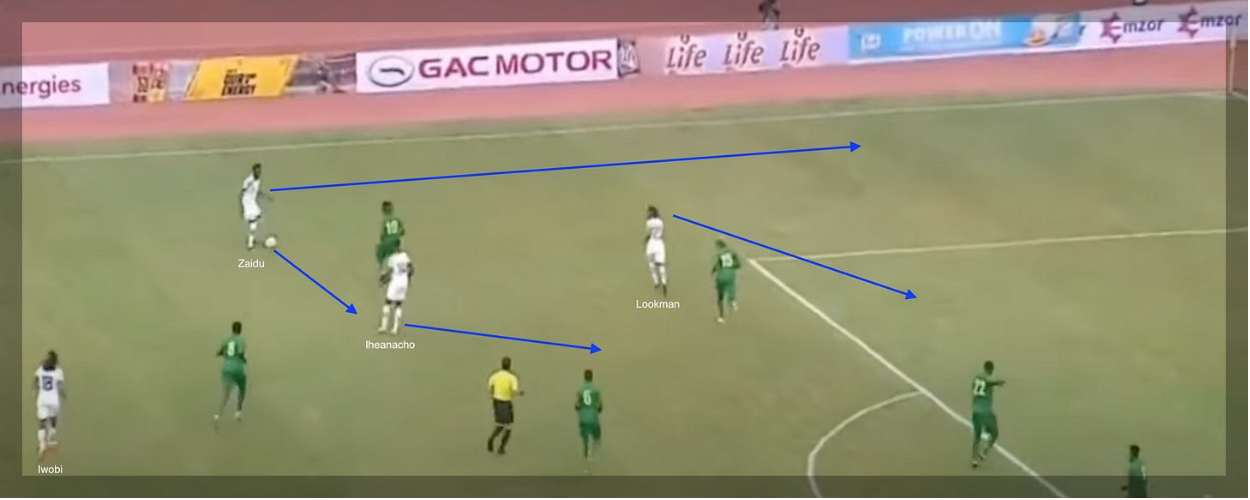 This was the sort of chances Nigeria's offense wants to create. Zaidu has the ball on the wing with Iwobi, Iheanacho, and Lookman supporting him. Nigeria has a 3-on-2 advantage on the wing, but instead, they decide to go right down the middle into the box, ending in a blocked shot. Arrows are suggested movements based on Peseiro's playstyle.
Nigeria's wing play was not only designed to get the ball onto the flanks for either crosses or dangerous link-ups to get into the box, but it was also designed to get Osimhen the ball. Osimhen is somewhat familiar with Peseiro's playstyle. For starters, he's won two games (Sierra Leone, Sao Tome) with Peseiro's 4-4-2 and scored in both games.
In Napoli, Osimhen plays in the same role, a target forward who scores almost exclusively from inside the box. So it was shocking when Osimhen just could not make a difference. He had just two shots in the game; one blocked and one saved. Throughout the game, Osimhen did what Osimhen does. His movement and runs were impressive, as he repeatedly cut across his primary defender to make a big run. But again…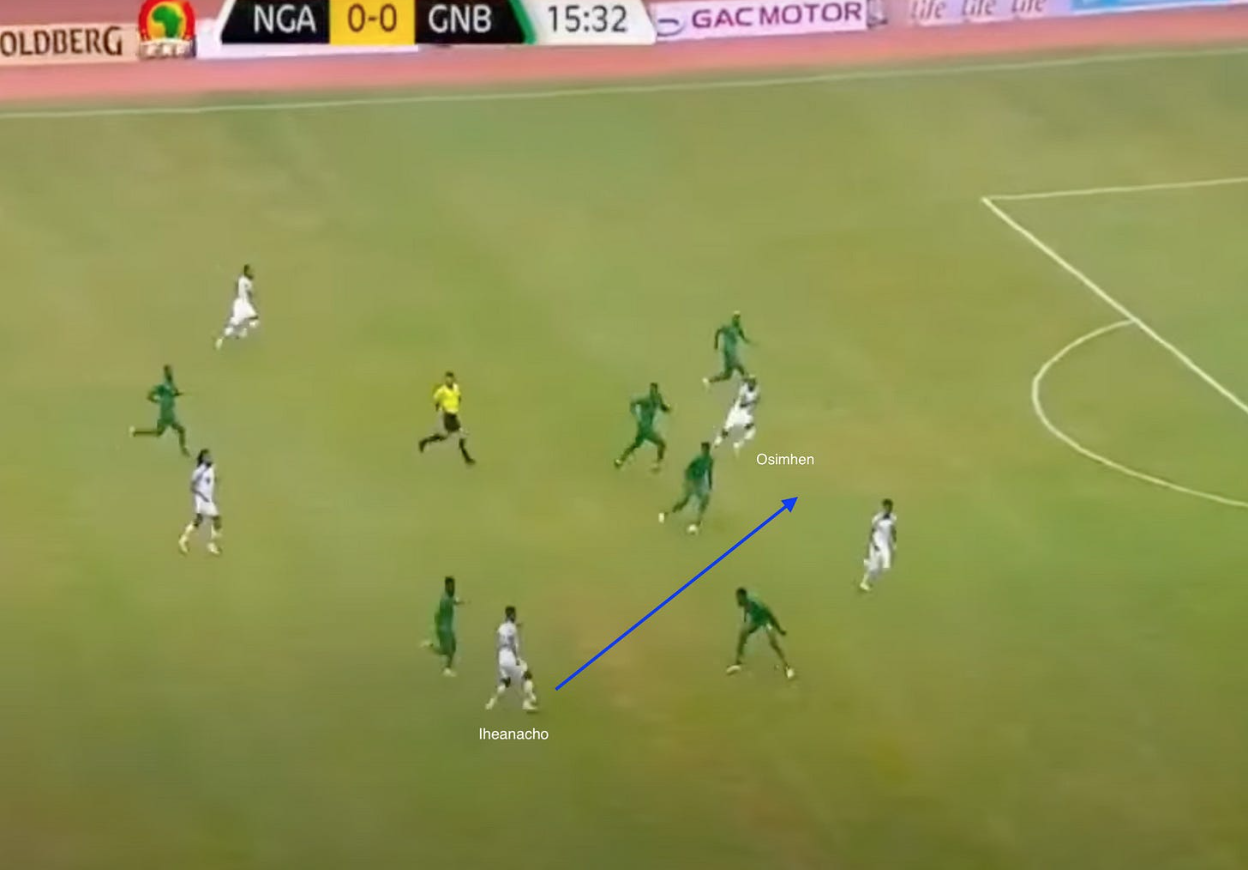 Iheanacho finds Osimhen. He may have been offsides, but the linesman does not count it. He ends up taking a bad touch on his right foot and seeing his dribble smothered by the keeper. And again…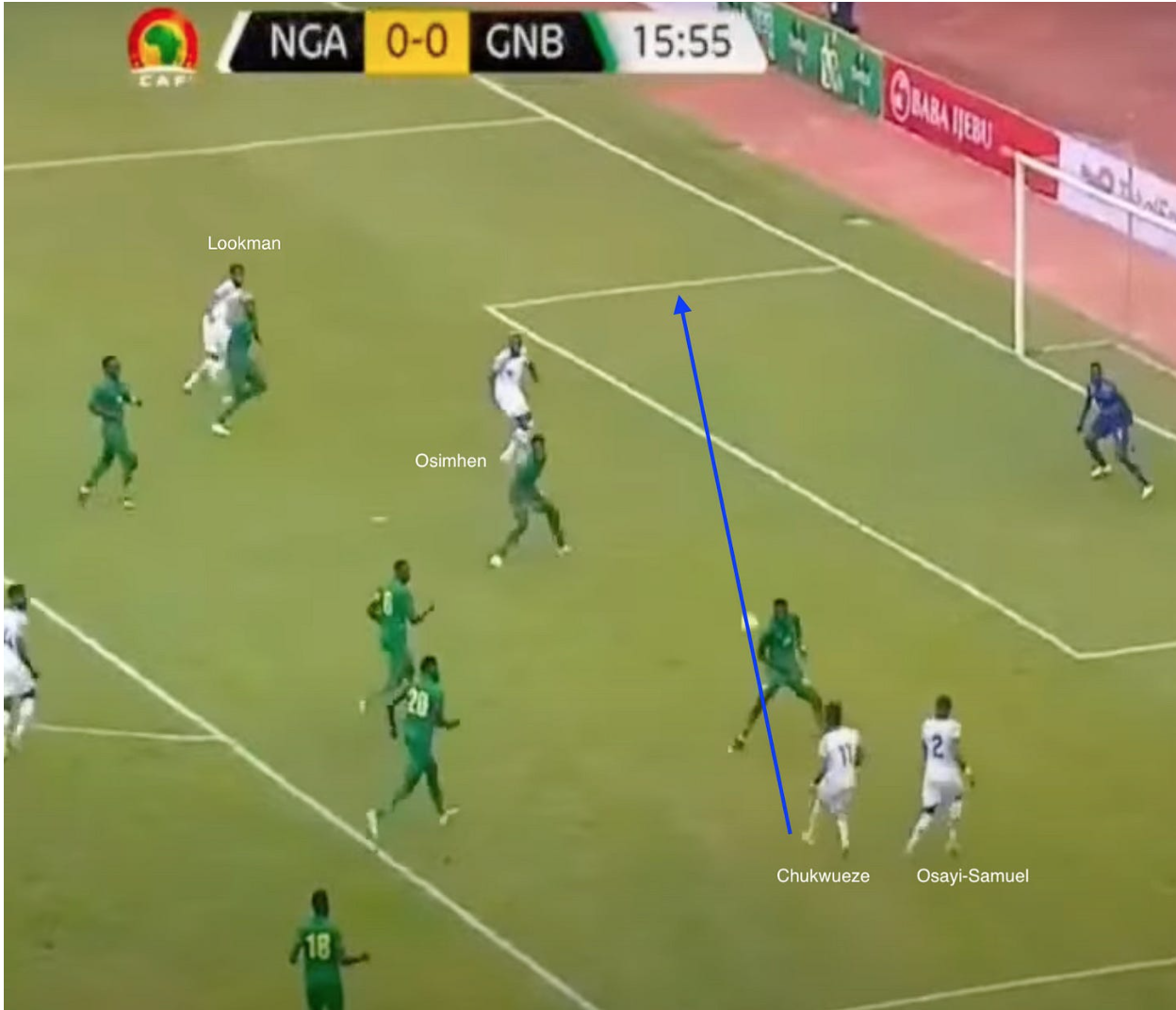 Chukwueze sends in a cross. In spite of Osimhen being open and having an aerial advantage over his marker, the Villarreal star aimed for a contested Lookman. The ball went out for a corner kick. And again…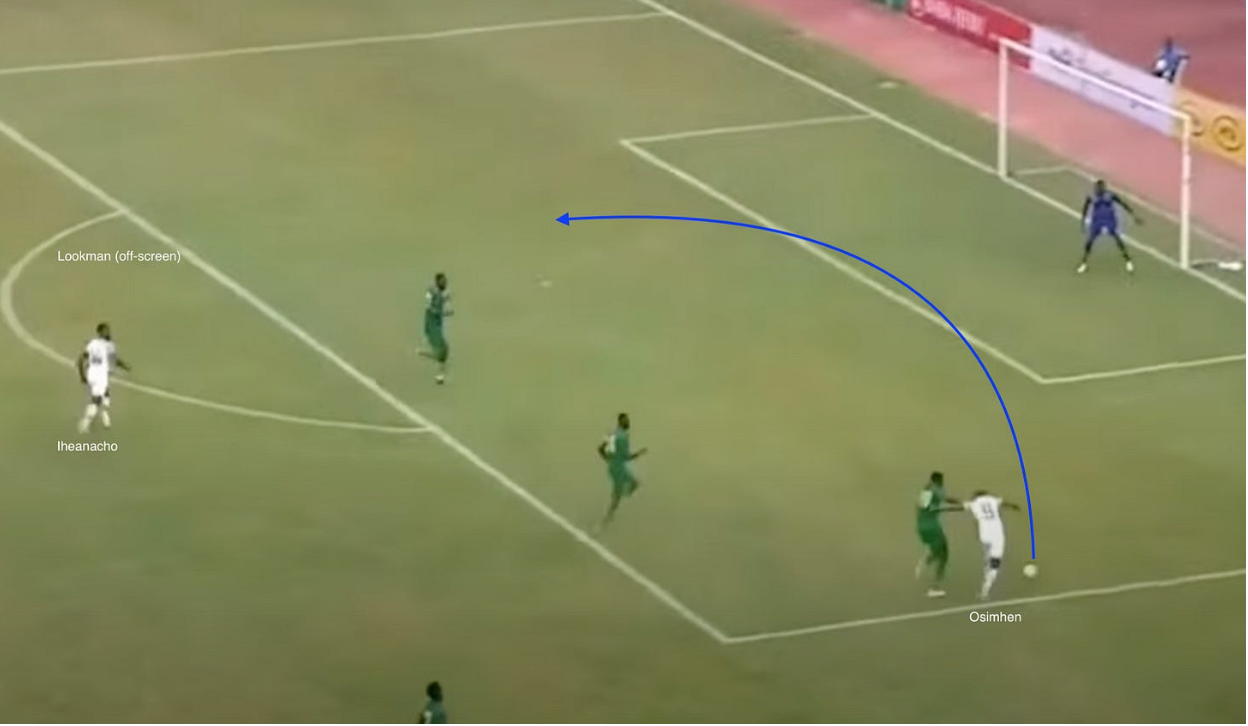 This time, it's Osimhen sending in a chance. After getting on top of an Akpoguma long ball, he suffers heavy contact while trying to play a long ball to a surging Lookman. However, the pass is way off and it goes out for a throw-in.
Osimhen could not get his team a goal. Although it may be because Osimhen was offsides four times in the match, most of it stems from a lack of communication or instinct between the team. Although passing was great, movement excellent, and everything was okay on the tactical side, the end product was not there. The offensive-oriented subs, Moses Simon, Paul Onuachu, and Ahmed Musa, did decently but could not find the missing goal.
Defense
Nigeria employed a pretty simple press; Osimhen chased around the ball up top if he was not already gassed, and a supporting three of Lookman, Iheanacho, and Chukwueze would support him if they passed the ball away from him.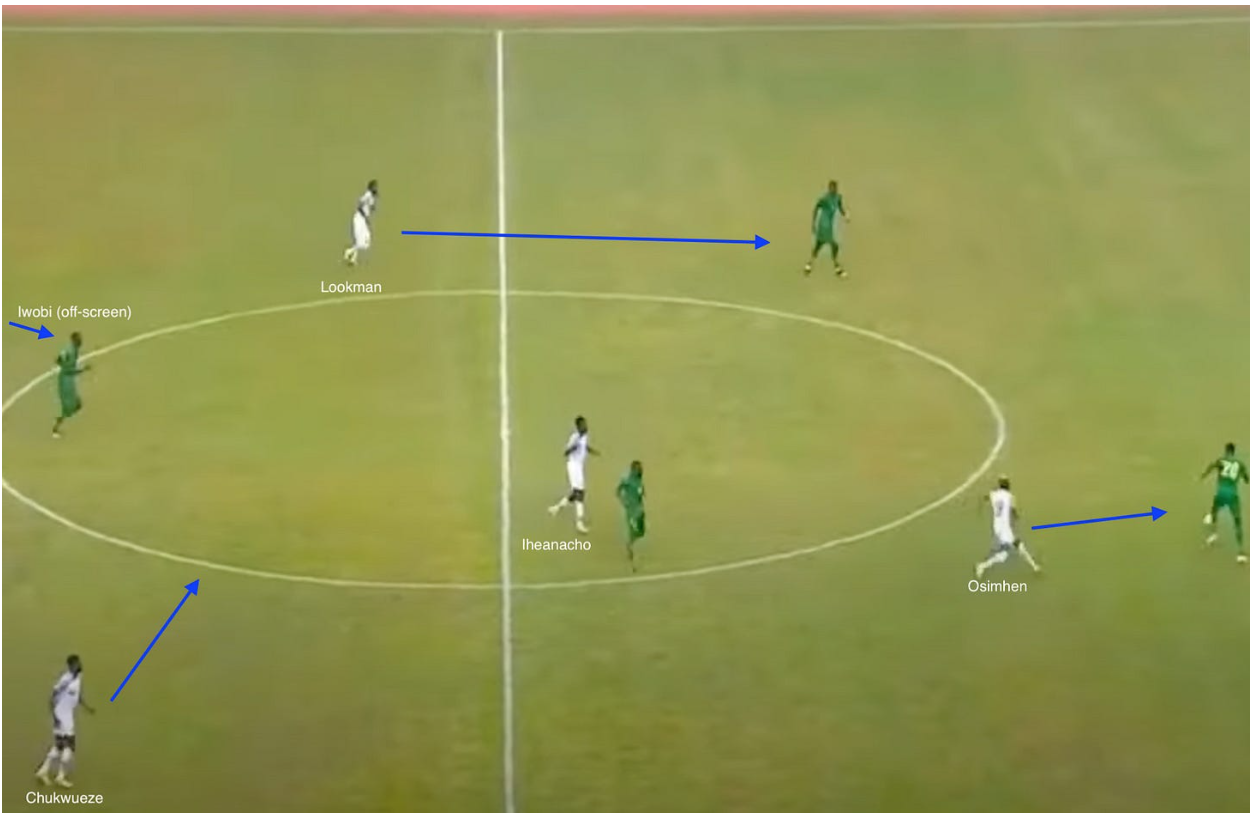 But oftentimes, the Bissau-Guineans would just play around the Nigerians with long, progressing passes from side to side. The wing backs were aggressive dealing with the long balls, but sometimes too aggressive. In particular, Zaidu would push up high against APOEL's Dálcio. It did not work well, as he repeatedly got free and either drew fouls, got shots off, or released the ball to the center of the field to start a quick attack.
Ndidi and Iwobi would often man-mark opposing midfielders Alfa Semedo and Bura Nogueira, which could completely alter Nigeria's defensive structure. At times, Nigeria employed a back five, and sometimes they would join the pressers up top.
Knowing that Nigeria was a stronger (not better) side and they probably could not get a lot of possession from them, Guinea-Bissau played fast. Thus, their strength was in transition. Especially after Baldé scored, Nigeria threw players at their goal. Guinea-Bissau scored almost scored another goal after a Nigeria corner.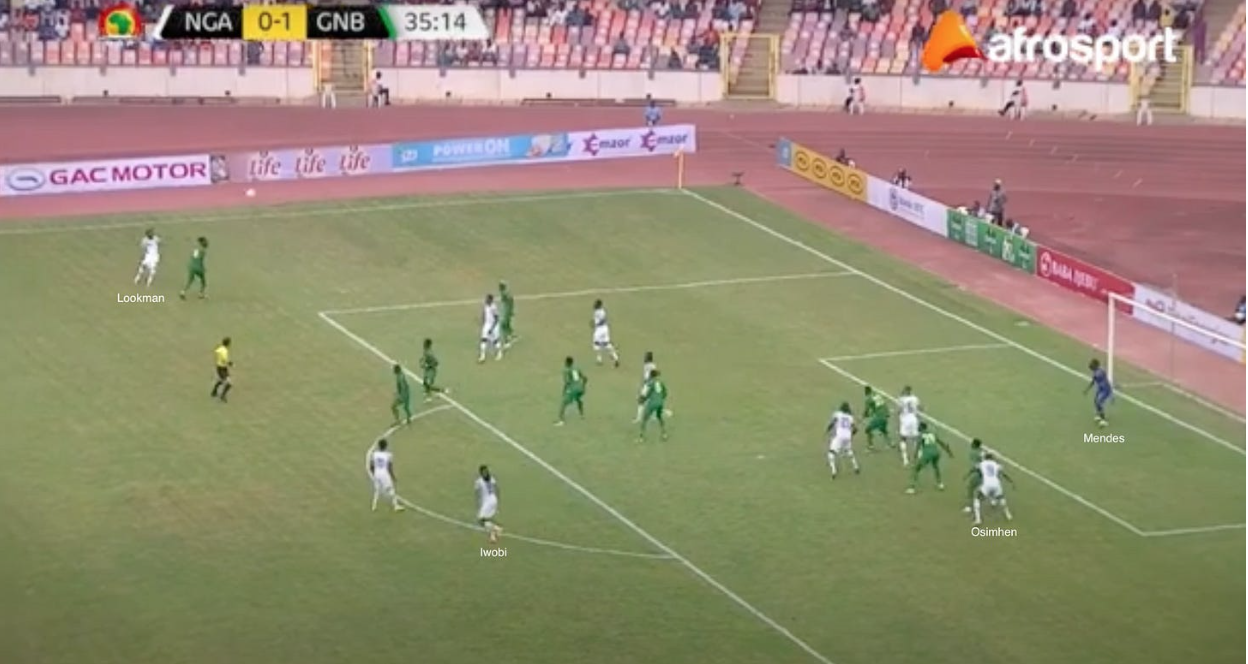 Lookman sends in a cross, but Mendes swallows it in the middle of the box. After Lookman's cross comes to nothing, keeper Jonas Mendes claims the ball. Mendes throws it long to Dálcio, and suddenly it's a 2-on-3 with Dálcio virtually unmarked.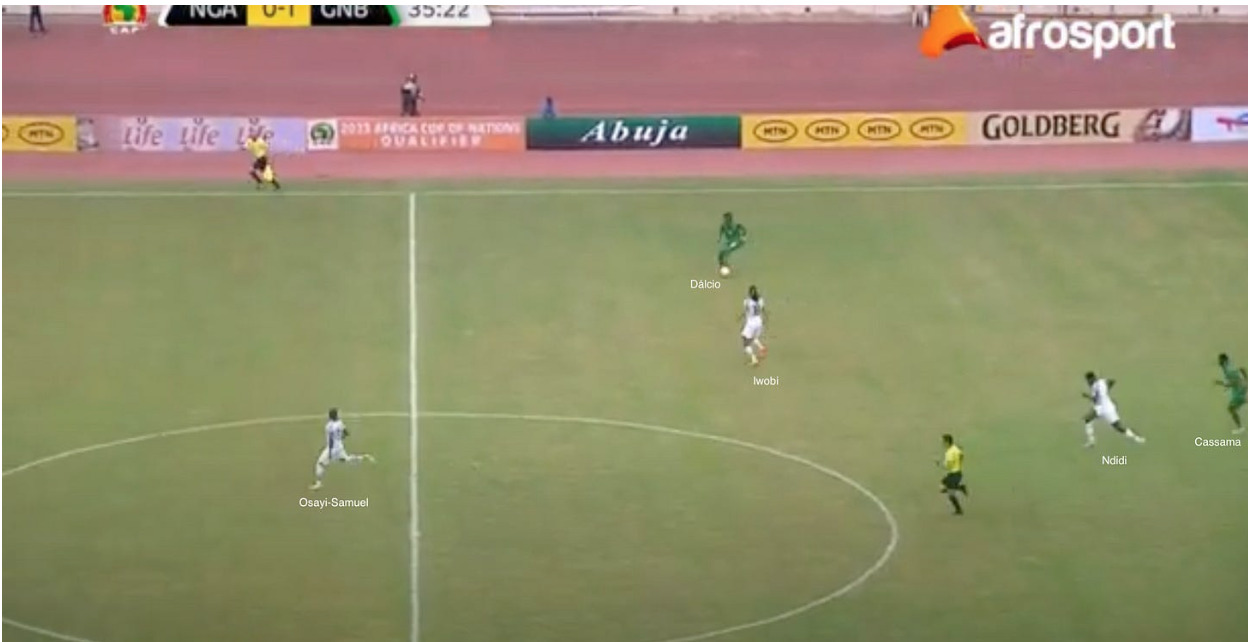 Dálcio is on the counter-attack, with help to arrive from Moreto Cassama and other teammates. The counter-attack ends up winding its way to left-back Fali Candé, who then lifts a ball to wide-open Dálcio. Luckily for the Super Eagles, he chips it into the side netting, and the deficit remains at one.
When Guinea-Bissau had the ball and controlled the tempo, which was very rare, Nigeria defended solidly. Iwobi often tracked back, and Akpoguma and Bassey fought off Baldé. It seemed like Osayi-Samuel was more involved than his fullback partner Zaidu, but regardless, Nigeria was able to stop the Bissau-Guinean attacks and turn defense back to offense.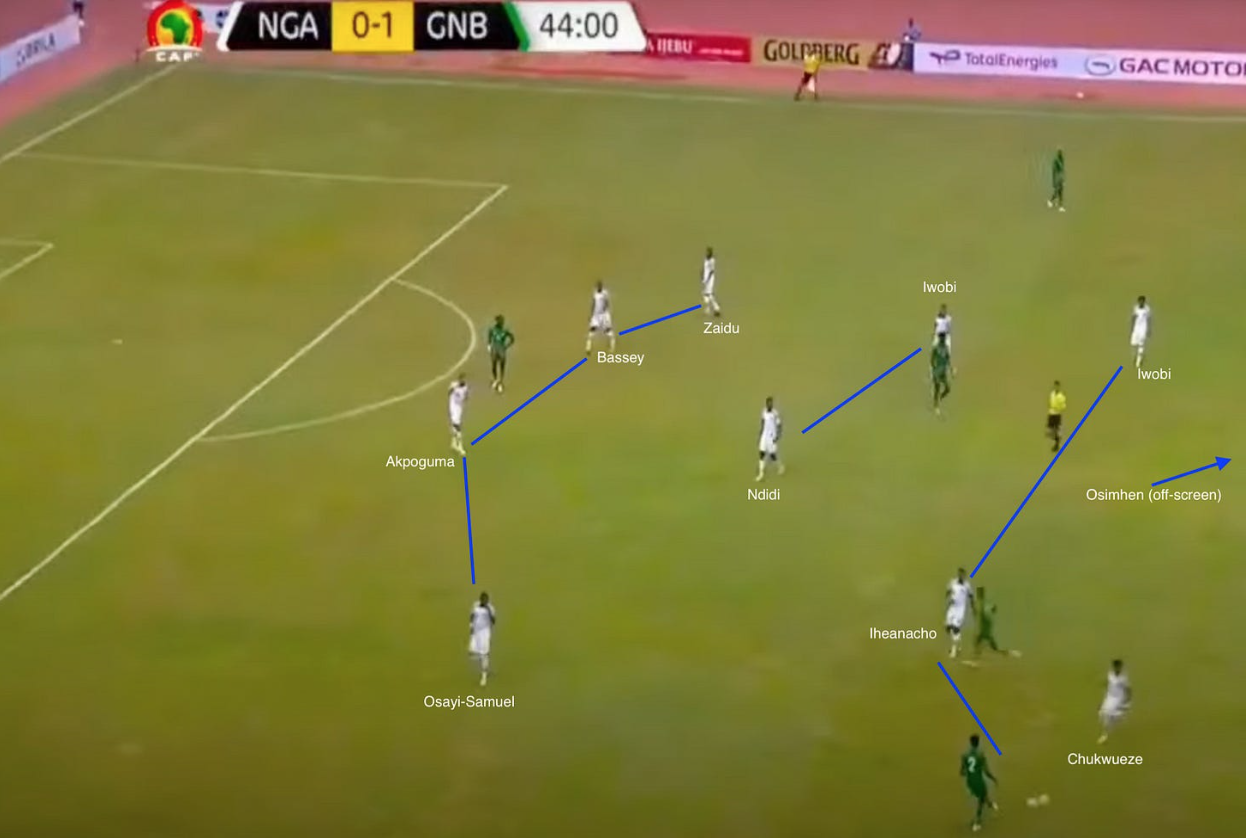 Nigeria's defensive structure resembles a 4-2-3-1 rather than a 4-4-2. But the game's only goal of the match, surprisingly, was not scored off a counter-attack or a Nigerian goalkeeping gaffe. It came with a long ball that the Nigerians only have themselves to blame.
After a typical pressing situation where Nigeria drove Guinea-Bissau back to their own half, Sangante drove a 50-yard pass perfectly to Baldé, and he converted. It was a simple goal, but the Super Eagles will be kicking themselves because it went completely against the tide.
Nigeria was excellent on defense aside from Baldé's goal and Dálcio's big miss, especially Osayi-Samuel. He won 10 of his 11 duels, earned one interception, and got three tackles. Akpougma, Bassey, and Ndidi were excellent as well.
The Super Eagles enter their away match in second place and at risk of losing their contender status in African football. Fans are already calling for Jose Peseiro's head, and most are touting one of Finidi George (assistant coach) or Sunday Oliseh (former coach) to replace him.
What Can Change?
Peseiro's dynamic 4-4-2 formation worked with Sporting CP, where he led them to the 2005 UEFA Cup Final, and it worked with Braga, where he won the Taça da Liga. The formation has landed him jobs at Al Ahly, Al Hilal (Saudi Arabia), and the Venezuela national team. His formation should not be the thing to change.
Nigeria is crippling itself with its reliance on Osimhen. This was not the case in their previous wins. The difference? Osimhen had another target forward alongside him. Against Sierra Leone, Sadiq started, while Moffi lined up alongside Osimhen against Sao Tome and scored. Two target forwards not only naturally creates space for each attacker, but also prevents two center-backs from doubling up on one.
Against Guinea-Bissau, Nigeria employed Iheanacho, who dropped deep to become a #10. Although it granted Nigeria creativity in the final third, which we saw a lot of, it took away Nigeria's ability to threat opponents everywhere inside the box. The main threat, and sometimes the only threat on the Super Eagles' offensive drives was Osimhen, and Guinea-Bissau coach Baciro Candé did a good job of preventing Osimhen from getting shots off.
"This victory is for the Guinea-Bissau people, we respect all the Nigerian players, but big names don't play football on the pitch. They (Eagles) tried to do everything to beat us and created many scoring chances, but we deserved to win," stated Baciro Candé in the post-game press conference.
The solution? Start either Onauchu or Moffi next game. Onauchu had 16 league goals in 19 games for Genk, and is getting steady playing time at Southampton. Moffi has scored 15 goals in 24 Ligue 1 games for Nice this season. Both are in-form and had exciting cameos this season, and it would not be an outright lie to say Peseiro is strongly considering this opportunity.
It's tougher to replace other members of the team. Akpoguma was less-than-impressive on Friday, but he does not have the best depth at the center-back position. Assuming Bassey is a lock for Monday, Akpoguma's biggest competition is West Bromwich Albion's rotation player Semi Ajayi, who played 35 minutes today.
Peseiro is still on the right track although the Friday loss pushes him towards unpopularity in Nigeria. This revenge match gives him a chance either to make it right again. With a win, Nigeria will move to nine points and back into first place, but they're only better on paper. A win is not expected, but needed.
With Monday's date at Estadio 24 de Setembro looming, this is as close to a final as we will get in for a year or so. It will determine their status in Africa, and for a Nigeria side suffering disappointment after disappointment, this will be no regular match. A war is brewing, and only Tuesday knows how the impending match will go.
By: Deolu Akingbade / @AkingbadeDeolu
Featured Image: @GabFoligno / CAF