Tactical Analysis: Tottenham vs. Manchester City
On Sunday afternoon, in the final match of the Premier League's opening weekend, Tottenham  Hotspur hosted Manchester City in what was undoubtedly the most anticipated fixture of the round. Much of the pre-match discussion was around City's new £100m signing Jack Grealish and Spurs' Harry Kane, also touted with a move to the Citizens, but it was Son Heung-min who stole the headlines, scoring the only goal of the game in Spurs' 1-0 win. 
Despite the visitors asking all of the questions in the opening quarter of the game, Tottenham managed to steady themselves and limit City from creating too many big chances, and also looking regularly dangerous on the counter-attack. Half-time came and went and it was 10 minutes into the second half that Son broke the deadlock. 
Last season the South Korean scored 17 goals from just 9.74 xG and many doubted he'd be able to continue that level of over-performance this season, but his left-footed curler from the edge of the box, with an xG value of just 0.03, found its way into the bottom corner and sent the home fans into rapture. 
Pep Guardiola made some tweaks in an effort to get his team back into the game, shifting  Grealish out wide to facilitate the entrance of Kevin De Bruyne, but the Premier League's most expensive player was unable to light the spark for his new club, picking up a yellow card moments before the final whistle blew. 
Nuno Espírito Santo will be absolutely delighted with the performance of his players in his first match as the new Tottenham boss, and Guardiola will likely be scratching his head following consecutive 1-0 losses to start the season. 
Spurs' Narrow Mid-Block
Something that becomes obvious very early on in the game was Tottenham's defensive strategy. When City were trying to build out from their defence, Nuno's Spurs side regrouped quickly into a  4-3-3 mid-block with the front line of Lucas Moura, Son and Steven Bergwijn getting extraordinarily narrow in an effort to block easy passing lanes into Fernandinho.
At times, it even looked like Son was man-marking the Brazilian. Behind the front line was a midfield three of Pierre-Emile Højbjerg, Oliver Skipp and Dele Alli with the two wider central midfielders blocking the half-spaces.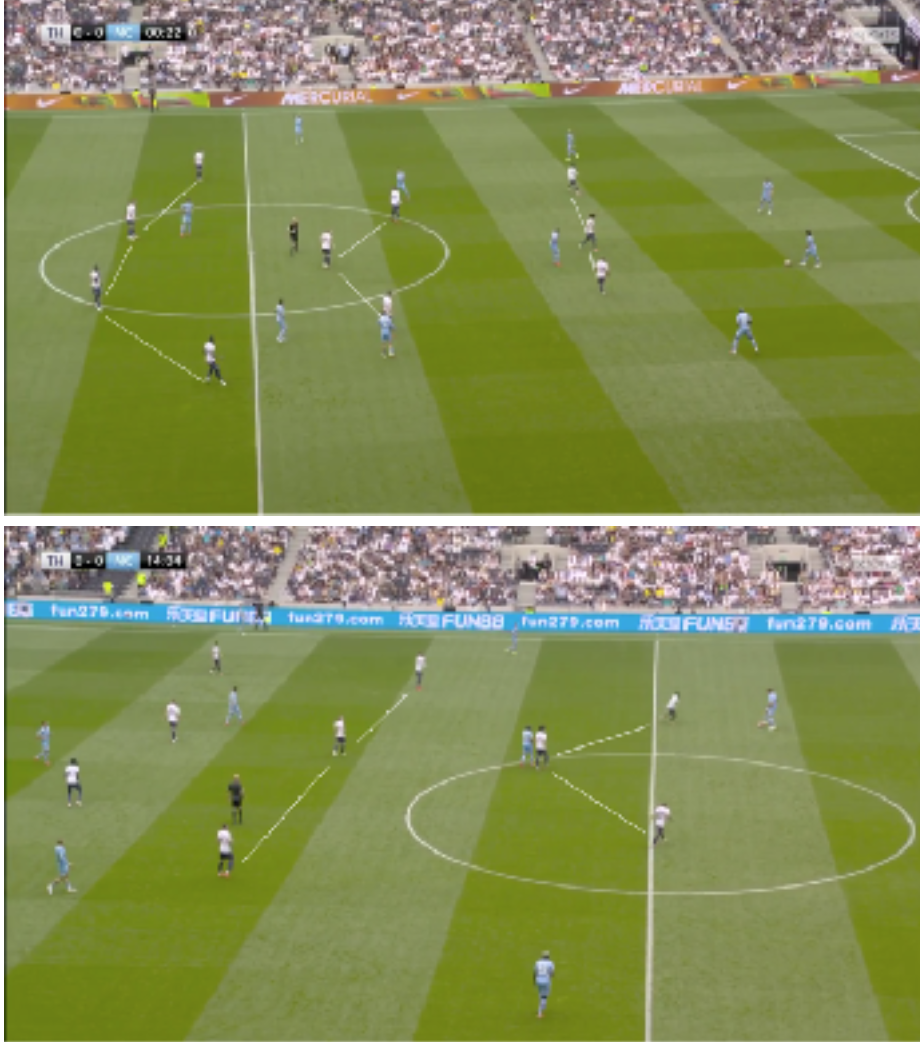 I think Fernandinho's contributions in possession often get overlooked. He's developed a  reputation for being the king of the tactical foul – someone who breaks up play and offers defensive balance to a Manchester City team brimming with hyper-technical ballplayers. 
While none of that is totally untrue, Fernandinho is absolutely crucial to the way Guardiola's team play through the thirds and offers far more on the ball than he gets credit for. When compared with every centre-mid across Europe's 'big five' leagues during the last 365 days, he ranks in the  99th percentile (top 1%) for both passes into the final third and progressive carries, and in the  98th percentile (top 2%) for both progressive passes and carries into the final third.
The Brazilian veteran is an absolute machine when City have established possession. Nuno's set-up here meant Fernandinho really struggled to get onto the ball and dictate the play,  regularly forcing City out wide where Tottenham sprung into life and pressed aggressively to win the ball back. 
When Nuno was appointed at Spurs many were quick to draw comparisons between him and predecessor José Mourinho, his former boss, and while there are similarities in their approaches, both clearly favouring a counter-attacking game, today showed the clear differences between them. At times Mourinho's team were unwatchable. They were passive, scared, and unsure of themselves. A wall of bodies waiting to be scored against. 
Nuno's men were aggressive and proactive, waiting to pounce whenever their opponents fell into their trap. Japhet Tanganga was particularly good here, with Gary Neville giving him the Man of the Match award. However, there was one man in particular that took the interest of the Tottenham players…
Benjamin Mendy: A Paradox
A couple of months back, in the build-up to Euro 2020, I remember watching Rio Ferdinand having a debate about the England squad, more specifically about the potential inclusion of Trent Alexander-Arnold. The person Ferdinand was debating (a Manchester United fan) was arguing that Alexander-Arnold shouldn't be included in the squad because of his limitations when defending. 
The former England and Man United centre-back disagreed, though, arguing that we've started spending too much time looking at players' weaknesses, and not enough at their strengths. "With the ball, Trent smashes all of them to pieces. His best attributes absolutely outweigh everything else. I'll tell you what we do too much in this game: we look for people's weaknesses. Yaya Touré is the best example. 'He can't defend, he can't play in a 4-4-2'. Shut up! He's an  absolute animal on the pitch." 
The more I thought about it the more I agreed with Rio, and so before we get too harsh on City left-back Benjamin Mendy, let's look at what he did well. For all the praise Tanganga got after the final whistle, for the opening 20-or-so minutes of the game he was having a bit of a tough time. 
Raheem Sterling and Grealish have clearly developed quite an understanding already in their short time together for England and City, and their rotations down the left were looking very dangerous. Mendy's involvement, though, made it look even better. Regularly, Tanganga would be drawn out wide leaving a big gap between himself and Davinson Sánchez, and Skipp was often having to drop in and make last-ditch blocks and tackles. 
Grealish was given a surprising amount of freedom to roam for the ball, and Mendy was repeatedly making dangerous runs at exactly the right times, as if he'd been playing with Grealish for years rather than days. If Grealish came deep, Sterling would go wide and Mendy would underlap into the half-space. If  Grealish was wide and started making one of his trademark out-to-in dribbles, Mendy would overlap. 
There was some really exciting forward play from the Frenchman and his combinations down the left showed promise, but (and there is a but), when you're playing as a left-back you still have to perform the 'back' part of the role.
In the Community Shield last weekend I noticed that Mendy was having a bit of trouble inverting alongside Fernandinho when City were building up. He looked a little unsure of himself and it was obvious that Brendan Rodgers' Leicester were targeting him with their press. 
Tottenham did the same, hounding the left-back down whenever he received a pass, and it makes you wonder how long he'll last for Guardiola when he's such a standout liability in this area of the game. Similarly, whenever Spurs launched a counter-attack, it was often coming down Mendy's side because he did absolutely no tracking back when it was most needed. 
The eventual goal came from this situation, but there were plenty of warning signs before that. You can see here that Tottenham launch a counter-attack towards the end of the first-half. When they win the ball both Mendy and João Cancelo are in shot, and by the time Spurs have reached the City box Cancelo is in line with his centre-backs, but Mendy is nowhere to be seen, leaving  Lucas Moura in space.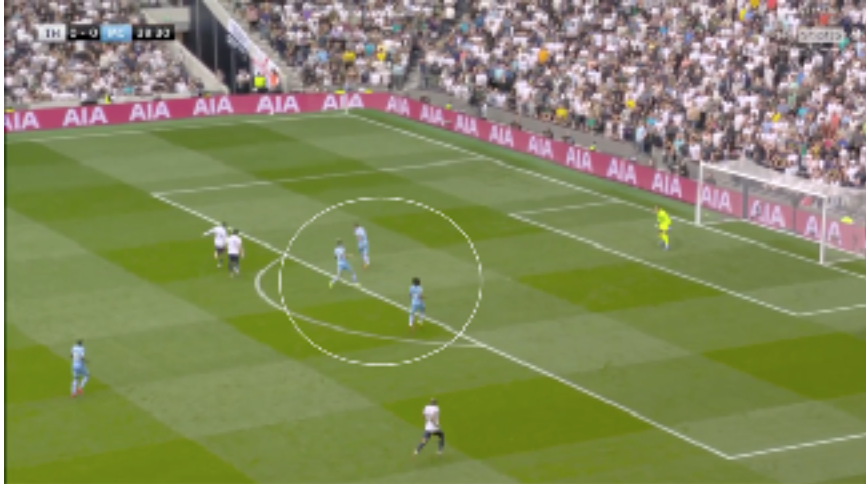 No changes were made and City were punished for Mendy's laziness. You can see that when  Tottenham win this header (which starts the goal-scoring counter-attack), Mendy and Cancelo are virtually exactly in line with each other, but by the time Son gets on the ball, Cancelo is almost back into position, while Mendy is still chasing.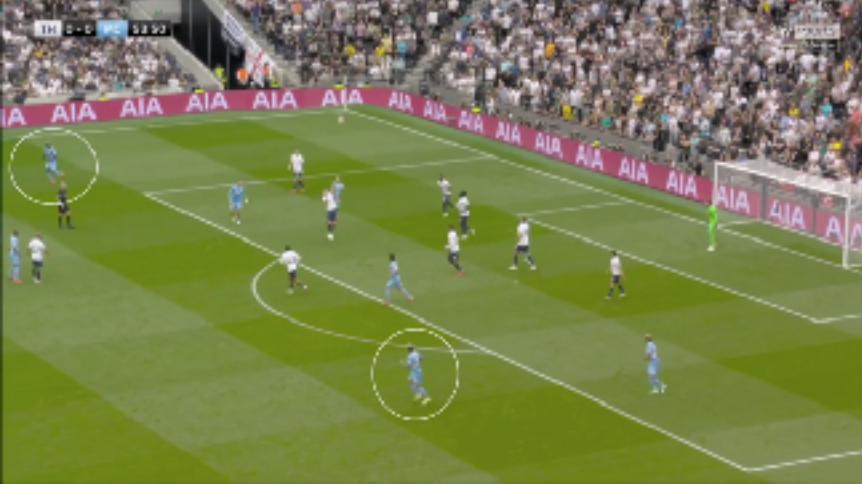 Son is able to cut inside onto his weaker left foot and whip a beautiful shot across Ederson and  into the far corner, but had it not been for Mendy, City may have been able to block the shot. As he's taking so long to get back into position, Nathan Aké is pulled all the way out to where a  left-back should be, leaving an enormous space between himself and centre-back partner Rúben Dias. 
When Son cuts onto his left, he's able to shoot through a massive gap, but had Mendy got back sooner, it's likely that Aké, or even Mendy himself, would've been able to more effectively block that space.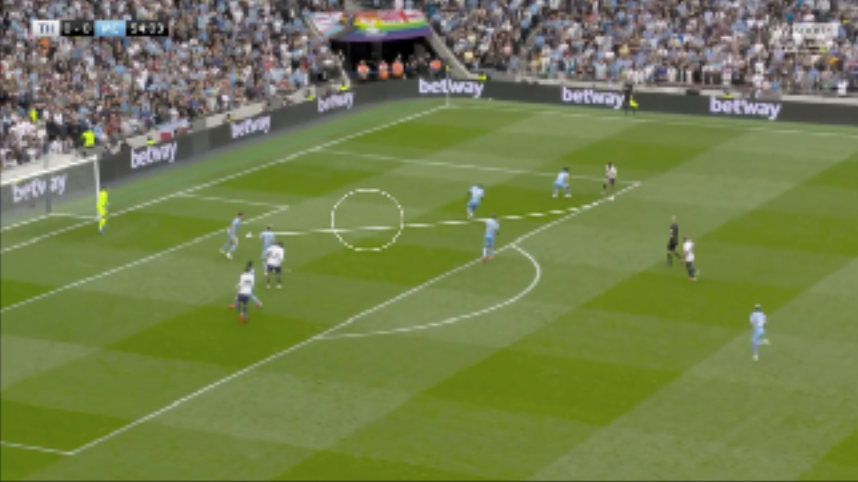 Nuno's New Adama Traoré?
Gary Neville may have given the man of the match award to Tanganga, but for me, it was Lucas Moura. We all know how good City are at pressing and pinning a team in, and anyone playing against them needs to find a way to effectively get up the pitch and away from their own goal – Nuno's answer was the Brazilian winger. 
When Tottenham were defending, their front-three was actually barely involved. Instead, they would stay high up the pitch and wait for one of their defenders or more combative midfielders to win the ball. Once Spurs had regained possession the tactic was clear to see – get the ball to one of the wingers for them to drag the team up the pitch and away from danger. 
Nuno's star-boy for this at Wolves was of course Adama Traoré, but Moura will have made quite the impression on his new boss after what was a stellar performance. In the game, he attempted the most dribbles (10), completed the most dribbles (6), created the most chances (3), and won the most duels (16). With a performance like that, don't be surprised if you see him getting his arms oiled up on the sidelines in the coming weeks.
By: Jake Lane / @jakerslane
Featured Image: @GabFoligno / Marc Atkins – Getty Images