What Mauricio Pochettino's Chelsea Might Look Like
Chelsea have finally confirmed the appointment of Mauricio Pochettino as their new head coach. After what was a truly disastrous season for the West London giants, owner Todd Boehly wanted to ensure that the next managerial appointment would be the right one for the club and its plethora of young players.
After an extensive search, they landed upon the former Tottenham Hotspur boss as the man to lead the club forward. Pochettino has a massive job on his hands as he attempts to make the best use of Chelsea's heavy investment in new players and restore the club as a major force in English and European football. I will now explore what Mauricio Pochettino's Chelsea side might look like.
The most notably crucial component of a Mauricio Pochettino team is the ability to press aggressively. The Argentinian coach instructs his players to apply this press regularly and play with high intensity to unsettle the opposition. As a disciple of Marcelo Bielsa, it makes sense that Pochettino favours this approach and values athletic players who can play with this intensity.
As such, he puts his players through rigorous, arduous training sessions in order to prepare them for this style of play and the energy levels needed for it throughout an entire season. This will certainly present itself as a reality check for a number of Chelsea players following a disappointing season where the team played with a notable lack of intensity.
However, considering how young the Chelsea squad is, one would imagine that they should have the requisite energy levels for Pochettino's style of play and his high-intensity training sessions. This appears to be an ideal match considering the Argentine's track record with coaching young players with high ceilings.
As we enter the 2023 summer transfer window, Chelsea will be looking to make more additions despite the ~€600 million they spent on transfers during Todd Boehly's first year in charge. This summer will allow the squad to get closer to Pochettino's club vision, both in the short term and, perhaps more crucially, the long term. As such, it makes sense to take a look at what Chelsea might look like following the summer transfer window.
Chelsea's 2023/24 potential squad
At the moment, Chelsea have an extremely bloated squad, therefore departures will arguably be even more important than acquisitions this summer. Departures will also be needed in order to comply with UEFA's Financial Fair Play (FFP) regulations following the club's recent heavy spending.
Of course, some young players will be loaned out as opposed to being sold, such as Brazilian starlet Andrey Santos, but most departures are likely to be permanent sales. The club's lack of European football next season also means a thinner squad would be ideal in order to ensure that players do not grow unhappy with their playing time or lack thereof.
It goes without saying that Chelsea should look to acquire a goalkeeper. Neither Édouard Mendy nor Kepa Arrizabalaga is good enough to be relied upon as the club's starting goalkeeper. Whilst one may stay as a backup, Chelsea should (and likely will) pursue a new, experienced shot-stopper, which would then allow the young Gabriel Slonina to go out on loan and develop for a few years before taking the reins at Stamford Bridge.
David Raya would be a fantastic option for the club at 27 years old with one year remaining on his contract with Brentford. That said, the Bees are reportedly seeking up to £40 million for their goalkeeper — a fee that may prove prohibitive for prospective buyers. However, his quality is not in question and he would immediately bolster the goalkeeping department at Stamford Bridge.
Chelsea's midfield options are likely to change extensively this summer. Mateo Kovačić has been heavily linked with a move to Manchester City, N'Golo Kanté is yet to extend his expiring deal with the club and the likes of Andrey Santos and Carney Chukwuemeka are not ready to be regular starters every week, particularly with the former still requiring a work permit to play football in England. As such, a reliable partner for Enzo Fernández would be a pivotal acquisition for Mauricio Pochettino's side. 
Pochettino is renowned for having two industrious midfielders in the double pivot in his 4-2-3-1 formation, therefore a proficient ball-winner would be a perfect fit next to Fernández, allowing the World Cup-winner to play in a more expansive manner. As such, Chelsea have reportedly been aggressively pursuing Sporting CP midfielder Manuel Ugarte and are in advanced talks with super-agent Jorge Mendes. Ugarte is an elite ball-winner, in addition to being extremely underrated in possession as a volume passer and ball-carrier. His skill set would complement Enzo Fernández wonderfully.
Moisés Caicedo is another player who has been linked with a move to West London. The Ecuadorian youngster has emerged as one of the premier midfielders in England and has attracted interest from a number of teams throughout the league. His press-resistance and ball-winning abilities would complement Enzo Fernández nicely too, although he would come at a steep cost, likely in the region of €100 million. That said, the oft-reliable Fabrizio Romano has reported that Chelsea are interested in acquiring both Ugarte and Caicedo which would serve as an immense boost to their squad.
If we take a look at Pochettino's past approaches, particularly with Southampton and Spurs, his 4-2-3-1 formation involved three players behind the centre-forward in close proximity. There is a pertinent question regarding whether such a shape would work with Noni Madueke and Mykhailo Mudryk who both prefer to play wider, especially the latter who is a genuine touchline winger who can use his pace and dynamism more effectively. This close proximity allows the full-backs to push forward aggressively and hold the width, creating a 2-2-6 shape offensively.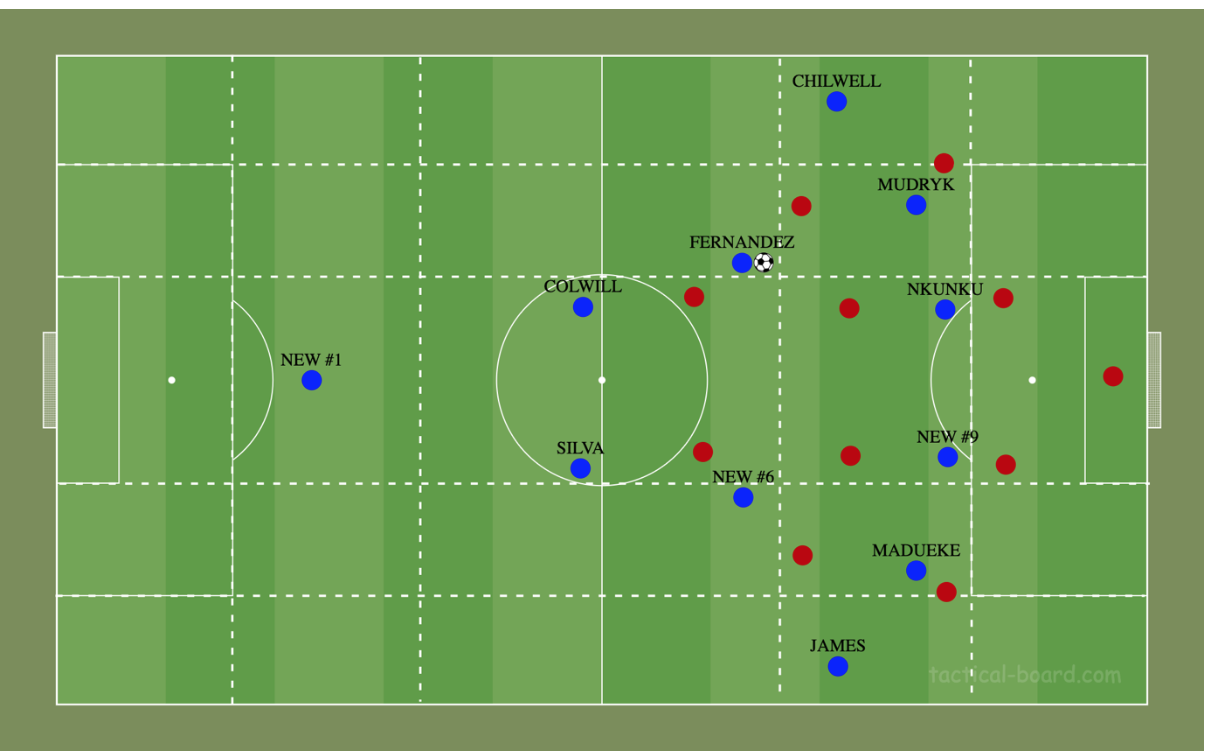 Chelsea's potential 2-2-6 shape
This shape would allow Chelsea to overload the last line offensively. However, the fewer numbers in rest defence does make this shape susceptible to opposition counter-attacks. As such, Pochettino would occasionally set his team up in a 3-2-5 shape, which has become increasingly popular in modern-day football.
This would involve one full-back staying back and forming a back three with the centre-backs with the opposite full-back pushing forward and joining the attackers. Hypothetically, this could work with the left-back forming a back three and one of Reece James or Malo Gusto holding the width on the right, thus allowing Mudryk to, more naturally, hold the width on the left.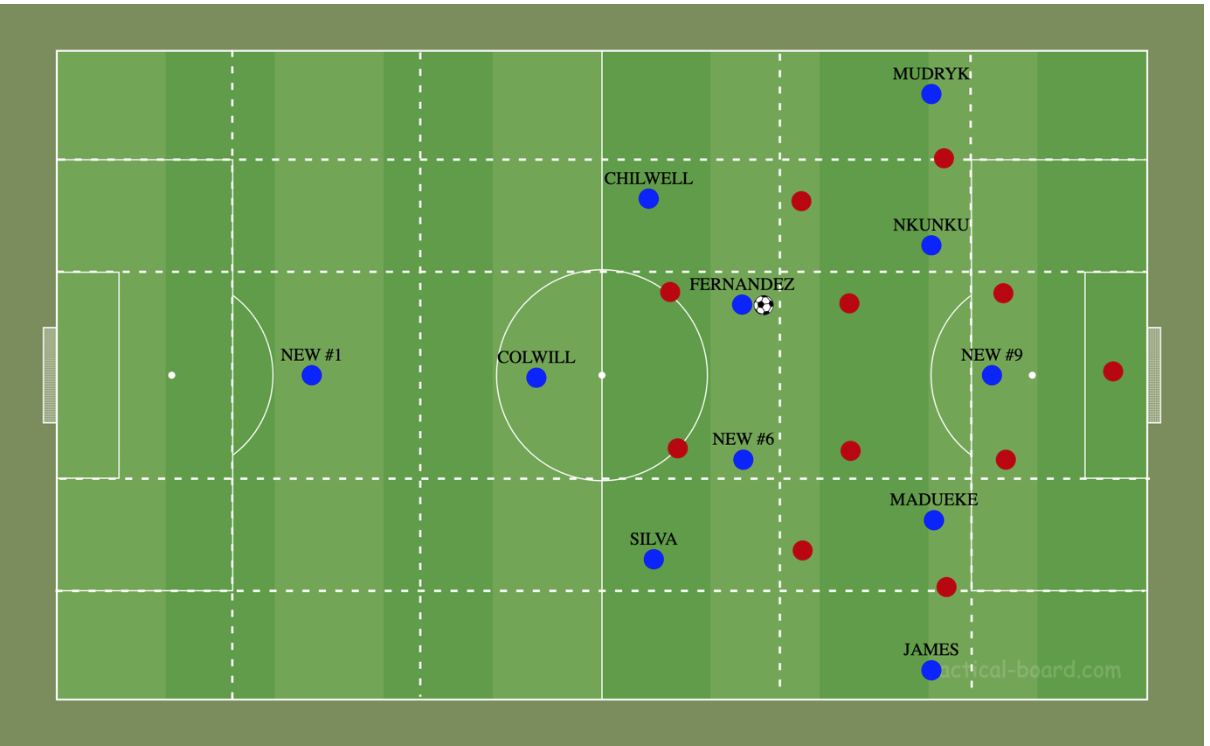 Chelsea's potential 3-2-5 shape
This 3-2-5 shape could also present itself in the 3-4-3 formation occasionally used by the Argentine. He used this formation at times during his stint with Tottenham Hotspur when he needed 5 players in the last line defensively against the likes of Chelsea and Manchester City who both attacked with 5 players in the last line. However, with Chelsea's current squad and their transfer pursuits, a back-four system appears more likely.
One player who could thrive under Mauricio Pochettino is the incoming Christopher Nkunku. The Frenchman could take on the Dele Alli-role as a shadow striker and use his creative and goal-scoring abilities to be extremely productive for the Blues. During four seasons with RB Leipzig, Nkunku has recorded an impressive 70 goals and 39 assists in all competitions for the club — numbers that should translate well to a shadow striker role under Pochettino.
As such, it's unsurprising that Chelsea are pursuing a centre-forward off of whom Christopher Nkunku can play. In a perfect world, Chelsea would acquire Harry Kane. Mauricio Pochettino knows the England captain better than arguably any other coach and knows how to get the best out of him. However, it appears as though the Tottenham talisman is prioritising a move to Manchester United and, even then, Daniel Levy is reluctant to sell his superstar striker to a Premier League rival.
Chelsea have also been linked with the likes of Victor Osimhen and Dušan Vlahović, both of whom will command large fees, especially Osimhen who is reportedly valued at up to €150 million by his current employers, Napoli. There aren't many high-level centre-forward options on the market at the moment, so whoever the Blues decide to pursue will likely command a significant fee. There is also the question of whether or not Romelu Lukaku will have a role to play at Stamford Bridge next season, although that does appear unlikely.
Wherever the Belgian forward is sold, the club will likely have to accept a massive loss on the amount they paid to acquire him two years ago. And, of course, there is a scenario in which Christopher Nkunku is simply deployed as a centre-forward. He's certainly capable of playing in that role and it would negate the immediate need for major reinforcements in attack. Whichever direction Chelsea decide to go in, it will likely need to be within a realistic budget.
It's always possible that, during his time away from the game, Mauricio Pochettino has changed his vision of how he'd want his side to play. The game of football continues to evolve therefore coaches must evolve too. It is also important to adapt to the players at your disposal, and Pochettino will need to do so as addressed in this piece. From a player quality standpoint, the future appears bright for Chelsea, but it's important to have a coach who can get the best out of these players. Mauricio Pochettino certainly has his work cut out for him, but he's shown the ability to maximise the talent available to him.
By: Lebohang Mwamuka / @lebzygold
Featured Image: @GabFoligno David Ramos / Getty Images