Tactical Preview: Manchester City vs. Liverpool
In beginning my research for this game, I looked back at the electric clash between Manchester City and Liverpool in the fall of 2021. And what was it that made that game so special?
Mohamed Salah's wondergoal certainly didn't hurt the game's notoriety, but it was each team's willingness to take chances and create shots with no fear. There have been some incredibly special games between these two sides in recent years, with 5 wins for each team and 4 draws in the 14 meetings in the Klopp/Pep era.
An unbelievably tight rivalry featuring two of the best premier league teams ever assembled. This year, however, these teams have gone above in beyond in their dominance, aggressive style of play, and willingness to take chances and play exciting, beautiful football.
In the data, we can see that City and Liverpool are significantly outperforming in shots on target (SOT)/90. Liverpool is creating 6.43 SOT a game with City managing 6.37 which are both significantly higher than the league average of 4.138.
Fabio Carvalho: Liverpool's Deadline Day Target Devastatingly Effective For Table-Topping Fulham
This may seem like obvious outperformance from dominant teams, but last years man City topped the charts with 5.61 SOT/game with 4 other teams also breaking 5.0. This year, Chelsea is the next highest shot creator with an even 5.0 SOT/90.
Such huge outperformance in this particular metric shows how Pep and Klopp have constructed systems that are able to maximize chances on almost any kind of defense.
Each manager is distinctly using the personnel at their disposal to draw teams out, penetrate, and ultimately open up space in and around the penalty spot for high-value chances.
This aggressive high-volume shooting has led each team to dominate in expected goals (LFC = 2.47xg/90, Man City = 2.29xg/90) with Liverpool (2.57 G/90) slightly overperforming and Man City (2.27 G/90) slightly underperforming, respectively.
So why have Man City and Liverpool outperformed the entire league and even their own previous iterations?
Because Klopp and Pep are once again innovating the way in which fullbacks are used to spread the pitch, create overloads, and generate high-quality chances in the key areas of the final third.
Let's first look at Man City's tactical set-up and how Pep uses a single pivot to allow up to 7 attackers to be in and around the final third.
Joao Cancelo, one of the most versatile men in football, frequently steps up into the number #6 or #8 position alongside Rodri, but his attacking output makes him almost a 3rd number 10 with Kevin De Bruyne and Bernardo Silva offering width and a dangerous presence at top of the box.
This additional man in the midfield creates mismatches against even the most organized defenses. From here, Pep allows an individual technical flair to take over and puts his players in triangles with the idea to get a man to the byline for a cross to the top of the 6.
He heavily favors the left side for creativity, as he overloads Joao, Bernardo, and De Bruyne in support of Jack Grealish or Raheem Sterling.
They poke and prod until they find the deadly combination. And on the opposite side? A resurgent Riyad Mahrez (10G 4A in 12 starts) offers an isolation threat to ensure that there is no help defense from the other side.
Even Rodri, a pure #6, steps up and scores a worldie for this side when the time comes. Defensively, Man City uses the pace of Kyle Walker to make a firm back 3 that stifles counterattacks until they can get their shape.
However, what happened on Liverpool's first goal back in October? Mo Salah skips by Cancelo and Sadio Mane runs across the front of the 3 to cause confusion and find the net. Their defense isn't impenetrable, but it takes incredibly smart movement to find a hole. And City's second goal?
A Kevin De Bruyne strike from the top of the box off a Phil Foden cutback. So we've seen one half of what makes this game such a heavyweight matchup. Let's go to Merseyside and look to understand what Liverpool will try to do this weekend.
While Pep uses the inside spaces (or half-space) in the final third to create opportunities through the center of the pitch, Klopp utilizes the half spaces in build up higher up the pitch. This allows Trent Alexander Arnold and Andy Robertson to influence the game and puts them in the perfect crossing positions in the final third.
Particularly on the right side, Trent and Mo Salah combine with the midfielder (often Henderson but I believe Elliot is incredibly effective here too) to draw out an outside back and opposing midfielder, giving either Trent or Mo some amount of free space.
We have seen the last 3 years just how effective they can each be with some space and time on the ball. It is here that the fullbacks are crucial, they push up to create triangles, then receive the ball in one of the wide spaces in the final third.
A mix between low-driven crosses, floated aerials, and pinpoint through balls keep defenses on their toes as soon as the ball crosses halfway.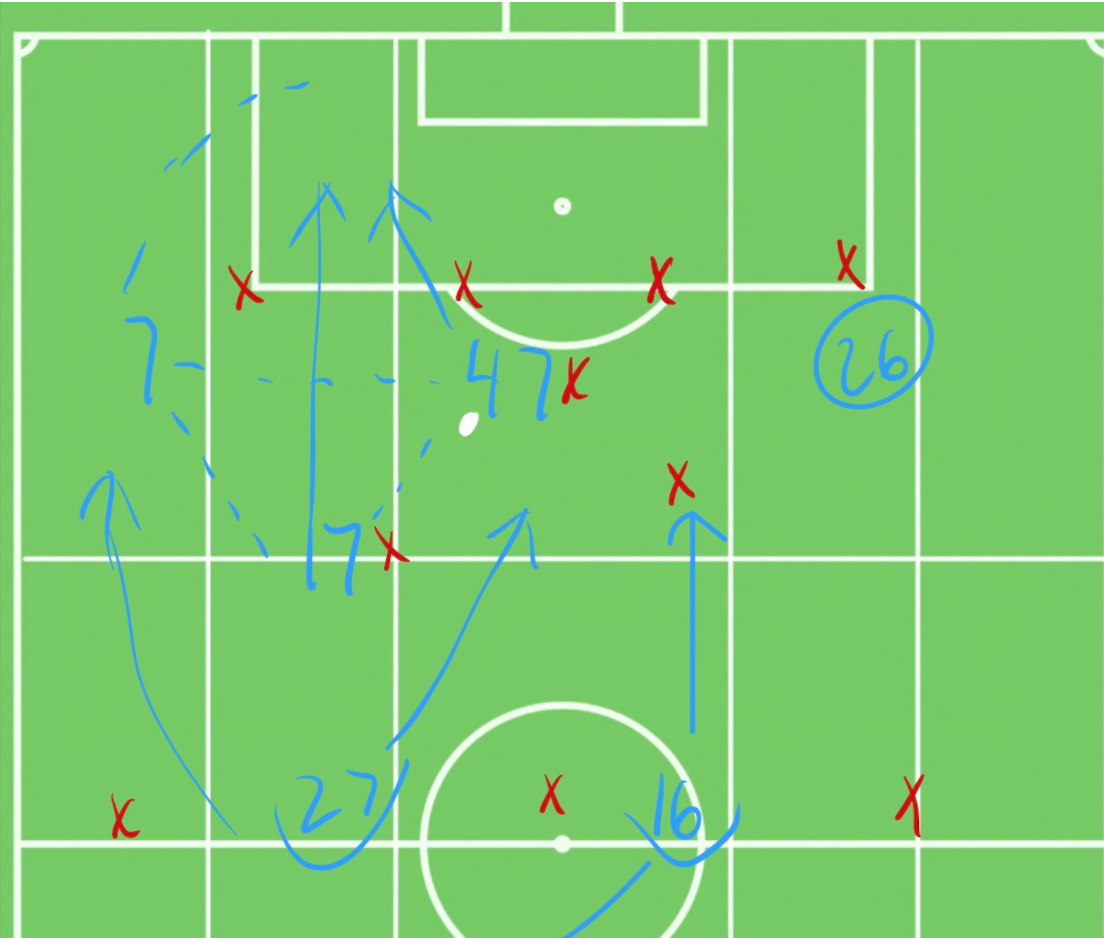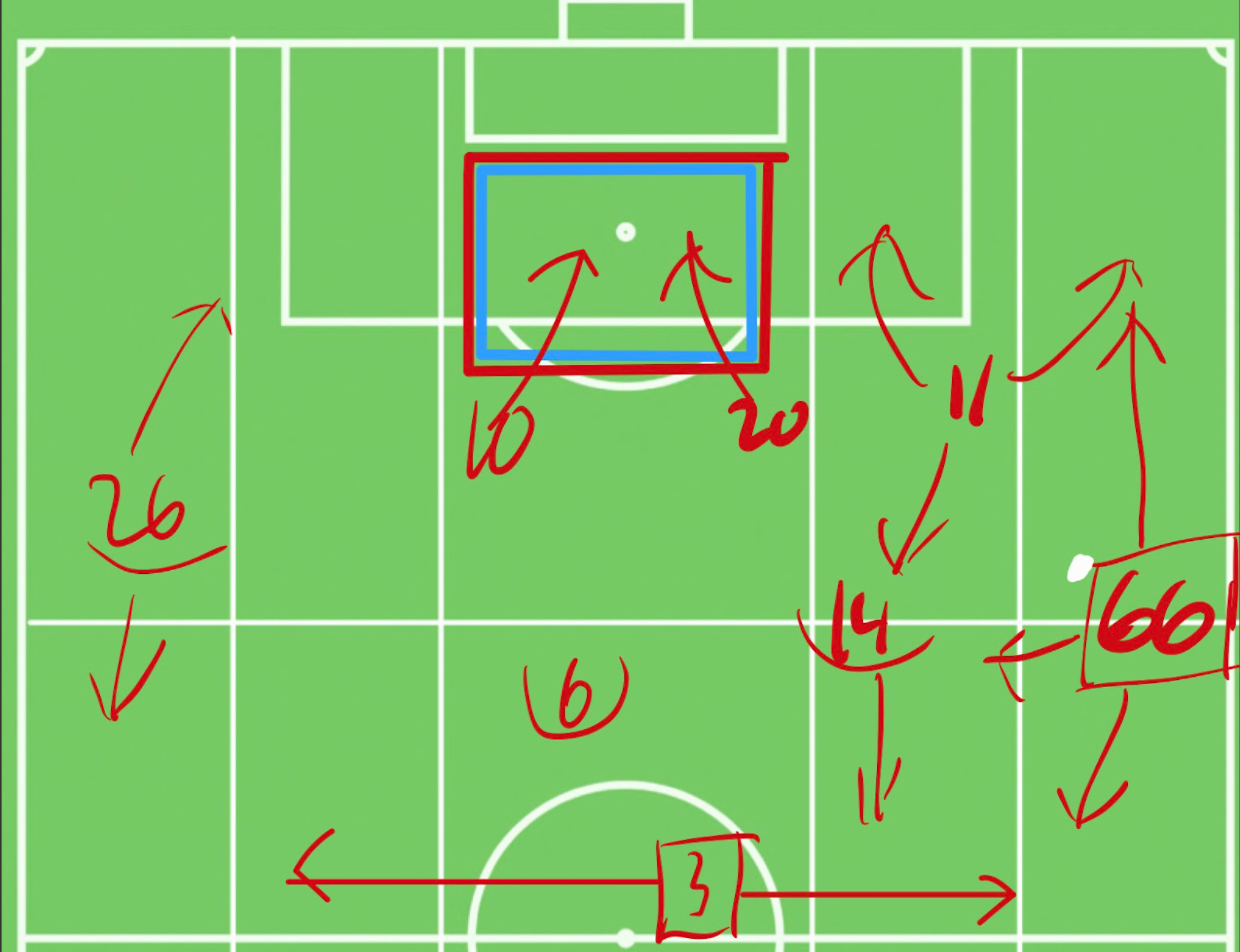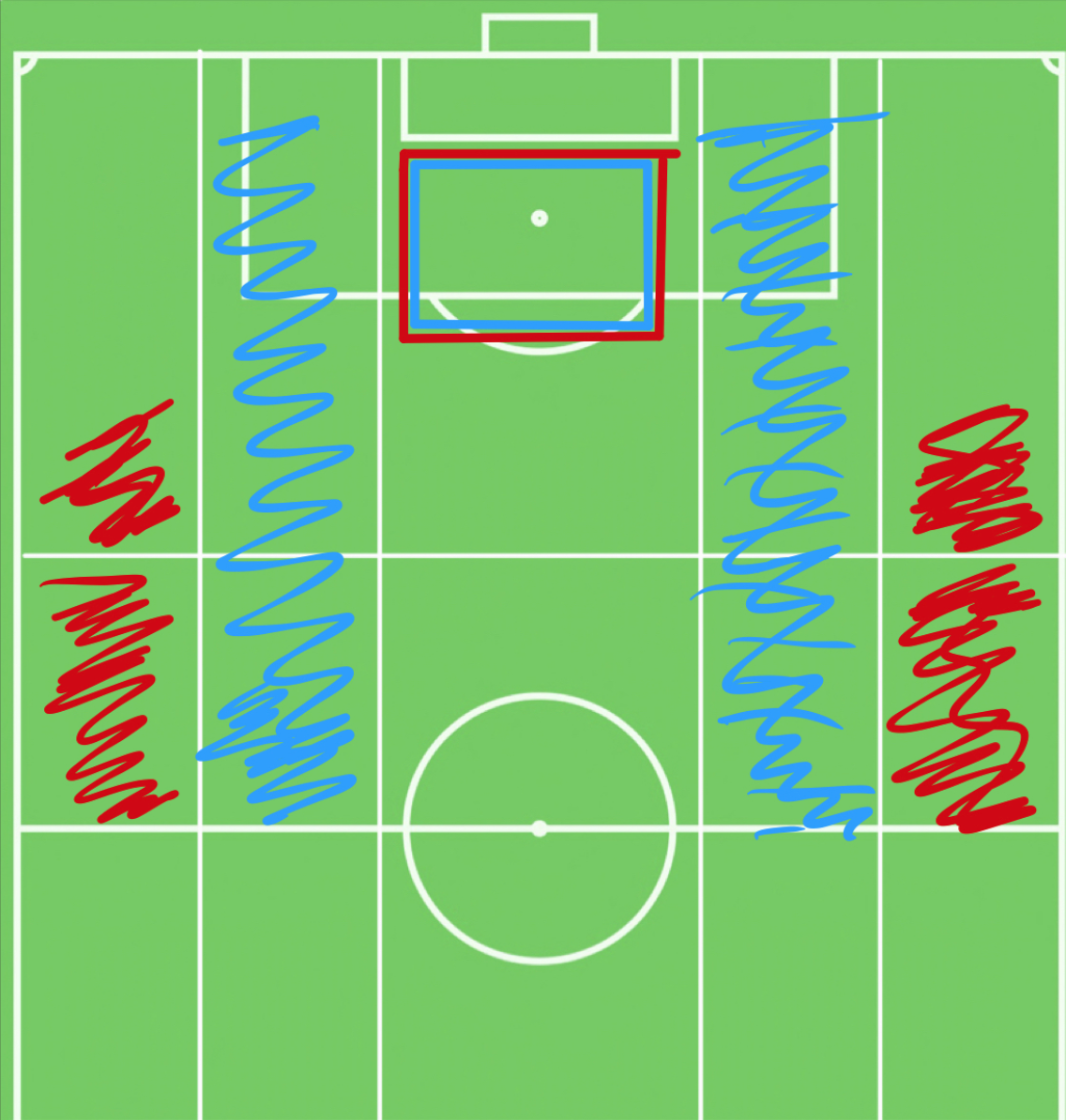 Although Mo has seen his form decrease since AFCON, when he runs from the outside to the middle of the pitch around 30 yards from goal it creates absolute chaos. This is where the rest of the front 3 comes in.
With Sadio and Jota, they look to run into the channel in between two or three defenders to open up space, with a prime example being Jota's goal at Arsenal last month where Sadio confused Ben White and Jota ran onto a beautiful ball from Thiago.
I don't think we will see Bobby Firmino start in this match, but the addition of Luis Diaz offers a new kind of threat. Pacey but very skillful, Diaz can occupy multiple defenders in a way that the rest of the attackers rarely can.
While City build from the left, leaving the right for isolation, Diaz allows Liverpool to continue to build from the right with a potent attacker occupying the left side of the final third. Defensively, Liverpool can look exposed in 3 on 2 or 4 on 2 situations.
However, Klopp has faith in Van Dijk, Alisson, and Matip to handle most of these quick breaks. Many of the quick breaks get stopped by who I consider to be the crux of this team: Fabinho. Perhaps the best #6 in the world, "The Lighthouse" as they call him is there to snuff out any danger before it happens.
His ability to cover that space in front of the defense allows our attackers to miss opportunities and our midfielders or full backs to give the ball away. They know that there is a human shield ready to protect their defense, and he rarely gives the opponent a chance to pass. 
This match promises to be a clash of the titans. Regardless of the outcome here, however, these two teams may be considered the most dominant competitors in Premier League history.
Despite being incredibly solid defensively, these two teams sacrifice almost nothing in attack as they are both putting a ton of shots on target. Despite crafting their chances and defending in different ways, these two teams are strikingly similar in a statistical sense.
In their 15th meeting as head coaches of these two teams, both Pep Guardiola and Jurgen Klopp will be gunning to take the lead in the series, and the lead in the all-important title race. 
By: Jack Ashby / @jtashby12
Featured Image: @GabFoligno /