Finding a Replacement for Enzo Le Fée for Lorient
Enzo Le Fée has been nothing short of revolutionary for Lorient this season. He effortlessly became the pivotal player in an overachieving side having previously been a decent (but relatively uninspiring) mainstay since their days in Ligue 2 in the 2018/19 campaign. However, it seems inevitable that he will continue the trend of the mass exodus out of the Brittany-based club amidst his apparent success. Hence, following in the footsteps of Terem Moffi and Dango Outarra- who departed to OGC Nice and AFC Bournemouth respectively.
Enzo, very recently, has expressed his desire to depart to pastures new, greener and most definitely more lucrative. Albeit, it may go against conventional courtesy to speak openly about his wantaway wish- it was profoundly sympathetic and speaks emphatically of his compassion and appreciation for his boyhood club- which has singlehandedly elevated him to the extremely well-rounded player he is today- as below from his recent interview with Le Télégramme. 
"It's time for me to leave. I am someone who likes challenges and I want to show that I am capable of playing at the highest level. I have a special bond with the club and that's why I wanted to extend my contract at the start of the season. I waited for a contract offer from Lorient until December. It never came. Now I don't expect anything from the club and I won't extend my contract. I hope to leave this summer so that my transfer will bring money to Lorient.."
Le Fée's contract will expire next June (2024), which will allow Lorient to deservedly remunerate and reap the rewards of his progression. However, he will leave a gaping hole in Lorient's midfield which will be in desperate need of replacement to ensure the long-term prosperity of Lorient- if they fail to do so, a slippery slope back into the second tier of French football is not implausible. 
The data shows us that he is risk-seeking, avant-garde, attacking-focused, an able ball carrier, a goalscorer and by all means a capable defender- with a proclivity to do so notwithstanding his offensive style. This is exemplified in the below data visualisation.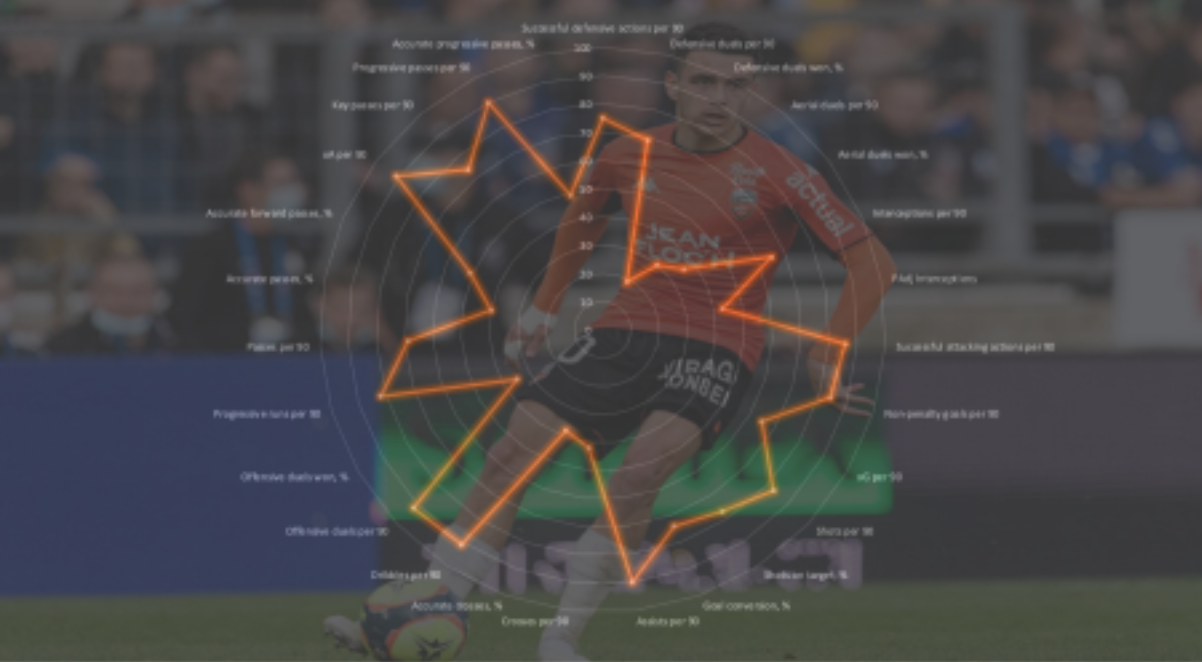 Percentile Rank in given metrics compared to CMs in Ligue 1 – minimum 10 matches played this season
As is evident, a replacement is paramount. His multi-faceted prowess and proficiency are evident and therefore to encompass all of his traits- I have opted for the below metrics and coinciding weights- which will create a weighted score out of 1- which would be somebody in the 100th percentile in all given metrics. 
Successful defensive actions per 90: 5% 
Defensive duels per 90: 3% 
Defensive duels won, %: 5% 
Aerial duels per 90: 2% 
Aerial duels won, %: 1% 
Interceptions per 90: 2% 
PAdj Interceptions: 2% 
Successful attacking actions per 90: 3% 
Non-penalty goals per 90: 7% 
xG per 90: 5% 
Shots per 90: 5% 
Shots on target, %: 4% 
Goal conversion, %: 2% 
Assists per 90: 5% 
Crosses per 90: 5% 
Accurate crosses: 2% 
Dribbles per 90: 8% 
Offensive Duels per 90: 4% 
Offensive duels won, %: 2% 
Progressive runs per 90: 3% 
Passes per 90: 2%
Accurate passes, %: 3% 
Accurate forward passes, %: 2% 
xA per 90: 7% 
Key passes per 90: 4% 
Progressive passes per 90: 5% 
Accurate progressive passes, %: 2% 
Moreover, as Enzo is only 23, I will filter the dataset to only those below 28 to ensure a youthful, future-proof rejuvenation- we will be looking for a like-for-like replacement in position (in the centre of midfield as portrayed by his below heatmap) and footedness- that being exclusively right footers. 
At the time of writing, Transfermarkt.com have Enzo valued at approximately 15 million euros. Thus, presuming ceteris paribus, it is unreasonable to assume that they would reinvest his fee in totality and therefore I'm going to set a hypothetical upper bound of 7.5 million euros for his replacement.
When Montpellier Ruled France: A Look Back at the 2011/12 Ligue 1 Champions
Due to the free-flowing structure of French Football's transfer policies and mandates, which are utterly idiosyncratic with the post-Brexit concurrent constraints that British clubs face, we can consider a plethora of leagues. Albeit, to ensure fairness these leagues will be weighted proportionally to the UEFA coefficient rankings. 
Using the above methodology, here are my top 10 recommendations for Lorient to replace Le Fée- from the highest weighted score down. 
1. Adem Zorgane
Current Club: Charleroi 

Nationality: Algeria 

Age: 23 

Date of Birth: 06/01/2000 

Height: 6'0" 

Weight: 77kg

Current Estimated Market Value: €6.00m 

Contract Expiry Date (at Current Club): 30/06/2027 
2. Tijani Reijnders
Current Club: AZ Alkmaar 

Nationality: Netherlands 

Age: 24 

Date of Birth: 29/07/1998 

Height: 6'1" 

Weight: 73kg 

Current Estimated Market Value: €8.00m 

Contract Expiry Date (at Current Club): 30/06/2027 
3. Cameron Puertas
Current Club: Union Saint-Gilloise 

Nationality: Switzerland (Spanish Citizen) 

Age: 24 

Date of Birth: 18/08/1998 

Height: 5'10" 

Weight: 77kg 

Current Estimated Market Value: €1.00m 

Contract Expiry Date (at Current Club): 30/06/2025 
4. William Balikwisha
Current Club: Standard Liège 

Nationality: Democratic Republic of Congo 

Age: 23 

Date of Birth: 12/05/1999 

Height: 5'8'' 

Weight: 67kg 

Current Estimated Market Value: €3.5m 

Contract Expiry Date (at Current Club): 30/06/2025 
5. Filip Ugrinic
Current Club: Young Boys 

Nationality: Switzerland 

Age: 24 

Date of Birth: 05/01/1999 

Height: 6'0" 

Weight: 86kg 

Current Estimated Market Value: €2.7m 

Contract Expiry Date (at Current Club): 30/06/2026 
6. Lukas Görtler
Current Club: St Gallen 

Nationality: German 

Age: 28 

Date of Birth: 15/06/1994 

Height: 6'1'' 

Weight: 80kg 

Current Estimated Market Value: €2.0m

Contract Expiry Date (at Current Club): 30/06/2026 
7. David Turnbull 
Current Club: Celtic 

Nationality: Scottish 

Age: 23 

Date of Birth: 10/07/1999 

Height: 6'1'' 

Weight: 75kg 

Current Estimated Market Value: €4.5m 

Contract Expiry Date (at Current Club): 31/05/2024 
8. Joe Bell
Current Club: Brøndby 

Nationality: New Zealand 

Age: 23 

Date of Birth: 27/04/1999 

Height: 6'0'' 

Weight: 77kg 

Current Estimated Market Value: €1.0m 

Contract Expiry Date (at Current Club): 30/06/2026 
9. Pedro Ferreira
Current Club: AaB Fodbold 

Nationality: Portugal 

Age: 25 

Date of Birth: 05/01/1998 

Height: 6'0'' 

Weight: 81kg 

Current Estimated Market Value: €600k 

Contract Expiry Date (at Current Club): 30/06/2024 
10. Conrad Wallem 
Current Club: Odds 

Nationality: Norwegian

Age: 22 

Date of Birth: 09/06/2000 

Height: 5'11'' 

Weight: 73kg 

Current Estimated Market Value: €500k ● Contract Expiry Date (at Current Club): 31/07/2026
By: Max Nicholls / @maxnicholls14
Featured Image: @GabFoligno / Icon Sport