Borussia Dortmund's Ongoing Dilemma
On Friday night after Borussia Dortmund's 4-2 defeat to Borussia Mönchengladbach, I was asked if I thought Dortmund would finish in the top four and qualify for the Champions League next season. 
The answer to that is difficult: I was hesitant to say no because of the obvious quality in their squad – they definitely haven't got as much quality as Bayern Munich, but probably aren't worse than RB Leipzig, Bayer Leverkusen, and Gladbach. But I was reluctant to say yes: their form in recent games has been patchy, their performances lacking any inspiration – as evident by the showing at Borussia-Park – and their coach, Edin Terzić, wasn't much of an improvement on his predecessor.
Granted, Terzić wasn't meant to be the man to change their fortunes. He was merely the person to ensure a fine second half to the season, one where Dortmund, despite a few blips, ensure qualification to the Champions League and lay the foundations for the next man to take over and succeed…after all, his CV mainly consisted of jobs as an assistant. However, he has slowly become part of the problem.
In Terzić's first seven games in charge, Dortmund have accumulated 10 points: three wins, a draw, and three losses meant that this was than Peter Stöger's record – the last man to take over the club as manager midway through the season, replacing Peter Bosz. In 18 games this season, Dortmund have lost seven times, are behind RB Leipzig, Gladbach and Bayer Leverkusen, with Wolfsburg, Union Berlin and Eintracht Frankfurt all in close vicinity around the table.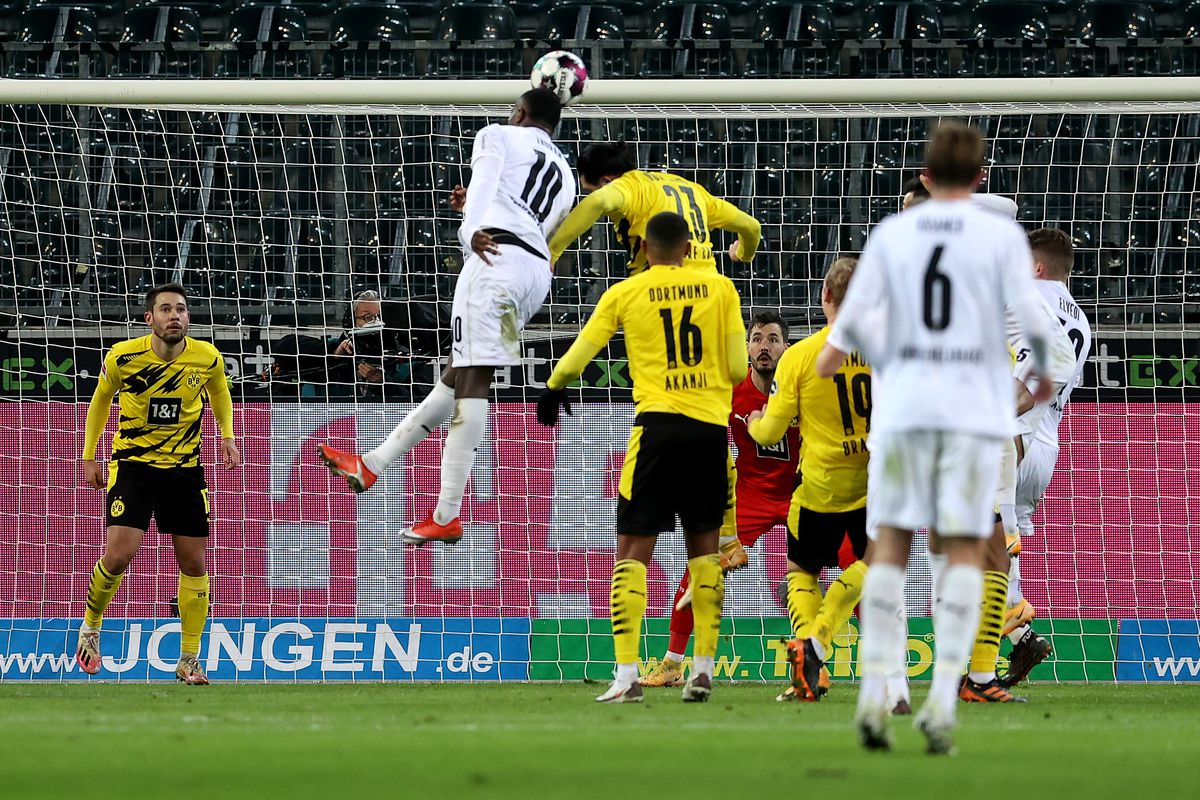 Photo: Lars Baron – Getty Images
The saving grace for them is that they're still not too far away from that elusive fourth spot. But, looking at the stern reality of the situation, there is a very real possibility that they miss out on Champions League football for the first time since 2015-16. 
Their defending has been confusing: best evident by the goals they conceded on Friday night – especially the fourth one. After the game, Mats Hummels spoke of his side's struggles of defending set-pieces, and he was right. Only bottom team Schalke (10) had conceded more goals from set-pieces than Dortmund (9).
Another key criticism has been Terzić's substitutions and the timing of it. In situations where Dortmund haven't been winning in recent weeks, the manager looks to his bench to bring on all his options, bizarrely affecting the balance of his team and hardly threatening going forward.
Against Mainz a week ago, he took off midfielder Jude Bellingham, who was probably having his best game in a Dortmund shirt, with 30 minutes to go in the hope of finding a game that was level 1-1. Terzić said the decision was purely tactical, but there wasn't much of a difference.
The same happened again on Friday against Gladbach, although this time, it came after they went 4-2 down thanks to Marcus Thuram's goal, and the 17-year-old Bellingham was replaced by 16-year-old record-breaker Youssoufa Moukoko – hardly the ideal change considering the situation. To his credit, Terzić has brought back a bit of energy on the touchline that was lacking towards the end of the Lucien Favre era, but that's come at the cost of strange decisions.
The 3-1 win against RB Leipzig early in January was perhaps an indication that Terzić could pull it off and lead Dortmund to the Champions League, but it has unraveled since then. That evening at the Red Bull Arena, they played in a style synonymous with Dortmund: one with speed, verticality and the willingness to take risks, but they've shown little of that since. The season has already been a difficult one. At one time in November, they were a point off the top but then went on to lose momentum and midway through the season, they were out of the title race.
This is a club that has had its best talent pool in years. Erling Haaland has been unstoppable since he joined, providing quality even when the rest of his team are not. Jadon Sancho put up world-class numbers last season. Giovanni Reyna and Moukoko are coming through with lots of promise and on paper, this should've been a season where they challenged at the top as they blended incredible youth and experience. Instead, they'll be fighting for the top four.
That raises the question: where do they go from here?
Should they stick with Terzić, there's a likelihood that strange decisions and bad results follow. Bar that result in Leipzig, his spell hasn't provided much to get excited about. And, more importantly, Dortmund need Champions League football next season, not only to ensure this talented team sticks around for a little bit longer, but also to help their financial situation.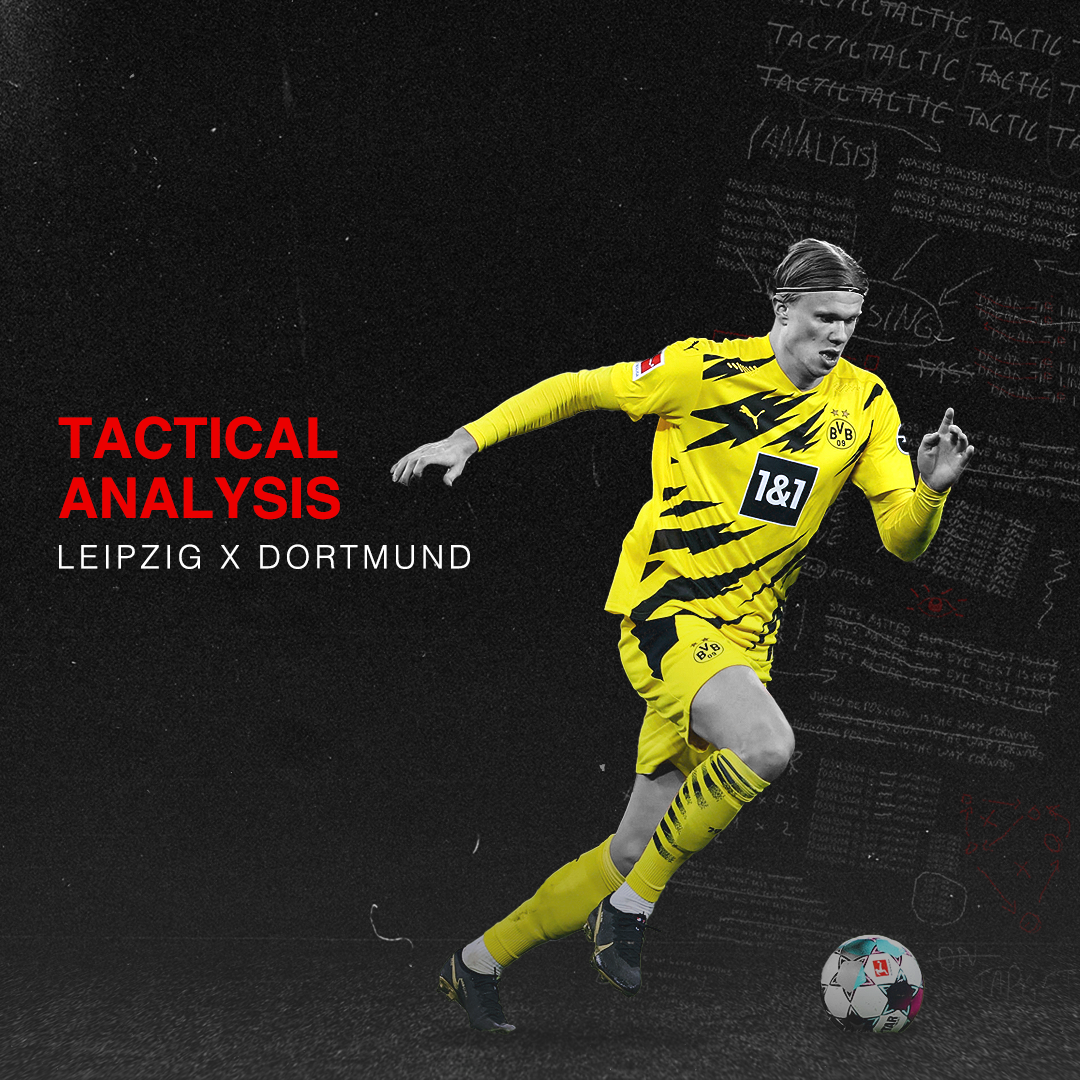 Photo: @GabFoligno / picture alliance
Like many across Europe, Dortmund too have been affected by the coronavirus-induced games behind closed doors. According to ESPN, the club are set for losses of up to €75m this season, having already made losses of €44m in 2019-20 after the final portion of the season was played behind closed doors. "There is no other club in Europe that has to cope without 81,365 fans at home," said CEO Hans-Joachim Watzke last week, as the club recorded its first losses since 2010. 
However, finding someone to steady the ship immediately is difficult. Since Favre's sacking, there have been rumours aplenty as to who may get the job. From the unemployed and largely unpopular Ralf Rangnick to the Bundesliga-experienced Ralph Hasenhüttl, who has enjoyed a fine patch with Southampton in England. Likelier targets have been closer to home, however. Red Bull Salzburg's Jesse Marsch, RB Leipzig's Julian Nagelsmann and Gladbach's own Marco Rose have all been talked up.
The difficult part, though, is that the possibility of one of them joining is very low. It's rare to see clubs buy out contracts for managers in Germany, and that will have to be the case if one of Hasenhüttl, Marsch, Nagelsmann and Rose are to come in. Additionally, there's the part of wanting to come. It's certain that Borussia Dortmund are historically a bigger club than those mentioned above but given the status these managers have carried their respective clubs to, Dortmund may feel like a step down.
Rose has been strongly linked and seems to be the top preference for the fans. He's perfect in many ways, one of which are having worked with Haaland previously (albeit, briefly at Red Bull Salzburg). The 4-2 defeat was the perfect audition for Rose, but in the likely scenario of Dortmund not making a move for him until the end of the season, there a possibility of Rose leaving a Champions League club in Gladbach for one in the Europa League (or less) in Borussia Dortmund. 
The situation is difficult for Dortmund: stick with a man who hasn't proven his credentials and hope that the players and staff can get their act together until the end of a season or make an unconventional move to appoint someone more experienced to get the desired result. 
Captain Marco Reus was critical of his team at the end of the game against Gladbach, asking his side to focus more in games, while Hummels talked about the importance of a rest. Whatever they do in this eight-day break between the disaster at Gladbach and their next game against Augsburg, they will know that the stakes are high, the season is long, and any further errors could be costly.
By: Karan Tejwani
Featured Image: @GabFoligno / DeFodi Images