Antonio Rüdiger: The Invaluable Colossus Set To Leave Chelsea For Free
Only three players started both, Chelsea's FA Cup final victory in 2018 and the Champions League win three years later. All three played starring roles in both conquests, but have since had question marks hanging over their heads.
César Azpilicueta and N'Golo Kanté have both been plagued by the curse of being on the wrong side of 30 – the former will be 33 and out of contract at the start of next season, while Kanté's future is secure till 2023, but compounding injury woes at 30 are gravely concerning.
Both their futures seem minor headaches compared to the full-blown migraine brought upon by the situation of the third – Antonio Rüdiger. Man of the Match in the 2018 FA Cup Final with a fantastic display of no-nonsense defending (forcing Marcus Rashford to switch flanks after a half), Rüdiger made crucial goal-saving blocks in both triumphs.
At 28, the German is at the peak of his powers – his rich vein of form has established him as one of the best center-backs in the world, he hasn't had a major injury in over two years and he is part of the bedrock on which Chelsea's CL winning defense relies on.
With the threat of losing him for free to Real Madrid or other European powerhouses looming larger than ever, Breaking The Lines delves deeper into what makes the German such a vital asset and why Chelsea would be wise to offer him a new deal.
Mobile Colossus
What makes Rüdiger such a sought-after entity? Under Tuchel, Chelsea have transformed their backline into a fluid unit that causes disruptions by allowing the wide CBs to step into midfield or rampage into the final third. As the wingbacks are often primary attacking outlets, the wide CBs in Chelsea's system are often required to defend on the flanks like a conventional fullback.
Look at Chelsea's wide CB options and you begin to see a trend: Azpilicueta (LB, RB, LWB, RWB LCB, RCB), Reece James (RB, RWB, RCB, CM), Trevoh Chalobah (RB, RCB, CM), Andreas Christensen (RCB, LCB, RB, CDM). Rüdiger is also adept at playing at fullback, which he did on multiple occasions for Roma.
Among PL defenders with at least 1000 minutes this season, his aerial duel win% of 72.7% places him in the top ten, while his 1v1 success% of 68.4% puts him 3rd. This deters opposition teams from targeting his flank with diagonals on counters or wingers from taking him on. This is in stark contrast to other CBs, who struggle while contesting 1v1s.
For instance, Çağlar Söyüncü does well at 1v1s with 59.1%, but Harry Maguire has won 50%, Ruben Dias and Aymeric Laporte 46.2%, while Ben White is at 43.8%. Dias has been dribbled past 15 times, Söyüncü 9, White 9, Laporte 7 and Maguire 6 times.
Rüdiger, who plays in a high line and is arguably far more progressive and adventurous with his carries and positioning, has only been dribbled past 6 times. In the past year, Rüdiger has been dribbled past only once every three games.
A look at Rüdiger's defensive metrics can throw someone off. He makes only 1.47 tackles and inflicts 8.74 pressures per 90 minutes. 51% of CBs in the top 5 leagues in Europe manage better numbers than him.
However, watch him closely during games, and it becomes evident that his athleticism, aggression and intelligence ensure he doesn't need to tackle or pressure often; he simply uses his pace to keep up and then promptly bullies players off the ball with strength.
He concedes just over a foul a game (1.04 per 90) and has earned only 3 yellow cards in his last 36 starts (all in this season), indicating that he does this with remarkable efficiency and cleanliness.  That he is a mobile colossus also allows him to perform defensive duties in the middle and attacking 3rd, far outperforming his peers in these metrics.
Gone are the days of Conte's static back 3 in the 2018 FA Cup final, where Rüdiger spent long spells in the defensive third, made 8 clearances, attempted 11 long balls and was dribbled past 0 times, simply because he left no space in behind.
Since Tuchel took charge, Rüdiger's marauding runs from LCB have become a regular feature, as have 30-yard thunderbolts that threaten stadium floodlights as often as opposition goalposts.
He has doubled his shot-creating actions per 90 from last season, and over the past year, has outperformed more than 90% of CBs in Europe's top 5 leagues in shots, key passes, passes into final 3rd, passes into the penalty area, touches & carries into the attacking 3rd and carries into the penalty area, making his profile as an all-round progressive LCB highly lucrative.
Those two penalties earned vs Leeds were no coincidence. Jorginho led Chelsea to victory with a brace from the spot, with Mason Mount contributing with a goal as well, but it was Rüdiger who took initiative and secured two penalties for a 3-2 victory at Stamford Bridge.

Rüdiger's heatmaps three years apart: In the FA Cup final vs Man United (2018) under Conte's back three vs in the CL vs Juventus (2021) under Tuchel. Credit: Sofascore
Fire and Ice
What truly separates him from most elite CBs is something numbers can never do justice to. After his parents were forced to flee the civil war in Sierra Leone, they relocated to Germany. Rüdiger grew up in Neukölln, a district/borough in southern Berlin with one of the highest percentages of immigrants in the capital.
Rüdiger, by his own admission, grew up playing on concrete pitches until his shoes were hole-ridden; he was considered so aggressive that he was nicknamed "Rambo."
From having grown up in a tough neighborhood to enduring disgraceful racist abuse which he poignantly tackles in a piece for The Players' Tribune, the challenges Rüdiger has faced on-the-pitch pale in comparison to the adversity he has regularly conquered off it.
Rüdiger is also a master of the dark arts; someone who treats defense like psychological warfare. When Chelsea met Zenit in the Champions League at Stamford Bridge, former Barcelona winger Malcom was seen as a key figure, able to wreak havoc with his pace and dribbling on the right.
With less than 2 minutes on the clock, Malcolm made a run in behind Alonso and came 1v1 with Rüdiger, who almost knocked Malcom off his feet with a two-handed shove, won the ball and played an ambitious long ball to Mount that bounced out of play.
Rüdiger then patted Malcom's head; the kind of gesture that walks the line between playful and demeaning, depending on who is at the receiving end. Rüdiger's engagements, ranging from a subtle tap on the head to full-blooded (but fair) challenges, are all meant to provoke, upset, disorient or humiliate.
Top 5 funniest comps of all time pic.twitter.com/PPSuT7mnIp

— pep was deadarse bald before 40 (@rxlfpacked) September 19, 2021
In Chelsea's Porto Uncovered series, which delves deeper into the Blues' CL triumph, Kai Havertz was asked if the players were nervous. "Yeah of course," he reveals. "Everybody's a little bit nervous before the game." When Rüdiger was asked the same question, he earnestly replied, "Nervous?"
No, because this is something you love to do and dream about and to be honest, about myself, I was just ready." What feels like a pressure-cooker game for most players seems to feel like a leisurely spell in the sauna for Rüdiger, who genuinely elevates his game on the big occasion. 
The Conundrum
So if Rüdiger's influence is overwhelmingly positive, why is the club stalling? Reports state that Rüdiger has been offered £140k a week, but has asked for around £200k a week, a modest demand considering it would put him in the same bracket as Timo Werner and Kai Havertz.
The reluctance is all the more baffling considering the replacements mentioned in the media. While Jules Koundé, a versatile, progressive defender who can play CB and RB, fits the system at RCB, Matthijs de Ligt, Presnel Kimpembe and Niklas Süle would present issues of their own. 
De Ligt, for instance, is believed to be on an eye-watering £416k a week after add-ons. Doubling Rüdiger's wage and giving him a sign-on bonus would probably be half as expensive as a transfer fee for De Ligt, his wages, and dealing with Mino Raiola's demands. 
The 22-year-old Dutchman also appears more conservative and less progressive than existing and potential options. Last season, he averaged 4.17 touches in the attacking 3rd; Koundé (in a back 4) managed 7.04. Süle (in a back 4) has 11.2, Rüdiger 5.16 and Chalobah 9.88. Kimpembe, whose progressive metrics in general are woeful, only managed 2.34.
De Ligt carried the ball 0.61 times per 90 into the attacking third; Kimpembe was similarly poor at 0.71, but the other four managed more than twice as many. The Dutchman's defensive numbers, however, make him superior to the others in certain aspects. His aerial win% of 68.4% and 1.21 duels lost a game were second only to Rüdiger.
Add to that the fact that he hasn't played at fullback, and it seems logical that De Ligt is more suited to a central role in defense, the one currently occupied by Thiago Silva and Andreas Christensen. If the latter does not renew, then De Ligt at CCB would be a sensible, albeit expensive, option.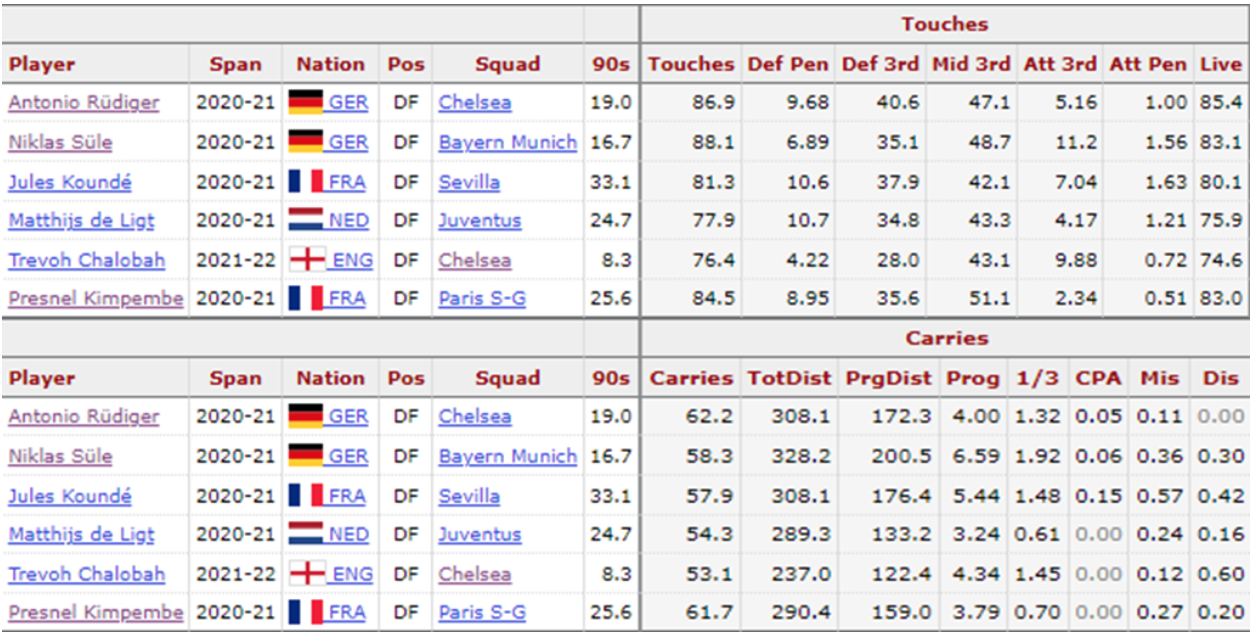 Comparison in possession between Rüdiger, Süle, Chalobah, Koundé, de Ligt and Kimpembe. Credit: FBRef
Süle presents a very viable alternative in case Rüdiger leaves, with the 26-year-old also entering the final six months of his Bayern contract.
At 6'4, weighing nearly 100 kilos and still capable of managing a top speed of 34.8 km/hr (it made him Bayern's fastest player two years ago), the German international combines explosive speed with brute strength, allowing him to defend in advanced areas like Rüdiger.
A RCB by trade, he has also performed admirably at RB and LCB. His 6.59 progressive carries, 1.92 carries into the final third, 11.2 touches in the attacking third, 1.62 shot-creating actions, 0.48 key passes, 0.84 passes into the 18-yard-box and 1.20 shots (all stats per 90 minutes) were best among all five CBs last season; these numbers are all the more impressive considering he notched them up while playing in a back 4.
Currently believed to be on around £52k a week, Süle would be a cost-effective and younger alternative for Rüdiger. The major issue is his injury record – between October 20, 2019 and December 20, 2021, Süle missed 306 days; that is 47 games according to Transfermarkt.
182 days were attributed to a cruciate ligament injury in 2019, similar to the one he suffered five years earlier at Schalke, which kept him out for 203 days. That is a risk that could be as significant as offering Rüdiger a bumper contract that ends when the German is 33, even 34.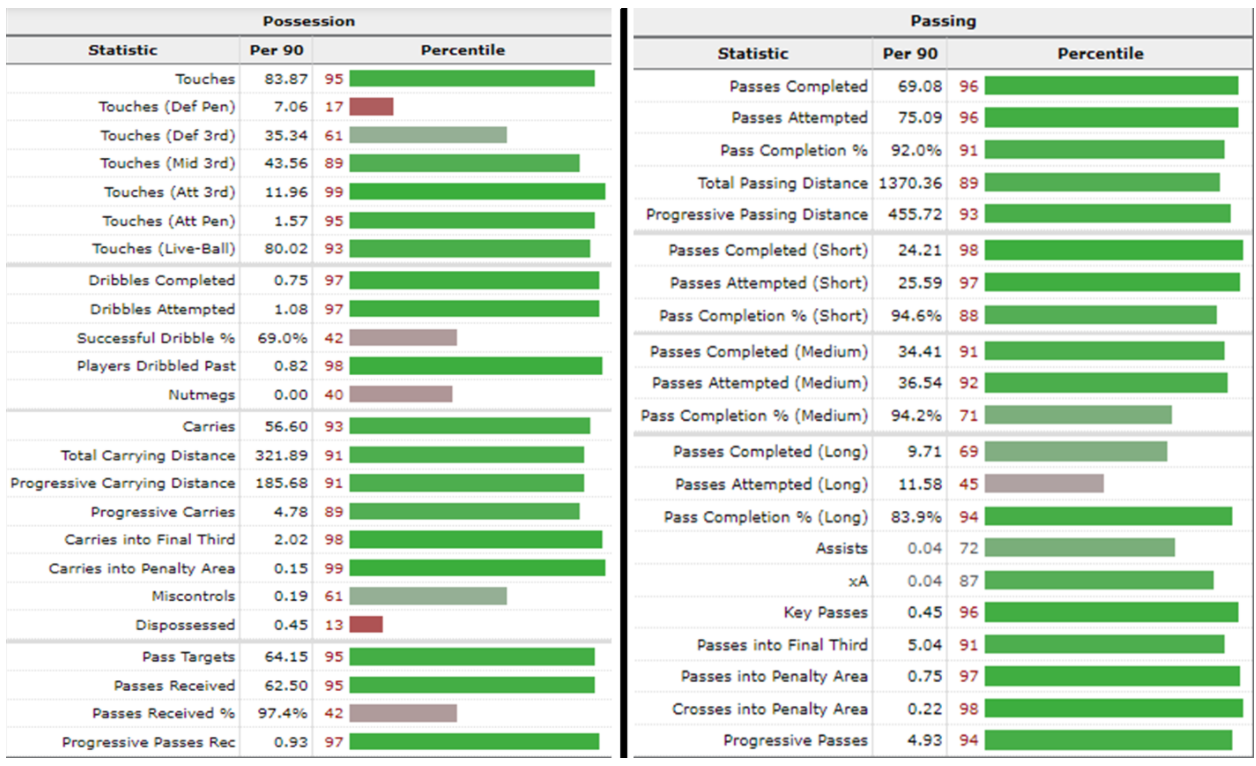 Süle's passing and possession numbers compared to CBs in the top 5 leagues in Europe. Credit: FBRef
The conundrum for the Chelsea board is evaluating a precariously poised situation in terms of risks and benefits. Rüdiger started only 8 of 29 games in Lampard's second season, but became immediately indispensable under Tuchel.
Football changes at breakneck speed, and there is no guarantee that drastic changes won't occur again, especially at Chelsea. The board also knows that doubling his wages could have a ripple effect on subsequent negotiations with other players, particularly with Christensen, who is yet to sign after stalling multiple times.
The emergence of Chalobah and Levi Colvill have also eased fears of a gaping void at LCB, so instead of scouring the market for a progressive replacement, moving Chalobah to LCB while Koundé plays RCB could prove to be an interesting move.
But what the Chelsea board must also factor in is that in a squad that possesses significant youth influx, Rüdiger's leadership and resilience are invaluable quantities, especially with the squad's current leaders – Thiago Silva (37), Azpilicueta (32), Jorginho (30), Kanté (30) – all approaching their twilight years.
More than the numbers he generates during games, it'll be his blood and thunder approach and the fiery determination balanced by ice-cold, nerves-proof temperament which will prove hardest to replace should Rüdiger choose to leave.
He's the closest Chelsea have had to an agent provocateur (the millennial term I believe is "shithouser") since Diego Costa. Chelsea may rue letting go of a player in his form and with his personality and overspending in the transfer market, especially when the ideal solution feels within arm's reach.
By: @CFCCentral3
Featured Image: @GabFoligno / Chris Lee – Chelsea FC