Contingency Planning For The Departure of Manu Koné From Borussia Mönchengladbach
At the mere age of 21, Manu Koné has cemented himself as a fundamental stalwart of Daniel Farke's Borussia Mönchengladbach side. He has been essentially omnipresent for the Foals since his arrival from Toulouse in the summer of 2021-following a loan back after their original purchase in January. In his debut season in Germany, he racked up almost 2200 minutes on the pitch despite his youthfulness and has already amassed a number in excess of that this season; at the time of writing.
Farke has predominantly deployed Koné in a withdrawn role on the left side of a defensive double pivot. His right footedness facilitates inverted passing lanes albeit he is somewhat bipedal. He is not tasked hugely with creative responsibilities and is rather accountable for the first or second-phase progression in Mönchengladbach's build-up.
That being said, he has an irrefutable proclivity to get forward when feasible and enjoys having the ball at his feet. Standing at 6'1'', he possesses the metaphysical prowess to carry domineeringly. Another of  Koné's most proficient aspects is his defensive capabilities, he is a peripatetic, sweeping defensive midfielder keen to break up play. His tactical trends from this season are exemplified below.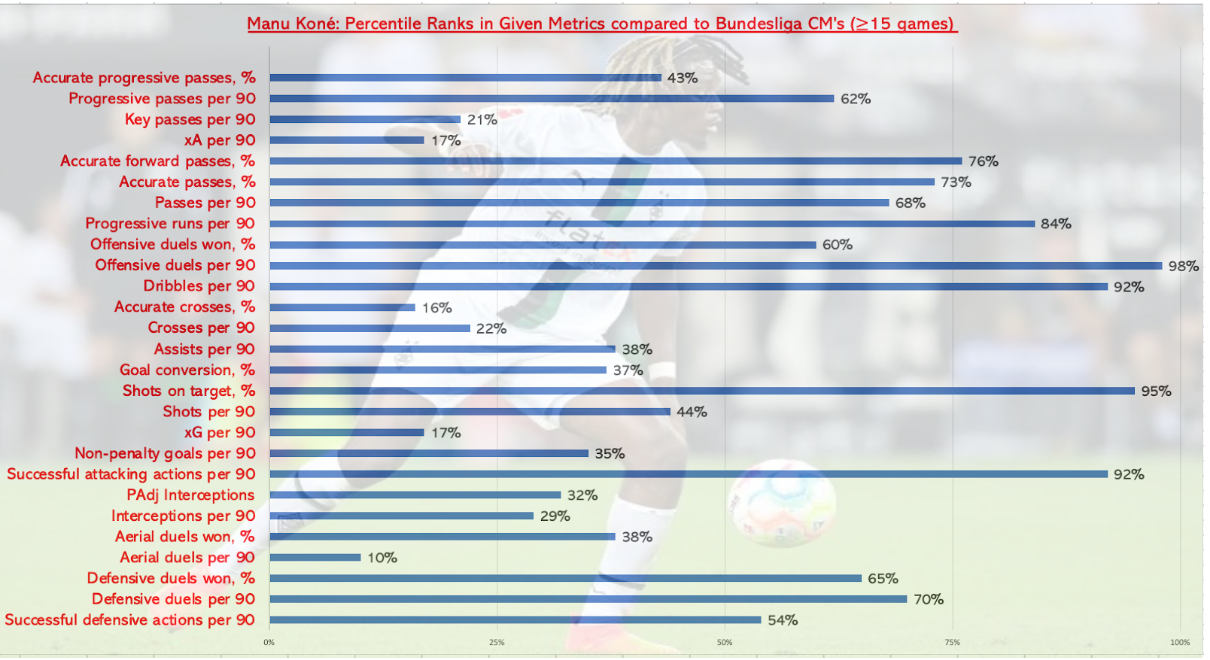 Therefore, understandably interest is rampant for Koné. The French youth international is allegedly attracting intrigue from Chelsea, Manchester United, Bayern, Newcastle, Liverpool and hometown club Paris Saint Germain. Die Fohlen have no obligation to sell with Koné constrained contractually until June 2025. However, with the impending loss of Marcus Thuram for no compensatory fee as his contract runs down and the club in a state of mediocrity limbo, it is plausible that he will leave to one of the above clubs or another powerhouse in Europe.
Koné will command a large fee, likely in the region of €30-50m. If he were to leave, an apt replacement would be vital to preventing a prolonged inauspicious cycle. I cannot see a world in which all of Koné's hypothetical fee goes towards a replacement-perpetuated by the need to replace the aforementioned Thuram and therefore I am going to set an upper limit of €25m for my contingency options; in addition to realism checks.
As with my recent piece aiming to futureproof Lorient for the departure of  Enzo Le Feé, I will use a dataset from Wyscout- selecting metrical weights, which will create a weighted score which will then be adjusted for UEFA league co-efficiency ranking to give a final, overall score. Kone is a right-footer, however, due to his aforementioned tactical deployment, I will be opting for players with a tendency on both feet. It should go without saying that I will be exclusively considering central midfielders.
These will be the metrics utilised and their coinciding weights:
Successful defensive actions per 90: 4% 
Defensive duels per 90: 7% 
Defensive duels won, %: 4% 
Aerial duels per 90: 1% 
Aerial duels won, %: 2% 
Interceptions per 90: 2% 
PAdj Interceptions: 2% 
Successful attacking actions per 90: 7% 
Non-penalty goals per 90: 3% 
xG per 90: 3% 
Shots per 90: 4% 
Shots on target, %: 7% 
Goal conversion, %: 3% 
Assists per 90: 3% 
Crosses per 90: 1% 
Accurate crosses: 2% 
Dribbles per 90: 7% 
Offensive Duels per 90: 7% 
Offensive duels won, %: 5% 
Progressive runs per 90: 7% 
Passes per 90: 4%
Accurate passes, %: 5% 
Accurate forward passes, %: 5% 
xA per 90: 1% 
Key passes per 90: 1% 
Progressive passes per 90: 4% 
Accurate progressive passes, %: 3% 
1. Joey Veerman – 0.917
Current Club: PSV Eidenhoven
Nationality: Dutch
Age: 24
Date of Birth: 19/11/1998
Height: 6'1''
Weight: 75kg
Estimated Market Value: €14m
Current Contract Expiry Date: 30/06/2026
2: Adem Zorgane-0.869
Current Club: Charleroi
Nationality: Algerian: 
Age: 23
Date of Birth: 06/01/2000
Height: 6'0''
Weight: 77kg
Estimated Market Value: €6m
Current Contract Expiry Date: 30/06/2027
3. Anton Stach-0.851
Current Club: Mainz 05
Nationality: German
Age: 24
Date of Birth: 15/11/1998
Height: 6'4''
Weight: 86kg
Estimated Market Value: €15m
Current Contract Expiry Date: 30/06/2024
4. Nabil Bentaleb-0.838
Current Club: Angers SCO
Nationality: Algerian
Age: 28
Date of Birth: 24/11/1994
Height: 6'2''
Weight: 78kg
Estimated Market Value: €7m
Current Contract Expiry Date: 30/06/2025
5. Steven Alzate-0.836
Current Club: Standard Liége (on loan from Brighton)
Nationality: Colombian
Age: 24
Date of Birth: 08/09/1998
Height: 5'11''
Weight: 76kg
Estimated Market Value: €4.5m
Current Contract Expiry Date: 30/06/2024
6. Teddy Teuma-0.823
Current Club: Union Saint-Gilloise
Nationality: Maltan
Age: 29
Date of Birth: 30/09/1993
Height: 5'9''
Weight: 73kg
Estimated Market Value: €5m
Current Contract Expiry Date: 30/06/2025
7. Tijani Reijnders-0.823
Current Club: AZ Alkmaar
Nationality: Dutch
Age: 24
Date of Birth: 29/07/1998
Height: 6'1''
Weight: 73kg
Estimated Market Value: €8m
Current Contract Expiry Date: 30/06/2027
8. Lazar Samardžić-0.816
Current Club: Udinese
Nationality: Serbian 
Age: 21
Date of Birth: 24/02/2002
Height: 6'0''
Weight: 79kg
Estimated Market Value: €7.5m
Current Contract Expiry Date:  30/06/2027
Using Data to Find Rangers a Goalkeeper in a Lesser Known League
9. Flavien Tait-0.807
Current Club: Rennes
Nationality: French
Age: 30
Date of Birth: 02/02/1993
Height: 5'7''
Weight: 73kg
Estimated Market Value: €7m
Current Contract Expiry Date: 30/06/2024
10. Lukas Van Eenoo – 0.802
Current Club: Westerlo
Nationality: Belgian
Age: 32
Date of Birth: 06/02/1991
Height: 5'9''
Weight: 67kg
Estimated Market Value: €450k
Current Contract Expiry Date: 30/06/2025
Players who ranked highly but excluded as unrealistic:
Kenneth Taylor of Ajax
Exequiel Palacios of Bayer Leverkusen
Maxence Caqueret of Olympique Lyon
Enzo Le Feé of FC Lorient
Steven Berghuis of Ajax
Fred of Manchester United
Thomas Lemar of Athletico Madrid
By: Max Nicholls / @maxjnicholls
Featured Image: @GabFoligno / Stuart Franklin / Getty Images