Player Analysis: Phil Foden
Since its FA-approved inception in 1998, Manchester City's academy has gone on to produce some great players. Players such as Micah Richards have gone on to cement a legendary status among the fanbase for their contribution to the club, while the likes of Jadon Sancho, Kieran Trippier and Kelechi Iheanacho have made their name elsewhere.
Of these, though, only Sancho comes close to the truly world-class level. The rest are great players in their own right, but they probably will never be the best in their position. There is one other academy graduate, however, who certainly has the potential to outshine even Sancho through the course of his career. His name is Philip Walter Foden.
Foden was born in Stockport, just a few miles southeast of the Manchester city centre. A boyhood Cityzen, his first steps into the Manchester City ranks came at the age of four. His ascent has been rapid since, with his first appearance in a senior matchday squad coming just at the age of 16. He soon became the first player born in the year 2000 to start a UEFA Champions League match, making his Premier League debut quickly thereafter in December 2017 and becoming the youngest-ever player to lift a Premier League trophy at the end of the season.
The fact that he was simply training with a squad including David Silva, Kevin De Bruyne, Sergio Agüero, Leroy Sané and Raheem Sterling among others in his teenage years was crazy enough, but featuring in competitive football matches ahead of some of those players at times tells you all you need to know about his talents. Naturally, though, he did not get a lot of game time in his first years, causing many to question City and Pep Guardiola's ways of developing such an obviously gifted player, with some calling for him to be sent out on loan.
How Losing Leroy Sané Changed Manchester City's Attacking Dynamics
There was no shortage of offers, as clubs such as Tottenham Hotspur and Everton have been said to have shown a serious interest in the young Englishman, however, he was of the opinion that a couple of matches at his very own club with such great players and a world-class manager was worth more than a season's worth of game time at any other club.
That proved to be the right approach, as he has now become an integral starter in what could prove to be a very successful season for Manchester City, having already made 47 appearances at the time of writing. So, let us break down the 20-year-old's qualities and traits that make him such a brilliant player, and take a look at what he can still work on.
Positions
As Phil Foden ascended the Manchester City academy ranks, he was dubbed the 'Stockport Iniesta' by fans. Recently, he has been likened to another legendary footballer by supporters, with the nickname 'Skin-fade Gascoigne' being bestowed upon him by the creator of Mr. Whippy.
As these comparisons suggest, Foden was expected to excel in midfield for Manchester City, quite possibly replacing David Silva. However, he has ended up replacing another crucial player who left Manchester last summer – Leroy Sané – albeit not in a like-for-like manner, which we will dissect later.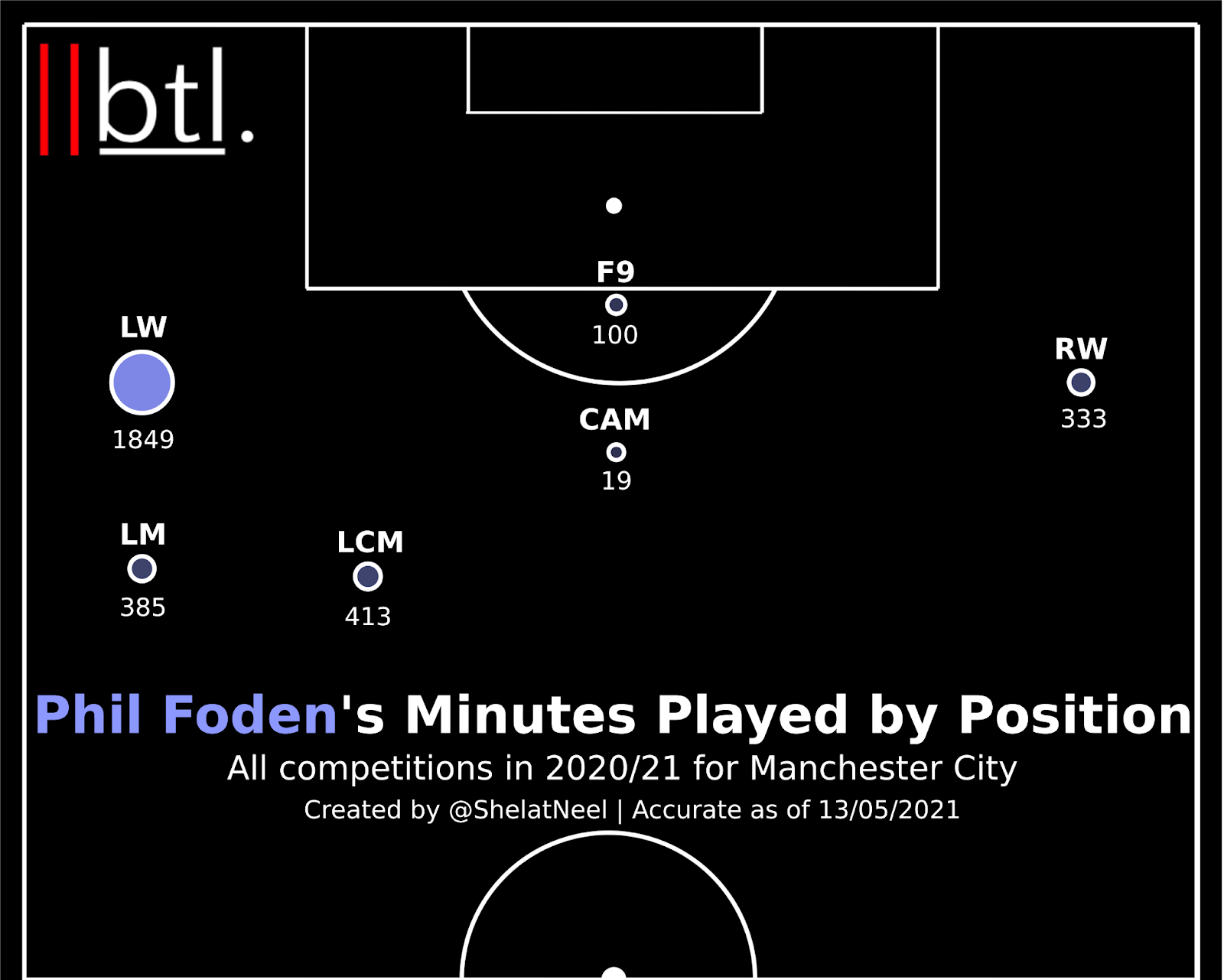 Manchester City have operated in a sort 3-2-2-3/3-2-5 in possession for most of the season, where Foden typically finds himself somewhere in the front-line depending on his position in the line-up and the players selected around him, although he works just behind it on the left at times too, especially of late.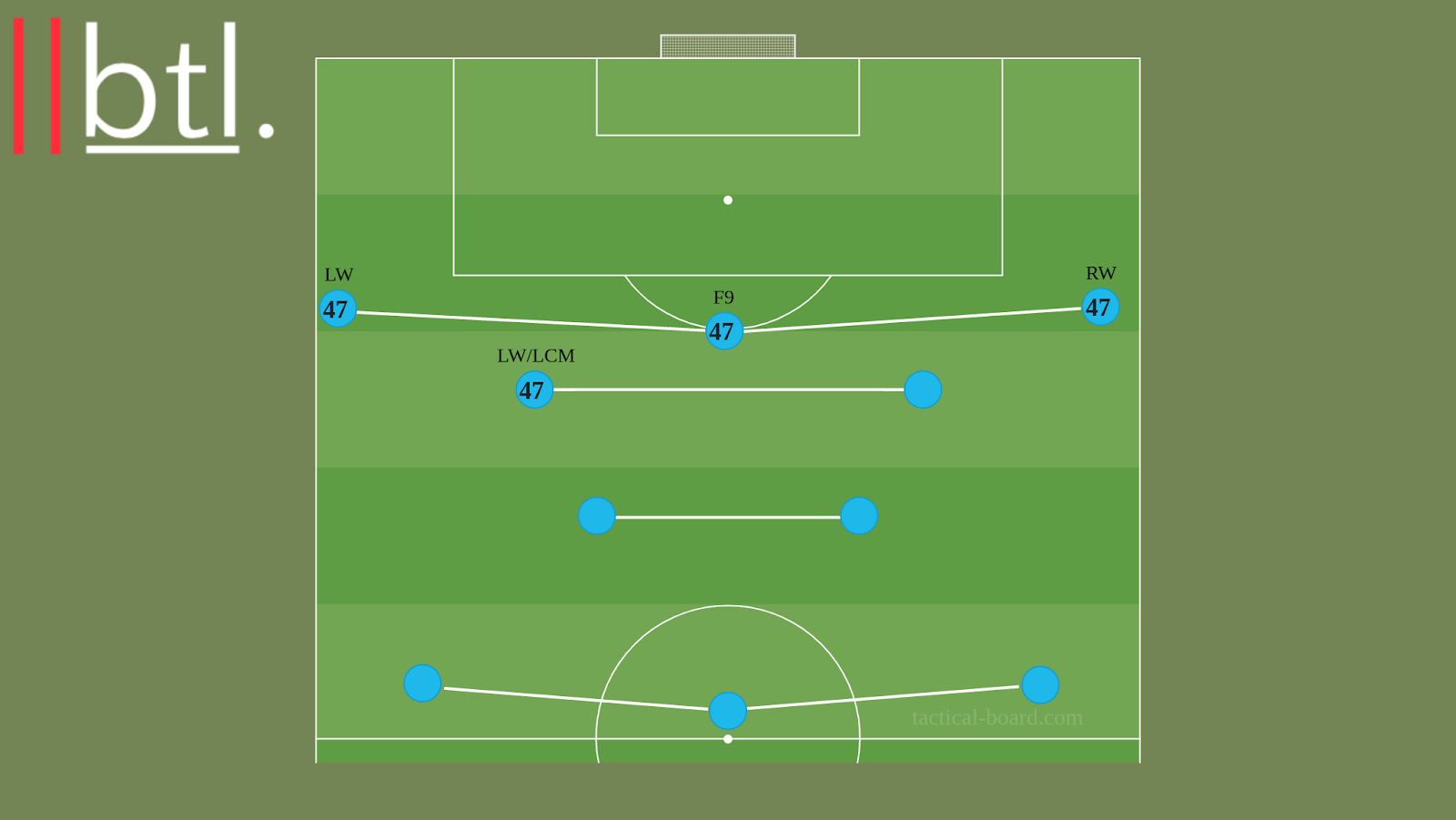 As is obvious from the first visualisation, the young Englishman spends most of his time on the extreme left, although he does find himself in the left-centre position at times, mostly from a midfield role but also at times from a left wing position when the left-back is asked to overlap.
His rare forays as a false-nine see him in the middle of the front-line, whereas his work as a right winger is naturally conducted on the extreme right. This is further backed up by his activity map from this season's Premier League: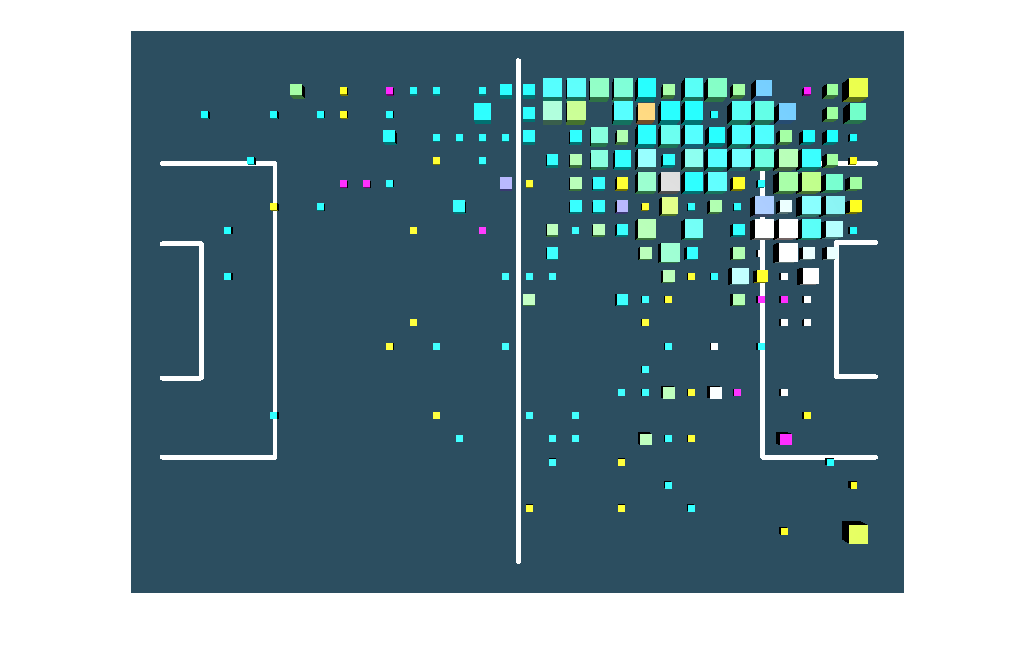 Photo: Smarterscout
Here is an example of Foden in his most common position of left winger, where he tends to hold the width on the left flank as seen below against Borussia Dortmund.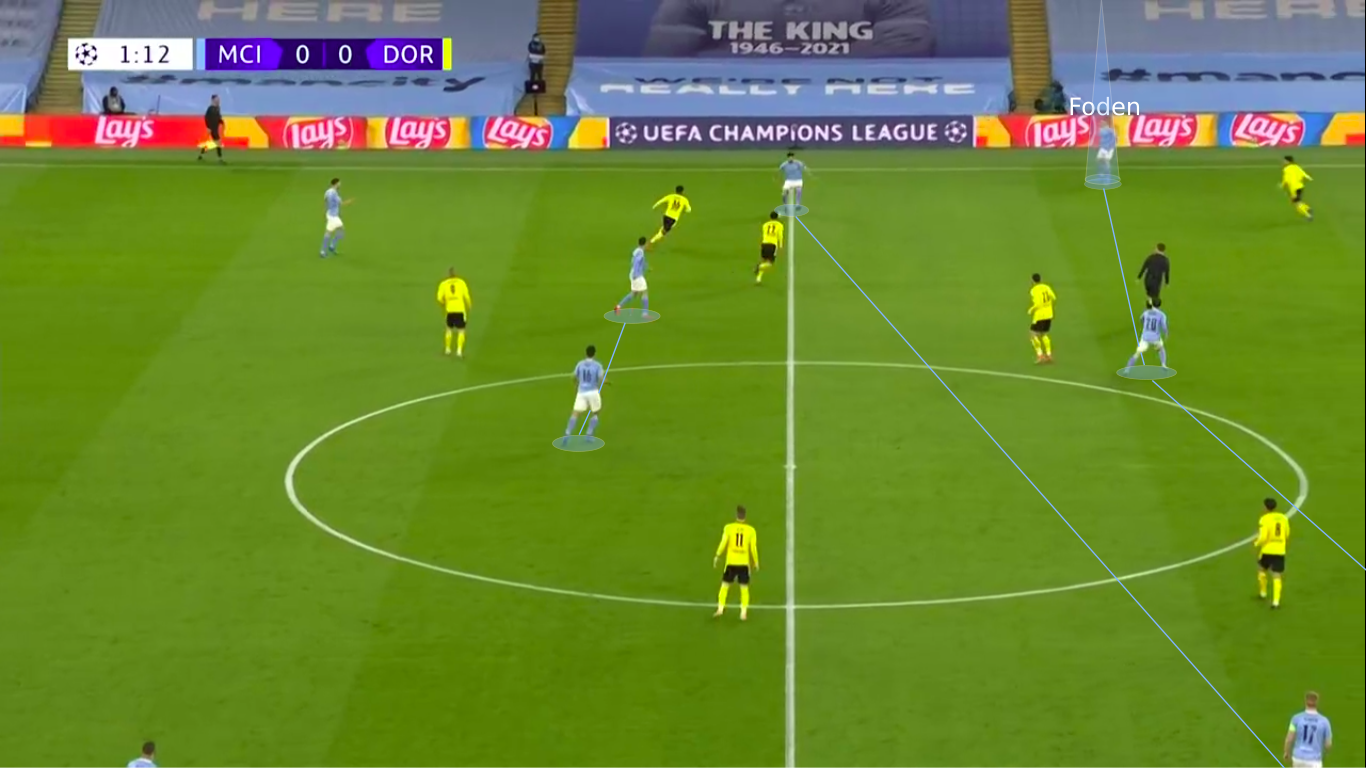 In the left midfield position, the Englishman typically operates in the left half-space behind the front line.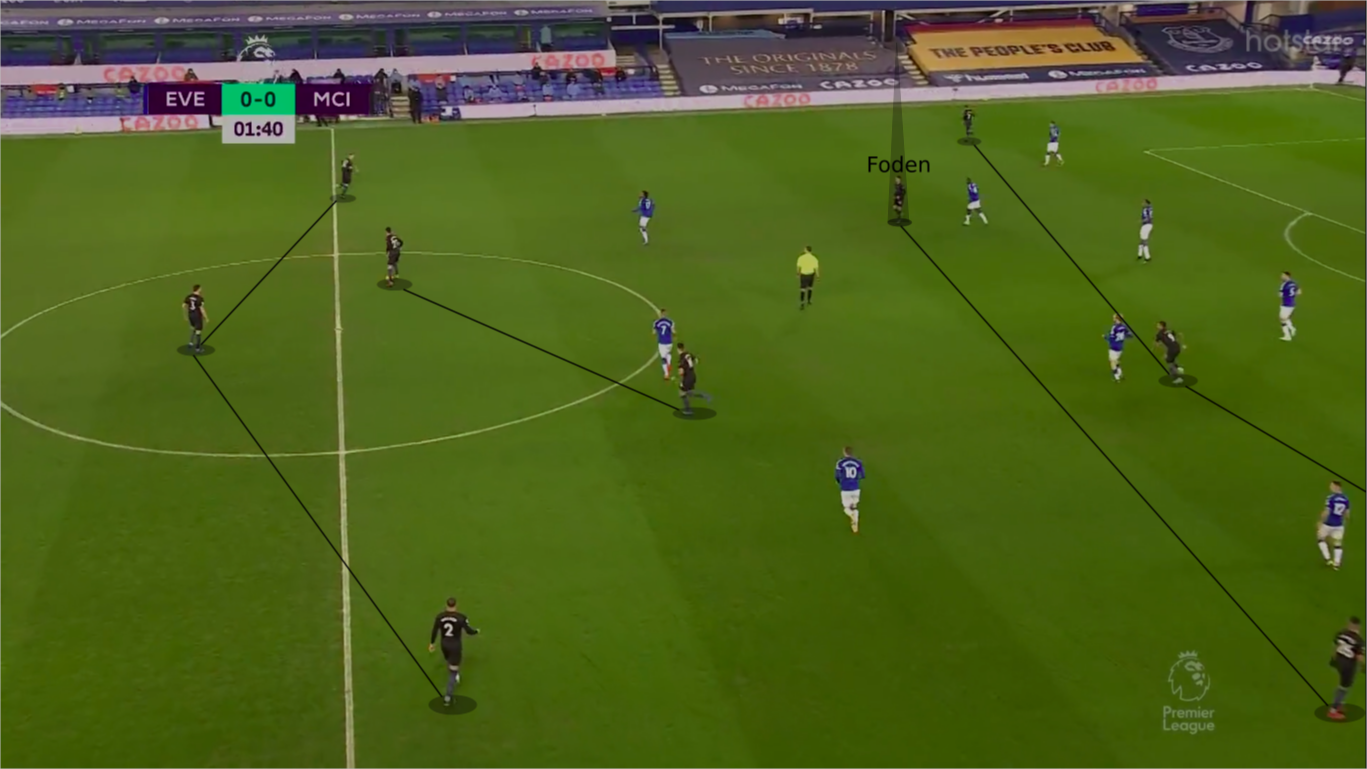 He has also been asked to take up this position after being deployed at left winger of late, with the left-back (usually Oleksandr Zinchenko) pushing forward.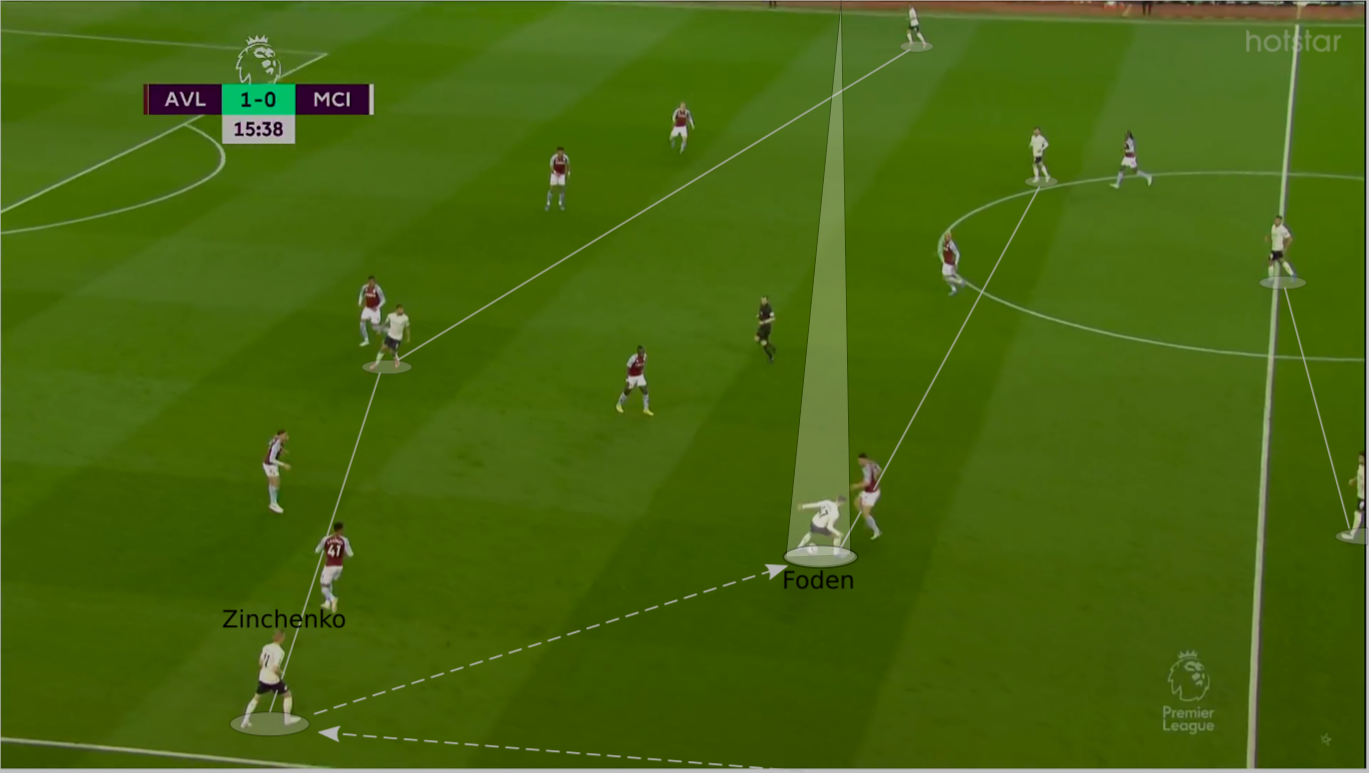 Foden's most famous outing as a false-nine was against Liverpool, where he spent the first half in that role.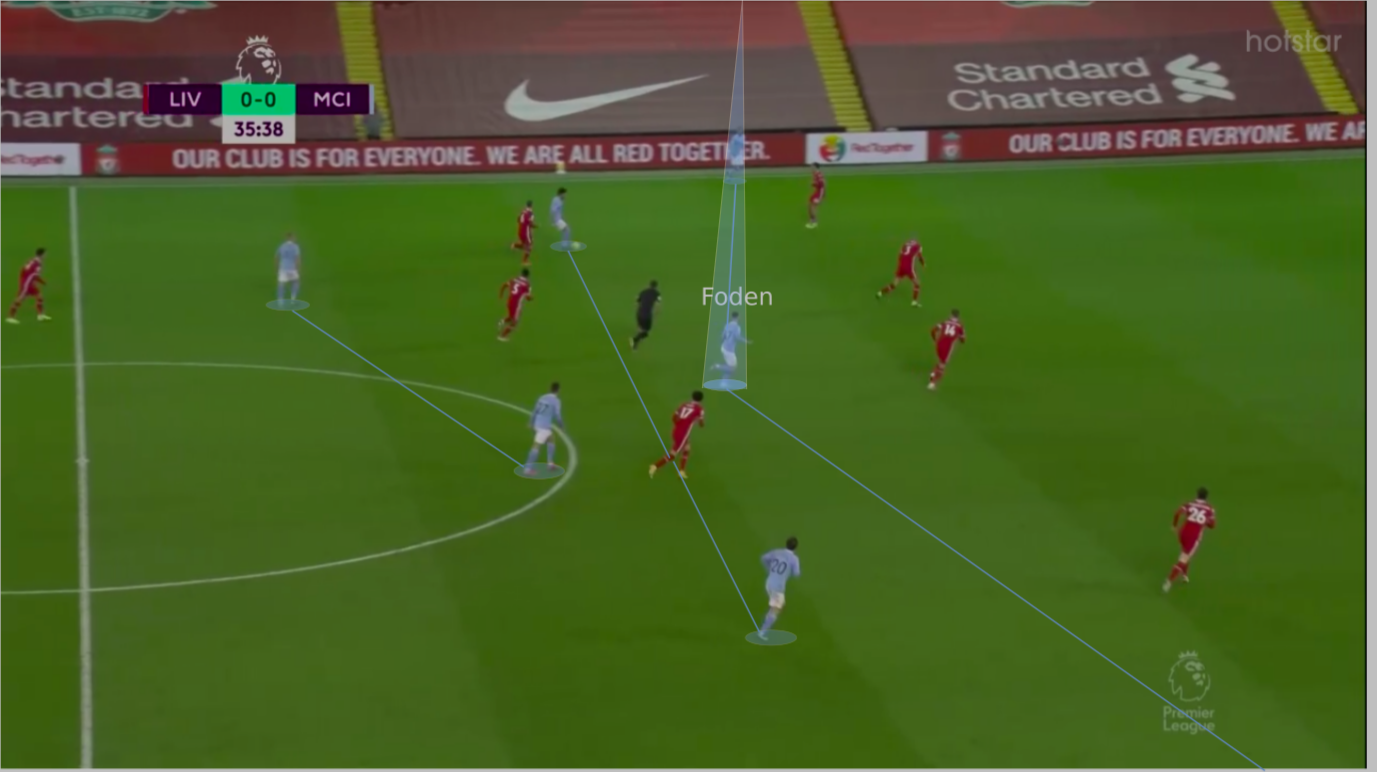 He was shifted around to numerous other positions later on, including right winger, which was where he netted his sensational goal from.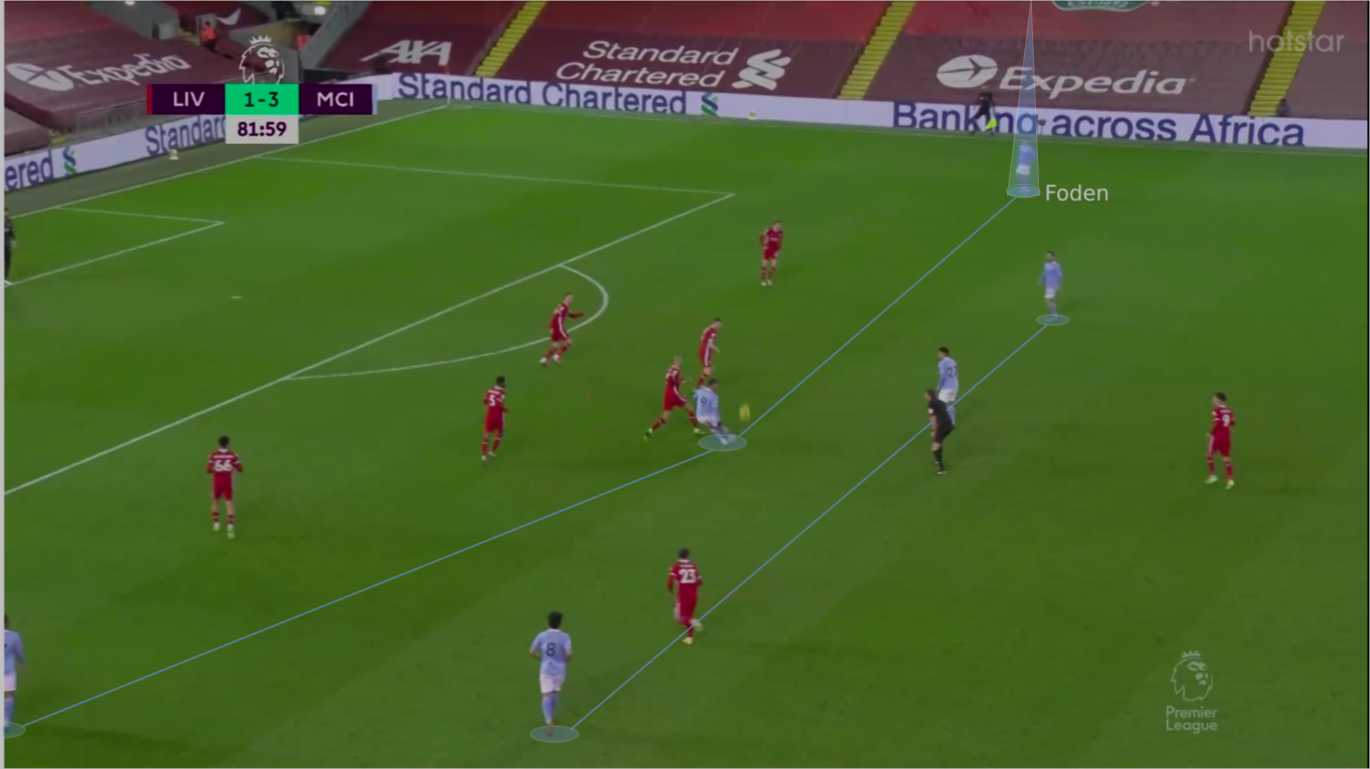 Foden is mostly positioned at the sharp end of the pitch, which explains his very high 38.18 touches in the attacking third and 8.57 touches in the penalty area both per 90 in this season of the Premier League. Further, in the same dataset, he boasts of an equally impressive 9.12 progressive passes received, which is indicative of both his smart positioning and his side's attractive brand of football.
Ball Control and Dribbling
One of Phil Foden's greatest natural strengths (which is also quite possibly an important factor in his conversion into a left winger) is his ball control, especially in tight areas. The 'Stockport Iniesta' nickname starts to make a lot of sense when you see him pulling crossfield pings out of the sky with effortless ease, although his quality often gets overlooked in this Manchester City squad due to Riyad Mahrez's wizardry.
Foden is simply brilliant at all aspects here – starting from receiving.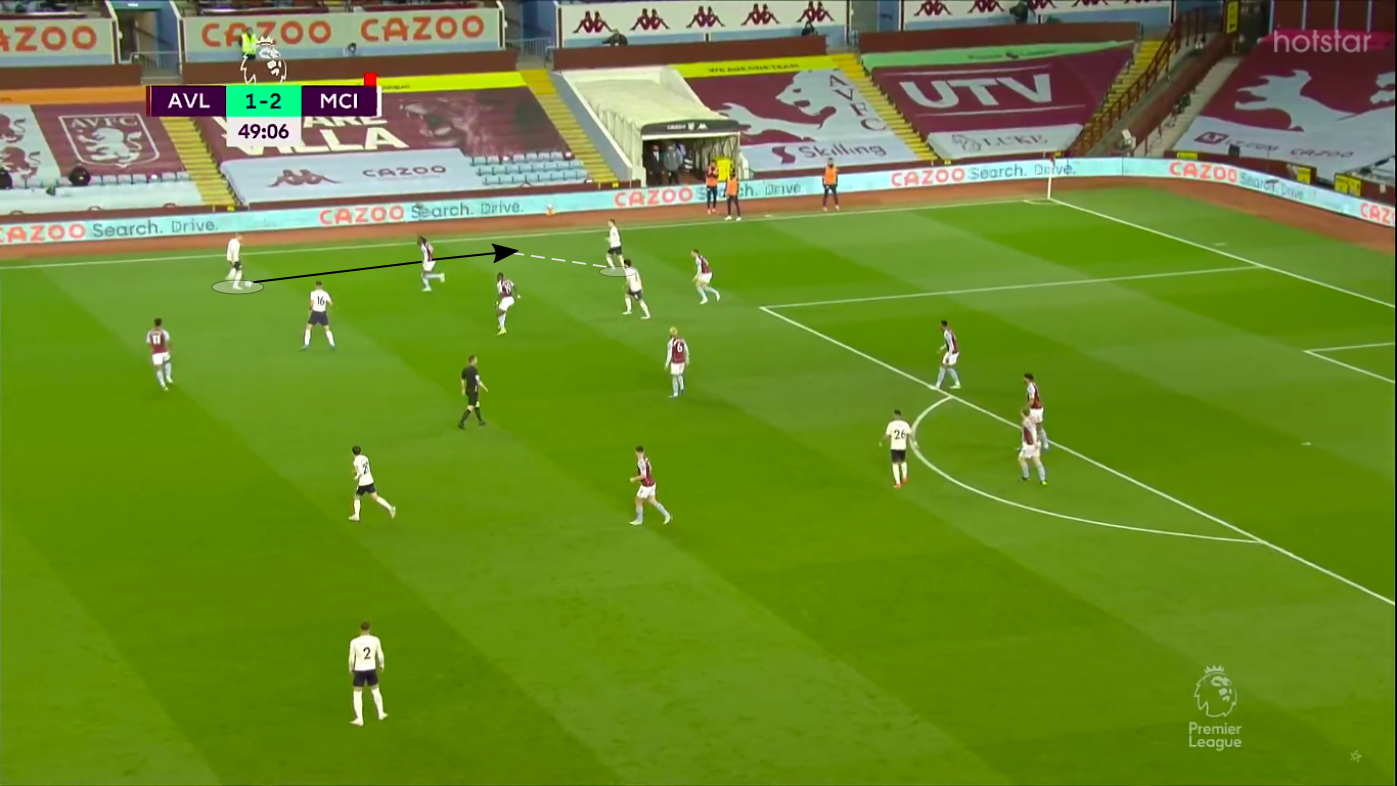 He does the simple things better, such as angling his body to receive in advanced positions on the half-turn. Given the angle of his run to the ball, you would generally expect him to control the ball with his back to goal, however, he turned almost 180° to be in a position to access the space in front or deliver a pass to a teammate making an attacking run.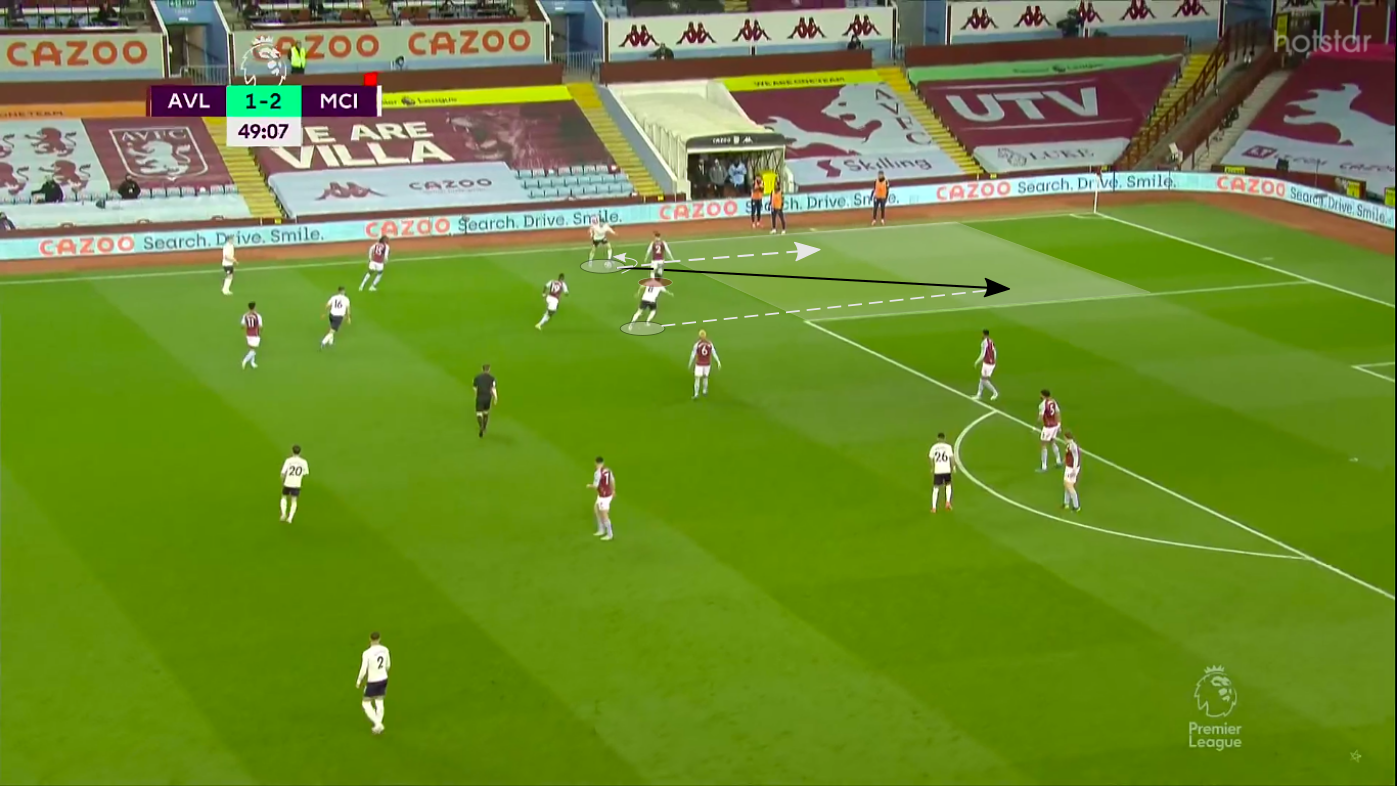 Watching Foden control long balls should probably be some form of therapy:
🤤 @PhilFoden's first touch is just… pic.twitter.com/KYZK4ejiaE

— Man City Report (@cityreport_) March 16, 2021
He clearly has one of the best first touches in the northwest.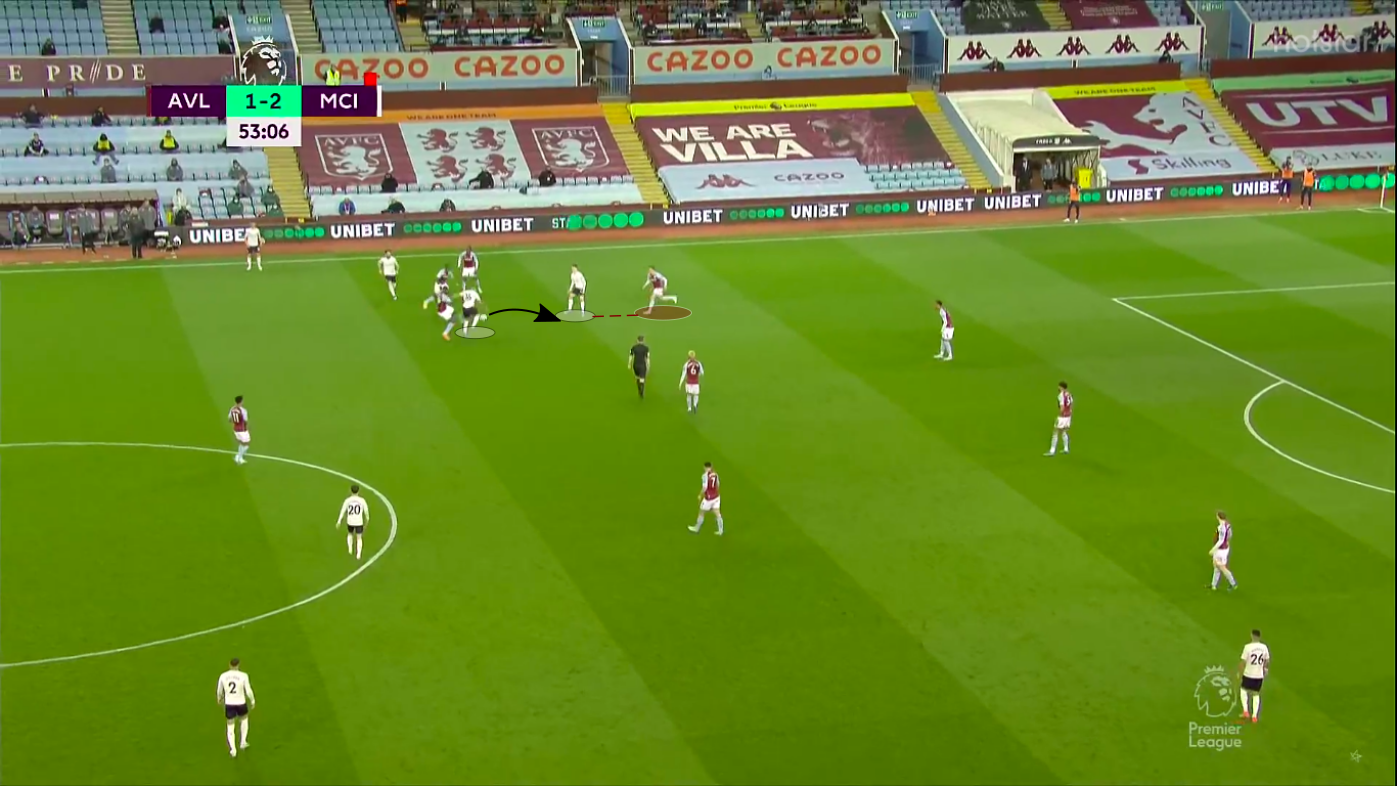 Receiving a looping pass with a defender right on his back, Foden pulls off one of his trademark moves to get away – a first touch that knocks the ball forward and allows him to get away on the half-turn.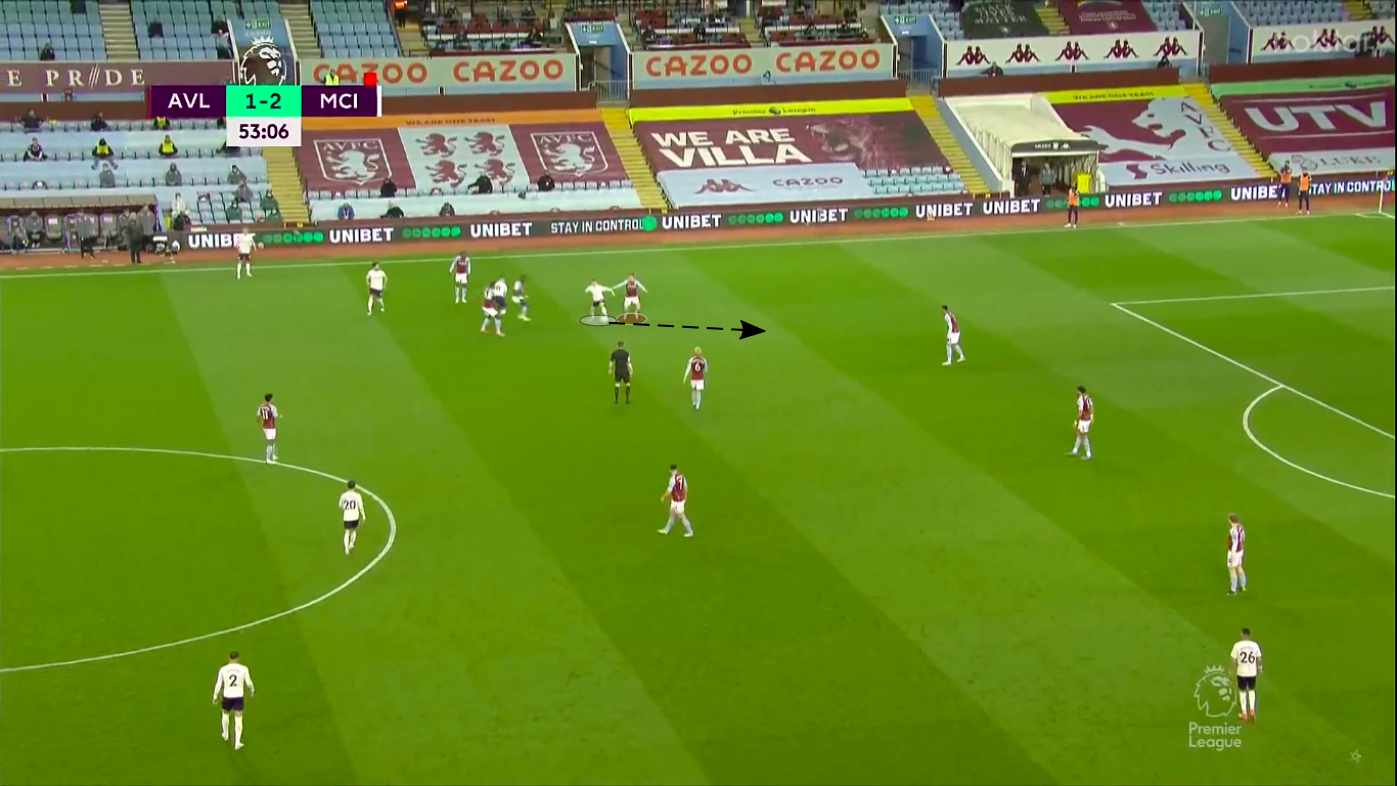 His low centre of gravity enables him to do this, as he can turn and change direction much quicker than most defenders.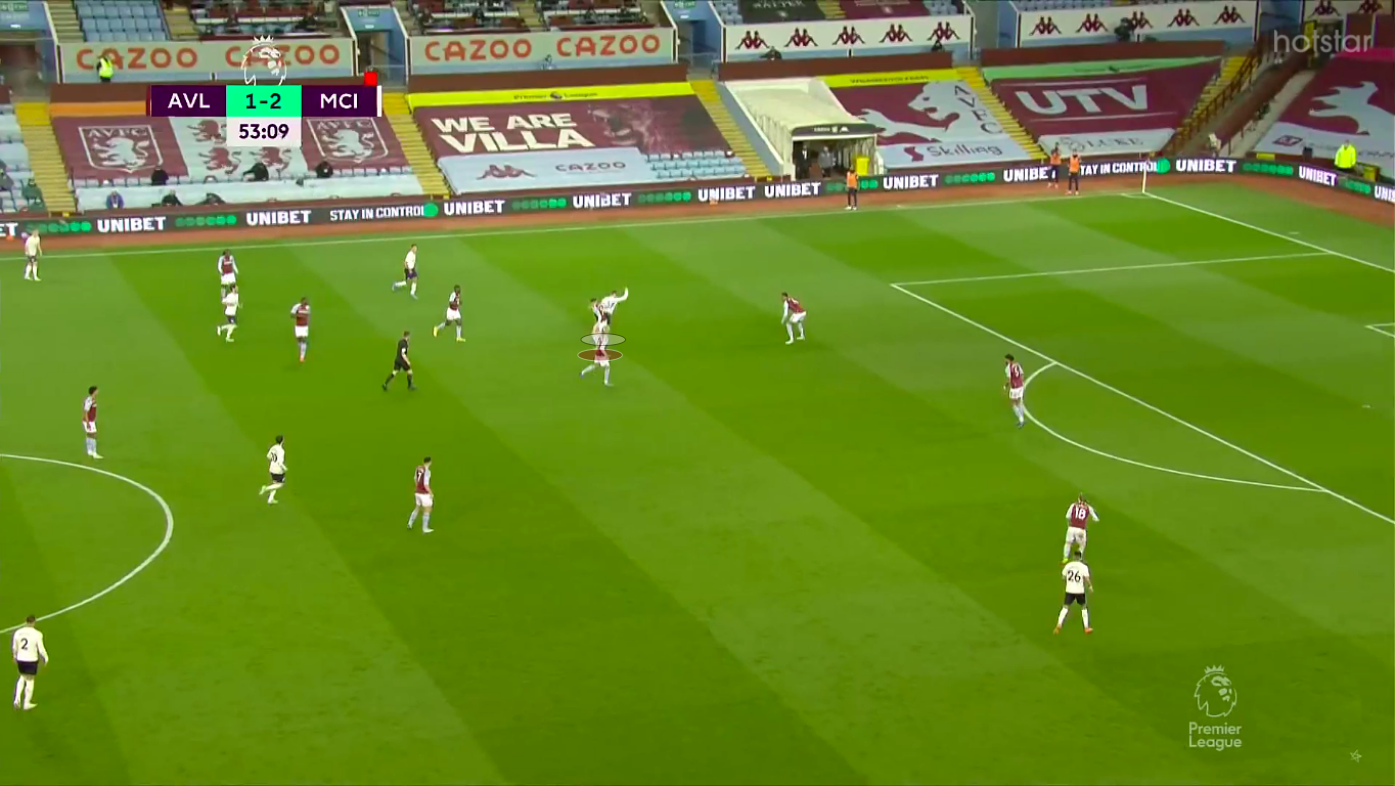 If there's one person you should ask about Foden's low centre of gravity and quick changes of direction, it's Mateu Morey. The Spanish defender was probably already terrified when he saw the Englishman running straight at him in this instance, but things would soon get worse.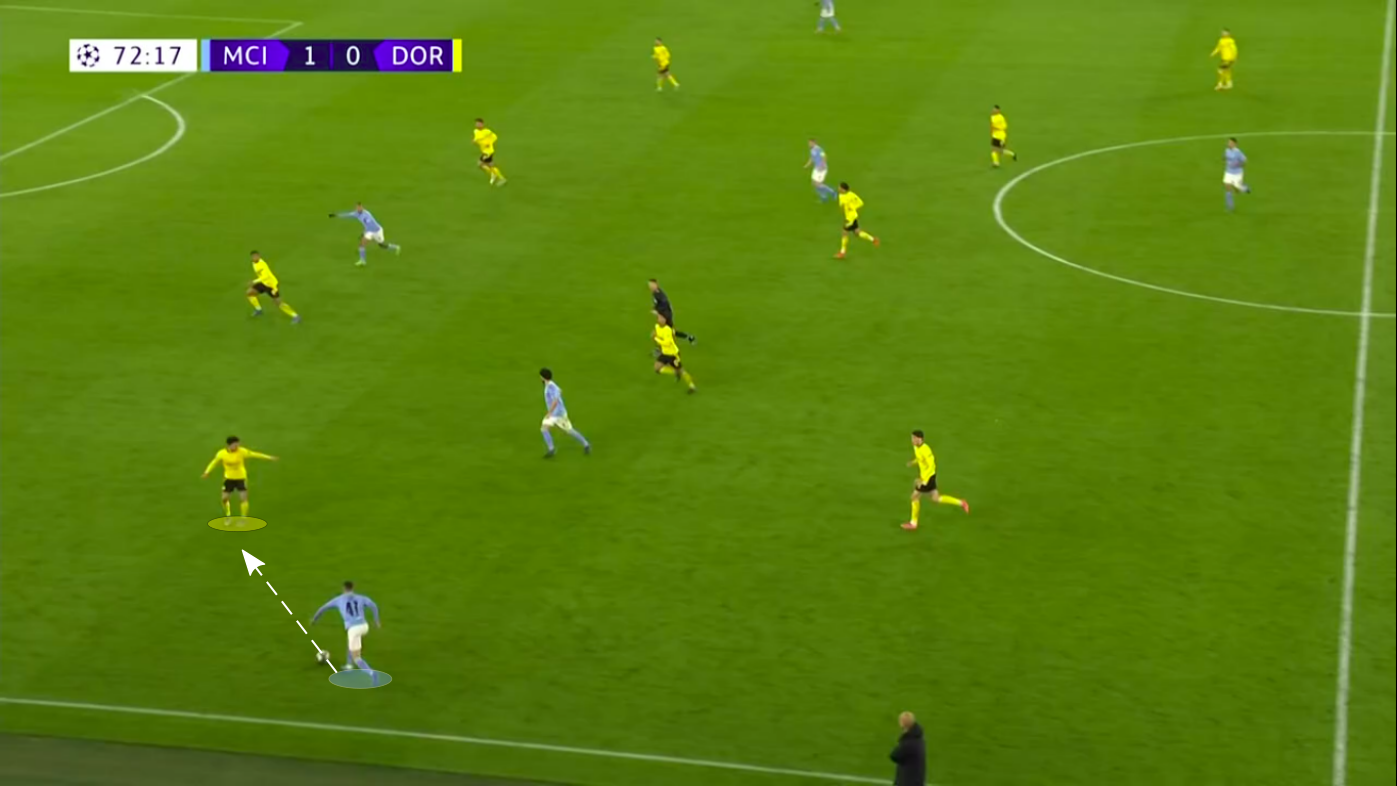 Luckily for him, he received support from Jude Bellingham, forcing Foden to go to the outside. Good news, right?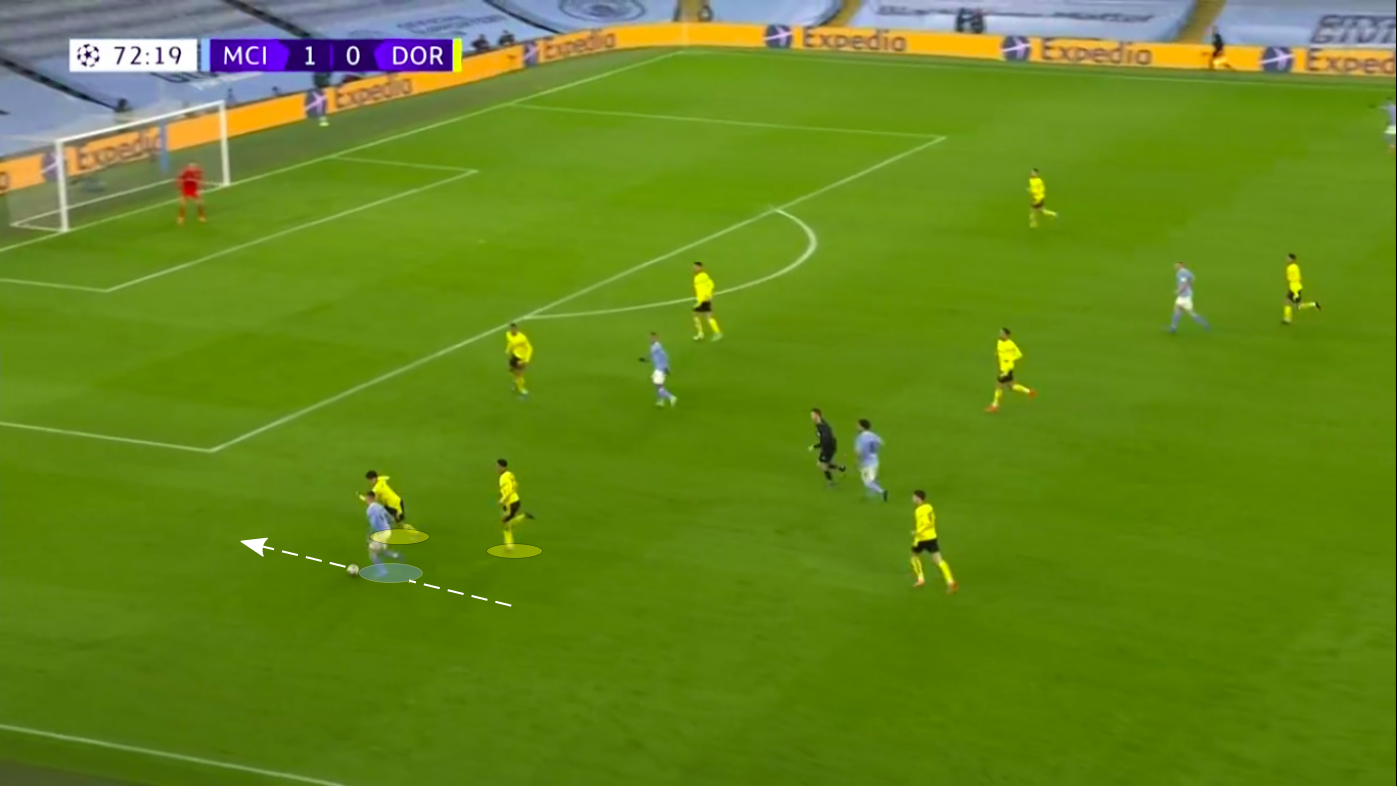 Wrong. Foden simply chopped back inside in a swift move and squeezed his way through the gap between the two defenders.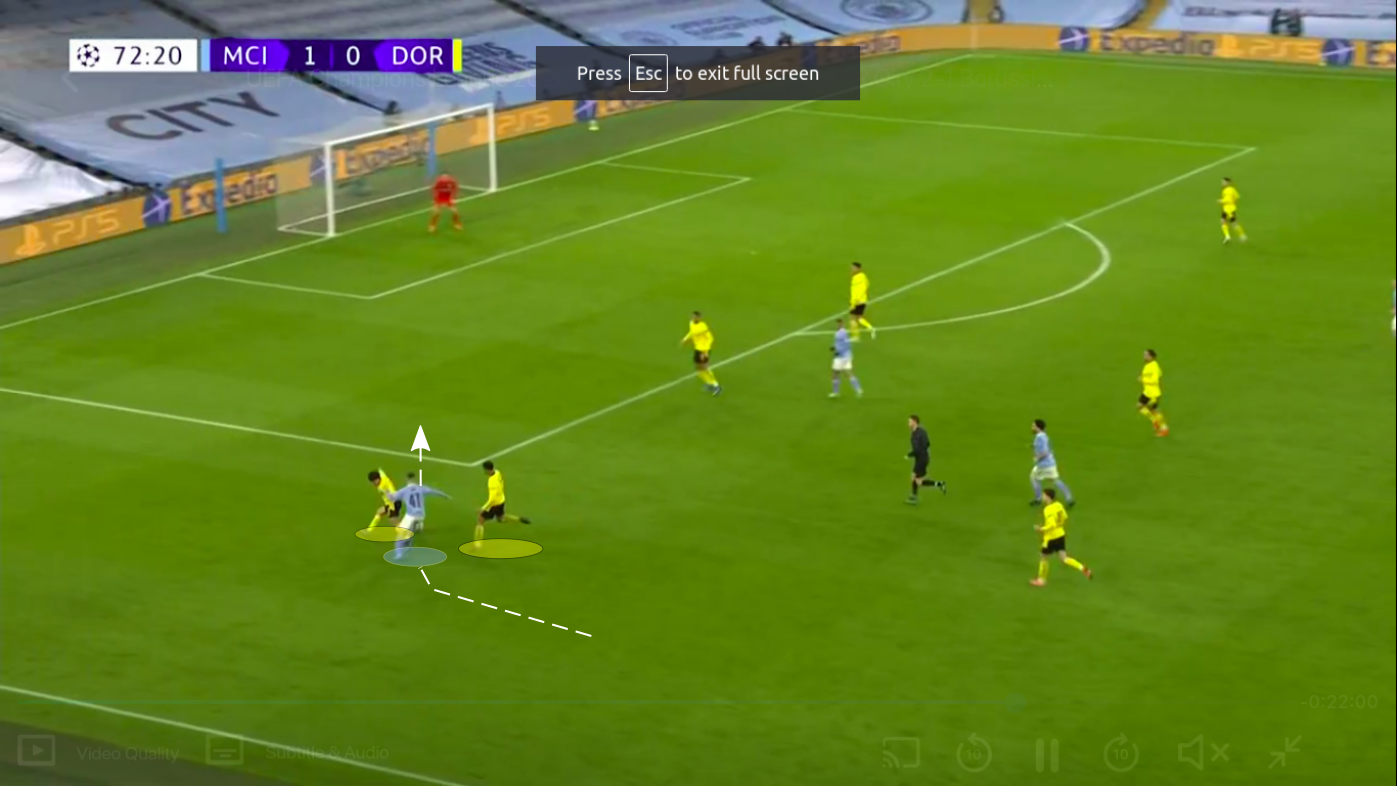 His movement was so sharp that Morey lost his footing, and Bellingham could only stand there and raise his hand to indicate that he was done for the day after witnessing an ankle-breaker right under his nose.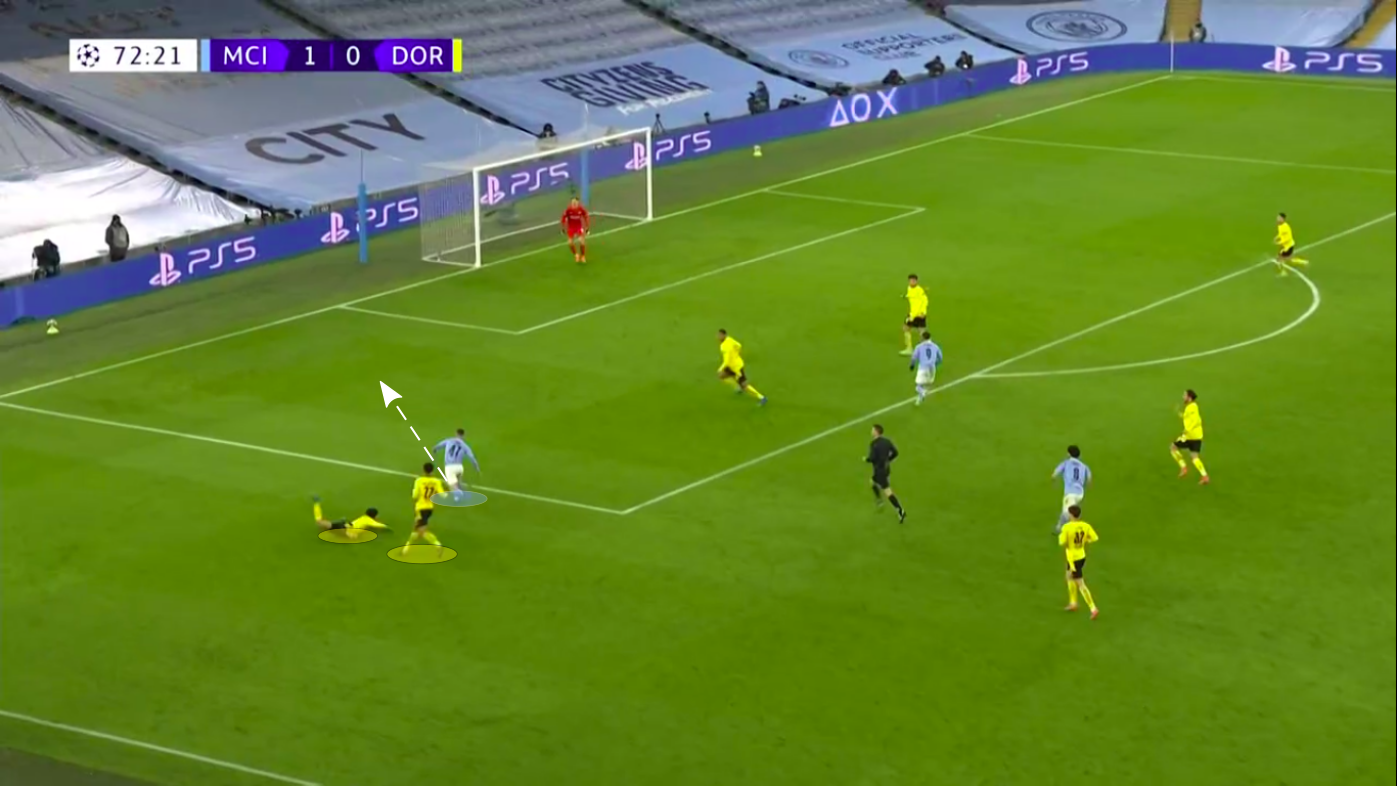 Foden is just something else in tight spaces too, such as the one in the example below: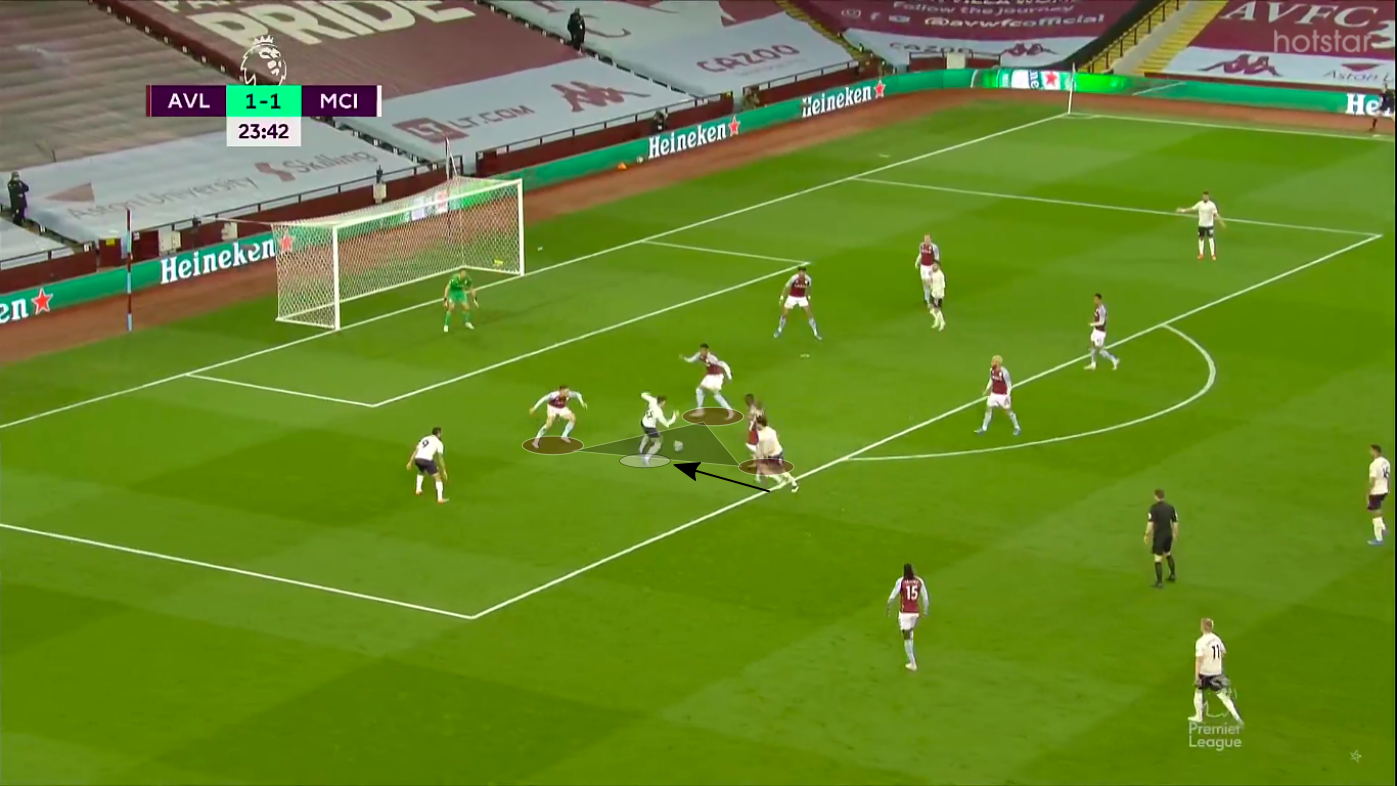 After nudging the ball forward through the gap between three opponents, Foden runs into another, so he decides to stop and pirouette.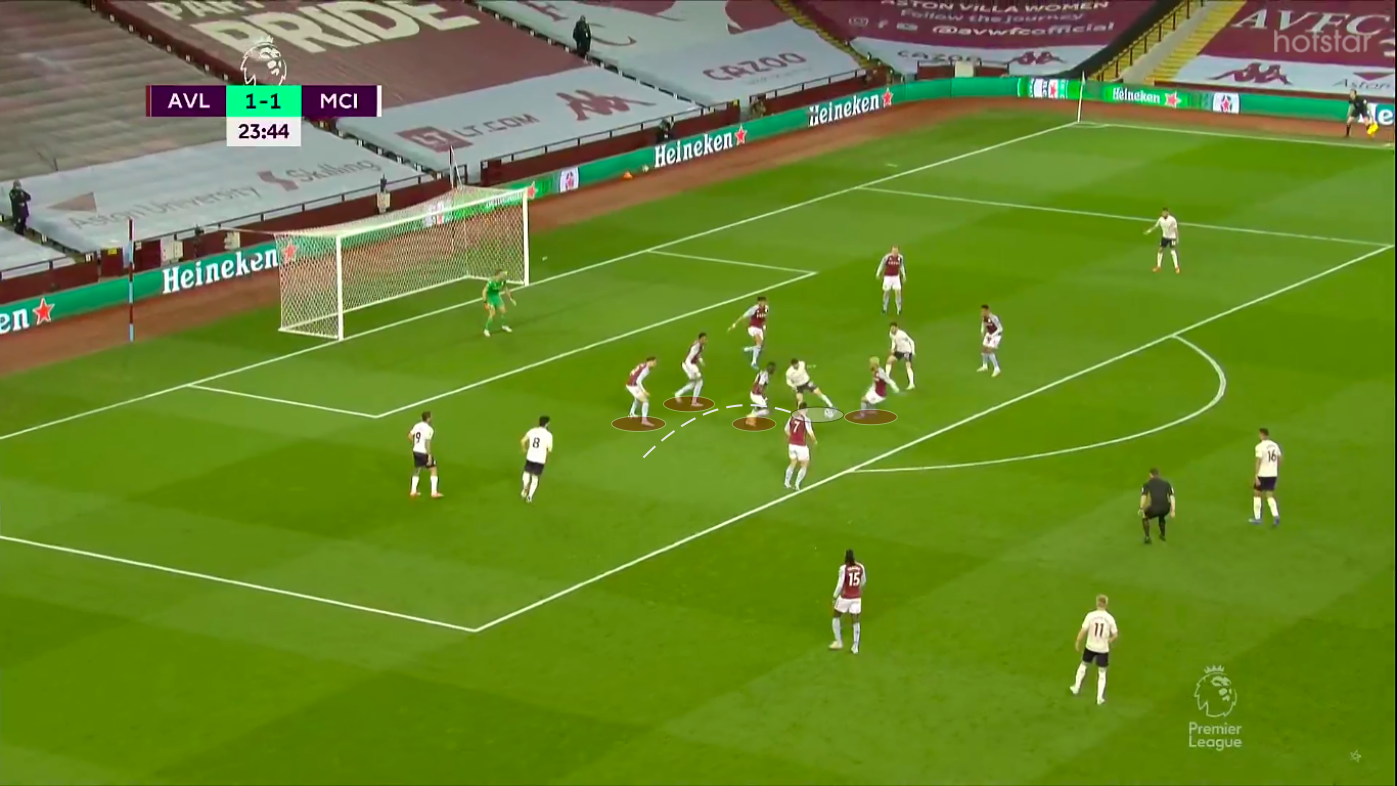 This once again takes him into another set of opponents, but he manages to get a shot away anyway – keeping the ball from five defenders before doing so.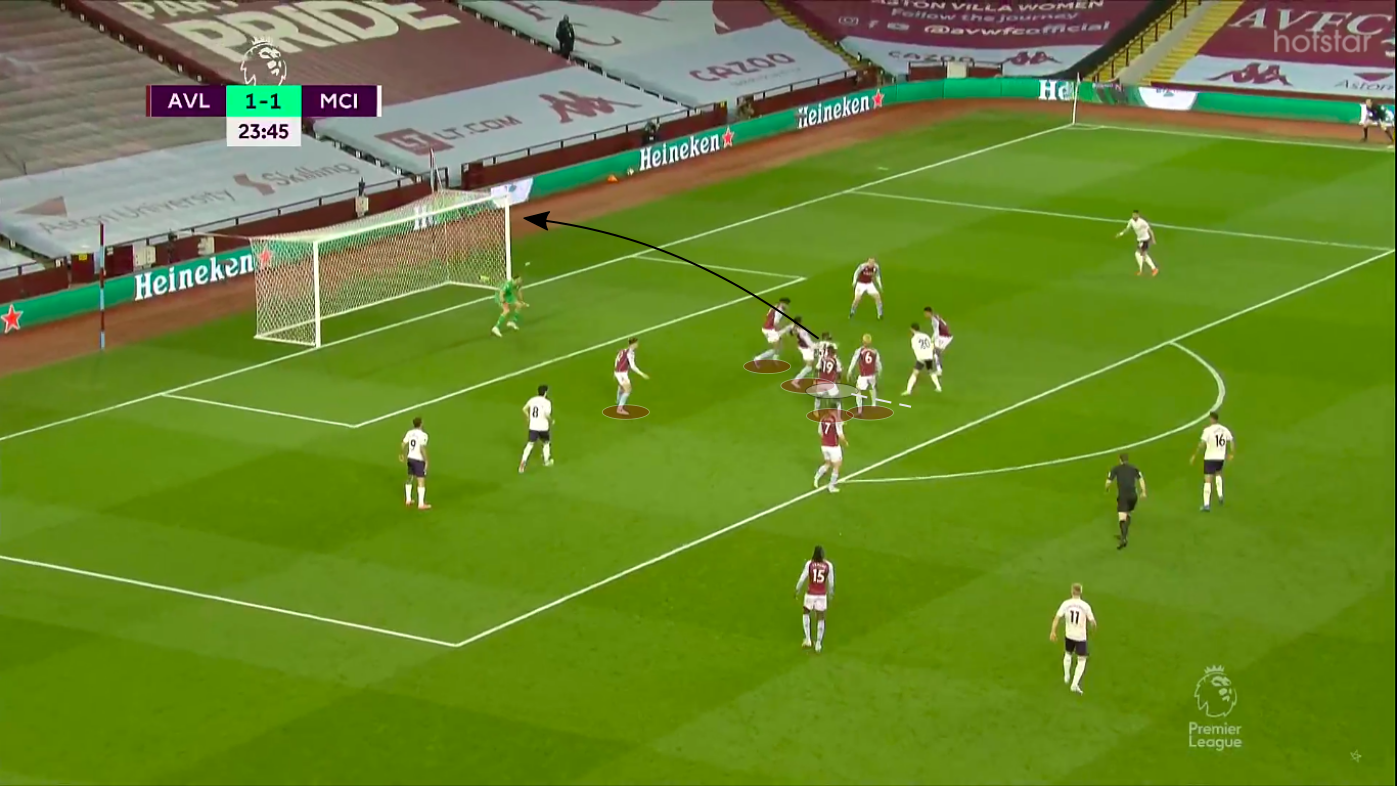 Foden certainly passes the eye test with flying colours, but the numbers are slightly less kind to him.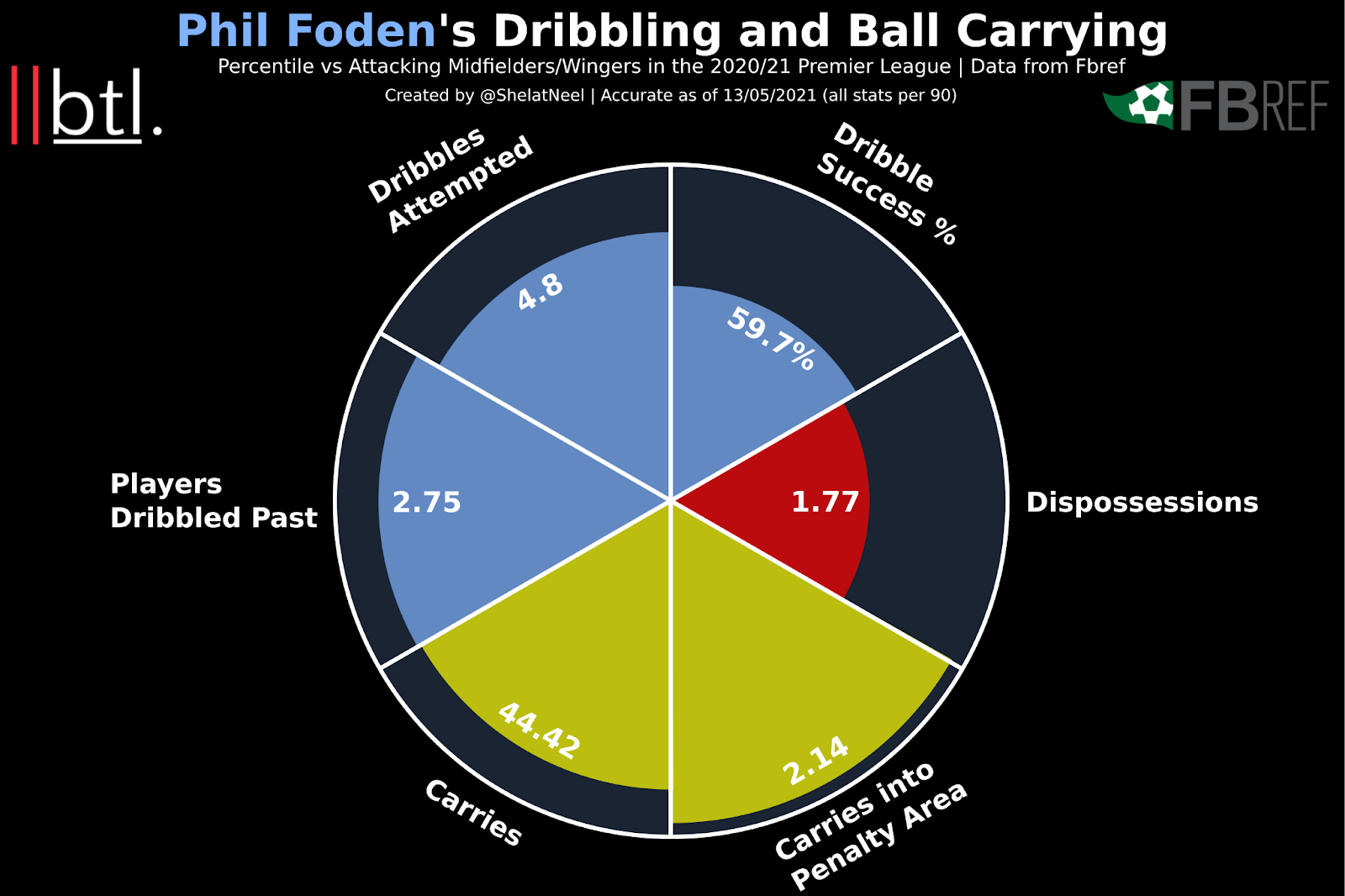 As this pizza chart indicates, Foden is quite exceptional in terms of ball carrying, however his dribbling numbers leave a bit to be desired. His dribble success rate rather stands out because of how low it is at just 59.7%, while 1.77 dispossessions per 90 do not look too good either, although they can partially be explained due to how often Manchester City find themselves up against low blocks, which necessitates more risk-taking in dribbling.
Foden is undoubtedly exceptional with the ball at his feet, however the numbers suggest that there is still room for improvement, which, if accessed, will make the Englishman downright terrifying for defenders.
Chance Creation
With 10 assists already this season, Phil Foden is quite handy in terms of creativity as well.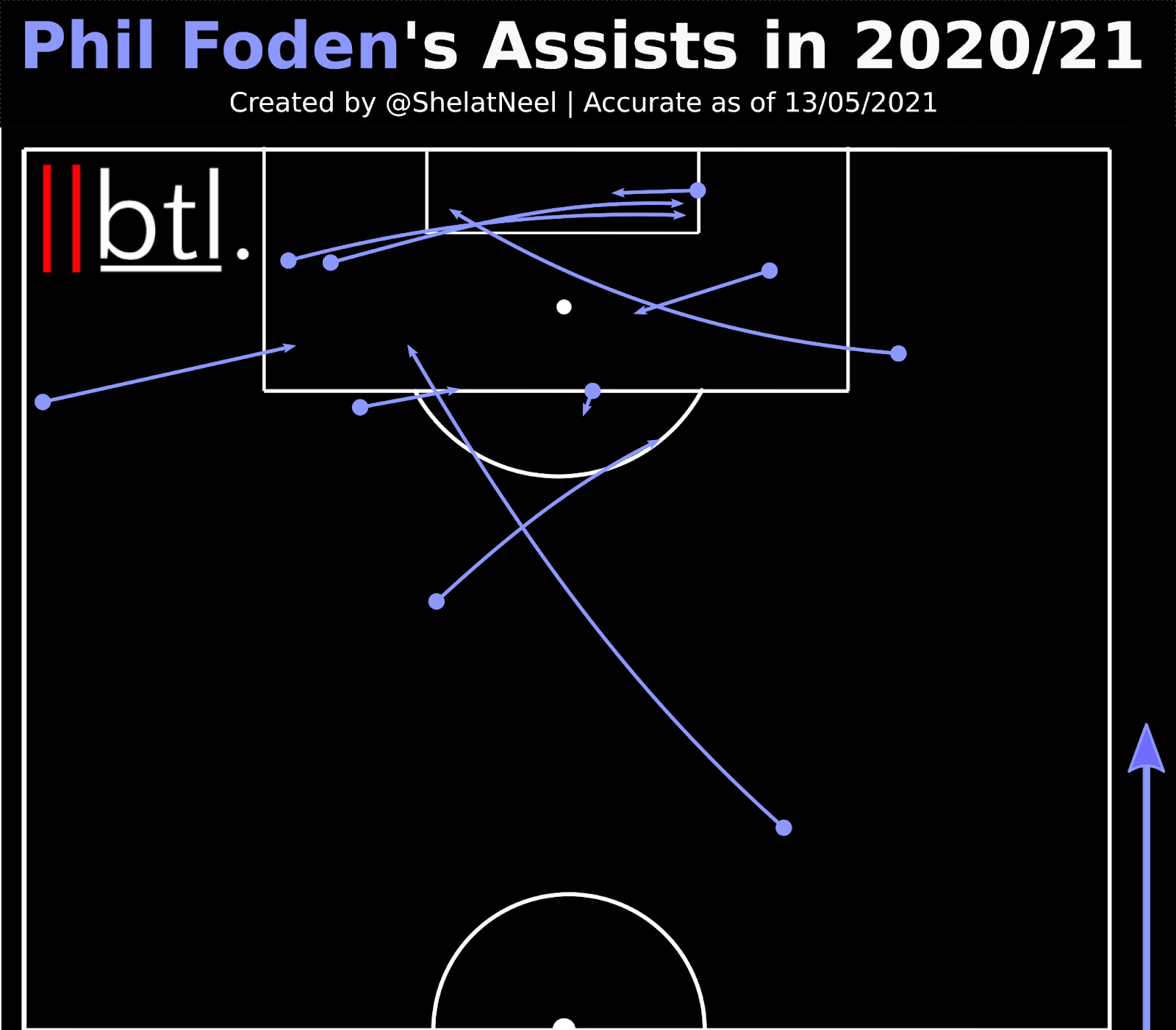 As this visualisation shows, Foden's assists have come in all shapes and sizes this season – from deeper positions, either flank, central positions in and around the box and close to the byline. This also means that he has all the various types of passes in his locker – through balls, crosses, balls across the face of goal and the like.
Here's an example of a Phil Foden through ball: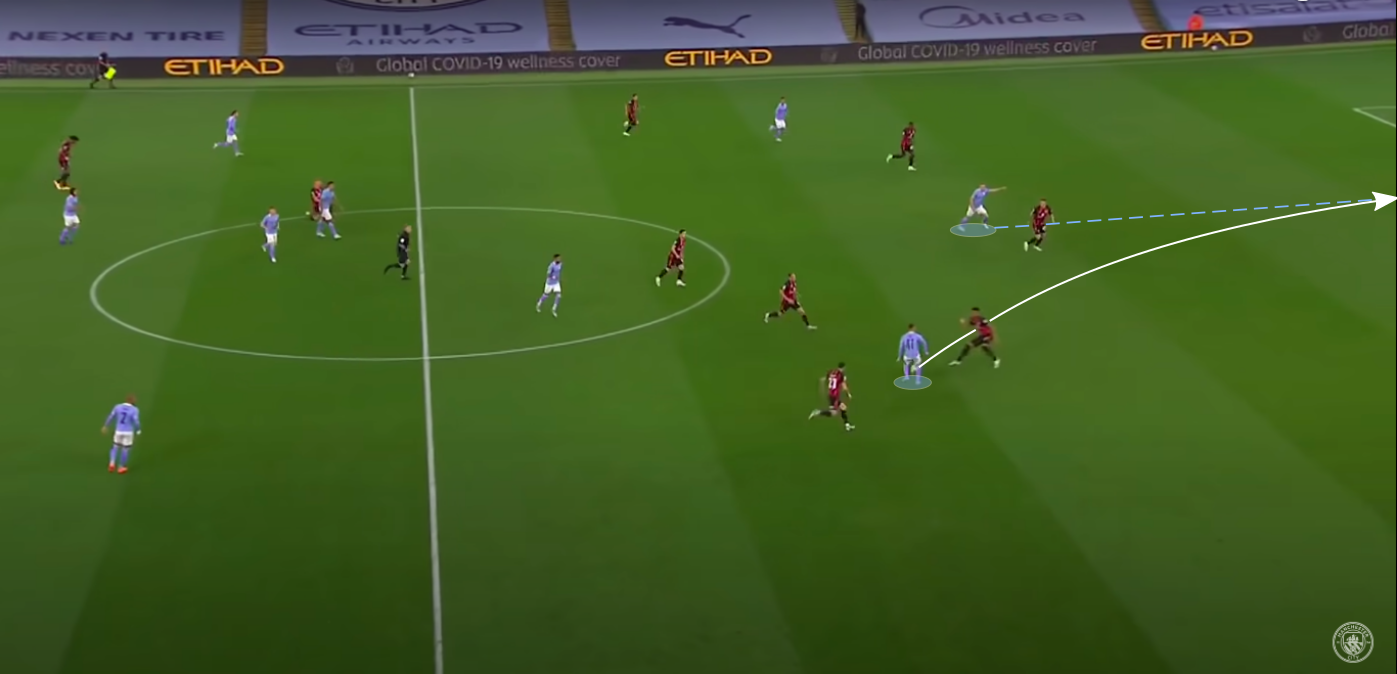 Below is an example of a cross from Foden.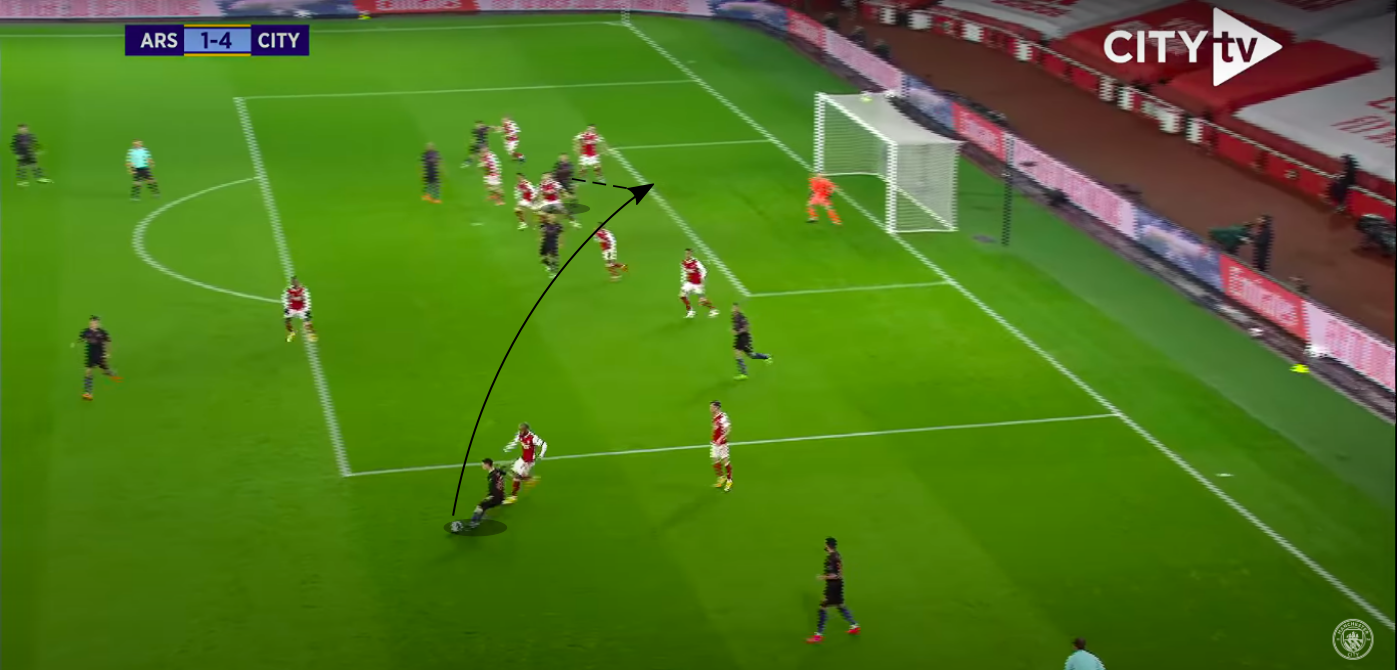 And finally, a ball across the face of the goal.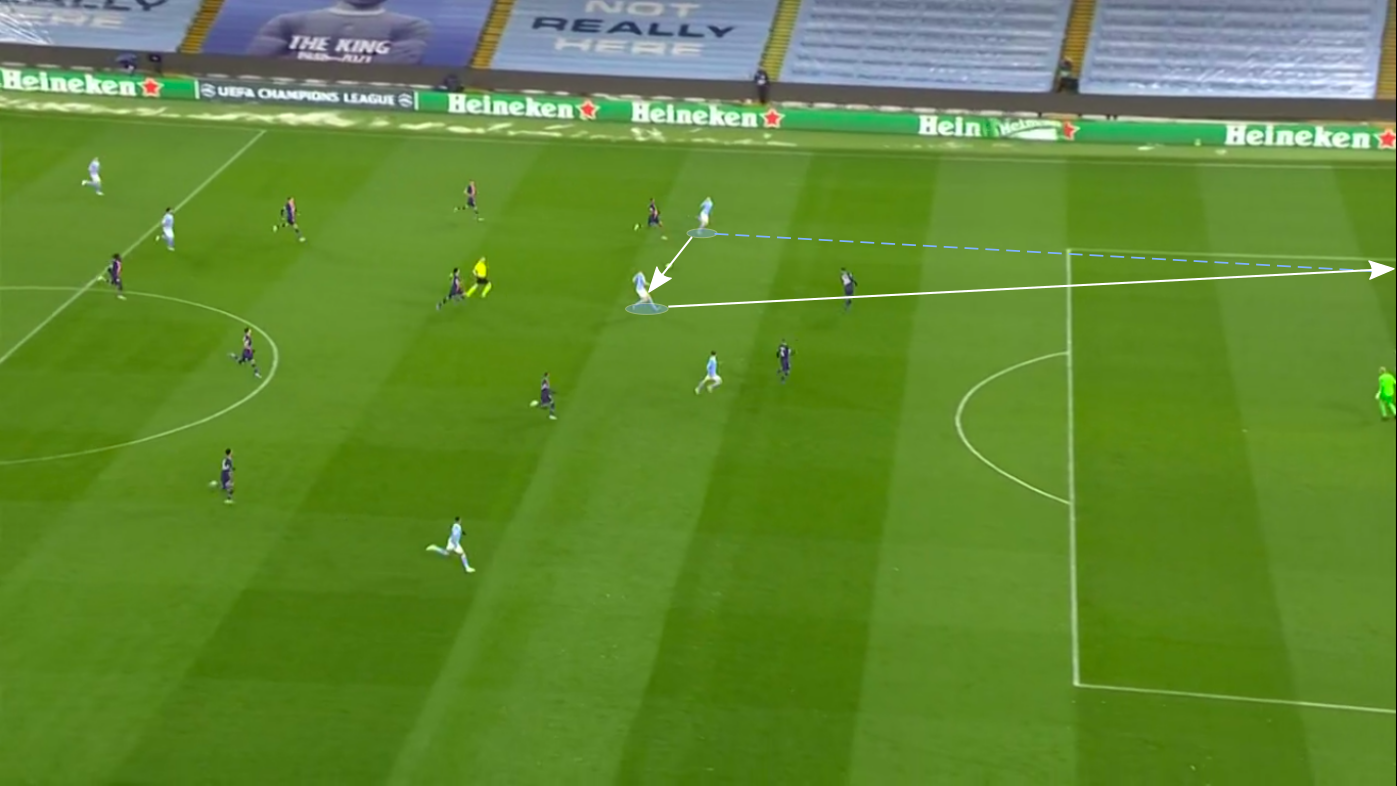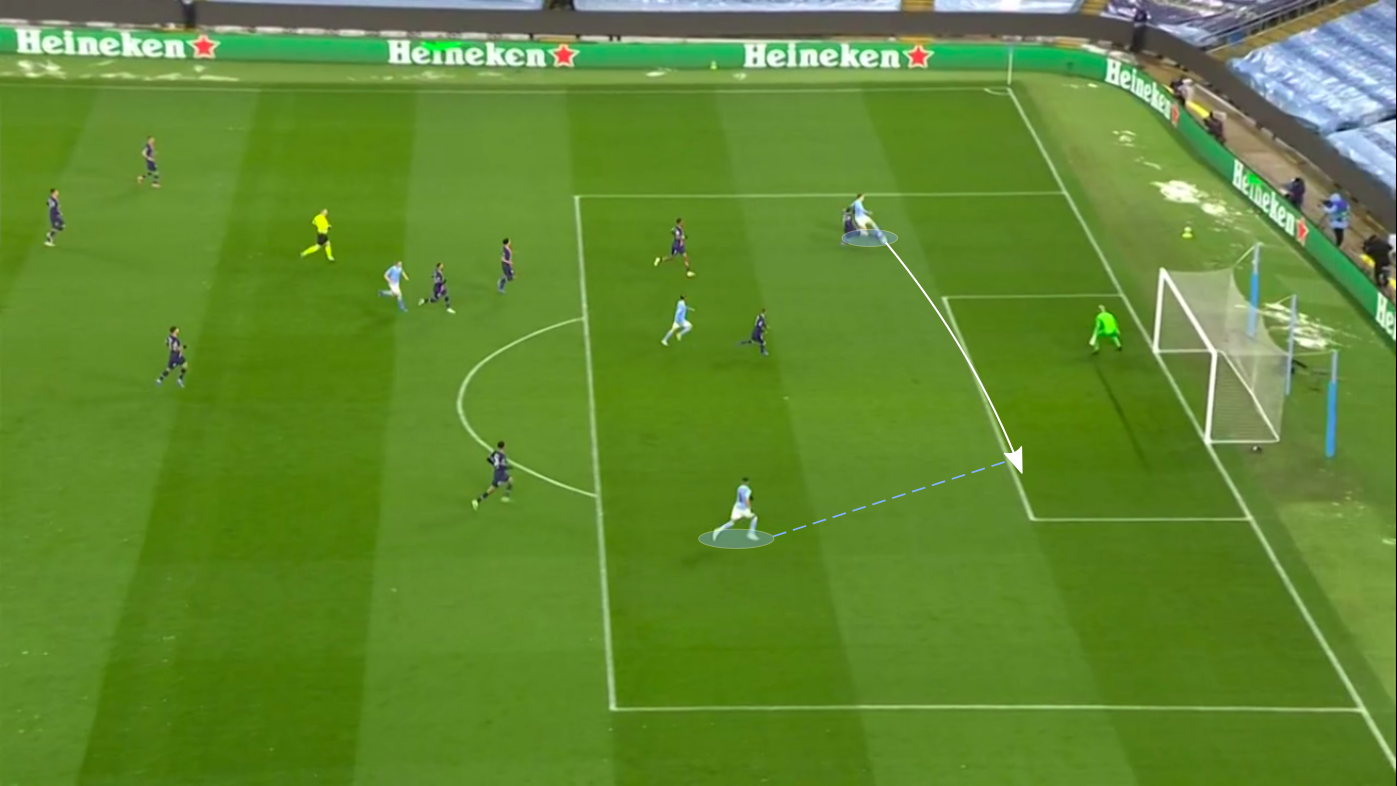 Clearly, Foden's passing is his greatest mode of chance creation – particularly in open play. This is reflected in his Shot-Creating Actions and Goal-Creating Actions data: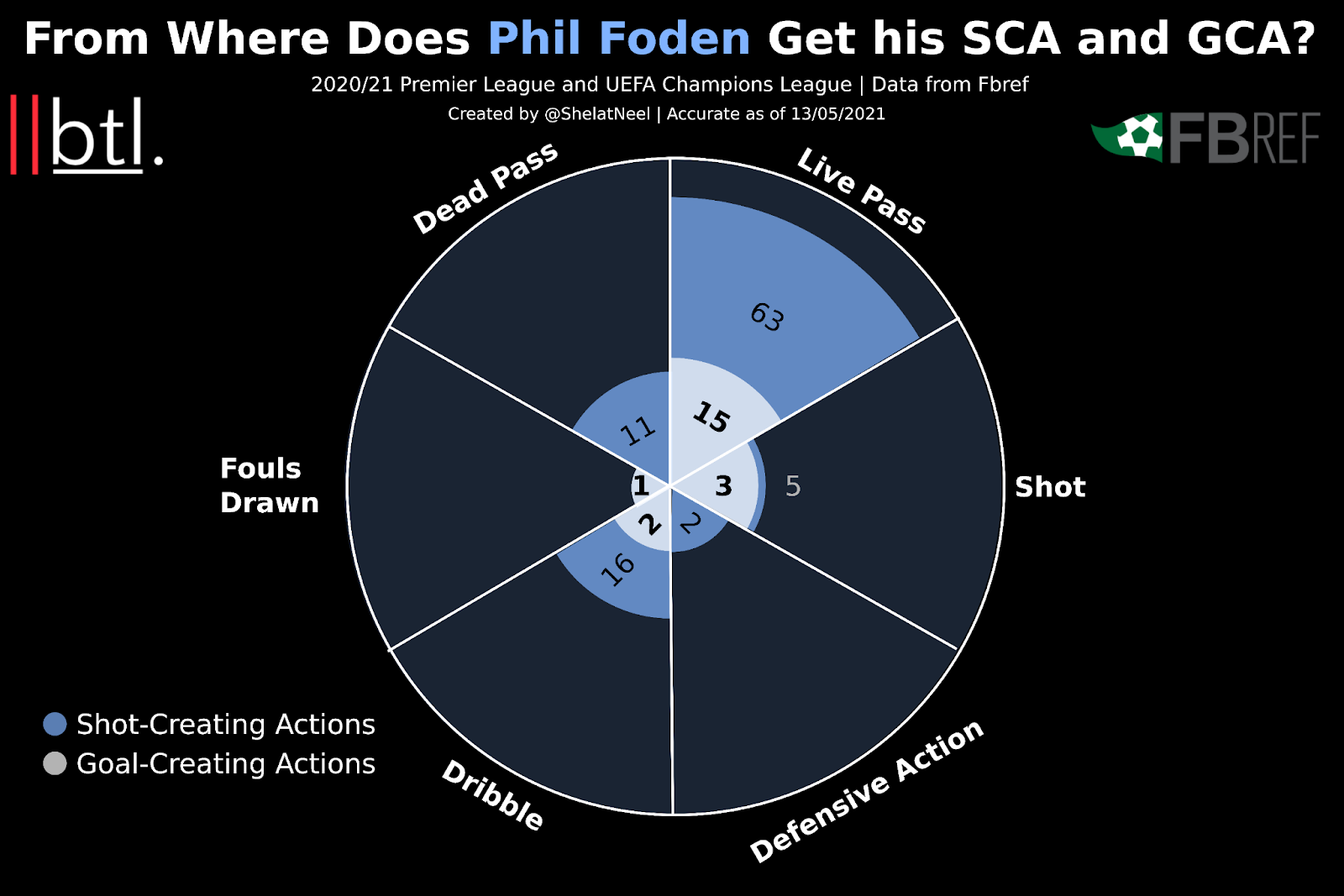 Looking at some of his other creativity stats in this season's Premier League, we can see that Foden has a high xA per 90 of 0.24, which is outmatched by his assists per 90 of 0.31, while his GCA per 90 of 0.73. However, his 2.02 key passes per 90 and 3.67 SCA per 90 show that his overall creativity is just slightly bloated by some surprisingly good finishing by his teammates. Either way, though, his underlying numbers do make for good reading.
Goal-scoring and Finishing
Although he has racked up 14 goals already for Manchester City, some critics believe that Phil Foden could do with some polishing on his work in front of goal. One of those critics undoubtedly is himself, as was evident in his celebration for his side's second goal in the UEFA Champions League quarter-final first leg against Borussia Dortmund.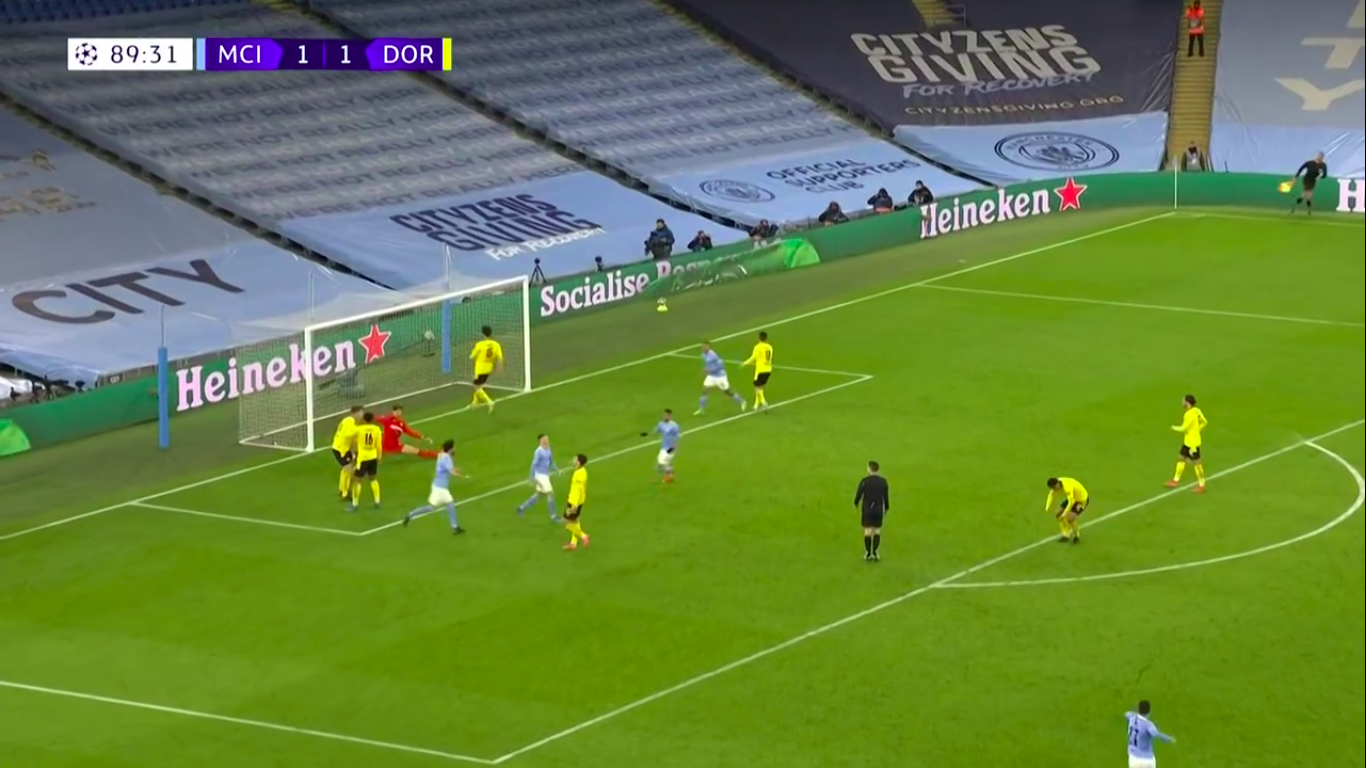 After making it 2-1 in the 90th minute of the match, the England international simply walked away with a red-faced expression, presumably angry at himself for his previous failures to score in the match.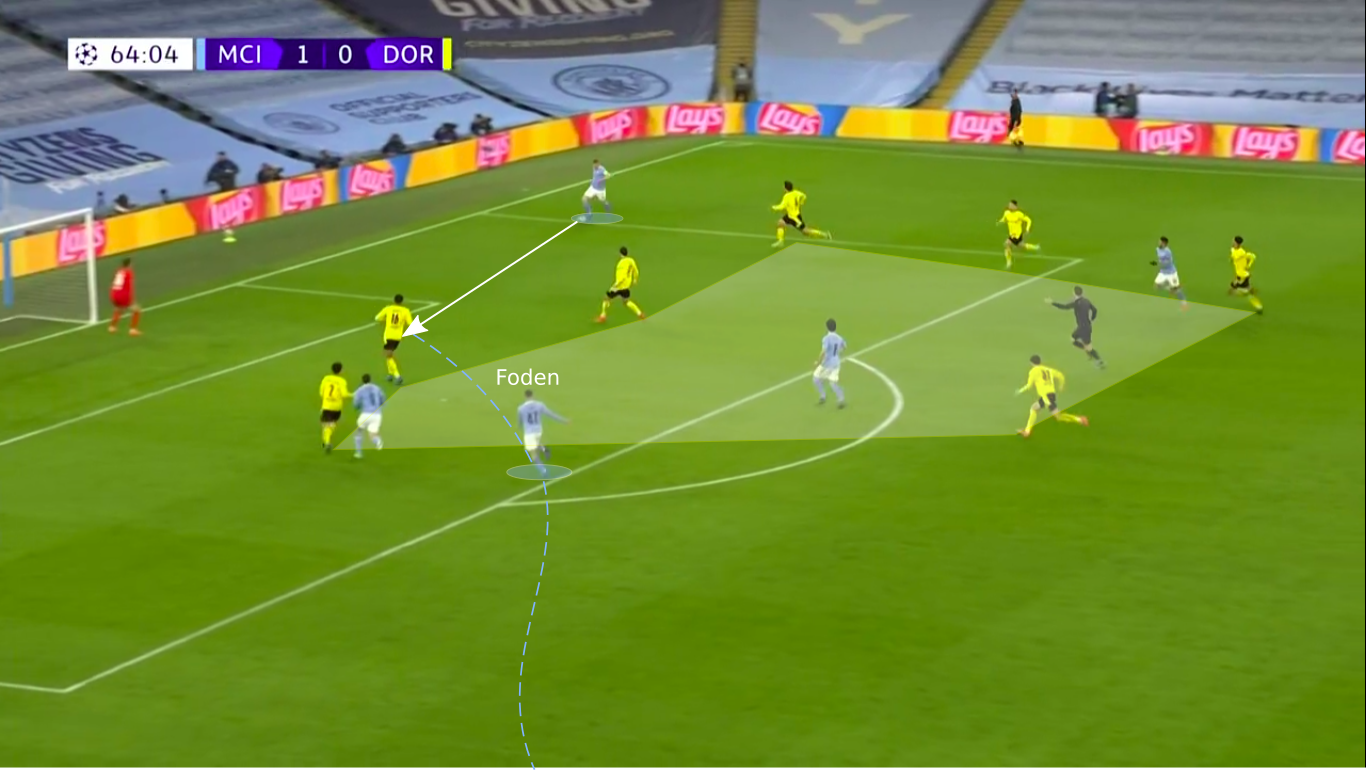 The first of those major chances came after the hour-mark when Foden showed some very good movement to get into a great position to attack Kevin De Bruyne's ball across the box.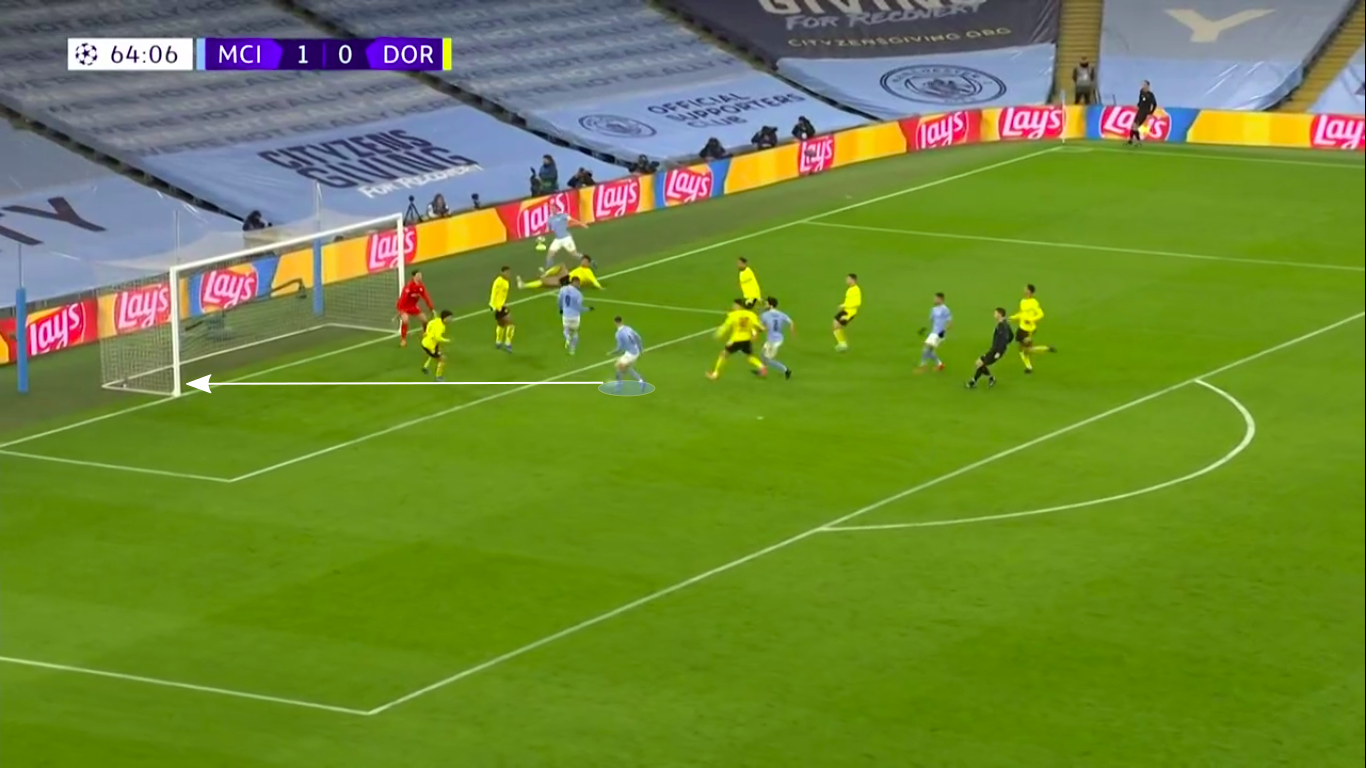 He perfectly got on the end of it too, so all that was left was for him to open his left foot up and coax the ball into the far corner.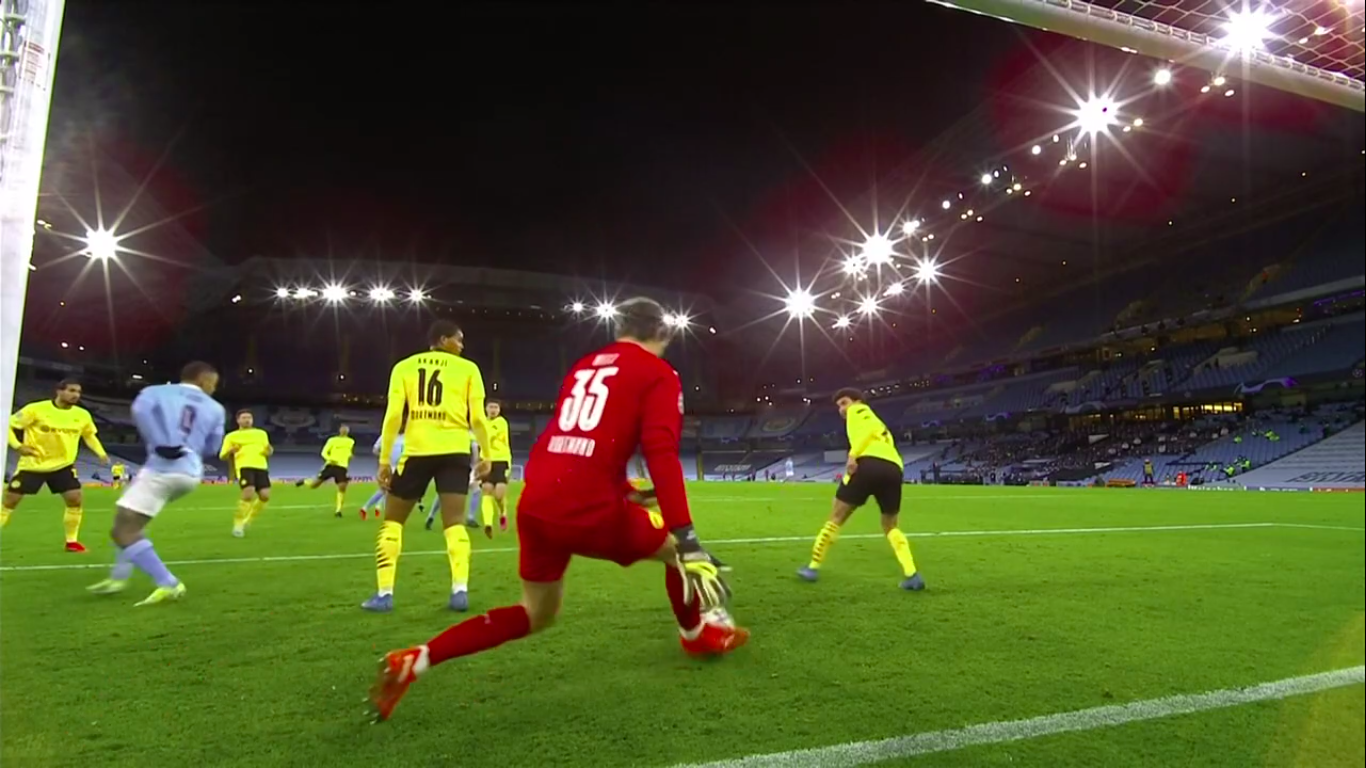 However, he failed to do that, instead sending his effort straight at Marwin Hitz in the Dortmund goal.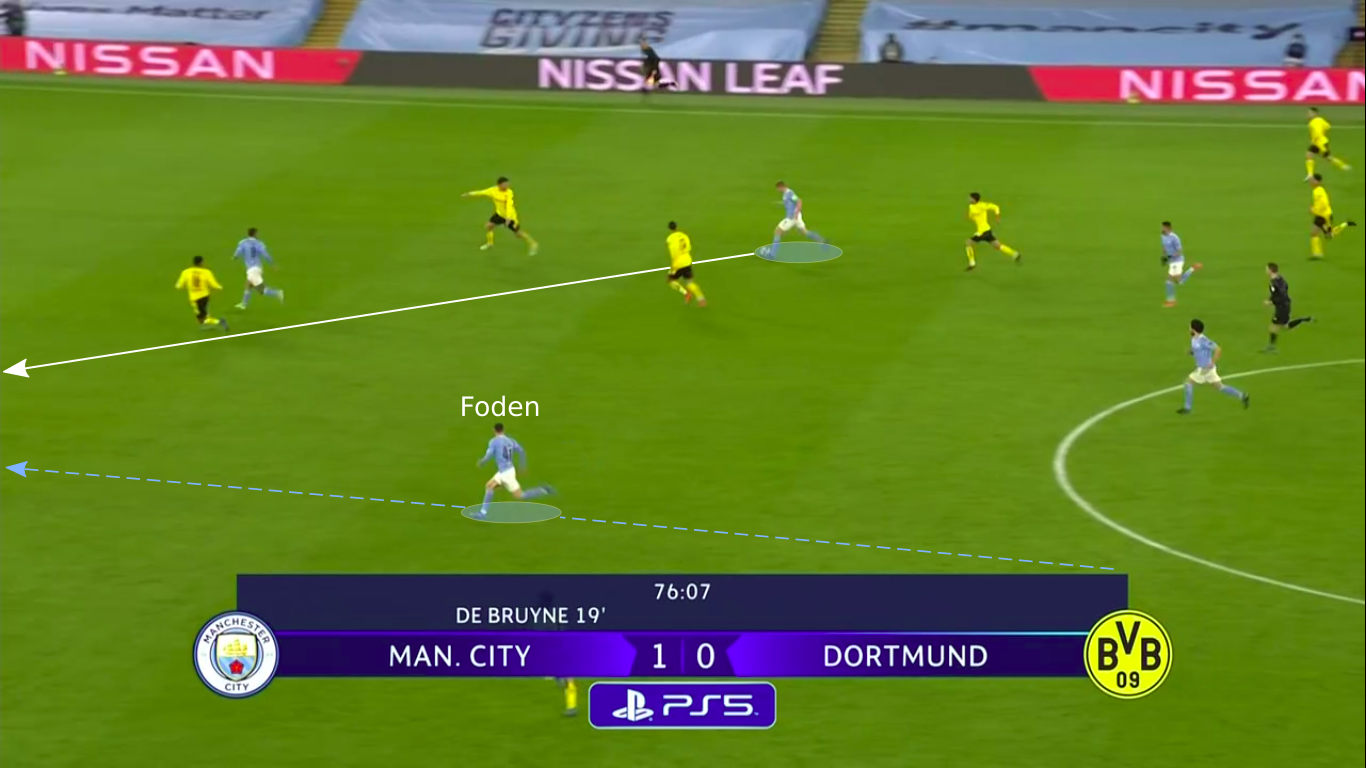 Foden had the chance to make amends soon thereafter, as De Bruyne served up another great chance for him with a through ball.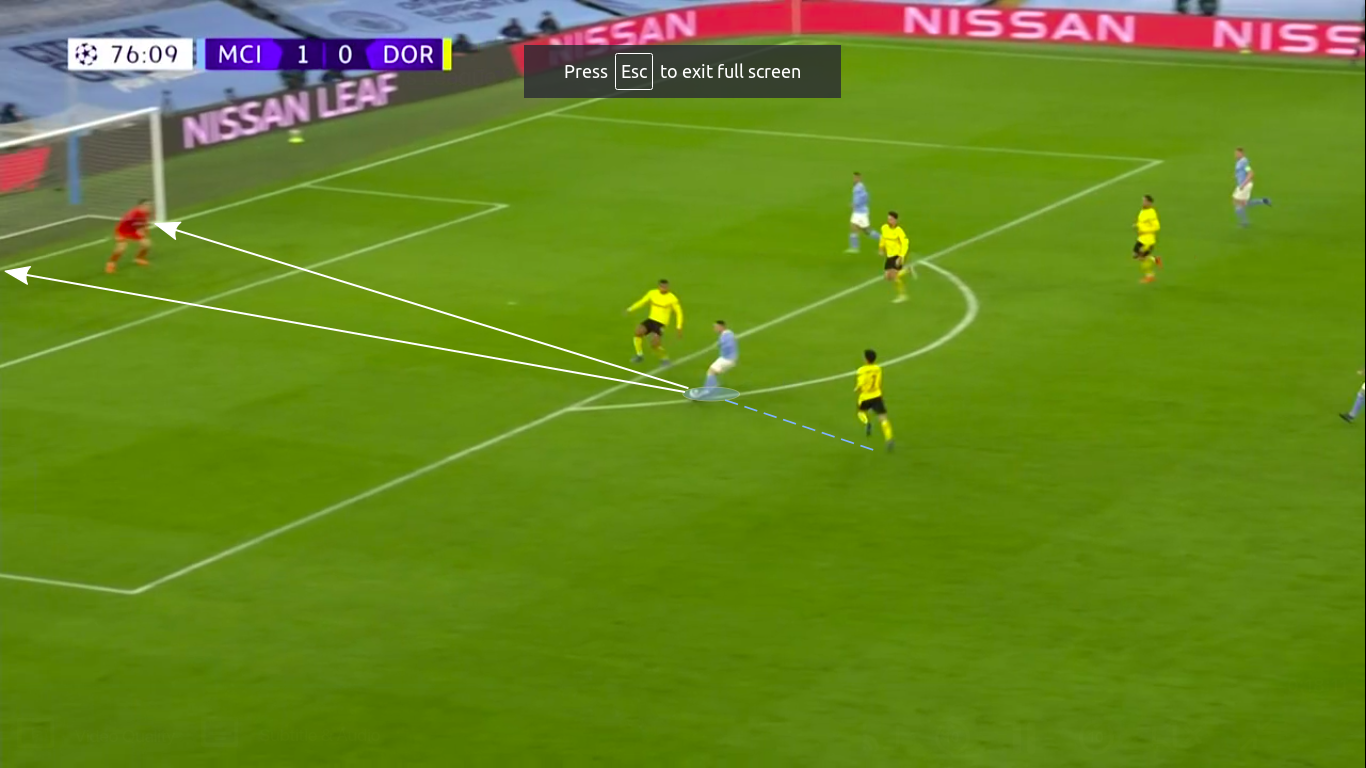 He took a touch before letting fly from the edge of the box. Although this chance was certainly tougher than the previous one, a finish directed towards one of the corners would at least pose some sort of threat to Hitz's goal.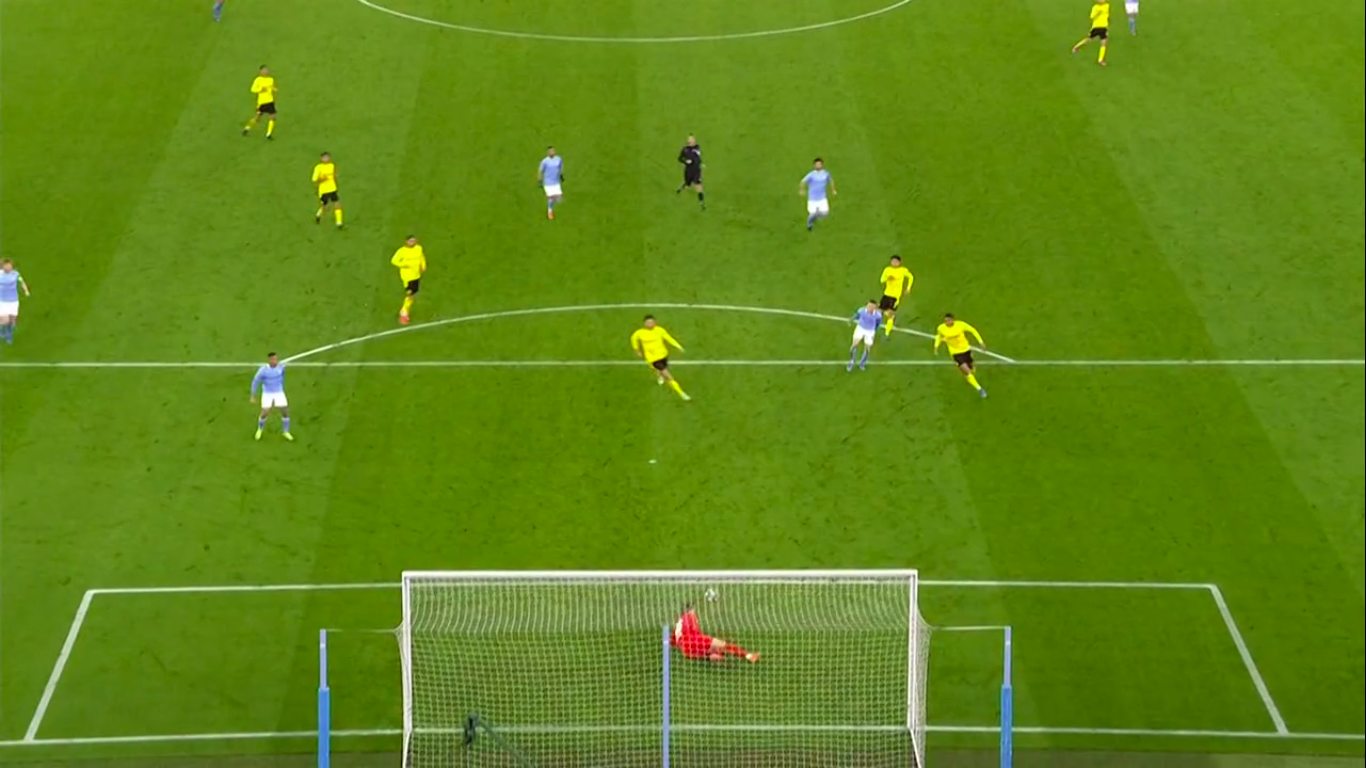 Once again, though, that was not the case, as the shot went dead central and drew a simple save.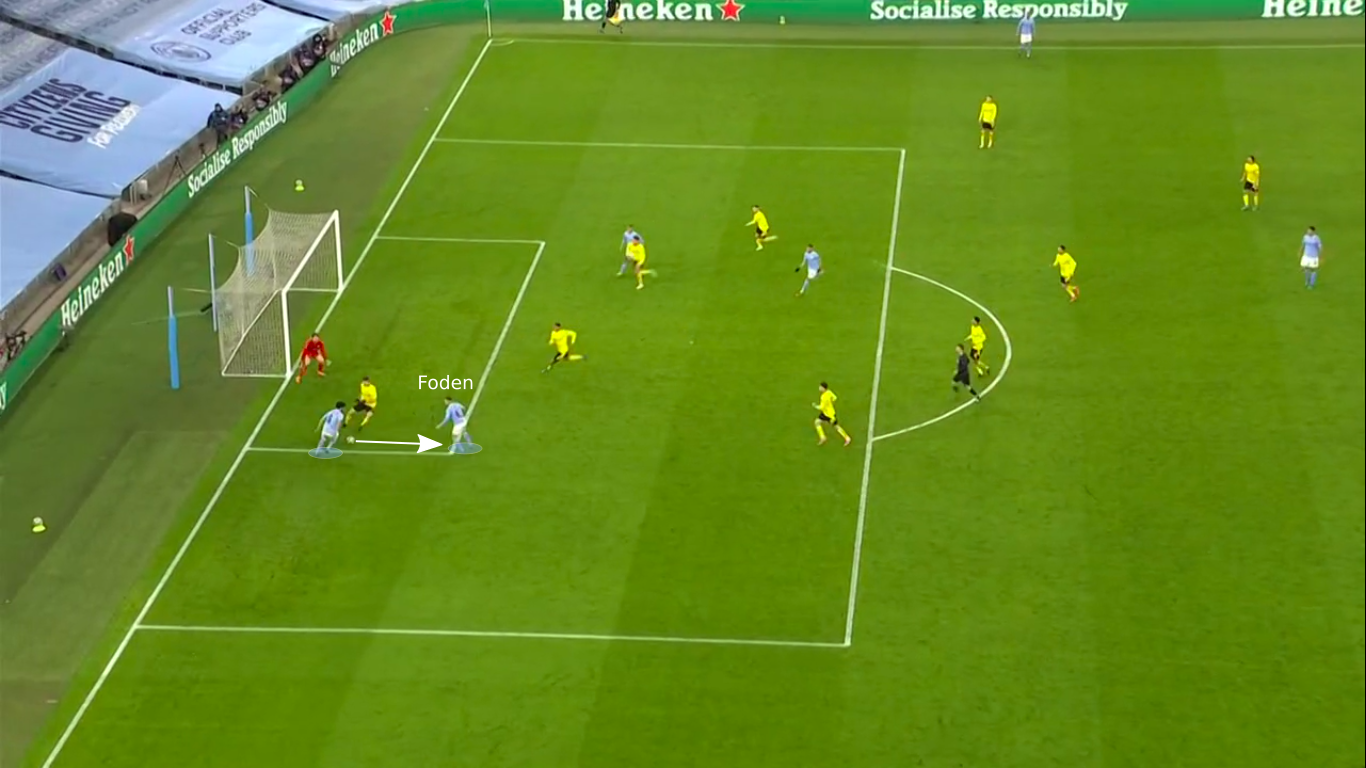 Foden finally did score in the last minute, after a Dortmund equaliser. Things started off with a De Bruyne pass once again, but this time İlkay Gündoğan was involved too, as he cushioned the ball down for the Englishman.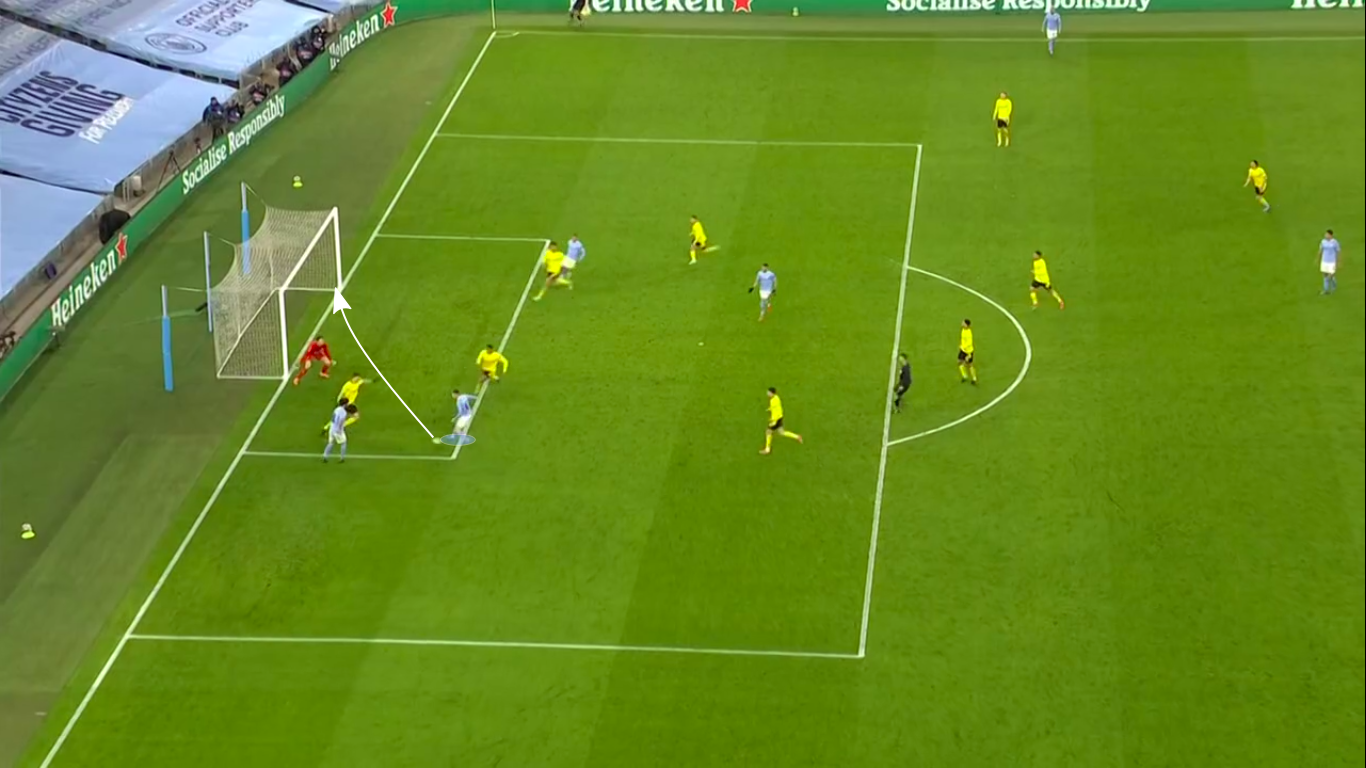 This was the closest that Foden had been to goal in terms of proximity, but the angle was a little tight. Obviously, the key was to send the finish into the corner, and with Hitz covering his near-post well, the far-post region was the only feasible option.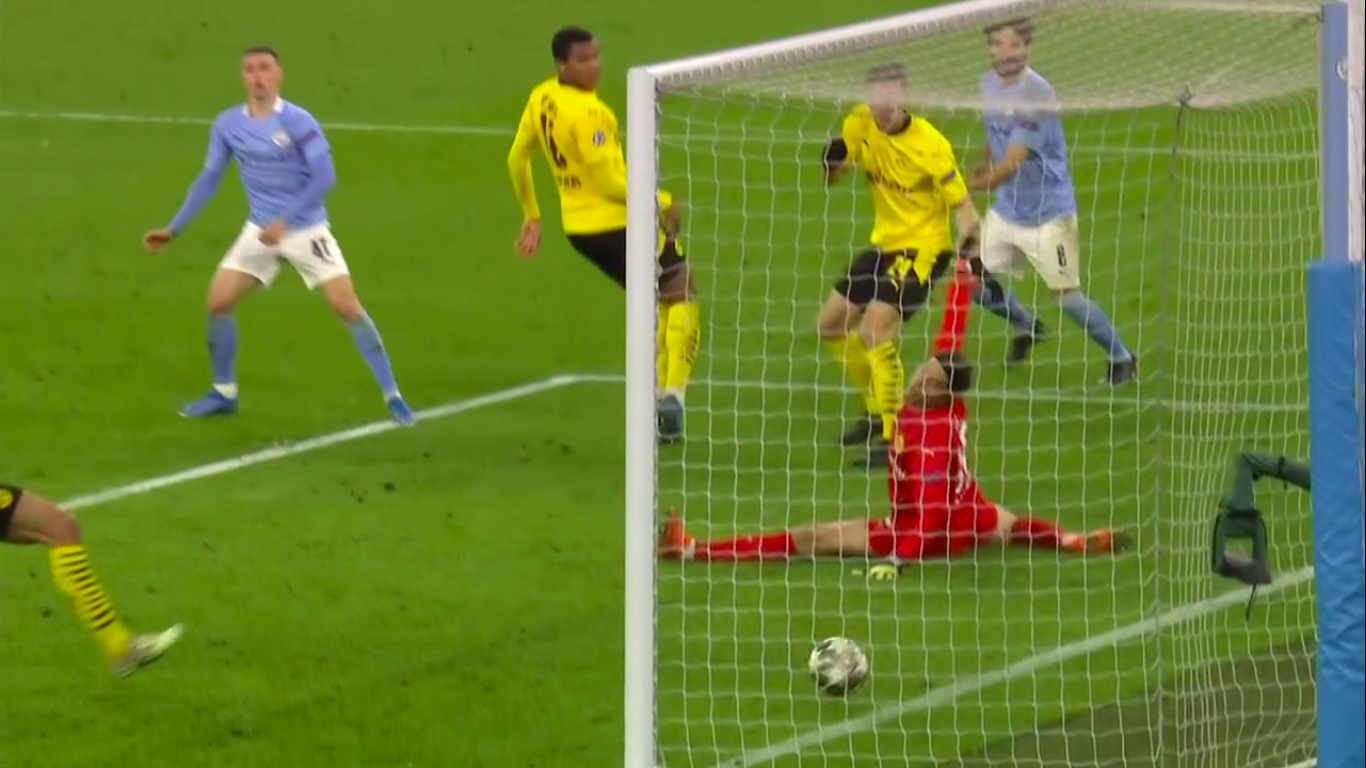 He got his finish right, finally getting to see the ball ripple the back of the net for a crucial goal. Foden more than made up for his misses in the second leg, though, by letting fly in this manner after a short corner routine.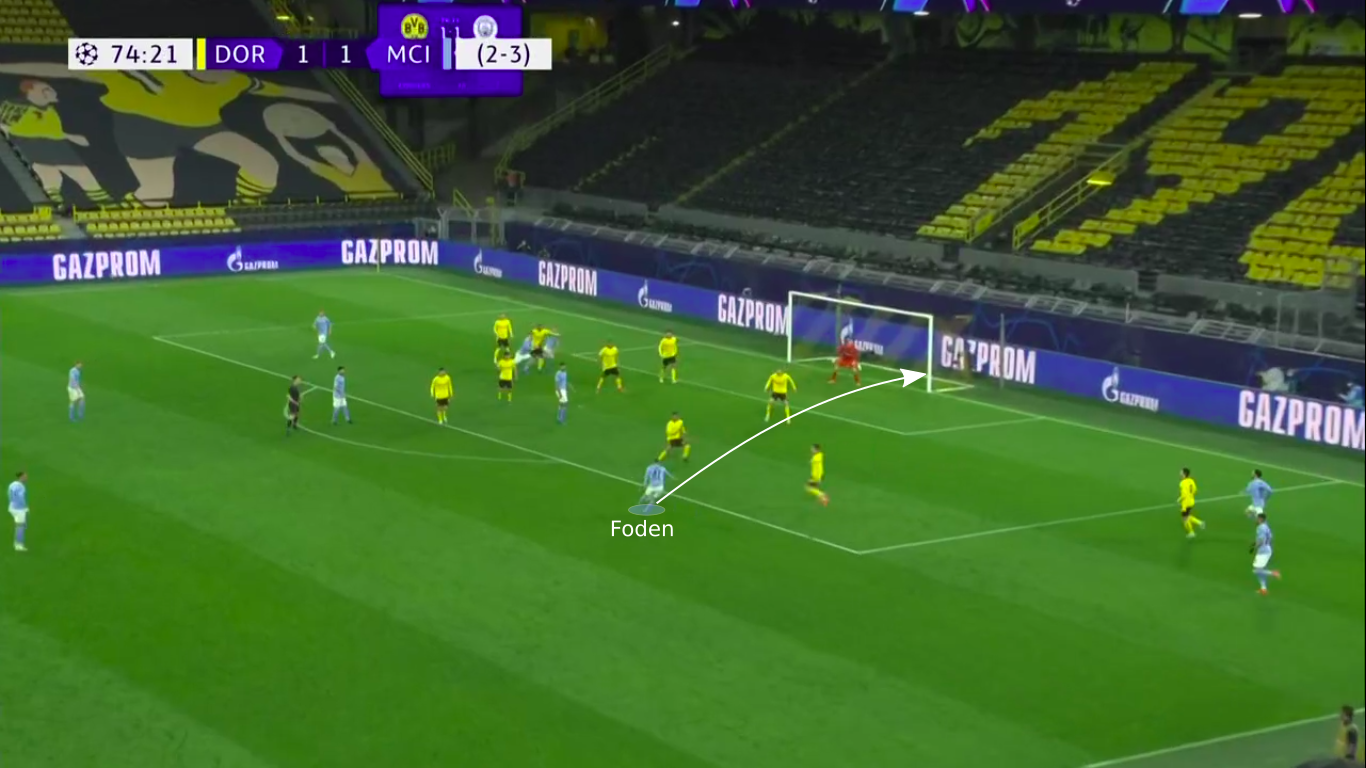 The ball went in off the near-post in spite of Hitz's best efforts, with the scoreline favouring Manchester City as it read 2-1 and all but ensured progression for them.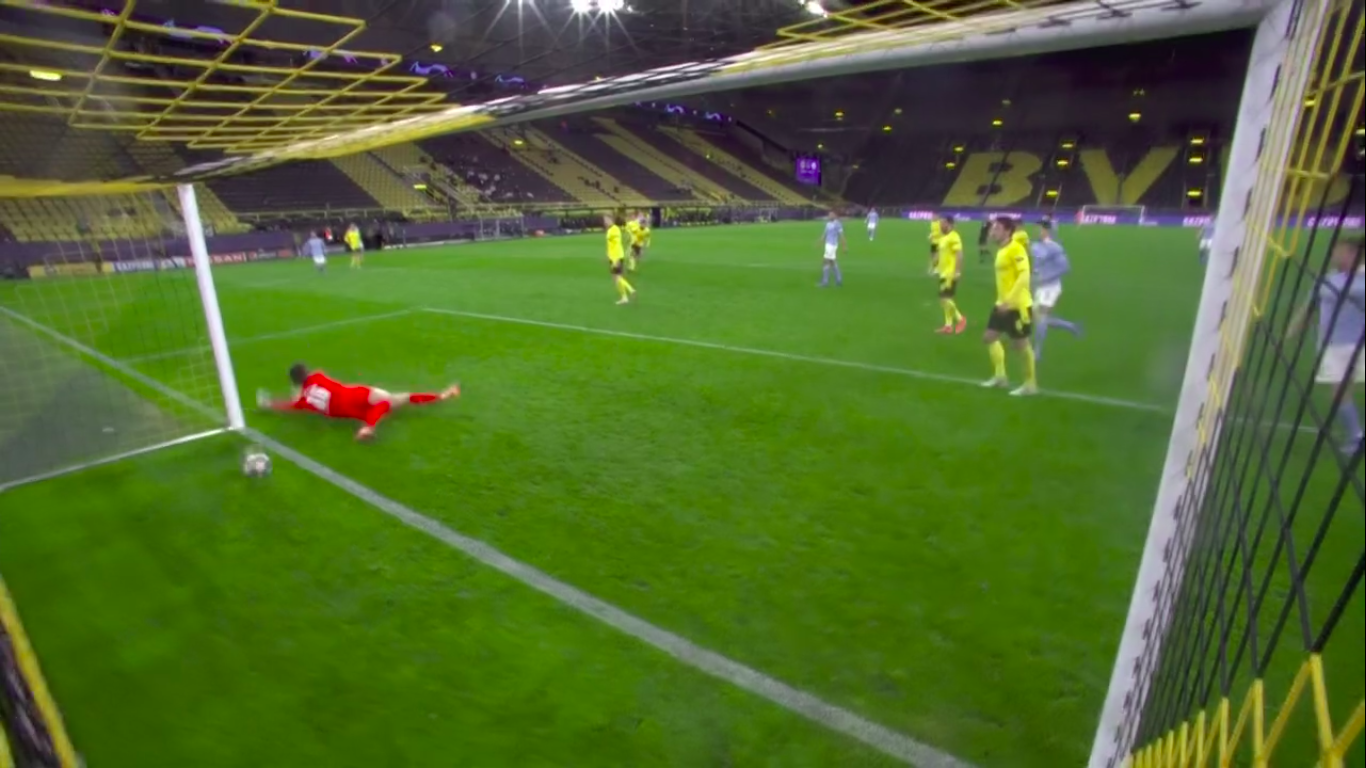 Looking at the data, though, Foden's shooting is not all that bad. In this Premier League season, he has attempted 40 shots, hitting the target with 18 of them (which is possibly where he should look to improve) and doing better than his xG of 5.18 with seven goals. His shooting zones are quite interesting too.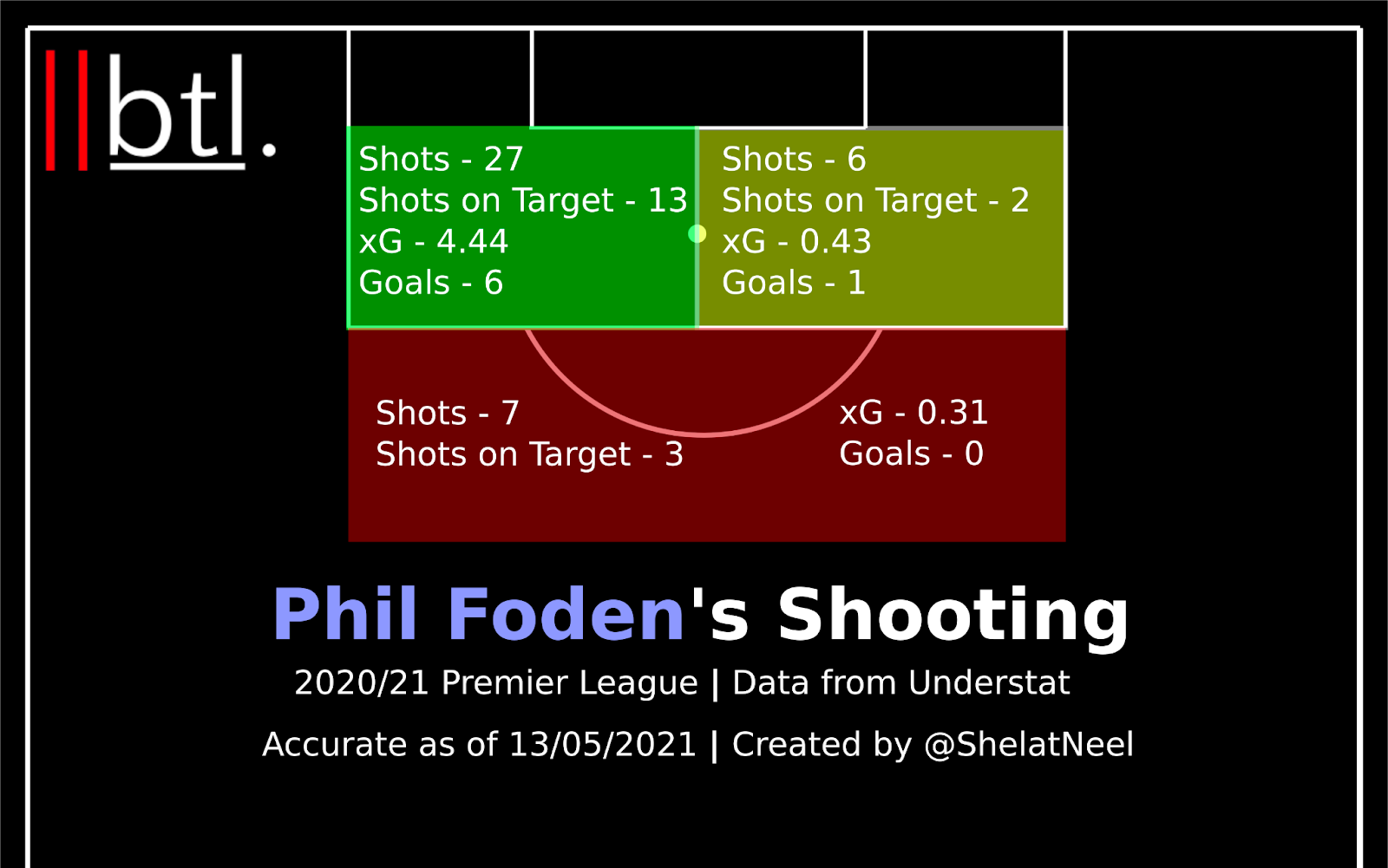 As this visualisation demonstrates, the majority of Foden's shots are taken on the left of the box, which correlates with his minutes played per position as he has spent the majority of his match-time on the left wing. Naturally, this is also the region from where he is most potent. He has attempted more shots from outside the box than the right, but has returned with one goal from the latter. Across the regions, his average shot bears an xG of 0.1295, proving that he does not take too many high-quality shots.
Pressing and Defensive Involvement
Finally, let us take a quick look at the less headline-grabbing aspect of Foden's game – his defensive involvement. City's pressing systems are always changing and evolving depending on the opposition and their build-up patterns, but Foden usually finds himself on the left wing irrespective of the number of men up front as their most common systems are a (4-2-)3-1 or a (4-1-)3-2.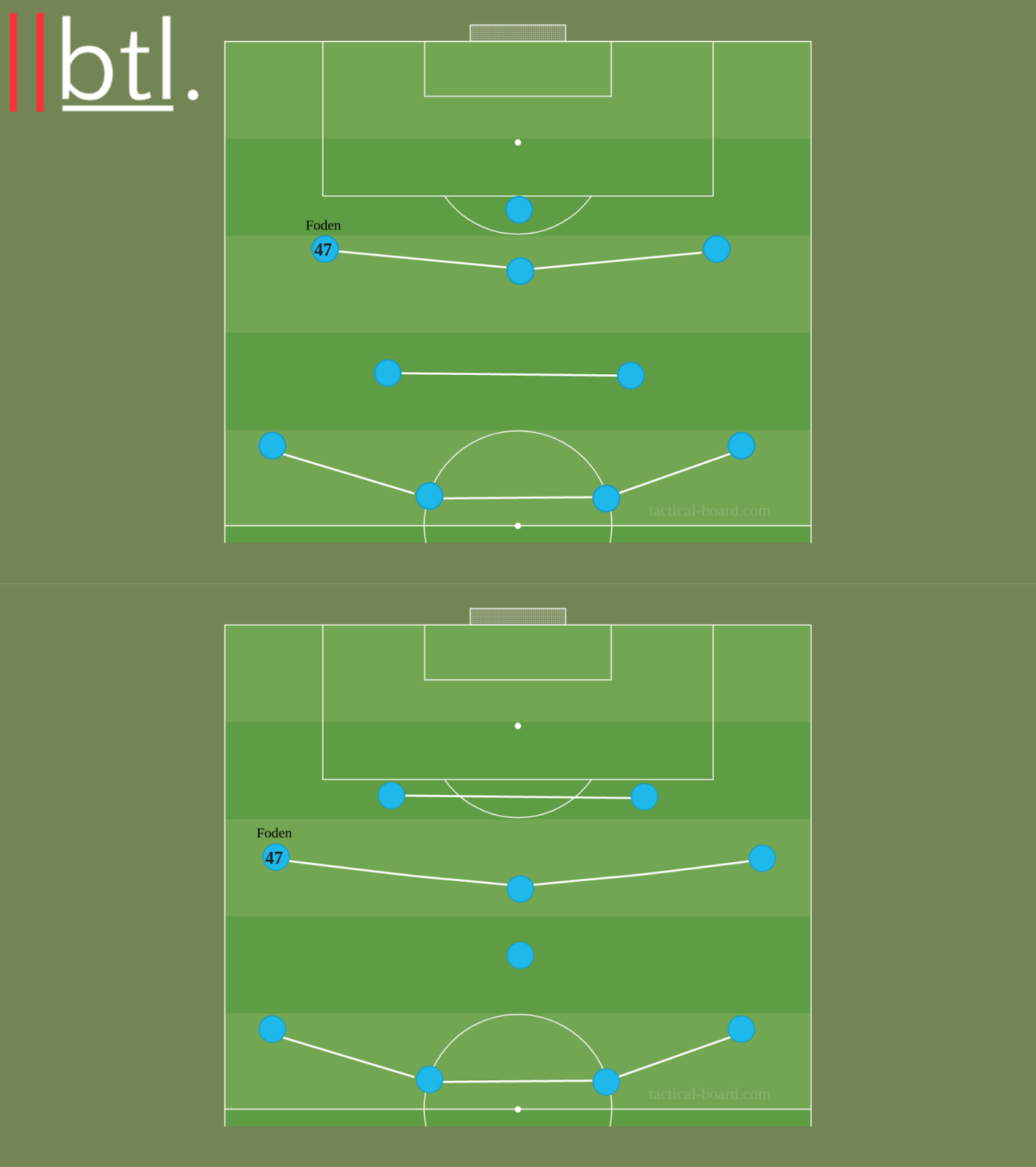 One of the reasons why Foden has solidified a starting spot ahead of the likes of Raheem Sterling and Gabriel Jesus is his ability to press. Only Rodri has a higher press success rate in the squad, whilst only De Bruyne completes more pressures in the final third per 90 than Foden.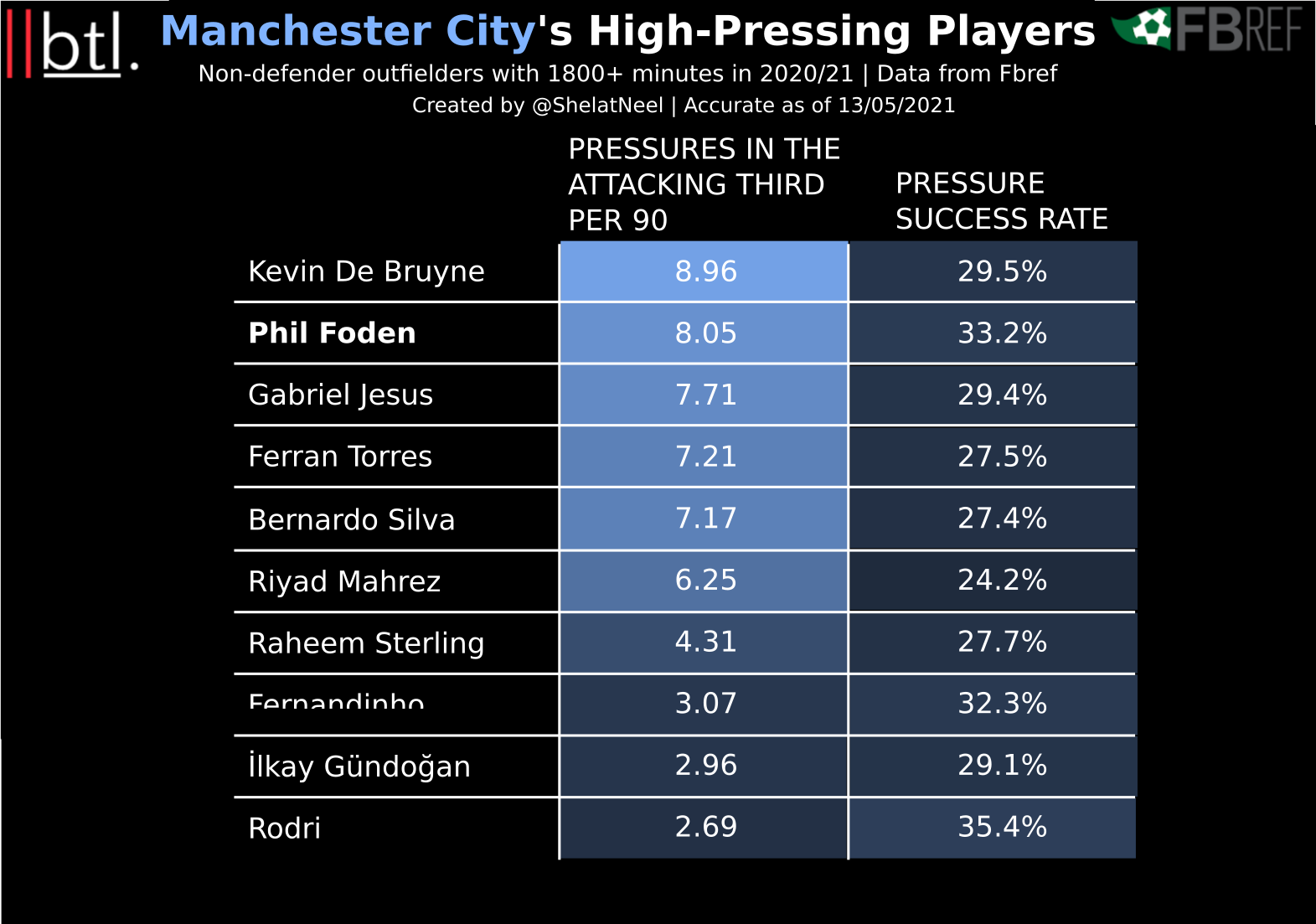 Evidently, he applies a very high number of pressures in the attacking third, and his overall success rate is the highest among his fellow attackers too. Further back, City usually drop into a defensive 4-4-2, so Foden is most commonly found on the left of midfield.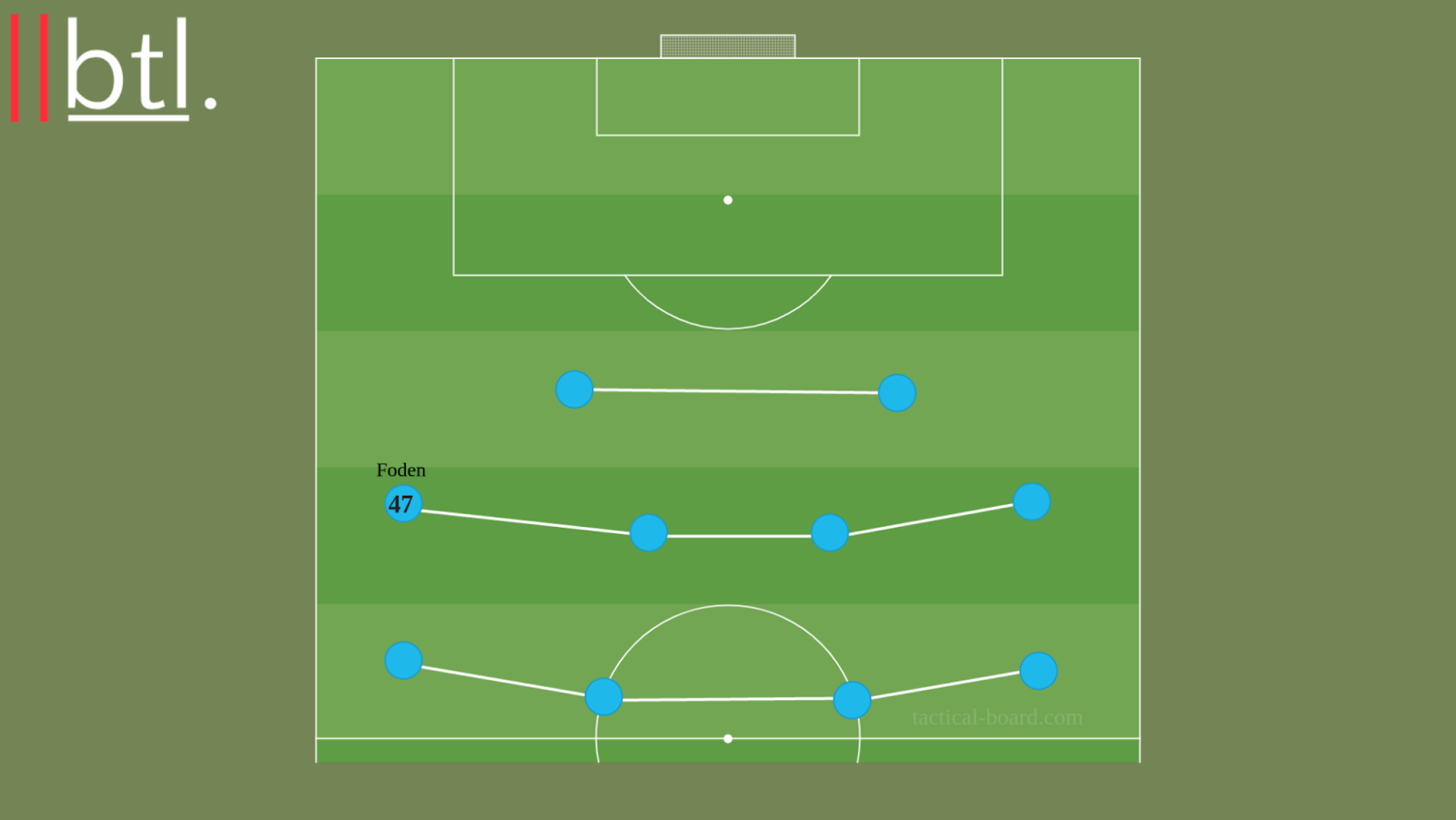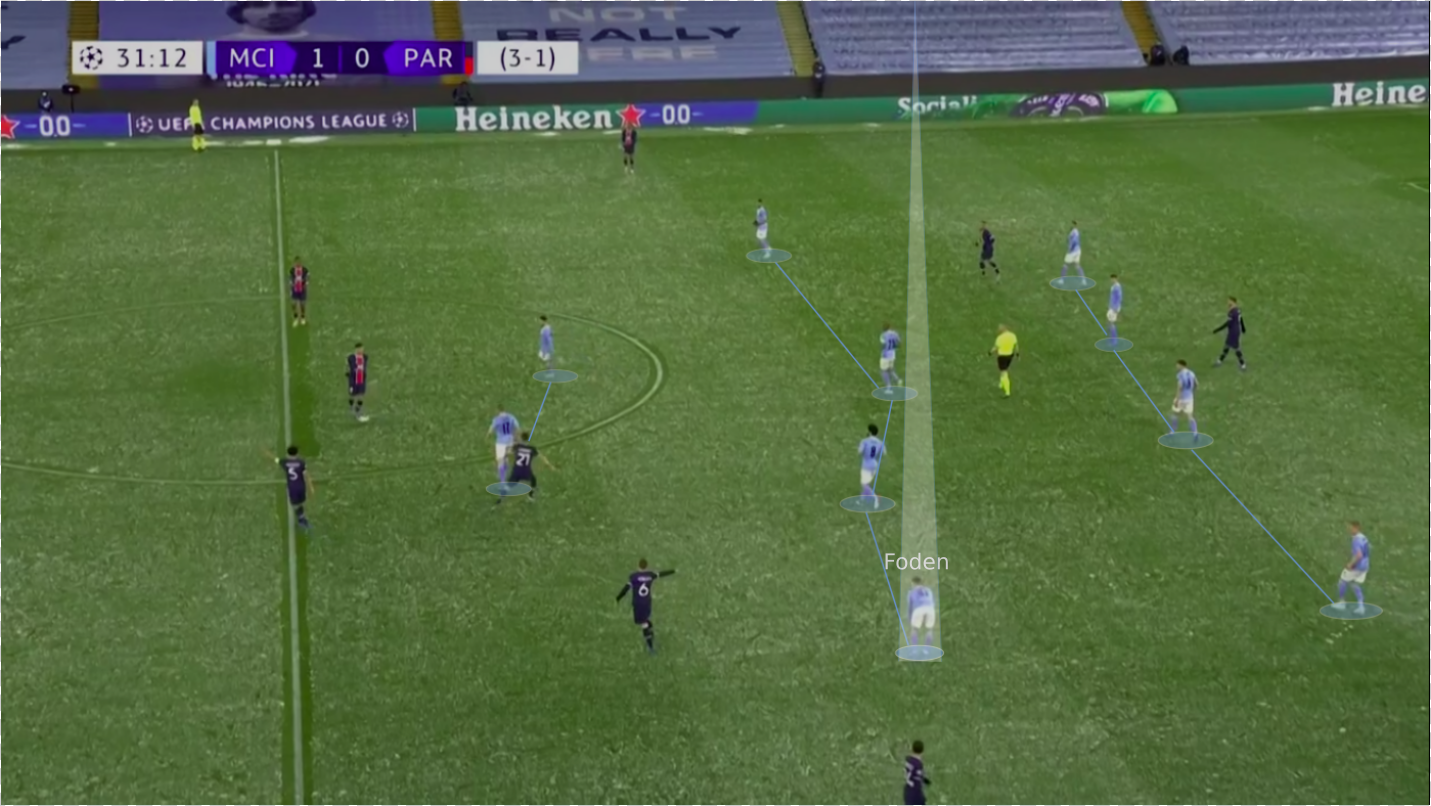 He is an incredibly hard worker, as is evidenced by the fact that he has covered more distance than any other player in the UEFA Champions League.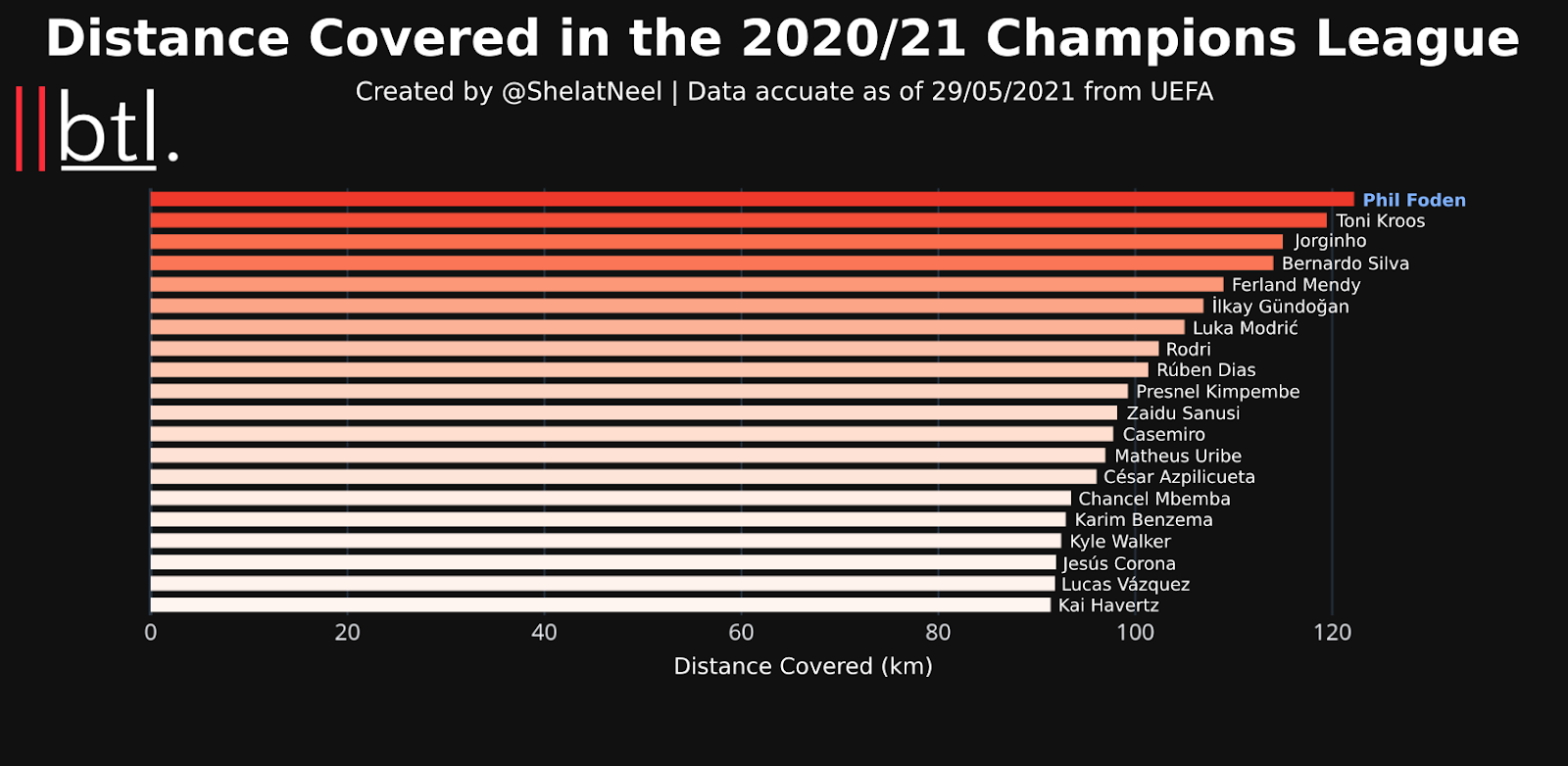 Naturally, a lot of this distance is covered in way of attack, but a good percentage is done for defensive causes too as far as Foden is concerned. A brilliant example of that was on show in Manchester City's match against Liverpool, where Foden had started as a false-nine, drifted out to the left wing at half-time and ended the match as a right winger. His work rate remained world-class throughout, as was apparent through this piece of tracking back that earned his side a free-kick in the very last minute.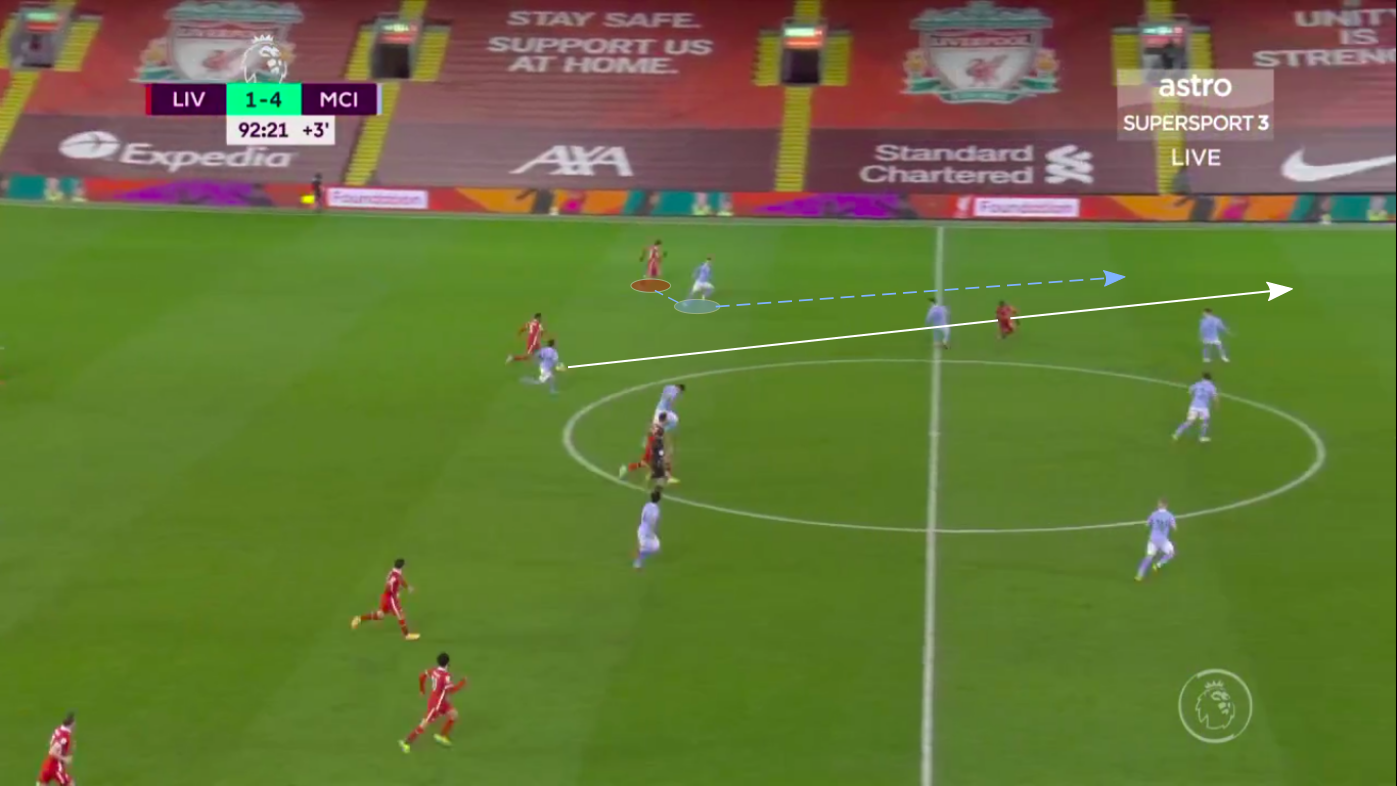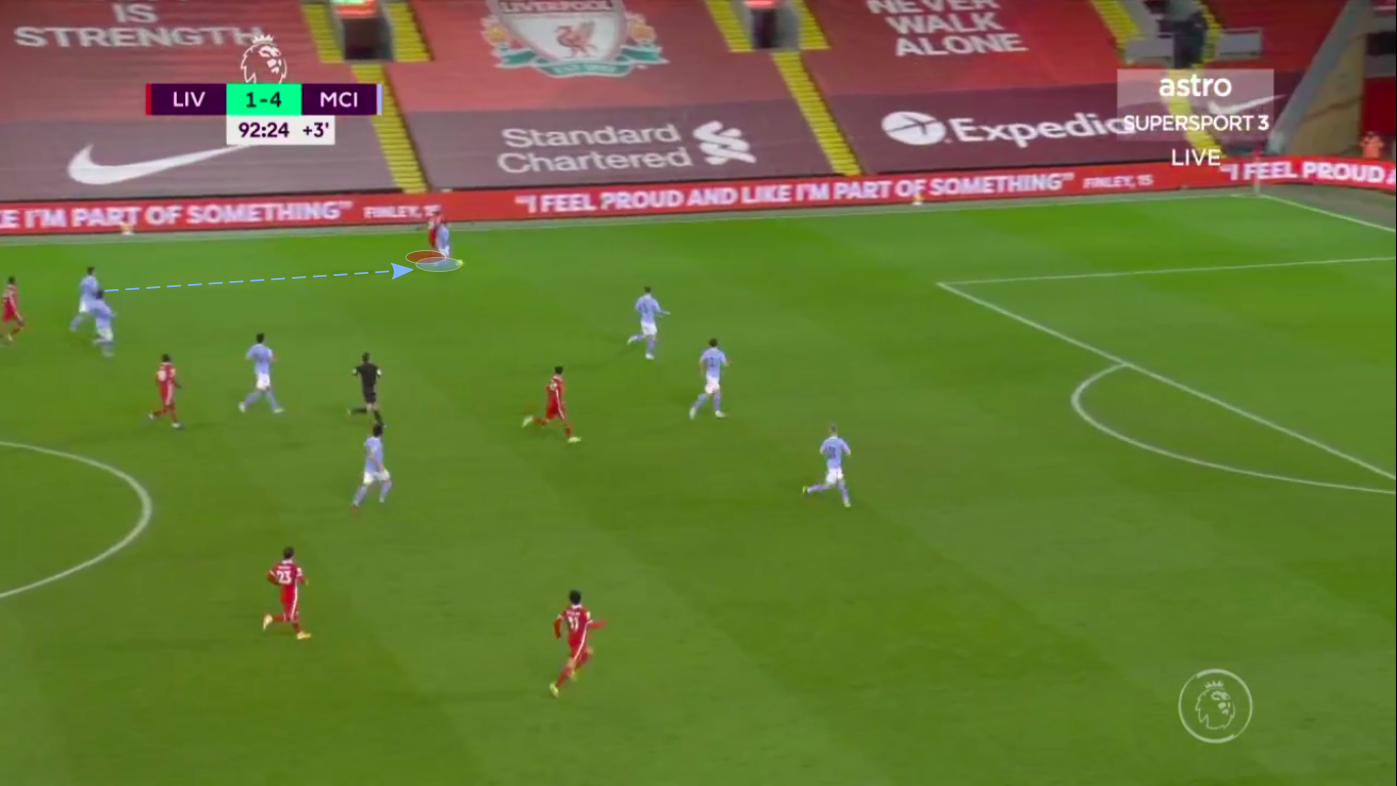 The statistics back Foden's high defensive work-rate up too. His relative lack of tackles and interceptions can be explained by the fact that Manchester City typically dominate possession (with a league-high average of 60.9%), but he quite clearly does not hold back in terms of pressing or challenging dribbles.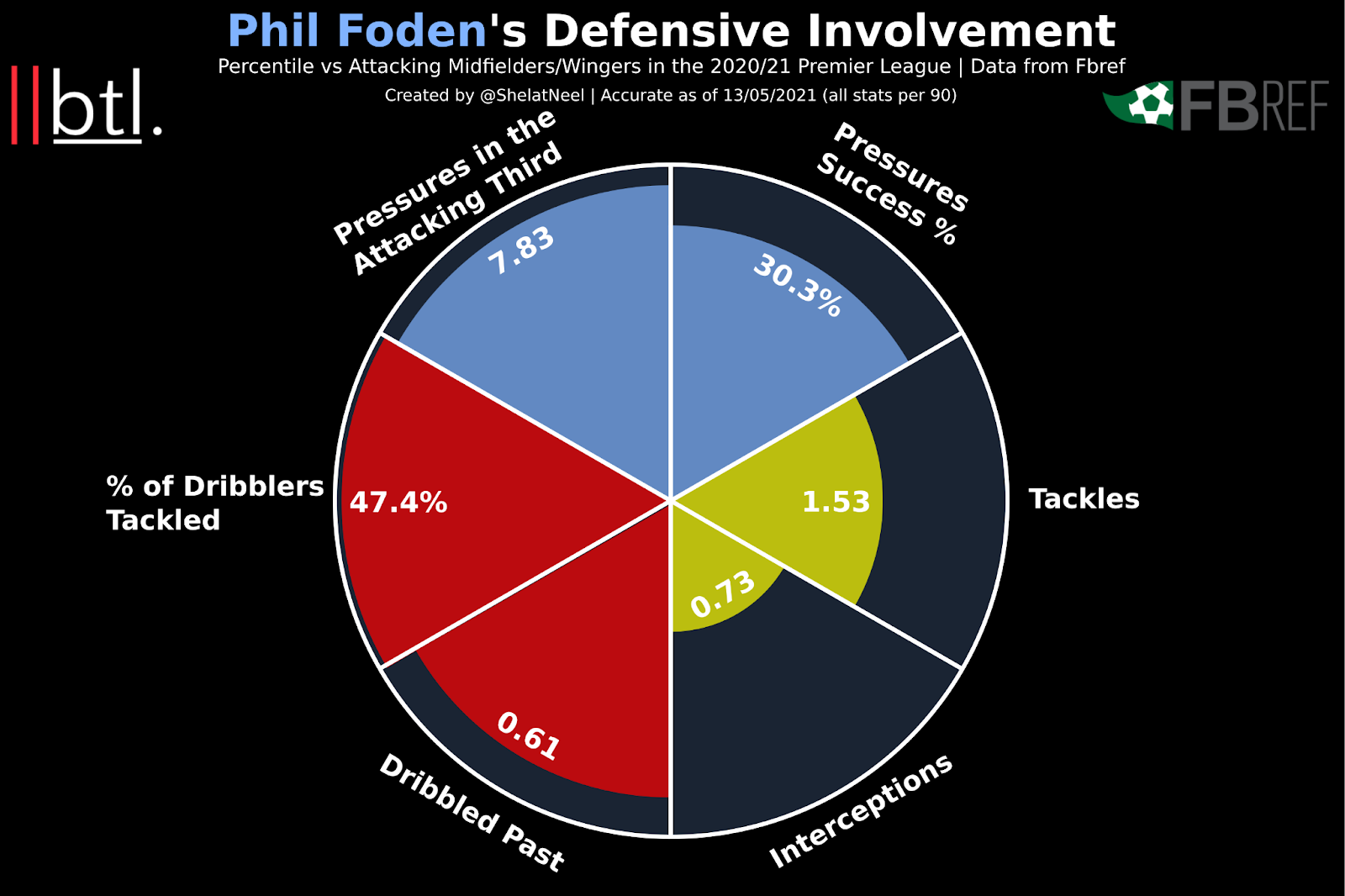 Conclusion
Phil Foden has been given an incredible amount of praise this season – and rightly so too as he has failed to appear in only 10 of his side's matches this season while being the only player at the club to get into double digits both in terms of goals and assists in all competitions – but it is important to remember that he is still only 20 years old. He is already an exceptional football player who has seemingly handled the spotlight and pressure well, but nonetheless, he has room for improvement, as we have thoroughly explored in this analysis.
If he were to magically stop improving his game on this day, Foden would probably still go down as a top player. However, under the continued tutelage of Pep Guardiola (who has masterfully overseen his progression to the senior squad from the youth ranks), he has the potential to become one of the best among those who have kicked a football, and given his rapid rise, that seems quite likely.
Under the Catalan manager, Foden has seen his defensive work rate and overall intelligence improve massively, so the next target should be his finishing (and possibly dribbling to a lesser extent) due to his transition to a more forward position on the left wing. If – or rather when – he starts burying chances at a serious rate, he will truly become the complete footballer, and that day will be incredibly scary for the rest of the footballing world.
In the next two months, Phil Foden will start in a Champions League Final and attempt to lead the Three Lions to glory in their Euro 2021 fixtures, having started in three of England's last four matches under Gareth Southgate, grabbing a brace in a 4-0 victory against Iceland and an assist in a 5-0 win over Santa Marino. He looks set to beat out the likes of Jack Grealish, who is finally returning from a shin injury suffered in mid February, and Jesse Lingard, who has enjoyed a renaissance in form since joining West Ham on loan, and win a starting spot in the upcoming Euros.
One player who could also be set to miss out on a position in Southgate's team is Jadon Sancho, who played alongside Foden at the youth level from 2015 to 2017. Unlike Foden, Sancho decided to protest his way out of a new contract due to a lack of assurances about playing time and engineered an £8 million move to Borussia Dortmund by skipping training sessions on the eve of the nascent season. Whilst Sancho has gone on to become one of the deadliest wingers in Europe and a potential transfer target for Manchester United, Foden may just be England's finest talent from their entire generation.
By: Neel Shelat
Featured Image: @GabFoligno / DeFodi Images