In a Manchester City side so jam-packed with unbelievably talented footballers, it can be difficult for the slightly less glamorous players to shine.
The technical quality of Pep Guardiola's squad is eye-watering and it seems ridiculous that a player as brilliant as Rodri goes relatively unnoticed, but that's the nature of the beast with a side who's goalkeeper would likely be a regular midfield starter for the majority of the Premier League.
That is exactly why someone like Rodri is a necessity though. The Spaniard is such a vital cog in the City machine and without him, Pep wouldn't be able to afford the luxury of fielding a side made up of pure footballers.
Let's take a look at what makes Rodri one of the most valuable footballing assets on the planet.
Value in Build-Up Phases
Teams that aim to control possession and build from the back need players who are prepared to take responsibility for their side.
Few teams control possession better than Pep Guardiola's Manchester City, and few players shoulder more responsibility than Rodri.
When compared with all midfielders across Europe's 'big five' leagues*, only Paris Saint-Germain's Marco Veratti has played more passes under pressure per 90 minutes than the Spaniard.
Additionally, Rodri's pass completion percentage is higher than his Italian counterpart's.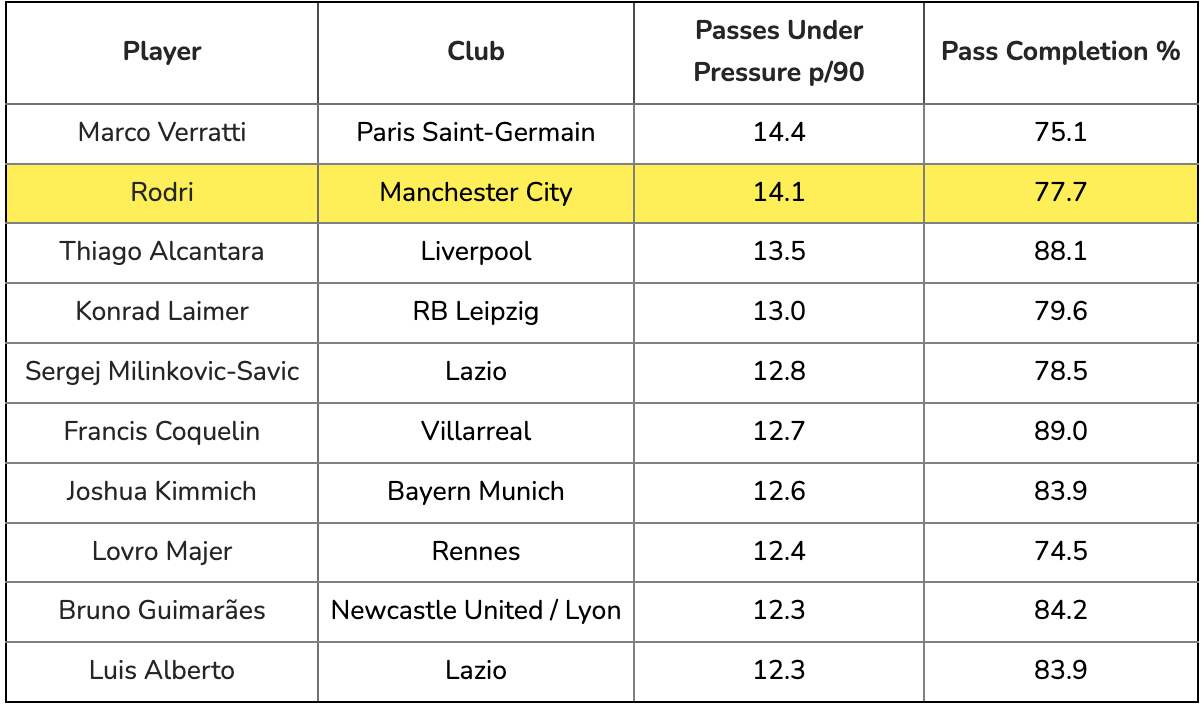 Sides that build from the back naturally invite opposition pressure close to their own goal, so having a player able to so reliably recycle play in the midfield pivot acts as such a huge advantage.
Not only does this influence the way that City can play – obviously this makes them better at what they do – but it also has a huge effect on the way that other sides play against City.
More often than not you see City's opponents specifically trying to mark Rodri out of the game with multiple players, which in turn gives other players more time on the ball to play considered passes without pressure.
On the flip side, if the opposition decide to try and apply pressure elsewhere they risk leaving Rodri in space to receive, and with time to do what he does best – pass.
Over the last 365 days, when compared with all other midfielders from Europes 'big five' leagues, Rodri ranks in the 99th percentile (top 1%) for:
Passes completed (81.83 p/90)

Pass completion percentage (93.2%)

Passes under pressure (13.53 p/90)

Passes received (75.96 p/90)

Live-ball touches (95.72 p/90)
Often when you hear people talking about Rodri he is described as a 'system player', and it is said he wouldn't be as good if he didn't play for Manchester City.
I ask, so what?
Would Lionel Messi have been as good had he spent his career playing for Sean Dyche's Burnley or Tony Pulis' Stoke City? Obviously not, but does that make him a worse player?
In theory every player is a 'system player', because every player has strengths and weaknesses. What matters is a player's ability within that system, and in Pep Guardiola's system Rodri is one of the best midfielders on the planet.
More Creative Responsibilities in 2021/22
When you look at the data behind Rodri's performances this season, you can see that his role in the City team has changed slightly.
It would appear that Pep has tasked the Spaniard with being more involved higher up the pitch.
In Premier League matches, Rodri has been taking more shots than ever before, has been playing more passes into the opposition penalty area, and has racked up more shot-creating actions than in previous years.
He has also been the receiver of progressive passes more often, and has had notably less touches in the defensive and middle thirds, but notably more in the attacking third.

It's difficult to say exactly why Rodri is being asked to take on more attacking responsibilities.
One thing we do know is that Pep isn't afraid to look in obscure places to find an extra attacking edge, just look at Joao Cancelo.
The Portuguese full-back has actually had more shots in the Premier League this season than any other City player (57 – 12 more than De Bruyne who has the second-most).
Redefining the Fullback Position: Joao Cancelo and Trent Alexander-Arnold
We also know that Pep was desperate to sign a striker in the summer transfer window, specifically Tottenham's Harry Kane, but was ultimately unsuccessful.
There has been no shortage of media coverage about City's lack of recognised traditional number nine, and it's likely that Pep had to think of alternative ways to develop his side's offensive arsenal. This may have led him to Rodri.
Fewer Defensive Contributions
Rodri has not only been more involved in City's attacking phases, but he's also been making fewer contributions defensively.
He has been making fewer pressures overall, fewer in both the middle and final thirds, but more in the attacking third.

This is actually a pattern you see in the City team as a whole.
In 2021/22 they have been making far more pressures in the attacking third than they were in 2020/21, likely because of how Covid-19 affected football last season.
The pandemic had a huge impact on the fixture schedules, and every club had to play matches in much quicker succession.
Naturally this had an impact on how quickly players were able to recover between matches, and in turn managers had to be slightly more cautious.
Pep's City were one of a number of typically high pressing/high intensity sides that became more 'energy efficient' in 2020/21, and were more willing to drop into a mid-block before trying to win the ball back.
Now that City have started to press higher once again, more defensive responsibility is given to their forwards, meaning there is not only less for Rodri to do, but he can also make the most of one of his greatest strengths – his aerial dominance.
A high-press often forces the in-possession team into playing longer balls forward, whether that be a speculative pass or simply a hoof up-field.
Rodri is truly elite when it comes to winning the first contact on these long-balls.
Over the last 365 days, he once again ranks in the 99th percentile (top 1%) for percentage of aerial duels won, compared with other midfielders across Europe's 'big five' leagues.
Additionally, in 2021/22 only five midfielders to have played 450+ minutes have a higher win rate in aerial duels.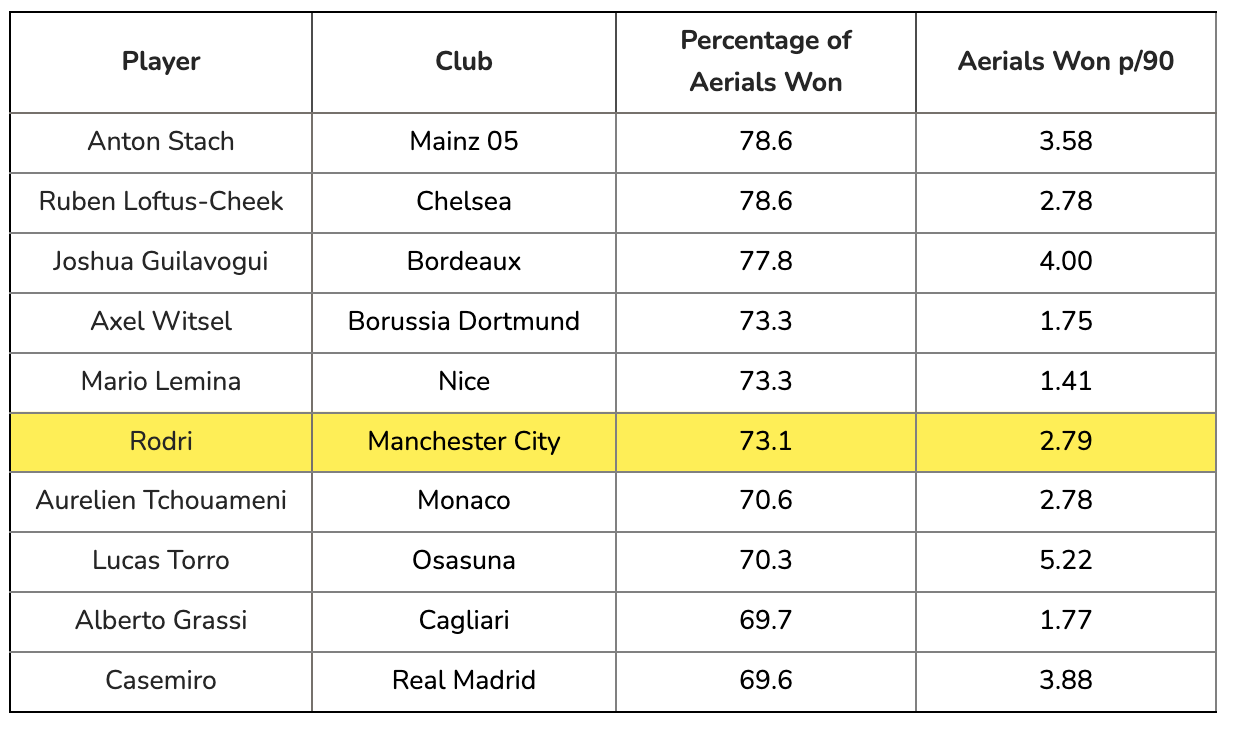 This means that when sides are faced with a Man City press they have to choose between playing through one of the world's most effective presses, or attempting to go long and win an aerial battle with one of the world's most dominant defensive midfielders.
Rodri is probably an extremely underrated player, and his contribution to Pep's Man City (one of the best teams of all time) is enormous.
He is absolutely vital to his side's play-style, is a massive threat on the ball, and is a key cog in City's defensive phases.
It's about time he got the credit he deserves, because players like him don't come around all too often.
By: Jake Lane / @jakerslane
Featured Image: @GabFoligno / BSR Agency / Getty Images
*minimum 450 minutes played in 21-22 season to qualify
All data from Statsbomb via FBRef and accurate as of 22/02/2022