The Resurgence Of Antonio Rudiger Under Thomas Tuchel and a New Adventure at Real Madrid
Chelsea FC have finally sorted their ownership troubles with the Todd Boehly-led consortium confirmed as the new owners. The sanctions imposed on Roman Abrahimovich meant Chelsea was unable to run like a proper sports franchise.
Having resolved the dilemma, the club can now plan for the future, which will see a major squad rebuild. Several players are set to depart Stamford Bridge this summer, with as many as seven first-team players touted for the exit. 
The first to leave was Antonio Rudiger. The German defender completed his move to Real Madrid as a free agent after his contract expired, and Thomas Tuchel has since admitted it would be difficult to replace him.
Rudiger wasn't always a fan favourite at Stamford Bridge, but under Tuchel, he quickly rose through the ranks and established himself as one of the best defenders in the world. The German defender recognized the impact of his compatriot on his form and labelled Tuchel as the best manager he had ever worked with.
Signing for Chelsea
Chelsea had been tracking Antonio Rudiger since he came through the youth ranks at VFB Stuttgart. He signed for AS Roma on an initial loan deal which the club made permanent in 2016 after his impressive loan spell.
Former Chelsea technical director Michael Emenalo, was spearheading the charge to bring Rudiger to Stamford Bridge, but he opted to stay in Rome to further his development. Rudiger remained on Chelsea's radar through his spell in Italy, but Emenalo finally got his man when Rudiger signed for Chelsea in a £34M move back in 2017.
Rudiger came in to help fill the void left by John Terry who departed the club after 19 years in blue. The German came in with a reputation as one of the most exciting young defenders in the world. He credited Antonio Conte as the driving force of his decision to join the blues.
His first two years in blue were relatively solid. He was a mainstay under Maurizio Sarri. However, things started to turn sour for the German under Frank Lampard. 
Rudiger's Problems Under Frank Lampard
Lampard had done an outstanding job getting Chelsea a spot in the top four when Sarri left the club high and dry after a transfer ban. There were inconsistencies but Lampard got them into the top four and the FA Cup final. His second season didn't go so well after big money signings and this led to his midseason sack. In his first campaign as the gaffer, Rudiger was limited to just 19 premier league starts as he struggled with injury.
Rudiger played some abysmal games for Chelsea in defence. He hadn't fully recovered his form after recovering from his injury and seemed a shadow of himself. He failed to command his area, kept getting caught-out in precarious moments, and struggled to win his duels (both aerial and ground duels). Chelsea's continuous errors in defence meant they barely kept a clean sheet however hard they tried.
Fikayo Tomori – The Forward-Thinking Defender Constructed by Cobham, Made in Milan and Now Vying for an England Starting Spot
Although Lampard's general setup and style of play contributed a big part to why they couldn't keep a clean sheet. Rudiger was relegated to the bench, with the gaffer preferring the pairing of Thiago Silva and Kurt Zouma.
Fans were frustrated with what they had seen and rued the club's decision to let go of exciting youth team graduates Marc Guehi and Fikayo Tomori. Both players went on to have amazing seasons at Crystal Palace and AC Milan.
The Germany international made it clear he wanted first-team football, but it wasn't forthcoming because his form at the time was appalling. However, for a player to turn his fortunes around, he needs to show it on the training ground and then on the pitch, but FL did little to offer Rudiger a way back into the team.
Rudiger was open to moving on in the summer of 2020, having been told by Lampard that he would be down the pecking order behind Andreas Christensen, Kurt Zouma, Fikayo Tomori, and Thiago Silva. He was linked to Jose Mourinho's Tottenham, but a deal fell apart before anything could happen.
PSG showed interest with Tuchel behind a move, but it didn't go through. Lampard was keen to offload him as quickly as possible because he was concerned that Rudiger, famous for his fiery character, might become an unsettling influence behind the scenes if unable to secure a transfer. However, no move materialised.
Ruben Loftus-Cheek – What Does the Future Hold for a Player in Between a Rebirth and a Significant Decline?
"Some things I saw coming, but then I was not in the squad, I didn't see that coming. But I took it on the chin. I was close to leaving. There were two teams interested, and maybe the one I was considering joining was PSG, and then there was Mourinho, Tottenham's manager at the time. I had a chat with Lampard, but then I was back on the bench." – Rudiger on his struggles under Lampard. 
Rudiger kept his head down, despite only featuring in two of Chelsea's first 17 games of the 2020-21 campaign (even if a groin problem played a part in his lack of involvement). He was recalled in the wake of a 3-1 defeat to Manchester City.
He started back-to-back games against Fulham and Leicester, of which the latter ended in a 2-0 loss that effectively sealed Lampard's fate. Overall, Rudiger made nine appearances in all competitions in Lampard's second campaign, starting eight. His 742 minutes on the pitch were dwarfed by first-choice duo Kurt Zouma (1,999) and Thiago Silva (1,552).
Several reports claimed that Rudiger had clashed with captain Cesar Azpilicueta in training multiple times. It was also suggested that his teammates were surprised over the nature of Rudiger's tackles during training, some of which may have crossed the line. The speculation about the training ground clash was waved away by several Chelsea players though. Azpilicueta in particular insisted that everything was fine.
"With Toni we didn't have an issue, and we have been working together for a few years. That news from outside, we're not sure so that's why Tammy and myself we both tweeted. Everything is fine, and I can say that didn't happen. We didn't have any issues, and we don't have any. We always work together. As other players, we sometimes have our discussions, normal in football."
Lampard's Dismissal
Lampard was given his marching orders after an underwhelming start to his second campaign. Chelsea was ninth in the Premier League after 19 games, 11 points behind leaders Manchester United and five off Liverpool, who were fourth.
The decision from the club hierarchy split the fanbase in half. Chelsea had changed gaffers several times, and the fans blamed player power as a driving force for the changes in the dugout, and this time was no different.
Everyone voiced their opinions, and while Azpi did his best to quell the training ground bust-up rumours, it wasn't enough to save Rudiger from the backlash. Rudiger went from outcast to scapegoat in the final weeks of Frank Lampard's reign.
His poor form at the time didn't help. Fans were devastated by the sack of their club legend and turned on the German, labelling him as one bad egg that instigated the disunity in the dressing room leading to Lampard's dismissal. 
"There have been so many nonsense rumours around about me since last week," he told The Athletic in February, following speculation that he urged the Chelsea board to part ways with Lampard. "I've never talked with the board about the situation of the coach or on any other topics."
In a separate interview with Sky Sports, Rudiger explained he suffered "immense" racist abuse online after Lampard's sacking, both an indication of the levels of toxicity at play and a deplorable sign of our times.
For all the success accumulated during the Roman Abramovich era, the Stamford Bridge faithful is certainly not shy when it comes to voicing their displeasure over an unpopular change in the dugout either on social media or in the stands.
While Rudiger didn't escape the social media slander and racist abuses, Chelsea playing behind closed doors earlier in the year might have done him a favour in protecting him from slanderous chants from the stands. Had stadiums been full around the time of Frank Lampard's January dismissal, Rudiger would have faced stern scrutiny.
But with new management came the chance for a new leaf, a start over, and that was what Tuchel symbolised for Rudiger. Who would have thought the scapegoat would be the rock that proves instrumental in Chelsea's Champions League-winning campaign. 
Rudiger's Rise from Lampard's Outcast to Tuchel's Defensive Rock
Lampard's side conceded an astonishing 54 goals over the 2019/20 season, the highest tally recorded by the club in top-flight football since 1997. They registered just nine clean sheets.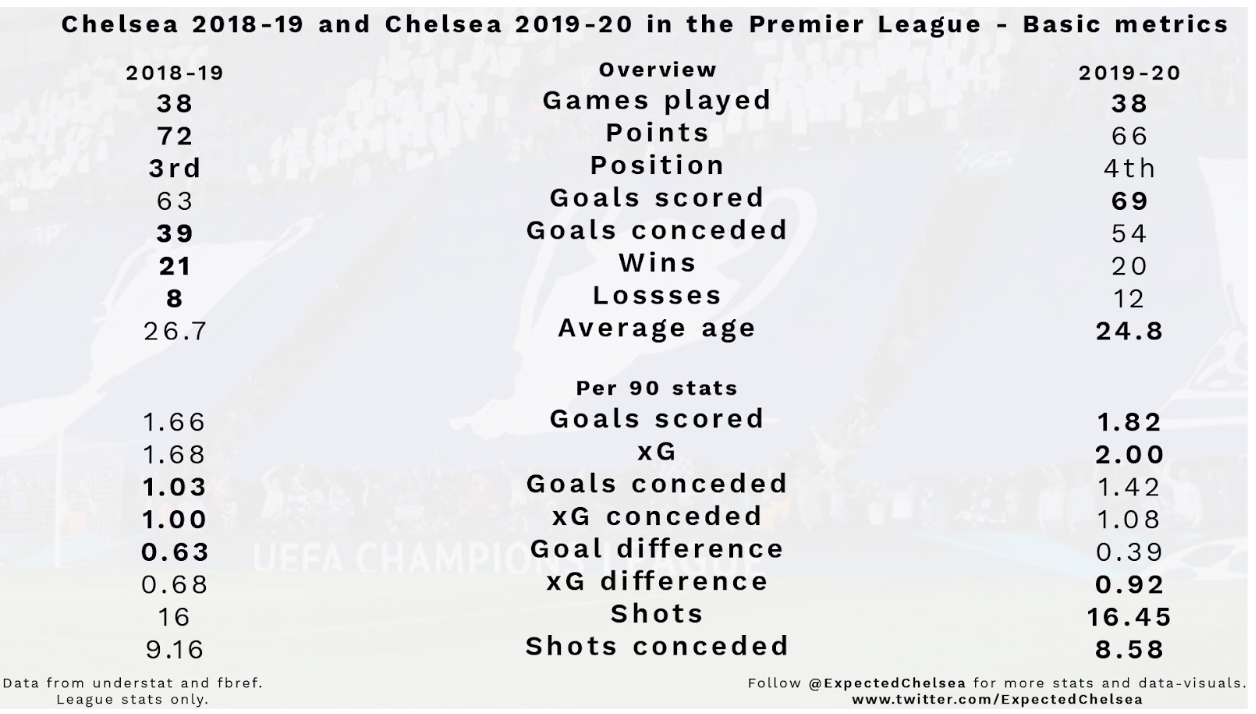 Risen from his ruins, he was involved in a remarkable 14 clean sheets in his first 21 appearances under Tuchel. No defender in Europe's top five leagues could boast such an emphatic stat at the time. Talk about resurgence. In the 19 Premier League games Rudiger didn't start in 2020-21, Chelsea conceded 26 goals at a rate of 1.4 per game.
In contrast, they only conceded seven in 17 at a rate of 0.4 per game when the ex-Roma man was in the first eleven. Rudiger was a stalwart member of a Chelsea side that has kept more clean sheets since Tuchel's first game than any other club in Europe (Not until recently). 
"Since Tuchel has come I think he's arguably been the best centre-back. I think he and Dias would have been close, but the effect he has had on his team has been immense. Under Frank Lampard, it was evident he wasn't Frank's cup of tea. He didn't really like him.

There were rumours they were trying to put him on the market to be sold. In Germany, he's always been highly thought of. But when the manager doesn't rate you, and you can feel that, I don't care who you are, your confidence takes a beating, and it's hard to perform at that level." – Rio Ferdinand.
Rudiger became a more imposing player under Tuchel. He relished every challenge and never backed down from a confrontation. Rudiger is strong in duels (both aerial and ground duels), likes to carry the ball, has an eye for a pass, and isn't afraid to hit a long ranger. Even with all his imperfections, he is the perfect defender. He has been touted as one of the best defenders in the world, and rightly so. 
Lampard tried multiple structures during his time, including a three at the back, but there was no coordination, cohesion, or control in his setup, and that is the major difference between him and Tuchel, whose team exerted more dominance.
Tactical Analysis: Zinedine Zidane's 2016/17 Real Madrid Side
They pressed in a clearly defined structure that allowed them to defend transitions better. Everyone had clear roles and no one was left clueless as to their positioning and tactical instructions, which is what several squad members complained about under super Frank. Safe to say, as much as they created chances and scored goals, they were just vibing.
Rudiger featured under four different managers during his spell at Chelsea. However, he is as successful in winning challenges in the air and on the ground under TT as he has ever been, even though the number of duels he engages in hasn't changed that much compared to the previous Chelsea managers.
Under Tuchel, Rudiger's win rate of "true" tackles (tackles + fouls committed + challenges lost) stands at 70%, the same for his aerial win rate. The number of "true" interceptions (interceptions + blocked passes) stands at 2.5, which was also a personal best during his Chelsea career.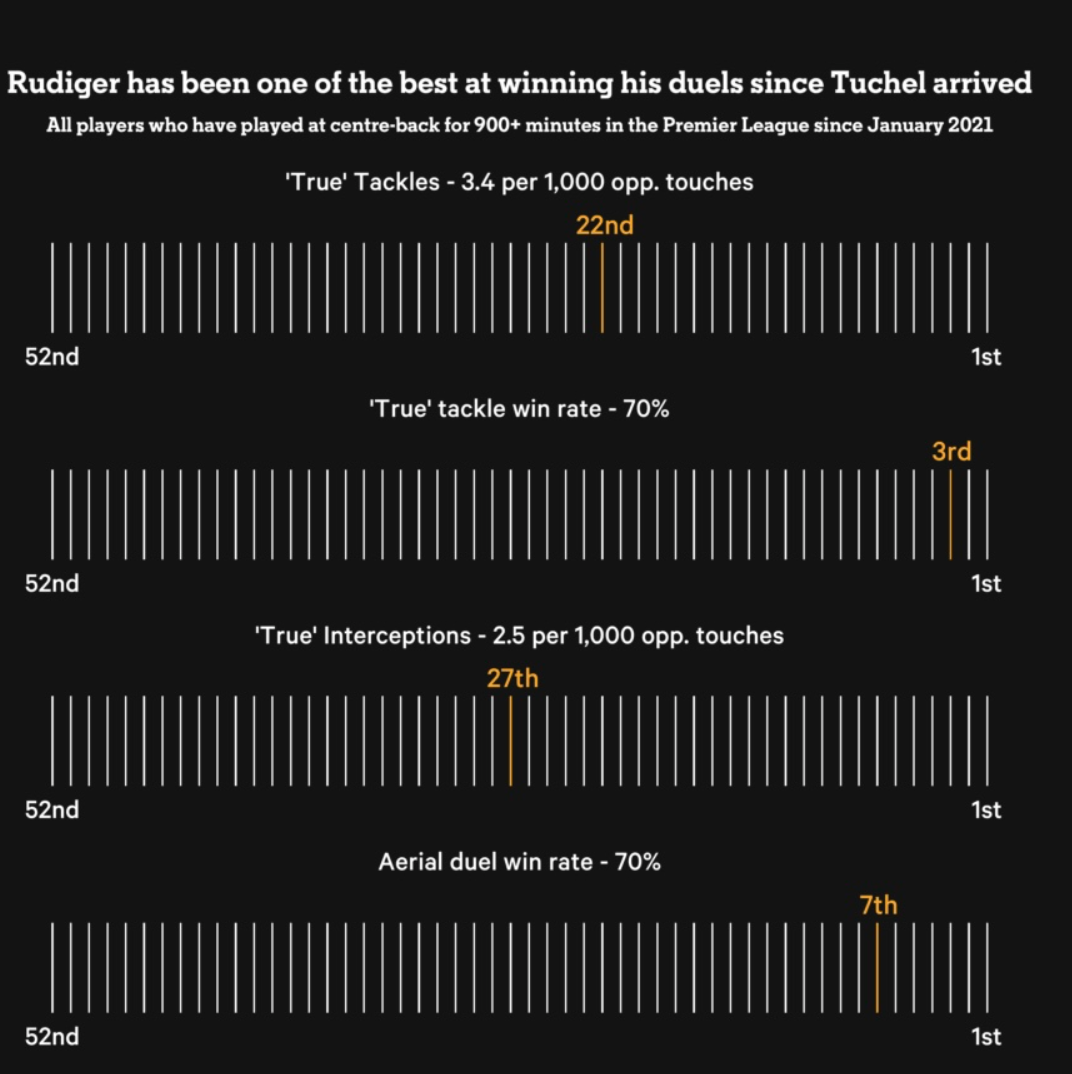 Rudiger continued his impressive upward trajectory last season. The 29-year-old was arguably Chelsea's most impressive performer, along with Thiago Silva and Mason Mount. He is in the top five percent of centre-backs in Europe's top five leagues for progressive carries this past season.
His tackle on Phil Foden in the Champions League final sums him up, he is a daredevil, and Tuchel loves him. Tuchel made it clear he wanted Rudiger to stay, but even he got frustrated when negotiations dragged on for weeks. 
"I hope that they find solutions, but it's not only between coaches and players, and what we wish for. That's why it's between the club, the players, and the agent at the moment.

We hope that they find the solution and all I can say is he's playing excellently, and for a long time has been very consistent, on a very high level. He's in the strongest league in Europe, in a big club, so there are not many reasons to change that. But in the end, it's between him and the club, and that's in good hands."
While it is correct that Chelsea couldn't offer Rudiger a new contract due to the sanctions imposed on the club, an agreement could have been reached months ago. It was common knowledge that Rudiger's contract at Chelsea expires at the end of the 2021/22 season, yet the club didn't offer the player a deal he deemed worthy for someone with his talent.
Reports have stated that Chelsea matched his salary demands, but the sign-on fee was the main problem. You can't blame Chelsea for being a little wary of how much they add to their wage bill. They've been in this position several times, more recently in the case of Willian.
There were a lot of key details for the club to factor into his contract renewal, and as much as he insisted he wanted to stay, Rudiger also had not-so-fond memories of his time warming the bench and the lack of support he got from the club and fans. Tuchel loved him, and he loved Tuchel.
They have a beautiful relationship, which is reflected in the number of minutes he played. The fans that once shunned him came around too, but it wasn't enough. There was a lot to think about, to plan, to decide. Ultimately, he opted for a new challenge and a move to the Bernabeu. 
"He wanted to know where my aggression and hunger came from, and I told him about growing up in Berlin-Neukölln and how I used to play so hard on the concrete pitches that all the older kids started calling me Rambo. He asked about me, as a person. That was big.
When Tuchel gave me a chance, I had so much motivation that I was never going back to the bench. I had made up my mind that I was going to give 200% to this club, to this badge — despite everything that was said about me. For me, after everything I endured, the Champions League was just the pineapple on top of the cake."
Rudiger's departure now leaves Chelsea with a gaping hole in defence. The Blues have now lost Fikayo Tomori, Kurt Zouma, Marc Guehi, Andreas Christensen, and Rudiger in the space of a year. To make matters worse, club captain Cesar Azpilicueta could also be on his way out of the Bridge, leaving them with an almighty defensive rebuild to complete.
The cost of signing a replacement will be significantly more considering a transfer fee will be involved. While it would be difficult to replace the German, there are suitable options available on the market, but Chelsea would have to be smart and swift in making their move as it promises to be a busy summer in Europe.
According to other reports, Chelsea were willing to make Rudiger the highest-paid defender in the club's history. Unfortunately, he decided instead to accept an offer from Madrid that will see him earn €7 million (£5.9m/$7.4m) a year plus a sizable signing-on fee.
Off to Real Madrid
Rudiger becomes the third player to swap Stamford Bridge for the Bernabeu in recent years after Thibaut Courtois and Eden Hazard. From riding the bench with uncertainty as to what the future holds to winning the champions league as a key figure in defence, Rudiger's exit was met with devastation rather than indifference.
He developed enough to become one of the most influential figures in the Stamford Bridge dressing room, and Tuchel was desperate to hang on to his ace, but it wasn't to be.
"We gave everything – me and the club – but we could not fight anymore," he said. "Without the sanctions, we would at least be able to carry on fighting, but our hands are tied. We don't take it personally. It is his decision."
"It will be challenging, but like always, no matter how much I love Toni and how big a role he played, there will be Chelsea without Toni Rudiger, and we will find solutions."
Can He Operate in a Back Four?
Rudiger played in a back four where he impressed at AS Roma and in the German national team under Hansi Flick. While he has put in exceptional displays on those occasions, it's fair to say that he operated at his highest ever personal level in his career over the last 18 months. But that was predominantly in a back three.
Take nothing away from the German bulldozer, his achievements speak for themselves and cannot be discredited or even diminished slightly, but it should be taken into account. With two CBs beside him, Rudiger had the licence to leave the defensive line to stay tight to his man and remain aggressive.
Analyzing the Numbers Behind Stefano Pioli's Scudetto-Winning Milan
This was evident in Chelsea's meetings with Liverpool under Tuchel's reign, where Rudiger is often touch-tight to Mohamed Salah, even following him when he drops deep or sometimes when he drifts out to the right touchline.
Thiago Silva and Christensen/Azpilicueta could always cover for him, with Jorginho also dropping deep to provide some form of cover. However, Rudiger wouldn't have such freedom playing in a back four as he will need to stay compact without the safety of two centre-backs behind him.
For a man of his size, he is quite fast and never shy to stretch his legs. He ranks first in the premier league for the most distance covered ahead of the swift Mo Salah. Rudiger has the recovery speed, the strength, agility and the technical prowess on the ball to easily adapt to a back four, but could he be as effective as in a back three?
Without as many big tackles, driving runs forward, or long-range shots due to a more reserved role, Rudiger may not make the headlines as much as he did at Chelsea. With plenty of the ball, Real Madrid's shape would allow Rudiger to show off his best traits.
Joel Matip has been praised for his progressive runs forward, and the Liverpool defender does so in a back four. With Casemiro mopping up at Real Madrid, a seamless transition between the two could be formed, where Rudiger drives forward with the ball while the Brazilian sits deep.
In Conclusion 
It is hard to say Rudiger would slot straight into the first team at the Bernabeu. Eder Militao and David Alaba are already the preferred first-choice pairing, and they have the ever-reliable Nacho Fernandez as backup. But competition for a first-team spot is healthy and pushes players to put in their absolute best.  
How Real Madrid Claimed Their 14th Champions League Title in Saint-Denis
The 29-year-old German defender's addition means Madrid boasts one of the most experienced back lines across Europe. Rudiger is a leader, mentor, and a mentality monster wrapped in the body of a goofy entertainer. He will be a big miss in London and the Premier League, but with backing from the new owner, Chelsea has enough time to find a suitable replacement and prepare for the upcoming campaign. 
Antonio Rudiger may not have been an elite defender before Tuchel joined Chelsea, but he is firmly now one of the best centre-backs in world football. While he may suit a back three perfectly, there's no reason why his skillset can't translate to Real Madrid's back four without any problems.
By: Onyekachi Uwanabi / @__Kachi_
Featured Image: Chris Lee / Chelsea FC