Can Erik Ten Hag Save Manchester United From Themselves?
Manchester United has experienced a steady decline since Sir Alex Ferguson called it quits as head coach in 2013. United have suffered inconsistencies on and off the pitch and look a shadow of what they once were. The fans have called for a change of ownership, and the resignation of the Chairman, Ed Woodward, but the team has been equally if not more terrible on the pitch. 
United's performances this season have been nothing short of disgraceful. Their 45% win rate in all competitions this season is their lowest since 1989-90. They have become the noisy neighbours they so despised, and for the fifth time since the Scotsman retired, Manchester United will sit out the Champions League campaign.
Alex Ferguson's Last Game as Manager
Old Trafford cameras spotted Sir Alex Ferguson in the stands when United welcomed Chelsea, who were in search of their first win behind enemy lines since Juan Mata's low drive stole all three points in 2013. He had a big grin, but it wasn't there when Thomas Tuchel introduced Romelu Lukaku.
The Belgian was a thorn against every side he faced in his early years as a young striker. While on loan at West Brom, his hattrick earned The Baggies a thrilling 5-5 draw in Fergie's 1500th game as a manager and his last game in charge before retirement.
Analysing Manchester United's Haphazard Recruitment Since Sir Alex Ferguson's Retirement
United ended that season 11 points clear of Premier League runners-up and fierce rivals Manchester City, the most comfortable winning margin since Chelsea beat Arsenal by 12 points in 2004-05. Sir Alex Ferguson guided Manchester United to their record 20th Premier League trophy, but it would be the last time United finished ahead of City.
United Managers Since Fergie
Chelsea is known for being ruthless when assessing managerial performances, and it has worked for them. In the Roman Abramovich era, Chelsea had thirteen different managers and 21 trophies to show for it. However, it did not work out well when United adopted those tactics. In the last ten years, United has changed managers seven times, including the reigns of the interim gaffers. 
David Moyes came in vetted by Fergie, who has a strong say in the club management despite his retirement. Being a stalwart of the club, it was only right a man of such prestige would be a voice in the boardroom.
The first season under Moyes was underwhelming, but you could argue that he had to make do with a squad that wasn't his. The club faithful looked back to their dominating era and deemed the Scotsman unfit to fill the void left by his compatriot.
There was little or nothing he could do as he was not allowed to build his squad. He was replaced by club legend Ryan Giggs, who filled in until Louis Van Gaal took over in May 2014.
After spells at Barcelona, Bayern Munich, and AZ Alkmaar, LVG took over as gaffer at Old Trafford. The Dutchman came in with a lot of experience, and although he managed to secure an FA Cup title in his second season in charge, his spell with United was not largely a successful one.
LVG brought in a massive fourteen players over his two-year stay at the club, but it was not enough to survive the ax in 2016. Coupled with his failure to galvanise his squad, his tactical style was not one United associated with. They were used to a more vibrant style of play, one that brought them immense glory in the Fergie era. However, LVG's system, in contrast, was rigid, overly tactical, and too methodical.
Jose Mourinho described himself as "The Special One." Say what you want about the man but his ability to win trophies matched his arrogance. He looked like the perfect fit for United at the time, a cocky manager for a cocky club.
However, when things are going well with Jose in charge, it usually does not last long. His differences with the board saw him get the boot in 2018. Apparently, two hotheads cannot coexist after all. A Community Shield, League cup, and Europa League treble was not enough to keep the former Porto man at the club.
Ole Gunnar Solskjaer took over from Jose as interim manager and did a good enough job to secure the role permanently. However, after an embarrassing display in a 4-1 defeat at the hands of Watford, Manchester United parted ways with Ole Gunnar Solskjaer.
The Norwegian represented the club with such high distinction as a player, so it was understandable when emotions ran high as he bid farewell.
Manchester United 2007-09: Sir Alex Ferguson's Greatest Masterpiece
Michael Carrick took over as caretaker manager until the club brought in Ralf Rangnick as an interim manager. Rangnick, with all the experience in the world, has not done any better than Ole did. If anything, he has arguably done worse. He stated in an interview that the club needed major surgery to get back on track.
Since 2013, United have lifted just four pieces of silverware. They are experiencing their worst trophy drought in four decades. In Contrast, Manchester City have been on a steady rise in that time, racing to eleven trophies with the prospect of more under Pep Guardiola's tutelage.
What Went Wrong for Ole?
Ole finished as runner-up to rivals Manchester City, and took United to the semi-finals in the FA cup and the Europa League final, where he lost out to Unai Emery's Villarreal. However, humiliation at the hands of Liverpool and City in the campaign that followed were red flags enough for the club hierarchy, but a disgraceful display in the loss to Watford was the final straw. 
In the opinion of some fans, Solskjaer's exit had been a long time coming. They were never convinced that the Norwegian was up to the job in the first place, so they did not expect much when his appointment was made permanent in March 2019.
For a manager whose only experience prior to the United job came during his spells at Molde and Cardiff, he did enough to earn the respect of the fans.
Solskjaer restored pride to a club that had turned on itself during the last days of the Jose Mourinho era. Without question, he acted and took decisions for the benefit of Manchester United, a club seared into his heart.
Erik ten Hag: The Inside Track on the Dutch Coach Destined for Old Trafford
He secured a second-place finish in the Premier League, which is as high as United have managed since Sir Alex Ferguson retired. Had they beaten Villarreal in the Europa League final as the favourites, Solskjaer would have given himself an element of protection against the problems that engulfed him. But De Gea missed in a bizarre penalty shootout in Gdansk, and well…
In trying to build the perfect, unstoppable squad, United signed some incredible players. Peter Drury's mesmerising introduction sent shivers down the spine of spectators around the world as Ronaldo made his way onto the field for his second United debut after 12 years.
It was a perfect fairytale return as the Portuguese netted twice in a 4-1 win against Newcastle, and the theatre lived its dream. Despite his goal-scoring prowess for a rather clueless and lacklustre team, he was always regarded as the problem.
When searching for a defender with a wealth of experience to bring calm to your backline, you do not look further than Raphael Varane. With a wealth of experience under his belt, the Frenchman seemed the perfect partner for Harry Maguire.
The Englishman looked like he was playing against rather than for United in defense for much of the campaign. Boy wonder Jadon Sancho wanted a move to Old Trafford, and he got his wish when United snapped him up for 75 million pounds. He linked up with fellow Englishman and long-time buddy Marcus Rashford.
With Bruno Fernandes and Cristiano Ronaldo leading the line, they looked like the team to beat on paper. However, it is one thing to have a squad filled with individual quality and another to galvanise that squad into a fearsome team. That was a big problem for Ole.
After signing players of such qualities, with a squad that already had world-class stars like Pogba and Fernandes, United were expected to mount a title charge. Maybe not win the league title straight away as the team would need time to gel, but they did not even show promise of what was to come.
United were on a bad run of form, suffering five defeats in seven PL games, and were 12 points behind league leaders Chelsea. Unfortunately, that is not acceptable, especially when you just signed players of Ronaldo and Varane's calibre.
Rangnick's Troubles as Interim Gaffer
Manchester United's performance in their 1-0 home defeat to Wolverhampton Wanderers was one of the worst performances of the post-Ferguson era. It looked like there was a complete lack of effort from the players. Luke Shaw accused some of the players of not playing for the team, and then a raft of rumours suggesting there were huge dressing room problems at the club emerged.
There are too many players who did not put enough effort to drive the team forward. This is something a United team never lacked under Fergie, with several players willing to bleed for the badge (special affinity or not). United have become a pension ground for players who tease with clips of what they could offer while getting a fat paycheck for logging around the pitch for 90 minutes. 
The reality for Rangnick is that there are more than one or two players who want to leave. Situations like these cause huge problems in a dressing room, especially if the players that want to leave, rightly or wrongly, feel mistreated by the club.
Over the years, United players have shown an incredibly shocking knack for getting coaches they disagree with dismissed. There seems to be a level of entitlement amongst the squad simply because they play for Manchester United, yet they have been key parts of the worst United period for decades.
Rangnick said that some of the players blatantly refused to follow his tactical plans. United have relied on individual quality to bail them out of precarious situations this season. While Ronaldo came up clutch most of the time, it was not always enough.
Ahead of their home clash with Brighton, when asked how he plans to take United forward, Rangnick insisted that finishing in the top four was essential before adding that his side would be unable to finish any higher. The game with Brighton ended in an embarrassing 4-0 loss. 
"I think this is the highest possible achievement we can get. Right now, this is exactly what Manchester United needs and wants; to finish fourth in the league."
It was a damning yet honest assessment of where United currently is as a football club. The team is devoid of a winning mentality that once was the mantra of such a revered sports franchise. Gone are the days of challenging for titles, but in fairness to the German, he would have looked foolish to suggest a title charge was still possible.
Despite the rallying call from the manager, United failed to finish in the top four. Cristiano Ronaldo, arguably the greatest player in UEFA Champions League history, will take his talents to the Europa League.
Rangnick took the job midway into the season. He should have known that the club had problems. Instead of fixing said problems, all he has done so far is state the obvious.
We knew these problems existed, but what are you, THE COACH, doing about it. United should have pounced on the opportunity to sign Antonio Conte because if there is anyone who can whip this dysfunctional squad into a league-winning shape, it is the Italian.
Erik Ten Hag Comes In
Revered in the Netherlands for his remarkable job at Ajax, Ten Hag comes in with a wealth of experience. He would face several challenges in trying to restore glory to the badge as Manchester United is considerably a much bigger franchise (I did not say club) than Ajax.
After taking charge of Ajax for the final time in their 2-2 draw at Vitesse Arnhem, the Dutchman is to take over at Manchester United. The Amsterdam giants had already secured the league title in midweek to ensure Ten Hag departed on a high. Having now completed their season, Ten Hag's next game on the touchline will see him in charge of United.
"It's time to turn the switch now," Ten Hag said following Ajax's final game. "It is something that is needed because there is a lot to take care of, and I have the energy for it."
Asked whether he was ready for the "sharks" (the media) in England, Ten Hag responded: "I do not see them like that. I don't see you like that too, nobody. What it is all about is the dressing room, you need to be able to manage the dressing room. You have to make it function. That is how you win games."
Ten Hag's comments on the dressing room gave hope and expectations to the United fans. He is fully aware of what awaits him in Manchester but has reiterated that he is up to the task.
James Garner – Red Devils Youngster Itching for Premier League Football After Pivotal Performances in Nottingham Forest Promotion Bid
"What I know about him is he did a fantastic job for Ajax, that he is an experienced coach," said an expectant Ronaldo in an exclusive interview. "But we need to give him time. Things need to change the way he wants.
I hope we have success, of course, because, if you have success, all of Manchester would have success as well. I wish him the best. We are happy and excited, not only as players but the supporters as well. I wish him the best, and let's believe that next year, we are going to win trophies."
Unlike his predecessors, Ten Hag will not be backed with a lavish budget to rebuild Manchester United, but he will receive what the club regard as adequate funds to enhance a squad the new manager believes he can vastly improve with his coaching.
"It is a great honour to be appointed manager of Manchester United, and I am hugely excited by the challenge ahead. I know the history of this great club and the passion of the fans, and I am absolutely determined to develop a team capable of delivering the success they deserve.

It will be difficult to leave Ajax after these incredible years, and I can assure our fans of my complete commitment and focus on bringing this season to a successful conclusion before I move to Manchester United."
Although funding will be in limited supply because of the club's policy and the pandemic, the departures of several players will allow him greater flexibility to navigate the market.
A midfielder will spearhead Ten Hag's list of potential targets. Declan Rice is on the shortlist, and Donny van de Beek will get a chance to revive his dwindling United career. A centre-back and a striker will also be a priority.
How PSV and Cody Gakpo Have Pushed Ajax for the Eredivisie Title
Ten Hag signed a contract until June 2025, with the option to extend for a further year. He has been in charge of Ajax for five years, winning the Dutch league three times and cup double in 2018-19 and 2020-21. His team lost the cup final to Cody Gakpo's PSV Eindhoven but made it up to their fans by securing another league title.
Ten Hag's Style of Play
After 34 games played, Erik Ten Hag's Ajax ended the season as champions of Eredivisie for the third successive campaign. Ajax finished with 83 points and a staggering goal difference of +79. They won 26 out of their 34 games, drawing five and losing only three times.
They finished as the best attacking and defensive team in the Eredivisie, scoring 98 goals and conceding just 19. Since taking over in December 2017, Ten Hag has established dominance and an exciting style of play to go with it at Ajax, winning three Eredivisie titles and two KNVB Cups.
Their exhilarating Champions League run in the 2018/19 season was perhaps their best in years. They knocked out Real Madrid and Juventus on their way to the semi-final but were undone by a Lucas Moura hattrick. They have since improved immensely and look a more dangerous side, with former West Ham striker Sebastien Haller leading the line alongside the likes of Dusan Tadic and Antony.
Ten Hag has mostly deployed a 4-2-3-1 or a 4-3-3 base structure when lining up his team this season. They use a variety of structures in their build-up play, so it is hard for opponents and analysts to pinpoint a particular structure with a lot of movement.
However, the key to their ability to monopolise possession and create several dangerous situations is their ability to maintain a high tempo with crisp, short passes. They also create diagonal passing lanes for ball progression from one end of the pitch to the other. Lisandro Martinez, Daley Blind, and wunderkind Jurrien Timber are all adept at progressing play from the back.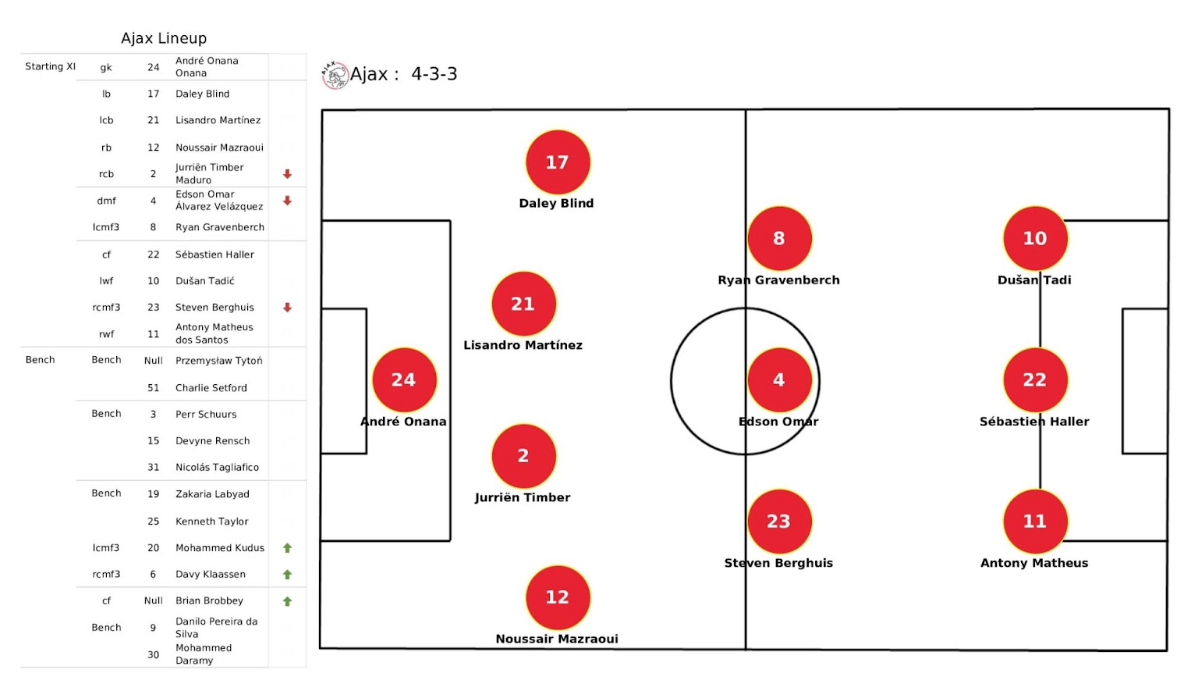 Ajax often set up with a 2-1 structure in the build-up phase, with Edson Alvarez dropping deep to provide passing options to the two centre backs, typically Jurrien Timber and Lisandro Martinez. Ryan Gravenberch moves higher up to create one more passing option.
Noussair Mazraoui moves higher up the pitch while Blind utilises his passing skills in the build-up. He'll tuck in with the two central defenders to give them a 3-1 build-up shape sometimes. Dusan Tadic and Antony can tuck inside into the half-spaces or keep the width depending on the tactical plan or the opponent.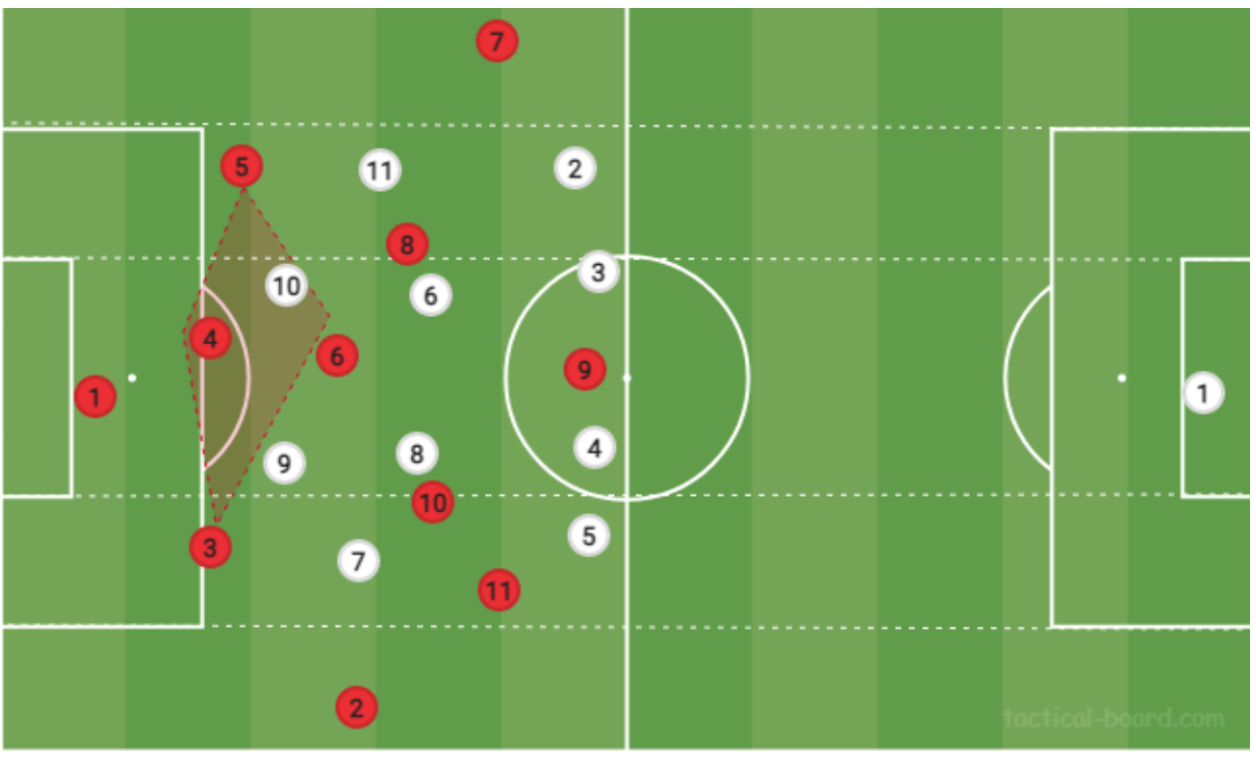 There is, however, a second option to ensure a smooth passage of play out from the back. Both fullbacks push high up the pitch to create overloads on the flanks.
Ryan Gravenberch, similarly to the role Frenkie de Jong occupied in 2018/19 before his move to Barcelona, drops between the centre-backs to create a numerical advantage and progress the ball efficiently in the first phase of play. This effectively creates another 3-1 shape in the build-up but with a different dynamic.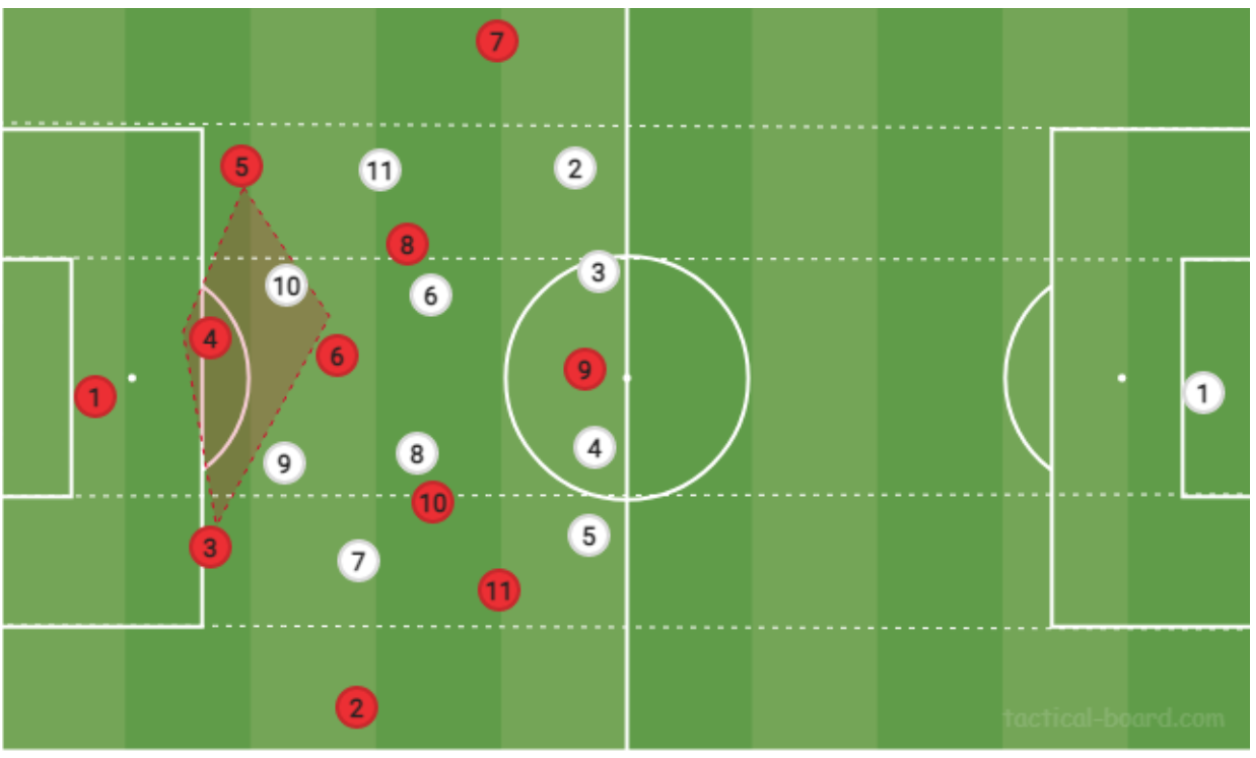 Ajax tend to overload one side of the pitch to attract opposition players towards one flank. They employ patient play, taking their time to look for or open up the spaces between the lines. The strategy also helps to disorganize the opposition defense by drawing them out of their rigid positions with unpredictable movement.
The overload on one side of the pitch creates diagonal passing lanes. When teams try to re-ensure their rearguard, they use triangles, diamonds, passing, and movement to meander through opposition lines. 
The addition of Sebastien Haller from West Ham in January 2021 provided the Dutch coach with even more tactical options. The Ivory Coast international offered them a chance for a more direct approach in possession.
He allowed them to play long balls towards him where he acted as a target man to help break the lines, a vastly different style to the 2018/19 campaign when Tadic occupied a false nine role in the attack. Haller's presence pushed Tadic to the left wing with Mohamed Daramy yet to kick on.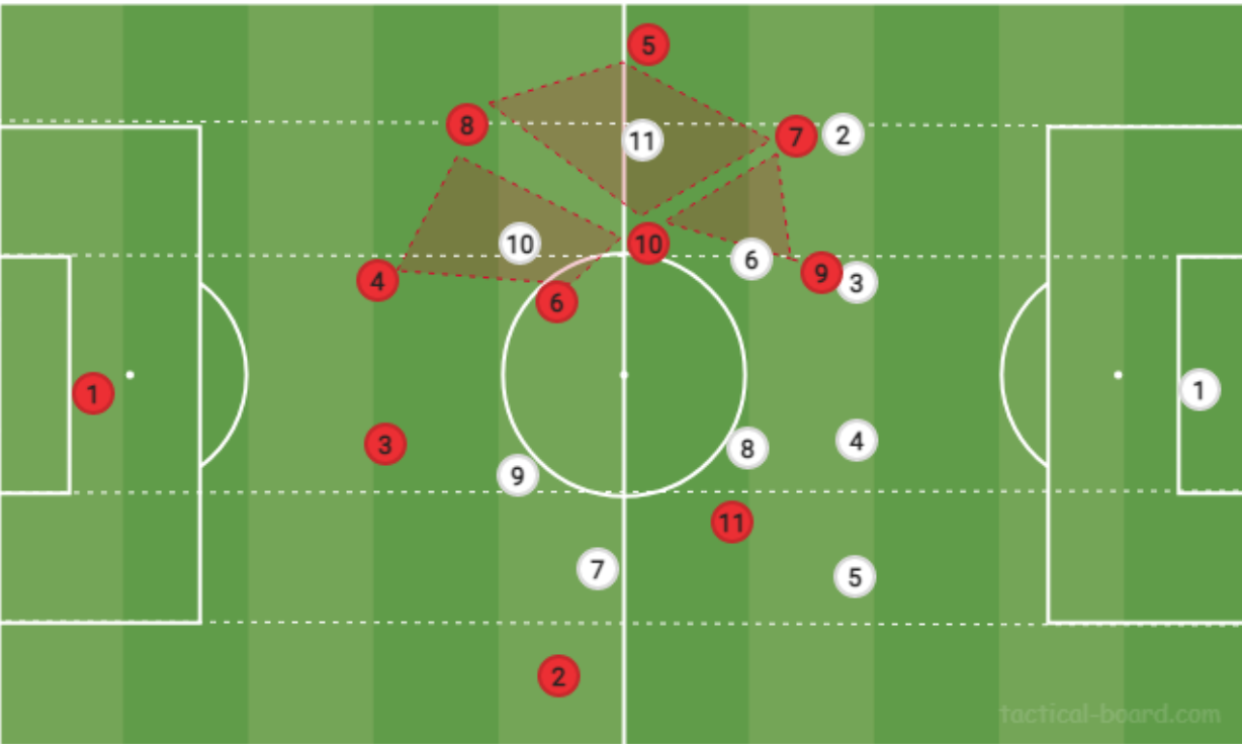 Ajax's positional play gives them familiarity in transitions. They smoothly interchange positions with each other, creating fluid passing exchanges.
When done correctly, Ten Hag's setup makes Ajax a nightmare to defend against, and because they stack one side of the pitch, their positioning is often narrow. They prefer to overload the left side and use sharp diagonals to Antony on the other side.
By doing so, they ensure that they have multiple bodies around the ball for quick passing and always have a spare man. They can immediately trigger a pressing routine that would enable them to regain possession when they lose it. ETH's Ajax is quite good at using the byline as a second defender or forcing aimless long balls.
Just like any other team in the world that likes to win the ball back at the earliest opportunity, Ajax's high-press system can be an asset and a liability at the same time.
If the press is beaten, they can leave huge chunks of space for the opposition to exploit, which can result in them being caught out of position and conceding dangerous counter-attacking opportunities. The compact lines begin to open up when players run at the defense.
Erik Ten Hag's Ajax is a tactically complex side that has established a brand of exciting football, setting a precedent for whoever takes over from the Dutchman to follow. There are no surprises that they have retained their Eredivisie crown at the expense of PSV, albeit by just a two-point gap. 
After spells at Go Ahead Eagles, Bayern Munich's B team, and Utrecht, Ten Hag has established himself as one of the most impressive managers in Europe at 52 years of age. His tactical know-how is world-class, and there is no doubt that he can compete with the very best in the game.
Moving to the Premier League means he will face the likes of Pep Guardiola, Jurgen Klopp, Thomas Tuchel, and Antonio Conte, who are all elite coaches in their own rights. Whether or not he can get the current crop of players at Old Trafford to adapt to his style of play is the task the Dutchman will face upon his arrival.
Can He Bring Back the Glory Days?
The short answer is a resounding yes, but it is undeniable that he needs time. The Manchester United hierarchy is not known for their patience these days, the four managers laid off since Fergie retired prove so. However, in the spirit of a new era on the horizon, it is only fair he gets ample time to build his squad and imbibe a winning mentality that seems to be a thing of the past at United. 
Ten Hag's appointment might seem swift and risky, considering he has not managed in any of the top five leagues in European football, but he has been on a relentless upward coaching curve over the past two decades. He forged a reputation as one of Europe's most exciting coaches revered for his attacking style of play and is very highly thought of among his fellow managers. 
Manchester City boss Pep Guardiola, who was head coach of Bayern Munich when Ten Hag was in charge of the German club's second team, said the Dutchman is "just an incredible person and human being. In terms of his qualities, just take a look at his Ajax team in the last few years", Guardiola added. "To define a manager, watch his team for a long time. This is a team, and this manager makes the players play. There is no doubt about that."
Erik Ten Hag is not a man without his faults. He can be unreasonably stubborn with substitutions. Given his large Ajax squad this season, he did not rotate enough. He constantly played Haller as a centre-forward and Tadic as a left-winger, and while Haller scored a lot of goals, it was clear for all to see that the football was better with Tadic at the centre of things. 
The Ajax Renaissance: How the Dutch Club Rose to Fight With Europe's Best
His reluctance to give players like Mohammed Kudus, Mohamed Daramy, and Brian Brobbey more game time was worrying, and so was his handling of Nico Tagliafico's case. ETH refused to give the left-back a way back into the squad despite the team missing his athleticism down the left flank. Some would argue that he could have handled the situation better.
Ten Hag will become the eighth coach since Fergie to sit in the Old Trafford hot seat. For a team that has not won a trophy since 2017 after being spoiled with glory during Ferguson's era, fans are desperately craving some form of success. It should be the bare minimum for a club of United's stature.
What Does He Need to Do?
Before Ten Hag looks at building a team capable of winning trophies again, he has a "big job to get the club back up to minimum standards", said Gary Neville on Sky Sports.
Due to the scale of the rebuild, former United and England defender Neville believes Ten Hag will not be under pressure to win trophies for one or two years. "What needs to be dealt with initially is the attitude, work ethic, belief, confidence of the team, and then hopefully you start to think about winning trophies."
Ten Hag has never experienced the unique demands of English football and has never managed a dysfunctional dressing room like United's, so he must get it right. United's recruitment is also a major issue. There is a list of at least ten players who could leave Old Trafford this summer, but finding the right quality to replace them may not be so easy. 
Recruitment is one of the most important jobs in a football club, and if you get it wrong, you struggle. There are several things Ten Hag would need to address, but his first job would be to decide who stays, who comes in, and who leaves.
Luis Sinisterra: The Colombian Winger with the World at His Feet
He needs to galvanise the current squad and bring in players that can add confidence, belief, and an aura while uplifting the team spirit in the dressing room. The club is bracing itself for an unprecedented squad overhaul and a new era.
The fans have every reason to be excited with the prospect of Ten Hag taking over. He is a serial winner and would guarantee exciting and dangerous attacking football.
However, while there is no doubt he can bring back the winning mentality the team and club needs, it should be reiterated that he would need time to restore United to the pinnacle of League and World football.
By: Onyekachi Uwanabi / @__Kachi_
Featured Image: @GabFoligno / Soccrates Images / Getty Images