Should Manchester United Sign Frenkie de Jong?
Erik ten Hag has started work at Manchester United, and transfer rumours are already getting out of control. It's standard procedure these days for the Red Devils to seemingly be linked with every professional footballer on the planet, but there has been a particular emphasis in the last couple of weeks on current or former Ajax players.
The big rumour at the moment surrounds Barcelona's Frenkie de Jong, who joined the Catalan giants after his excellent season as part of Ten Hag's 2018-19 Champions League semi-finalists who took the world by storm – the first of his two great Ajax sides.
It's no secret that Manchester United's midfield is in desperate need of reinforcements and has been for some time, and no matter what you think of Fred and Scott McTominay, they are currently United's only first-team central midfield options heading into next season.
Nemanja Matic is going, and Paul Pogba will almost certainly follow suit. It's pretty criminal that United have let it get to this point, but now more than ever they need new faces coming in and it looks like that might finally be about to happen.
The problem they have is that while ten Hag will get money to spend, he won't have a bottomless pit of cash available to him.
United have never crossed the £200 million mark in one transfer window, and according to various reports de Jong will likely cost somewhere between €60 million and €80 million, eating up a large chunk of that budget when there are also reinforcements needed in other positions. So, what might de Jong offer to a new-look Manchester United midfield, and is he worth getting?
One aspect of his game that would be vital to the Red Devils is his passing, especially because of how wide the range of his passing range is (unsurprising for a player who's entire professional career has been played at Ajax and Barcelona).
A clear limitation to both Fred and McTominay is their ability to distribute the ball, particularly from deep. Ten Hag's sides favour a slower build up from the goalkeeper and centre-backs and a key element of that style of football is having deep-lying midfielders who are willing to take responsibility of the ball in tight or dangerous areas.
McTominay is particularly bad at this and has developed a bad habit of hiding in the 'cover shadow' of opposition players, cutting himself off as an option in possession.
With Frenkie de Jong you're getting a midfielder who is constantly offering himself up as a target for passes while under pressure. In fact, compared to other midfielders in Europe's top five leagues over the last year, he ranks in the 92nd percentile (top 8%) for making passes while under pressure from an opponent.
Frenkie de Jong not only makes a lot of passes, but he also does so with extraordinary accuracy, so you know he can bring reliability in possession. For passes over short and medium distances he has recorded an accuracy of 93.1% and 92.9% respectively.
Additionally, while he is less inclined to make long passes, when he does he pulls them off to near perfection, with his long passes finding their target 83.7% of the time, a figure that puts him in the top 5%.
What's even better about de Jong is that his passes aren't 'safe' sideways or backwards passes, he plays with the intention of hurting the opposition.
Below you can see his percentile rankings for a number of stats when compared with other midfielders from Europe's top five leagues (the centre of the radius being 1 – the bottom 1% – and the outer edge of the circle being 99 – top 1%).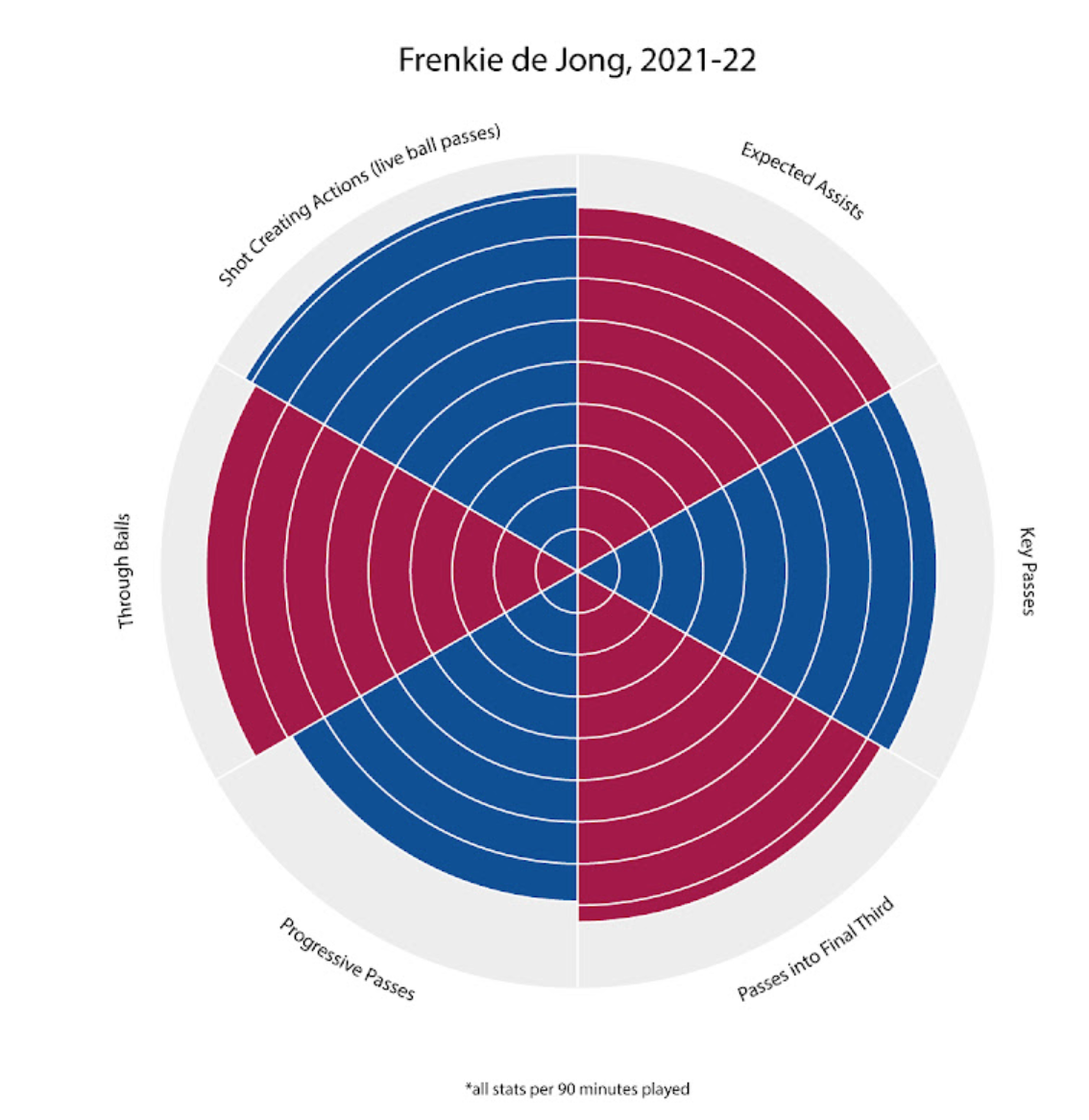 De Jong is also an extremely effective dribbler and carrier of the ball, giving him more strings to his bow when he needs to push his team up the pitch. He ranks in the 85th percentile (top 15%) when it comes to overall carries, and even higher when it comes to specifically progressive carries.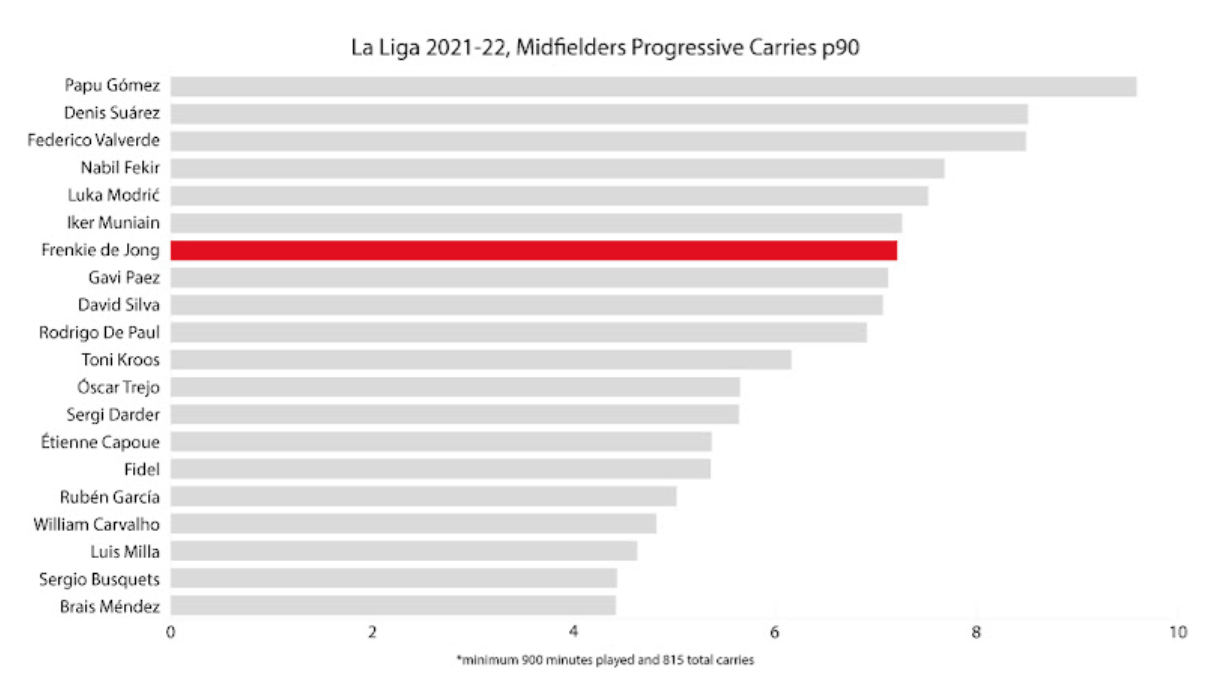 This probably comes as no surprise to anyone who has watched Frenkie de Jong before, after just one viewing you can see he oozes class and technical excellence, but what might slip under the radar is the defensive side of his game.
While he might not be the most aggressive presser in the world, and you're unlikely to see him bombing around the pitch and crunching into tackles, his positioning and awareness make him an extremely useful defensive asset.
Some of this may be because he's so well drilled in positional play from his footballing upbringing that he finds himself in excellent counter-pressing positions when his side loses the ball.
He makes 0.32 final third tackles per 90 which is above average, but him only being dribbled past by an opponent 0.67 times per 90 is a phenomenal number that ranks him in the top 3% of midfielders.
Smarterscout is a tool that uses algorithms to give players ratings from zero to 99 compared to others in their position, these can be based on how often a player does something or how effectively a player does something.
They give Frenkie de Jong a rating of 96 for 'ground duels out of possession' and 98 for 'aerial duels in open play' – suggesting that his defensive contributions are significantly underrated.
Another Year, Another Relegation for Watford: What Went Wrong?
So, with all of this mind, would he be a good signing for Manchester United? The answer is: potentially, it's entirely dependent on Manchester United.
There is no denying that Frenkie de Jong is a fantastic player with a wide range of abilities and he would add so much to the Red Devils' midfield, but he cannot be expected to transform the club on his own.
Their transfer history tells a tale of an irrational recruitment policy that has included players of wildly varying ages, skillsets, experiences, and stylistic preferences.
United's rose-tinted goggles towards marketable players has regularly led them to big name/big money signings, very few of which have been able to turn the club's fortunes around.
Cristiano Ronaldo hasn't been able to do it, neither did Harry Maguire, Paul Pogba, Alexis Sanchez, Jadon Sancho, Angel di Maria, or Zlatan Ibrahimovic, so don't expect Frenkie de Jong to do it either.
The key would be to incorporate him as part of a wider identity and 'DNA', and make sure that other players were brought in to complement his strengths and weaknesses.
Analysing Manchester United's Haphazard Recruitment Since Sir Alex Ferguson's Retirement
As good as Frenkie de Jong is, he doesn't fit the profile of player that United have needed for years now. That doesn't mean he shouldn't be signed, as he would clearly upgrade the current squad, but that shouldn't change the club's priorities.
A mobile and aggressive defensive midfielder that can cover lots of ground, disrupt opposition attacks and recover loose balls would be the perfect complement to the Dutchman.
As Ten Hag's preferred system is somewhat of a mid-point between a 4-2-3-1 and a 4-3-3 (think of it as a staggered midfield three) that player wouldn't have to be relied upon quite as heavily as, say, Rodri at Manchester City or Fabinho at Liverpool, which makes finding one slightly easier.
While Kalvin Phillips would be an excellent choice and links have been made regarding a transfer to United, that deal looks increasingly difficult to do due to his ties to Leeds.
Other options could be Ibrahim Sangare at PSV Eindhoven, Maxence Caqueret at Lyon, or Salih Ozcan at Koln. While none of these are a perfect fit they would certainly do a good job and would improve Manchester United's midfield. However, there is one stand-out candidate: Ismael Bennacer at AC Milan.
Smarterscout's model gives him an 89 for his 'disrupt' score (how often a player attempts to break up attacking moves) and a 96 for his 'recover' score (how often a player regains possession by intercepting, saving, smothering, or otherwise picking up the ball).
He has similar qualities to de Jong in the sense that he is willing to take responsibility of the ball, finding a pass or carrying it up the pitch, abilities which would see him fit seamlessly into an Erik ten Hag system, but crucially his defensive style is the perfect complement to de Jong's.
De Jong's intelligent positioning and reading of the game combined with Bennacer's dynamism and tenacity would see United sustain attacks with greater ease, while making them much more effective on the defensive transition.
The two of them would dovetail beautifully at the base of an Erik ten Hag midfield, and Bennacer would likely be available for a relatively reasonable price, too.
It remains to be seen whether Frenkie de Jong will join Manchester United or not, but if he does there are a few things we can be sure of: he'll cost a decent chunk of money, he'd come bearing great expectations, and he'll only come good if the Red Devils finally put an end to their erratic transfer strategy and find him a suitable partner.
By: Jake Lane / @jakerslane
Featured Image: @GabFoligno / Quality Sport Images / Getty Images
*all data accurate as of 20/05/2021, from StatsBomb via FBRef, and Smarterscout.