Another Year, Another Relegation for Watford: What Went Wrong?
For Watford, another year in the Premier League has led to another year in the Championship.
Their 1-0 defeat to Crystal Palace on Saturday sealed their second relegation in three years, following what has been a difficult season.
Of course, there are many issues at play here (for starters Watford seem to be the latest side sucked into the eternal hamster wheel of misery that is the parachute payments cycle), but disappointing performances on the pitch combined with questionable decision making off it have contributed greatly to a 2021/22 campaign that won't live long in the memory of The Hornets' fanbase.
From the outset the club seemed doomed to fail, the first of many problems coming in the form of a concerning summer transfer window.
So often we've seen clubs get promoted from the Championship, spend tens of millions of pounds on new recruits to come in and replace the players that just got you promoted in the first place, have those new recruits flop, and then get relegated again (looking at you, Fulham circa 2018).
That's pretty much what Watford did this season too. After being promoted in 2020/21, Watford let an astonishing 22 players leave the club, a group of players who had accumulated a combined 124 starts in that promotion season. 
The list of outgoings included: Will Hughes and Nathaniel Chalobah, two of the club's first-choice midfielders; Ben Wilmot and Andre Gray, two reliable back-ups, the latter of which already had Premier League experience; and Troy Deeney, the club captain who had been at Vicarage Road for 11 years. According to Transfermarkt, the 22-man list raised approximately £12 million in transfer fees.
It was certainly strange that Watford were so willing to say goodbye to a group of players who had been at the club for some time and had played major roles in getting the club promoted. Perhaps even more significant in the sale of Troy Deeney was the gaping leadership void that was left in the squad, but these decisions were made to look even worse when you assess the replacements that were brought in.
For a cost of roughly £17 million the club made 12 signings, some of which turned out to be absolutely woeful, and even the ones that worked out had sticking points.
Nicolas N'Koulou made two starts, Peter Etebo made four. Ozan Tufan had been brought in on loan from Fenerbahce after Watford paid a reported £1.6 million loan fee. He also made four starts, before his loan was terminated by The Hornets in February.
How Interim Manager Mike Jackson Has Turned the Tide at Burnley
Then there's Danny Rose. After a nightmarish end to his Tottenham career which included him being sent to train either alone or in the reserves for months on end, a cringe-worthy feature in Amazon's 'All or Nothing' documentary, and an uneventful loan spell at Newcastle, he was afforded another chance at Watford.
After starting five consecutive games for the club after joining, Rose was later banished once again, this time by Claudio Ranieri. He was frozen out of the squad and told he would never play for the club again. They attempted to sell him in January, but there were no bidders. Roy Hodgson joined the club later that month and on his arrival was handed a list of players he was expected to use. Danny Rose's name was not on that list.
There were some signings that did (sort of) work out, though. Moussa Sissoko, Emmanuel Dennis, Juraj Kucka, Joshua King and Imran Louza have all be some of Watford's better performers, but there are even issues with some of those.
Within the club it has basically been agreed upon that Dennis' combined 16 league goals and assists will be enough to attract the interest of Premier League clubs in the upcoming transfer market, and a move away looks likely with The Hornets prepared to cash in on their prize asset.
It is also being reported that there is a clause in Moussa Sissoko's contract which allows him to leave the club on a free if they are relegated. Which, of course, they have been.
Anyway, Watford actually started the season with a win! After 67 minutes in their opening fixture they were 3-0 up against Dean Smith's Aston Villa.
The match eventually finished 3-2, but despite a nervy end the Watford fans went home feeling positive and hopeful that their side could make a real go of it in the Premier League this season. Then they lost three in a row to Brighton, Tottenham, and Wolves.
A 3-1 win away at Norwich didn't raise spirits for long, as three days later they were knocked out of the Carabao Cup in a 3-1 home defeat to Stoke City. The following 1-1 draw with Newcastle and 1-0 loss to Leeds eventually led trigger-happy Watford to sack yet another manager, and Xisco was gone.
Now I'm not suggesting that Xisco was unfairly dismissed – ultimately football is a results business and Watford didn't pick up very many good ones – but this is where the major problem for the club lies.
You have to question the strategic process behind getting promoted, ripping up your entire squad, spending an entire pre-season with one manager, and then sacking that manager after seven fixtures.
Watford's never-ending hire-and-fire approach to managers has seen them shoot themselves in the foot time and time again.
Albert Einstein is often credited with defining insanity as "doing the same thing over and over again and expecting different results", and this saying rings so true with Watford.
The most successful clubs in the modern era of football are the ones with defined structures, long-term planning, and a clear vision, and Watford's apparent obsession with being as chaotic as possible is by far the biggest reason that they have suffered another relegation in 2021-22.
The level of concentration and commitment needed to survive a Premier League relegation battle is huge, and to expect a football team to perform at their best amidst a ceaseless circus of buffoonery is simply a recipe for carnage.
Either way, just one day after Xisco was sacked, Claudio Ranieri was brought in – clearly his title-win with Leicester lives longer in the memory than his more recent stint with Fulham, where he was brought in mid-season to save them from relegation only to be sacked himself just a few months later. I wonder how this story ends…
The Ranieri era started with an absolute whopper, a 5-0 home defeat to Liverpool in which Roberto Firmino recorded 50% of his combined league goals and assist tally for the season, and it pretty much set the tone for his entire tenure.
5-2 and 4-1 wins against Everton and Manchester United respectively don't paint a full picture of Watford under Ranieri, because they were so poor.
The United result was actually considered to be such a humiliating loss for the Red Devils that it cost Ole Gunnar Solskjaer his job. Unsurprising really when you consider that the fixture was played on 20th November and it is still Watford's most recent home win.
In 14 games under Claudio Ranieri, Watford conceded 34 goals – over 2.4 goals per game.
What's potentially even worse is that these 34 goals were conceded from an xG against figure of 26.4. One of the reasons for this can be seen when you study the Premier League's advanced goalkeeping statistics.
Post-shot xG minus goals allowed essentially measures a goalkeeper's ability to prevent goals. It takes into consideration how likely a shot is to go in after the ball has been struck, alongside whether the goalkeeper saves it, so a higher number means either better luck or an above average ability to save shots.
Ben Foster's post-shot xG minus goals allowed figure is one of the worst in the Premier League when it comes to first-choice goalkeepers, at -3.5. What this means is Foster should have conceded 3.5 less goals than he actually has so far this season. 
That being said, not all blame should be piled on the goalkeeper. It's bad enough that Foster has been drastically unperforming, but it's even worse considering how easy it was for opposition players to create chances against Ranieri's Watford.
On multiple occasions they conceded goals having played sloppy passes into dangerous areas, either straight to the opposition or into dangerous areas where they would immediately lose the ball. From these positions Watford were so easy to counter-attack against and it caused them a lot of grief.
Just watch the highlights from their 1-0 loss to Arsenal and you can see it happen multiple times. It was also far too easy to drag Watford defenders out of position, making them incredibly vulnerable to a killer pass. Here is just one example, from that 5-0 loss to Liverpool, where their back four are completely out of shape.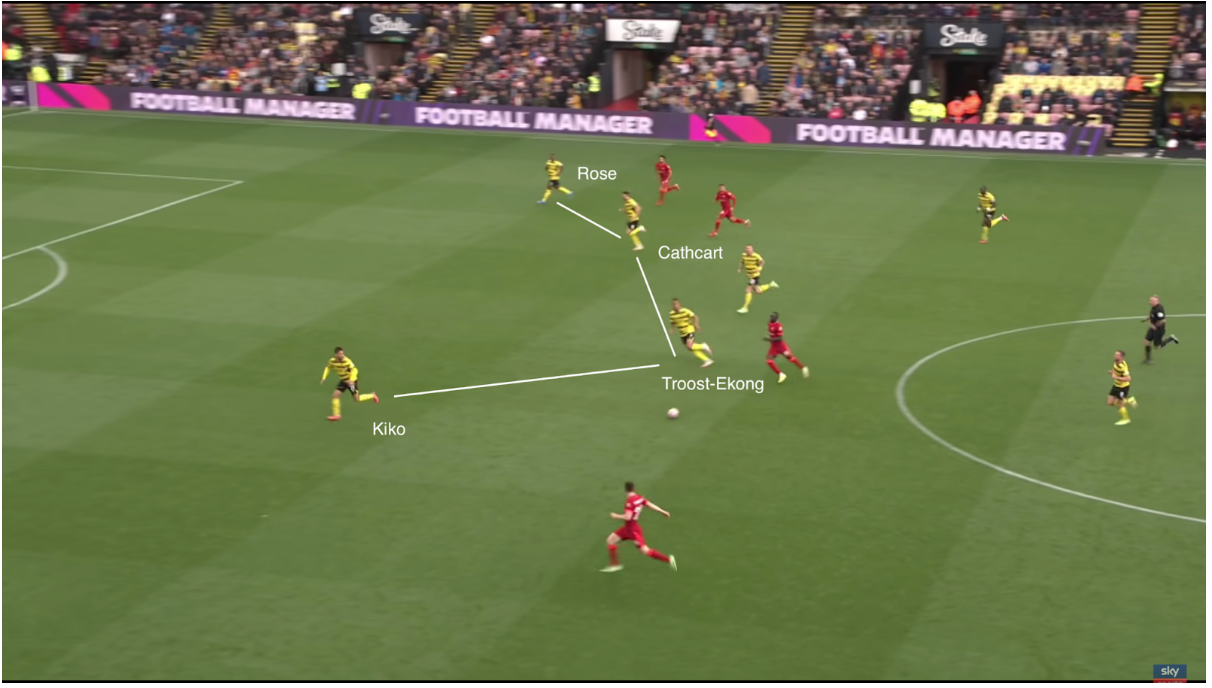 Their defending was so bad in fact, that in the January transfer window they ended up spending more than they did in the summer, bringing in six more players for a combined fee of over £22 million. This included a goalkeeper, a centre-back, a left-back, and a defensive midfielder.
Their defensive fragility eventually led to the trigger-happy group of maniacs that is the Watford hierarchy to sack their manager once again, and just like that, with a record of two wins, one draw, and 11 losses, Ranieri was gone.
Just as before, the club had found and appointed their replacement no less than a day later, and this time it was Roy Hodgson taking charge.
It's worth noting too that he was brought in on 25th January, less than a week before the transfer window closed.
You'd think that if you were considering sacking your manager it would make more sense to bring in his replacement with a full month to make transfer, rather than just six days, but that's not how Watford go about their business.
The 74-year-olds' time at the club started with signs of promise – despite the fact The Hornets failed to win any of their first three games under his leadership they looked more solid defensively.
How Villarreal Became European Football's Ever-Present Underdog
Against Burnley they kept a clean sheet, against West Ham they only conceded one and it was by way of a wicked deflection, and against Brighton they fell victim to a Neal Maupay beauty and a goalmouth scramble from a corner.
Their next result was a 1-0 away victory at Aston Villa, but perhaps unsurprisingly, everything descended into anarchy once again. Of the three managerial spells at the club this season, Hodgson's was probably the most volatile in terms of results.
One week Watford would put in their performance of the season, only to follow it up with dreadful displays, and vice-versa. For example, that 1-0 win against Villa was followed by a dismal 4-1 home loss to Hodgson's former side Crystal Palace.
A few weeks later, after an embarrassing 4-0 defeat to Wolves, they put in one of their performances of the season in a 2-1 away win at Southampton, only to lose the next six in a row.
It's rather fitting that the club finished their extremely disappointing season in such a chaotic fashion, because that's the key word when it comes to Watford: chaos.
No matter who the club sign or sell, no matter how poorly the players on the pitch perform, there is no possible way for them to succeed while the leadership and decisions are so incredibly chaotic.
To go through three managers in one season is abnormal, and Watford have had more than one manager in four of their last five seasons.
One Player From Each Championship Club Who Will Play in the Premier League – Part One
Their scattergun approach to club management is akin to blindfolding a toddler and giving it a machete, and until they steady the ship off the pitch, the results on it will continue.
Sure enough they may get promoted once again next season, as I mentioned earlier the parachute payments cycle is in full swing, but for them to see consistent and sustained growth and improvement they need to calm themselves down and commit to a long-term project, sticking to it even through the more difficult periods.
The club's leadership have already accepted that they must begin to operate in a different way in a bid to achieve more stability, but they may have fallen at the first hurdle.
Hodgson was only ever appointed to steer the ship to the end of the season, and the club have already found their successor.
Having just secured promotion from League Two with Forest Green Rovers, Rob Edwards was this week selected as Watford's chosen candidate, but the way they went about securing that appointment was just so typically Watford.
The club held talks with Edwards without first approaching Forest Green, and by the time the deal became public knowledge, the Rovers chairman was appearing on Sky Sports News discussing how he felt blindsided by both Watford and his former manager.
Djed Spence: Nottingham Forest's On-Loan Defender Adored By All At The City Ground
The Hornets have already been accused of 'doubling down on deceit' before the current season has even come to a close, which isn't exactly a great start to your fresh way of operating.
Chaos theory is the science of surprises, of the nonlinear and the unpredictable. It teaches us to expect the unexpected.
For Watford fans, it's quite simply the daily experience of supporting their club.
By: Jake Lane / @jakerslane
Featured Image: @GabFoligno / Facundo Arrizabalaga – PA Images