Taiwo Awoniyi: The Nigerian Striker on His Way to Nottingham Forest
Football is a glamorous sport. The men and women who represent the biggest clubs as professionals are some of the wealthiest and most famous athletes on the planet. With this fame and wealth, footballers tend to live in a bubble.
For some, the fancy cars, expensive clothes and jewelry, tends to permeate their heads and give them an enhanced ego and self-worth. For a selected few, they still remain grounded, thankful to God for the gift the beautiful game has given them. Taiwo Awoniyi belongs to this special group. 
Where It All Began
Taiwo Awoniyi's love for football began on the dusty streets of Ilorin, North-West Nigeria. In July 2009, Jose Mourinho visited Nigeria, as a guest of the Ex-Governor of Kwara State, Bukola Saraki – who at the time, just formed Kwara Football Academy (KFA) – it was in this Academy, that 12-year-old Taiwo Awoniyi would kick start his youth career, at least in an organized setting.
The KFA would go on to produce a good number of players that represented Nigeria's youth teams later on. Notably Emmanuel Bonaventure Dennis (Watford's top scorer in the Premier League for 2021/22) and Savior Godwin (Voted Best Player in the Portuguese Segunda Division 2021/22). 
Years of Pain, Anguish and Missed Opportunities Finally Put To Bed as Nottingham Forest Clinch Promotion Back to the Premier League
Later on, Awoniyi would meet two of the most influential figures in his career – Garba Abdulrasaq Olojo of United Academy FC and former Grasshopper Club Zurich Technical Director, Seyi Olofinjana – who also owns Imperial Soccer Academy, Nigeria. Under Olojo, Awoniyi honed and mastered his goal-scoring skills.
In 2010, he led his team in a Coca-Cola Competition in Ibadan, South-West Nigeria, and his performances would earn him a trip to London, United Kingdom, for the main competition where he shone like a million stars, bringing home the Most Valuable Player Award and the Golden Boot. On his arrival from London in 2010, Awoniyi teamed up with Olofinjana's Imperial Soccer Academy. 
Olojo spoke to German newspaper DW in an interview last month and revealed: 
"When you have a kid with you, in a job you're experienced in, you'll understand how to recognize good talents. We worked hard on them because you know when you do that, they'll go far in their careers."

"He learned how to sew his boots by himself and got to the field very early with his colleagues. They bought mending tools. Those were the challenges he faced with me. His parents supported him greatly too," he said.
Road to the U17 World Cup & Global Recognition
Before we go further, it's very crucial to note that Taiwo Awoniyi is a man that's not ashamed to proclaim his faith. The former Liverpool forward is a devout Christian, a member of the 'Ballers in God' movement founded by former Tottenham midfielder, John Bostock.
You'd most times find Awoniyi doing two things – posting Bible verses on his Instagram account or celebrating his goal with a Bible verse printed on his undershirt, looking at the sky in a way to give gratitude to his creator.
Brennan Johnson: The Nottingham Forest Youngster Exceeding Expectations At His Boyhood Club
American writer Dale Carnegie once said, "Take a chance! All life is a chance. The man who goes farthest is generally the one who is willing to do and dare." Awoniyi's journey to the pinnacle of professional football has been a reflection of taking your chance. A key element in the journey of every man.
The year is 2012, Awoniyi had just graduated from the Nigerian U15 side. Preparations for the Morocco 2013 U17 African Nations Cup had begun. The top four teams from this tournament would qualify for the U17 FIFA World Cup, which was to be hosted by the United Arab Emirates.
Awoniyi was not in the picture for the tournament, but unfortunately, some players had been dropped from the final squad after failing the mandatory MRI scan. You can call it grace, or luck, maybe a stroke of both. Awoniyi's phone rang, he was called up to complete the 24-man-squad. His second journey out of the shores of Nigeria. "Morocco, here I come."
In Morocco, the stars of the tournament were Isaac Success and Kelechi Iheanacho. Awoniyi, was on the sidelines, waiting to take his chance, again, if it'd come. Success and Iheanacho would finish as top scorers. Though Awoniyi hardly played, it was an important learning curve. A sign of what was to come. This time, in the middle east.
A month after Awoniyi celebrated his 16th birthday, the Golden Eaglets (Nigeria U17) jetted off to Al Ain, the host city of Group F. Nigeria would face Mexico, Sweden and Iraq in the group stage. As expected, the West Africans started their World Cup campaign in an extraordinary fashion.
Manu Garba's boys scored fourteen goals in the group stage, Iheanacho and Success contributing to ten of them. Then the unthinkable happened, for Success at least. He got injured and was ruled out of the remainder of the competition. An unfortunate twist of fate for Success, but for Awoniyi, it was his stroke of luck.
One Player From Each Championship Club Who Will Play in the Premier League – Part Two
You see, football and life are similar. They both deal with fine margins. Awoniyi's fine margin was this. He would finish that tournament with nine goal contributions, scoring thrice in the quarter-final and semi-final. Remember, he wasn't even expected to feature much.
Iheanacho may have been the star of the tournament. But there was someone who made everything click in attack. His maturity on the ball and hold-up play? Brilliant, just brilliant. Nigeria thrashed Mexico 3-0 in the final, and were world champions for the fourth time.
At the blast of the final whistle, Awoniyi fell to his knees, giving thanks to God. Iheanacho was in disbelief; their lives were about to change forever. Success and Iheanacho would both be the first players from that squad to leave Nigeria and get moves to Europe.
In January 2014, Udinese and Manchester City came calling. But for Awoniyi, It seemed the world had forgotten. Surely, he's shown the world what he's made of. He bullied defenders, won every ball and covered every blade of grass. Lord knows what must have been going through his mind. One of the most famous Bible verses says "Walk by faith and not by Sight". Awoniyi lives by this mantra.
In March 2015, Nigeria were to face host country Senegal and then Congo, in the group stage of the U20 African Nations Cup. Awoniyi's three goals would help Nigeria win the competition, scoring twice against a Senegalese side that featured current Barcelona right-back, Moussa Wague.
This meant qualification for the U20 World Cup in New Zealand. Awoniyi's ascent would continue. A brace against Hungary and double assists against North Korea cemented that fact. Unfortunately, Nigeria were dumped out of the showpiece by a German side captained by current Nigerian International, Kevin Akpoguma.
The Move to Anfield
Taiwo Awoniyi had just celebrated his eighteenth birthday when his phone rang again. This time it was Liverpool calling, one of the most successful and widely supported teams in world football. Ilorin to London, to Morocco, UAE, Senegal, New Zealand, Sweden, then finally Liverpool. Take a look at that journey.
The then 18-year-old had started walking the walk. He was no longer the guy who went to two youth world championships and couldn't get a club. After trials with Swedish side Kalmar FF, August 2015, he was a Liverpool player. Grace had found him. "E don finally blow", as Nigerians would say.
He may have dreamt of scoring a goal at Anfield, walking out of the changing room before a crowd of 60,000, listening to the "You will never walk alone" chant. But as they say, in the journey of every man, as there're ups, so there'll be rough rides. Awoniyi couldn't make his Liverpool debut. In fact, he never did. Work permit issues would make him ineligible to play in England.
Jurgen Klopp would call him every preseason and send texts, wishing him well. Preseason meant he was up for another loan. Where would he be going this time, he may have asked himself those questions a lot. At the start of the 2015/16 season. Liverpool had just sold Raheem Sterling to City, and Klopp would recruit Bobby Firmino, Danny Ings and Christian Benteke. There was no way Awoniyi would get solid game-time.
This led to his first move. FSV Frankfurt. After fourteen games and one goal, Eredivisie was next. Juggling between the first team and the youth team of NEC Nijmegen, he would deliver eight goals in eighteen games. A very decent return. Then came Belgium.
This was where he really matured into a footballer. In sixty-nine games for Royal Excel Mouscron and Gent, he scored twenty-four times and assisted ten goals. At Gent, he would form a good friendship with another Nigerian, Anderson Esiti. 
You know, being teammates with your fellow compatriots, in another country. It's a special thing. Ask Wilfred Ndidi and Kelechi Iheanacho or Vinicius Junior and Rodrygo Goes.
I bet they'd have the same answer. Awoniyi spent two years in Belgium, before taking the next flight to West Germany, this time with Mainz 05, coincidentally a former team coached by Klopp. In fact, he's a legend there. Between 1990 and 2001, Klopp made over 300 appearances for the Die Nullfünfer.
Switching Over to the Bundesliga
Awoniyi didn't find favor from his two managers at Mainz 05. Sandro Schwarz hardly played him, nor did Achim Beierlorzer. In thirty-four Bundesliga games, Awoniyi got just twelve appearances. Six of those were before the Pandemic hit.
Just as football resumed, with fans isolating at home, Mainz 05 hosted FC Augsburg at the Mewa Arena. 17 minutes into the contest, Awoniyi came close to netting his second Bundesliga goal. It was Mainz 05's first real chance at goal, but his header narrowly missed the target.
Following a clash of heads with Felix Uduokhai in an aerial battle, Awoniyi looked almost unconscious as he landed awkwardly on his neck. He was stretchered off in the 23rd minute and would only regain consciousness in an ambulance. Sky Deutschland (Bundesliga's official broadcaster), announced that he was taken to a hospital for further checks.
At the end of the 2019/20 season, Awoniyi spoke to Oma Akatugba of OmaSportsTV in an exclusive interview.
"God is the greatest, I'll always say this. All of me is all of God. That incident tells me that I should keep on with my faith. I went from wishing to score a goal to waking up in a hospital. I must commend the referee, the medical staff, but especially the referee, Marco Fritz. My teammates were not really aware, but God pushed the referee. I'm so grateful for everything"
The King of Berlin
The little time Awoniyi spent at Mainz 05 was enough for Union Berlin's sporting director Olivia Runhert, to sanction a move for Awoniyi. Remember how he got a call when other players failed their MRI scan before the 2013 U17 AFCON?
This time, that stroke of luck, his walk with faith, was in full flow once again. Another Nigerian striker, Anthony Ujah had suffered a long-term injury. Union needed to replace him and Awoniyi fit the bill perfectly.
He would play off Max Kruse in Urs Fischer's famous 3-5-2 system. In his first season, he scored five goals for Union, notably against Hertha and Borussia Dortmund. Adding four assists to take his tally to nine goal contributions in 21 games.
Awoniyi kicked off 2021/22 by scoring in three successive Bundesliga matches. He hit his first Bundesliga brace against ex-employers Mainz, and earned a place in Berlin derby history with his goal in a 2-0 win over city rivals Hertha.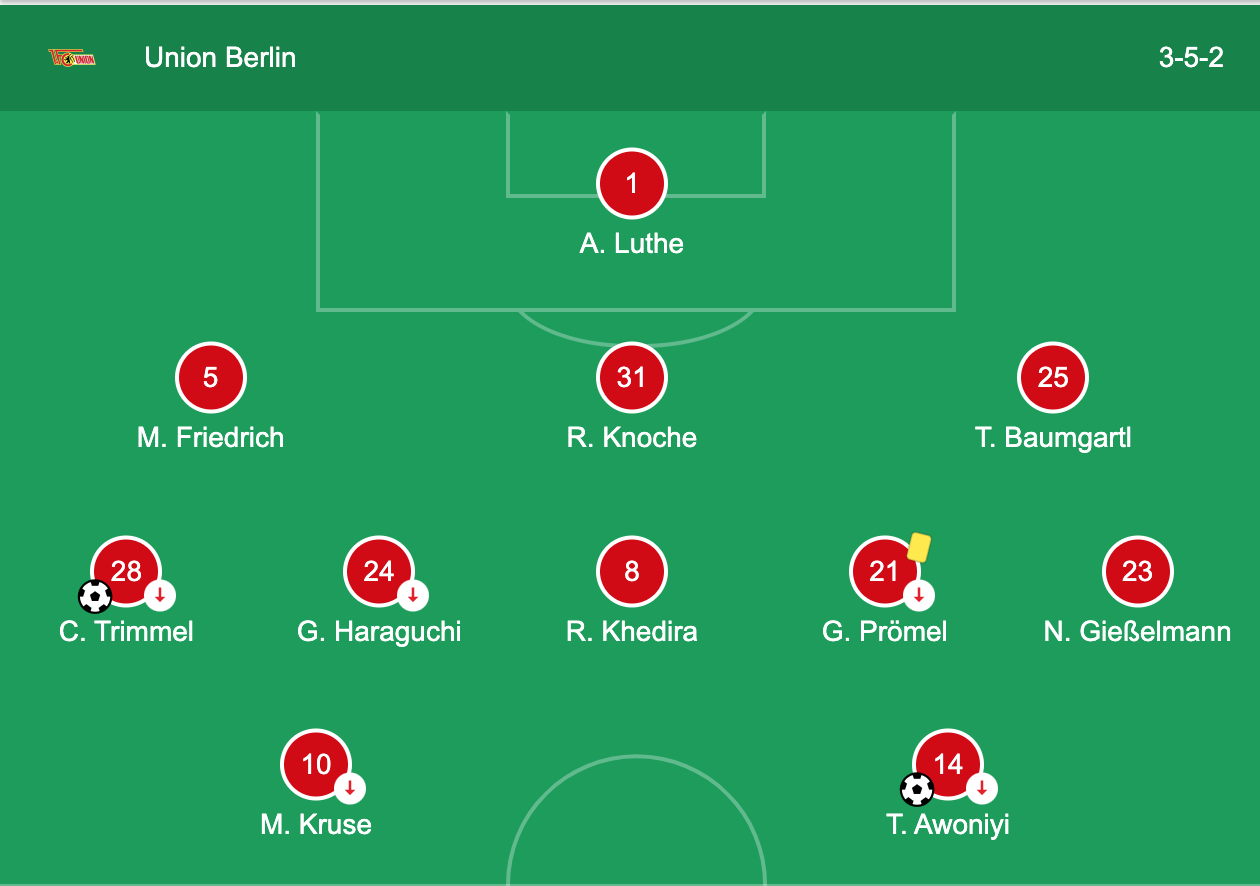 Union Berlin's line-up from their 2-0 win vs. Hertha Berlin
With Kruse paired up front with the Ilorin-born forward, they'd wreak havoc into Bundesliga defense. Kruse had a hand in eight goals Awoniyi scored for Union. His favorite partner, by a mile, as seen in the below chart.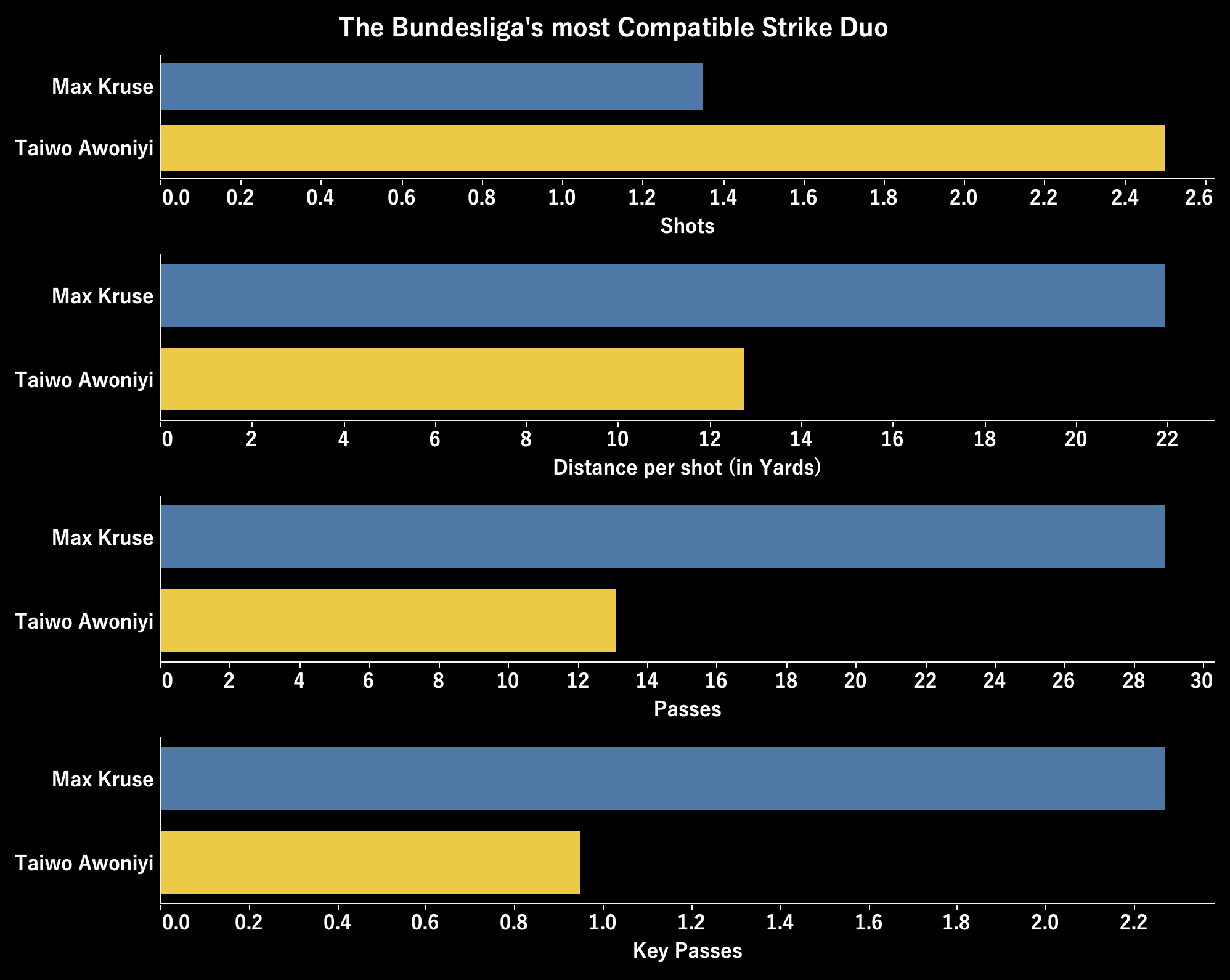 By the time AFCON 2022 came, the commanding frontman had scored nine goals in the first half of the season, only behind Bayern Munich's Robert Lewandowski and Leverkusen's Patrick Schick on the Bundesliga goals chart. He was already Union's all-time scorer in their Bundesliga history. European clubs, especially in England, began to take note.
Leading the Super Eagles in Cameroon
For a long period, Awoniyi was largely ignored by former Super Eagles manager Gernot Rohr. As pressure began to mount for his call-up, due to his brilliant first half of 2021/22, Rohr had no choice but to call him up for the double header of Qatar 2022 qualifying games against the Central African Republic. 
His international debut finally came on October 7, 2021. A solid 45-minute cameo for the Union sharp-shooter. In contrast, Kelci Iheanacho, Wilfred Ndidi, and Moses Simon, his mates from the youth set-up were already heading towards their 50th caps. Nigerians felt Awoniyi should have been invited a long time ago, and they were right.
Garoua, Cameroon, January 11, 2022, at the Stade Roumde Adjia. Nigerian legend Augustine Eguavoen, (Gernot Rohr"s replacement as Interim Manager) selected Awoniyi to lead the Nigerian attack once again, alongside Kelechi Iheanacho, against Mohamed Salah's Egypt. Almost nine years after their U17 exploits. His relentless pressing and tireless runs behind the Egyptian defense opened up gaps for Iheanacho, Simon and Aribo to do their thing.

Nigeria had five shots on target that day, with Awoniyi getting two of them. Nigeria would cause a major shock at the end, a well-deserved 1-0 win cemented them as tournament favorites.
Sudan was Awoniyi's next victim. He scored his first international goal against the Sudanese on Africa's biggest stage. The only player better than him that day was Moses Simon. The world indeed had started to take note.
The Super Eagles crashed out of AFCON 2022 in the Round of 16 to Tunisia. Awoniyi returned to Union and continued banging in the goals. Strikes against Mainz, VfB Stuttgart and favorite opponents Cologne (three goals in four games) took him onto 17 Bundesliga strikes in Union colors, and past former teammate Max Kruse as the club's record scorer in the German top flight.
He finished with a season personal best of 15 goals in 31 league games for 2021/22, and 20 in all competitions when you include his goals in the DFB Pokal and UEFA Europa Conference League.
The Nigerian frontman finished the campaign in style on the final day, hitting two goals in a 3-2 victory over Bochum. His late winner in that game sealed a club-high fifth-place finish for Union. Ensuring UEFA Europa League qualification for 2022/23.
How Union Berlin Sealed European Football for the First Time Ever
By season's end, A host of Premier League clubs were in for him. West Ham, Crystal Palace, Southampton and Brentford had reportedly been preparing bids. When the Championship season ended, it was the winners of the promotion play-offs who emerged as the frontrunners for Awoniyi's signature, throwing their hats into the race.
What Awoniyi Brings to Nottingham Forest's Attack
After six years contracted to Liverpool and seven loan spells that took him across Belgium, Germany and the Netherlands, Union Berlin paid £6.5 million to sign him on a permanent deal in July 2021, with Liverpool receiving a 10% sell-on clause. The German club, for their part, included a £17.5 million release clause in his contract, one that Nottingham Forest look set to trigger.
Forest began the 2021/22 campaign in the relegation zone and ended it at Wembley, and after progressing past Sheffield United, an own goal from Chelsea loanee Levi Colwill would see them end a 23-year top-flight absence and return to the Premier League. However, they are set to lose a number of valuable loanees like Djed Spence, James Garner, and center forward Keinan Davis, as well as goalkeeper Brice Samba.
Whilst Dean Henderson looks set to arrive on loan from Manchester United to fill the hole between the sticks left by Samba following his decision to reject Forest's contract renewal, it remains to be seen whether Awoniyi can provide an upgrade on Villa loanee Davis, who scored 5 goals and 2 assists in 18 appearances after arriving in January. But just what exactly can Awoniyi offer Nottingham Forest?
The 24-year-old Nigerian is a towering, strong forward. This allows him to be utilized as a target-man, where he disrupts center backs with his back to goal, but that isn't the only thing in his locker.
He can drift out wide and run directly at full-backs. His ability to switch effortlessly, makes it tough for opposing managers to prepare against him, tactically. Forest manager Steve Cooper, would be licking his lips right now. Awoniyi comes from a like-minded system in Union. Fischer's 3-4-1-2 and Cooper's are very similar.
Two tactically smart wing backs, ball-playing CB's, and two creative attackers playing off the main center-forward. In 2021/22,  it was Max Kruse and Sheraldo Becker at Union while at Forest, Brenan Johnson and Phillip Zickernagel did the magic. Two crucial games for both sides last season were Union v Leipzig in the Bundesliga and Forest v Leicester in the FA Cup. It was a carbon-copy tactical setup from both managers.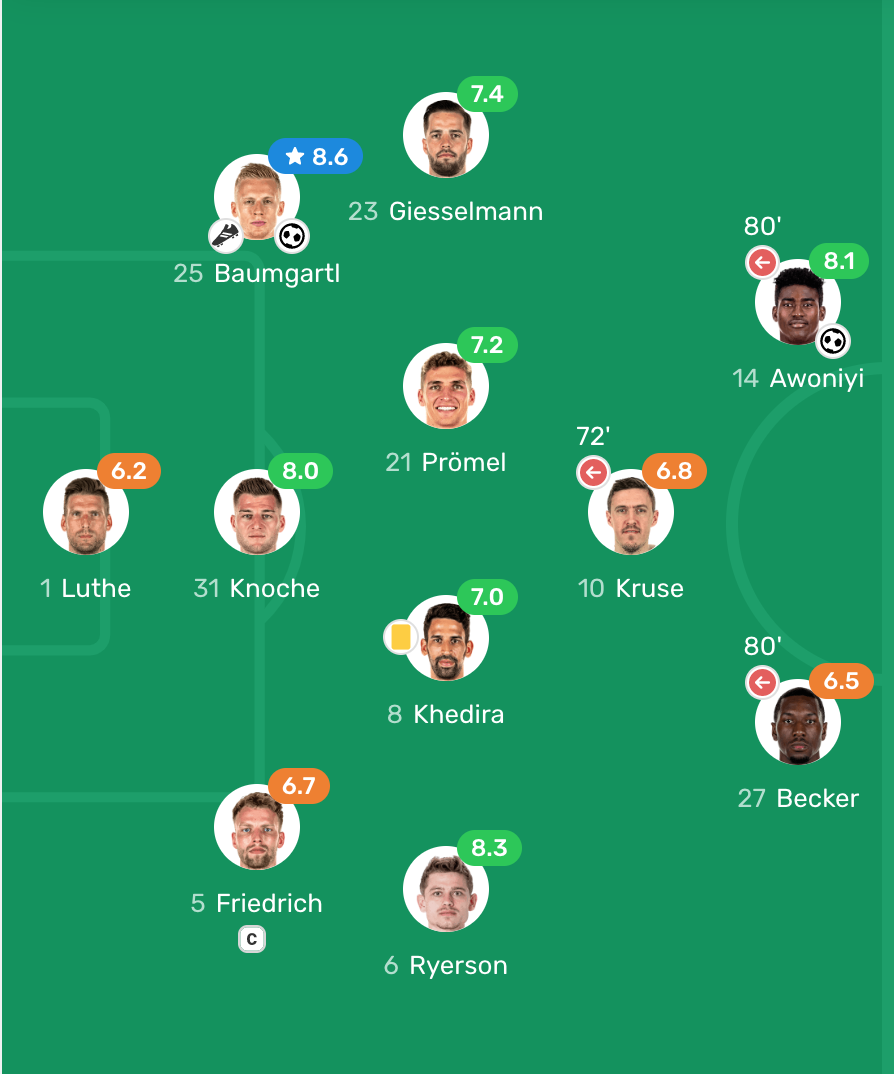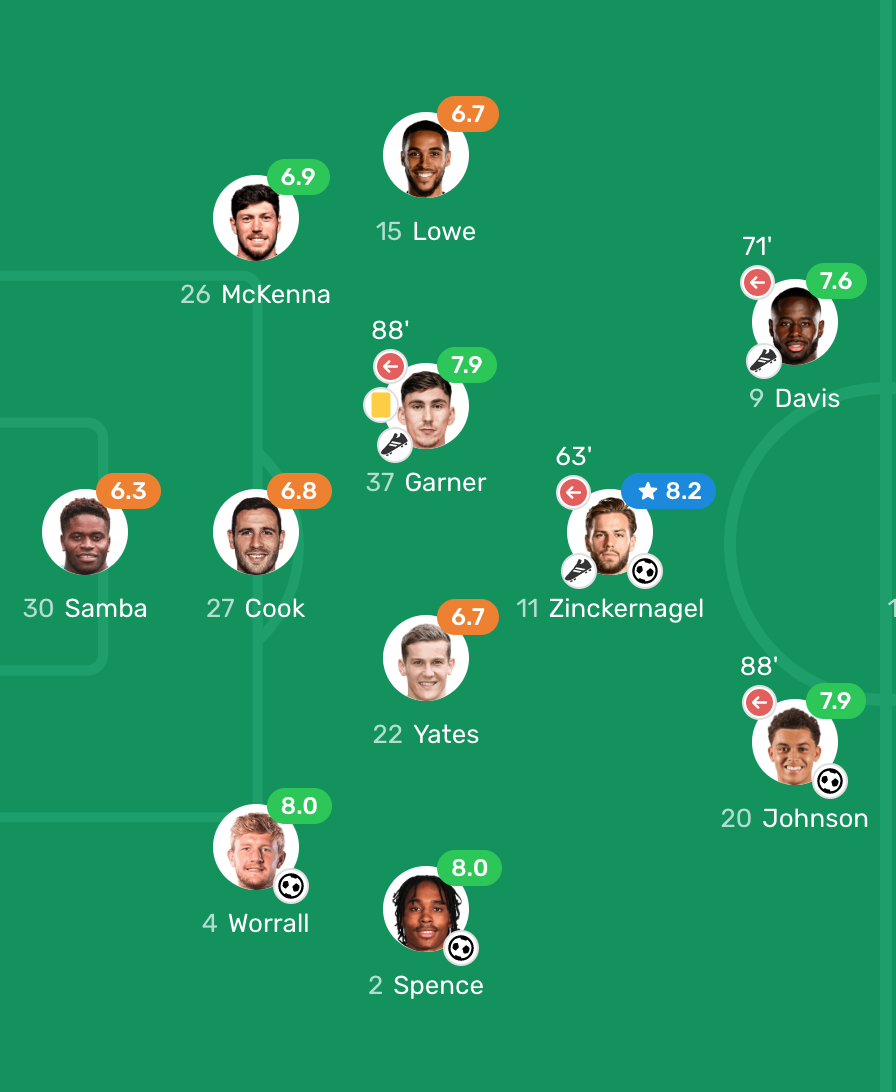 We can take a look at some of the similarities between Union and Forest by looking at the above line-ups provided by FotMob. The first one: Union's 2-1 win over RB Leipzig on December 3, where Awoniyi would open the scoring within six minutes and score his 10th goal of the season. The second: Forest's 4-1 win over defending champions Leicester City in the FA Cup on February 6.
Steve Cooper likes aesthetically pleasing football and he would be a vital asset when playing very direct. A dream for willing runners like Brennan Johnson, a center back cannot sleep when playing against "Big Awo" as he's fondly called. 
Defensively, Awoniyi works very hard for his team. He ranked in the 80th percentile for successful pressures in the Bundesliga last season, according to FBref. However, Cooper's system would also demand a forward-thinking attacker. Awoniyi ranks in the 75th percentile for progressive passes and 66th for touches.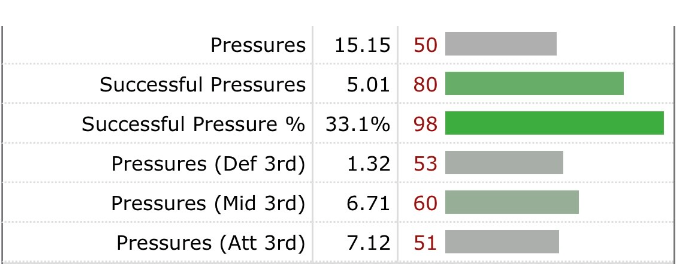 One thing is certain, English football is about to be hit with a Tsunami with Nottingham's acquisition of Awoniyi. Whilst most of the attention will go to City and Liverpool's new center forwards Erling Haaland and Darwin Núñez, respectively, do not take your eyes off the Imperial Football Academy graduate.
Work permit issues are now a thing of the past — he's scored at the AFCON for his country, made his name known in the Bundesliga, and now earned a dream move to the Premier League.
"The Premier League is my dream. Everyone knows that, including here in the club," he stated in a February interview with Kicker. "If I lived in England, it would be easier for my wife and child, and for myself because of the language. Also, my sister and a brother live there."
His walk with faith is paying off, and it feels like Big Awo hasn't started yet. Born in Ilorin, uncovered in Berlin, on a mission in Nottingham. Remember the name, Taiwo Awoniyi.
By: @DezFootie
Featured Image: @GabFoligno / Martin Rose / Getty Images