Victor Osimhen: Napoli's Nigerian Attacking Talisman
The relationships between fans, players, and clubs in the world of football is one that I struggle to find similarities with when comparing to the sporting culture here in America. Human beings, just like you and I, transcend the realm of mere mortals and evolve into deities despite their nationality, race, or religion.
Whether it be the Maldini DNA deeply intertwined with the fabric of Milan or the adoption of Maradona by worshiping Neapolitans, an inseparable bond is developed that allows a figure to enter the sphere of immortality.
As the game continues to move in the direction of corporatization, paywalls, and revenue maximization, I suspect the love stories that made us manically obsessed with the sport will become few and far between. However, this does not mean these feelings will go extinct.
The Napoli faithful currently have a player cut from this cloth in their camp: Victor Osimhen. Victor Osimhen was born and raised in Olusosun, an area located in Lagos, Nigeria. While the ignorance of youth typically allows children to mask the hardships of reality, this was not the case for the Nigerian.
Analyzing Luciano Spalletti's First Season in Charge of Napoli
At a young age, his mother passed away and his father lost his job three months later. In order to help support his brothers and sisters, Victor would traverse the streets of the city attempting to sell water to those passing by.
The interview below dives into the adversity he faced as a youngster and provides insight on the mentality that has developed as a result. It also highlights the importance of promoting such an individual as a role model for the generation growing up today, instilling belief that they too can achieve their dreams despite the challenges life throws at them.
Coming through the Ultimate Strikers Academy in Lagos, Osimhen's name began to carry throughout the world of football after winning the Golden Boot in the 2015 U17 World Cup. Scoring 10 goals in 7 matches, his performances were pivotal in Nigeria's dominant winning run. At the age of 18, he was brought to Germany by Wolfsburg during the January transfer window.
He did not accumulate any meaningful match time while donning the green and white, which lead to his departure from the club at the conclusion of the 2017/18 campaign. Facing further rejection from clubs in Belgium, he finally found his footing after signing for Charleroi.
Accumulating 2,935 minutes across all competitions in his debut season, he was able to score 20 goals and generate 4 assists (0.61 goals per 90, 0.74 goals + assists per 90).
His efforts did not go unnoticed, as the following season he was bought by Lille for a reported fee of $24.64 million. Like an asset boom fueled by quantitative easing measures, Osimhen's impact in the Hauts-de-France région was palpable.
The Nigerian featured in 3,012 minutes across all competitions scoring 18 goals and creating 6 assists (0.54 goals per 90, 0.72 goals + assists per 90). This campaign was also Osimhen's debut in the Champions League, where he scored two goals against Chelsea and Valencia.
Unfortunately, the season was halted without resumption due to COVID and Lille finished in fourth place, despite being one of the most in form teams in the competition at the time. The upward trajectory continued, with Napoli spending a reported $82.5 million to secure the Nigerian and bring him to southern Italy.
While his time with the Partenopei was off to a slow start as a result of unfortunate injuries and a COVID diagnosis, he is quickly amassing a mythological aura befitting of Napoli's nickname. He has become a standard bearer who represents the emotion and hardships of the thousands in the Curva, while possessing the qualities to desecrate opposition defenders.
Player Profile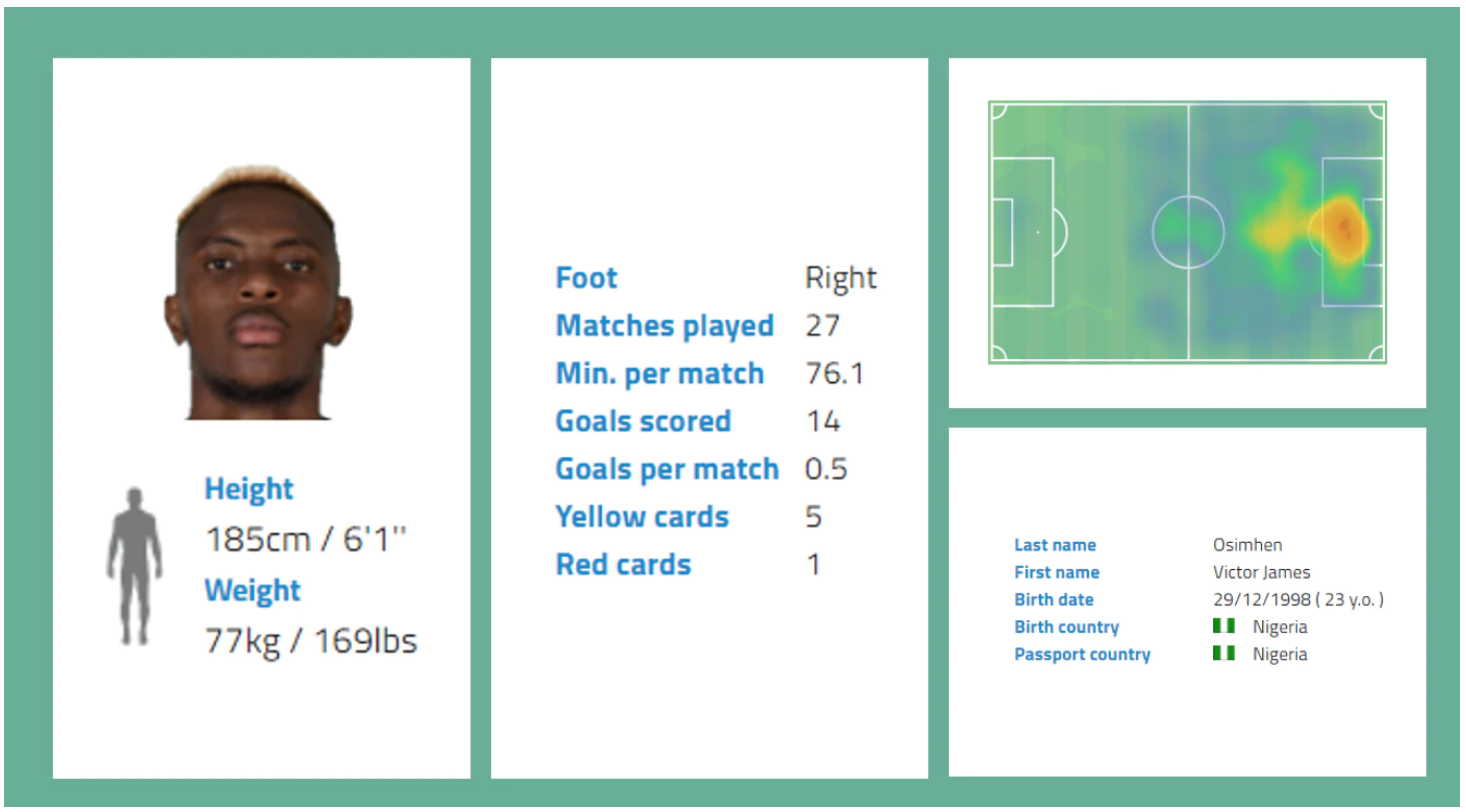 Coming in at 6'1'' and 169lbs, the first thing one will notice is that Osimhen possesses a lanky figure. His long legs generate long strides, resulting in an ability to maneuver across the pitch at a blistering rate.
Despite his lanky appearance, one would be mistaken to write off the amount of physical strength he possesses. He can comfortably play with his back to goal and hold the ball up, or out muscle defenders when shoulder to shoulder in full stride.
The heat map displayed from Wyscout highlights the centrality of Osimhen's game once he gets in the box, but it doesn't paint a complete picture. The heat map shows areas of significance in advanced positions, as Napoli are one of the most possession dominant sides in the top 5 European leagues.
They often will play the ball out of the back, completing short passes in areas closer to their own box in order to trigger the opposition press. Once the press is triggered and the high defensive line is established, long balls are played over the top to Osimhen where he can utilize his pace to get in behind.
In addition to this, he possesses the ability to drop into deeper areas to receive the ball due to his aerial prowess and deceiving strength. This hold-up allows the support to arrive and the attack to advance.
Calvin Bassey – The Rangers Youngster in High Demand After Starring on the Big Stage
As Napoli operate in a 4-3-3 or 4-2-3-1, Osimhen is deployed as the lone striker and has a plethora of space to operate in. This often works to his advantage, as he is best when he can exploit space. However, this can also act as a double-edged sword.
At times, the Nigerian is left on an island with no outlets or help. This allows for multiple defenders to close him down or limit any potential passing angles.
Off the ball, he is typically leading the press in the attacking third alongside Piotr Zieliński in a shape that resembles a 4-4-2. His defensive workload drops off significantly as the ball progresses to the middle and defensive thirds of the pitch.
More images of said structure can be found in my write up on the Fiorentina vs Napoli match in the second half of this season. The images below should help paint this picture clearly.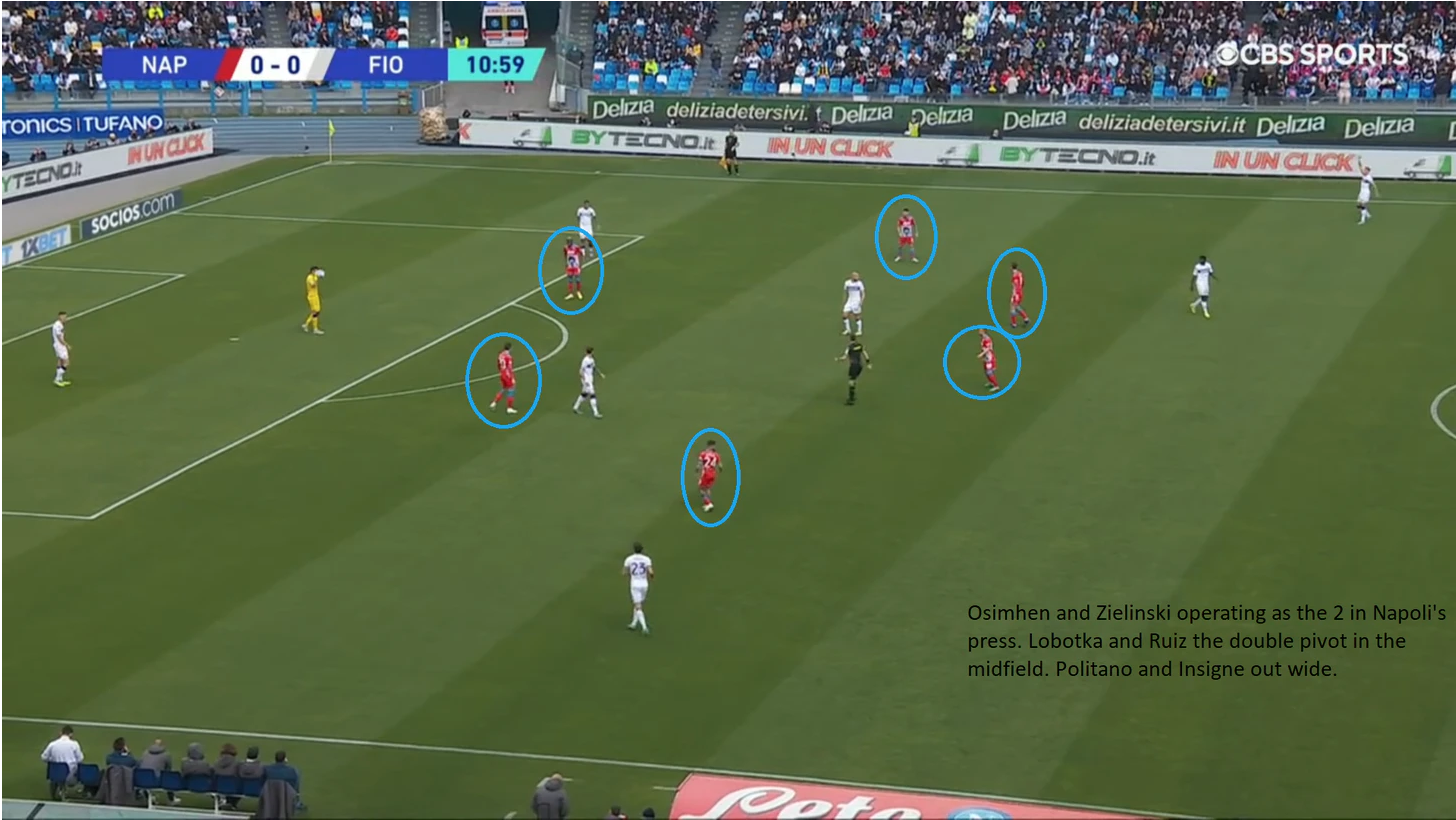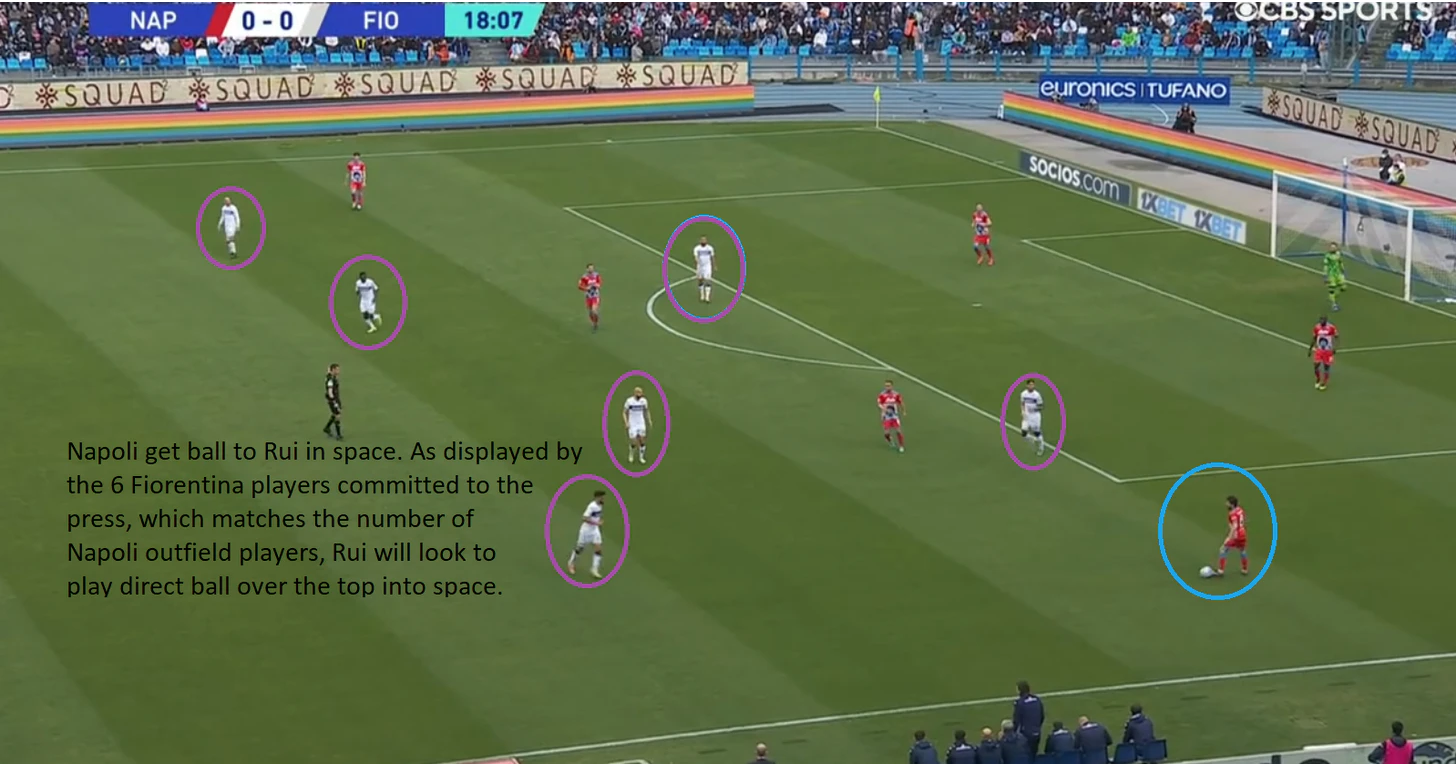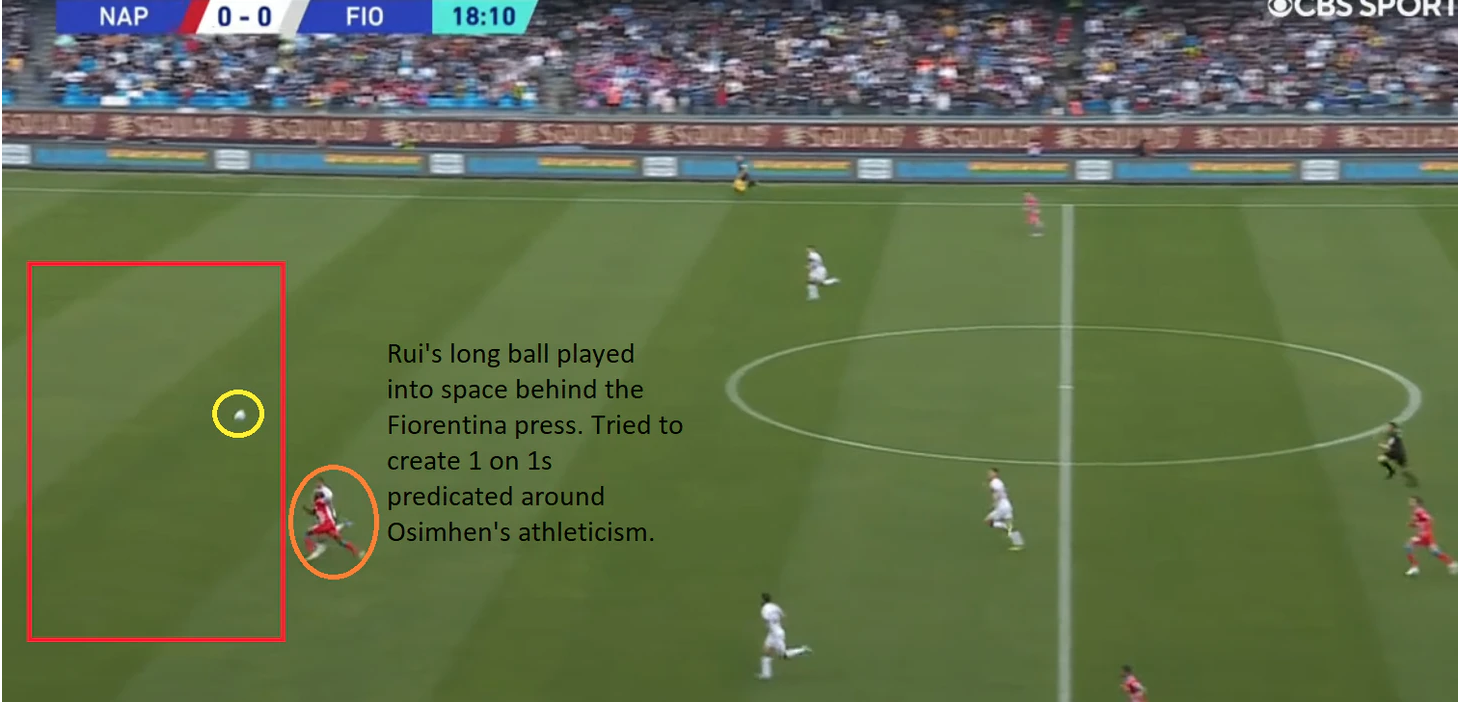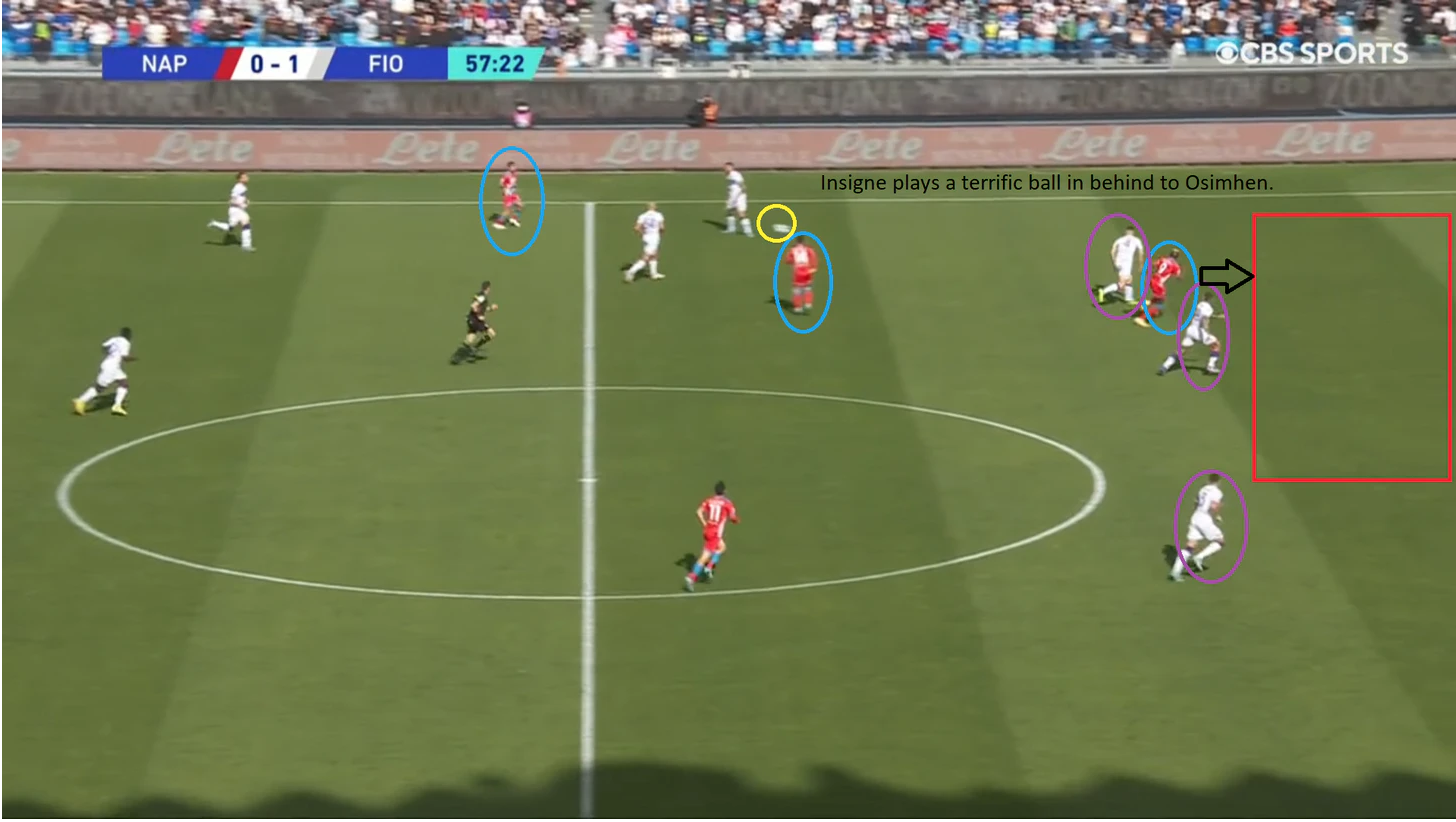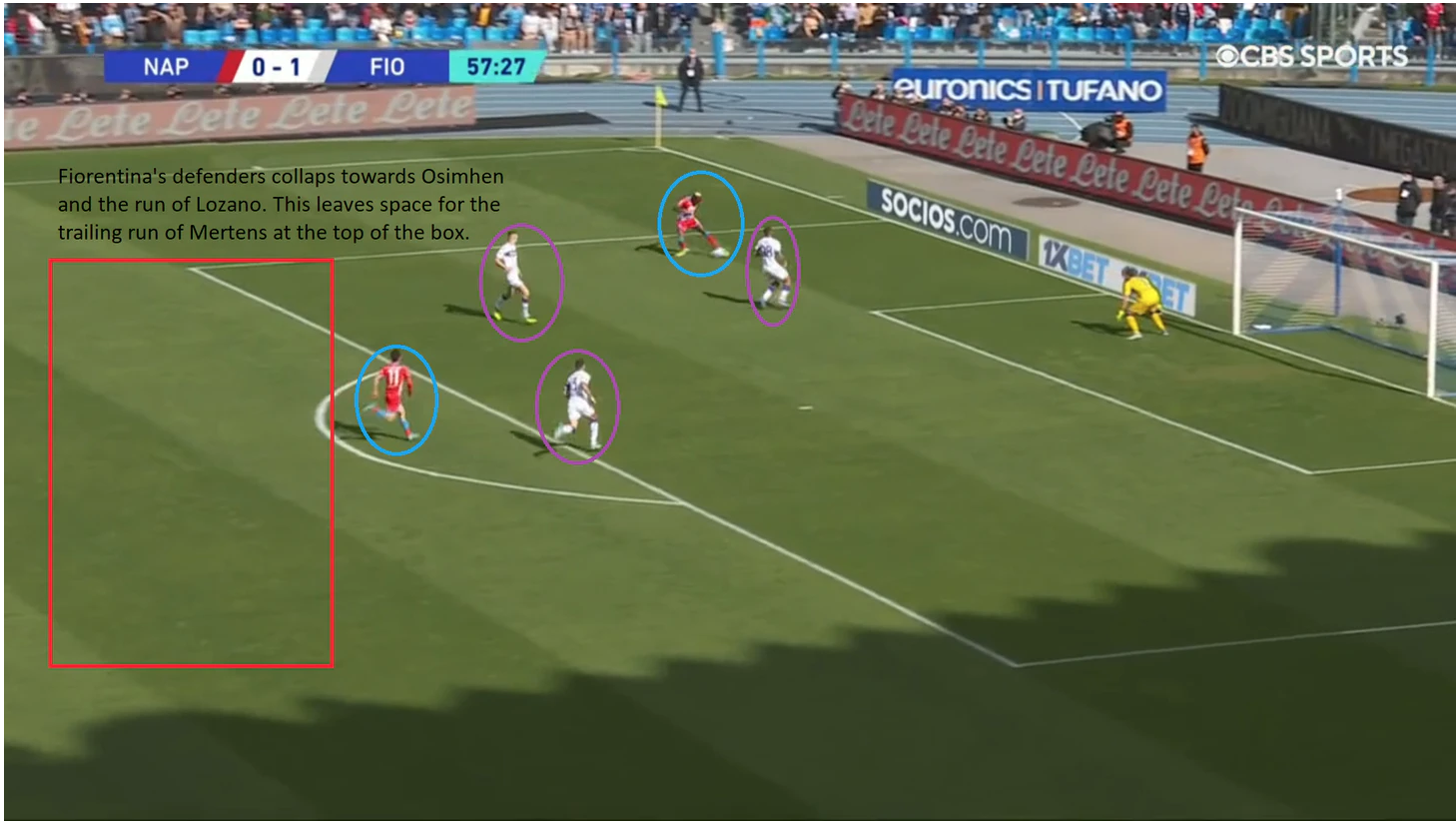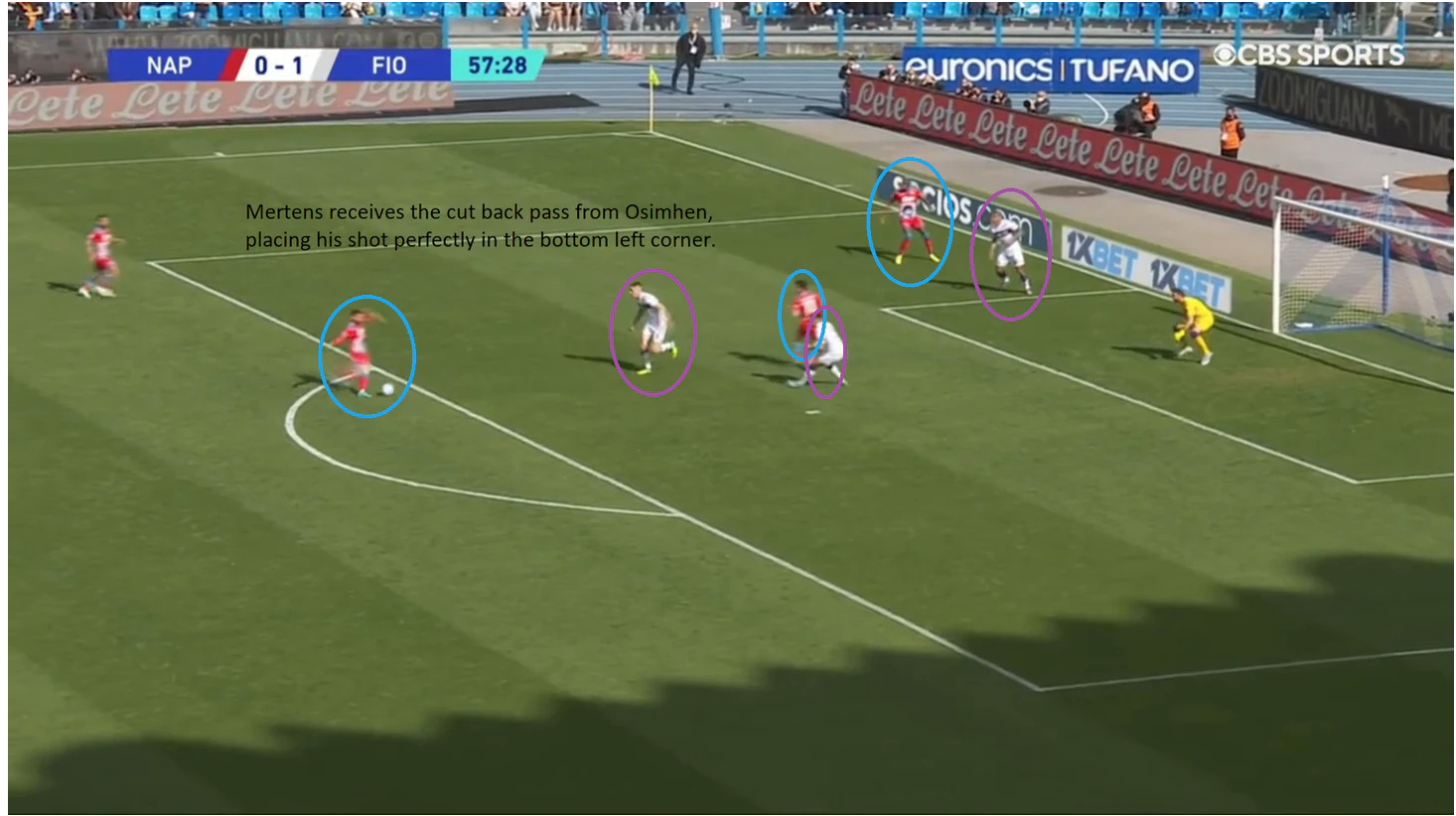 Below you will see an overview that shows Osimhen's percentile ranks when compared to other central forwards in Serie A for the 2021/22 season: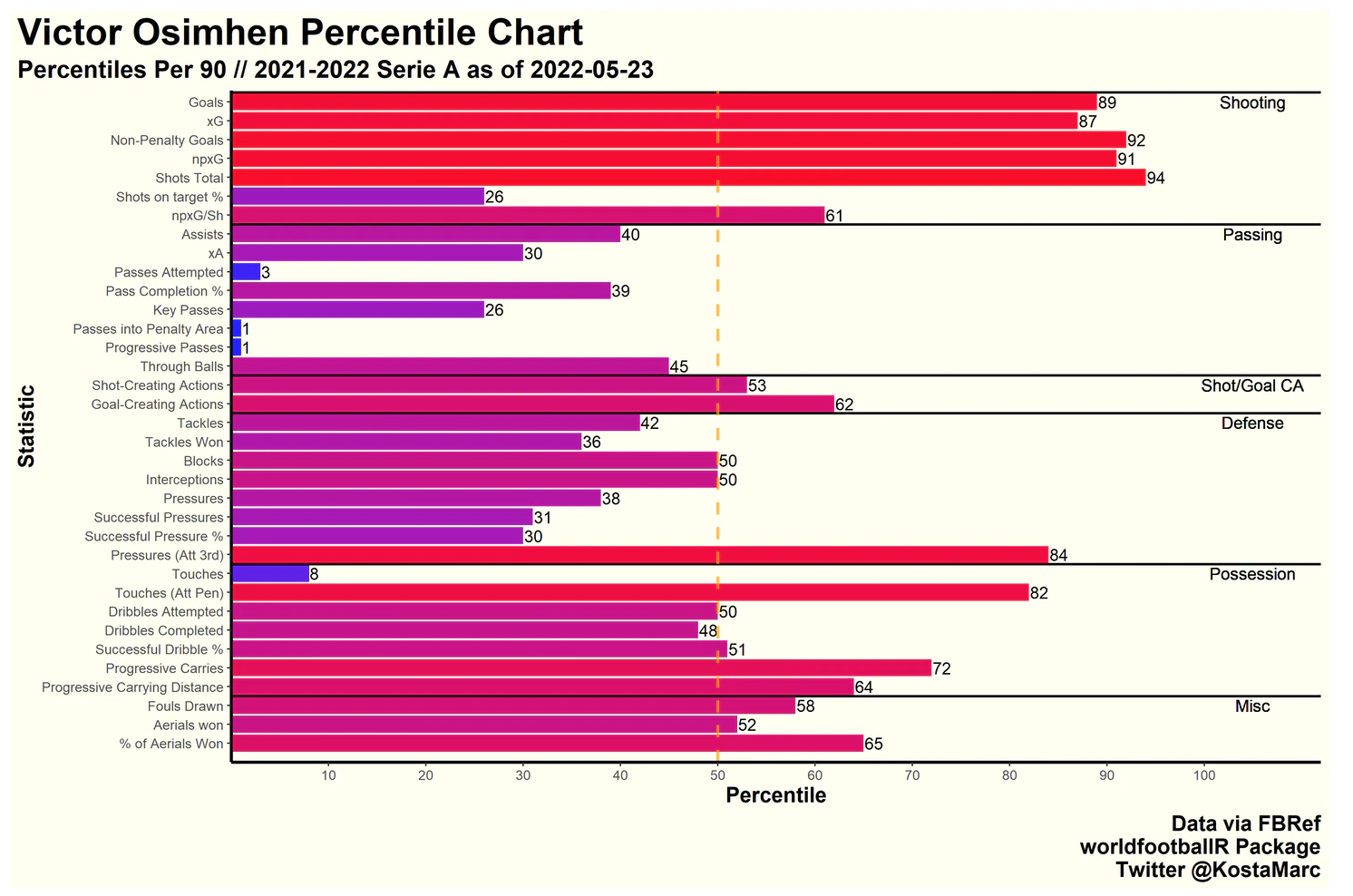 I will go into further detail below, but the percentile overview paints a brilliant picture in the versatility of Osimhen's game. Incredible goal scoring metrics, a high shot output, 7.04 touches in the penalty area per 90 (ranking as the 82nd percentile), high press output in the attacking third, an ability to carry the ball progressively, and respectable aerial metrics.
His distribution is lacking, but his game excels in most other key areas. This kind of versatility is a huge asset for any club, as he has the flexibility to play in a variety of systems as a pressing forward, complete forward, advanced forward, or target man.
Shooting, Goal Scoring, and Aerial Threat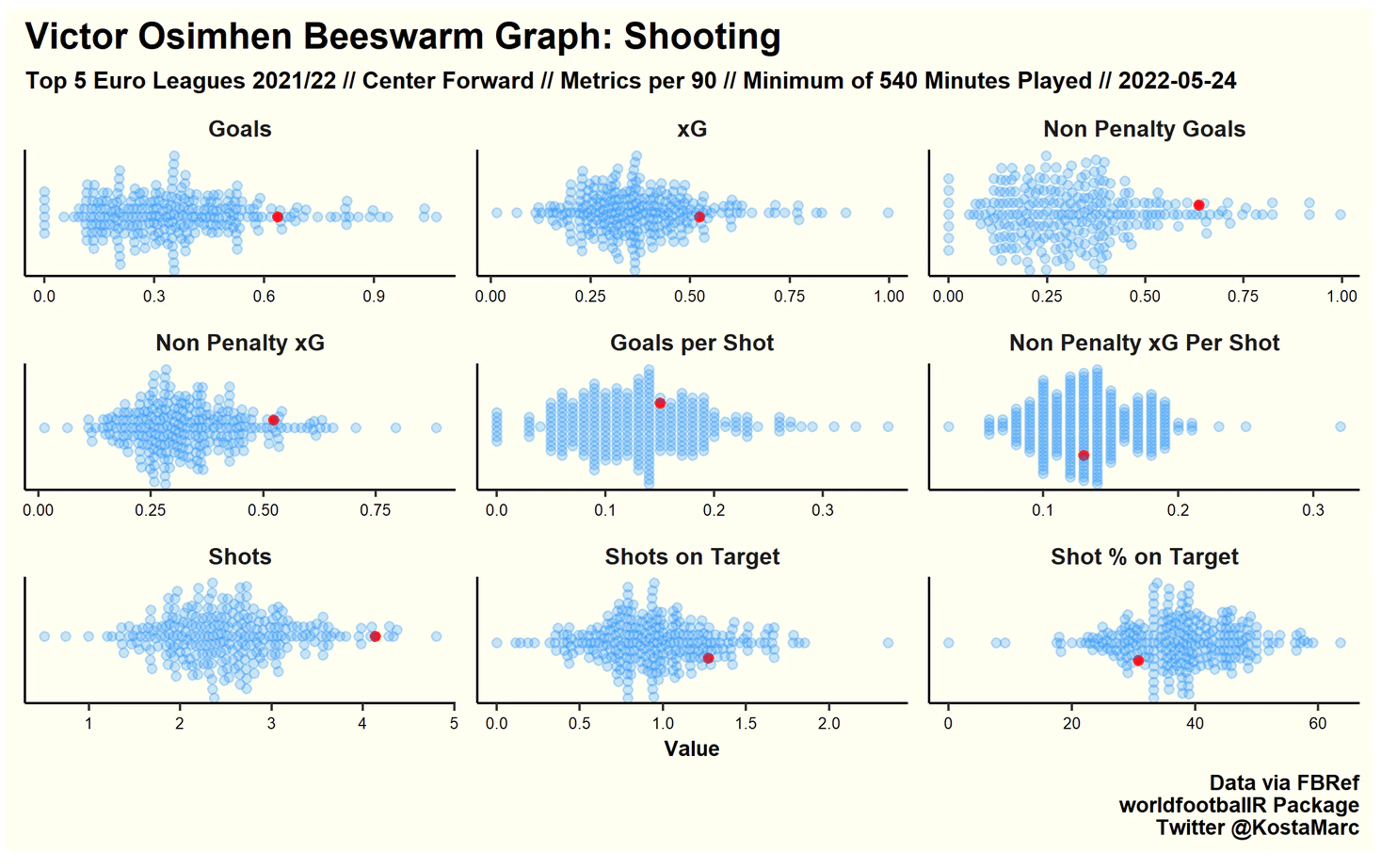 When looking at the various goal scoring and shooting metrics for Osimhen, there's a lot to write home about. First off, his non penalty goal scoring metrics, as well as his underlying NPxG metrics, are some of the best in Europe's top 5 leagues.
Furthermore, he has a ridiculously high shot output of 4.13 shots per 90. Although his shot accuracy is lacking, he still ranks highly in regards to shots on target with 1.27 per 90. We often hear the term quality over quantity, but there's value to having a sizable shot output.
Another key strength of Osimhen's shooting ability is shot power. Using his lengthy frame, he generates an ample amount of force when striking the football.
One would be forgiven for thinking his strike resembles a howitzer deployed on the fields of Waterloo as opposed to a center forward taking a shot. However, this is not always to the Nigerians advantage. These type of shots typically fly wide or high of the net and the drop off in accuracy is noticeable.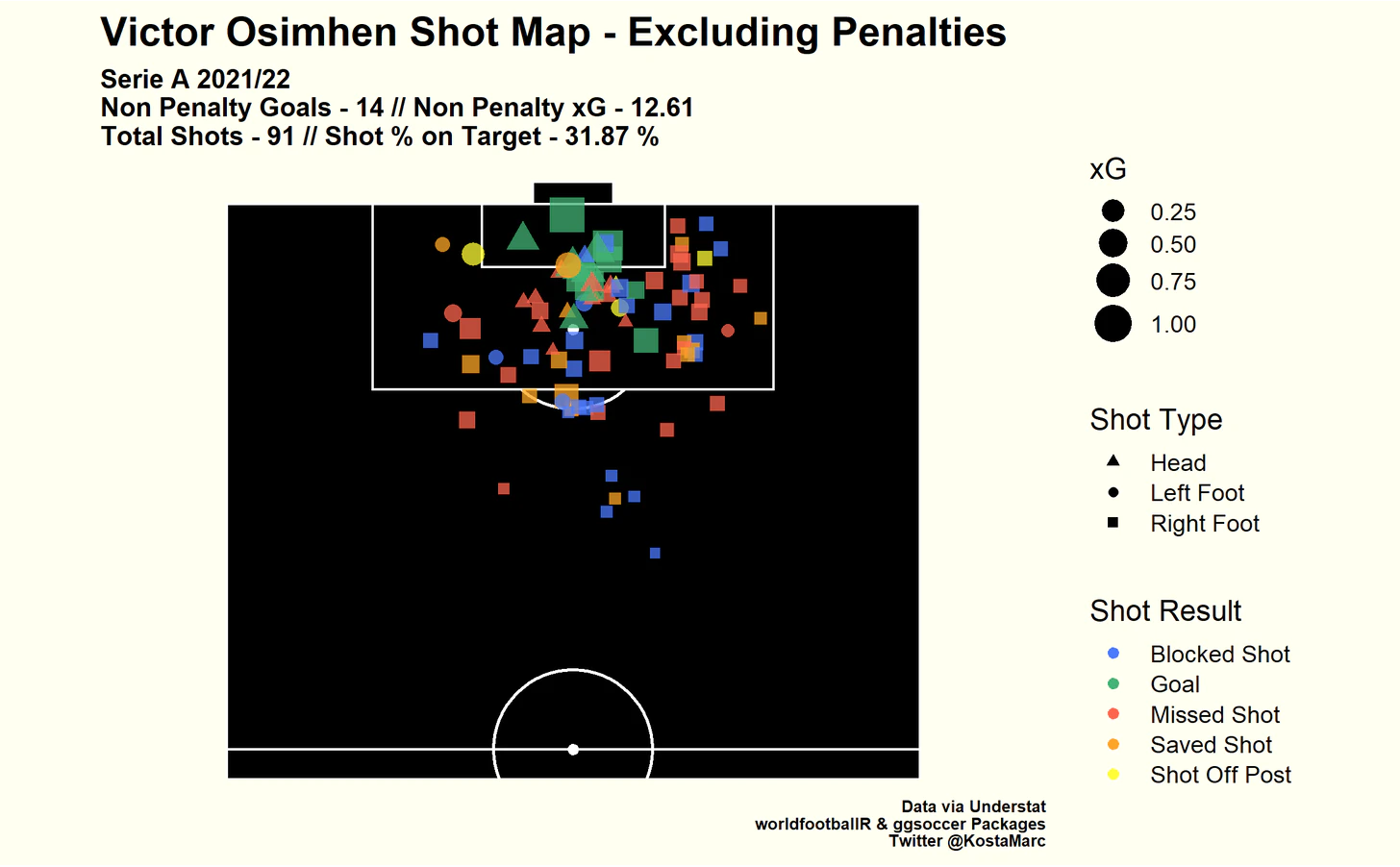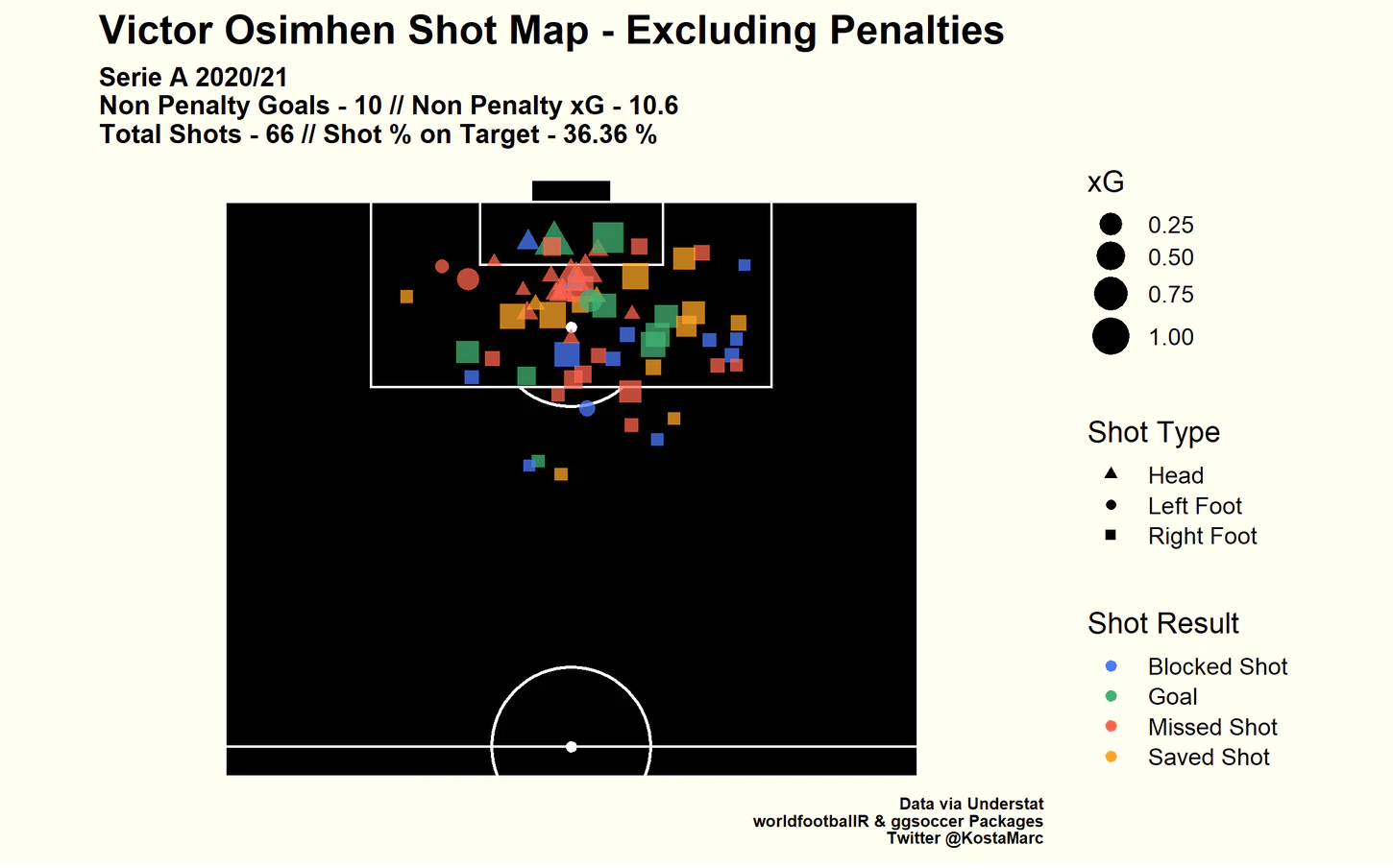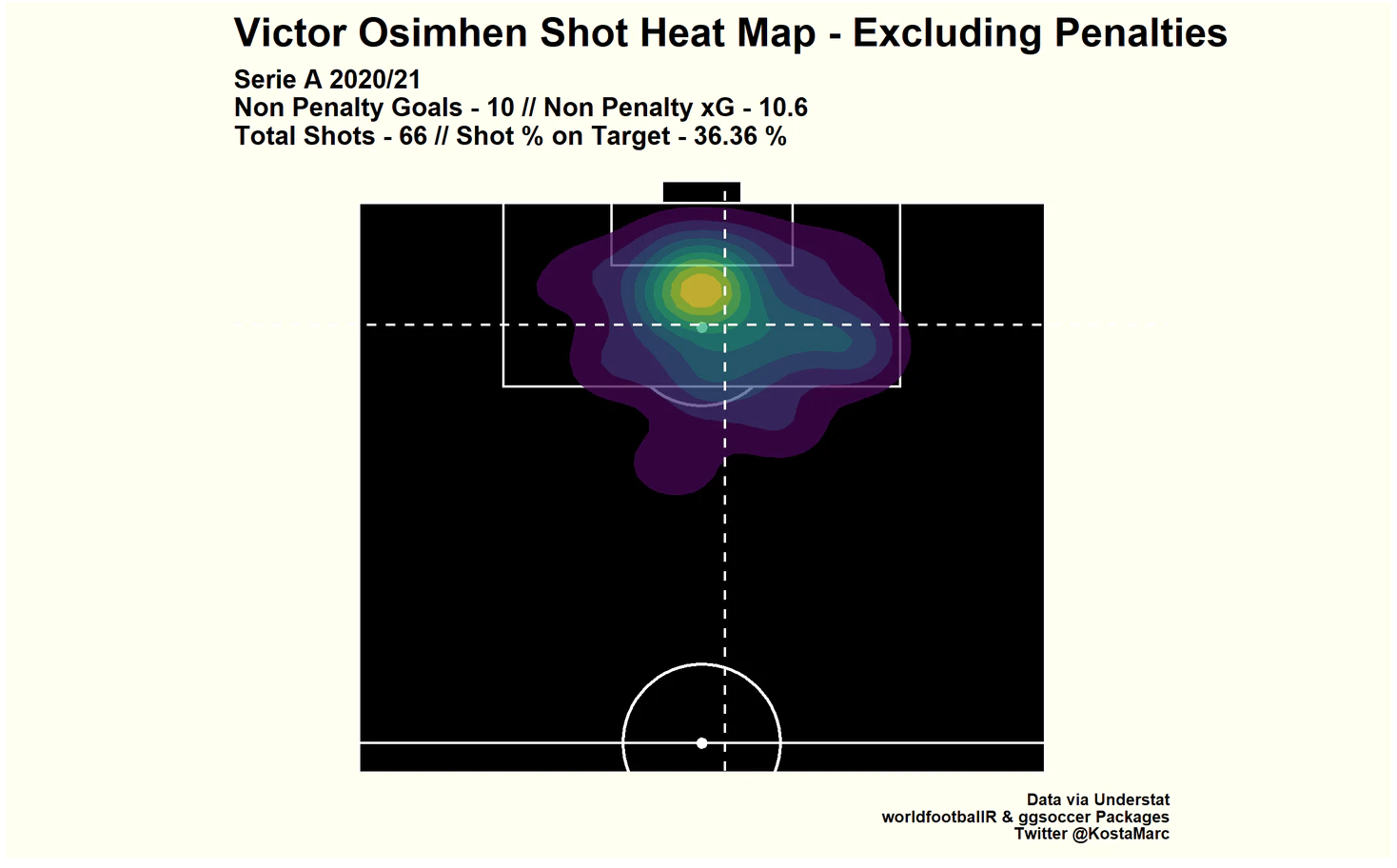 The graphics above highlight the shot locations, shot results, shot types and heat maps with average shot location. My analysis of the graphics can be found below:
One drastic improvement from the shot map this season in comparison to the previous season are the cluster of goals. In the 2020/21 campaign, we can see that his goal concentration was spread across a wider area.
In the current season, there is a large clustering in a more central area around the 6-yard box. His goal tally in the 6-yard box went from 20% of total goals, to 43% of total goals in the current campaign. This is not a coincidence, as his positioning has improved drastically under Luciano Spalletti.
As I stated in previous write ups, a striker who is able to score with numerous parts of his body becomes more unpredictable and exceedingly difficult for the opposition to defend against. In the previous season, 80% of Osimhen's goals came from his right foot, with the additional 20% being split evenly between his head and left foot.
However, the current campaign has put the Nigerian's aerial lethality on prime display. An eye watering 50% of league goals have been scored with his head, with the other 50% coming from his right foot. This translates to 7 total headed goals, or 0.32 headed goals per 90.
The only center forward who bests this per 90 metric across the top 5 European leagues is Barcelona's Luuk de Jong, who has a much smaller sample size in regards to minutes played in the league.
While this uptick can be attributed to improved positioning, a second factor is equally as important. In my opinion, there is no player better (to my knowledge) at high-pointing crosses or attacking the ball in the air than Victor Osimhen. Pair this with his athletic ability and you have an aerial nightmare for defenders.
Based on the heat maps, two things can be concluded. The shots Osimhen takes is most concentrated in the area between the 6-yard box and the penalty spot. This is a positive, as this area generates strong xG values.
Secondly, he has a tendency to slightly favor shooting from the right side of the box. We can see this due to the heat map's main area of focus shifting slightly to the right, as well as the average coordinate location of shots moving slightly to the right in the current season.
Despite the howitzer esq shot power I described before, Osimhen is not a strong shooter from outside the box. His goal conversion rate from this area is 3.6%, scoring only 1 of his 28 shots from outside the box in his two Serie A campaigns with Napoli. This is most likely correlated with his accuracy woes.
While watching the video below, the following skills are evident: technical ability, aerial prowess, and an ability to properly position in space or in front of the defender.
Pace & Strength
The most unique aspect of Osimhen's physical traits are the amalgamation of pace and strength. With both traits at a remarkably high level when compared to other center forwards, it allows for the Nigerian to excel in two aspects of his game: play in behind and link up.
The former is the most obvious when watching Napoli play. Osimhen will typically sit along the shoulder of the last defender and look to exploit space behind with his devastating pace. This can be seen as Napoli build up and look to expand the field vertically, or by baiting a press/high defensive line while playing out of the back.
The link up play can often be seen when Napoli are pinned back and need an immediate outlet. Osimhen positions himself with his back to goal in a slightly deeper area, shielding the ball while fending off a defender.
From this point, Osimhen has two options: the first is to wait for supporting teammates to advance further up the field so he can lay the ball off, while the second sees Osimhen attempt to turn a defender and progressively carry the ball further up the pitch. In addition to this, he has the ability to flick headers to his teammates while dropping in deeper.
When Napoli are building up to the attacking third, he can also play with his back to goal around the edge of the penalty area. This allows him to play one touch passes to the supporting cast around him. Players such as Piotr Zieliński are a direct beneficiary of this, as he can move and create space for himself in order to generate a shooting opportunity while the Nigerian does the dirty work.
Spatial/Positional Awareness & Intelligence
The most frustrating aspect of discussing Osimhen's game with others is the praise I hear exclusively for his physical strengths. Noticing his pace and strength is as obvious as saying the sky is blue or Athens, Greece suffers from scorching heat in peak summer months.
These traits help Osimhen establish himself as a great player, although they are not exclusive to him. What allows him to reach the next caliber, a caliber that I believe to be generational, are the pairing of his physical strengths with his spatial/positional awareness and intelligence.
The former of which can be seen across the pitch. In build up, he positions himself where he is at a constant advantage while receiving the ball. Furthermore, the majority of his attempted passes are lateral rather than backwards.
This allows the play to progress, as wide players can take lateral balls higher up the pitch, Osimhen can run into the space behind after distribution, or Zieliński/Mertens can make a run into the space vacated by Osimhen.
When making runs to receive balls in behind, the Nigerian does not exclusively stay central. He will often make diagonal runs across the half space in order to break free from central defenders.
While most players may get caught out making such runs, limiting themselves due to the narrowing area between the sideline and a defender, Osimhen possesses the ability to play heavy touches down the line while fending off an opposing player in the process.
Lastly, his spatial/positional awareness in the box is incredible. While this is displayed in his terrific goal scoring and expected goal scoring numbers per 90, the footage paints a picture as to why. Rather than remaining stagnant waiting for the ball to arrive, he can often be seen attacking the vacant space as the play unfolds.
This gives him the advantage of positioning himself in front of the defender, who is now on the back foot. His movement helps contribute to his 7.08 touches in the attacking penalty box per 90, ranking in the 82nd percentile.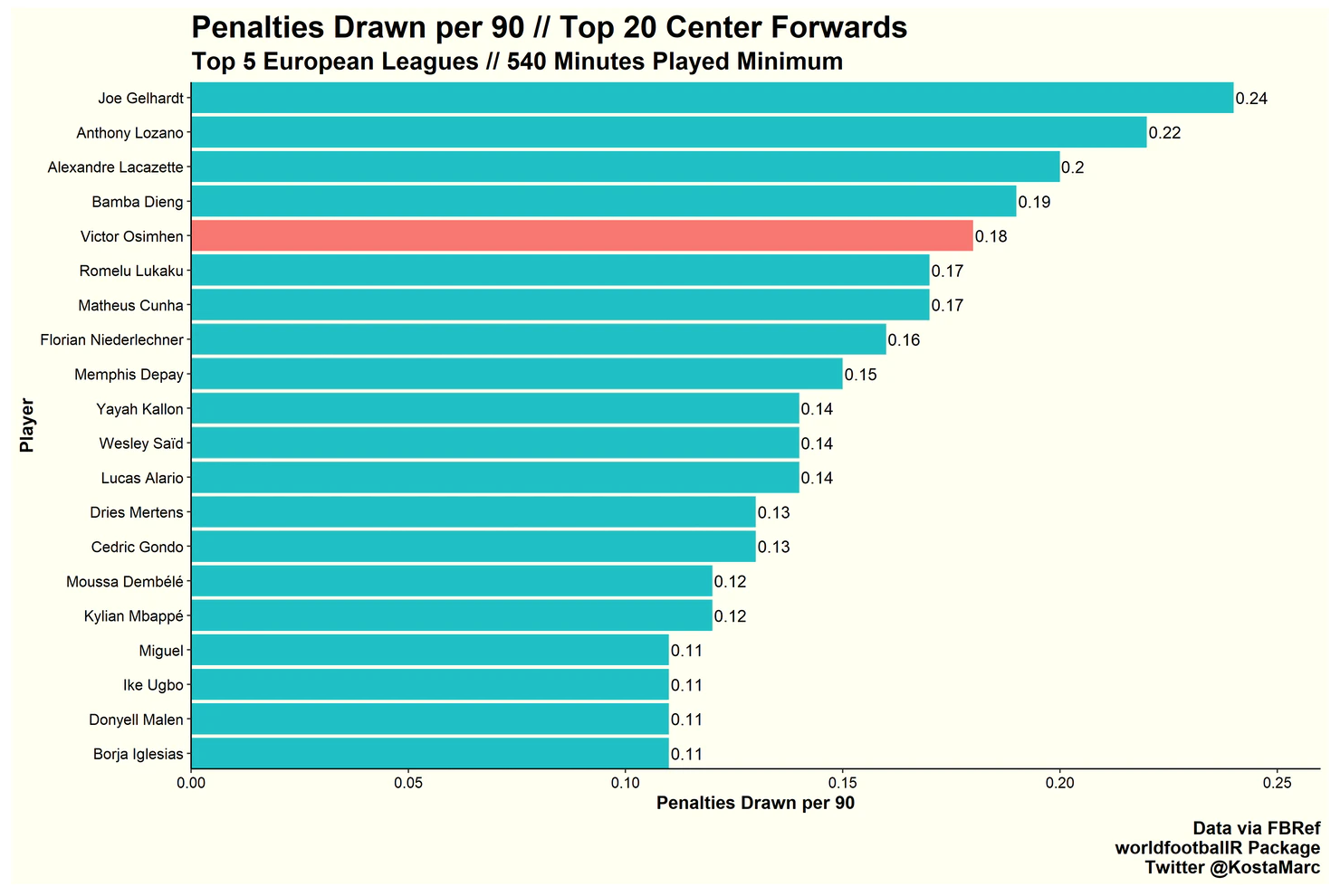 Another metric I'd like to highlight to showcase his positioning in the penalty area pertains to the number of penalties drawn. In total, he has accumulated 4 penalties in Serie A, translating to 0.18 per 90. This ranks him tied first overall for penalties drawn, while his per 90 metrics rank him fifth in the top 5 European leagues for center forwards.
In regards to intelligence, his football intellect is evidently growing year over year, even throughout the current season. Excluding his intelligence in regards to positioning and space, the rate at which he is making the correct decision has visibly grown.
When he arrived at Napoli, it often seemed that he would try to force opportunities due to his raw skill set. However, his growth under Spalletti has seen an evolution in maturity that is rarely on display by someone at the age of 23.
Ball Carrying
In conjunction with his spatial awareness and ability to get in behind defenders, Osimhen excels at carrying the ball to advanced areas of the pitch.
This is particularly evident when looking at his advanced carrying metrics, where we can see his 3.99 progressive carries per 90 rank just shy of the third quartile and his 1.13 carries into the penalty area per 90 rank in the 82nd percentile.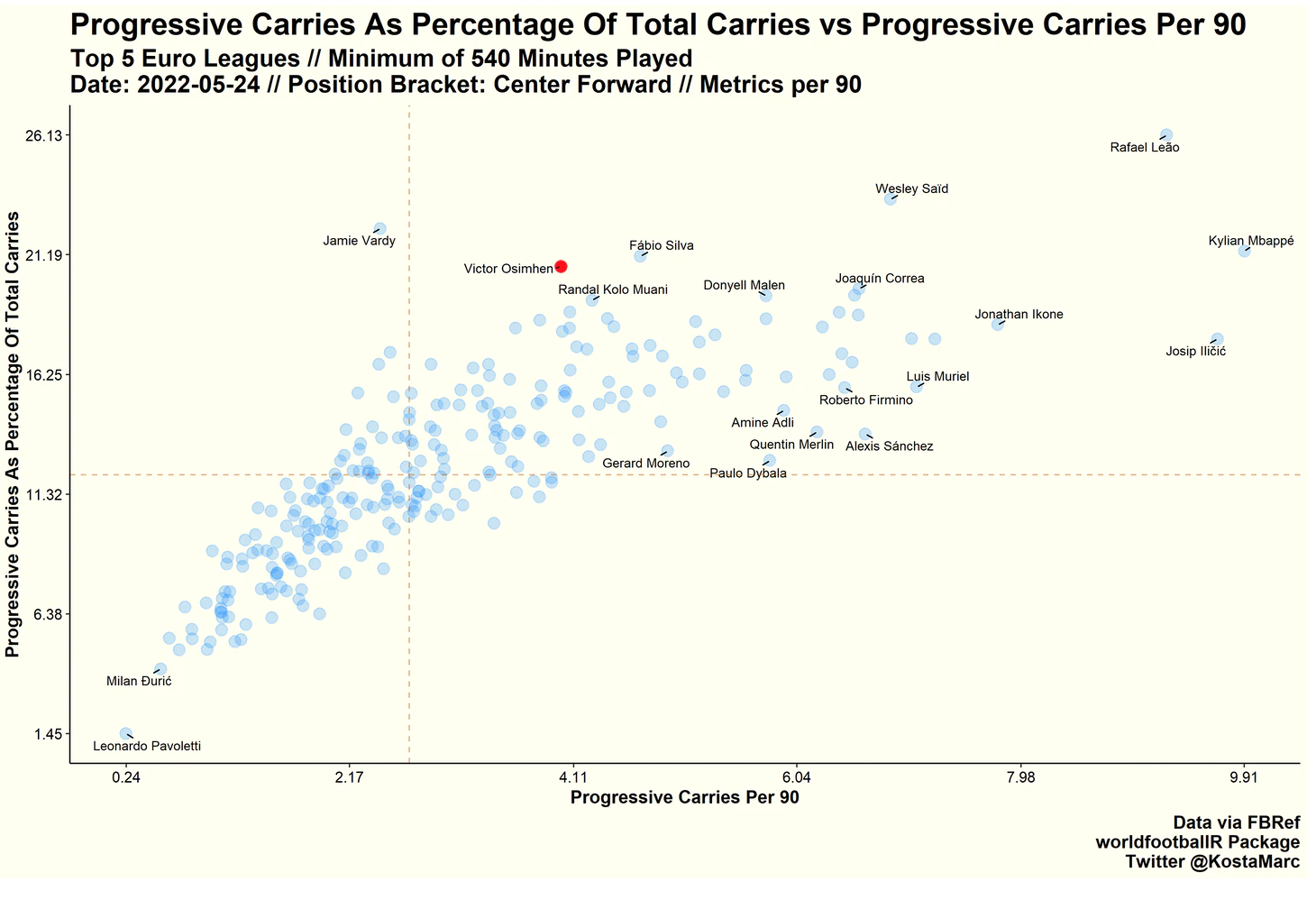 The graphic above should highlight the progressive nature of Osimhen's ball carrying. By doing so, it allows for Napoli to advance the ball higher up the pitch in a ferocious manner. Furthermore, the Nigerian often finds himself carrying the ball into extremely dangerous areas.
One thing you'll notice while watching footage is the attraction of an additional defender, allowing for the trailing runner to attack the vacated space. Osimhen looks for these runs and will play a dangerous cutback across the box, creating a shooting opportunity for the Partenopei.
Lastly, one must note the physical strengths of Osimhen while carrying the ball. It's incredibly difficult to dispossess him when he hits his stride.
If he doesn't blow by you with his speed, he will out muscle you shoulder to shoulder with his strength. It is often in moments like these where defenders are forced to foul him, as there is no other alternative to slowing him down.
Pressing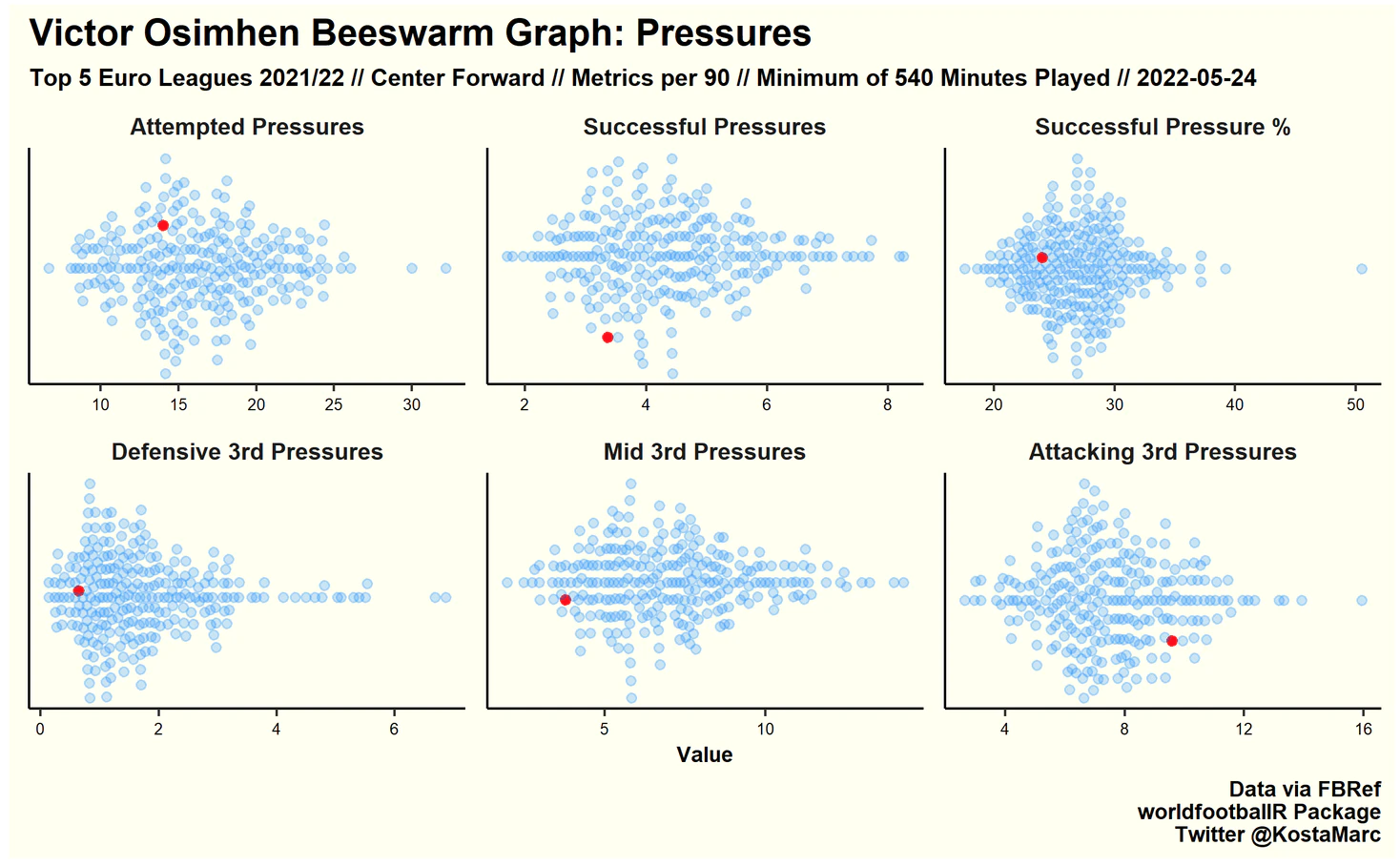 When looking strictly at the data, one might assume that Osimhen is not a great presser of the ball. Looking at the percentile graphic in the earlier section, his 13.98 pressures per 90 ranked in the 38th percentile. These metrics continued to drop in regards to quality, as his 3.36 successful pressures per 90 ranked in the 31st percentile and his successful pressure percentage of 24% ranked him in the 30th percentile.
There are two reasons these pressure metrics are a bit misleading, and context is needed. First, his role is limited to pressing in the attacking third. Since he is not tasked with pressuring the ball in the middle and defensive thirds of the pitch, it makes his overall press metrics look a bit deflated.
Second, a successful press is predicated around the success of a unit rather than the success of the individual. Lorenzo Insigne is quite poor while pressing and defenders do not have much trouble playing it out of his side. Furthermore, Lozano is typically tasked with defending in a slightly deeper area.
While watching Osimhen, you will notice he is constantly demanding more out of his front line in regards to the press. He applies relentless pressure to opposition central defenders and goalkeepers, while waving his teammates forward to try and win the ball back in advanced areas. Moreover, when teams are forced to play a ball to a player near/in the middle third, they are faced with Anguissa who is arguably the best at pressuring ball carriers for Napoli.
Mentality
The last subsection I will dive into for this part of the write up is the mentality of Osimhen. To make a comparison with my Greek origins, the Nigerian is the footballing equivalent to the Spartan King Leonidas.
His warrior mentality is best outlined in the intro video where he describes the adversarial nature of his youth, with additional hints described in the pressing section above. To fully understand, one simply needs to watch just 90 minutes of him in action. No matter the difficulty of the opponent across the field, the challenge is always embraced.
Most importantly, he is a player who leads by example. His tireless efforts on the pitch do not go unnoticed, so when he is shouting orders at teammates they are not met with mockery. Regardless of the score line, he continuously demands more of himself and those around him.
There are times where his frustration boils over, specifically when he does not receive service for extended periods of time. There are two takeaways I have from this. First, I favor a center forward who has a bit of cockiness and demands the ball in dangerous areas.
You need to have the confidence in yourself to consistently finish at the highest level of the game. Second, his complaints are warranted more often than not. The spells in which the Nigerian does not receive the ball often go hand in hand with Napoli's attack lacking lethality.
Areas of Development and Weaknesses
As you may suspect, there are not many areas where I find Victor Osimhen's game lacking. However, there are three things that I believe are worth mentioning; the former is a technical deficiency while the latter two are not.
Across the board, the quantity of passes made by Victor Osimhen are low. This does not correlate with skill, as it is more indicative of the role he plays in Spalletti's system. However, his pass completion percentage across all distance's ranges from the 30th percentile (68.9% for medium passes) to the 43rd percentile (63.4% for long passes).
When attempting to distribute the ball, he often plays it poorly and misses his target or does not play his target in stride. To highlight this deficiency further, only 4.4 of his passes per 90 are made under pressure, which ranks in the 4th percentile.
One would think he would be more accurate with the lack of pressure on him while distributing. It also strikes me as a sign that defenders should attempt to smother him prior to distributing the ball, as it will bring a greater probability of forcing a turnover.
In order to improve in this area, the Nigerian should focus on two things. First, hone in on the ability to play the short/medium pass while dropping in deeper with his back to goal. This will allow him to get rid of the ball quickly and accurately, while ensuring the progress of attacks are not halted.
Second, continue to work on the accuracy of the cut back pass across the box. As I mentioned before, the attacking midfielder often has an ample amount of space to operate in when Osimhen carries/receives the ball deeper into the opposition half. Being able to play the cut back pass with regularity will make him far more lethal than he already is in the attack, while forcing defenders to respect that aspect of him game.
The second area Osimhen needs to eradicate from his game is how quickly he goes down at times. When he feels contact in areas where there are no supporting options, he tends to go to ground a bit too easily for my liking.
The reason this is worrisome is because referees seem to associate this reputation with him, leading to actual fouls not going his way. To add to this, some fouls against him are not given the proper punishment (cards).
Ask a Napoli fan about the stretch of matches in the league and in Europe around October-November. There were tackles on him that were downright grueling and they did not receive the punishment they deserved. I suspect this is a result of the number of times he goes down in the match and the stigma referees may have because of this.
Analysing Manchester United's Haphazard Recruitment Since Sir Alex Ferguson's Retirement
The last area worth discussing in this section is injuries/COVID. During Osimhen's time at Napoli, the only gripe one would likely have is his availability on the pitch. Fortunately, these injuries are not related to tissues or ligaments. Rather, they are unfortunate events that are tied to his determination and work rate.
For example, his facial fracture this season occurred while fighting in an aerial duel, but his face connected with Milan Škriniar's head instead of the ball. Last season, he dislocated his shoulder while on international duty and was diagnosed with COVID.
These events happen in football, and the injuries he has sustained should not be a major concern as they do not pose the risk of hindering his abilities. However, they should be noted as his style of play and work rate may make him more susceptible to unfortunate events.
Conclusion & Potential
In conclusion, Victor Osimhen is a talent that I view as generational. Barring the freak incidents that can derail any athletes career, I believe he has the potential to etch his face on the Mount Rushmore of African center forwards alongside Didier Drogba, Samuel Eto'o, and George Weah.
His ability and potential place him with the elite batch of young central forwards in the game today. At this point in time, he can most likely walk into any time on the planet in search of a top center forward. With Dušan Vlahović signing for Juventus, Kylian Mbappé cementing his future at PSG, and Erling Haaland on the move to Manchester City, the demand for the Nigerian is likely at an all time high.
The links that seem to be circulating the most are from Manchester United and Arsenal, although I believe it would be unwise to pass up Champions League football next season. He is still only 23, so time is on his side.
If he stays at Napoli for the upcoming campaign, I suspect we will find him playing in England or Spain the following year. The former will be at an English club that qualifies for the UCL, with the latter being Real Madrid. Karim Benzema's contract expires in the summer of 2023, and I see no better replacement should Madrid part ways with the Frenchman.
Lastly, I would like to tie this final paragraph back to my opening. The Napoli fans are amongst the most passionate in the world and they've hungered for a Scudetto since 1990.
In my view, no Napoli player since Maradona captures the adversarial nature of life, the embracement of the underdog mentality, and carries the common man and woman's burdens as a badge of honor quite like Victor Osimhen on the pitch. On November 25th, 2020, the king's throne was vacated with the passing of Napoli's adopted son. In search of a new heir, I see no better suitor than the Hitman from Lagos himself.
By: Kosta Marcopulos / @KostaMarc
Featured Image: @GabFoligno / DeFodi Images