The Best Midfield Partnership in Europe That Nobody is Talking About
13 years have passed since VFB Stuttgart won the league title with one of the most exciting young squads ever seen in the Bundesliga. With a 19-year-old Sami Khedira and 20-year-old Mario Gomez, Stuttgart's side quickly coined the nickname Die Jungen Wilden (Wild Youth), playing attractive football with a youthful exuberance free of any pressure that a title challenge can bring.
Since their improbable run to the title in the 2006/07 season, Stuttgart have had a turbulent time, with the previously Bundesliga constants twice relegated in the last 5 years. Back in the topflight now, Stuttgart are looking to reestablish themselves as a mainstay, with world renowned former Dortmund and Arsenal scout Sven Mislintat heading the Die Jungen Wilden 2.0 project at the Mercedes Benz Arena.
With 3 of the 4 youngest starting XI's in the Bundesliga this season, Stuttgart are reaping the rewards of Mislintat's astute eye for a young prodigy. Die Jungen Wilden 2.0 haven't needed long to start turning heads, shocking the Bundesliga with exciting attacking football that sees Stuttgart firmly in the running for a European spot.
Boasting the likes of Tanguy Coulibaly (19), Clinton Mola (19), Silas Wamangituka (21), Nicolás González (22), Gregor Kobel (22) and Saša Kalajdžić (23), Mislintat has seemingly uncovered the next young attacking diamonds, with each of the aforementioned talents strongly staking a claim for Bundesliga's rookie of the year.
Stuttgart have been a scintillating package in attack with the 5th most goals in the league. No side including FC Bayern have been able to keep Die Schwaben off the scoresheet in the opening 9 rounds of Bundesliga fixtures, with the goalscoring burden shared across 9 different players so far this season. The gung-ho attacking style that American coach Pellegrino Matarazzo has imposed on his young squad could be a recipe for disaster, were it not for the formidable midfield pairing of Orel Mangala (22) and Wataru Endo (27).
Having missed a combined 3 minutes of Bundesliga action so far this season, Stuttgart's midfield axiom have not only carried over their form from the second Bundesliga, but raised their standards even higher. With Die Jungen Wilden 2.0 in attack, and Bundesliga's most dominant defensive midfield partnership to mop up in midfield, Stuttgart are set up for an impressive season in the Bundesliga.
Although bookmakers would happily accept any speculative punts at Stuttgart winning the title like they did in 2006-07, Die Schwaben will have their eyes firmly set on the final Europa League spot if they can build on their early performances.
At 27, Wataru Endo has burst on the scene slightly later in his career, a testament to the former BVB scout's ability to find talent in those who had seemingly been overlooked and cast aside. One of the first arrivals in the Mislintat era, the Japanese midfielder played a crucial role in Stuttgart's promotion last season after joining from Sint-Truiden, playing every minute from Matchday 14 on, bar one match he missed through suspension.
The more defensive of the midfield partnership, Endo's 27 years make him one of the older players in Stuttgart's roster, with his tactical intelligence and leadership coming across in his performances on the pitch. With the amount of bodies Stuttgart commits to attacking moments, Endo's defensive contributions have quickly become his most useful asset in Mattarazo's team, keeping a solid structure in what would be a side leaking goals if not for their hard-nosed Japanese midfielder.
With 145 duels won, Endo leads the entire league in this regard, showcasing his abilities at shielding a backline and nullifying potential danger. Standing at just 1.78M (or 5'8 ft), many cynical Stuttgart fans sensed a potential weakness with the Japanese international at the base of Die Schwaben's midfield. Endo has quickly silenced any of these critics, even excelling as one of Bundesliga's best players in the air.
Furthermore, with 32 aerial duels won, the diminutive Endo has won the most of any Bundesliga midfielder, even equaling the tally of Wolfsburg's giant of a striker Wout Weghorst (1.97m or 6'45 ft). Whether in the air or on the ground, Wataru Endo has not just proven his capacity to adapt to the Bundesliga, but established himself as one of the best performers in his position throughout the whole league.
Although standing out the most for his defensive capabilities, Endo has shown his ability in possession as well this season, most impressively leading the Bundesliga with 67 progressive passes. Perhaps without context this doesn't register quite the reaction it should, but in actuality it is remarkable that a player in a side like Stuttgart and in a position of defensive midfielder is able to stand head and shoulders above the competition.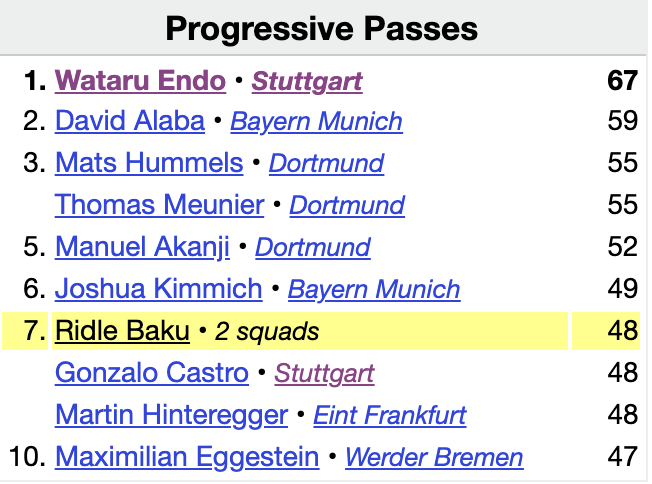 Wataru Endo is firmly at the top of the progressive passing list, impressively beating out some of the best incisive passers in world football last season. Both Mats Hummels and David Alaba, who see much more of the ball in domestically dominant sides, sit behind Stuttgart's Japanese midfielder.
Whereas the former and current Bayern center backs Mats Hummels and David Alaba are largely able to pick out their long passes and incisive through balls under minimal defensive pressure, Endo's decision-making must be made in a split-second, with the volume of opposition pressure at its peak in the middle of the park.
With his ability to not only retain possession under immense pressure, but start attacks that break through opposition lines, Endo will be an irreplaceable figure for Stuttgart if he is to pick up an injury at some point this season.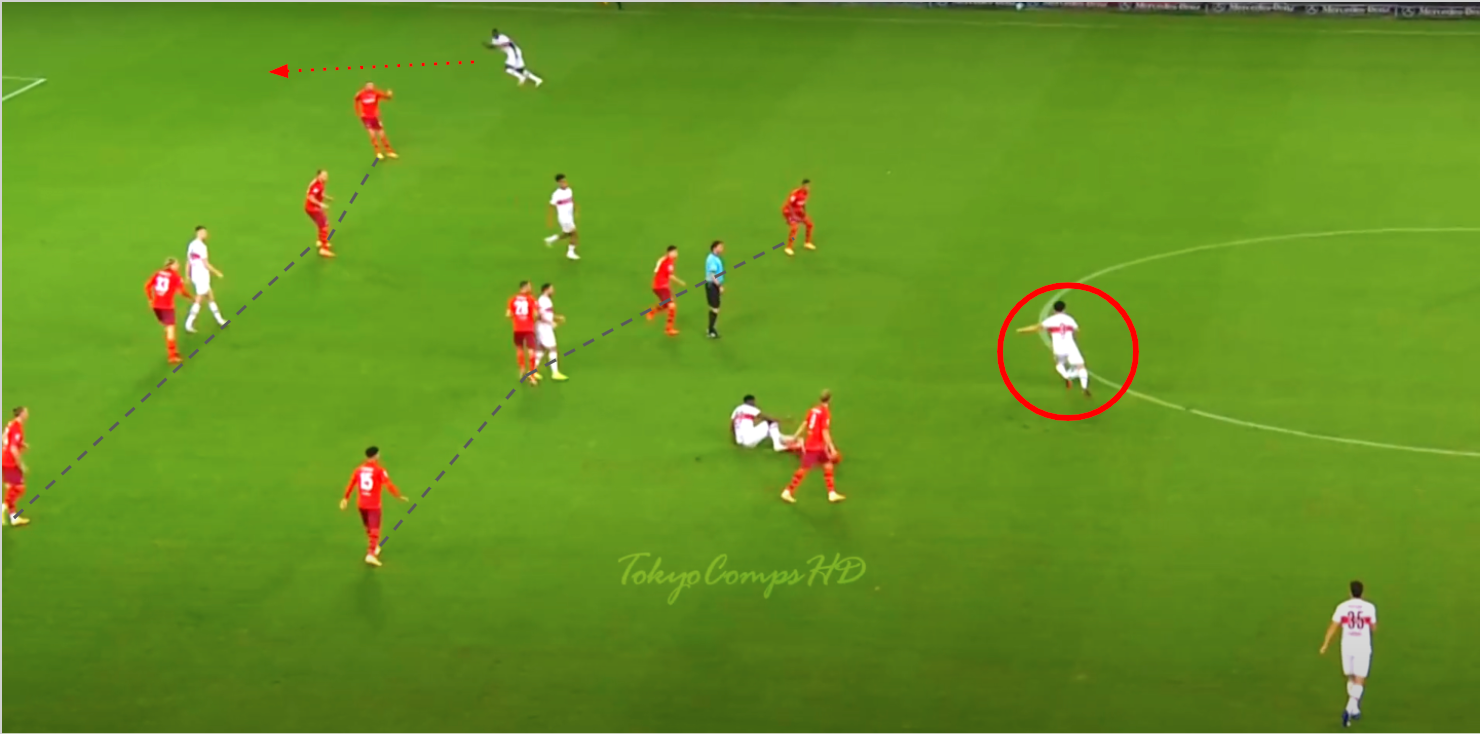 Endo breaks both the defensive and midfield lines of FC Köln with a well-placed high ball into the path of Wamangituka.
If Endo is tasked with opening up the game through long range passes, then his midfield partner Orel Mangala is far more the player capable of running with the ball to break opposition lines. Signed from Dortmund's academy after winning the U-19 Bundesliga in 2016/17, Mangala has shone since joining Stuttgart, becoming a regular figure after returning from a loan spell with Hamburg in the summer of 2019.
A powerful midfielder with natural strength and speed, Mangala is capable of driving through opposition midfields, gaining valuable yards up the pitch for Mattarazo's side. With 31 players dribbled past this season, Mangala leads the Bundesliga in successful take-ons, ahead of the likes of Jadon Sancho and Matheus Cunha.
Although Stuttgart have more than enough attacking talent, Mangala's runs from deep have added another element to Mattarazo's side in the final third. Having already scored one goal this season, with a long range strike after just 24 seconds against Köln, the Belgian youth international hasn't looked far off adding more to his tally since then.
Consistently making the yards up to reach the opponent's goal, Mangala consistently gets into unmarked positions at the edge of the opponents box, where a little more luck and finesse could see him become a regular contributor in front of goal for Die Schwaben.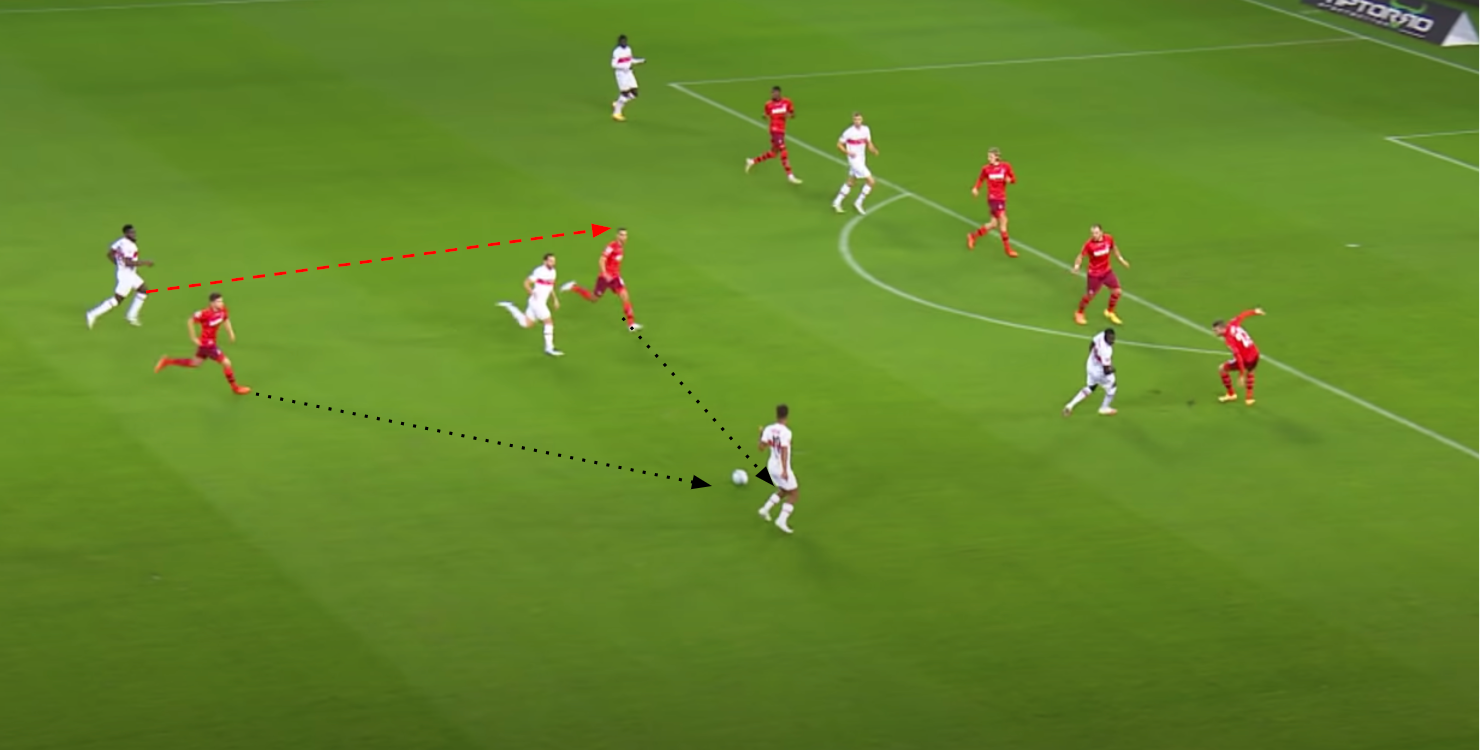 Orel Mangala makes an unmarked run to the edge of Köln's box, evading two opposition midfielders who are attracted to Daniel Didavi in possession.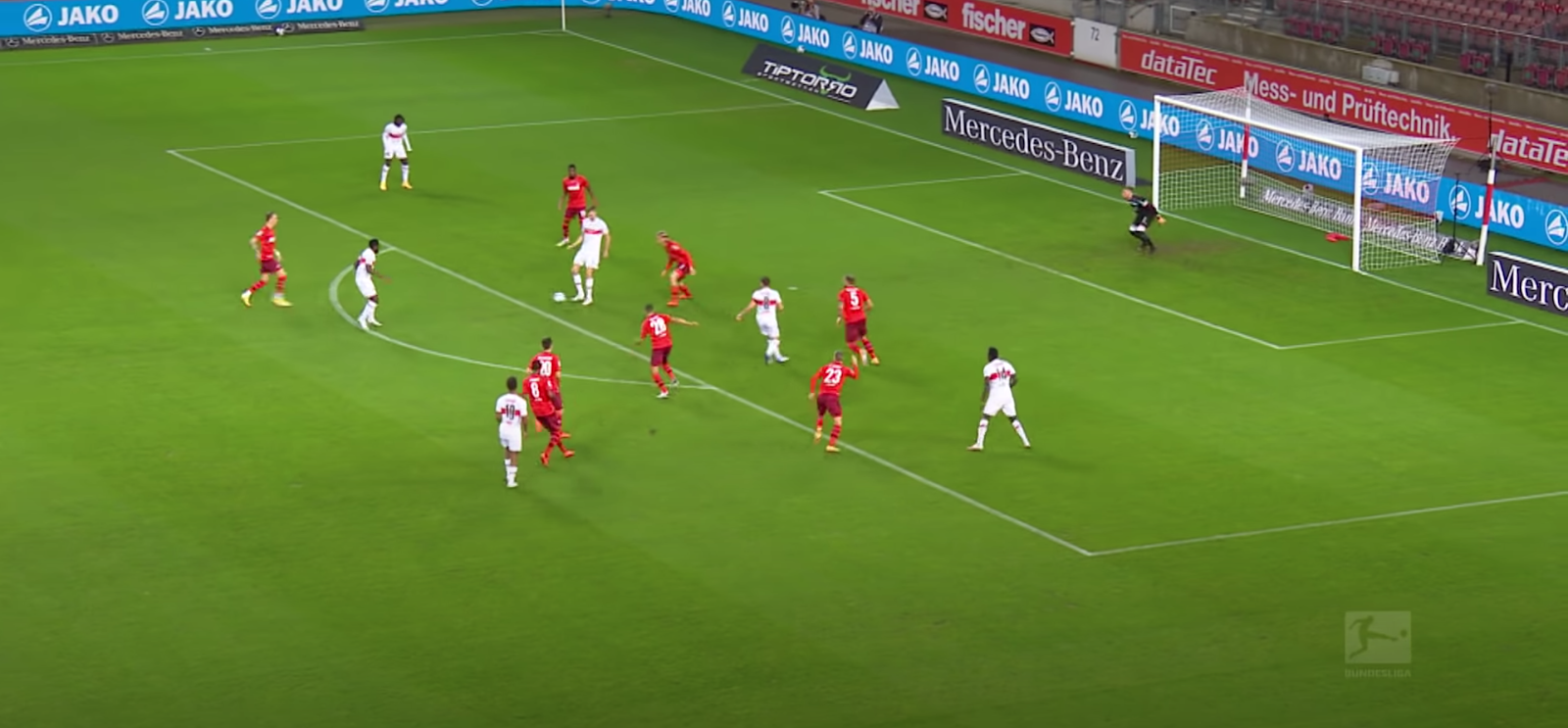 After Saša Kalajdžić receives the ball from Didavi, the Austrian is able to lay off the ball for Mangala, who smashes the ball into the net from 17 yards out.
Although unable to compete with Endo's league leading defensive numbers, Mangala is not far off, sitting 4th in the league with his 115 duels won. His strong frame and elite engine are not just used to push through opponents' midfields, but also to win back possession, with the 22-year old excellently getting into opponents and using his physique to hold off any challenges.
Mangala has provided the perfect partner alongside Endo, with the 14 time Belgian U-21 international embodying a modern day box to box midfielder with his 110.4km covered this season the 10th most of any player in the German topflight. Whereas Endo will often patrol in front of a backline, Mangala is much happier to leave his position to prevent danger all around the pitch.
With a value of €14 million, that seemingly continues to rise week in week out, Orel Mangala is already a hot topic for many clubs around Europe, with the likes of Arsenal, Southampton, and Lyon heavily linked with the Belgian talent. Endo on the other hand continues to fly under the radar, although leading the Bundesliga in the valuable metrics we mentioned above.
At 27 years old, Wataru Endo is perhaps not the young talent that clubs will bring in to build a midfield around for the coming years, yet in the prime of his career, Endo is proving a worthy top flight defensive midfielder, with his current performances capable of grabbing the attention of clubs competing at the highest level.
By: Adam Khan / @XxAdamKhanxX
Featured Image: @GabFoligno / Matthias Hangst – Getty Images / picture alliance
*All stats sourced from Bundesliga.com and Fbref.com as of Matchday 9 in the Bundesliga