Jungen Wilden: VfB Stuttgart's Glorious Wild Youth
European football has a rich history of teams being successful thanks to their academy and homegrown talent – Celtic's Lisbon Lions of the late 1960s under Jock Stein where every player was born within 30 miles of Glasgow, Manchester United with the fabled Class Of '92, and Pep Guardiola's Barcelona which saw the likes of Xavi, Lionel Messi and Gerard Piqué play key roles in their dominance between 2008 and 2012.
In Germany, it is VFB Stuttgart's "Jungen Wilden" (Wild Youth) that charmed the Bundesliga 13 years ago. Yet prior to the 2006-07 season, things had not been smooth sailing for the Swabians. Giovanni Trapattoni had been sacked as head coach in February 2006 after just seven months in charge. 
Photo: Daniel Maurer/AP/Press Association Images
In his place was Armin Veh – originally seen as a stop gap – yet under the stewardship and support of sporting director Horst Heldt, Veh was given the job on a permanent basis. Despite only winning three of his first ten games and going on to lead them to a ninth placed finish in the league at the end of the 2005-06 season, Heldt entrusted him to lead Stuttgart back to the European places.
The German media hinted that Veh wasn't their first choice for the permanent role, with Mainz's Jürgen Klopp being linked to the job. However, when Klopp publicly stated he was not going to leave, the path became clear for Veh to be given the job. 
Now under the guidance of Heldt and the management of Veh, Stuttgart had a busy summer transfer window. Pável Pardo arrived from Mexican side Club América to bolster the midfield, left back Arthur Boka came in to compete with veteran Heiko Garber and Ludovic Magnin, while Ricardo Osorio came in to replace Andreas Hinkel at right back who was sold to Sevilla.
Heading into the new Bundesliga season, Die Roten had the youngest squad in the league, with an average age of 24 and 11 players coming through their youth system.
The season would begin ominously for Stuttgart, opening with a surprise 3-0 home defeat to FC Nürnberg. They would make amends in their next game by defeating Arminia Bielefeld 3-2, but lose 3-1 at home to Borussia Dortmund six days later.
Photo: Baumann
Two comprehensive defeats at home left Die Roten third from bottom in the league and rumours swirled that Veh would be sacked. Nevertheless, the Augsburg native took no notice of the rumours and displayed his attacking philosophy to maximum effect when the Bundesliga resumed in mid-September after the international break.
Stuttgart went on the offensive and commenced a nine-game unbeaten streak, a streak consisting of six wins and three draws, with several high scoring games underlining their attacking approach, albeit an approach that was far too prone to conceding goals. 
In addition, Veh blooding more academy graduates into the starting eleven would benefit Stuttgart enormously. Then 19-year-olds Sami Khedira and Serdar Tasci were given their debuts in August and September respectively, quickly becoming permanent fixtures in the side. Both players scored in the 3-0 win against Schalke in late October – Khedira putting in a stellar performance by scoring twice. 
Yet the star of the youth graduates would be 21-year-old Mario Gómez. The striker made his debut for the Swabians the previous season, but he cemented his spot ahead of Marco Streller and Jon Dahl Tomasson by striking up a partnership with Cacau.
During the nine-game unbeaten run from mid-September to mid-November, Gómez would score seven goals and five assists, his goals playing a direct part in 13 of the 21 points won during the unbeaten run. 
Photo: Getty 
Inserting these youngsters into the spine of the side was helped by having experience to supplement their youth. Although he could occasionally deputized at right back, Tasci was often paired with either captain Fernando Meira or Matthieu Delpierre in the heart of defense. 
Khedira formed a partnership at the centre of midfield with Thomas Hitzlsperger, with Pardo acting as the screen in front of the back four. Cacau was paired with Gómez up top, but Stuttgart also had young players excelling not developed from their youth system.
Signed from Greater Fürth in the summer, then 21-year-old Roberto Hilbert impressed playing on the right in his debut season in the Bundesliga. In addition, Antônio da Silva excelled in the hole, operating behind the two strikers and creating four assists during the nine-game unbeaten run. 
These combinations interlocked effectively, and after defeating Hannover 2-1 on the 12th November, they leapfrogged Schalke and Werder Bremen to ascend to the top of the table.
Such a milestone caught the attention of several journalists and fans – none of whom even gave Die Roten a chance of qualifying for the Champions League let alone challenging for the Bundesliga. However, undefeated runs do not last forever, with Stuttgart losing 2-1 to Bayern Munich and dropping to third.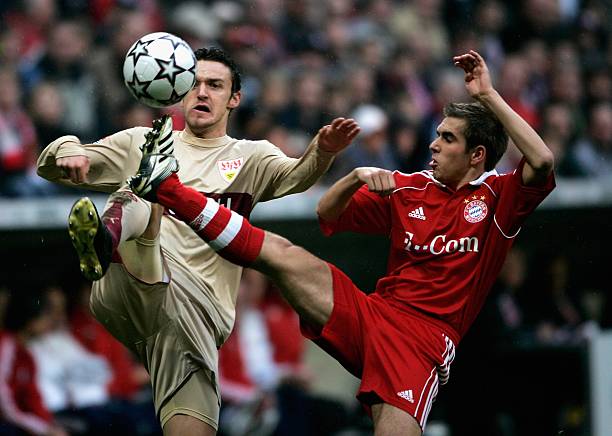 Photo: Getty
Die Roten went undefeated in their next four games before the winter break with two wins and two draws – all of them clean sheets. Yet those two goalless draws came against bottom side Mainz and Energie Cottbus who were then fourth from bottom. Despite these minor setbacks, Stuttgart ended the year in fourth and reached the quarter finals of the German Cup, beyond their wildest expectations. 
A new year heralded the return from the winter break, but just like in their opening league game, FC Nürnberg comprehensively beat Die Roten 4-1 (aided by Tasci's red card) to do the league double over them.
To Veh and Stuttgart's credit, they did not let such blips derail them. Once again, the Swabians went on a five game unbeaten run throughout the rest of January and all of February. 
Their attacking prowess cut through several teams, which culminated in mauling then second placed Werder Bremen 4-1. Such consistently attacking performances spearheaded by young players led to Armin Veh's side being dubbed "Jungen Wilden" – Wild Youth. Gómez was at the apex, scoring five goals in as many games, including a brace against Werder Bremen. 
Importantly, Stuttgart's fierceness in attack was backed by defensive solidity with three clean sheets from those five games, as they were well marshalled by skipper Meira, backed by Delpierre along with Tasci and goalkeeper Timo Hildebrand. Their goalless draw at home to Hertha Berlin on the 23rd February put Die Roten in second, four points behind league leaders Schalke with 11 games remaining.
Yet Stuttgart were hit with twin setbacks that threatened to undo their hopes of reaching the Champions League. Firstly, a heavy 3-1 defeat at Bayer Leverkusen, a goalless draw at home to Wolfsburg and losing 1-0 to Schalke put Die Roten back to third.
Failing to win their last three games meant they were four points behind second-placed Werder Bremen, and that loss to Schalke put Stuttgart seven points behind the league leaders with seven games to go. 
Secondly, Gómez tore a ligament in his knee against Wolfsburg that initially was expected to sideline him for the rest of the league season. It was a blow to Stuttgart, as the striker had been their spearhead in attack, enjoying a breakout season by scoring 13 goals in 23 games.
Photo: EPA
Losing your best striker in the latter stages of a season is the type of adversity that can make or break a team. For Stuttgart, it defined them; in Gómez's absence, they stepped up to the challenge and filled the hole.
To counter the loss of their striker, Veh deployed several formations. One of these utilised a front three – pushing Hilbert further up on the right, putting Benjamin Lauth on the left and Cacau in the middle. Another formation was a diamond where Hilbert played in midfield, with Khedira operating in the hole behind strikers Cacau and Streller. 
Utilising such formations had the desired effect, as Stuttgart began to build growing momentum. It started with two resounding victories against Alemannia Aachen (3-1) and Hamburg (4-2).
Cacau would reach double figures in the league by scoring in both games, with Khedira, Hilbert and Lauth all impressing. A battling 2-1 victory at Hannover was then followed by an impressive 2-0 win at home to Bayern Munich – Cacau the star of the show by scoring a brace.
Photo: DPA
The turning point came on Matchday 31 in late April when Hilbert's goal led to Die Roten dispatching bottom side Borussia Mönchengladbach. While Stuttgart had built up momentum, Werder Bremen and Schalke had their leads eroded up by dropping points.
Matchday 31 resulted in both sides losing away from home – Schalke falling 2-1 to VfL Bochum and Werder Bremen 3-2 to Armina Bielefield. Die Roten's win against Gladbach lifted them above Werder into second and were just a point behind Schalke with three games remaining. Defeating Mainz 2-0 a week later meant with two games left the top three was as follows:
Schalke 65 pts
VfB Stuttgart 64 pts
Werder Bremen 63 pts
All three clubs faced their penultimate league fixtures on the 12th May – Die Roten travelled to Bochum at home, Werder Bremen hosted Eintracht Frankfurt and Schalke were at Borussia Dortmund. Stuttgart were further boosted by the return of Gómez, even if on the bench. 
Despite the momentum, it was Bochum that struck first after just four minutes, Oliver Schröder scoring from close range. Stuttgart soon recovered and equalised on 26 minutes when Cacau pulled the ball back to Hitzlsperger whose fierce shot couldn't be kept out by Bochum's goalkeeper Jaroslav Drobný.
Photo: Baumann
But though Stuttgart pushed forward to find a second goal, it was Bochum that retook the lead just before half time when Marcel Maltritz scored from long range. As half time arrived, none of the top three sides were winning, Schalke losing 1-0 and Werder being held 1-1.
Ten minutes into the second half with Die Roten still losing, Veh switched tactics and made a double substitution. Off went Osorio and Lauth for Gómez and Antônio da Silva, while Stuttgart changed from a 4-3-3 to a midfield diamond with de Silva playing behind Gómez and Cacau.
Veh's changes had the desired effect seven minutes later. Pardo's cross was initially missed by Cacau but not by Gómez, who headed the ball in the net from close range. Stuttgart needed just ten minutes to complete the comeback when Khedira passed to Cacau and the Brazilian expertly placed the ball past Drobný into the far corner.
Bochum nearly equalised with a few minutes remaining only for Hildebrand to pull off a brilliant save on Dabrowski at point blank range. Die Roten held on to win the game and results elsewhere made them all the more valuable.
Werder Bremen lost 2-1 at Eintracht Frankfurt, but more importantly, Schalke would lose 2-0 to Borussia Dortmund. The title race had been turned on its head in the space of 90 minutes.
Photo: Getty
VfB Stuttgart 66 pts
Schalke 64 pts
Werder Bremen 63 pts
With Die Roten at the top of the table for the first time since November, victory at home to Energie Cottbus would clinch Stuttgart's first Bundesliga title for 15 years. The atmosphere at what was then called the Gottlieb Daimler Stadion on the 19th May was a fevered one, bristling with excitement at what could be achieved, yet tempered with anxiety at the possibility of squandering a glorious opportunity.
Those anxieties were heightened when Cottbus took the lead after just 19 minutes when Romanian forward Sergiu Radu pounced on a wayward shot to guide the ball into the bottom corner. 
With the crowd stunned at going a goal down, it needed a moment of inspiration eight minutes later for Die Roten to get back into the game. From a corner on the right, Pardo clipped a ball to Hitzlsperger who stood outside the box.
Despite having a Cottbus player rush out towards him, the midfielder unleashed a fierce left footed volley that dipped into the top corner. It was a goal of sheer brilliance and Hitzlsperger wheeled towards the corner flag, kicking it with as much force as the volley just moments earlier.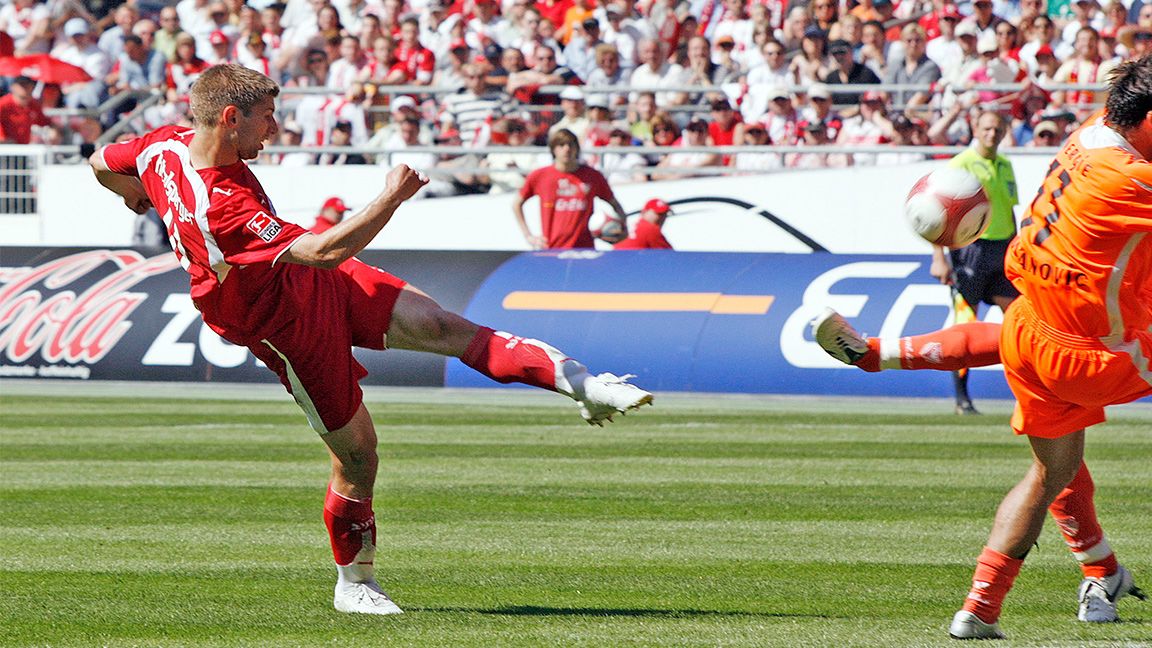 Photo: VFB Stuttgart
With the arrival of half time and the scores still level, nerves among the crowd were increasingly frayed by Schalke beating Armina Bielefield. As it stood, Schalke would overtake Stuttgart and win the Bundesliga. It was then Veh again turned to the bench, with Osorio taken off for da Silva and Gómez replacing Streller.
After probing Cottbus' defence, the pivotal moment came on 63 minutes when Da Silva's cross from the right was met by the looping header of Khedira that nestled into the far corner of the net. The stadium exploded in pandemonium at the breakthrough. Finally taking the lead in the game, Die Roten would hold it until the final whistle, confirming them as league champions.
Emotions were high throughout the stadium, winning the Bundesliga when almost no one had given them a chance at the start of the season. They had done it in style with their attacking football, with clever signings in Hilbert along with Pardo, so vital in their assists, as well as sticking to their philosophy of utilising young talent from their youth system. 
Unsurprisingly, both Veh and Gómez won the Bundesliga's Player and Coach Of The Year awards respectively. Two figures who 12 months ago were at the periphery of German football but were now at its elite.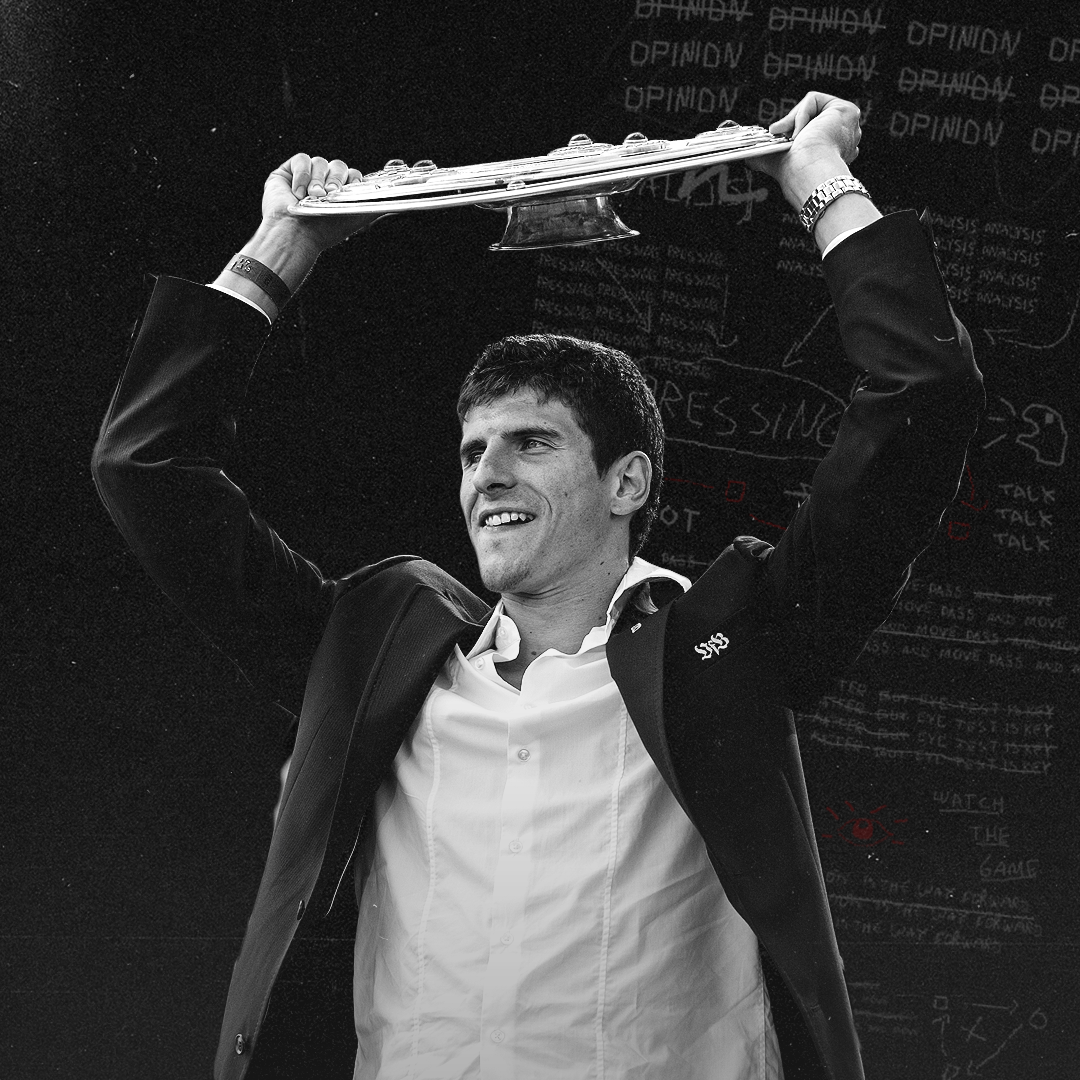 The only blot on a memorable season was squandering the chance to seal a historic double by losing the German Cup final 3-2 to FC Nürnberg after extra time – the third time they had beaten Stuttgart during the season. 
However, winning a league title is easier when compared to defending it. Stuttgart had to contend with the loss of Hildebrand to Valencia on a free transfer after refusing to sign a new contract. Having to deal with the rigours of Champions League football, as well as other sides bolstering their squads, Die Roten found it difficult to sustain a title challenge during the 2007-08 season and finished sixth in the league. 
It soon led to several players that was part of their Bundesliga squad being moved on – Meira was sold to Galatasaray, Pardo went back to Mexico to play for América, Da Silva signed for Karlsruhe, whilst academy products Andreas Beck and Christian Gentner moved to Hoffenheim and Wolfsburg respectively.
The 2008-09 season would start badly for Veh with back-to-back defeats and a five game winless streak led to his dismissal in November, with his replacement, former player Markus Babbel, recovering them to a third-place finish and reaching the Champions League qualifiers. 
Despite suffering relegation to Germany's second tier in 2016, only for them to yo-yo between the two divisions, Die Roten have still produced excellent players from their youth system – Timo Werner, Serge Gnabry, Joshua Kimmich and Antonio Rüdiger in recent years.
Nevertheless, Stuttgart's Jungen Wilden demonstrated how young talent, smart tactics and smart recruitment can outsmart the giants of German football and produce memories to last a lifetime for their fans.
By: Yousef Teclab
Featured Image: @GabFoligno