Witan Sulaeman: The Indonesian Baby-faced Assassin
Having large, sharp eyes, a big smile, and the messy hair you often see on a child, Witan Sulaeman looks like that cute kid you want to mess around with. These features also earned him the nickname "Baby Shark," coined by Valentino Simanjuntak, an Indonesian commentator, which often got repeated into oblivion every time Bung Valen (Valentino's nickname) tried to hype up the watchers (spoiler alert, some of them hated it).
However, behind the childlike aura that he seems to bear, there lies some enigmatic features in his game that resembles an inner turmoil between youthful naivete and perceptive maturity.
It almost looks like the sanitized version of the gaffe-prone, Geordie-lad-with-the-big-smile Gazza, a player blessed with mature-like intelligence on reading the game, but on the same time having the childish nature of relying too much on his instincts, that more often than not harmed him on the pitch.
Born from a humble family in Palu, the capital of Central Celebes Province, Witan's footballing talent was evident since he was in 5th grade. Alongside talent, his childhood coach and father praised his work ethic and footballing determination. This is also highlighted by his obsession of football; he wanted to be a footballer and footballer only.
However, Witan also faced many setbacks during his early footballing years, most notably when his family sold their old car and tried to gather funds so that he could enroll at the Ragunan Footballing Academy in Jakarta, arguably the best footballing academy in Indonesia.
Rizky Ridho, the Mature Defender in An Immature Footballing Environment
At Ragunan, he met and befriended Egy Maulana Vikri, who would eventually be his national team teammate at the 2017 Toulon Tournament. This team produced players that would soon become the integral part of today's national team, such as Riyandi, Rachmat Irianto, Firza Andhika, Hanis Sagara, and of course, Egy and Witan itself.
Witan continued to showcase his skills in the next international tournaments, most notably the 2018 AFC U-19 tournament, where they managed to reach the quarterfinals. He then signed his first professional contract with PSIM Yogyakarta, before going abroad to sign with the Serbian SuperLiga club, Radnik Surdulica. With the postponement of the league, brought by the COVID-19 pandemic, Witan finally made his debut on July 2020.
He only managed to play 5 league games with Radnik, before joining Lechia Gdansk, which competed in the Ekstraklasa. This move parallels Egy's transfer 2 years ago, although he got transferred to FK Senica, a Slovakian Premier League club just before Witan's arrival. Similar to Egy, Witan didn't have an easy time breaking to the first squad. He got loaned to Senica, in which he finally reunited with no other than Egy itself.
At Senica, Witan featured in a total of 9.7 90s out of 12, while starting in 8 out of 9 matches in the league, playing for at least 75 minutes per game for them, scoring 4 goals in the process. Although his stint coincided by the financial turmoil that happened in the club, Witan is determined to make his mark in Europe, and the journey continues for now.
Playing Style
Witan is an attacker that usually plays as a 10 or winger, exploiting gaps in-between defensive lines, connecting the attack between the second and final attacking line, and creating+exploiting spaces on the final attacking phase. In other words, Witan could offer support, depth, and width for his team.
Physical Attributes
Witan's stature and physique is fairly normal for an Indonesian midfielder (167 cm and 64 kg), but is considered small and light in European football. Considering that he sometimes also plays as a winger in a 4–2–3–1, his body size is a bit stocky compared to other Indonesian wingers. 
Witan has low centre of gravity, which adds more agility on the pitch. Alongside that, he has short strides when he run or dribble, an aspect that helps him in feinting, speed over short distances, close control, and swiftly changing direction — although not really sudden — on small spaces, but makes him unable to create a poacher-like darting run into large spaces. However, he has good acceleration that could still make him useful when running into the penalty area.
Strengths
Witan's most important skill is his situational awareness inside the pitch. He actively scans his surroundings, taking information on what was happening around him. His scanning ability are also complemented by his decision making ability (i.e. executing purposeful passes, receiving the ball, opening gaps for himself or others, all actions that help his team on progressing the ball).
These two examples shows Witan decision making ability. Witan knew the pattern (third man run) that will happen. He needs to lurk in behind Malaysia's second defensive line while Irja (Irfan Jaya's nickname) maintained width and directly facing the final defensive line. This implied that he needs to connect the ball to Irja (the third man) as soon as possible. He did exactly that.
This ability is also evident during his matches in Europe, showing his potential to step up his game in a more difficult and higher paced environment. Because Witan proactively reads situations before they happen, Tae-yong often puts Witan as the focal point of their transitions, especially in corners. When Witan received the ball, he would instantly delivered it into onrushing attackers.
He also has an excellent positional sense. Witan is good at lurking in-behind the defensive line, exploiting their blind spots, and this also apply on teams that put a screener to guard spaces in-between the lines. This ability makes him able to support plays, a skill necessary for a 10 to further progress the ball forward and create dangerous openings, because his opponent couldn't track his movement, creating a brief but crucial moment of numerical superiority.
He also has good positional sense during the last attacking phase, which often puts him in a good position to shoot or pass (on-ball), and create openings for his teammates (off-ball). Let's see both on-ball and off-ball examples of this.
Against Singapore on the AFF semifinal, he positioned himself at Asnawi's passing lane, while keeping sufficient distance from Singapore's defensive line. Knowing Asnawi's explosiveness, the defensive line needs to catch up to him, giving more space for Witan and this lead into his goal.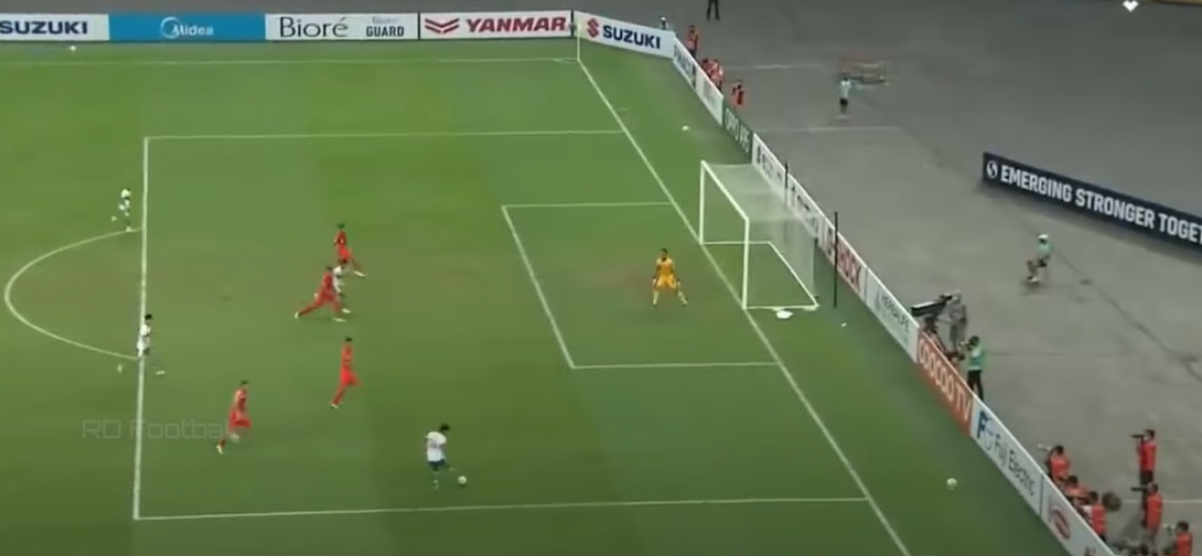 Witan is pretty intelligent defensively, adapting to the situations around him to swiftly dispossess the ball or making his opponents uncomfortable to progress the ball. His defensive actions range from doing arching presses to block passing options, backward pressing to limit his opponents' passing options, or evading obstacles so that he could arrive immediately at the opponent with the ball.
Witan has a feel on his shooting power and placement, able to shoot from distance or pick a low-driven shot after running in-behind the opposing defence. As time passes, he seems to have more control on balancing both of these aspects, and it would be interesting to see him doing these more frequently in Europe.
Weaknesses
Witan is a fairly inexperienced player; he played in more U-19 and U-23 matches than with PSIM and Radnik combined. Hence, Witan still has some rough edges in his game, which is most likely related to him adjusting to the complexity, pace, and physical nature of the European level.
He is sometimes inconsistent in receiving the ball, especially when the ball arrived at him at high speed. While better players cushioned the ball and knew where they would direct their touches beforehand, Witan sometimes struggled to direct his touch and/or cushion it.
He sometimes rushed things and did unnecessary flicks that could lead to lead into cheap turnovers, like chipping the ball instead of delivering a low, driven pass, or doing backheels instead of keeping and shielding the ball.
In terms of shielding the ball, Witan often got dispossessed because he hasn't developed enough base to protect the ball with his body, thigh, and footwork. To see how to properly protect the ball, take a look at this example by Roy Keane:
Since Witan changes his direction awkwardly, he struggles a bit on creating defensive breakdowns. Also stylistically, he seems to have a German gene rather than the Spanish one, trying to get things done quickly by proactively identifying possible passing options rather than being comfortable with the ball and playing in small spaces. Sometimes, his teammates didn't read the cues and Witan failed to connect with them.
He also still did things that he could get away with at the U-19/U-23 level, like blowing past the opponents by doing fake shots or knocking the ball to add some pace. Due to tighter marking and less space to operate, these attempts often ended up in failure.
While having almost no problem with picking his pass options, Witan still has room to improve his passing, because he sometimes either underhit it, missed the cues, or in rare cases, execute it prematurely.
Strengths
Agility and quickness

Reading plays and picking the right options

Positioning

Pressing and intercepting in small spaces

Shooting
Weaknesses
First touch

Ability to change direction

Pass weight

Physical strength

Shielding the ball

Decision-making in take-ons
Conclusion
Witan Sulaeman is a diamond in the rough waiting to be unearthed. Although being one of the most intelligent Indonesian players in a long time, especially in terms of reading the game, his imperfect technique and, sometimes, naivety often hinders him to reach his full potential.
Luckily, his strengths make him could adapt in a more complex, physical, and higher-paced European football, and hopefully, in time, he would work on his weaknesses and perfects his game.
By: Irzi Ahmad Rizani / @irzirzn
Featured Image: @Juanffrann / Yong Teck Lim