Aston Villa: Translating Shrewd Business Into Success
Aston Villa had been disappointing in the 2021–22 Premier League season prior to the winter transfer window: 14th place with 22 points halfway through the season was nothing to boast about, especially given the club's high aspirations following a stellar summer transfer window.
The record-breaking departure of Jack Grealish for £100 million in the summer of 2021 set the stage for the arrivals of Danny Ings, Emiliano Buendía, and Leon Bailey, bolstering Villa's seemingly depleted attack. 
Despite the trio's expectations, the new signings failed to hit the ground running due to constant injuries and poor form.
Ultimately, a slow start to the campaign under former manager Dean Smith paved the way for Liverpool legend Steven Gerrard to take over at the Birmingham-based club.
Still, Gerrard's revitalized tactics required reinforcements, and in January, Villa announced a loan move for veteran Philippe Coutinho from Barcelona, as well as the signing of left-back Lucas Digne, frozen out of his starting role at Everton by Rafael Benítez, for £25 million.
The duo found immediate success: Coutinho scored the equalizer in a comeback draw against Manchester United on debut, while Digne set up the winner on his return to Goodison Park. 
With the newly strengthened squad back on track, the former Rangers manager will look to both Coutinho and Digne to provide leadership and experience for a second-half European push.
"[The acquisitions] are definitely a sign of optimism and ambition," Gerrard noted. "I'm sure there will be a little more of an edge because of the arrival of two fantastic players."
Philippe Coutinho: Brazilian Flair
Coutinho's first stint in England, playing alongside Gerrard on a loaded Liverpool side, was bittersweet; plagued by Gerrard's fatal slip in a vital fixture against Chelsea, the Reds fell short in their pursuit of the coveted 2013–14 Premier League title.
Eventually, Coutinho moved to Spanish giants Barcelona for a staggering £142 million fee in 2018, inadvertently funding Liverpool's purchases of center-back Virgil van Dijk and goalkeeper Alisson Becker. 
However, Coutinho's form declined massively, and during his four mediocre years in Catalonia, Coutinho was loaned out to Bayern Munich, scoring a brace in an iconic 8–2 thrashing of parent club Barcelona en route to Champions League success in 2020.
Yet, after an overall fruitless loan spell, with Coutinho rotting in the Barcelona reserves and former teammate Gerrard returning to the Premier League, the pair finally reunited at an up-and-coming Aston Villa.
In Gerrard's preferred 4–3–3, Coutinho is deployed on the left, feeding either Ollie Watkins or Danny Ings by creating channels through interplay with Emiliano Buendía on the right.
The 29-year-old remains in the 96th percentile for shots per 90 minutes compared to attacking midfielders and wingers, indicating his eagerness to cut inside and penetrate directly through defenses with a clear eye for goal.
Consequently, Coutinho's performance against Leeds United on February 9, 2022 captured in essence why he was nicknamed "The Little Magician" at Liverpool.
Despite the disappointing result, Coutinho was given acres of space by Leeds defenders, allowing him to operate freely in the opposition half.
Such exploitations were rewarded with a classy finish into the bottom corner beyond the extended Illan Meslier, topped with two quick assists to midfielder Jacob Ramsey for a contribution in each of Villa's three first-half goals. 
Under Gerrard, Coutinho is granted creative freedom to pick out teammates with fewer defensive duties, exemplified by his standing in the 86th percentile of passes attempted.
Villa's double pivot of John McGinn and Douglas Luiz pounces on opposition defenders to win the ball back so Coutinho, supported by Buendía and Ramsey, can push forward into the box from midfield.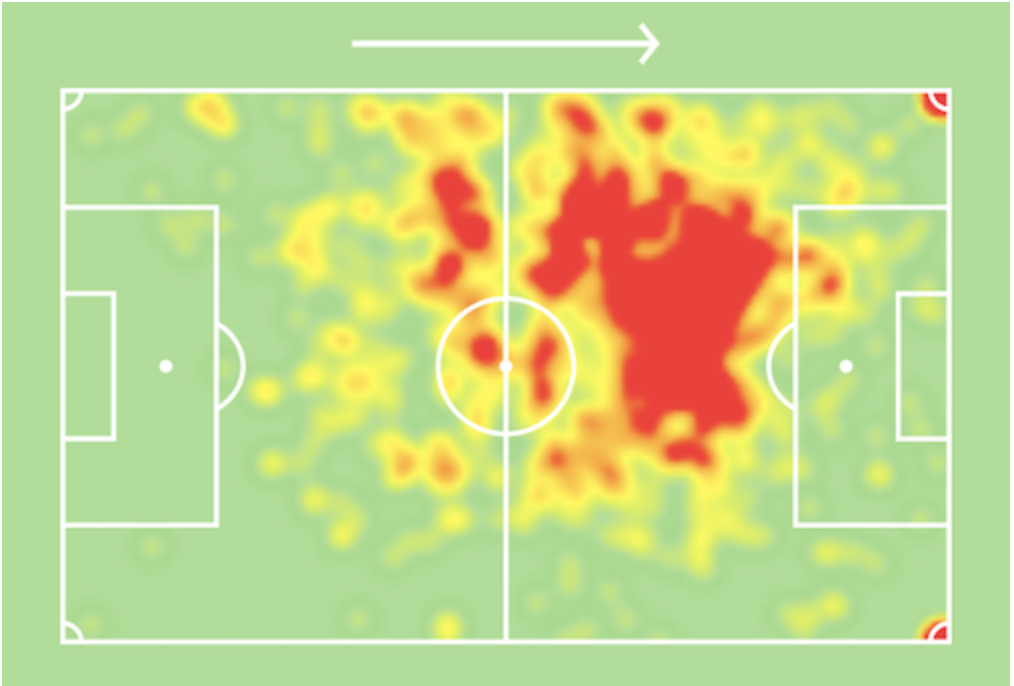 Coutinho's 2017–18 season heat-map at Liverpool displays positional versatility. (SofaScore)
Perhaps Coutinho's most valuable asset is his ability to play both out wide as an inverted winger and centrally as an advanced playmaker or second striker. In a relatively top-heavy Aston Villa roster, Coutinho's adaptability meshes with the likes of Buendía, Ramsey, and Bailey, giving Gerrard more options going forward. 
As part of the deal, Barcelona have stamped a €40 million option to buy for Coutinho. Two subpar performances in 1–0 losses to relegation-threatened Newcastle and Watford may have Gerrard assessing his former teammate, although it remains to be seen how Coutinho will perform with his newfound vitality. 
"I really missed the games here in the Premier League because the atmospheres in the stadiums are really intense here," Coutinho mentioned. "We have a great squad, we have great players, and we know we can be in a better position than we are now."
Lucas Digne: Balance Personified
Throughout his career, Digne has been hailed for his offensive output and defensive consistency. After settling in at Everton, the French left-back has led the Toffees to numerous top-half finishes since his 2018 move from Barcelona for £20 million.
However, the Merseyside club declined significantly under Rafa Benítez, forcing a bitter departure to Villa this winter. 
For Gerrard, Digne provides another dimension in attack, whipping in crosses from the left while making overlapping runs with Coutinho.
Compared to full-backs, the French international sits in the 89th percentile for both expected assists and shot-creating actions, utilizing a combination of elite passing ability and consistent delivery. 
In the two seasons prior to his departure from Everton, Digne registered 7 assists in each campaign. At Villa thus far, Digne has only completed 0.8 crosses per match, a decrease in volume due to the poor form of Watkins and Ings with a measly total of 9 goals. 
Moreover, Digne has been assigned to set-piece duty, primarily with corner kicks such as his sole assist against former club Everton.
As opposed to Villa's previous left-back Matt Targett, Digne poses much more of an offensive threat more shot attempts and assists, although Targett has proven himself defensively with more blocks, interceptions, clearances, and tackles.
In the current system, Digne will thrive alongside fellow full-back Matty Cash in place of Targett, pushing forward during the build-up period with defensive cover from McGinn and Luiz.
While attempting to play centrally through the front-three, Digne and Cash will look to cross the ball on cue for target-man Watkins to finish into the back of the net. 
"I'm really happy to be here. It's a big project after the signing of [Coutinho] and the club spending a lot of money last summer," Digne explained. "I'm a winner and I want to win every time and show my quality."
Evidently, a push for European qualification may seem far-fetched for the currently mid-table Aston Villa. Yet, the signings of Coutinho and Digne are signs of ambition for the future, and the 2022 summer transfer window may be an opportunity to refresh and improve the squad for a full season under Gerrard.
"Steven Gerrard, the manager, is pushing us to limits that maybe some of the team didn't know we could go to," captain Tyrone Mings commented. "In the three years I've been here, I've seen a huge turnover of players and now a managerial change."
"What hasn't ever changed is the fact that this club needs to and should be back in the top half, and eventually the top quarter, of this league."
By: Jason Cheng / @jcheng025
Featured Image: @GabFoligno / Isaac Parkin – PA Images