Jagoba Arrasate's Osasuna: A Club Determined to Go In Their Direction
Health, strength and vigour all describe Osasuna perfectly. The last word is open to interpretation, it could just as easily be translated as robust or rugged and that slots into the description of Los Rojillo quite aptly too. Literally, that is what Osasuna means in Basque. Fans of nominative determinism are in their element in Pamplona. What you see on paper, in your gazette and in Ernest Hemingway's book, is what you get with Osasuna.
It's probably not a coincidence that one of the most fashionable questions in football revolves around identity at the same time as globalism intrudes on every corner of European life, forcing people and places to work out their answers. Yet if there is one thing that Osasuna have, beyond success, failure and money, it's an identity. A club determined to go in their direction.
The stereotypes that dominate Spanish football nowadays, neat and tidy football, have reduced La Furia Roja to just La Roja. It's easy to forget that the fury came not from the more traditionally 'Spanish' Andalusia but the North. Chiefly the Basque Country, Asturias and in Osasuna's case, Navarra.
Recently Osasuna officially unveiled the Metódo Tajonar, a formalisation of the identity that has been sought and reproduced for decades in Pamplona. While many other academies across Spain would pursue a considered and precise take of the Dutch school of football, Osasuna will stick to what they are good at.
The project is headed by Technical Director Patxi Puñal, a dogged former defensive midfielder and the club's most capped player. A symbol of Osasuna in style, personality and something else that in Spain has taken on a new importance too.
"The values are non-negotiable," says Ángel Alcalde, a message he joins Puñal in diffusing. Alcalde is the head of the academy and the first to tell the press that certain aspects will emphasized at Tajonar, namely collective conscience, solidarity, camaraderie and effort. It sounds a little like a manifesto.
They certainly aren't the first words that every academy uses to persuade parents that their child will excel on the grandest of sporting stages. Yet it represents a consciousness of purpose, an awareness that Osasuna must zag a little and take a different route to their destination. For Osasuna, there is little use trying to emulate Barcelona or Real Madrid.
What Osasuna do well, what they create, manifest and threaten you with above all, is toughness. Something Barcelona often have to import. "The teams of Osasuna cannot be understood without a strong and powerful block of players from home. That is what Osasuna have been and what the members want," says Alcalde. 
That's what David García is too. The central defender, 28 years of age and beginning to attract interest from the gnarliest of defensive minds in Diego Simeone, is the perfect example of that. Only two players have won more headers in La Liga this past season and only one has made more clearances.
"I've never been the most talented nor the most prominent of players, I was just in my place and working without raising my voice. While others stayed behind, I went up. I have survived and pushed forward with consistency, humility and know-how. These values of Osasuna are the ones that have permitted me to be in the first team for the so many years."
Neither are the Navarrans set on producing a line of luddites that are best suited to kick-and-rush football, but the idea is that they focus on what they do best. Part of their new academy programme involves the opening of a new psychology department to work alongside their young players and the intention is to treat each player individually, tailoring every development plan to the specific needs of the talent itself.
How do those adjectives and values translate onto the football pitch? "We're a team of waves and pressure," says manager Jagoba Arrasate. Only four managers have taken charge of more games for Osasuna than Arrasate, about to enter his fifth season in charge.
"That has always been the identity of Osasuna: few touches, advancing the ball quickly, lots of crosses, intense. And the fans identified with that, there was a kind of duality, a feeling that the fans and the team united, each depending on the other, a communion that made us stronger," he told Diario de Navarra.
Despite going on a 13-game winless run in La liga last season that rooted Osasuna to the bottom of the table, the management kept faith in Arrasate. He has repaid it by winning Segunda in his first year, an 11th place finish last season and twice achieving 10th position.
There is no direct science to patience in football, but Osasuna proved that it is possible to work your way out of a slump with the right manager rather than remedy it with a new manager and a shot of adrenaline. Arrasate, whatever unity he has provided the foundation for, feels part of it.
His Sporting Director Braulio Vázquez has compared him to Jürgen Klopp, someone Arrasate admits he admires. There are at least a few ingredients in common. As explained by the man himself, Osasuna favour an approach that demands stamina and speed from their opponents, stretching their opponents to breaking point.
Width is key and regardless of whether they use two strikers or make one of them a midfielder, generally they attack with two fixed wide points. According to their resources, it's a slightly lopsided attack, focusing on the left-hand side as their main supply chain of those numerous crosses.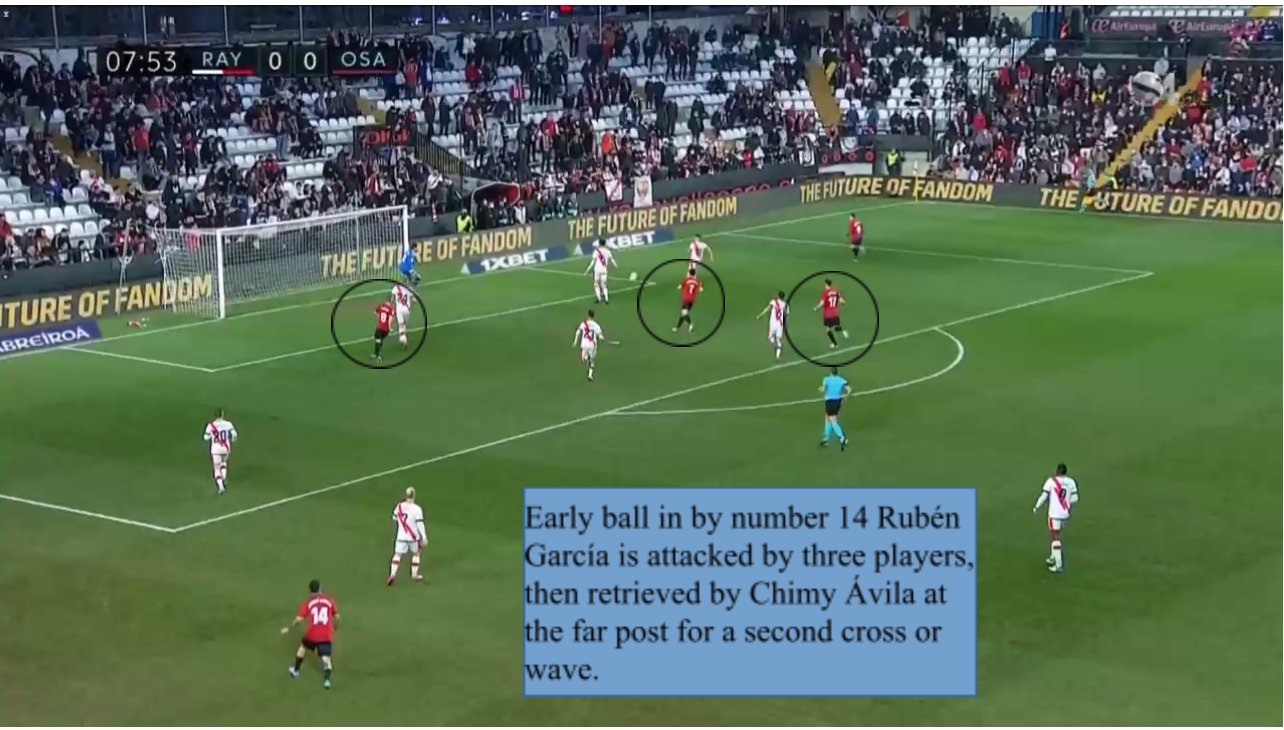 The winger and the full-back generally double-up to flash crosses across the box. Attacking those crosses are always at least three players if they have time to get there. The main striker, lately Ante Budimir, the second striker or wide-right forward and a deeper option coming from midfield. The right full-back or one of the midfielders is then expected to pick up the scraps if it escapes the skirmish and launch a secondary assault.
At times their build-up morphs into a 3-4-3, allowing the full-backs to push higher and alter the riddle for the opposition, yet the 'few touches' philosophy counts for all phases. Even slower use of the ball with the defenders is done so with the intention of manufacturing a counter-attack, something seen more often this season.
Luring the opposition higher up the pitch allows Osasuna the space to exploit one of the flanks. Over the course of the season they averaged 13 less passes towards their own goal than their opponents and played 14 more forward passes every match, statistics, eye test and discourse all aligning to confirm that Osasuna are indeed a vertical team.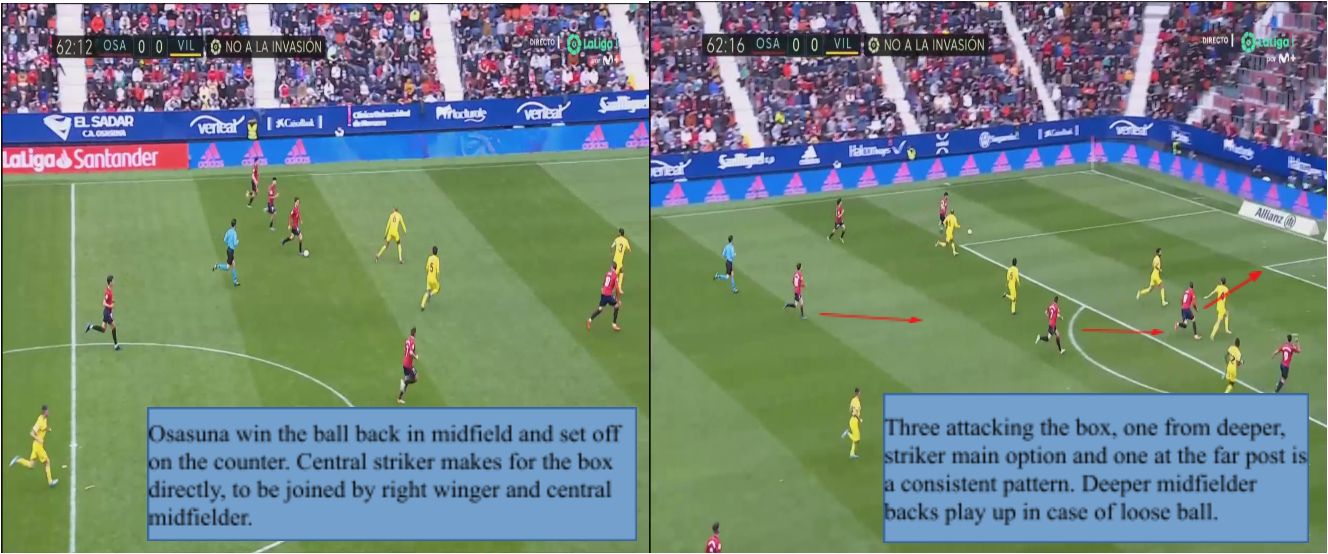 If the opponent should manage to keep their head above water during those waves, Osasuna will generally retreat hastily back the other way. As with many teams of the current era, resisting the initial round of pressure means the opposition will likely have to go through a block of Osasuna players to arrive in a scoring position.
Although that first pressure makes sense given the number of players they accumulate high up the pitch, Osasuna are neither comfortable nor especially talented at staying up there without the ball. This is partly dependent on situation and their rival too though.
Sometimes four, sometimes five, the Osasuna blockade is stationed across the width of the box and only the target man sits atop the two-deep wall. Those lines tend to be quite tight and often fairly deep – a conservatism which perhaps explains why Los Rojillo had the penultimate home record and the 7th best on the road.
The inverse to what was true for many years at El Sadar, a significant portion of La Liga's teams are now satisfied with an away point. Stylistically, it makes things harder for Arrasate's plan to come off.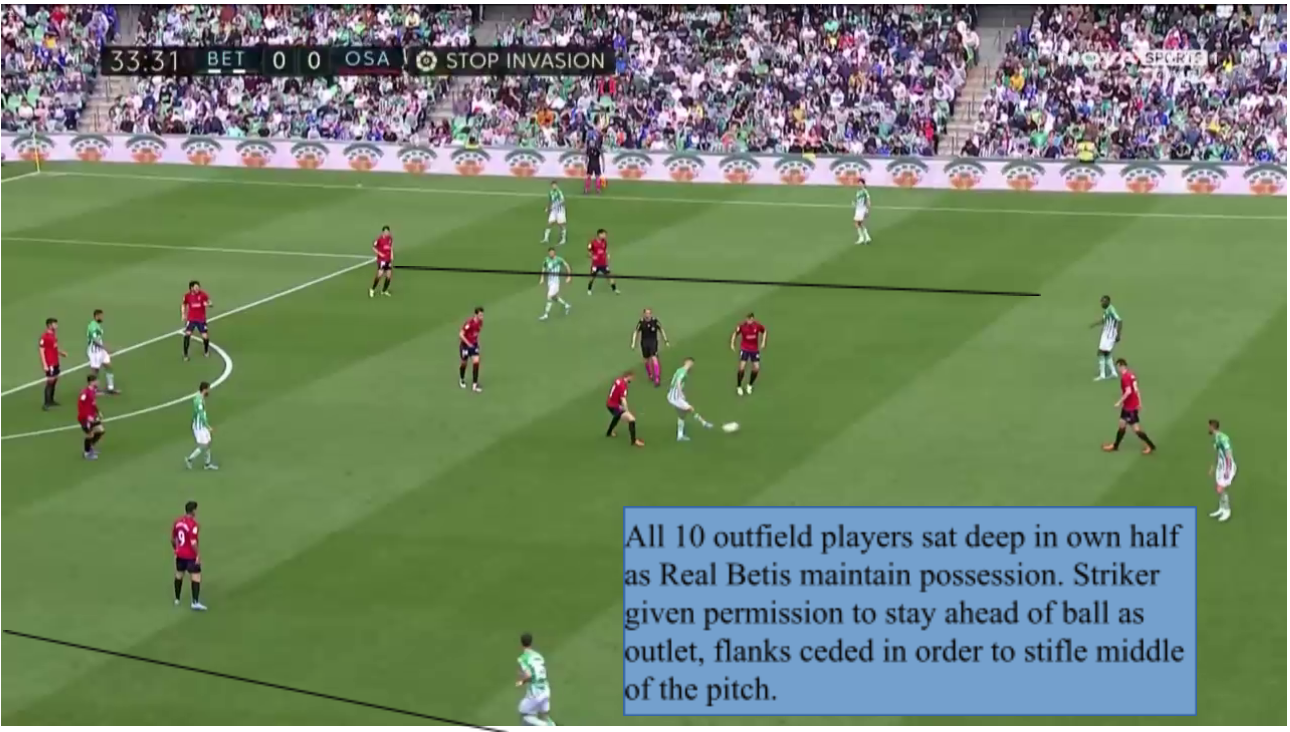 Even in defence though, the counter-attack, the gallop downhill towards goal, is on the mind. Should the ball-carrier turn down the wrong ally, as many as three midfielders will work to collapse the options and the space, like a flash-mugging? The defensive net shrinks rapidly when the chance is there to win the ball. If it is repossessed, those highest up the pitch pin their ears back.
Every team has important players that allow their side to do things beyond the capabilities of organisation. With Osasuna there seems to be an unanimous agreement that the collective idea is the first and predominant route to success.
From top to bottom of the club, rarely does anyone seem to step out of line, as referenced by García earlier. There are obviously talented individuals that are enabled within it, but few teams in Spain work in such mechanical fashion. 
Hooks and levers operate up the pitch as Osasuna swing into action. Arrasate has bred a modern tactical team but it retains an agricultural feel. So often used as a slur, it's to their benefit that there is something intrinsically honest and hard-working about them. Not only that, it's borne out of the culture they come from and unites them with their people.
For how long it will last, nobody knows. Arrasate has extended his contract until 2024 and it was unveiled with a giant banner in the centre of Pamplona, a 30 minute walk from the brand new and 'Best Stadium in the World 2021' El Sadar.
Osasuna have their identity, their idea of what they should be and in Metódo Tajonar, a chance to keep it in place. For their resources, there is little more that could be demanded from them, save an improvement in their home form. They might covet so-called rock and roll football, but Osasuna are a scarce example of a club about harmony and symphony.
By: Ruairidh Barlow / @RuriBarlow
Featured Image: @GabFoligno / Quality Sport Images / Getty Images