Tactical Analysis: Leonardo Jardim's Monaco
Leonardo Jardim's career has been defined by scouting and enhancing the resources at a club in order to push it to greater heights and achieve milestones that the club would never have thought about. The Portuguese coach never played professional football.
He entered this arena as an enthusiast who decided to learn the craft off the pitch from an academic perspective. Jardim slowly developed into a fantastic coach and his Monaco side from 2016-2017 will forever be a part of the history books.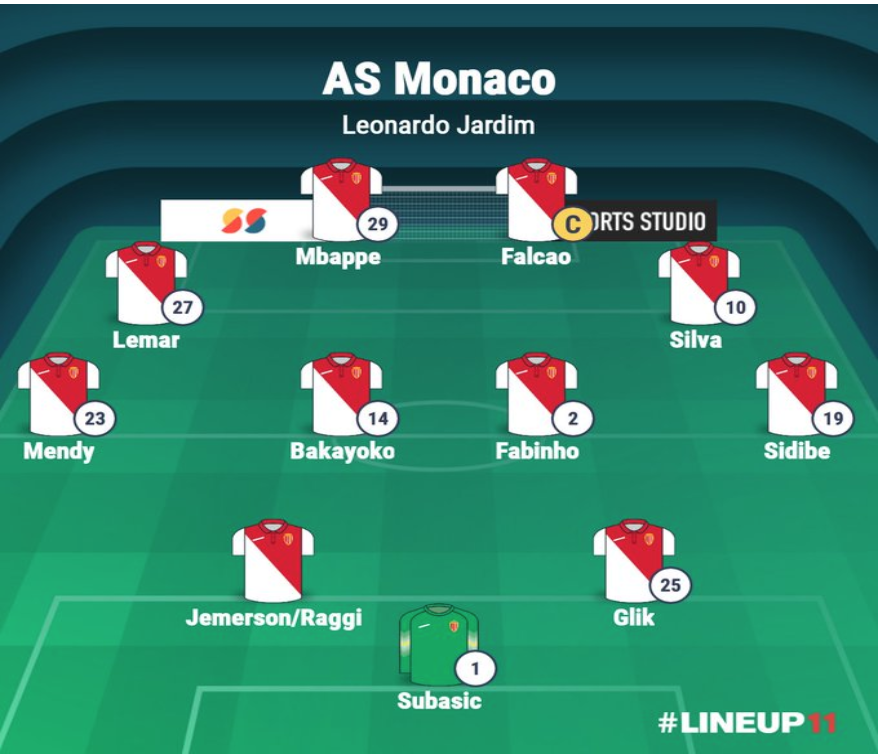 Monaco emphasized on developing youth and going for players who were the right profiles for the coach instead of spending money on big players without any plan.
The club's recruitment did a fabulous job in terms of spotting talents and recruitment. These profiles were perfect for his philosophy- Radamel Falcao, Bernardo Silva, Tiemoue Bakayoko, Benjamin Mendy, Fabinho, Thomas Lemar and Kylian Mbappe. These players formed the core of his iconic 2016-17 side.
Jardim was a student of  'Total Football'- involve every player during build-up, vertical approach and working hard without the ball. His Monaco side demonstrated these qualities on the pitch. They were quick, well-drilled, balanced and worked hard off the ball.
Tactical Setup and Possession Patterns
Jardim used a narrow 4-4-2. A very aggressive variant of the 4-4-2 allowed the fullbacks to push high on both wings and forming a 2-4-4 in the final phase.
In phase 1, Fabinho would sometimes drop between the CBs and help in ball circulation making the opponent change their pressing/marking scheme which is not an easy job.
Jardim emphasized on ball circulation from side to side waiting for the right opening to play that vertical pass and enter the final third.
This approach meant that almost everyone in the team was involved in the build up and had the ability to recognize that opening to progress. The CBs were all capable of playing with the ball so this approach wasn't problematic at all.
Jardim pushed his line so high that the CBs were heavily involved in the build-up and helped destabilize opponent marking schemes, opening up space for forwards to run into and receive.
The double pivot was the life of this team both, with and without the ball. The build-up scheme was mostly an 'in to out' so the 2 central midfielders were key and off the ball, their job was to cover the space left open by the fullbacks in case of a turnover.
Fabinho was the conservative midfielder with the ability to create favourable passing angles for himself while Bakayoko/Moutinho were the engines or the box-to-box midfielders.
Monaco's rhythm was decided by these 2 midfielders and most of the time it was this double-pivot, teams looked to neutralize in order to nullify Monaco's build-up and aggressive pressing.
We will look at how Pep Guardiola dismantled this double pivot and ensured a win in the first leg of the UEFA Champions League Round of 16 tie, later in the article.
Bernardo Silva on the right always inverted, letting Sidibe overlap and provide width whereas Lemar on the other wing was a pure winger who was helped by Mendy underlapping.
Up front, Mbappe and Falcao was a dangerous duo. A lethal striker like Falcao and a talented, multifaceted forward like Mbappe meant Monaco were unpredictable and could attack from anywhere on the pitch.
The wingers Silva and Lemar had the liberty to occupy central or wide areas. Their movement evolved as the ball progressed with the fullbacks pushing high.
The wingers profited from the empty half-spaces and allowed the fullbacks to make full use of the wide vertical channels, stretching the opponent both, vertically and horizontally.
This helped Monaco switch play from one side to other through a long ball and created half-space/wide overloads in the opponent's defensive third.
With forwards like Falcao, Mbappe, Germain, Lemar and Silva, Monaco was a multidimensional side, capable of causing problems everywhere for the opponent.
If you set up in a narrow block, they would use Mbappe's pace in behind or ask Bernardo to be more central and link-up with Falcao.
If you set up in a wide 5-3-2 which would help the opponent nullify Monaco's overloads, Monaco's midfielders had more than just one solution to counter this problem.
They were comfortable with circulating the ball knowing that the opponent is not stepping out to engage and they could also switch the ball to the other side and attack at a higher tempo.
They were also able to invite the press and then play through them using their brilliant CBs and double pivot.
Monaco had four explosive forwards. Counter-attacks were never ruled out and was a weapon for Jardim's Monaco which is another thing we'll be focusing on, when we discuss the City-Monaco Round of 16 tie.
Off The Ball
We have already discussed the offensive opportunities, Jardim's narrow 4-4-2 provided so we know about the fullbacks pushing high to provide width and act as an outlet on the wings.
This leaves Monaco vulnerable on the break and teams looked to attack the wings in the absence of the fullbacks.
Jardim emphasized on a combination of aggressive man-oriented counter-pressing in phase 1 of a turnover and a 2-2 rest defence providing cover for the high fullbacks.
The aggressive counter-press was effective and Jardim instructed his players to create a numerical advantage leading to easy turnovers in dangerous positions in the final third.
This isolated the game in a particular portion of the field and with Mbappe's pace and Falcao's lethal finishing Jardim's Monaco created several chances from these situations.
When the opponent managed to beat this counter-press, they were facing 4 Monaco players who ensured that they weren't flat and led to better covering of the space vacated by the fullbacks.
The rest defence was not too advanced since a long ball in behind was always an option to explore for the opponents. The distance between the last line and the goalkeeper was such that the opponents hesitated to concede possession and go for a direct approach.
This discipline and anticipation demanded high energy and concentration levels from the midfielders and CBs since they had the most difficult job of covering open spaces during transitions.
More than just their tactical setup, however, we saw various players reach elite levels in the principality under the Portuguese managers.
Djibril Sidibé and Benjamin Mendy formed an impressive back four alongside Kamil Glik and Jemerson (sometimes Andrea Raggi), whilst Danijel Subašić proved to be a reliable presence in goal.
Whilst the likes of Radamel Falcao, Thomas Lemar, Tiémoue Bakayoko and Bernardo Silva proved to be absolutely crucial in Jardim's front six, perhaps no two players shined more than Kylian Mbappé and Fabinho.
Mbappé was handed his professional debut by Leonardo Jardim in 2015-2016 at the age of 17. The high intensity of the offensive approach led to Mbappe finding himself in goalscoring situations frequently and with Jardim's coaching and guidance, his decision making improved.
Five years later, it's hard to argue that Mbappé isn't the best player in football right now. Jardim certainly deserves more credit for having the courage to trust a 17-year-old to lead his line.
Fabinho was signed by Monaco for his qualities as a right-back before Jardim recognized his ability with the ball, work-rate and reading of the game to transform him into one of the best defensive midfielders in the world.
Following his impressive performances for Monaco, Jurgen Klopp decided to sign him for Liverpool and he was instrumental in Liverpool's victorious 2018/19 UCL and 2019/20 Premier League campaigns.
Now that we know how Leonardo Jardim looked to set his team up and the tactics he used, we now move on towards discussing the Champions League Round of 16 tie between Manchester City and Monaco.
The first leg of the tie was hosted by City at the Etihad. City won 5-3 but Monaco had 3 crucial away goals going into the 2nd leg. Jardim set up in his trusted narrow 4-4-2 while Pep Guardiola had his City side in a 4-3-3.
Manchester City's 8s ( Silva and De Bruyne) were instructed to push high and so the structure now looked like a 2-3-2-3. Jardim decided to press City high with a man-oriented approach.
Mbappe and Falcao kept Yaya Toure in check and made sure City had no access to him in phase 1. They were narrow and the distance between them and the City CBs was not much which meant they could press them while also keeping Toure in their cover shadows.
Bernardo-Fernandinho, Lemar-Sagna, Bakayoko/Fabinho-Silva/De Bruyne were the other man oriented blocks City had to get past to create chances in the final third.
Monaco benefited from a high level of defensive access in challenging the ball-carrier and restricting his immediate options.
It suited their high-intensity approach to defending in City's third and allowed them to pressure their opposition into conceding possession leading to more direct progressions.
Jardim's side was able to cause multiple turnovers in City's defensive third which gave them several opportunities to score.
Hugo Ekitike: The Diamond in the Youngest Team in Europe's Big 5 Leagues
Every approach has its pros and cons. The worrying thing about a man-oriented press is that the opposition can manipulate markers and create openings within the structure to progress.
With Guardiola on City's bench and the technical quality his team had, it was only a matter of time before he figured out a way to go through Monaco's narrow 4-4-2 block.
In the 7th minute, Silva and De Bruyne stretched the Monaco pivot and created space for Aguero to drop, receive and lay it off for Yaya Toure who was now a free man since the forwards didn't follow his movement.
Bakayoko was pulled out, Fabinho left Silva to cover the centre and Toure found David Silva in the left half space with time on the ball to look for the best option.
This pattern demanded precision and Pep was not willing to rely on a high risk-high reward strategy for 90 minutes.
The modern game is all about creating superiorities in every phase of the game. Monaco had done an impeccable job off the ball but like always, Pep found a solution and it was to use a deep fullback in phase 1 to make Monaco work harder and nullify their man oriented approach.
He made the switch to a 3-2-2-3 and a 3-2 build-up shape in phase 1 always provides several passing angles to beat the press and progress. Monaco still worked hard, shifting across to close the gaps but City was now comfortable with the ball.
Jardim then instructed his team to abandon the high press and focus on covering space in the centre. This was a result of City's narrow 3-2 build-up shape. Short distances, less space to cover made Monaco's job easy.
To find space and time, David Silva kept moving everywhere on the left side of the pitch. Sometimes he would move wide, stretching the pivot or he would drop deep to maintain City's structure in case Yaya Toure/Fernandinho had to make some movements to help progression.
The goals demonstrated Monaco's strengths as well as weaknesses.
 The change of structure leading to City's first goal.
 Monaco equalized using their effective high press.
 Monaco then utilized Mbappe's pace in behind from a dead ball situation for their 2nd goal.
Mendy pushing high and Monaco failing to defend his space led to City's 2nd goal.
Monaco's 3rd goal was a result of their aggressive closing down and then finding Falcao's direct run in behind the City backline.
Pep introduced Pablo Zabaleta on the right in the 2nd half. It paid off since they now had an extra wide outlet and a 2v1 overload against Benjamin Mendy. It leads to a David Silva cutback cleared away for a corner from which Sergio Aguero scored City's 3rd goal.
Aguero was having a fantastic game. Scored 2, assisted Leroy Sane, won the corner for JohnStones' goal with his superb back to goal game which he used on other occasions to create several opportunities for City.
The 8th goal of the game (City's 5th) scored by Sane was another instance where Aguero, with his back to goal, lays it off for a midfielder with a better view of the field. Aguero lays it off, turns, receives in behind and squares it off for Sane.
Monaco's weak defensive performance was on show that night.
Lack of compactness in the centre with Silva and De Bruyne pulling the pivot out, allowing Aguero to drop.
Poor covering of the space left open by the fullbacks during turnovers.
Unable to maintain intensity off the ball which allowed City to control the game with the ball.
Monaco's game plan was solid. The execution could have been better but they scored 3 crucial away goals.
2nd Leg
The return fixture was hosted by Monaco and they came out victorious at the end because of the away goals rule. Tactically, this game was not much different than the 1st leg.
Pep's City used a 2-3 build up shape in Phase 1 with Fernandinho in the lone #6 role this time. Monaco had no problems executing their man-oriented high press.
At times, Bacary Sagna was used as an extra man in the first line to open passing lanes into Fernandinho who was isolated initially by Kylian Mbappe and Valere Germain.
To receive without pressure, Fernandinho would drop between the CBs, Sagna would invert and Silva dropped to form a double pivot. It was a flexible build-up pattern, but Monaco's intensity off the ball caused problems for City.
The 8s — Silva and De Bruyne — pushed high and Silva was key for City's progression. When Fernandinho did find a way to go forward, Fabinho left David Silva and Silva would be open in the left half-space, waiting to receive and turn.
City were finding it difficult to progress since Monaco's 4-4-2 block was narrow and the central areas were crowded. This time, the "Aguero Pattern" was not so easy for City to execute because Jardim had studied the flaws and instructed Bakayoko to maintain a central presence and a CB to keep Aguero in check.
Monaco in possession were brilliant. City looked to block space in a  4-1-4-1/4-1-3-2. Pep wanted to maintain a 3v2 numerical advantage in the centre but Jardim then instructed B. Silva and Lemar to drift inside and drop, allowing Monaco to progress the ball.
Fernandinho was finding it difficult to defend the space behind the 4 midfielders and Monaco used it well. Lemar and Silva were constant threats between the lines and they forced the City fullbacks to be narrow, creating space for Mendy and Sidibe to push high.
Monaco's first 2 goals were created from the left flank by Mendy. An inverted run for the first and then an overlap for the second shows how important fullbacks are in Jardim's setup.
Monaco was comfortable going long with their goal-kicks and looking for 2nd balls deep inside City's half. To execute this perfectly, Jardim had more players in the zone to create a numerical advantage and win those 2nd balls. Anticipation and intensity were key factors.
The principality side was criticized for their shambolic defensive performance in the first leg where they failed to defend a lead, twice. This time, Jardim fixed these issues and Monaco looked perfect.
Lemar was careful when Mendy pushed high so that the space left open by him was not exploited by City. Bakayoko and Fabinho made sure that they didn't drift apart losing compactness and the intensity off the ball was impeccable.
City started the 2nd half really good. Pep changed the shape. He used a 4-4-2 variant of his own. Kevin De Bruyne now was deep alongside Fernandinho, creating a 2-4 shape in Phase 1 similar to what Monaco does with their fullbacks and double pivot.
With a double pivot, it created many passing angles for City to progress the ball and they had the technical quality to do that.
This created new issues for Jardim since Bernardo and Lemar were narrow looking to cut off access to the pivot and the forwards pressing the CBs but once the press was broken down, City had a numerical advantage in the centre with Silva, Aguero and one of De Bruyne/Fernandinho pushing high against the Monaco double pivot.
David Silva managed to find space in the left half space constantly when the Monaco double pivot, pushed high to back the press to block the City ball carrier who had managed to break through the first wave of pressure.
In this situation, Silva was the 'free man' and was causing problems for Monaco with so much space on offer.
Jardim then instructed Bernardo and Lemar to drop off and sit in a 4-4-2 block, with the forwards leading the press but if bypassed, they had protection at the back.
Since Monaco was now blocking space in a low 4-4-2 block, City midfield line dropped deep, forcing the Monaco line of 4 midfielders to push high and engage + block space, creating space between their 2 lines which allowed Sterling to cut inside, drive and shoot which led to a rebound from which Sane had the chance to put the ball in an empty net. City now led 6-5 on aggregate.
Monaco managed to make it 6-6 when they converted from a set-piece opportunity through Bakayoko and now they had the advantage because of the away goals.
Jardim's final change of the night to protect this advantage was to take Kylian Mbappe off and send Joao Moutinho on which allowed Monaco to retain the ball and block spaces effectively.
Moutinho replaced Mbappe in the 4-4-2 block but when the first line was bypassed, he dropped alongside Silva and Lemar to form a 4-2-3-1 which gave them a numerical advantage against City's 4 midfielders and helped them protect their lead.
With this, Jardim's Monaco secured a famous win over Pep Guardiola's Man City. Jardim led Monaco to their first semi-final appearance in the UEFA Champions League since 2004 where they lost to Italian giants Juventus. He also led Monaco to their first league title since 2000.
During Jardim's time at Monaco, he brought domestic success, gave Monaco the status in Europe as a force to be reckoned with when his side scored the most goals (159) in all competitions in 2016-17, nurtured young players and when you think about it, there are not many coaches who would be brave enough to trust so many young players at the highest level with experienced footballers sitting on the bench.
His work has affected Monaco in the most positive way possible and many clubs across the globe wish to emulate it. Leonardo Jardim will always be respected and adored at Monaco for his amazing contributions.
By: @TheMidfieldRole
Featured Image: @GabFoligno / Agence Nice Presse / IconSport