Player Analysis: Kamaldeen Sulemana
Somewhere in the largely unknown Danish Superliga, scouts from clubs throughout Europe were coming to watch a teenager from Ghana who'd been turning heads with his blistering pace and defence-distorting dribbling abilities.
FC Nordsjælland's Kamaldeen Sulemana was taking Denmark by storm during the 2020/21 season, terrorising opposition defenders with his unpredictable moves and gradually improving end-product.
He finished the season with an impressive 10 goals and 8 assists in all competitions for Nordsjælland and it soon became evident that he would be moving on from the Danish club and taking the next step in his promising career.
Kamaldeen was briefly linked with a move to Manchester United, but it was evident that such a move was far too big a jump at this stage in his career. For a while, he seemed destined to end up in an Ajax jersey as most reports suggested a deal was all but done.
How a Forward-Thinking Focus On People Made FC Nordsjælland Great
Ultimately, however, it was Ligue 1 club Stade Rennais that would acquire the services of the Ghanaian winger from right beneath the noses of the Dutch champions.
There was evident frustration from Ajax as Kamaldeen was very highly-rated in Amsterdam, which is a good sign considering Ajax's fantastic track record for talent identification.
It's possible that Kamaldeen felt that his playing time would be more consistent at Stade Rennais as he likely would've had Dušan Tadić, David Neres and Antony as preferred options ahead of him at Ajax.
There was plenty of excitement surrounding Kamaldeen upon his arrival in France. A player with his skillset can light up stadiums every week and that was the expectation, despite his considerably young age.
He made his Ligue 1 debut against RC Lens and made an immediate impact, scoring a goal and completing 4 dribbles. Stade Rennais supporters had already received a taste of what to expect from the Ghana international.
It's been made rather clear at this point but, to reiterate, Kamaldeen is a truly elite 1 v 1 dribbler. His combination of speed, agility and creativity make him an absolute nightmare for opposition defenders.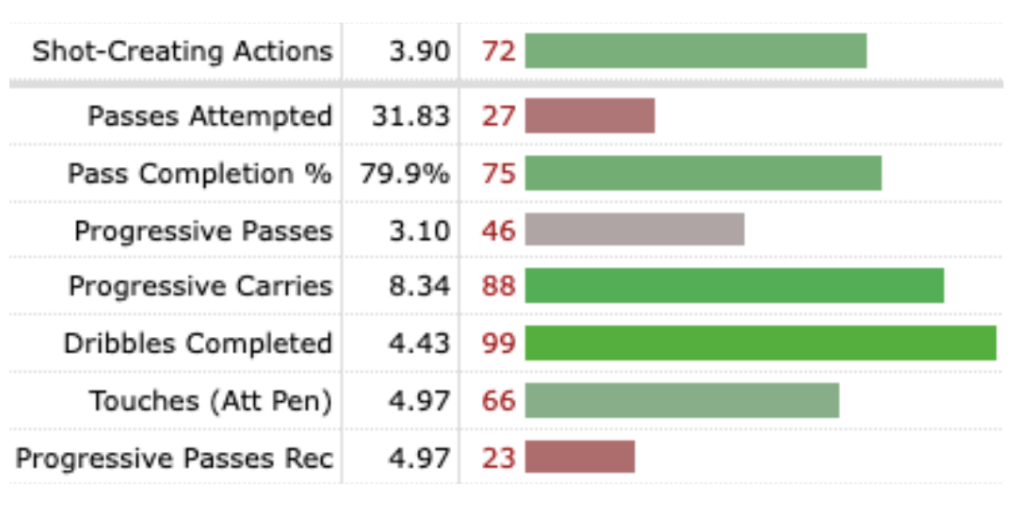 Photo: Kamaldeen per 90 stats [FBref]
High-level 1 v 1 dribblers are incredibly difficult to find and should therefore be treated as extremely valuable commodities.
With a skillset like Kamaldeen's, you have a player who can create something out of nothing, and significant focus can therefore be dedicated towards polishing up his end-product.
For Stade Rennais, not only is this an investment in Kamaldeen's potential, but it's also an investment in the club's ability to develop a player with his raw ability.
During the French club's 3-3 draw with Vitesse in the UEFA Europa Conference League, Kamaldeen completed a highly impressive 7 dribbles, according to SofaScore.
In fact, the mercurial Ghanaian ranks 5th in the Europa Conference League in successful dribbles per game (3.0) at a 79% completion rate. That's a remarkable success rate considering his high volume and it puts him in an elite tier of young dribblers.
He also ranks 5th in Ligue 1 in successful dribbles per game (2.7) at a 59% success rate. Adjusting to a new league is never an easy transition, especially for such a young player, but Kamaldeen has handled it rather well and should only go from strength-to-strength.
Kamaldeen heavily favours the left flank in possession. He often uses the full width of the pitch to drag defenders wide and beat them in 1 v 1 situations or draw double teams, subsequently creating space for teammates in more central positions.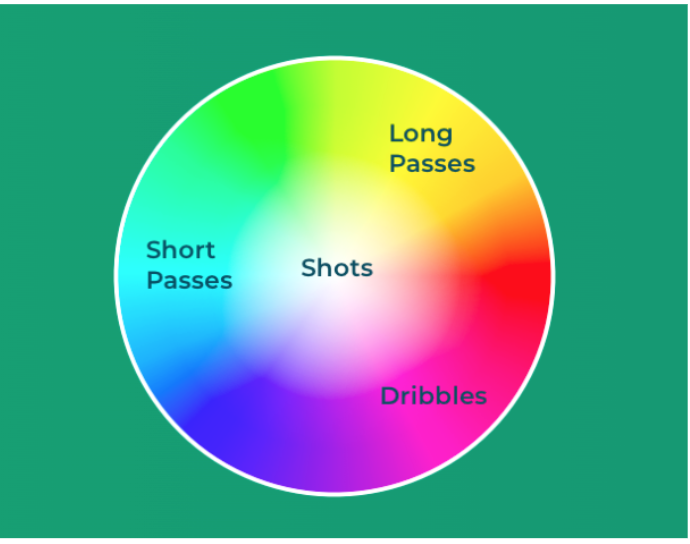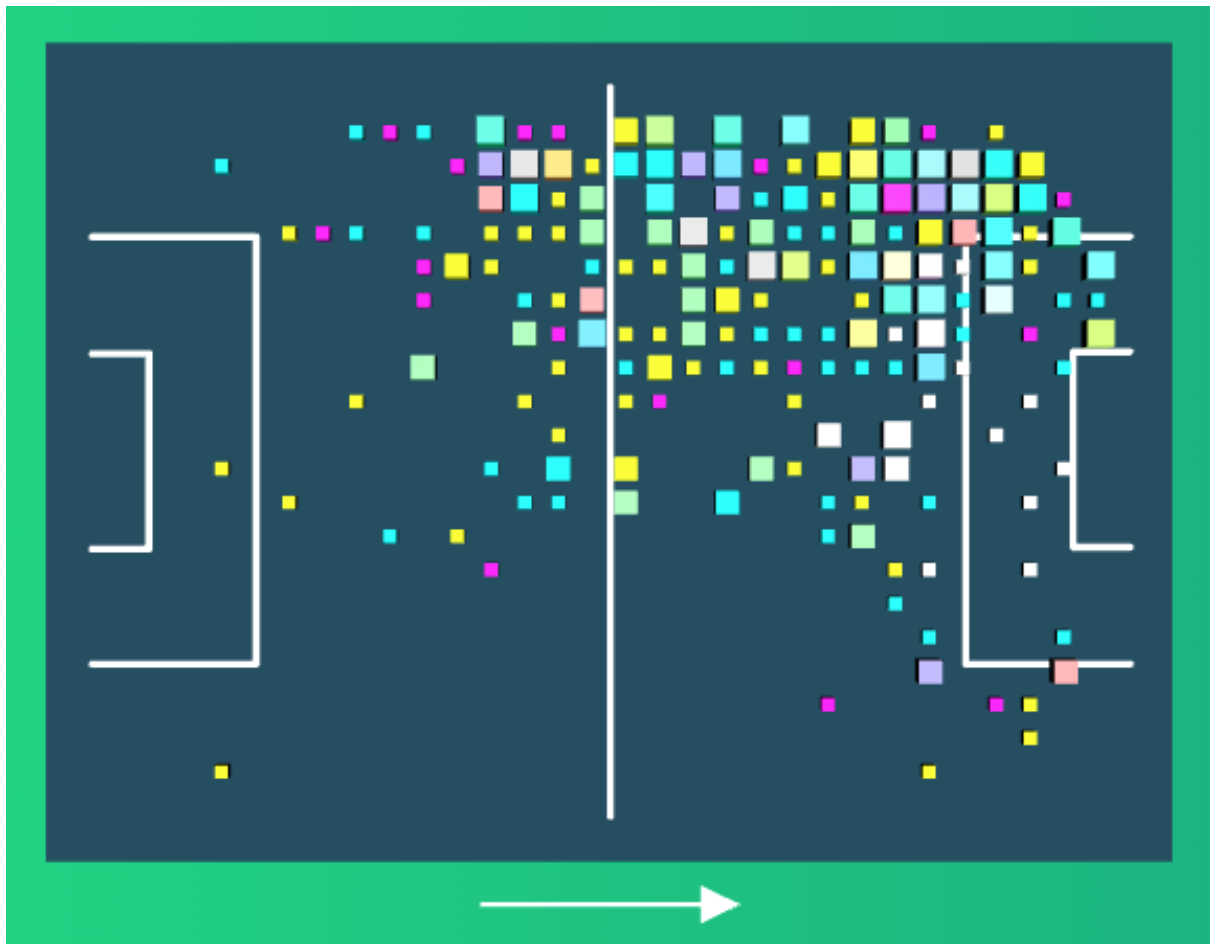 Kamaldeen's legend and action graphic [Smarterscout]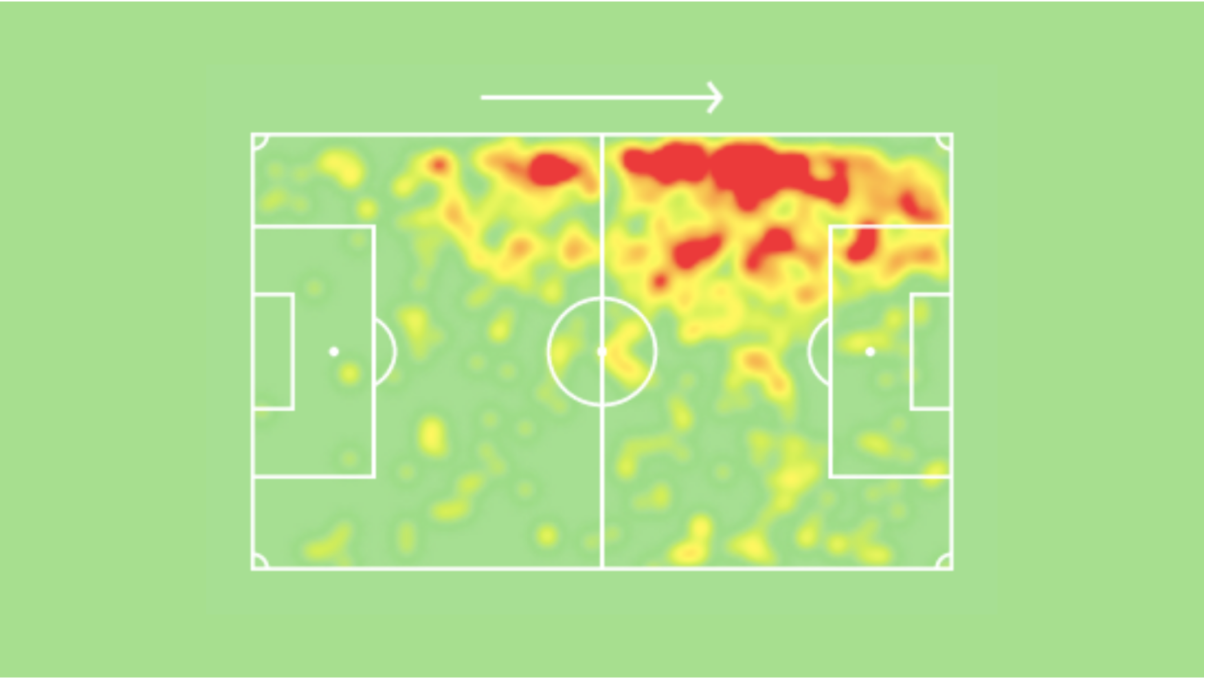 Kamaldeen's heat map [Sofascore]
As the graphics show, Kamaldeen is heavily left-wing focused in his style of play. Part of that is likely the manager's tactical approach, but it's also evidently the way in which the former Nordsjælland starlet prefers to play.
By having a wider starting position, he gives himself more room in which to pull full-backs away from a compact block and use his dribbling abilities to win 1 v 1 duels.
His electric pace also means he can beat defenders down the line and get into more advanced positions where he can either cut inside or use his weaker left foot with which he is a capable playmaker, although he could still improve his weaker foot.
That said, Kamaldeen is not positionally one-dimensional. He is capable of being productive off the right flank, which makes sense considering his particular skillset.
His goal against FC Metz is a good example of what the Stade Rennais star is capable of when he finds himself on the right-wing.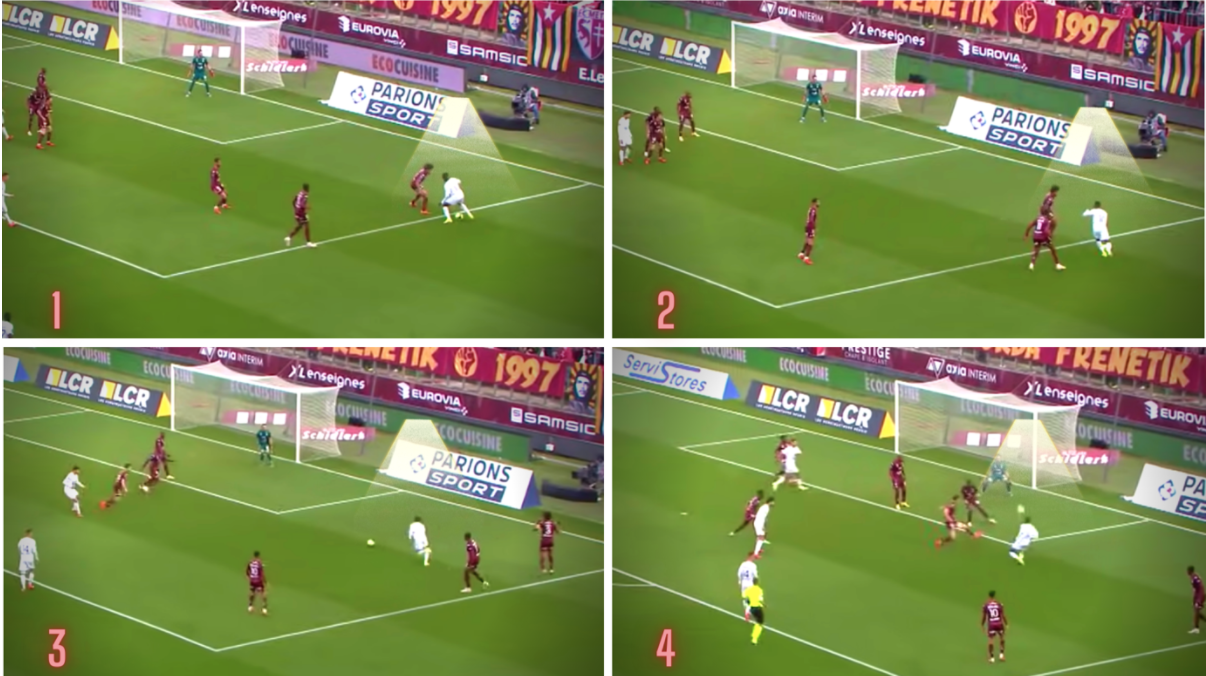 Kamaldeen shows many of his best attributes for this goal. He draws three defenders to him, two of whom mark him closely, and this subsequently forces the rest of the Metz defenders deeper into the box to cover the rest of the Stade Rennais players.
The Ghanaian winger eases past the two defenders with a wonderful move before stabbing the ball off the underside of the bar and into the net. It was a sensational goal from an exhilarating youngster and it showed what he's capable of coming off the right flank.
In fact, his attributes might be better suited for a right winger who stretches the pitch and can beat his defender down the flank with his blistering pace or dribble into more central zones and be a playmaker from there.
One of the greatest benefits of Kamaldeen being so young is that there's plenty of time to mould him into a particular kind of player whilst still retaining the skills he's learnt up to this point.
Despite these capabilities off the right, however, Kamaldeen has still done most of his damage playing off the left. His assist against Paris-Saint Germain is a great example of how dangerous he can be playing off his favoured left wing.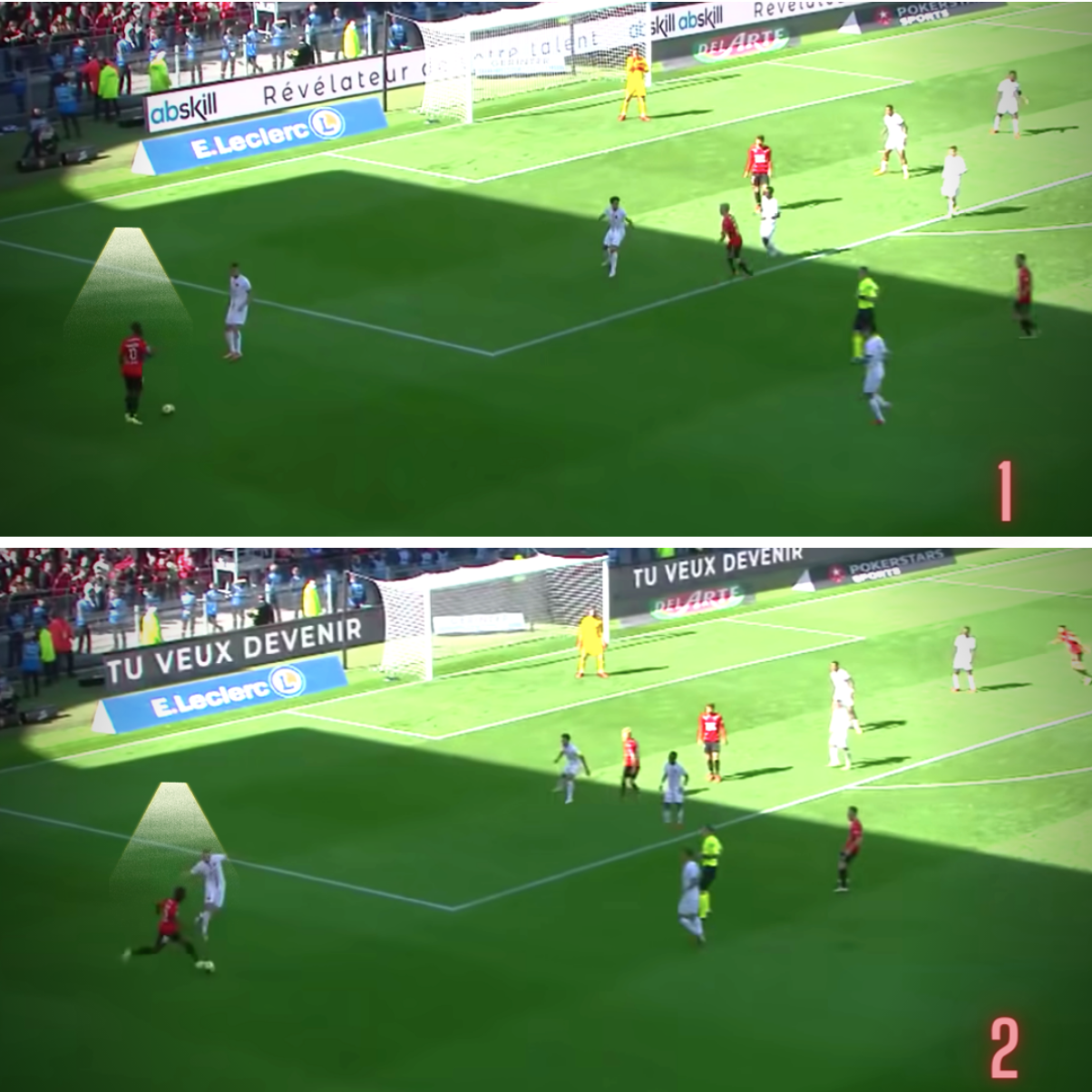 The mere threat of Kamaldeen dribbling forces his defender to step back and give him extra space in which to operate.
He uses this space intelligently by cutting onto his right foot and whipping a devastating cross towards the back post for Gaëtan Laborde to finish and give Stade Rennais the lead against the Parisian giants. 
This goal also provides insight into Kamaldeen's potential as a high-volume goal and assist provider if he polishes up his end-product.
That said, he still has some way to go to truly reach that level as a consistent threat in scoring or assisting goals.
According to transfermarkt.com, the Ghanaian prospect has scored 5 goals and provided 2 assists in 27 appearances for his club this season — 15 starts and 12 appearances off the bench, to be specific.
Asante Kotoko and Veo Technologies: Bringing Analytics to the Ghanaian Game
This isn't a terrible return, especially in terms of goalscoring, but there's evidently significant room to improve and increase these numbers and, subsequently, become trusted as a more regular starter.
His decision-making is probably the biggest hurdle for him to overcome at the moment. At just 20 years old, Kamaldeen has plenty of time to improve in this regard, provided he applies himself to make these required improvements.
Many of the world's most prolific forwards have shown us how impactful off-ball movement can be in improving one's end-product.
The likes of Sadio Mané and Mohamed Salah evolved from being exciting, mercurial dribblers with good numbers to being more calculated dribblers with elite numbers.
A large reason for that has been their willingness to use their athletic gifts and offensive instincts to move off the ball and get into dangerous positions.
This is something Kamaldeen must do to enter the top echelon of his fellow African forwards as a goal threat. That said, the youngster has shown glimpses of being a willing and capable threat off the ball.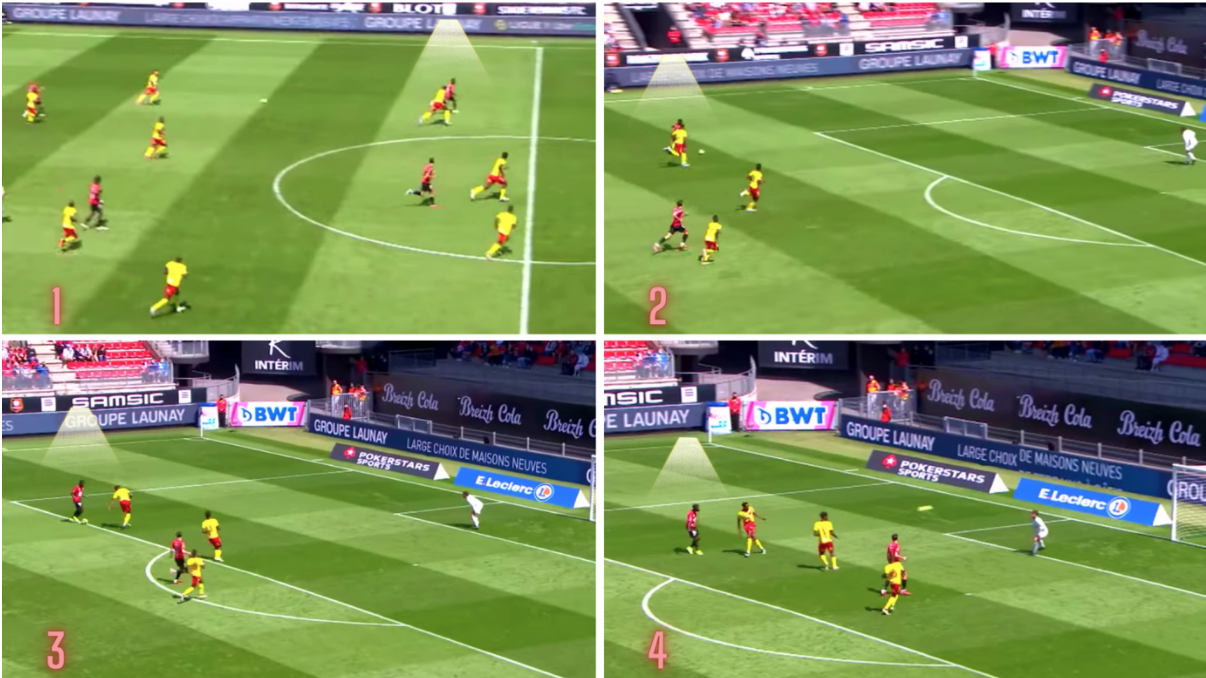 On his debut for Stade Rennais, Kamaldeen scored a lovely goal against RC Lens. A counter-attack begins and Kamaldeen sprints down the left half-space and uses his pace to get ahead of the Lens defenders.
He then squares up to his defender in a 1 v 1 situation before cutting onto his right foot and bending a shot past the motionless goalkeeper.
If these movements can become a regular part of his game, Kamaldeen can become a significantly more dangerous player in the final third.
As previously mentioned, he's still very young and, therefore, these improvements can be made. He's such a dynamic player and this feels like the natural progression in his footballing evolution.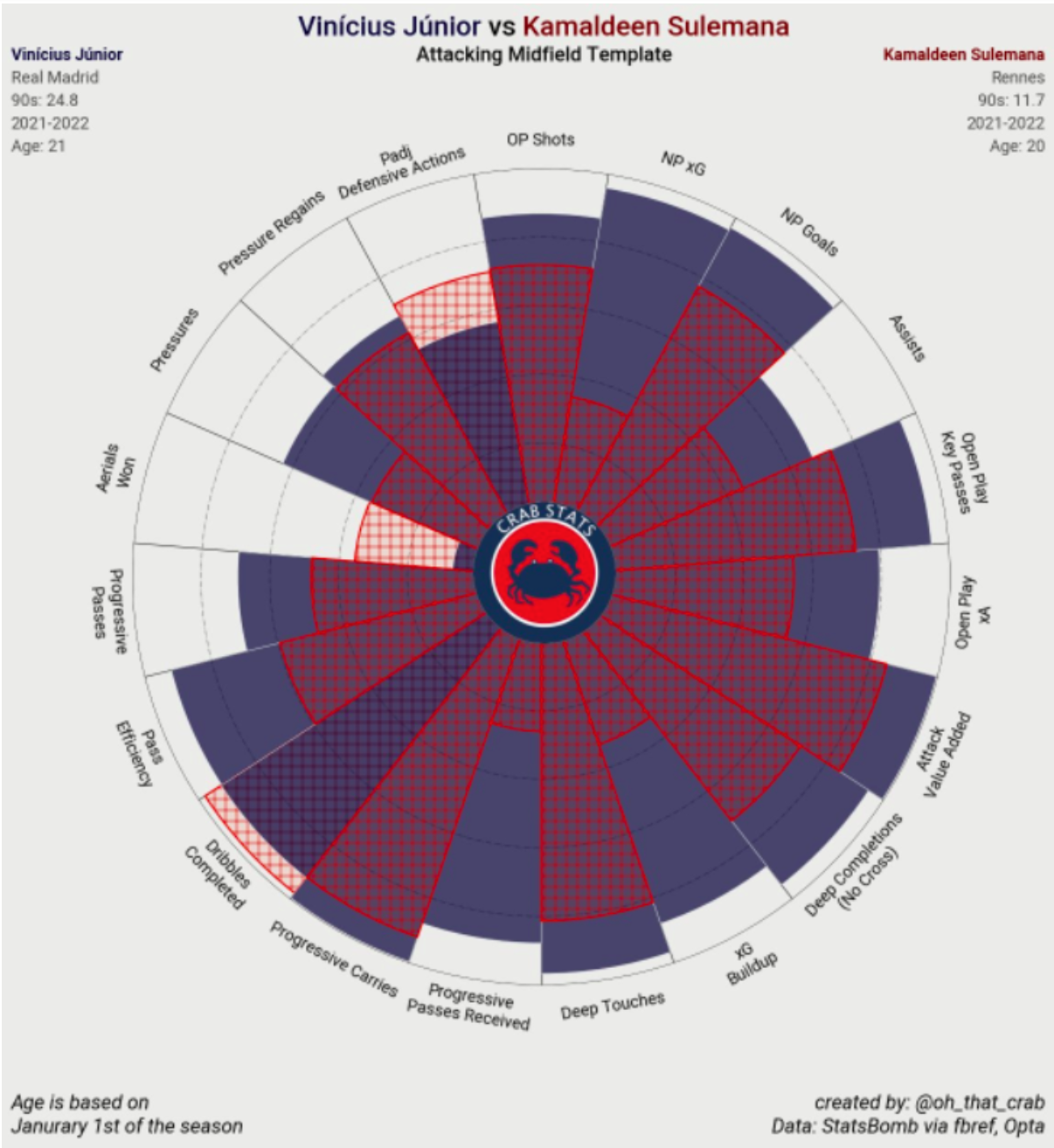 Photo: Crab Stats Graphics
I believe the player progression Kamaldeen should aim to follow is that of Vinícius Júnior. The Real Madrid starlet had very similar traits to Kamaldeen when he was first emerging for Los Blancos.
He was an exciting, unpredictable dribbler who was almost purely focused on being an on-ball threat, at the expense of being dangerous off the ball.
Vinícius was also a fairly poor finisher and many Madrid fans were worried about whether he'd be able to improve his end-product to the point that he'd become a key player for the team.
Those fears have now been alleviated and Vinícius looks like the player that was promised when Real Madrid splashed a reported €46 million on the young Brazilian.
Kamaldeen shares many of the traits and attributes that were displayed by Vinícius Júnior early in his career, so the hope should be that he can make similar improvements in that regard.
The former Flamengo wonderkid is now one of the best wingers in world football, so it's certainly a high bar for Kamaldeen to clear, but I believe it's a realistic one too.
Evidently, I believe Kamaldeen Sulemana has the potential to become a genuine world-class player. He's extremely raw at the moment, but there are so many directions in which his talent can take him.
It'll largely come down to how he applies himself in his own development as a player, but it's also important that Stade Rennais develop their upstart winger into the player they hope he will become so that he can be a legitimate star for them, before likely moving on to a bigger club in the future.
Such a move, however, is a distant thought right now, and the only concern for Kamaldeen should be how to go from a promising young prospect to a genuinely elite player.
By: Lebohang Mwamuka / @lebzygold
Featured Image: @GabFoligno / Soccrates Images / Getty Images