AC Monza – Berlusconi's Living Legacy
Back in March of this year, a few friends and I were sitting in the pub, chatting generally about football and our plans for the year ahead. It turned out that all of us wanted to travel overseas to watch a match, but had never been able to organise it properly.
Long story short, a trip was booked. Firstly to Milan for Inter vs Fiorentina, a chance to experience San Siro before its inevitable demolition. The Giuseppe Meazza speaks for itself and I won't be the only one telling you to get over there and enjoy it while you still can. 
The second leg of our trip was more of a shot in the dark. As motorsport fans, we'd wanted to visit the Grand Prix circuit at Monza and noticed that the adjacent club were hosting SS Lazio the day after our match in Milan. 
For an adult ticket, AC Monza will charge you the equivalent of £20. That's for a game of Serie A football against one of the biggest clubs in Italy. Needless to say, that'll get you the square root of nothing in the Premier League, if you can even get as far as buying a ticket due to the demand.
Fast-tracked
This kind of value for a Serie A fixture is enough on its own to warrant a visit, but what makes Monza particularly intriguing is the story behind the club. In 2018, Monza, then in the third tier, was purchased by Fininvest, the holding company of the late Italian tycoon, Silvio Berlusconi. Two years previously, the former PM was forced to sell AC Milan and step away from the elite level of European football, unable to keep up with the financial power of the Premier League clubs and sovereign wealth funds.
Just as it is for so many, football was an addiction which Berlusconi couldn't shake. Together with Adriano Galliani, Milan CEO of thirty years and lifelong Monza fan, he took on a new project, aiming to use their spending power and years of combined experience to build the club up to Serie A level. They didn't take long. A fifth-place finish in the first season under new ownership was deemed unsatisfactory for 'Il Cavaliere'.
For the 2019/20 season, nothing was left to chance, with a squad packed with Serie A experience and Milan alumni. Monza were 16 points clear in first place when the league was suspended, a pandemic proving incapable of derailing Berlusconi's ambition. Serie B was treated with a similar attitude, but again proved to be a tougher test than anticipated. Missing out in the play-offs in 20/21, Cristian Brocchi was sacked as manager, as the squad was further reinforced with high earners, often of first tier quality. 
The message was clear, Silvio wasn't planning on hanging around in the second tier. Two extra time goals in the 21/22 play-off final was enough to salvage the season after a last day hiccup which saw automatic promotion slip away. The job was done, Monza were in Serie A for the first time in their 110 year history.
Turbocharged
By the time of my visit to the Stadio Brianteo, Monza was a club which had been on quite the journey. From the third division to the first in four years. Some supporters must've felt as if they'd gone to bed one evening and awoken to find their club completely transformed.
We left our cafe in the centre of the city to begin our walk to the ground. Monza is a beautiful place and with so much of the attention taken by Milan, it seems slightly more exclusive than the cities which surround it. Outside of Italy it's rare to find anyone who's been there compared to Milan or Venice. 
Walking down the cobbled streets, flanked firstly by cafes and bars, followed by apartments, followed by industrial units, I started to get a sense for just how removed the stadium is from the city itself. Monza's F1 track is situated in a public park, easily missed if you didn't already know it was there. The Brianteo by contrast is isolated and exposed, located in a field and accompanied by a seemingly abandoned building in the one adjacent to it.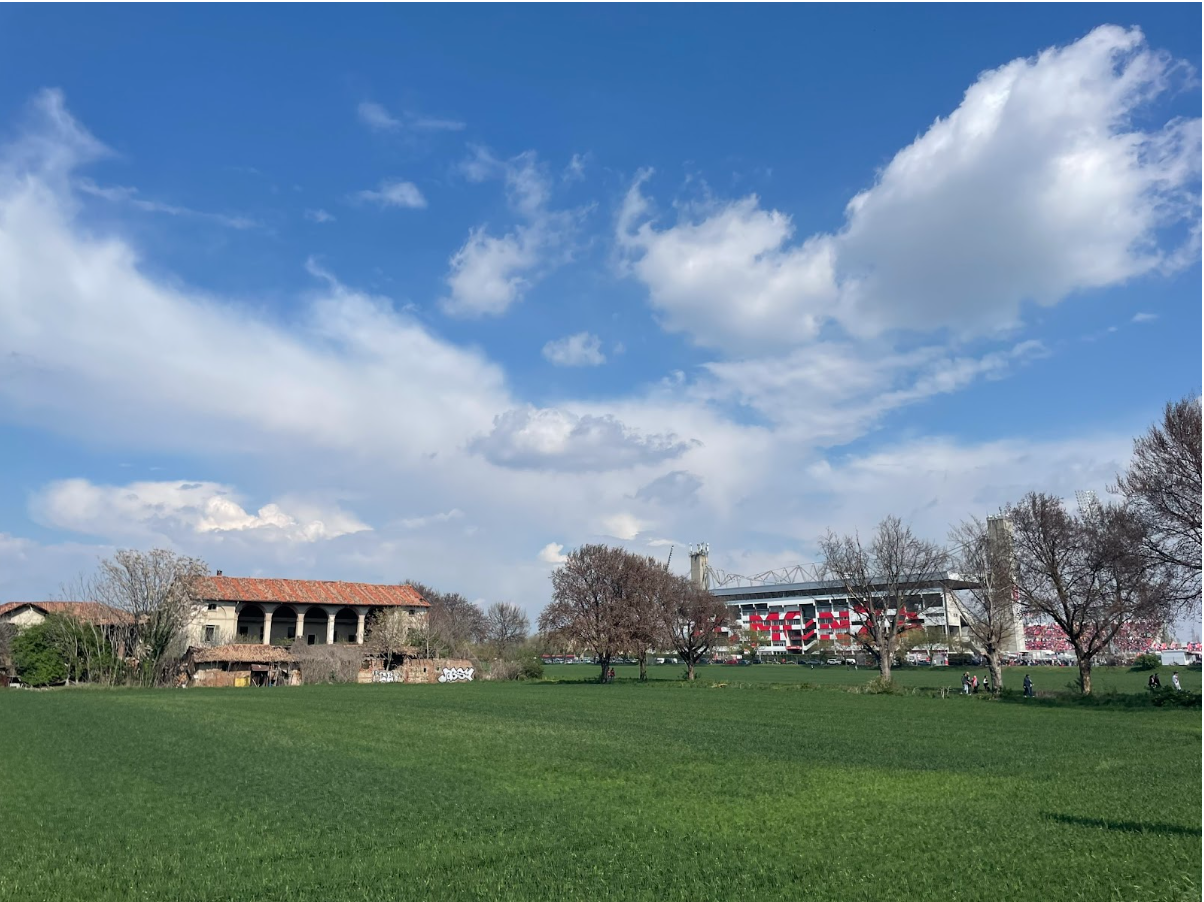 Opposite the main access point for fans approaching from the city, a number of car dealerships welcome you to what is clearly the beginning of Monza's industrial sector. On the pitch, it's fair to use a motorsport term to describe Monza's recent history. 'Turbocharged' by the millions of their late chairman, to be able to compete at a level previously unimaginable. 
Off the pitch, the side effects of this are clear. Monza's ground simply doesn't feel like a top flight stadium. At 12,000 capacity, it's on the level of an AFC Bournemouth, but it's the lack of facilities which is most striking. It's important to note that this is reflective of an ongoing crisis in Italian football. Old and unfit stadia are restricting clubs' ability to generate revenue, with endless red tape and lack of investment making it hard to build new ones. Monza's however, feels like something different.
It's not a top level ground which has become outdated, but a second or third tier one which has been thrown into Serie A and expected to cope. It does so pretty well, but the cramped outlets for food and drink, hand checking of tickets and IDs on the gate, all seem slightly out of place.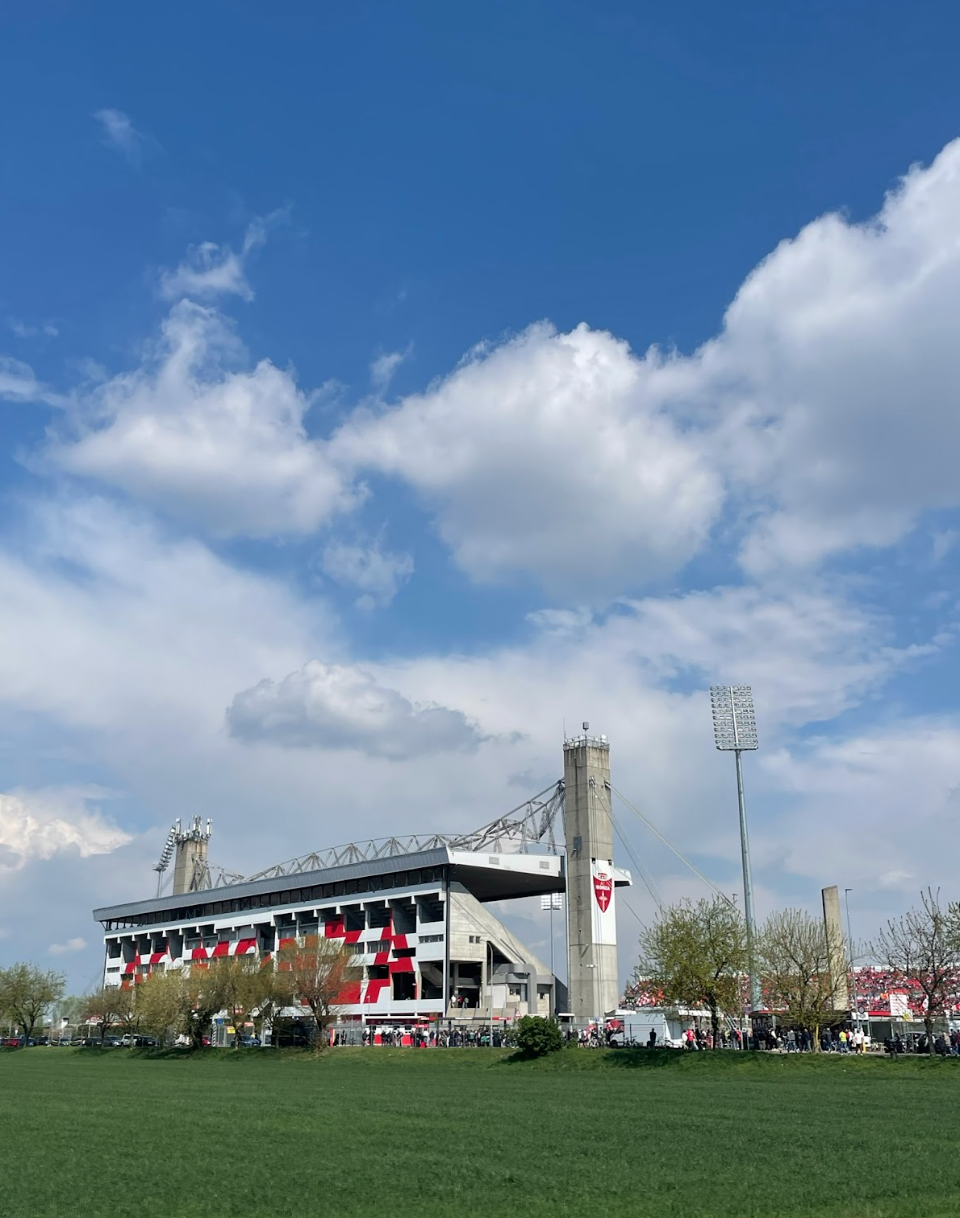 To use another motoring analogy, if clubs such as Milan and Juventus are precision engineered sports cars, then AC Monza is a family saloon which has had a turbocharger strapped to the engine. No doubt, it's keeping up with the field and asking major questions of them, as I'll examine later, but there are some components which struggle slightly under the new high speed conditions.
Charm
Upon entering the stadium however, I was able to ignore all of this. It didn't matter that this wasn't a typical first tier stadium, simply because the spectacle which it produces is beautiful.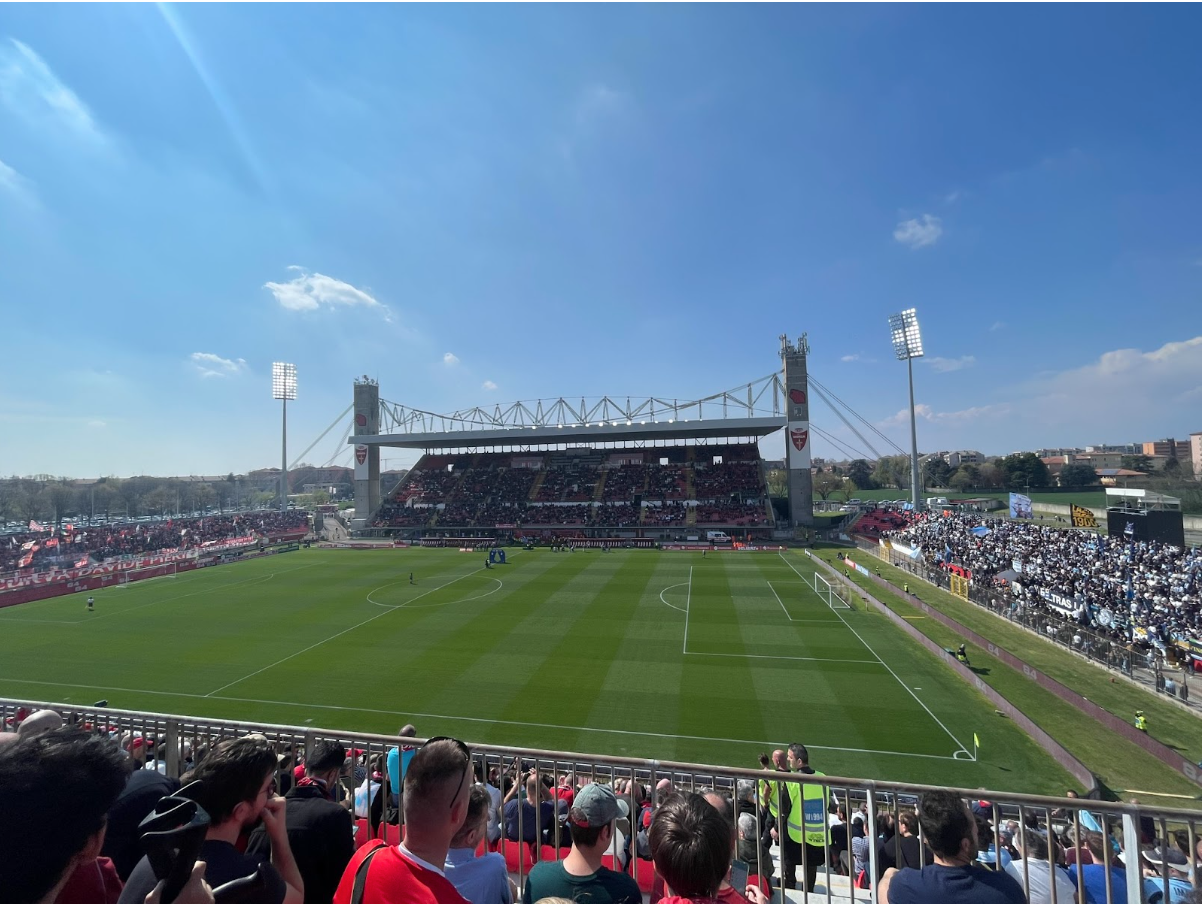 The vibrance of the sky and the grass, that simple yet striking main grandstand. The exposed ends, the proximity to the pitch. It made me instantly glad to have made the trip. The noise was near carnival-like. The 'curva' of die hard Monza fans at one end, with the Lazio ultras at the other. A seemingly endless supply of flags and flares, not one person sat or stopped singing for a moment. 
The call and response between both sets of fans, almost a sportsmanship between the two. The collective jeering of the questionable, talent show level half time 'entertainment'. All of this contributed to what I believe is the most beautiful place I've watched football so far. Bearing in mind I was at San Siro the night before, that's some statement. This seemed to be almost a distillation of what I'd convinced myself Calcio should be. The fact that it was compressed into a smaller scale made it feel all the more special.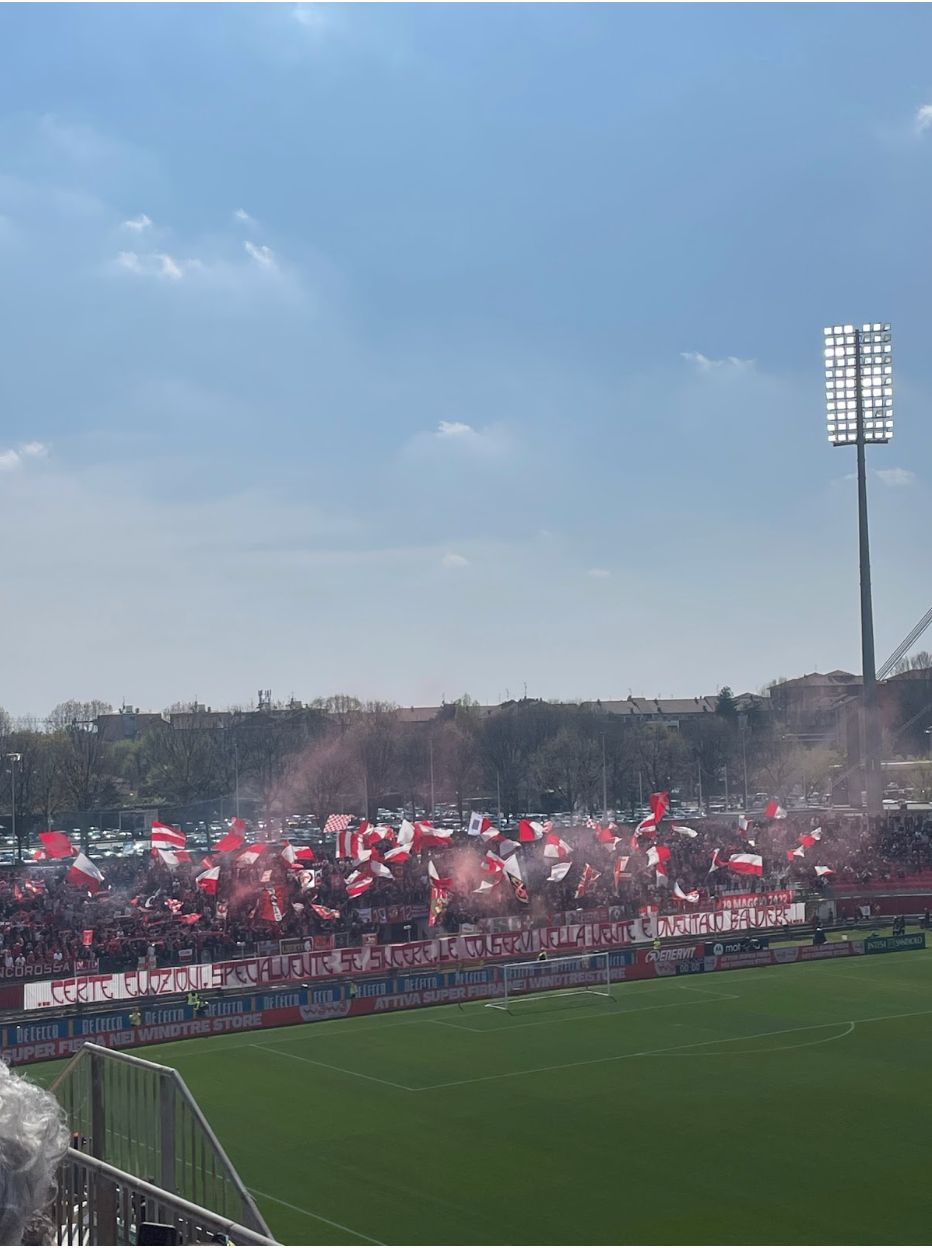 For £20 a ticket, I couldn't ask for much more. All that was left was the on-pitch product, which just like the stadium, reflected where Monza are as a club.
Progress
Upon arrival in Serie A, Monza found themselves with a fairly solid core of players. This, supplemented with the arrival of a number of young talents on permanent deals and some vital experience primarily on loan, came together as an effective first tier squad. Results, however, were deemed unsatisfactory. Five consecutive losses to start the season was enough to see Giovanni Stroppa sacked, with promotion the previous year not enough to stop Galliani and Berlusconi acting promptly.
With decades of experience at the cutting edge of the game, the pair were always masters of decision making. Both aware of what a squad should be able to achieve and never hesitated to pull the plug on something that isn't working. The choice to replace Stroppa was someone few expected. 38-year-old Raffaele Palladino, a former Italian international and a coach in the Monza youth setup since 2020. A gamble, it seemed, but Galliani and Berlusconi knew exactly what they had on their hands.
Rémy Cabella – The Newcastle 'Flop' Thriving Once Again at Lille
There was no interim period in which Palladino 'won' the job. He was appointed as permanent head coach straight away. An enormous declaration of faith and for Palladino, a first opportunity as a head coach at a first division club who had only scored twice in five games.
"The choice we made, the president Silvio Berlusconi and I, is dictated by the fact that in our opinion Palladino bears the stigmata of the great coach. Even when we chose Arrigo Sacchi for Milan, it was a courageous choice. I would compare Palladino's choice a lot to Sacchi's," Galliani told Sky Sports.
That's one hell of an endorsement, yet no pressure was directly applied by the ownership. Palladino tells us himself, "The club asked me to inculcate my ideas, to make the team go faster. They didn't ask me for any goals, the president and the director asked me to do my best. It was a wonderful evening with President Berlusconi, I felt almost at home, as I feel here with my family in Monza. We talked a lot about football. He asked me for nothing in particular, he asked me to give my all."
And he really did. Three straight wins immediately justified the faith shown in him, the first coming against Juventus in a debut passed with flying colours. Consistent form and positive football continued for the rest of the season, leaving the relegation fight in the rear view mirror.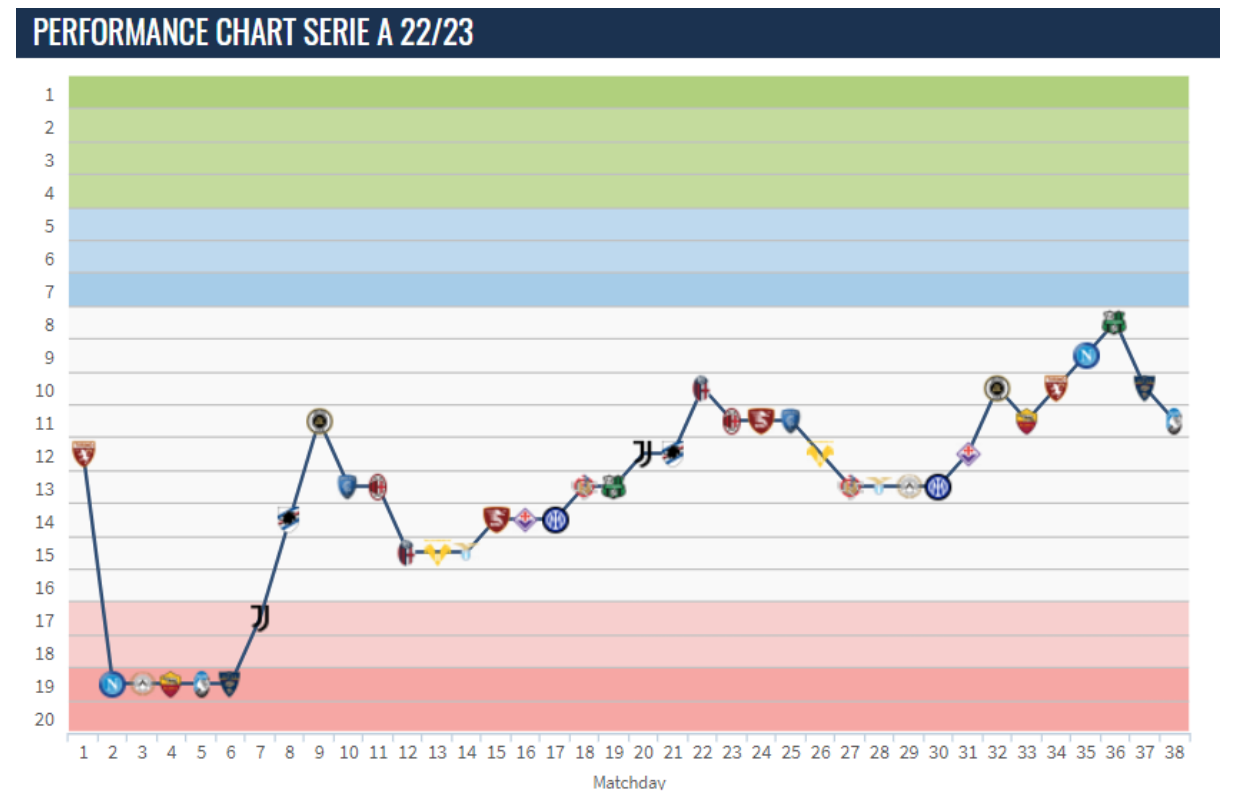 Two separate 8-match unbeaten runs saw Monza rack up a mighty impressive points total. A side inherited in 19th place peaked at 8th with two games to go. 21 points clear of relegation, just 10 away from Europe, Palladino had justified the faith of the wily old duo and done it all in style.
Control
Palladino is clear in his commitment to progressive football. Part of the new school of Italian coaches who are graduating from pro-license courses inspired by the likes of Sarri and Spalletti rather than Conte and Allegri. Palladino cites one influence directly, that of the current Atalanta manager. "I try to bring into the field what I learned from those who coached me: Gian Piero Gasperini is a master, ever since the Juventus Primavera days", he told Sky.
One thing that Palladino's Monza seem to value most of all is control, looking to achieve this by keeping possession of the ball and using this to manipulate the opposition's organisation. We can see just how committed they are to this by examining some data.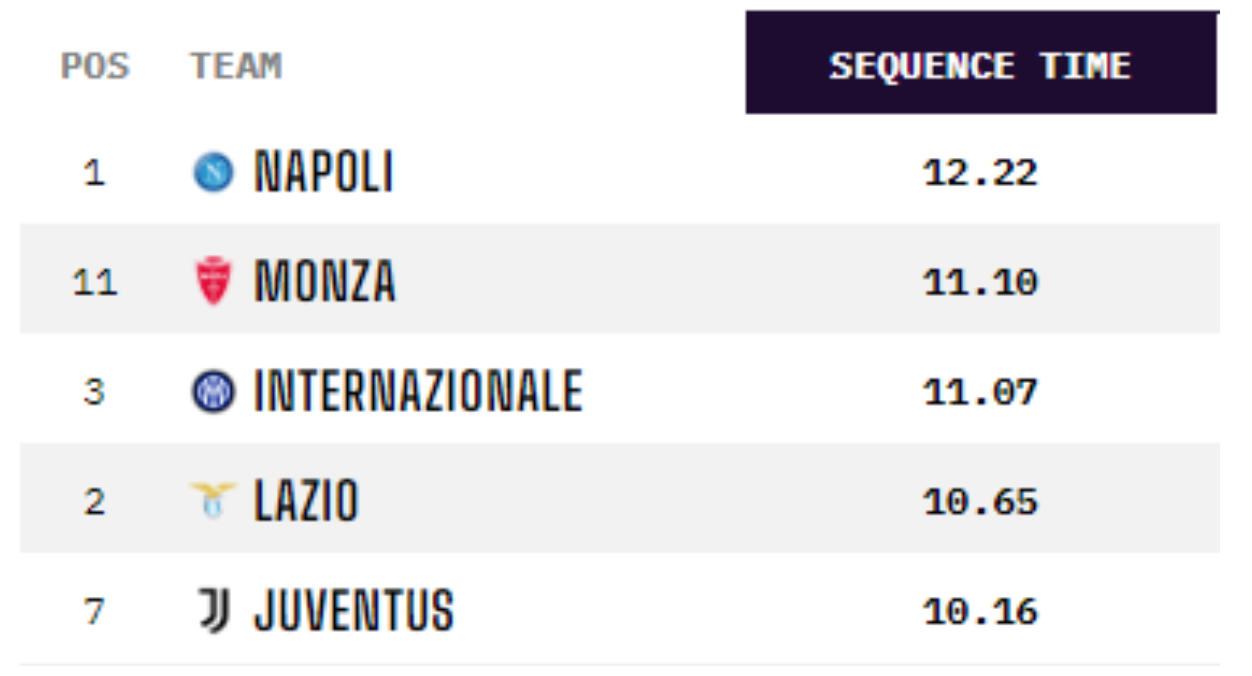 Here we can see the league rankings for 'sequence time', the average time in seconds of a team's passages of play. Monza rank second, only beaten by Spalletti's all conquering Napoli side. Monza keep the ball for a really long time, aiming to establish control of the game and impose their will upon the opposition. 
They're also fourth highest for 'build up attacks', this being 'the number of open play sequences that contains 10 or more passes and either ends in a shot or has at least one touch in the box'. They're beaten only by Napoli, Lazio and Inter.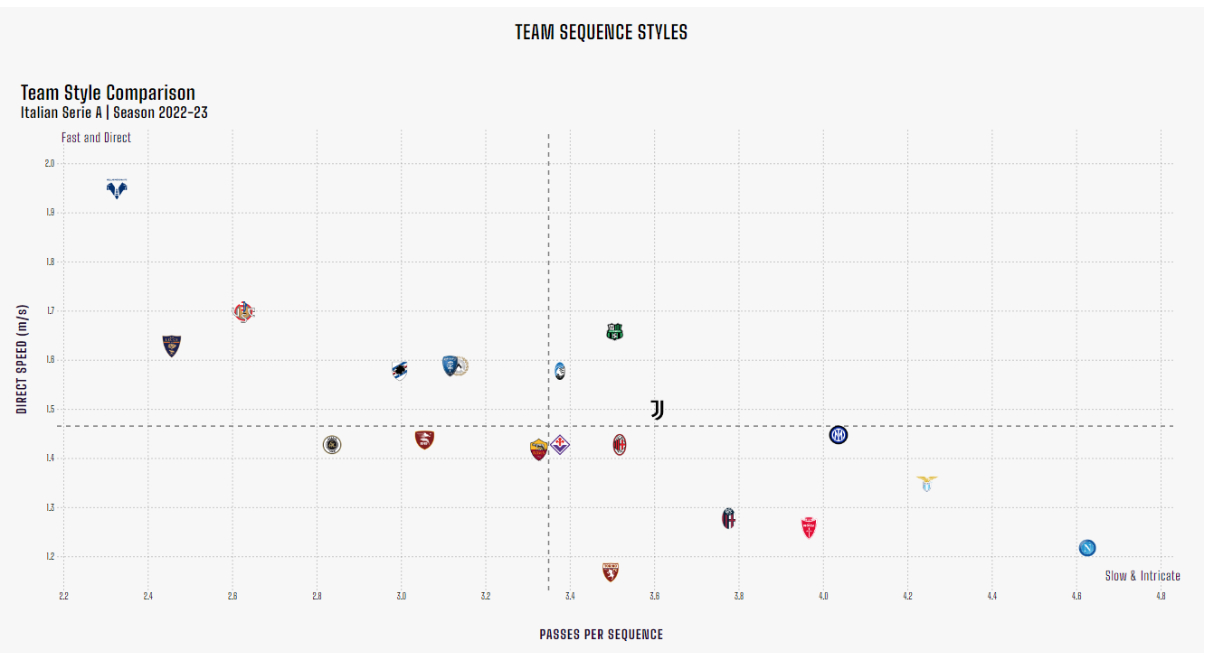 Stylistically, Palladino's Monza are deeply similar to the best teams in the league, as shown in the above graphic. Possession based and looking for control, all coached by managers from the progressive strain of Italian coaching, Sarri's Lazio, Spalletti's Napoli and Simone Inzaghi's Inter. 
These sides all take their time, with a high volume of passes and great patience when constructing attacks. We can see how this manifests itself at Monza through this example from their 2-2 draw at home to Sampdoria back in February. 
Their 3-4-2-1 formation is clear to see in this average position map. Two deep midfielders work with the three defenders to create a 3-2 structure in build-up. This is done in order to create numerical superiority and increase ball retention in deep areas.
The security and control that this brings is demonstrated in their stats from that particular match. 72% possession, 635 passes vs 259. 90 minutes of play and the average position map looks as though it was drawn as a lineup graphic. Perfectly spaced, structured and disciplined, in complete control.
This is also evidence of one of the issues which sometimes arises with Monza's style. For all their patience, they can be a little static at times, in need of some movement to penetrate the box more often. 
Control ≠ Goals
This control is all well and good, but it does not guarantee goals and wins, merely increasing the opportunities to create such outcomes. So let's look at how Monza actually attack. I witnessed some great examples of this during the Lazio game in April. The 0-2 scoreline doesn't look good, but Monza actually had better chances than Lazio, generating more shots and xG than their opponents.
One word sums up Monza's style of play, that being 'bravery'. This is shown in the below example. Despite already being 0-1 down in the 17th minute, we see Monza's back three pushing up audaciously high, showing an insistence, an arrogance even, to keep playing the same way, getting on the ball and attacking despite the game state.
Central defender Pablo Mari is in possession. Notice that Monza have ten players in the opposition half. He switches play to the right wing-back, Patrick Ciurria, who's found himself in space thanks to his high and wide positioning.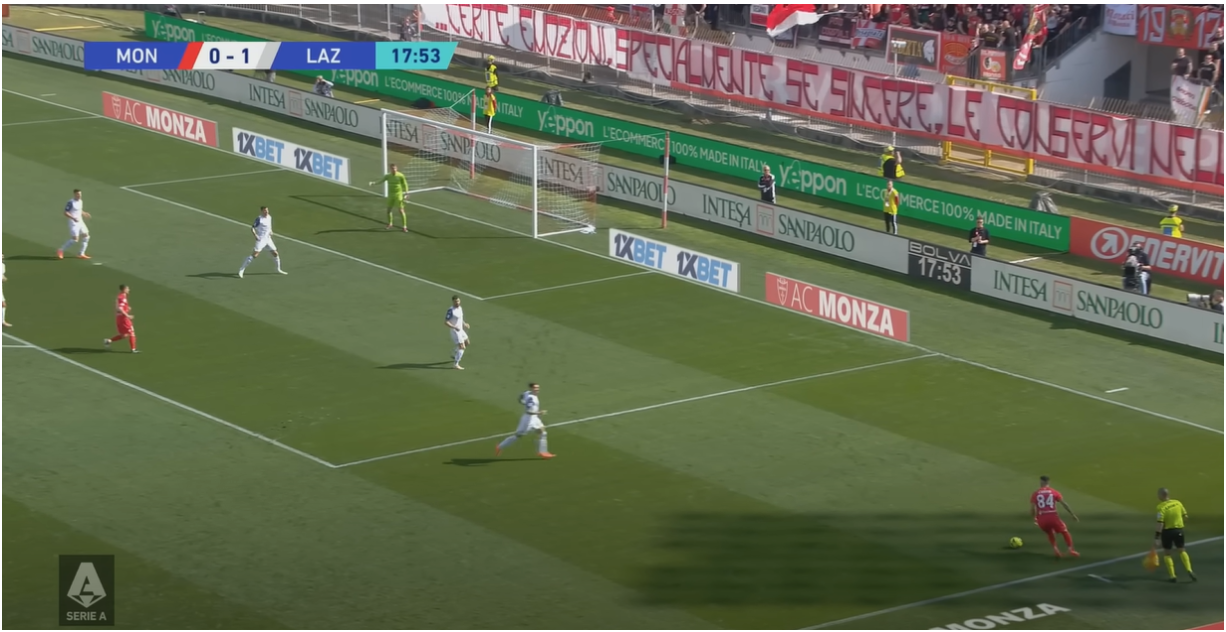 He controls the ball in acres of space and hits a dangerous whipped cross into the box. The use of his weaker left foot, confusing the Lazio backline.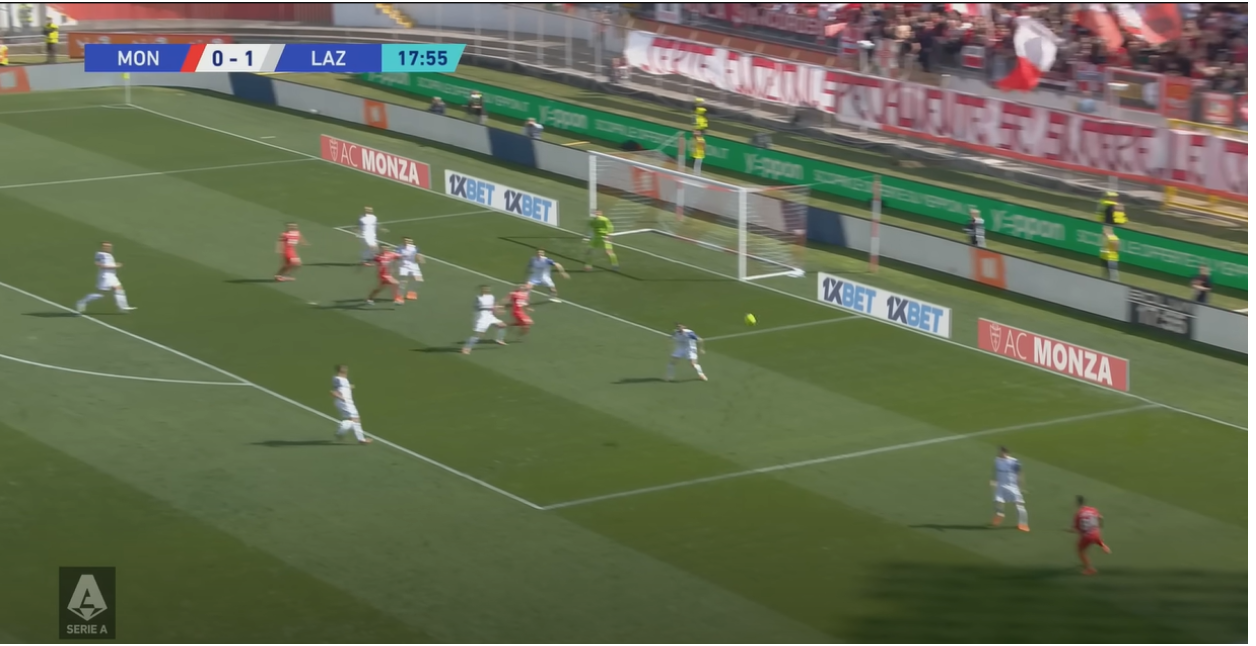 It's headed just wide, but this chance demonstrates Monza's bravery. Lots of bodies forward, brave positioning and passing. For all their patient play, they're also capable of going more direct to create chances like this when required. 
This match also demonstrated Monza's ability to break the lines and create opportunities by utilising their intelligent inside forwards. Here, we see deep playmaker José Machín on the ball under pressure from two Lazio players.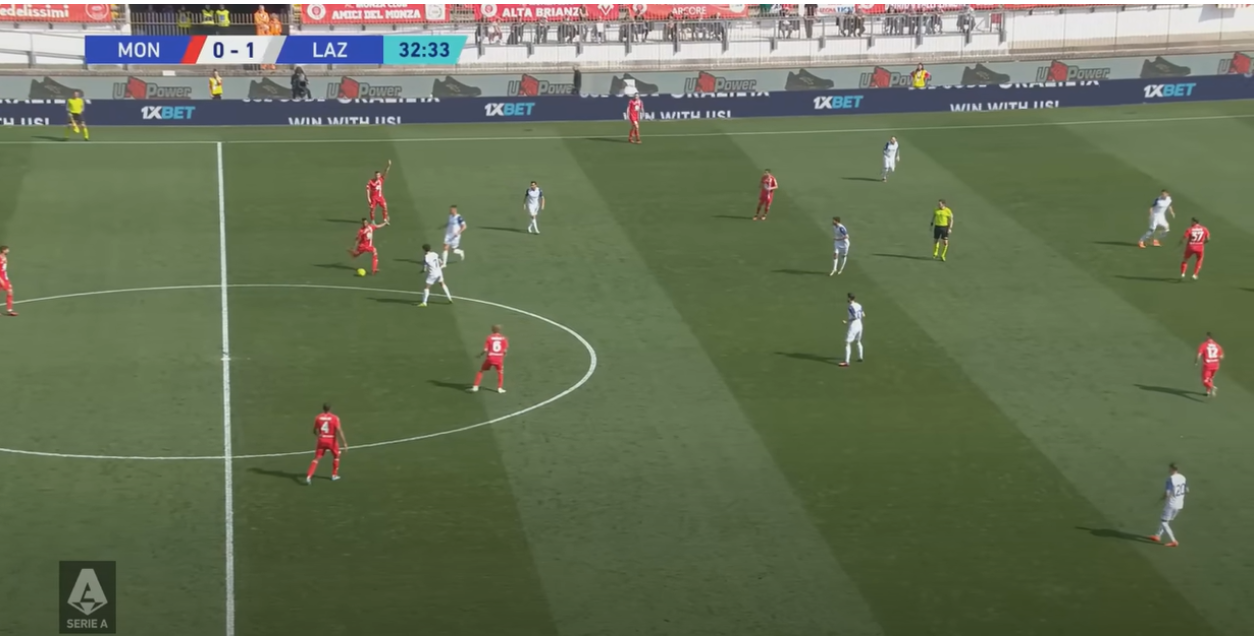 He's able to play with his head up, spotting the highly technical Stefano Sensi, deployed as an inside forward that day, who he picks out with a slide-rule pass.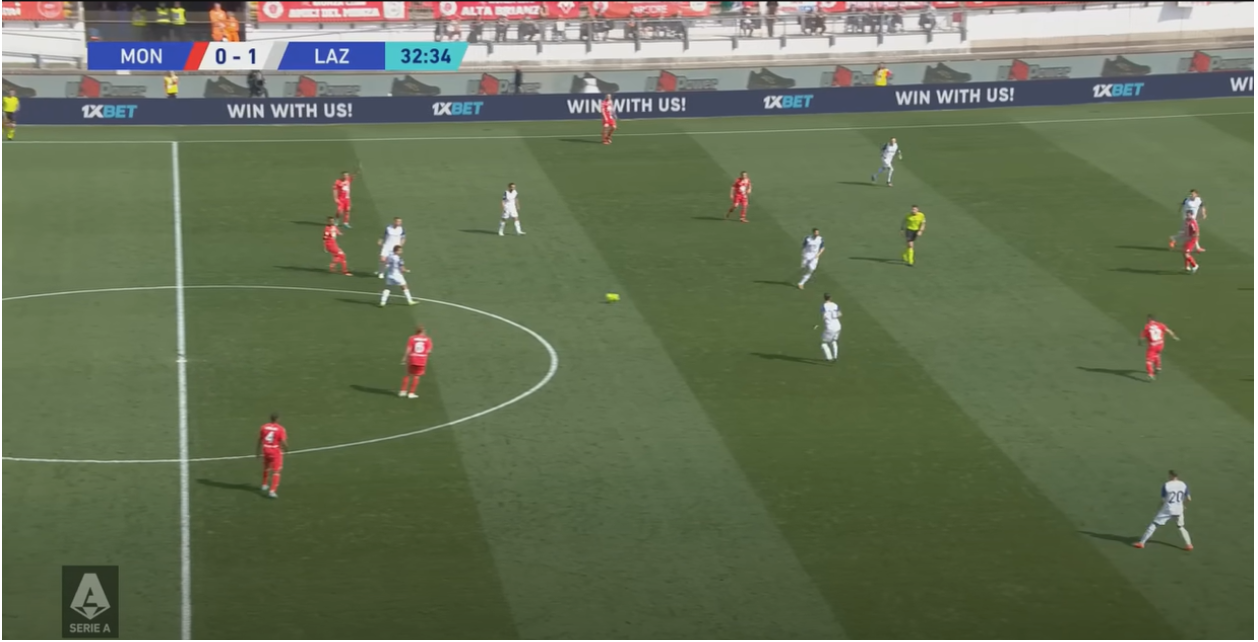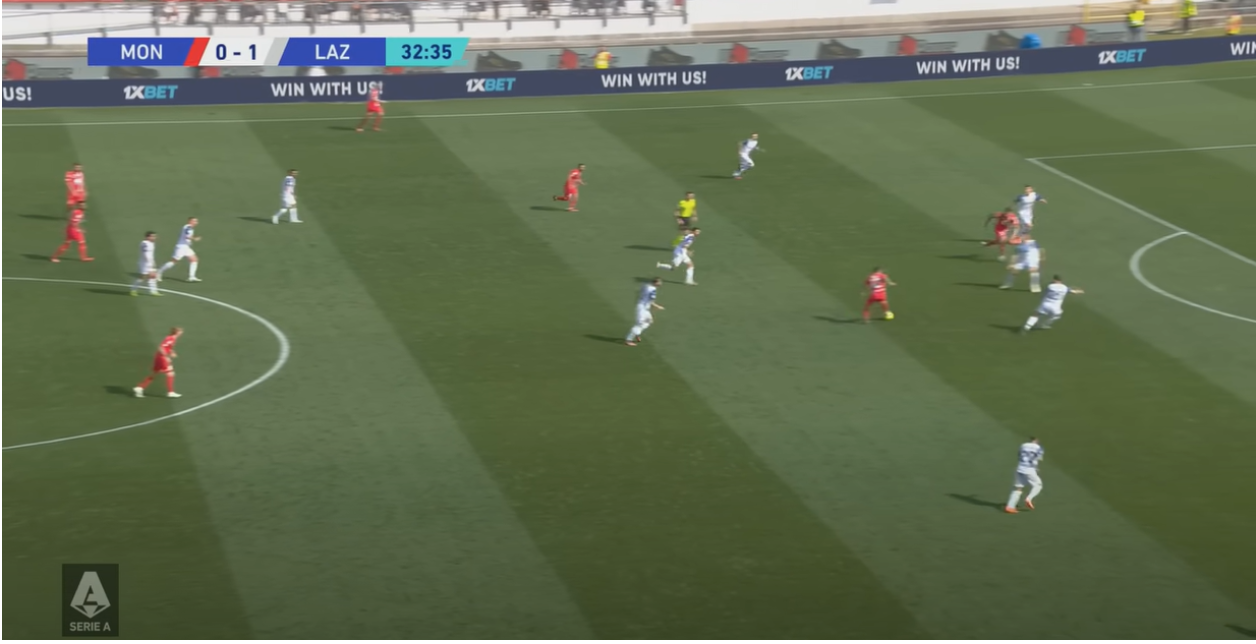 Sensi has the positional intelligence to occupy this pocket of space, opening up a passing lane, then shows the ability to turn on the ball sharply. He finds the tireless Patrik Ciurria with a pass, yet again positioned aggressively, who is able to receive inside the box.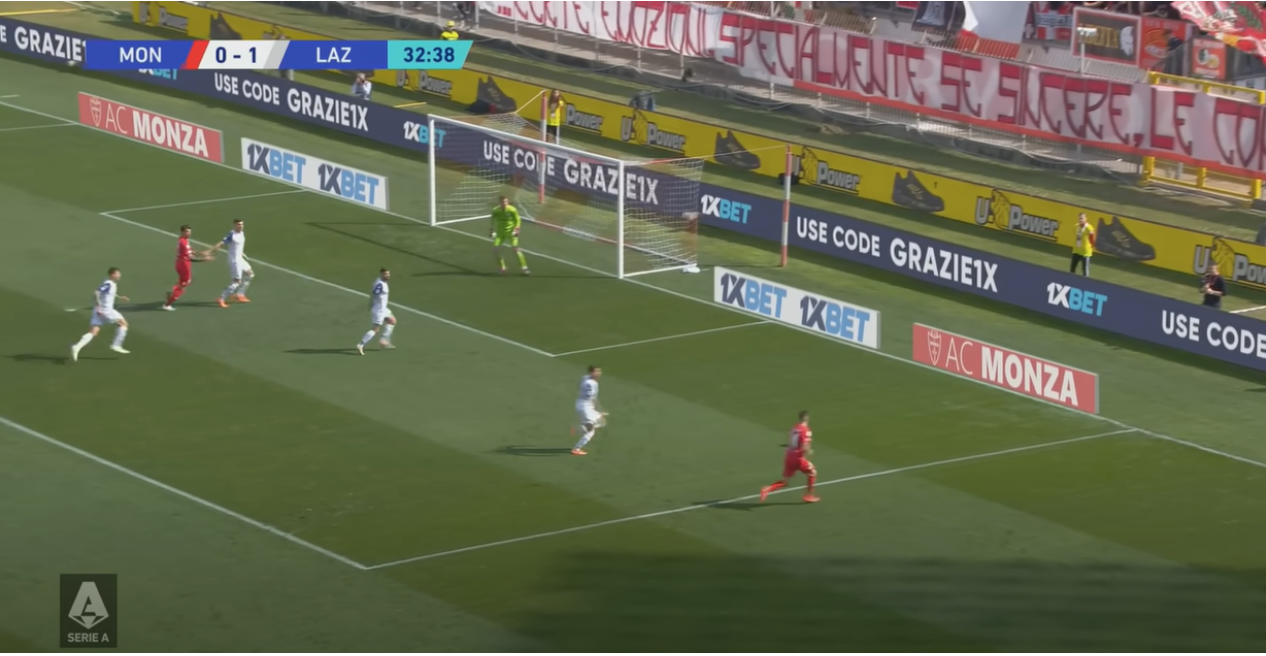 He lays a cross on a silver platter for striker Andrea Petagna, who tamely nods it straight at the keeper from what must be four yards out.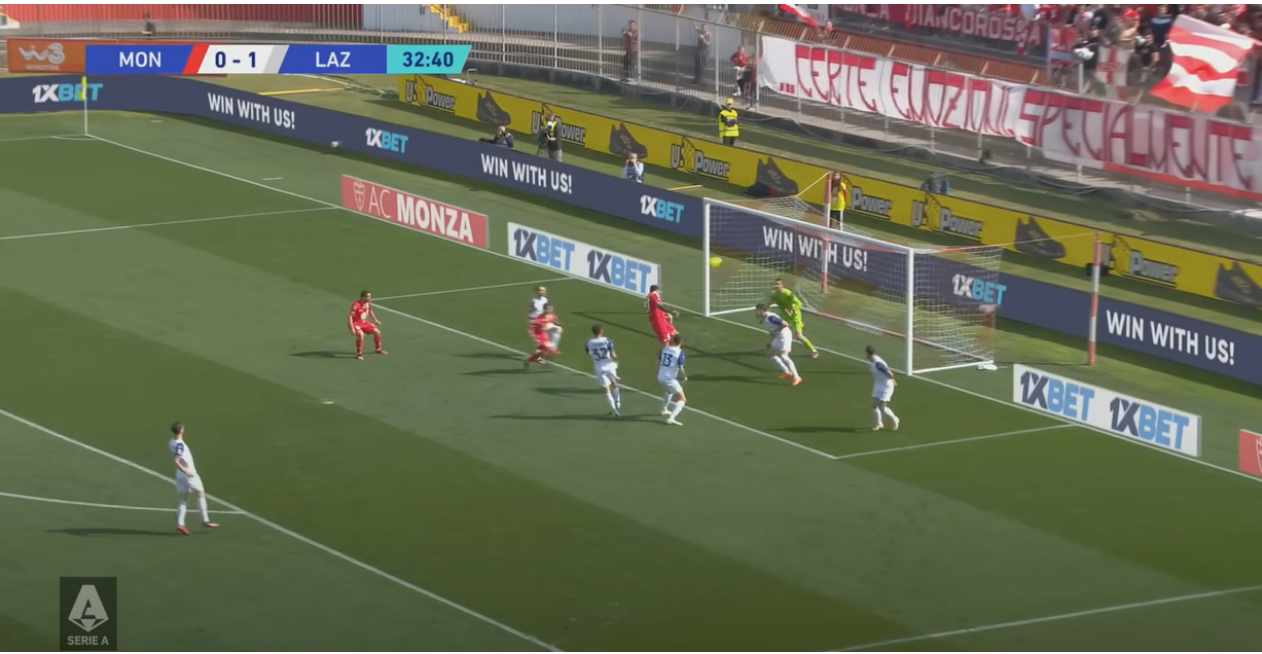 This brave positioning of the forward line, coupled with the equally bold passing from those in deeper areas unlocked plenty of these opportunities last season. A box threat to occupy the centre backs, an inside-forward in each halfspace and two flying wing-backs to keep the width. 
The two deeper midfielders and centre backs, most of which are blessed with a half decent passing range, are given plenty to aim for upfield and often find their targets. What let down Monza here was a lack of quality in that final moment in front of goal. This was a common occurrence last season, which leads us to ask an important question…
Who's Actually Scoring the Goals?
Monza outscored their xG last season, generating 45.9 and actually scoring 48. Both of these figures are midtable level, probably about ten away from European level output. But considering the control over games which Monza are able to exert, they should probably be generating and scoring even more. As they upgrade their squad, they should be able to generate higher quality chances, but let's take a look at their attacking options at present.
Dany Mota was a player tipped for big things in Portugal's youth teams. Picked up from Juve earlier in the Berlusconi era, he's perhaps failed to kick on, but at 25, there's still time. His attacking output is generally quite poor, but he plays an important role in breaking the lines. Often deployed as one of the inside forwards, he ranks highly for carries, take ons and attempted passes, always trying to make something happen.
Without a player like this, a style like Monza's can end up looking quite stale. Mota puts in a shift too and is an intelligent presser. One wonders if a deeper role as a ball progressor in a midfield three could be worth an experiment. It seems that Serie A sides have him under control in and around the box.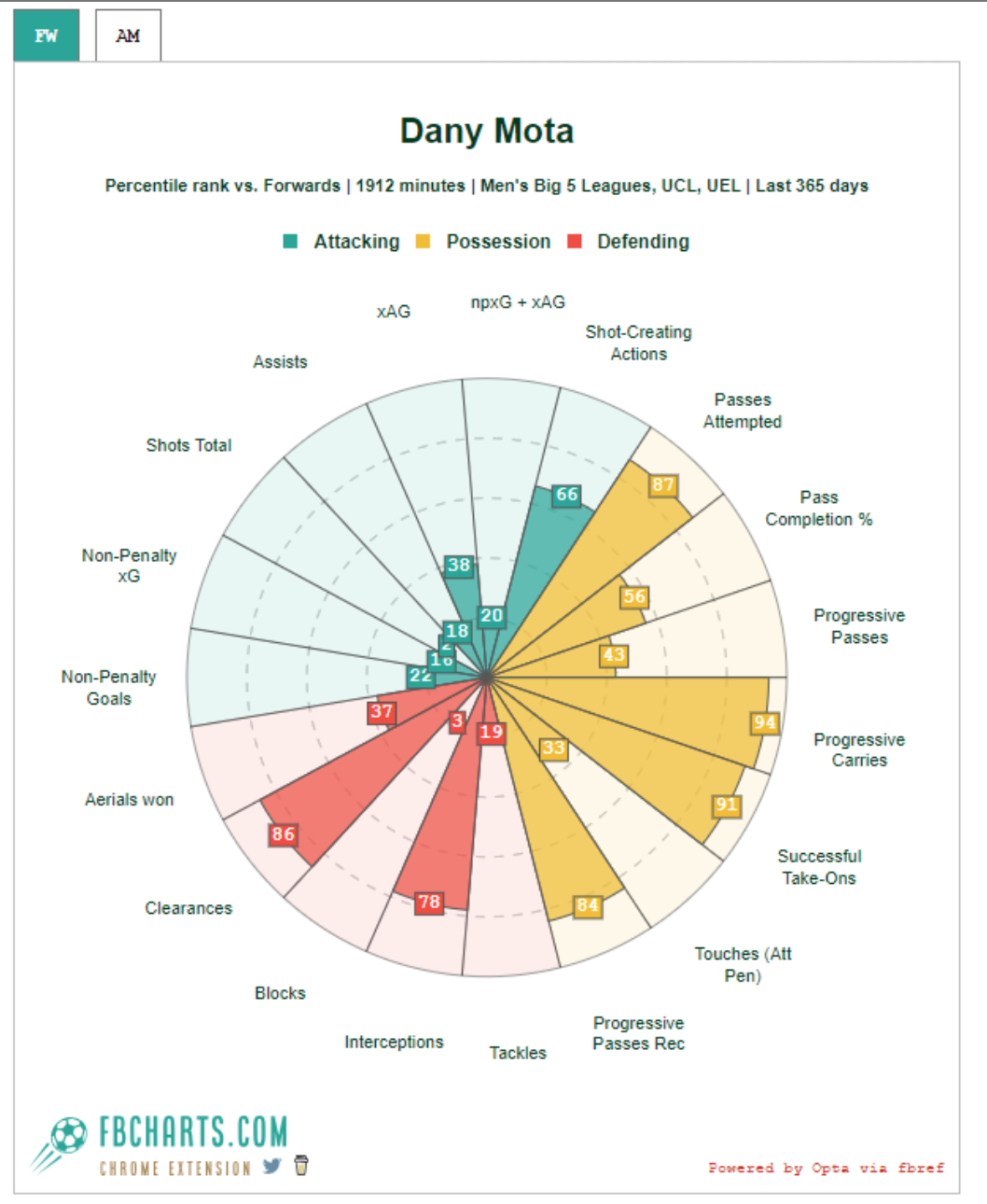 Gianluca Caprari is well established at this level, with 250 Serie A appearances under his belt. He's extremely tidy on the ball and pleasing to watch as a left footer. He does similar things to Mota, lots of passes, carries and creative output, but he's not a goalscorer. Caprari is probably Monza's best creative forward, but he needs someone to put away the chances he generates.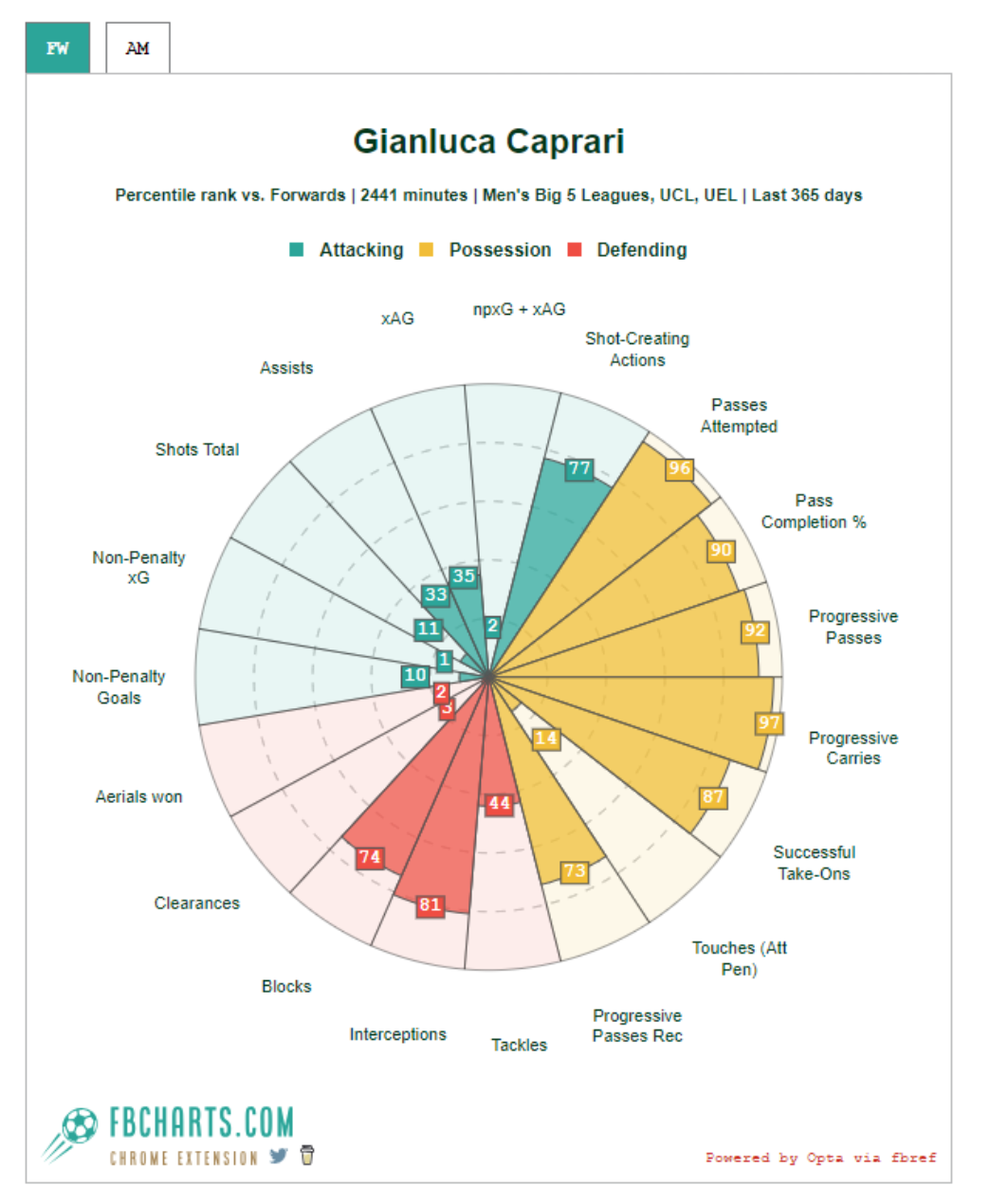 That goalscoring burden falls upon the rather stocky shoulders of Andrea Petagna. Certainly an out and out striker, rather than a ten like the other two. He led the line for Monza over 30 times this season. With over 200 Serie A appearances and over £45m in transfer fees spent by clubs such as Atalanta, SPAL and Napoli, he's a senior pro capable of scoring double figures in a campaign.
Despite this, he racked up a total of just 4 league goals for Monza last season, in return for his £8.5m price tag. His radar below shows lots of assists and creative output, as well as being a handy asset when defending set pieces, but a severe lack in goals and shot generation.
Petagna needs to be that finisher. For all of the brave passing and highly effective passing sequences, Monza need somebody to put the ball in the net at the end of it. As we saw in the previous example of the header from only a couple of yards out, Petagna hasn't been that guy.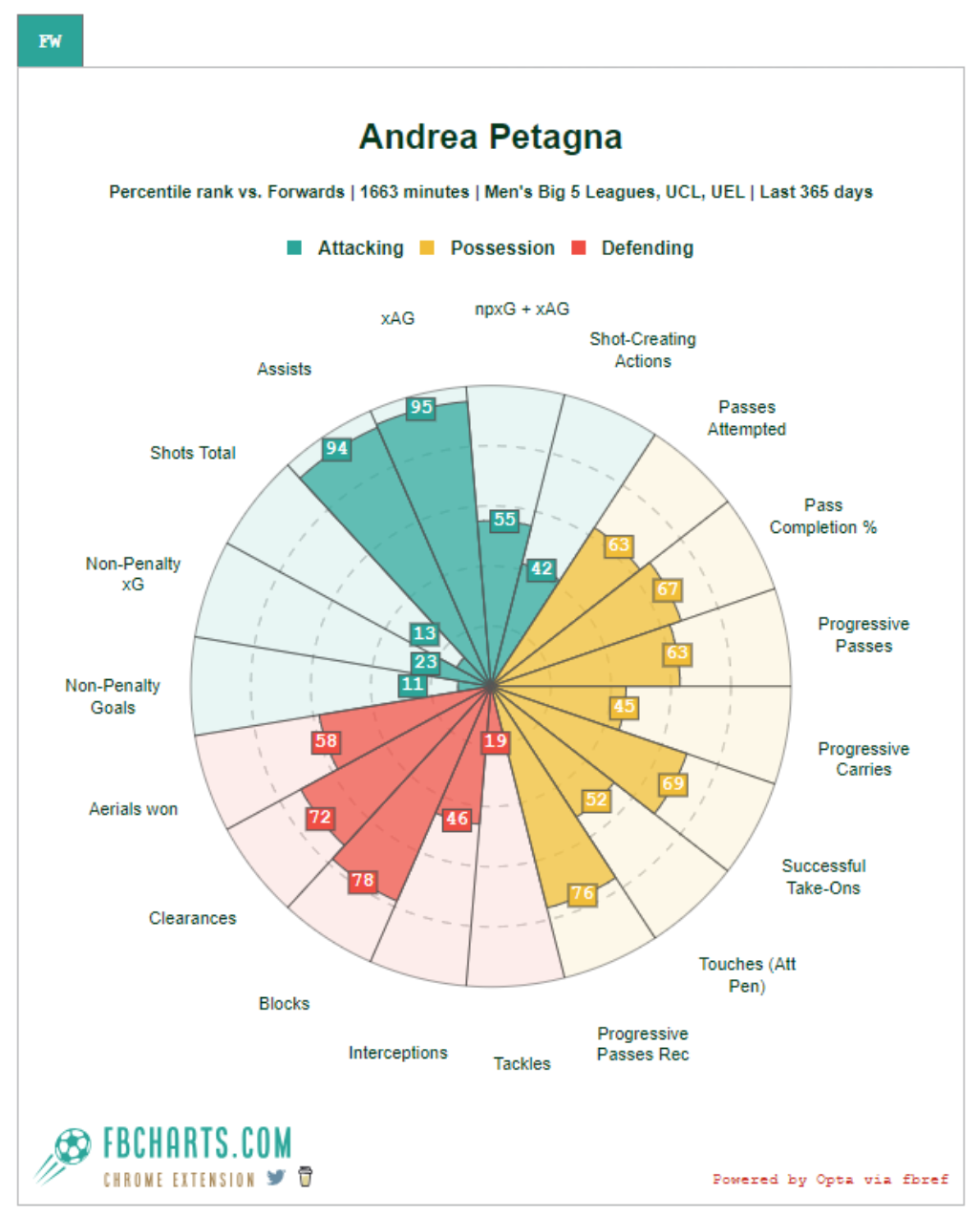 So who's actually scoring? Well, the two top scorers from the 22/23 were actually the wing-backs, if you can really call them that.

As we've discussed, the ambitious positioning of these players continually allows them to receive the ball in advanced positions with time and space. The first of these is Patrick Ciurria, who we've already mentioned. An attacker by trade, Ciurria spent a large amount of his mostly Serie B/C career playing as a striker or attacking midfielder.
His primary role however, was always on the right and Palladino has chosen to play to this strength by deploying him there. Technically a wing-back when Monza are out of possession, but an out and out attacker once the ball is theirs. This is highlighted by the lack of defensive output shown on his radar below, compared to full-backs in Europe's top 5 leagues. The right sided centre back is tasked with eating up his defensive workload and covering the space left in behind. 
The upside to this is huge. A two footed player who's able to create chances, cross and crash the box by drifting in as an unmarked player. Crucially, he's able to get shots off, something invaluable for a side like Monza. 11 goal contributions show that he's been highly important in converting control into goals.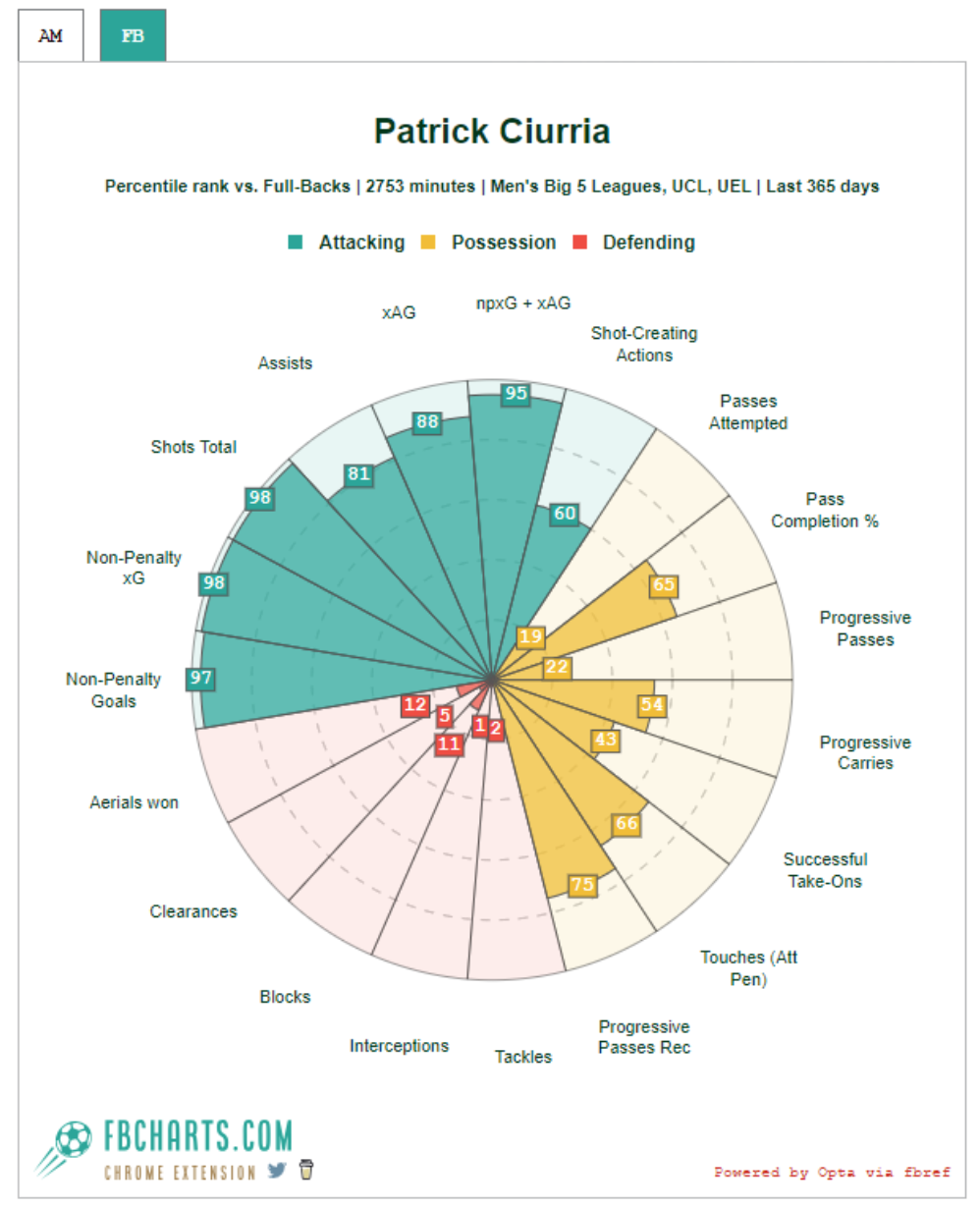 He's joined atop the Monza scoring charts by his colleague on the opposite flank, Carlos Augusto. A tad more defensive output than Ciurria, you'll notice. This is partly down to Carlos actually being a defender, having played as a more conventional left-back/wing-back for most of his career. Augusto might not be a repurposed attacker like Ciurria, but he's more than able to match his output going forward. When compared to other full-backs in Europe's top 5 leagues, he ranks highly for goal contributions, shots and touches in the opposition box.
He's less creative than his colleague, preferring to get on the end of moves and get himself into the box to add a finishing touch. His 6ft height allows him to win an impressive amount of headers and he provides a dangerous threat that opponents all too often fail to pick up on. Signed from Brazil's Corinthians, he spent a productive two years with Monza in the second tier. Now he's proven to be an impressive offensive outlet in a top 5 league. 
Entering the final year of his contract, Galliani opted to cash in on the defender, who has joined Inter on loan with an obligation to buy for €13 million plus-add-ons. Augusto has replaced Robin Gosens and will be looking to challenge Federico Dimarco for the starting left wingback position.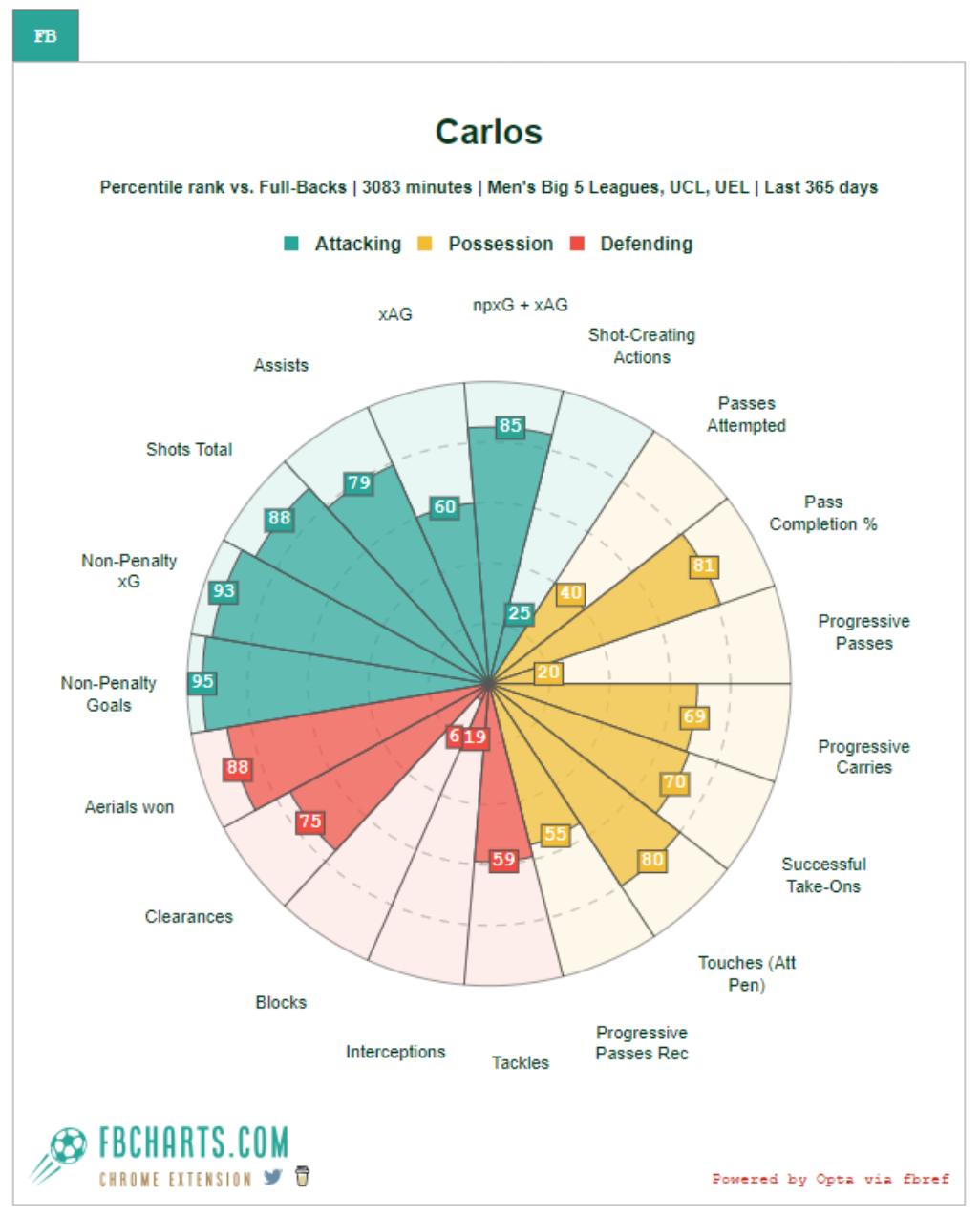 Final Thoughts
When we booked the tickets for that game against Lazio, I really didn't know what awaited me. I'd known about the Berlusconi takeover and their ascent through the leagues, but it was immediately apparent upon arriving at the ground just how quickly this had all happened. Silvio Berlusconi was nothing if not ruthless. He knew what he wanted with Monza and paid whatever it took to make it happen. Coaches were hired and fired, players swiftly traded. It's all been done so quickly.
There are many figures in and around football today who claim to be 'disruptors'. Mostly based in crypto wealth or private equity, they pride themselves on shocking the establishment and doing things differently. Well here we have a case of a member of that establishment returning to disrupt the order he was part of for so long. Ousted from the club he loved so dearly, he returned with a vengeance. Perhaps just to prove he could still do it, just as he had transformed Milan all those decades ago.
Berlusconi was a true 'disruptor', as are AC Monza. Coached by a 39 year old in his first senior role, playing some of the best football in the division. They play the same way regardless of the opponent. Perhaps this is what endeared Palladino to the former PM. A fearlessness, an attitude. Making noise and ruffling feathers. Playing football as it should be played. Things that he saw in Arrigo Sacchi all those years ago.
After Berlusconi's passing earlier this year, Monza stands as the only football club still owned by his company Fininvest. They'll play his first love, AC Milan, on August 8th in an annual friendly named in his honour. It now lies with Galliani to carry on what they have created together. There's no doubt that he'll do everything possible to honour the legacy of his best friend and business partner of almost four decades. As he told Sky,
"I'm a very sad man, we spoke every night and now I keep looking at the phone, but the calls don't come anymore. With him we changed football, his Milan always looked for beauty. I was born in Monza and, when I met Berlusconi for the first time, I told him I was available to work day and night, but I had to have the time to follow Monza."
"Until they kick me out, I'll do anything for the team I was rooting for with my mom. I lost her when I was only 14, I went to the stadium with her and she dreamed of seeing Monza in Serie A. Thanks to Berlusconi, this was possible after 110 years."
Berlusconi's legacy is deeply ingrained throughout Italy and won't be forgotten for some time. In Monza, it is perhaps still the power source behind a club on the rise.
By Oliver Haines – @OTG_UK
Featured Image: Jonathan Moscrop / Getty Images