Tactical Analysis: Christophe Galtier's Lille
Three years ago, Lille Olympique Sporting Club were entrenched in a crisis. The appointment of Marcelo Bielsa as manager had not had the desired effect, with 'El Loco' freezing out experienced veterans such as Vincent Enyeama, Rio Mavuba, and Marko Baša and coming to blows with sporting director Luís Campos in a power struggle over the club's recruitment strategy.
Seven months after announcing Bielsa as their manager to take the club forward in the long term, club president Gerárd Lopez, who had acquired a majority stake earlier in the year, and Director General Marc Ingla and Campos reached a decision to dismiss the Argentine from his post. In his stead, Lille hired Christophe Galtier, who had recently ended an eight-year spell at the helm of Saint-Étienne.
Galtier took the reins midway through the winter break with Lille entrenched in the relegation zone. To add insult to injury, Lille were banned from signing players during the January transfer window by the Direction Nationale du Contrôle de Gestion (DNCG), French football's FFP watchdog, whilst rumors abounded that the club would be relegated to Ligue 2 no matter what due to a lack of financial health at the club.
Les Dogues looked to be heading for the drop after taking two from a possible 24 points between February 24 and April 23, 2018, but they miraculously pulled off three consecutive victories against Metz, Toulouse, and Dijon to hang onto their status in Ligue 1 by the skin of their teeth.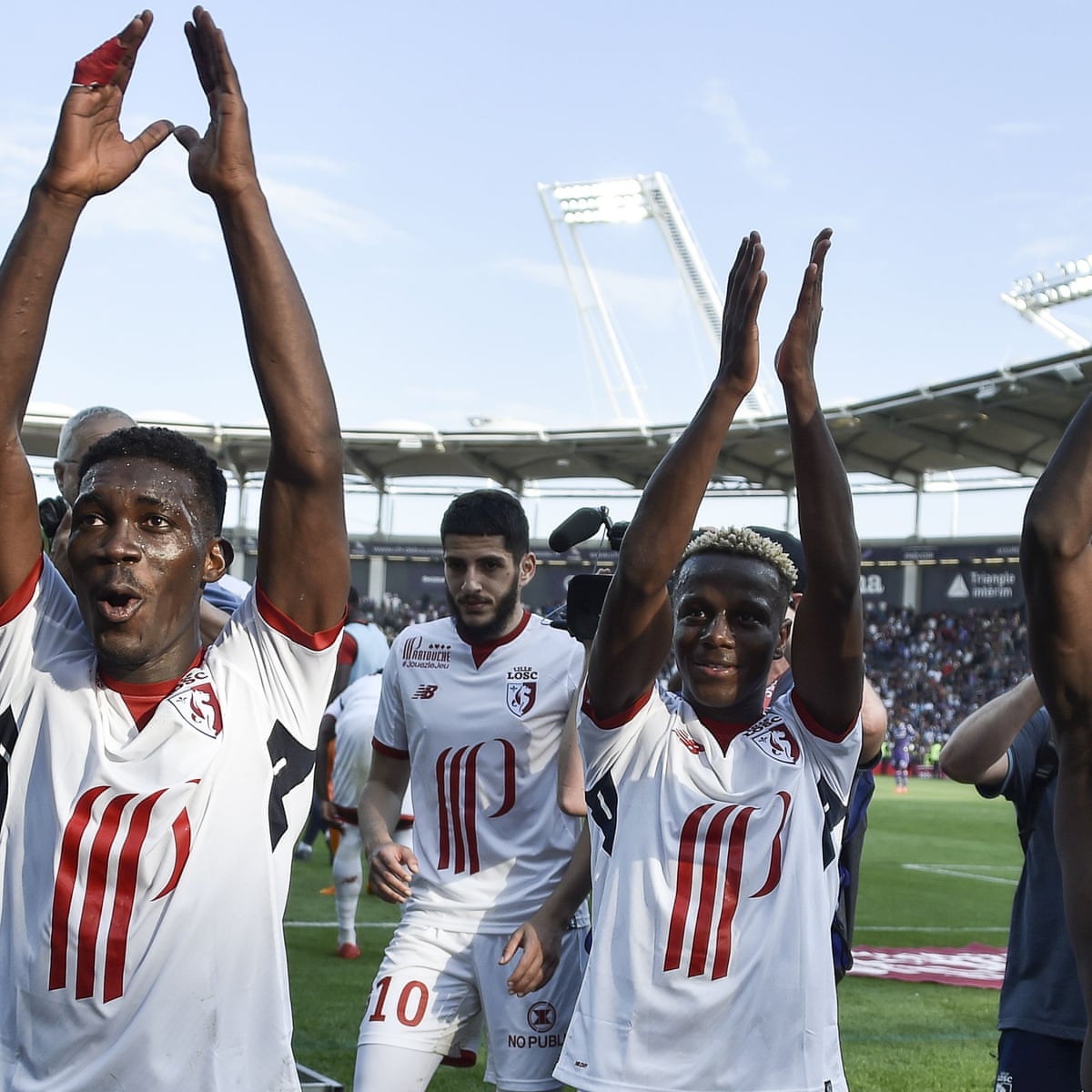 Photo: Pascal Pavani/AFP/Getty Images
In order to stay at arm's length with FFP, Lille were forced to sell key players such as Yves Bissouma, Kévin Malcuit, Ibrahim Amadou, Hamza Mendyl, and Lebo Mothiba. Nevertheless, Campos worked his magic to rebuild the squad, bringing in Rafael Leão, Jonathan Bamba and José Fonte on free transfers, signing Jonathan Ikoné from Paris Saint-Germain for €5 million, and purchasing Zeki Çelik from Turkish second-tier side İstanbulspor.
One year after narrowly staying afloat in Ligue 1, Les Dogues finished second, qualifying directly to the UEFA Champions League group stage for the first time since 2012. Galtier was recognized for his team's stark improvement by winning the Coach of the Year Award, and once again, he was forced to deal with his team's spine getting picked apart in the transfer window.
Nicolas Pépé, Thiago Mendes, Leão and Youssouf Koné all departed the Stade Pierre-Mauroy for eye-watering profits, and Campos replaced the bygone stars with the vision and proactive thinking that has encompassed his career. Lille purchased Victor Osimhen, Renato Sanches, Timothy Weah, and Yusuf Yazıcı, although their results took a step back the following season.
Les Dogues finished bottom of their Champions League group, lost to Lyon in the Coupe de la Ligue semifinals, and were fourth in the league when the 2019/20 season was permanently annulled due to the COVID-19 pandemic. Julien Stéphan's Rennes finished one point above Lille, forcing Galtier's side to settle for Europa League football.
Three years after taking charge of the club, Galtier's Lille currently find themselves atop the Ligue 1 table and through to the Europa League Round of 32 where they will take on Erik Ten Hag's Ajax. They have coped admirably with the exits of Victor Osimhen and Gabriel, with Campos proving again why he is one of the best in the business at replacing big-money departures.
Whilst Galtier mainly used a 4-2-3-1 formation prior to this season, he has mainly opted for a 4-4-2 this campaign and only using the 4-2-3-1 on sporadic occasions. Mike Maignan and Çelik have continued to be mainstays at goalkeeper and right back, respectively, whilst Domagoj Bradarić is showing plenty of promise at left back after arriving from Hadjuk Split in the summer of 2019.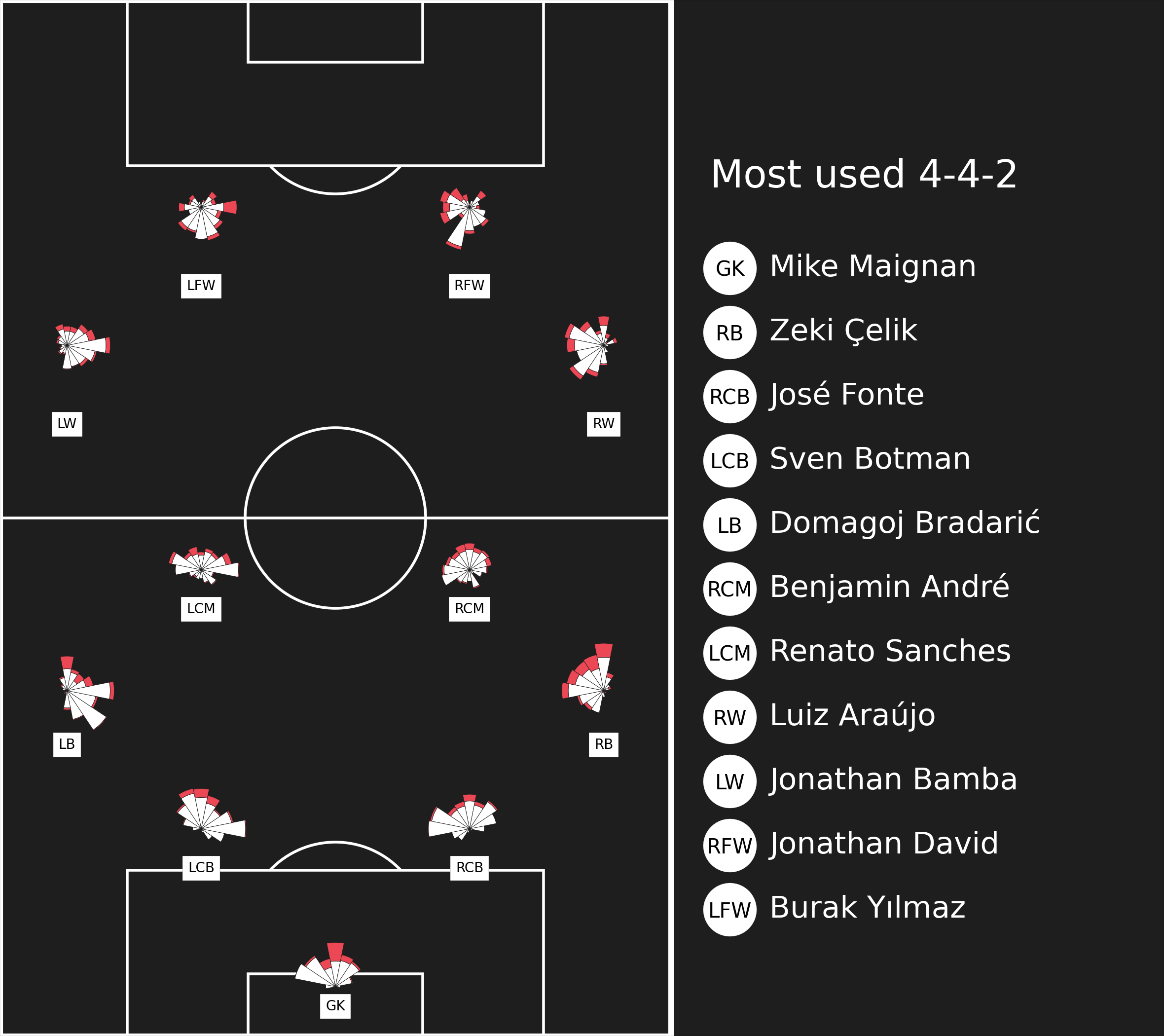 Photo: Twenty3 / Wyscout
After an impressive loan spell at Heerenveen, Sven Botman departed his boyhood club Ajax and replaced Gabriel as the club's left-sided center back, with the Dutchman arriving on a 5-year contract for a fee of €8 million and quickly forming a rock-solid duo with Fonte in the heart of defense.
Galtier has chopped and changed his double pivot over the years, with Sanches, Boubakary Soumaré, and Xeka all receiving ample minutes in midfield. After arriving on a 4-year contract from Rennes on July 17, 2019, Benjamin André has become the glue of Galtier's team, providing experience and balance in the heart of midfield, helping aid in the first phase of build-up and enabling them to progress the ball through the thirds.
Ikoné was the creative heartbeat of Lille's fearsome foursome in attack during the 2018/19 season, playing in the #10 role behind Leão, but his influence has waned since Pépe's departure to Arsenal. He has been benched by Luiz Aráujo, who, three years after arriving from São Paulo, is finally displaying his elite talent on a consistent basis in France.
Bamba struggled for consistency last season, but he has vastly improved in his decision-making, becoming far less wasteful in possession and far more efficient in the final third. Whilst the 24-year-old vastly underperformed his xG last season, he has bounced back with 6 goals and 6 assists this season.
Jonathan David's arrival from Gent was met with plenty of fanfare, with the Belgian Golden Boot winner arriving for a club-record fee of €30 million, but the Canadian has been an abject failure in attack with 2 goals and 3 assists in 20 appearances this season.
Despite Osimhen's departure and David's woes in front of goal, Lille have thrived for a variety of reasons; Aráujo has gone from a bench role to becoming a key player in attack, whilst Burak Yılmaz has found a new lease on life at 35 years of age since joining on a free transfer from Beşiktaş, with 8 goals and 4 assists in 17 appearances.
Yusuf Yazıcı has also bounced back from a cruciate ligament injury to become a vital performer in the Europa League for Les Dogues. "Yazıcı is finally delivering for Lille in a way those in Trabzon know he is capable of. There is a reason his first club retired his shirt earlier this year. If he can keep up his current form and lead Lille to the title, such an honour might be bestowed on Yazıcı by Les Dogues too," wrote James Kelly.
Outside of the regular starters and go-to substitutes, Campos has assembled a treasure trove of young talent in their ranks. Timothy Weah (20), Tiago Djaló (20), Eugenio Pizzuto (18), Mustafa Kapı (18), Cheikh Niasse (20), Isaac Lihadji (18) are just a handful of names who could be given more time in the first team as Lille attempt to balance the fixture congestion of Ligue 1, Coupe de France and Europa League.
Lille's Attacking Structure
In contrast to the previous two seasons, Galtier's Lille side currently attack mainly through the left flank (38%) this season, a change that has been triggered in part to Bamba's sensational form as well as Sanches's positional shift; after playing on the right flank of Lille's front four last season, the Portuguese midfielder has mainly played in a double pivot this season.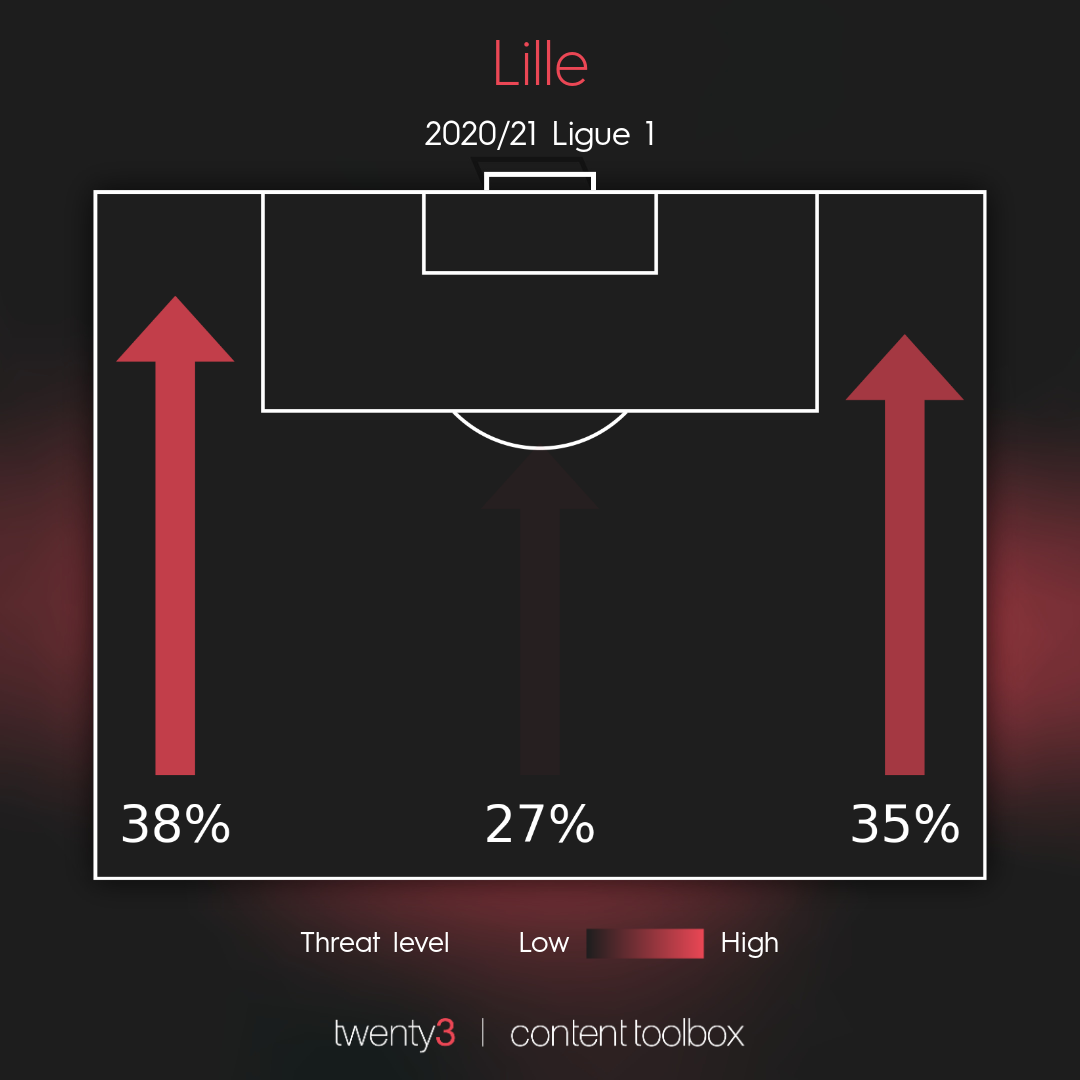 Photo: Twenty3/ Wyscout
Lille have various setups when they approach their build-up. They play out the back with either three centre backs and one or two midfielders centrally or two centre backs and two full-backs deep to form triangles on both ends of the pitch with their central midfielders.
Regardless of the setup, Lille have a principle that consists of having both midfielders not on the same vertical line when they play centrally, in an attempt to create more passing angles and disrupt the opponent's shape by allowing more movements from the deeper pivot and the second midfielder being an immediate target for ball circulation if the former receives the ball.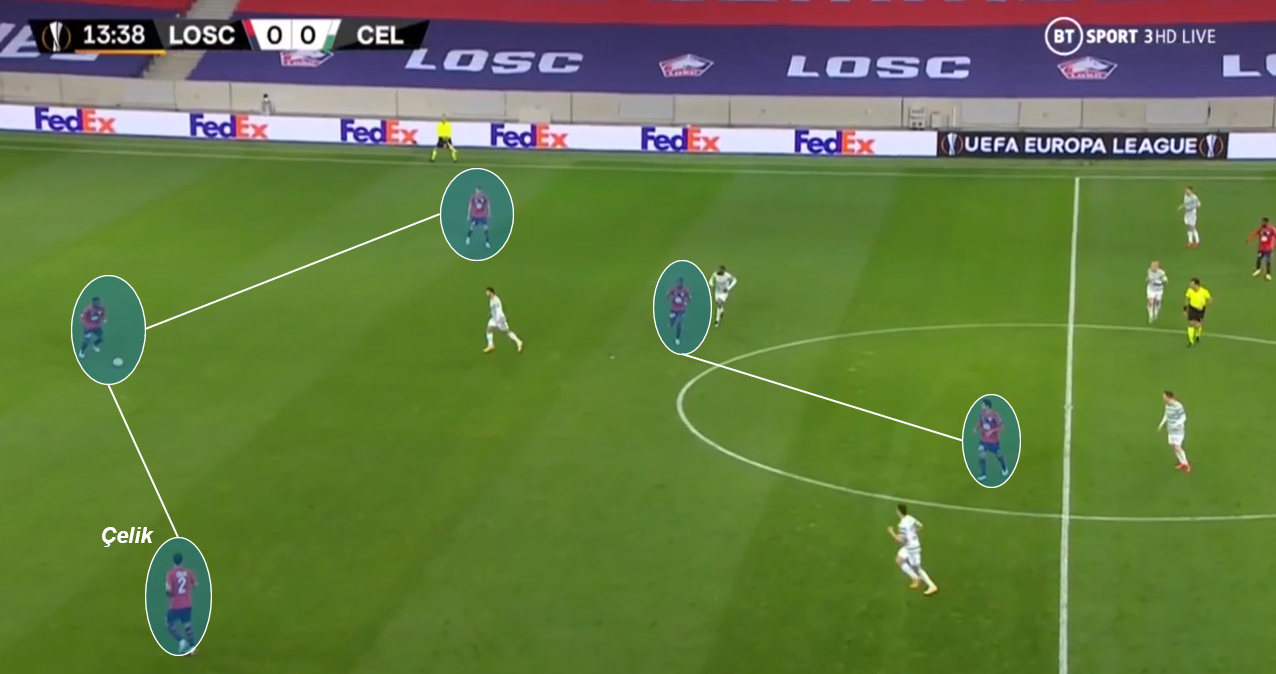 When one of the midfielders doesn't drop into the backline to form a back three, Çelik is the one asked to drift inside to form the back three. This is where both midfielders can play on a different vertical line. Playing Çelik in a back three allows underlaps to take place when Lille have already advanced a bit more, as seen below against Celtic.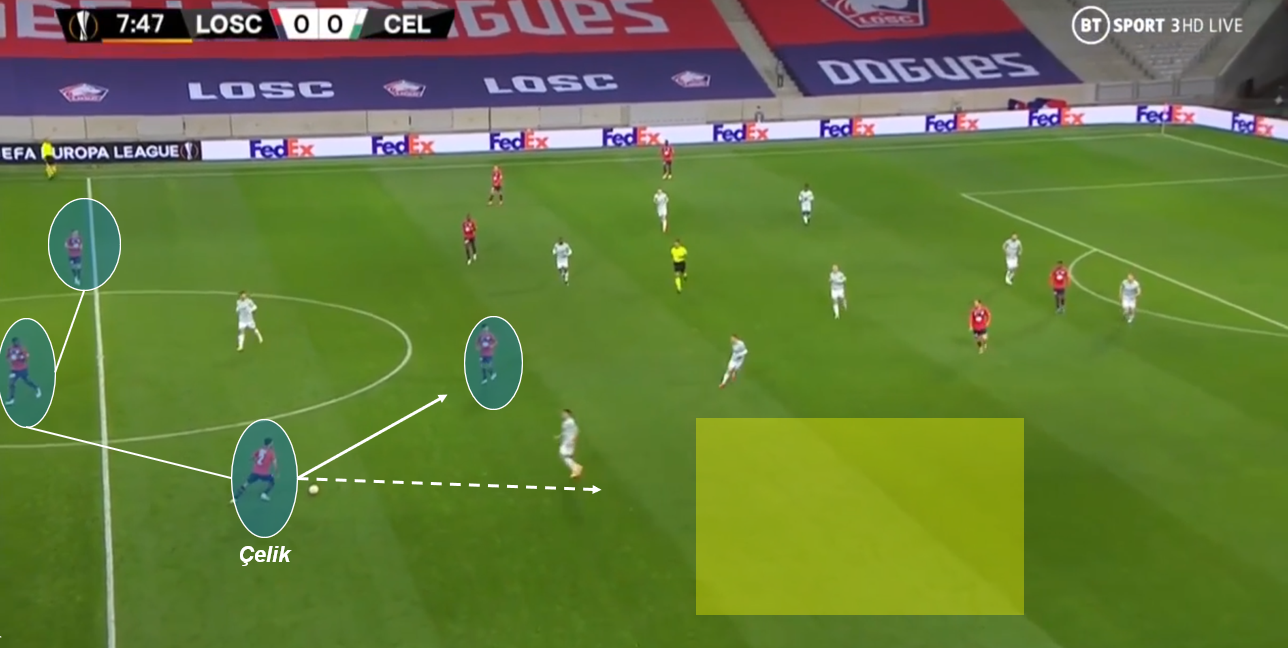 Çelik immediately goes into space after his pass to André, where he is found in the right half-space. Lille have progressed the play by a simple pass-and-move from their right back, and Ikoné's positioning allows Çelik to not have to move much in order to find space as the French winger was stretching the opponent's backline by being extremely wide.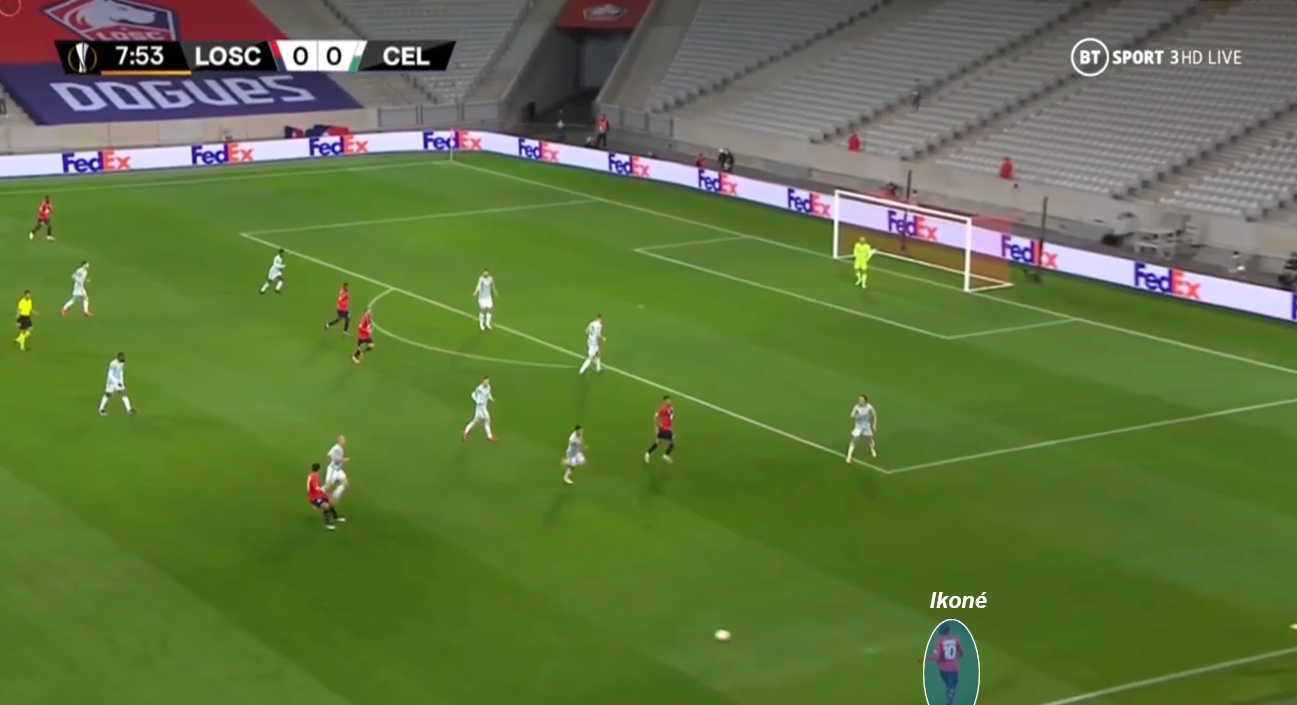 When Lille players form a back three with one of their midfielders, they are often in a 3-1-6 shape, which makes them vulnerable to counter. If their centre backs or Sanches lose the ball, they could be in a 5v4 situation against their opponent's first two lines of pressure.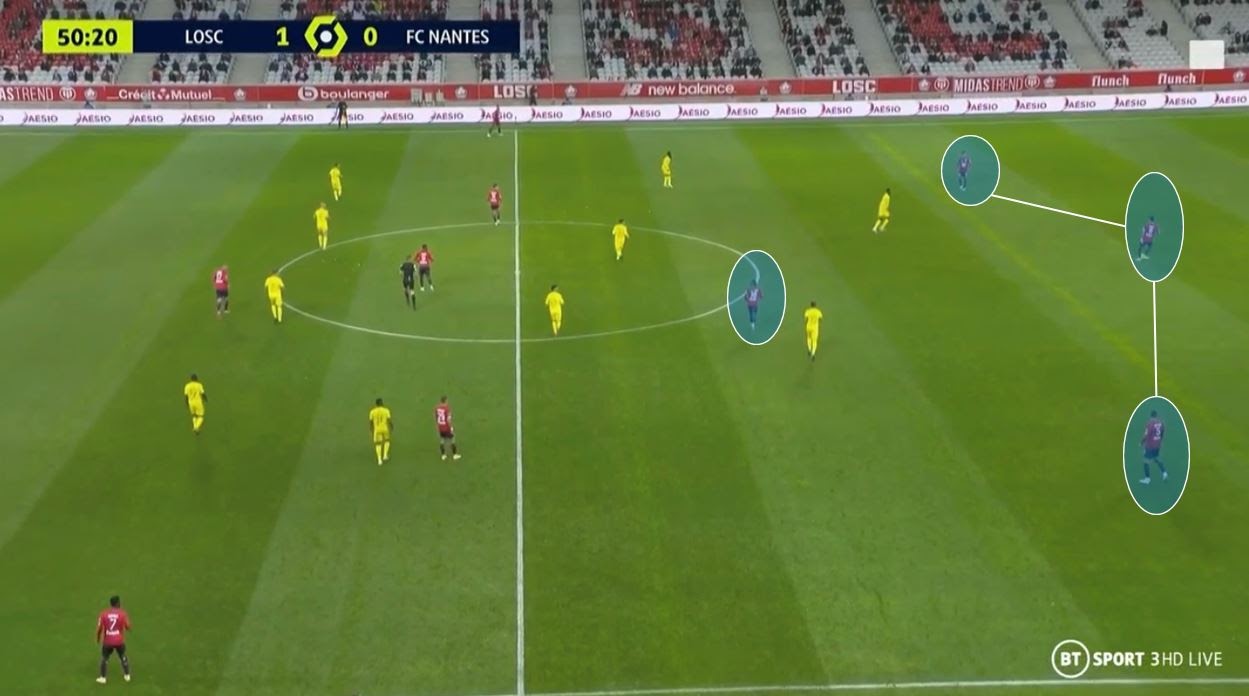 But Lille can also play out the back with deep full-backs to find the full-back on the underloaded side free. This is seen below, where Sanches receives a pass from Botman while André, who is on the same side as Çelik, attracts with him the opponent's wide midfielder. David attracts the attention of Nantes left back Fábio, which allows Çelik to move to receive the switch of play from Sanches.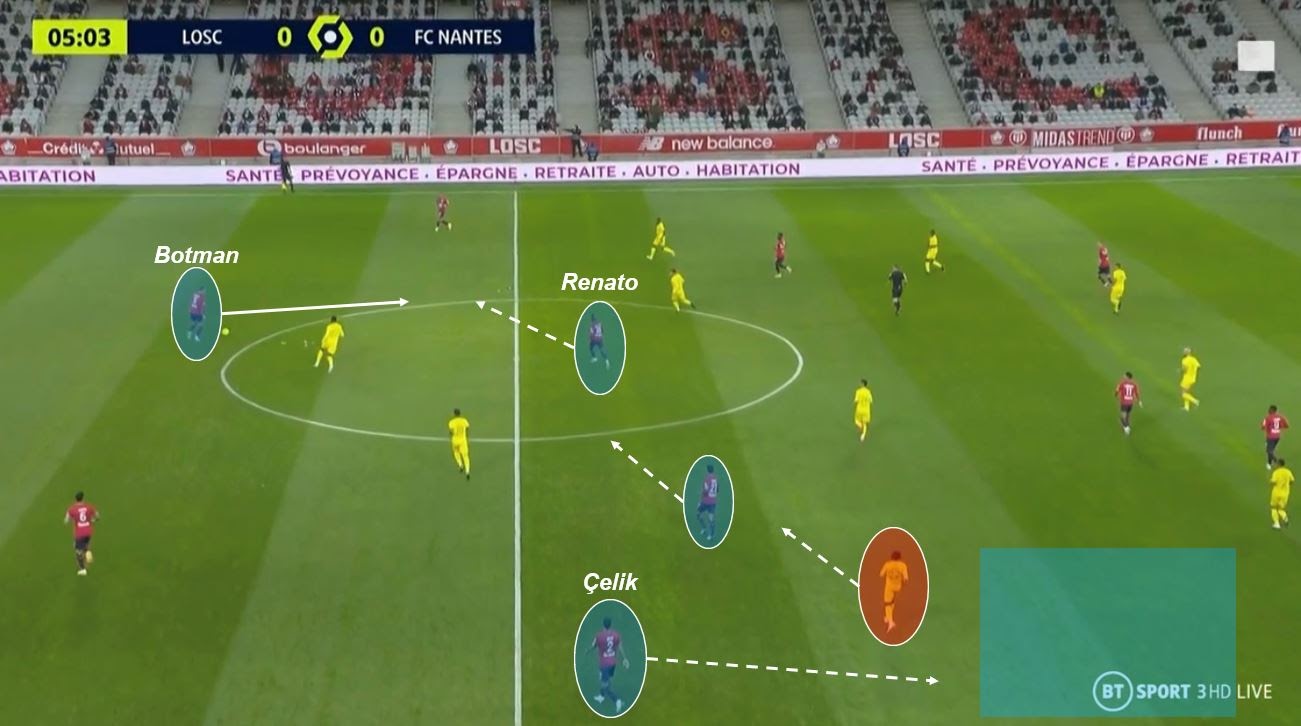 Lille have an ideal center back partnership in possession if we solely talk about profiles, as a left-footed defender (Botman) and a right-footed defender (Fonte) provide plenty of routes of ball progression. When Fonte receives a pass, he can find the right back in space quickly and vice versa with Botman. Most importantly, this allows Lille to quickly progress the ball through the half-spaces, enabling players to find space to receive in dangerous areas.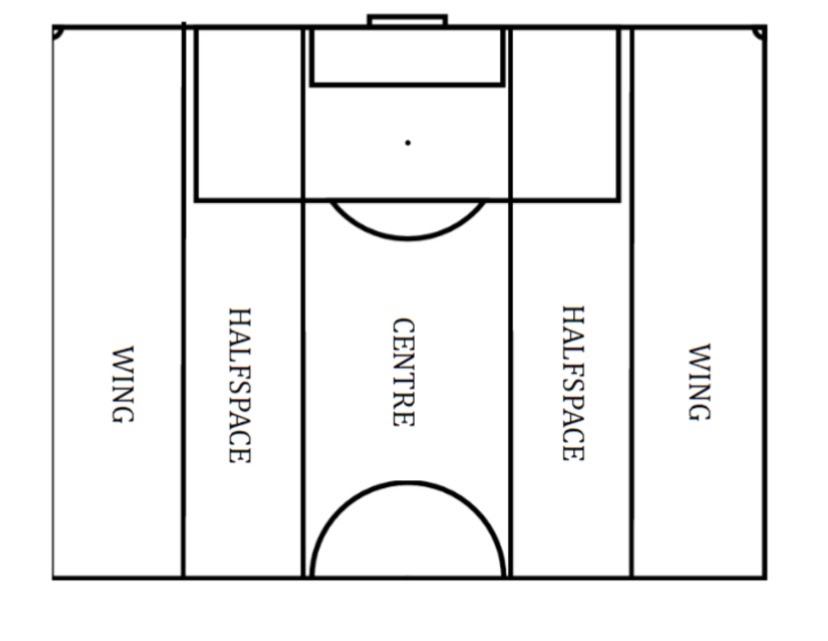 As a result of these advantageous passing options provided by a left-footed centre back, Botman doesn't need to take as many touches as a right-footed player would typically need if played on the opposite side of his stronger foot. Botman received and looked for Bamba, who was positioned in the half-space. At the same time, Ikoné was positioned as wide as possible to be free from being marked by an opponent and was able to receive a switch of play if needed.
At the same time, both David and Yazıcı were pinning Celtic's centre backs by their positioning. The Dutch defender carried the ball forward to find a better passing angle towards Bamba, who received the ball. This pass effectively broke the first two lines of pressure while Bradarić moved into space on the left.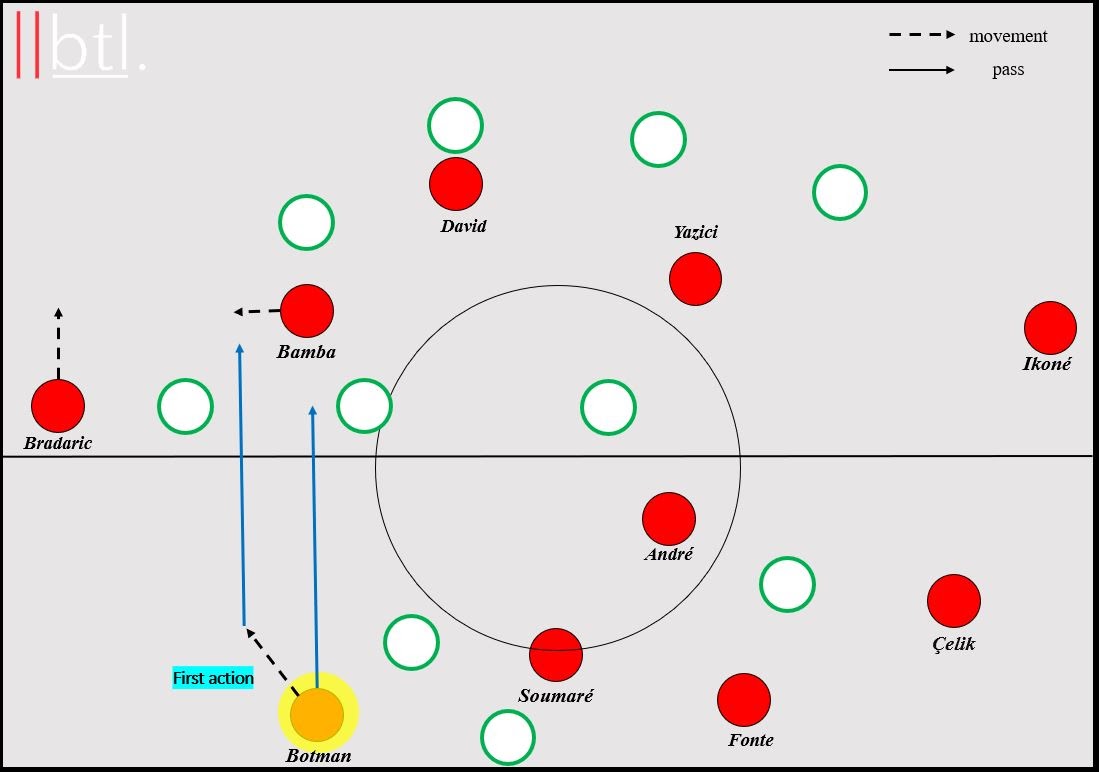 When Bamba received the pass from Botman, he had two options. If the opponent's right-back came towards him, the pass to Bradarić would have been possible and the left-back would have had ample space to put in a good cross. But if Celtic right back Jeremie Frimpong was covering the pass by not coming too close from Bamba, the winger could have still found Yazıcı inside.
Ikoné finally received the ball as he was still free, thanks to his positioning at the start of the move. Lille are always looking to find a free man so they can have enough time to think about his next move. The positioning of the players helps a lot to create this needed space for the ball-receiver.
The GIF below shows Bamba asking for the ball between the wide midfielder and the central midfielder, but when the pass from Soumaré arrives, Bamba only has one line of pressure in front of him and can find a teammate alone between the lines to quickly circulate the ball to the isolated right back. Thanks to their strong principles in the first phase, they were able to get multiple players into the box in an attempt to score a goal.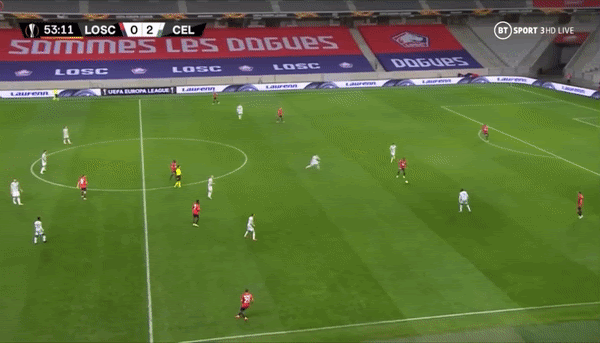 However, if the pass to the winger in the half-space isn't possible, the latter drops deeper to receive the ball. Ikoné gives Fonte two immediate passing lanes in the middle of the pitch with Araújo being the second option. It creates a predicament for the opponent and Lille successfully find the free man, Ikoné in this instance, because they created an overload on one area of the pitch.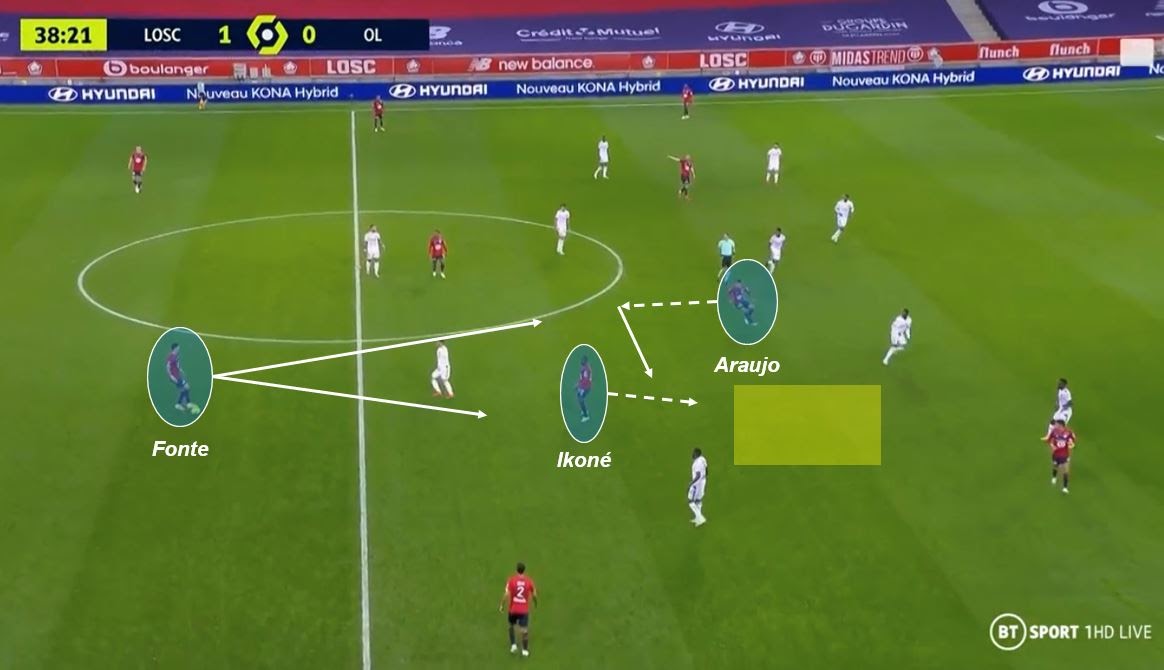 Because football is about finding space, Bamba can be seen vacating an area of the pitch to create space for Botman to carry the ball forward. The Frenchman attracts his opponent by feinting a forward run, dragging Jeremie Frimpong inwards with him.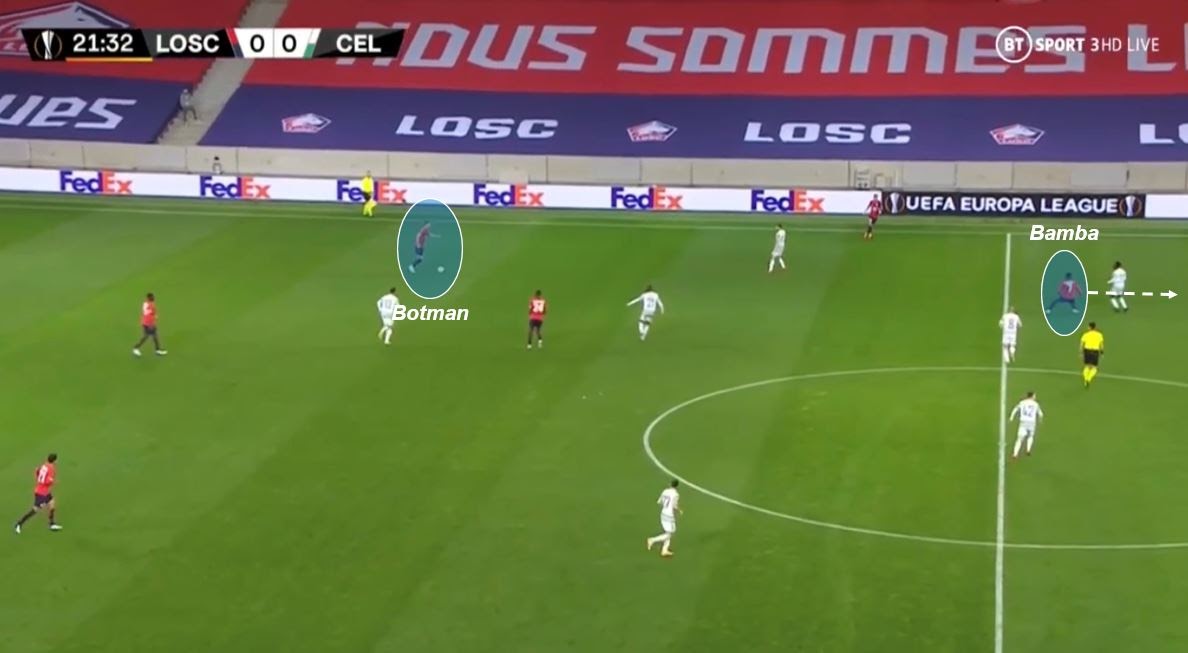 Once Botman has carried the ball forward, multiple opponents are attracted towards him and Bamba now is moving towards him to offer another route of ball progression but Botman is able to find his left back free on the left. If he wasn't able to find Bradarić, a pass to Bamba was still a possible move and he would have been able to play the ball towards the Croat, who would have ample space to exploit on the left flank.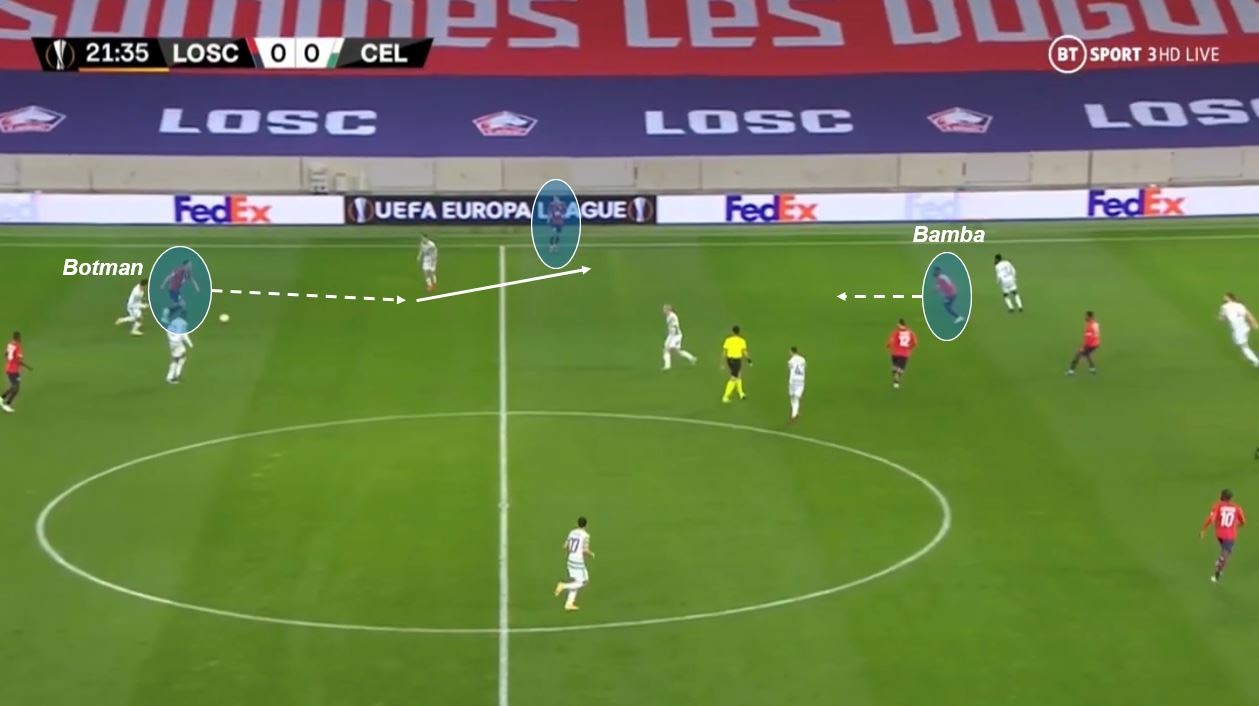 Lille often try to progress the ball centrally as it is where it will bring more danger for their opponent. The ability from their centre backs to find players into the half-spaces is extremely valuable as it allows them to progress the ball more directly while creating predicaments for the opponent.
Since the start of the season, Galtier decided to tweak his tactics and shift the bulk of Lille's attacks to the flank of Bamba, who has the most touches amongst Lille's forwards this season. The left winger is asked to make runs to stretch the opponent and either receive if the opponent doesn't follow or help one of his teammates by creating space between the opponent's two lines so he can receive with more space between the lines.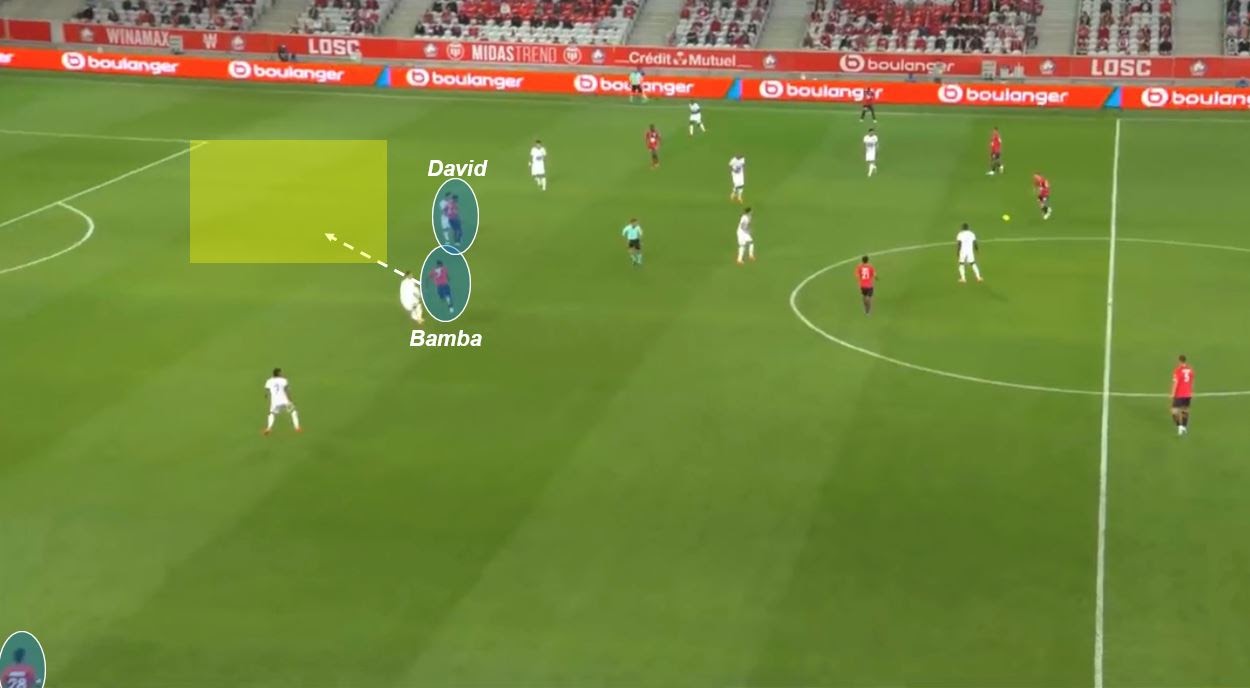 The three players in the middle of the front five interchange positions in order to distract defenders and create space. This allows deeper players to find the free man in the middle to either have a runner asking for the ball behind the opponent's defensive line or to find a full-back who is pushing forward to receive for a cross. These movements into the final third come from filling gaps into the half-spaces. If a player vacates his position, someone else will take it.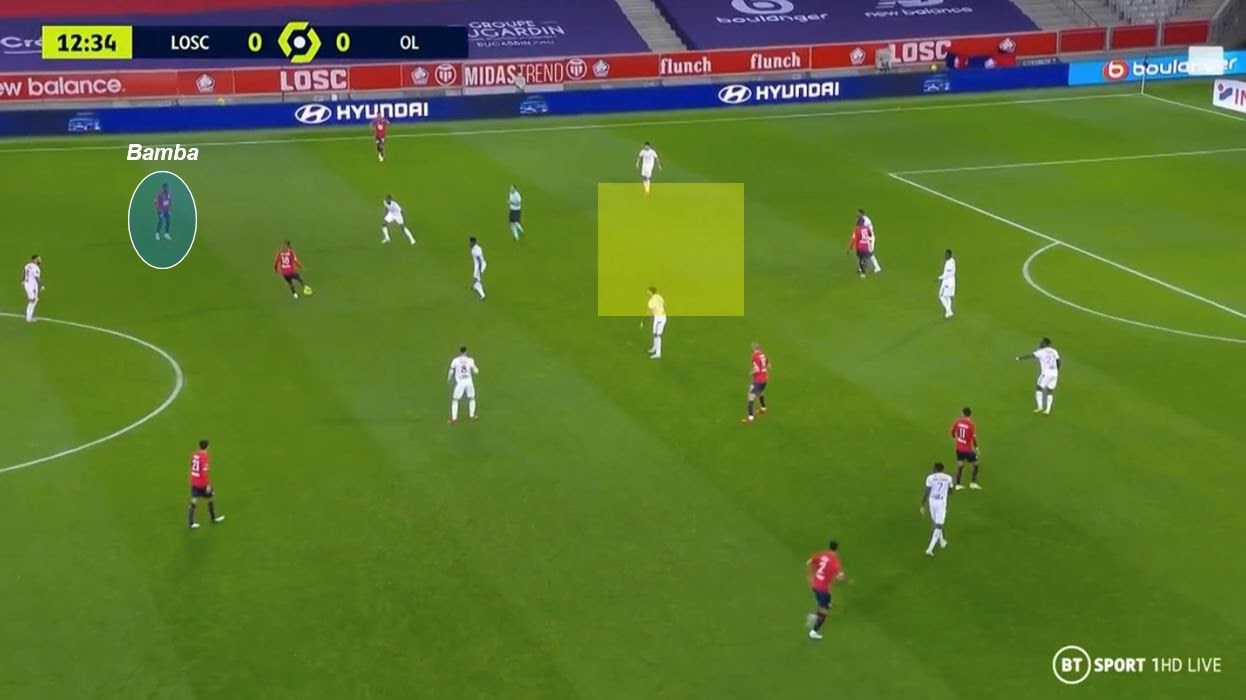 Bamba has vacated the half-space by dropping deeper as he seeks to help in connecting the middle third with Lille forwards, whilst Ikoné drifts to the side of the ball to compensate for Bamba and occupies his space in between Lyon's Lucas Paquetá, Marcelo, and Sinaly Diomandé.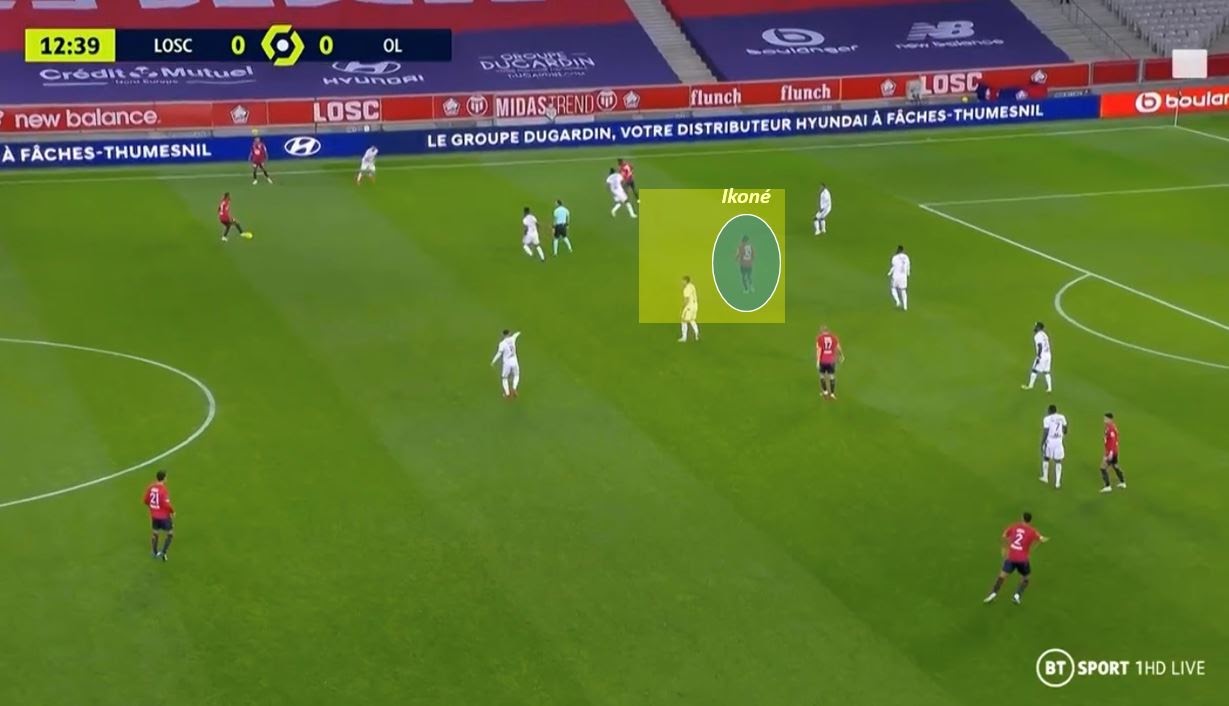 David will often drift to the half-space in order to create overloads and provide more passing options to the ball carrier. In the below image Çelik finds himself extremely wide on the right despite the ball being on the left flank. He does this to stretch Lyon's defensive block and create more space between the channels while still being free to either receive a switch or a quick pass if the ball comes back to the midfielder on the same side of the pitch as him.
Furthermore, Lille's forwards pin back Lyon left back Maxwel Cornet to create even more space for Çelik out wide. When the Turkish international receives the ball, he can find the most advanced player on his side either with a ball behind the defensive line or a pass between Cornet and Lyon's wide midfielder.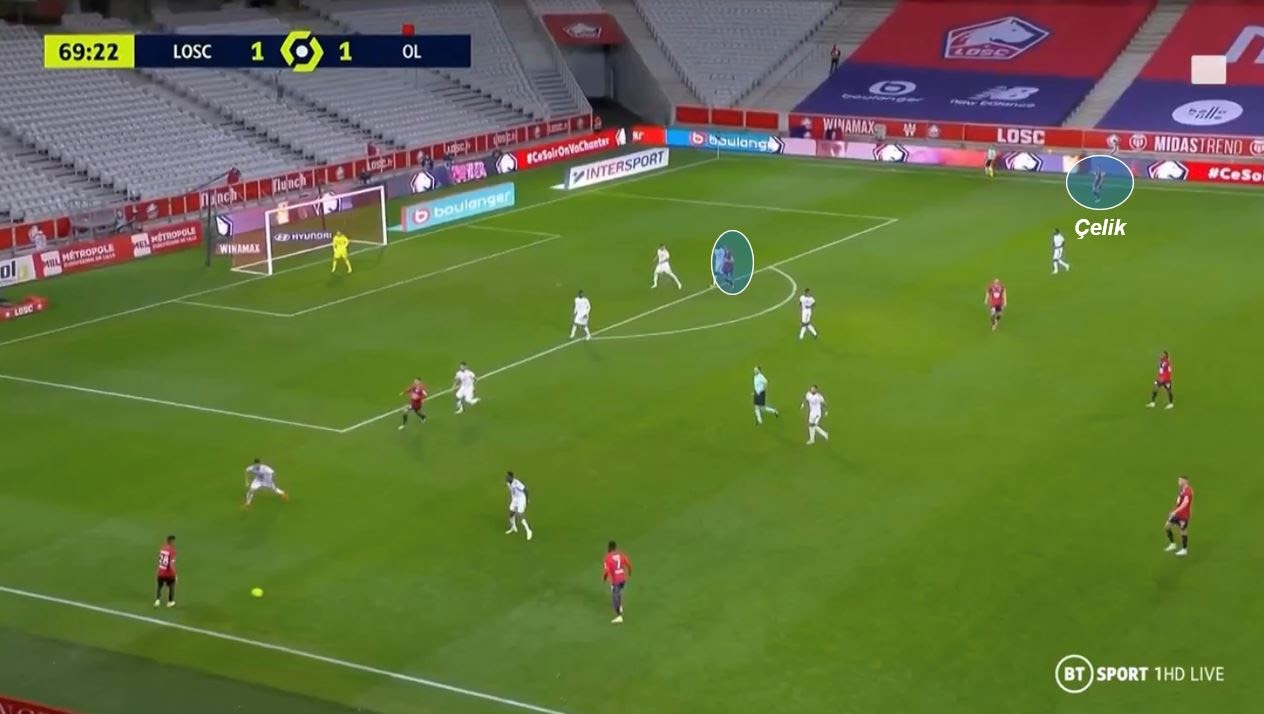 The rotations and the positioning of the players are important in football and Gatier's Lille are exploiting both. When it comes to movement, we already talked about the occupation of vacated spaces but they are also able to interchange in order to attack space. 
In the still below, left back Reinildo Mandava sees Bamba hugging the touchline and doesn't want to occupy the same space as him because it would bring nothing to the offense. Instead, he provides a run into the space he spotted which allows Bamba to come inside as it frees up space in the area Reinildo vacated.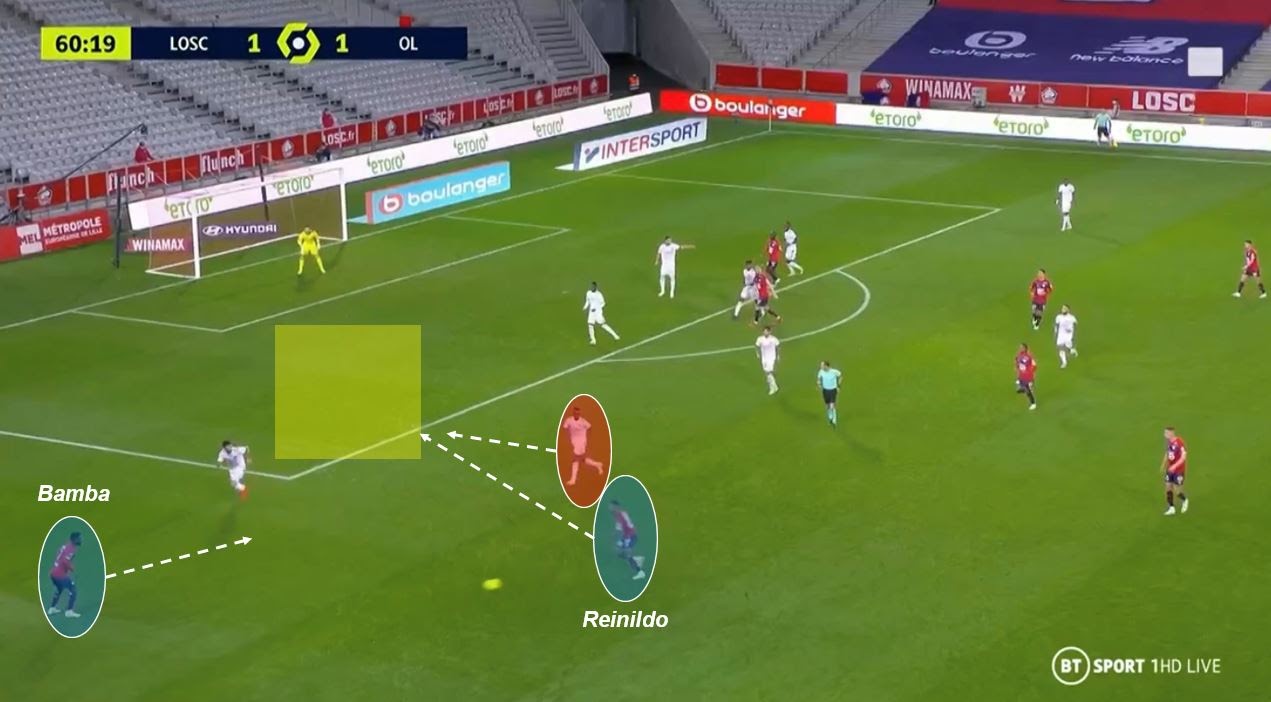 The same has happened on the opposite side against Lyon. Araújo hugs the touchline while Ikoné and Çelik drop deeper to provide a triangle. This triangle creates an overload but this overload would be pointless if Lille players don't exploit the space behind the players they attracted from that triangle.
This is why Ikoné drifts inside while Çelik underlaps. They both have spotted space they could exploit to offer a different and more useful passing option to Araújo, the ball-carrier.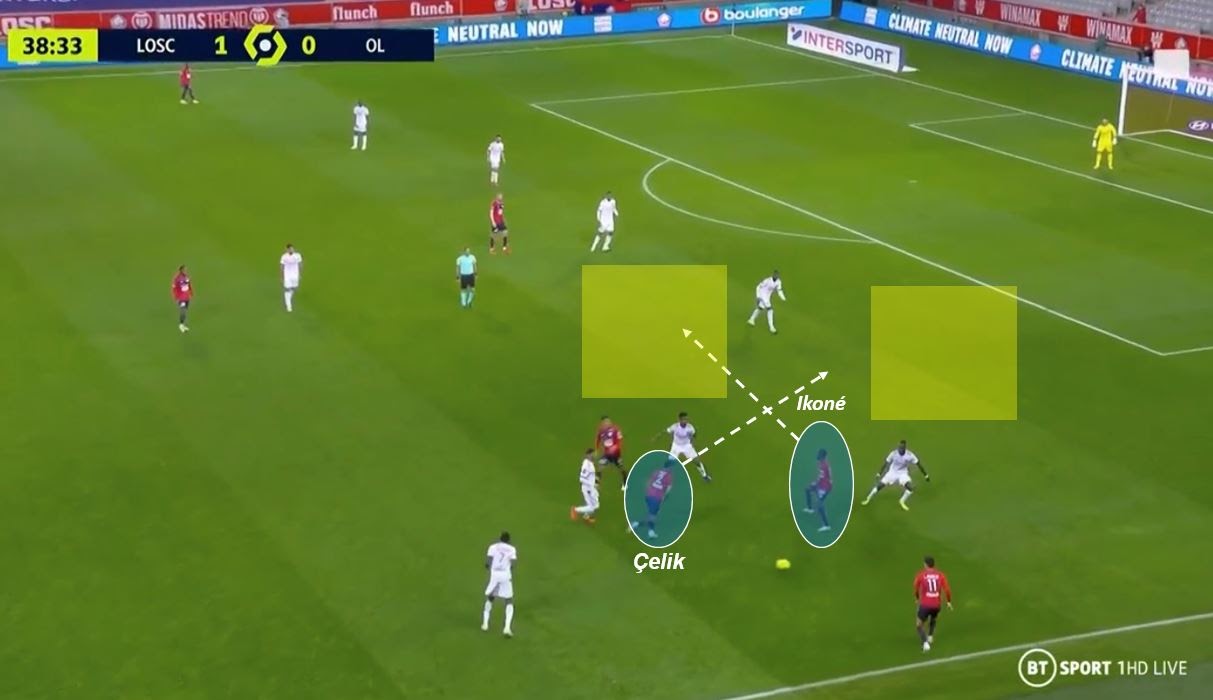 It has to be said that Galtier adapted again this season to find a formula that would get the best out of the squad he has at his disposal. Bamba has shined so far this season and Galtier's recent change regarding the predominant side of this system is a big reason for this change. Their build-up patterns help them create chances because they make a difference in the first phase, which helps Lille players find the free man higher up the pitch.
Lille's Defensive Structure
Similar to their structure in possession, Lille utilize a 4-4-2 off the ball. In this example, David aggressively presses Nantes center back Nicolas Pallois whilst Yılmaz remains close to Pedro Chirivella in the event that Pallois plays a short pass to the Spanish midfielder. By closing down his passing lane to Chirivella, David ensures that Pallois is forced to play a pass to Fábio on the left, who would then be closed down by Lille's touchline press.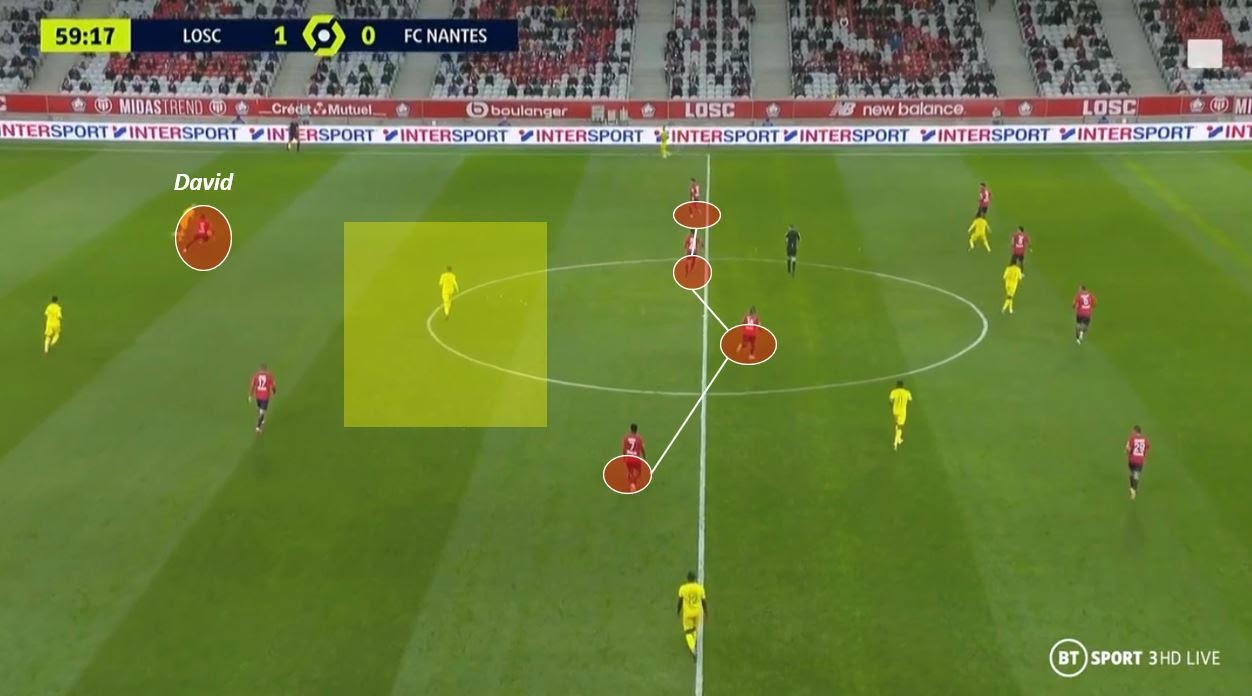 Lille's 4-4-2 off-the-ball shape was exemplified during their 3-0 victory against Milan at the San Siro. With Yazıcı aggressively pressing him, Alessio Romagnoli is forced to play a pass to Theo Hernandez on the left, but Xeka's movement to close down Franck Kessié takes away a simple passing option for Hernandez.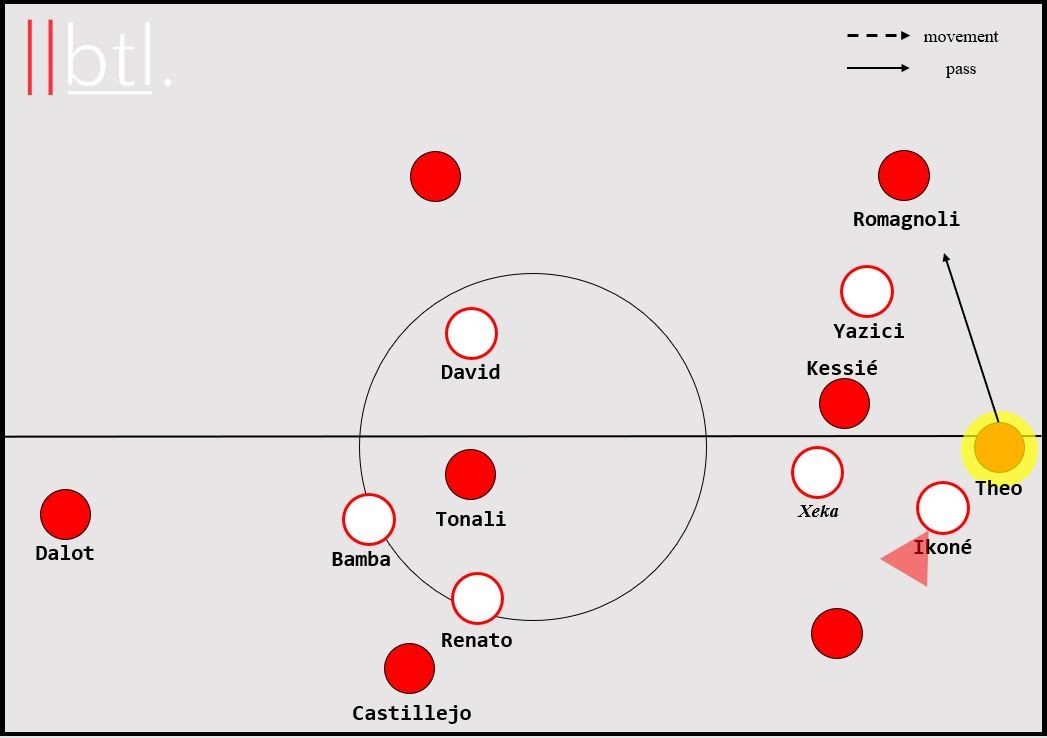 Ikoné steps across and prevents Hernandez from finding a teammate higher up the pitch with his cover shadow. Consequently, Hernandez has to either find Romagnoli with a back pass or play a hopeful long ball that can be chased down by Zlatan Ibrahimović.
This is a general concept that can be applied to both sides of the pitch at Lille. When the ball comes to the full back, the winger closes the ball circulation from the full-back to his winger while the striker on the side of the ball steps across to block the inside, consequently forcing him to either play a long ball or go back to his centre back.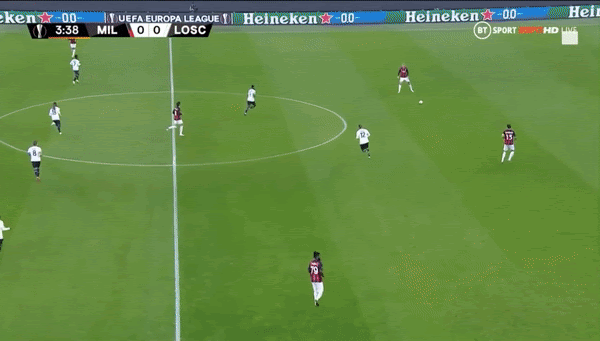 However, Lille's block can sometimes leave ample space between the lines when they press. This was seen against Lyon where they got caught behind their defensive line because of the space left between their defensive and midfield lines.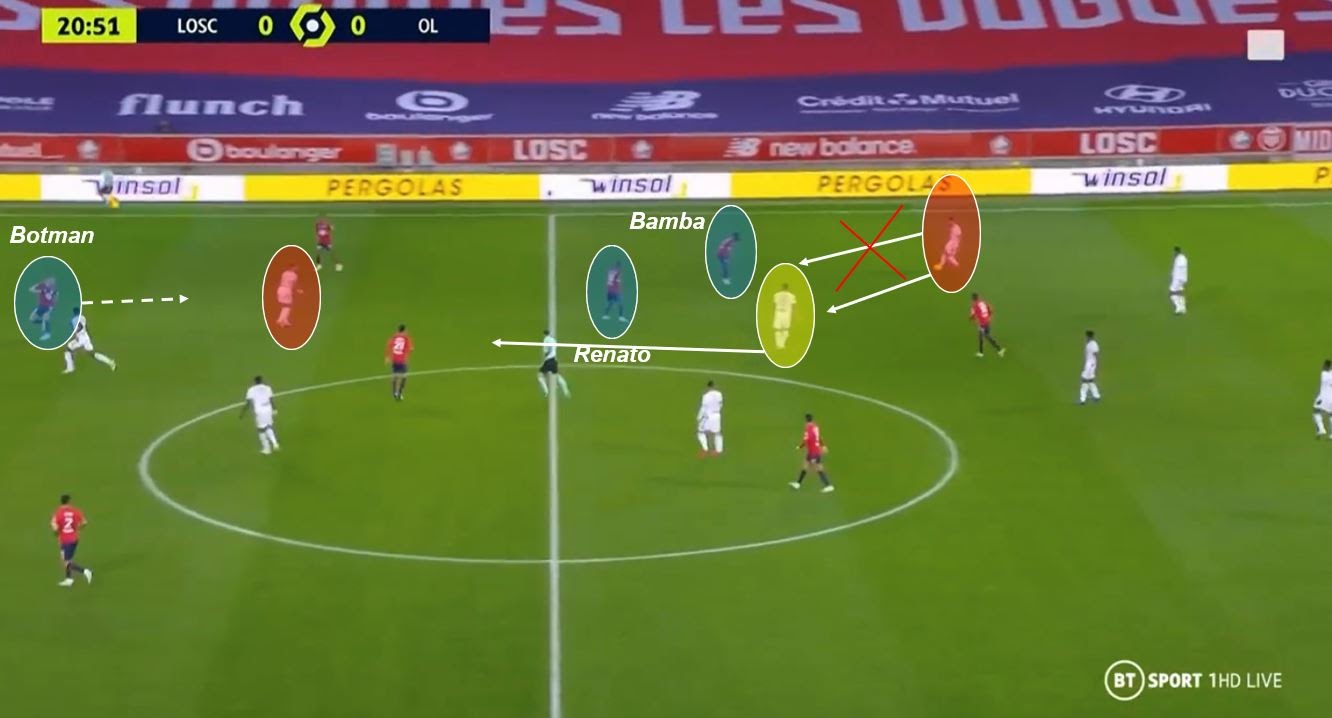 Bamba and Sanches prevent the access to the half-space by blocking the passing lane from Lyon right back Léo Dubois to Memphis Depay, but they leave Thiago Mendes unmarked, and as a result, the Brazilian has the time to receive and to turn himself to make the pass to Depay.
In addition, this empty space forced Botman to step across to stop Depay, who found an unmarked Houssem Aouar in his area, and the space vacated by Botman was taken by two Tino Kadewere and Karl Toko Ekambi, who had a chance on goal.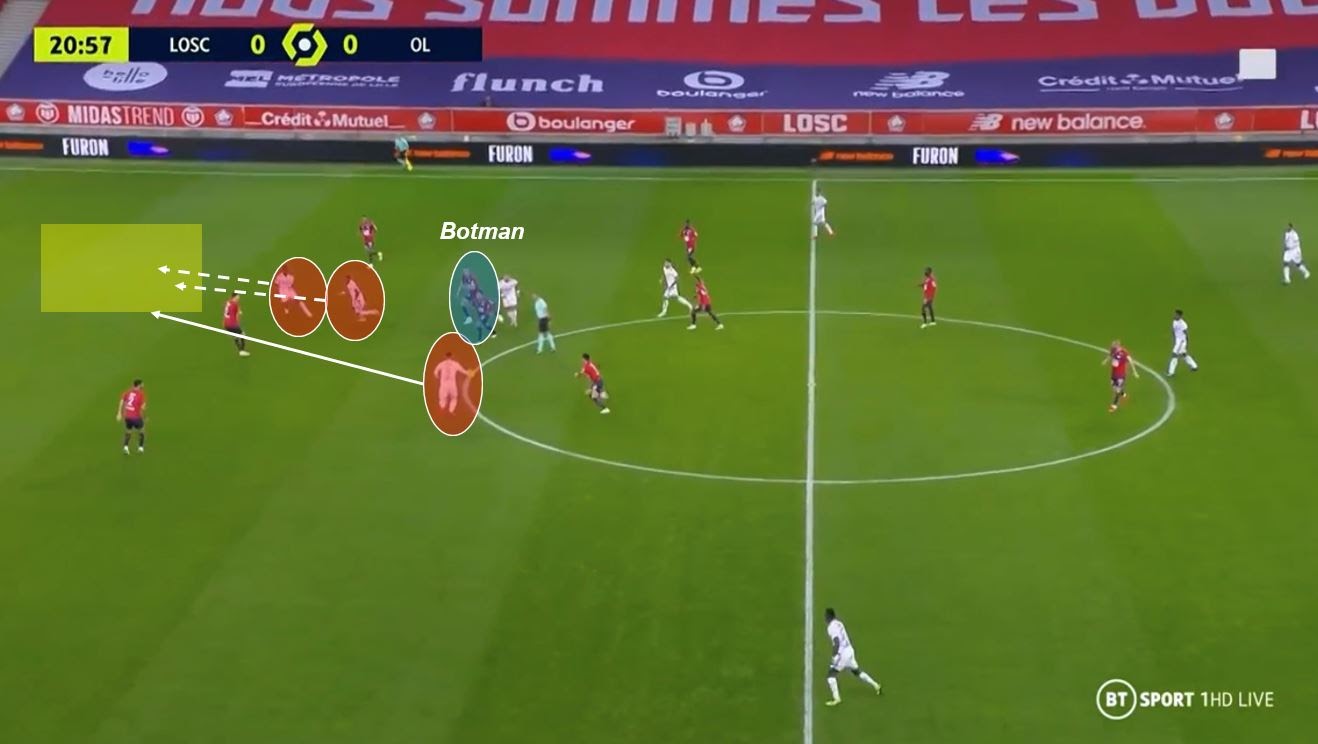 Offensive Transitions and Counters: Lille's Strongest Asset
On April 14, 2019, Lille ripped apart Paris Saint-Germain on the counter-attack, taking advantage of Juan Bernat's early red card and pulling off a 5-1 victory at the Stade Pierre-Maupoy. That match was a perfect example of Lille's counter-attacking brilliance under Galtier, their ability to recover the ball in dangerous areas and launch into offensive transitions.
To start, we must establish a distinction between transitions and counter-attacks. On one hand, transitions focus on pressing and counter-pressing in order to win the ball in a relatively close range to the opposing goal, using the disorganisation of the other team to catch them off-guard. On the other hand, counter-attacks are when you have recovered the ball in your half after a mistake from your opponent that you haven't forced.
Lille mainly close the middle of the pitch to force the opponent to either go wide or long. When the opponent goes wide, they close all access to the winger through pressing therefore they can recover the ball in this area. When they recover the ball, they will often look for a runner on the opposite side of the pitch as it's often the side that will be underloaded by the opponent attacking wise therefore it will likely be the same on defensive transitions.
According to where they are on the pitch, Lille players either go for a ball towards the goal or a ball into a wide area where they have time to go forward and initiate a positional attack. This is seen below where Bamba has found space in the channel between Dubois and Diomandé, but Araújo made a poor pass which put Bamba further away from the goal than initially. However, Lille still regained territory.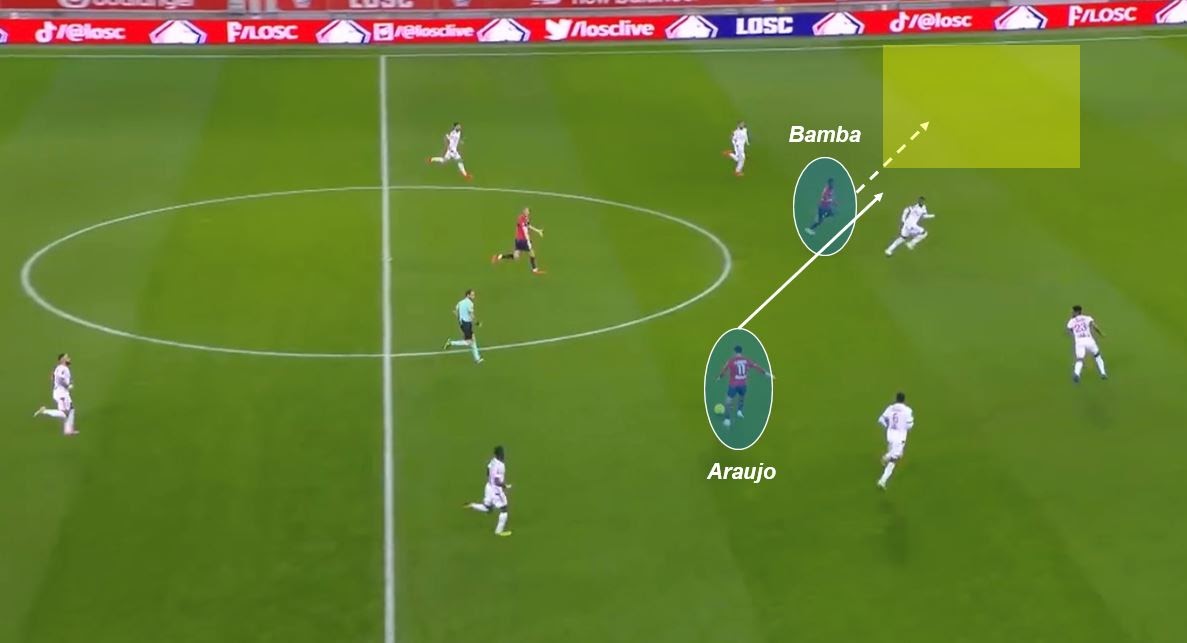 The Brazilian sprays his pass to the left flank, where Yılmaz recovers the ball before evading Paquetá and playing a chipped pass to Çelik. His attempted cross finds the path of his compatriot, who holds off Dubois and plays a simple pass to the unmarked Bamba. Bamba fired a sensational volley past Anthony Lopes and into the bottom right corner to open the scoring, although Lyon would later equalize via an own goal by Çelik.
In the below example, Marseille goalkeeper Steve Mandanda boots a goal kick up the pitch, and Benjamin André heads the ball into the path of Bamba, who takes two touches to control it and dribble past Boubacar Kamara, before playing a through ball to the underloaded right flank, where Aráujo receives possession, holds off Yuto Nagatomo, and fires the ball into the back of the net.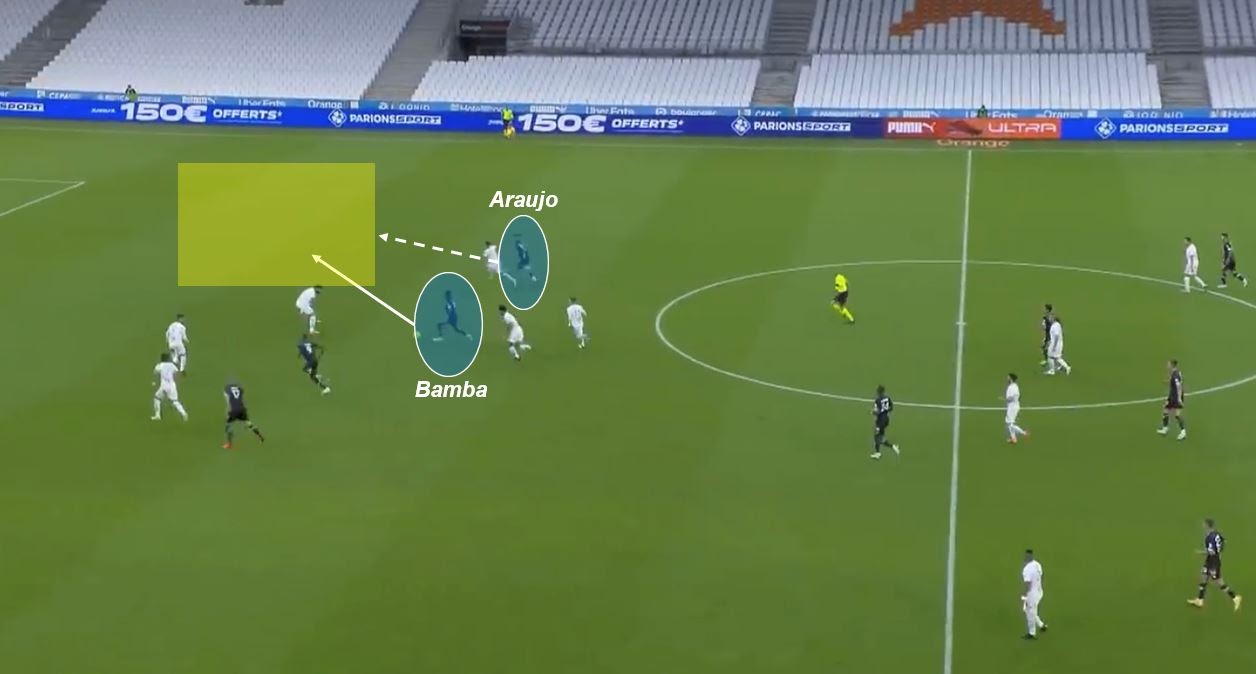 Lille can also counter-press to quickly regain the ball in the middle of the pitch and attack from there. Whilst pressing can be a riskier approach than passive defending, counter-pressing helps to mitigate these issues by applying pressure to the opponent whilst on the ball and preventing them from launching a counter-attack in the event of a loss of possession.
Galtier's counter-pressing methods are perhaps best epitomized by former Inter manager José Mourinho, who remarked after the 2010 Champions League semi-final second leg against Barcelona:
"We didn't want the ball because when Barcelona press and win the ball back, we lose our position – I never want to lose position on the pitch so I didn't want us to have the ball, we gave it away, I told my players that we could let the ball help us win and that we had to be compact, closing spaces."
An example of Lille's effective counter-pressing strategy is highlighted in the below example against Metz. All players close immediate passing lanes while one of them is pressing the ball-carrier to force the mistake. Ikoné intercepts and quickly bombs forward with a pass to David, but the Canadian forward fails to find the back of the net.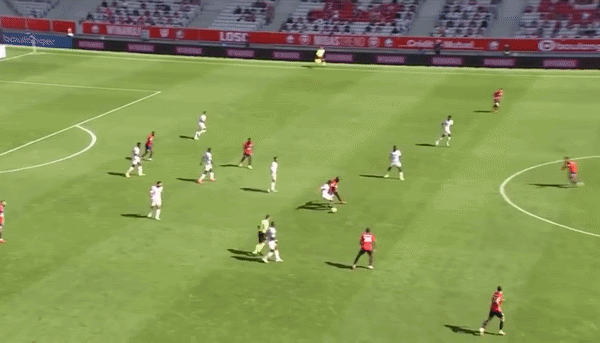 Conclusion
Three years after purchasing a 95% stake in Lille for €80 million, Gérard Lopez has been forced to sell the club after succumbing to pressure from his major creditors, Elliott Management and JP Morgan Chase. A  perfect storm of the COVID-19 pandemic's economic repercussions, a bloated wage bill, a loss-making stadium move in 2012, and the collapse of the LFP's broadcasting rights deal with Mediapro has left Lopez saddled with debts of more than £100 million.
Elliott and JP Morgan have since sold the club to hedge fund subsidiary Kalisto Holding SARL, although the new Lille project will be headed by Olivier Letang, who left his role as Rennes chairman in February. It remains to be seen if Marc Ingla or Luís Campos will play a role in Letang's project; Ingla resigned from his position as Director General in November after coming to blows with Campos, although he could be ushered back into the structure under new management.
On the other hand, Campos has reportedly grown weary of his role as Sporting Director, having neglected to show up to Lille's training ground since August 20 and demanded the rescission of his contract. With López — the man who co-founded Campos's company Scoutly Limited — headed out the back door, it seems a foregone conclusion that the Portuguese director will repeat his exit strategy at Monaco, and force a departure despite still being contracted to the club for another three years.
Lille's ongoing power vacuum and financial struggles could have further damage, with La Voix du Nord reporting that Renato Sanches will likely depart the club next month as the club look to balance the books in order to cope with pressure from the DNCG. The French club rejected an offer of €70 million in the summer, but with Liverpool reportedly lining up a January move, the Portuguese midfielder might just have a second opportunity to prove himself in the Premier League.
In the span of 18 months, Christophe Galtier took Lille from the brink of relegation to qualifying for Champions League football for the first time since 2012. Today, Galtier faces his biggest challenge yet, as he attempts to steer Les Dogues to the league title in the midst of an internal crisis and financial turmoil.
By: @JKFootball
Featured Image: @GabFoligno / Anthony Dibon – Icon Sport