Tactical Analysis: Paolo Zanetti's Venezia
Venice is one of the most unique cities in the world. Known for its narrow canals, and tourist attractions like the Rialto Bridge and St Mark's Cathedral, the Italian city is picturesque and has drawn visitors from all over the planet.
Its football team Venezia does not boast a particularly illustrious history, but the Arancioneroverdi (Orange, Black, and Greens) returned to Serie A for the first time in nearly 20 years, and they have registered some surprising results.
Sitting equal 16th with Sampdoria on the Serie A table with 15 points from 15 games, Venezia has been competitive under Coach Paolo Zanetti. Zanetti guided the Venetians back into the Italian top flight through the 2020/21 Serie B play-offs and the team has performed well despite possessing a squad sorely lacking in Serie A experience.
Venezia has won four games so far. It defeated Empoli 2-1 away a week after the Tuscan side earned a shock 1-0 victory against Juventus in Turin, beat a competitive Fiorentina side 1-0 that have looked impressive under new coach Vincenzo Italiano, shocked Jose Mourinho's Roma with a 3-2 win, and it won 1-0 away to Bologna, who have earned some surprise results of their own.
The Coach
Paolo Zanetti was a midfielder that played throughout the 2000s and early 2010s for a number of clubs in Serie A and Serie B before spending the final years of his career in Lega Pro/Serie C. Although he represented Italy in some youth levels, he never displayed enough quality to break into the senior squad.
He started his coaching career in the 2017/18 Serie C season with Südtirol and the club finished second in Girone B. Zanetti got Südtirol into the play-offs again after finishing sixth in 2018/19 but he was not able to earn promotion into Serie B. An unsuccessful sojourn with Ascoli in Serie B saw him sacked after 21 games in the 2019/20 campaign but then he was appointed as coach of Venezia for the following season. 
Hiring Zanetti proved to be an inspired choice as the Venetians finished fifth in Serie B and they triumphed over Chievo, Lecce, and Cittadella in the play-offs to reach Serie A.  
The Squad
Venezia acquired players from domestic competitions outside the European Top Five leagues and it still has some players that were a part of the promotion campaign from Serie B.
Forwards Thomas Henry and David Okereke arrived from Belgian Pro League, young American midfielders Tanner Tessmann and Gianluca Busio arrived from MLS clubs, Israel midfielder Dor Peretz joined from Maccabi Tel Aviv, and Austrian left-back David Schnegg was signed from LASK.
Despite the lack of players with Serie A experience, the players that do have it are making valuable contributions. 
Argentinian goalkeeper Sergio Romero is best known for representing his country at two World Cups and playing for Manchester United but he also had experience playing in Italy for Sampdoria for four seasons. He has joined the club as a free agent and he has made some crucial saves in the six matches he has played for Venezia in Serie A so far and he has kept three clean sheets.
Center-back Mattia Caldara was a revelation for Atalanta in the 2016/17 season, displaying his defensive prowess, ability to play the ball out from the back, and score his share of goals.
A few injury-plagued seasons with AC Milan and Juventus hindered his progress and a return to Atalanta could not help him recapture that form from 2016/17. However, a loan to Venezia from the Rossoneri has been beneficial so far, as he has remained fit and marshalled the defense admirably in the 10 games he has featured in. 
Although they lost mercurial Francesco Di Mariano to Lecce, other players that have stayed with the Arancioneroverdi like attacking midfielder Mattia Aramu, and defenders Pasquale Mazzocchi and Pietro Ceccaroni have featured regularly in Serie A so far.
The Formation
Zanetti implemented a number of back four formations throughout the 2020/21 Serie B season but he would favor either the 4-3-3 or 4-3-1-2 over the others. Since Venezia has been in Serie A, the coach has stuck with the 4-3-3 formation, and although Zanetti prefers his team to go on the attack, the Venetians are capable of defending in numbers whenever they are pegged back by the opposition.
Statistical Analysis
Venezia is a team that consists of attacking full-backs, dynamic midfielders, and wingers that are willing to cut inside. In their 13 Serie A games so far, the Arancioneroverdi have scored 12 goals and scored 19 goals. They have kept just three clean sheets and they all came when Romero played in goal.
Six of those goals were scored in open play whereas two each were scored through either set-pieces, counter-attacks, or penalties. The Venetians also average 320 short passes, 55 long balls, and 15 crosses per game. It illustrates that they prefer to pass the ball around as opposed to hitting the ball long and hoping for the best, and they can score goals in open play rather than rely on dead-ball situations. 
Fifteen of the 19 goals conceded were in open play though. They have not conceded a goal from a set-piece, they have conceded one own goal, and two penalties, but they need to improve when the ball is circulating.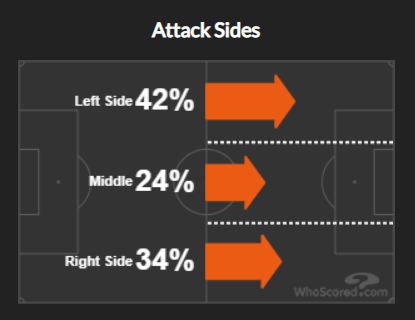 Venezia's attacking channels [WhoScored]
According to WhoScored, Venezia rely on the wings to construct its attacks, and the most commonly used flank is the left, which is used 42 percent of the time.
After starting the season with Schnegg at left-back, Zanetti has given more trust to Ridgeciano Haps and the former Feyenoord defender has quickly adapted to Italian football. Despite his ability to go forward, his main highlight so far was to perform an acrobatic goal-line clearance in the 3-2 victory against Roma.
Italian-American Gianluca Busio has been a revelation on the left side of midfield. He provides a lot of energy, wins the ball back for his team, and he has fine ball control. He has also scored once and provided two assists in Serie A so far.
Where Venezia could improve more is at left-wing. Dennis Johnsen is a capable dribbler but he has failed to score or provide an assist in nine matches. If he can supply some crosses or work on his wayward shooting, the Venetians will become a greater threat when attacking down the left.
The right flank is used 34 percent of the time and based on the four goals scored and two assists supplied by Mattia Aramu, it probably should be the flank that is used more often. The 26-year-old barely featured in Serie A when he was at Torino, but he is at his third season with Venezia and he has remained an important attacking threat, more so without Di Mariano.
The central channel is used just 24 percent of the time and Zanetti has struggled to find someone who can take on the defensive midfielder role. 
However, Welsh international Ethan Ampadu, who is on loan from Chelsea, has improved since his arrival in Venice. He has played seven games and supplied two assists, and he has looked more comfortable in the middle of the park.   
Conclusion
Venezia as a football team lacks drawcards whereas its home town of Venice has many sights for tourists to lay their eyes on. However, in the early stages of the 2021/22 Serie A season, the Arancioneroverdi has earned good results under Zanetti despite a new an eclectic squad. If the expectations outside of the club were that the Venetians were going straight down to Serie B, so far they are showing that they might have some tricks up their sleeves.
By: Vito Doria / @VitoCDoria